Virtual U 1.0 Strategy Guide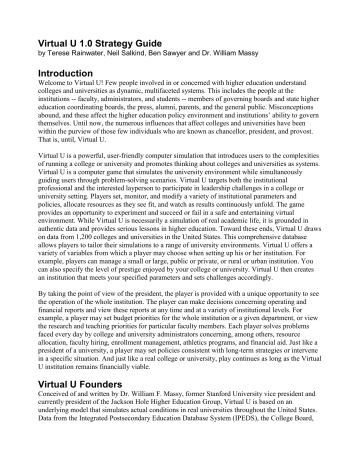 Virtual U 1.0 Strategy Guide
by Terese Rainwater, Neil Salkind, Ben Sawyer and Dr. William Massy
Introduction
Welcome to Virtual U! Few people involved in or concerned with higher education understand
colleges and universities as dynamic, multifaceted systems. This includes the people at the
institutions -- faculty, administrators, and students -- members of governing boards and state higher
education coordinating boards, the press, alumni, parents, and the general public. Misconceptions
abound, and these affect the higher education policy environment and institutions' ability to govern
themselves. Until now, the numerous influences that affect colleges and universities have been
within the purview of those few individuals who are known as chancellor, president, and provost.
That is, until, Virtual U.
Virtual U is a powerful, user-friendly computer simulation that introduces users to the complexities
of running a college or university and promotes thinking about colleges and universities as systems.
Virtual U is a computer game that simulates the university environment while simultaneously
guiding users through problem-solving scenarios. Virtual U targets both the institutional
professional and the interested layperson to participate in leadership challenges in a college or
university setting. Players set, monitor, and modify a variety of institutional parameters and
policies, allocate resources as they see fit, and watch as results continuously unfold. The game
provides an opportunity to experiment and succeed or fail in a safe and entertaining virtual
environment. While Virtual U is necessarily a simulation of real academic life, it is grounded in
authentic data and provides serious lessons in higher education. Toward these ends, Virtual U draws
on data from 1,200 colleges and universities in the United States. This comprehensive database
allows players to tailor their simulations to a range of university environments. Virtual U offers a
variety of variables from which a player may choose when setting up his or her institution. For
example, players can manage a small or large, public or private, or rural or urban institution. You
can also specify the level of prestige enjoyed by your college or university. Virtual U then creates
an institution that meets your specified parameters and sets challenges accordingly.
By taking the point of view of the president, the player is provided with a unique opportunity to see
the operation of the whole institution. The player can make decisions concerning operating and
financial reports and view these reports at any time and at a variety of institutional levels. For
example, a player may set budget priorities for the whole institution or a given department, or view
the research and teaching priorities for particular faculty members. Each player solves problems
faced every day by college and university administrators concerning, among others, resource
allocation, faculty hiring, enrollment management, athletics programs, and financial aid. Just like a
president of a university, a player may set policies consistent with long-term strategies or intervene
in a specific situation. And just like a real college or university, play continues as long as the Virtual
U institution remains financially viable.
Virtual U Founders
Conceived of and written by Dr. William F. Massy, former Stanford University vice president and
currently president of the Jackson Hole Higher Education Group, Virtual U is based on an
underlying model that simulates actual conditions in real universities throughout the United States.
Data from the Integrated Postsecondary Education Database System (IPEDS), the College Board,
and the High School and Beyond Survey serve as the database for the mathematical models that are
the building blocks for Virtual U. For example, rather than just creating a hypothetical relationship
between variables such as student enrollment and university prestige, the underlying relationship
between these variables in Virtual U is based on real data compiled from hundreds of institutions
similar to the one you will be administering.
Along with Dr. Massy, Virtual U's founders are Sally Vaughn of the Jackson Hole Higher
Education Group, Jesse Ausubel of the Alfred P. Sloan Foundation, and Trevor Chan of Enlight
Software.
Virtual U Advisors and Consultants
People who have served as advisors and consultants for the Virtual U project include
James Anker, John Barcroft, Robert Bernad, David Breneman, Richard Chait, Richard Detweiler,
Winslow Farrell, Eric Goldberg, John Hiles, Dean Hubbard, Anita Jones, Jill Kidwell, David
Kirsch, Donald Langenberg, Dale Langford, Arthur Levine, Gregory Lozier, Joel Meyerson,
Andreas Ortmann, Terese Maier Rainwater, Linda Riley, Henry Rosovsky, Neil Salkind, Ben
Sawyer, Daniel Shapiro, Rebecca Stafford, Woollcott Smith, John Williams, Gordon Winston,
Marshall Witten, Will Wright, and Robert Zemsky.
Virtual U Data
Data for Virtual U were mostly assembled by Robert Zemsky, Daniel Shapiro, and their colleagues
at the Institute for Research in Higher Education at the University of Pennsylvania. For example,
data on faculty teaching loads by field came from the 1993 National Study of Postsecondary Faculty
(NSOPF).
Data on research activity by field came from the National Science Foundation. Curricular
requirements -- including major course requirements and electives by department, and levels of
courses -- came from review of numerous course catalogs. Data on percent of female and minority
faculty came from the American Association of University Professors.
Data on the distribution of undergraduate majors came from the Digest of Education
Statistics. Information on facilities came from Harvey H. Kaiser and Associates, Inc. Tuition, room
and board rates came from the Integrated Postsecondary Education Database System (IPEDS).
For users of Virtual U interested in data, the IPEDS Web site, located at http://nces.ed.gov/ipeds/ is
an excellent starting point.
Strategy and Technical Guide Preview
Virtual U: The Strategy and Technical Guide is divided into six sections, including the Appendix.
Part I: General Strategies provides you with seven general strategies to follow as you learn how to
play Virtual U. Part II: Scenario Strategies provides a synopsis for each scenario, the welcome letter
the player will receive for each scenario, and strategies for resolving the issue at hand. Part III:
Specific Strategies gives you in-depth strategies for each of the items on the Game Menu, which
includes: Faculty, Students, Courses, Performance, and Finance.. Part IV: Random Objectives and
Chance Cards discusses strategies for how to handle unexpected challenges and events during game
play. Part V: Under the Hood: How Virtual U Works is a description of the modules and
submodules that run the simulation. Appendix A is a glossary that provides easy reference to gamespecific terminology.
Part I: General Strategies
Who among us hasn't longed to be in charge for just one day? Oh, the things we would change!
Virtual U gives you that chance -- the chance to be a university president and run the show. By now
you have probably opened up your game and flipped through the manual. Ready to go, you loaded
your game and determined what kind of institution you want- and then quite possibly got lost in the
vast amounts of information available about every faculty member, every department, every
building, and every budget item that appeared in front of you. Of course, all of this information is
necessary to running a university but what does it all mean? What are you supposed to do with it? In
short, where should you begin?
This section offers players seven general strategies for getting started and playing Virtual U. These
strategies are by no means all-inclusive and as you play the game, you may come up with other
strategies that further improve the effectiveness of your administration. In the following section,
Scenario Strategies,
Strategies you will find more strategies to handle the preset challenges for each of the
scenarios. Read through the strategies that follow and choose the one or two that make the most
sense to you. Try them out. See how each strategy works and find the ones that work best for you.
Strategy 1: Learn about your institution and take notes
You have just been appointed as a new university president. What is the first thing you will want to
do? Answer: Learn about your institution. As president, familiarity with your institution, its faculty,
staff and students, its strengths and its weakness is key to your success. Knowledge of your
institution is the root of many of the strategies that follow. One of the best ways to learn about your
institution and keep track of the volumes of information that your new position requires is to slow
down the speed of the game until it is completely stopped (on the lower left side of your screen,
move the red bars to blue until no bars remain or press the number Ò0Ó). Then ask yourself
questions about your university with paper and pencil in hand. Make notes as you gather
information and find answers. You will find yourself referring back to this information as you set
your policies.
Questions you may want to ask yourself are: Who are your faculty members? Where is your top
talent? Which departments are the strongest and the weakest? Do these strengths and weaknesses
appear to be because of lack of talent, a lack of resources, or something else? How many faculty
members are in each department? How many are close to retirement? How many have tenure? How
many are seeking tenure? Which departments have the highest levels of sponsored research? Which
departments have the highest level of educational quality? How do your students feel about your
institution? What kind of athletics program do you have? Are students continually shut out of
classes? How many women and minority faculty members do you have? How many minority
students do you have? Do you have a high or low level of deferred maintenance at your institution?
And so forth. Asking yourself questions such as these at the beginning of the game will help you
throughout your administration.
Strategy 2: Familiarize yourself with your budget
After you have acquainted yourself with the faculty, students, staff, and departments on your
campus, your next step should be to familiarize yourself with your institution's overall financial
standing. If you have never managed an institutional budget, making sense of your institution's
budget and budget plan is probably one of the more difficult aspects of playing Virtual U. And
understanding the budget is vital to a successful administration. So give yourself some time to read
and review the budget. You should note that there are several budget screens that require you to
scroll to the bottom in order to get all of the information you seek. Once again, take notes and ask
yourself questions as you go.
Some questions you may want to consider are: What are your revenues? What are your expenses?
How much income does tuition generate? How much money is spent on financial aid? What is the
mix of revenues at your institution? If you are a public institution, how much state support do you
receive? If your institution is private, how large is your endowment? In the case of either private or
public institutions, how much sponsored research does your institution attract? How successful is
your institution at attracting donors? What is the size of your operating revenue? What is the size of
your capital reserve, what funds go into it each year, and what are the demands on it? The answers
you find to these questions will help you establish policies and priorities throughout your
administration.
Strategy 3: Choose a small institution
When you set up your university for a scenario game you are given a choice among four
institutions: Private Research, Liberal Arts, Public Research, and Comprehensive. (The same
choices can be accessed as Express
Express games under the Custom heading.) In order to understand the
wisdom of Strategy 1, it is helpful to distinguish the differences among the four types of institution.
A Private Research University tends to be large, with both undergraduate and graduate schools. It
has a research as well as teaching focus, receives no state support, and is funded through an
endowment, tuition, and gifts. A Public Research University also tends to be large, with both
undergraduate and graduate school programs. It, too, has a research and teaching focus but typically
a smaller endowment. In addition, a public research university is funded by state support as well as
by tuition and gifts. A Liberal Arts College is a small, private, undergraduate institution and has
2,000 or fewer students. It focuses on teaching over research, receives no state support, and is
funded by tuition, gifts, and endowment. A Comprehensive institution is a four-year college or
university that has lower selectivity requirements, a larger part-time student body, lower graduation
rates, and somewhat more vocationally oriented departments.
Smaller institutions, such as the Liberal Arts College, are easier to learn about when you first start
playing the game. There are fewer departments to evaluate and fewer faculty members with whom
to acquaint yourself. Some issues, such as sponsored research, will not be addressed as frequently at
the smaller institution and so learning the general flow of the game will be easier and prepare you
for larger, more complex institutions later on.
Strategy 4: Set long-term policies at the beginning of your first year
One of your first tasks as president is to set the goals and priorities for your university. And after
you have learned about your institution, setting priorities and policies should be the very next action
you take. Faculty hiring is an example of a policy that should be set at the beginning of the game. In
order to do this, you will first have to learn about the departments and their needs at your institution
as mentioned in Strategy 1. The long-term policy decisions that you make at the beginning of the
game will not only help you to focus on the direction that you want your institution to take but will
affect the opportunities you have as the game progresses It is important to note that the benefits of
these policies may not be apparent in the first years of your administration. As a result, it is
important to set long-term policies immediately.
Strategy 5: Decide who you are
One of the important aspects of managing a college or university is understanding who your
institution is designed to serve and what your institution should focus on in order to best serve your
students. This means that you understand the differences between the four types of institutions in
Virtual U and play to each institution's strengths. For example, if you have chosen an institution
that is a public research university with a high level of prestige you may want to focus on research
over teaching as well as continuing to attract academically talented students.
If you have followed the first three strategies, you will choose to administer a small private liberal
arts college and therefore, your focus will be most likely educational quality but as you choose
larger institutions, your focus may shift to doing sponsored research. Questions you may want to
consider are: Is your institution large or small? How prestigious is your institution? Is your
institution primarily concerned with teaching and student success (issues of educational quality)? Is
your institution focused on research and bringing in new research money (also known as sponsored
research)? Or is it more concerned about scholarship - the integration and application of knowledge
through teaching - as distinct from discovering new knowledge through research?
Strategy 6: Manage multiple goals
As you become more familiar with the game and as the game becomes more challenging, you may
want or need to manage multiple goals. For example, Virtual U may challenge you to increase
educational quality while simultaneously increasing research activity. To do this, you must survey
each department's strengths and weaknesses. Departments such as English, History, and Philosophy
that are traditionally associated with teaching and time spent outside of the classroom with students
(also known as student contact hours in the game) should receive more resources for activities that
affect educational quality. Departments in the physical and social sciences such as Physics and
Economics are traditionally associated with research and should receive increased support for
activities that increase sponsored research at your institution. Strategies for how to improve
education quality or how to increase sponsored research are discussed in the Faculty and Courses
Sections in Part III.
It is important to remember that setting multiple goals requires monitoring the strengths and
weaknesses of your institution generally, but also requires a similar analysis of individual
departments. If, for example, you choose to increase educational quality and sponsored research,
your first step should be to divide your departments into predominantly educational quality,
scholarship, and sponsored research categories. Your second step should be to evaluate each
department's strengths and weaknesses given its categorization. Your third step should be to
allocate resources appropriate to fund educational quality, scholarship, or sponsored research. As
you will see, learning about your university, its collective strengths, its collective weaknesses, its
departments, its faculty, and its students is key to a successful administration.
Strategy 7: Improve from the bottom up
Sometimes the best way to solve a problem is from the bottom up. Sometimes small changes at the
bottom produce large changes throughout an organization. This strategy requires that you examine
what is going on at the lowest levels of your institution and act according to the information that
you gather. First, familiarize yourself with and evaluate each department and its faculty members
carefully. Second, look through your budget and check for particular strengths and weaknesses. As
you learn about your institution, keep track of your observations on a checklist. Here are three steps
you may want to follow:
1. Note the departments that have the most weaknesses. For example, your Chemistry Department,
a department traditionally associated with research, is generating very little sponsored research
money.
2. Note which departments are strong and need only small investment to become among the best at
your institution. For example, your English Department is performing well in activities concerning
educational quality but you notice that some students are being closed out of courses. In this case,
adding one more faculty member to the department may be all that is necessary to meet the needs of
the department and its students.
3. Strengthen weak departments by providing resources to key areas of concern while you continue
to provide funds for the most successful departments.
Remember: Funds are always limited. If you increase spending in one area, you automatically
decrease available funds for something else.
Strategy 8: Notice the anomalies
As with any game, notice occurrences that are unique to the game. When do these occurrences
appear? What seems to affect them? How do they work? Make a note and use anomalies to your
advantage.
Strategy 9: Use the score and performance to drive your strategy
The score and the performance ratings in Virtual U are amazing resources and can be put to good
use. To make the most of them, you need to know how Virtual U develops performance ratings and
the game score.
Performance ratings (in many cases) and your score (in all cases) are the cumulative results of a
number of factors. By breaking down the factors that make up your score or a particular
performance rating, you can look for the areas that are under-performing. By focusing on these
weak areas, you can hopefully improve your performance and/or your score. You can also look over
the score or a performance rating for a path of least resistance. Doing so can help you find factors
that could benefit dramatically from a quick infusion of money or increased priority, resulting in an
improved overall score or performance rating.
An example of how this strategy can work is in Educational Quality Performance. Use of
information technology in teaching is 10% of the overall performance rating. By making an
investment in your Internet connection, you can quickly improve this factor of overall Educational
Quality, improving your performance in that area and increasing your overall score.
By dissecting the entire score and performance section, you can gain some great insight. Table 1
provides roadmap of what factors improve your game score most. While game score is based in
general on the change in Trustee Evaluation from one month to the next, there are 15 distinct factors
that affect the Trustees' overall evaluation.
Game score is actually a product of the change in ranking given to you by the Trustees. This itself is
due to the change in each factor from its previous period. Thus you are always trying to improve
various factors from their previous settings unless they are at their peak performance. This is why
Table 1 is crucial. From it, you can discern a few key strategies:
•
•
•
•
Nearly 1/3 of your score comes from Degrees Granted, improvement in Smoothed Surplus,
and Sponsored Research. Therefore it is important to pay particular attention to these items.
Even though they make up a small portion of your score, Student Morale, Staff Morale,
Student Diversity, and Faculty Diversity each can be easily improved.
The Educational Quality and Institutional Prestige performance factors each have subfactors that contribute to their overall ratings. Thus, you should focus first on the sub-factors
for each of these that are the easiest to improve. This subsequently boosts them, and their
improvement positively affects your score.
Research is king. Research-related factors are counted three times toward your score. How is
this? First, the sponsored performance rating in your game score is directly factored (at a
weight of 9%). Second, Faculty Research and Scholarship performance (across departments)
is a combined 15% of the overall Educational Quality performance rating, which is itself a
7% weighted factor in your Trustee evaluation. Third, Sponsored Research and Faculty
Research performance are a combined 80% (across all departments) of the Institutional
Prestige rating, which itself is a 7% weighted factor in your Trustee evaluation. Finally,
Faculty Morale, a 7% factor in Trustee evaluation, is greatly aided by good faculty research
results. Thus, because it permeates so many aspects of the score and performance factors,
research should be given a lot of attention.
In the end, it is difficult to tweak your overall score by focusing on individual scoring factors during
play. However, taking the priorities found here that are derived from examination of Virtual U's
scoring system can be a smart move. Also, during play you might be able to do a quick run through
of the performance and game score graphs, noting areas that need improvement and making the
necessary adjustments.
Scoring is one of Virtual U's game elements and while absolute scoring doesn't take place in the
real world to the degree it does in Virtual U, understanding the scoring system will undoubtedly
make you a better university manager.
Is there any way to truly fail at Virtual U?
Virtual U's board is fairly forgiving. Even several years of weak performance won't cause you to be
removed from office. However, there is one thing that will cause you to lose at Virtual U bankruptcy.
Bankruptcy occurs if you continue to run deficits and carry the University beyond its line of credit
for bank loans. This is why it is critical not to run a very high negative balance or deficit for the
year. Keep your university on as even a scale as possible and choose your moments to run a deficit.
Part II
Scenario Strategies
Scenario Strategies and Welcome Letters
Virtual U offers 10 different, preset challenges to help you learn how to play the game. Each
scenario confronts the player with a particular issue that university administrators face every day.
For example, you may be asked to balance your institution's budget or produce a winning athletics
team. This section of Virtual U: The Strategy and Technical Guide will acquaint you with the issue
presented in each scenario as described in the Welcome Letter you receive. Then it will offer some
strategies to use when addressing the challenges in each scenario.
One of the primary lessons in Virtual U is that colleges and universities are interactive systems in
which change in one area means change in another. This means viewing the whole game in terms of
combinations of strategies. For example, educational quality can be improved by decreasing class
size and increasing student contact hours. However, those changes may affect faculty morale, so
strategies related to faculty morale must be considered simultaneously. The strategies provided here
are only suggestions and are not the only solutions. As you play the game more, you may find a
strategy or combinations of strategies that work even better.
Scenario 1 -- Pay Better
Faculty salaries at your institution are too low and key professors may leave for greener pastures.
Your task in this scenario is to increase faculty salaries in five years without harming other aspects
of your university's performance.
Your Welcome Letter reads:
The Board agrees with the concern you expressed about faculty salaries at our last meeting. At the
meeting you convinced us that the salaries we offer are 14% below the market. Because competitive
salaries are expected to remain constant, this means our salaries need to improve by 14%. We hope
you can accomplish this within ten years, or in less time if possible.
Strategies
The problem before you is straightforward: You need to pay your faculty better. Generally, you
need to increase the faculty salary line in the budget. However, if you do this and nothing else, you
will run deficits. Increasing spending in one area means that you must make up the difference in
new funds and/or decrease spending in other areas.
Short-term Strategies
Here are two short-term strategies to address the needed increase in funds. You may want to try one
or both of the following:
1. Increase student enrollment.
2. Decrease staff salaries. Note that staff members are not the same as faculty members. Staff
embers are those individuals who support the daily operations of the university but are neither
professors nor students.
Again, be careful. You will find that the university you are administering is an interactive, complex,
and dynamic organization where one change affects the whole institution. In this case, increasing
student enrollment is a solution you may want to try once in your first year, but do not become
dependent on this strategy. You cannot constantly increase student enrollment and maintain
educational quality. In addition, you run the risk of adversely affecting faculty and student morale
as professors are asked to teach more classes with larger class sizes and as students are closed out of
classes they are required to take. Finally, your infrastructure will not sustain the burdens placed on
it by an ever-expanding student body. Likewise, decreasing staff salaries might be done once as an
emergency response to the situation you face, but decreasing staff salaries to increase faculty
salaries will dramatically affect staff morale.
Long-term Strategies
In the long-term, you want to tie salary increases to outstanding performance in areas you value. In
this way you increase salaries, which you must do, while you are increasing faculty performance in
certain key areas. Therefore, another strategy to consider that may be most helpful is to increase
salaries either equally or variably across departments for certain activities that you value. This
requires that you focus on one area and evaluate each department for performance in that area. For
example, you may decide to increase salaries equally among those departments which show any
increase in research funds, or you may decide to increase salaries differentially in only the top three
to five departments that show the biggest increases in sponsored research.
Scenario 2 -- Allocate New Money
In this scenario, you have just received a major gift to your endowment and have a rare opportunity
to increase academic and educational quality. Your task is to distribute the new income effectively
to one or more of the departments specified by the donor.
Your Welcome Letter reads:
Congratulations. Juliet Rudnick has just pledged $19,885 thousands to enhance the sciences and
allied fields at our university. The pledge will raise next year's budget (for Yr. 2) by about $994
thousand. (The name of the person and the size of the gift will vary from game to game.) The donor
gave to improve biology, chemistry, physics and computer science. How will you achieve the goal
for which she gave so generously?
You could concentrate big money on one or two departments or spend a little on many. The number
of students affected by an alternative represents one criterion for selection. Another criterion is how
your allocation of resources affects nonscience departments and such important facets of university
life as the quality of teaching.
The Board will judge your success first in meeting the donor's expectations, which may encourage
other donors, and then in lifting the prestige of our university.
Strategies
The goal of this scenario is to get you to think about how best to use donor gifts. First, invest your
new dollars to generate more income flow and maximize your donor's gift. Second, if your donor
specifies a liberal arts department as the recipient of the new funds, increase spending in areas that
positively affect educational quality. This includes, but is not limited to, hiring more faculty
members, increasing the number of seminar classes offered, and providing faculty more time to
spend with students outside of class. If your donor specifies a particular department (or set of
departments) where sponsored research is important, provide more time to spend on research and
scholarship. In both cases, you should consider increasing salaries and/or hiring more faculty. You
might also wish to direct funds freed up by your new income to the athletics program.
However, there are consequences to these actions. For example, money spent on Department A but
not on Department B could adversely affect faculty morale in Department B. In turn, loss of morale
in Department B could lead to faculty attrition or students migrating to other departments. If you
choose to spend money on athletics, remember that athletics programs are expensive to establish
and only Division I institutions achieve the kind of success necessary to profit financially.
Scenario 3 -- Teach Better
Institutions are being increasingly criticized for not paying enough attention to issues of educational
quality, e.g., class size, student course denials, and student contact hours. Your institution received a
poor accreditation report. This report finds your resources are adequate but points to discontinued
courses, low student morale, inadequate faculty time devoted to education, and poor teaching
overall. Your task in this scenario is to improve educational quality in 10 years while maintaining
other levels of institutional performance.
Your Welcome Letter reads:
The recent report by the accreditation team alarms the Board. Our proud university should not be
cited for poor teaching. Something must be done.
The team attributes our failure to inattention to education rather than to lack of resources. They
cited discontinued courses, student demoralization, and insufficient faculty time and attention
devoted to students. They cited poor teaching in the classroom. While some departments received a
passing grade, most cry out for improvement.
In five rather than the usual ten years, the accreditation team will return. At that time, the Board
expects the University's educational quality will be rated good. When the team comes in ten years
for our next regular examination, we expect our teaching will be rated excellent.
Remembering the team's opinion that a lack of physical and financial resources did not cause our
poor teaching, the Board does not expect a mere plea for more money to achieve accreditation.
Rather, we expect a plan to put in our classrooms a faculty that loves to teach.
Strategies
The problem you are faced with in this scenario is simply that the quality of education that students
receive is low and needs to be improved. To begin this improvement, focus your attention on how
each department is actually performing, not on how large the department is or how many students
take courses there. Sheer size and numbers are not indicators of educational quality. After you have
a sense of how each department is doing, there are several strategies that may help you improve
educational quality at your institution. You may want to:
1. Reduce class sizes. Reducing class size means that students receive more attention from the
professor during class time. In short, more attention increases the opportunities that students have to
learn about and comprehend course material.
2. Increase faculty time spent on out-of-class contact with students. Students who want to explore
class material more fully or who are struggling with class concepts must be able to access their
professors not only in class but out of class as well. The time faculty members spend in class is
determined by the game, but the amount of time faculty members spend with students outside of
class is something you control and is one means of improving educational quality.
3. Improve the class-type mix. Ask yourself: How many lecture courses are given? How many
seminar courses have breakout sessions? This strategy guides you to balance the number and types
of classes given at your institution.
4. Increase spending on your libraries. Integral to the success of any university or college is an upto-date library that has extensive holdings for research and learning purposes. Questions to
consider: Does your library have enough money to buy new books and other types of media? Does
your library have a large enough budget to maintain the holdings it already has?
5. Increase spending on information technology. Just a few years ago, the Internet barely existed.
Now, who can imagine working, researching, and communicating without it? Keeping up with the
latest developments in information technology is key to improving educational quality at your
institution.
There are consequences, however. As always, you should be aware that each of the five suggestions
above costs money and a budgetary increase in one area, or some combination of these areas, means
a decrease elsewhere. For example, reducing class size means that you will need more professors to
teach the same number of students. Another example is an increase in faculty time spent on out-ofclass contact, which runs the risk of diverting faculty from their natural inclination to do research
and thus may negatively affect faculty morale.
Scenario 4 -- Improve Research Performance
Research and scholarship are essential elements of academic quality. In this scenario you are
presented with a negative report on research from the faculty's representative and governing board,
the Faculty Senate. The report maintains that, while funds are sufficient, faculty teaching loads are
too heavy and faculty research time is too low. Your task is to improve research and scholarship in
seven years without undermining other areas of institutional performance.
Your Welcome Letter reads:
At our last meeting you convinced the Board that faculty research and scholarship at our university
are mediocre by national standards. Something must be done.
The Faculty Senate Research Committee attributes this condition to a lack of commitment by both
faculty and administrators rather than a lack of resources. The committee blames excessive teaching
loads and insufficient research support. They blame low faculty morale. Most departments require
improvement.
In ten years, the Board and the Faculty Senate want the University's performance rating in
scholarship to be strong. Within another five years, we want it to be rated excellent. The rating
reflects the scholarship of integration, application, and teaching as well as knowledge creation.
Remembering that the University's lackluster research performance is not due to a lack of physical
and financial resources, the Board expects more than a plea for money. Rather, we expect a plan to
breathe life into our laboratories and to re-establish the University's preeminence as a center of
scholarship and discovery. How will you reach these goals?
Strategies
In this scenario, you are faced with poor academic quality and low faculty morale. Faculty members
do not have enough time to pursue their own research and scholarship. This must be changed. Your
first step is to evaluate which departments have the greatest research potential and focus your efforts
on these departments. After this evaluation, you may want to do one or more of the following:
1. Decrease teaching loads. Low faculty morale and poor academic quality stem from an imbalance
in the activities that faculty are asked to perform. One way to correct this is to decrease teaching
loads so that faculty members have more time to pursue research interests.
2. Increase faculty time spent on research and scholarship activities. After you have decreased
teaching loads, you have more time available, as mentioned above, to increase the amount of time
faculty members have to spend on their research and scholarship. Increasing faculty time spent on
research and teaching is another means of correcting an imbalance in the distribution of faculty
time.
3. Hire more faculty members. Hiring more faculty members means each faculty member has fewer
classes to teach and more time to pursue research and scholarship interests. This is another means
available to correct low faculty morale and poor academic quality.
4. Improve your Internet connection. The Internet is key to successful and current research. To
improve your Internet connection, go to the budget and increase the budget line for information
technology.
Each of these strategies should positively affect faculty morale. As faculty members have more time
to spend on research and scholarship, institutional prestige should also improve. However, the
caution remains: think carefully about your priorities and be careful not to overspend.
Note:
Increasing the distance-learning courses will not help and should not be confused with
improving your Internet connection. Distance-learning courses use technology to ease the
constraints on class size. But spending money on courses that use technology is not the same
as, and should not be confused with, spending money on improving your Internet
connection. Improving your Internet connection is the means by which you increase
spending on technology at your university or college overall.
Scenario 5 -- Win Games
A successful athletics program is an important contributor to an institution. It can encourage alumni
to donate, attract applicants, and boost institutional prestige. In this scenario, you receive a negative
Alumni Association report that details overly strict admissions, low athletics department budgets,
and insufficient financial aid for athletes. Your task is to improve the football and basketball
programs by boosting each team's winning percentage in four years, and perhaps to also increase
the NCAA competition level, without harming other aspects of institutional performance.
Your Welcome Letter reads:
The Alumni Association has impressed upon the Board the mediocrity of our athletes. The Board
agrees that our institution should win more games, thereby strengthening the loyalty of alumni and
attracting new students to all our departments. Something must be done.
The Alumni Association criticizes our admissions standards as too high and our athletics budget as
too low. We are faulted in particular for providing insufficient financial aid for athletes. The Alumni
expect our inattention to athletes to be corrected without damaging the academic performance that,
at bottom, represents the worth of our university.
In four years, the Board and the Alumni Association will review your progress as reflected in our
teams' victories. By then, we want our teams to win more than 60% of their games. We would be
especially pleased if they were then winning more than 60% in a higher NCAA Division. How will
you achieve these goals and at what cost?
Strategies
In this scenario, your basketball and football teams are not doing well and your Alumni Association
is unhappy about it. But what can you do to make the teams perform better? You can't play the
game for the students, but you can influence who plays on the team. To improve your institution's
football and basketball programs, there are several strategies you may want to consider:
1. Change your admissions standards. Make it easier for athletes to matriculate.
2. Increase institutional priorities for the admission of student athletes. In the Admissions Office
you have settings which allow you to determine whether you have a high,
high medium,
medium or low
institutional priority for the admission of student athletes. One way to improve the performance of
your athletic teams is to increase your priority for student athletes to high.
high
3. Increase financial aid for student athletes. Money that you make available to student athletes in
the form of financial aid increases the number of student athletes who can attend your college and
signals to the faculty, staff, students, and board that this is an institutional priority.
4. Increase the athletics department budget. Like every department on your campus, the more
money you spend on the athletics department, the better it will perform. An increase in funding also
provides the athletics department with the means to expand its activities. In general, and as long as
you are careful, increasing the budget in any department should show positive results.
As with other scenarios, you must be careful not to overspend. Increasing the amount of money you
spend on student athletes, specifically, and the athletics program, generally, means taking money
from somewhere else. If you don't adjust your budget accordingly, you will run deficits. Some bank
debt may be necessary in the short-run, but in the long run, debt can lead to bankruptcy and the end
of the game.
Scenario 6 -- Reduce Tuition
Continuously increasing tuition rates has become a pressing public policy issue in higher education.
In this scenario, your Board informs you of a new policy that states tuition rates must decrease. The
goal of the policy is to enhance financial discipline and attract more talented students to your
institution. Your task in this scenario is to maintain institutional performance while decreasing
tuition.
Your Welcome Letter reads:
The Board notes with alarm that our tuition has escalated at a real rate of 3% per year. Equal
extravagance at other institutions does not relieve us of our responsibility to lessen the burden on
our students and their parents. People will rebel if higher education continues to be seen as pushing
aside their other needs.
Believing the time has come to take a stand, the Board notifies you of its firm policy that our tuition
shall not rise. In fact, the Board would like tuition to go down.
Until now the University has estimated the growth of non-tuition revenue, funded new programs,
salary increases, and other costs, and then closed the gap by raising tuition. You will now estimate
tuition like other revenue and close the gap by disciplining expenditures. The new budgeting will
strengthen internal financial discipline by forcing trade-offs among competing expenditures. Most
important, tuition reductions will make us accessible to a larger pool of talented students, thus
ensuring the worth and continuity of our university.
Strategies
This is a challenging scenario because it deals with controlling growth rates. As mentioned in your
Welcome Letter, tuition has been raised 3% annually at your institution. Your Board's policy of
tuition decreases means that you can no longer depend on that 3% increase in your budget, but you
still must maintain institutional performance. You may want to think of ways to increase income
without increasing tuition, but this won't help much in the shortterm.
Short-term Strategies
In the shortterm, you need to think of ways to immediately increase income or decrease spending.
Two strategies that have only one-year lifespans but will serve to alleviate immediate budget
shortfalls are:
1. Increasing the number of students attending your university by 3%.
2. Cutting your budget by 3%.
Obviously, you can't continuously increase your student body without putting greater stress on your
institution's infrastructure, thereby increasing the amount of money you spend on your institution's
facilities, faculty, and staff. Likewise, you cannot decrease your budget 3% every year and still
maintain the levels of institutional performance you are currently experiencing. Fortunately, there
are long-term strategies available.
Long-term Strategies
One long-term strategy involves increasing your endowment. As you increase your endowment, you
can decrease the payout rate (how much money you spend from your endowment). In this way, the
lower payout rate will increase the growth rate of your endowment, and thus the growth rate of
spending from endowment. You also need to focus on attracting more donors and then investing
these funds. A more aggressive investment strategy can also increase the endowment's growth rate,
but at the cost of increased year-to-year volatility. Thus, a more aggressive investment strategy
should only be used by a university that doesn't have any important budget shortfalls to deal with
and thus can withstand a bad year or two.
Scenario 7 -- Respond to Enrollment Shifts
Your institution is experiencing changes in student priorities and academic interests. As a result,
some departments have more capacity than they do students while other departments are struggling
to meet demand. You are faced with disparities in teaching load and class size and some
departments where large numbers of students are being denied access to courses. In this scenario,
you have 10 years to correct the imbalances brought on by enrollment shifts in order to maintain
educational quality.
Your Welcome Letter reads:
Shifts of enrollment among departments have distorted course listings, overloaded some teachers
and buildings, and left others idle. These shifts leave some courses half-filled while students are
foreclosed from desired overfilled courses. Some departments have upped the proportion of lecture
courses to accommodate increased student numbers.
Because the world has moved on and made a return to the previous pattern unlikely, the Board
shares the concern you expressed at our last meeting. Going beyond describing misalignments,
however, how will you restructure our academic programs and faculty resources to match today's
needs?
By the second semester of year 11, the Board expects educational quality to increase, course denials
to decrease, and average teaching load hours to rise substantially. What is your plan?
Strategies
This scenario is a classic budget reallocation problem. Generally, enrollment shifts mean you have
to redistribute the resources from the departments that have too much to those departments that
don't have enough. You may find this challenging as you try to balance limited resources with too
many tenured faculty members in some departments and too few faculty members in others.
Short-term Strategies
In the short term, you need to take immediate action to alleviate the stress that those strapped
departments are experiencing. Toward this end, you may want to try one or both of the following:
1. Increase class size in departments that are strapped for resources. You must be careful in
applying this strategy and monitor it closely because changes in class size may affect educational
quality and student morale.
2. Decrease departmental budgets that have excess capacity and increase departmental budgets that
are experiencing shortfalls in faculty and course offerings.
Long-term Strategies
Even though you will need to take immediate action to alleviate the stress certain departments are
experiencing, you also need to think in terms of long-term strategies. You should focus your energy
on:
1. Finding more financial resources for strapped departments.
2. Encouraging early retirement among those departments experiencing excess capacity.
3. Investing any new income you acquire in new faculty hires and directing these hires to the most
overburdened departments.
4. Setting institutional policy that makes faculty promotion harder. The goal of this strategy is to
make it difficult for faculty members who are in unpopular departments to get tenure. While this
may negatively affect faculty morale, it functions as a means to get faculty members to voluntarily
leave by making tenure too difficult to achieve.
In this scenario, many of the strategy suggestions direct change at the departmental and faculty
levels. Clearly, your actions in this area may strongly and negatively affect faculty morale. Think
carefully about the combination of strategies you choose as you attempt to address the reallocation
challenge. For example, you may choose to increase class size in those departments that are
strapped as a stop-gap measure until more faculty can be hired. And in order to hire more faculty
members in these departments, you need to reduce the budget and the number of faculty members in
departments experiencing excess capacity.
You may decide to make tenure harder as well as reduce budgets in departments that have excess
capacity. This may sound fine, but what you may achieve is low faculty morale and angry faculty
members all around. Faculty in the strapped departments will be stressed by the increase in their
class size. Weren't you listening? Faculty members in these departments were already running low
on resources and they were expecting you to decrease their burdens, not add to them. Meanwhile,
faculty members belonging to departments with excess capacity are stressed because they have
fewer resources and their jobs are threatened. As president, your job is to perform a balancing act.
You have to make necessary changes while simultaneously convincing the faculty, staff, and
students that everything will work out.
Scenario 8 -- Enroll More Minority Students
For many institutions, increasing the number of qualified minority students is an important goal. At
your institution there are relatively few minority students. Your task in this scenario is to increase
minority student representation twofold in ten years while maintaining all other aspects of
institutional performance.
Your Welcome Letter reads:
The Board shares your concern about the scarcity of minorities among our students. Further,
because minorities are equally scarce among freshmen as among seniors, we see no evidence that
time will cure the problem. Instead, you must act promptly to increase the number of minorities.
The Board sets your goal as boosting the number of minority students twofold in ten years, that is,
from 9% to 18%. At the same time, we expect this will make us accessible to new pools of talented
students, guaranteeing the worth and thus continuity of our university.
Strategies
You and your Board agree on the need to diversify the student body. Generally, you want to
immediately increase enrollments with an emphasis on minority students. You need to act quickly
because you want a significant increase in five years. As a result, the strategies you are concerned
with have to do with admissions, enrollment, and financial aid. Toward these ends, you should:
1. Increase special treatment for minority students.
2. Enroll more students in absolute numbers to make room for an increased percentage of minority
students.
3. Increase financial aid for minority students.
Remember, the student body will completely change every four years so the effect of your policy
decisions should be evident by then. You also have a fifth year to show the stability of your
programs or extra gains.
Scenario 9 -- Hire More Minority Faculty Members
Just as attracting more minority students is an important goal for many institutions, so is attracting
more minority faculty members. There is a relative scarcity of women and minority faculty
members at your institution. Your task in this scenario is to increase women and minority faculty
member representation over five years and foster enrichment of institutional performance as a result
of the changes made in the professorate.
Your Welcome Letter reads:
At our last meeting, you told the Board your concern about the few minorities and women on the
faculty. We agree heartily and expect the shortfall to be redressed promptly.
You told us that the University has about the same under-representation in all fields, and that
minorities are even more underrepresented than women are. The scarcity of minorities and women
among young as well as old faculty shows the problem will not correct itself.
The Board sets your goal as boosting minority representation by 50% in five years. For women, the
goal is a 25% increase in five years.
We ask how you will accomplish these goals and with what change in budget and staff size. At the
same time, we expect the enhanced representation of women and minorities on the faculty to enrich
all aspects of university life. (Percentages shown above are examples. Actual percentages are
created dynamically based on conditions in the generated game.)
Strategies
This is a challenging scenario because you are expected to dramatically alter the diversity of your
faculty in a relatively short time. The general strategy to follow here is to set new policies early in
the first year. The policies you need to set involve hiring, salaries, and increasing student
enrollment. Therefore, you should consider:
1. Changing hiring policies to reflect priority on hiring women and minority professors. This will
signal to the members of your college or university that you value women and minority professors.
2. Eliminating any gap between white male and women and minority faculty members. This is most
easily accomplished when overall salary rates are increasing. (See the Pay Better scenario.) The
benefits of this policy are twofold. First, it makes hiring women and minority faculty members
easier as they will naturally be drawn to higher salaries. Second, it makes retaining women and
minority faculty members easier. Their salaries are high and this signals to them that they are valued
members of your institution. These are important benefits and ultimately ones upon which you will
be judged.
3. Increasing, if resources permit, the overall size of your student body. This will allow you to hire
more faculty members to meet demand and you can fill these new spaces with women and minority
hires. In short, more students means more faculty members and thus more diversity.
You should note, however, that even though you are given more time, attracting women and
minority faculty members is a more difficult task than attracting minority students. Students stay at
your institution roughly four years. By contrast, tenured faculty members stay 30 to 35 years. This
scenario challenges you to correct your imbalances in only a fraction of the time that you may
expect a faculty member to stay at your institution. To correct these imbalances requires that you
have the necessary funds available. And money spent here must be taken from elsewhere.
Scenario 10 -- Balance the Budget
This Virtual U scenario requires you to balance the budget. You are faced with large budget deficits
that threaten your institution's financial reserves. In addition, your university is experiencing
significant revenue loss. Your task is to make the necessary budget cuts and balance the budget in
nine years while maintaining high levels of institutional performance.
Your Welcome Letter reads:
The budget deficit you project alarms the Board. Unexpected shortfalls in research grants, gifts, and
other income have thrown the budget ($5,711 thousands) into the red. Worse, hopes of more income
anytime soon are vain. At our recent meeting, you disappointed the Board by advancing no remedy
to cope with the new circumstances promptly. We are disturbed that you currently are targeting a 3
percent deficit for next year.
You must act immediately. Although some actions may require more than one year to phase in, you
must balance the budget within three years from now. Furthermore, after achieving a balanced
budget during years 4, 5, and 6, you should run surpluses for years 7, 8, and 9 or until reserves rise
to their current level of $9,000 thousand.
You must accomplish the above without diminishing the average Performance indicators and
Attitudes toward the institution scores (listed on the Score screen.)
Strategies
This scenario requires you to cut the budget and minimize adverse effects on academic quality,
financial viability, and university operations. The primary strategy for this scenario is to increase
revenue and decrease expenses. You may want to try one aspect of this strategy -- increasing
revenue or decreasing expenses -- first.
Short-term Strategies
In the short-run, you may find it difficult to increase revenue; thus, you may choose to focus first on
making immediate reductions in the budget. To do this, evaluate each department at your institution
with the following questions:
•
•
•
What kind of courses is this department offering?
Are they seminar courses where the student-to-teacher ratio is small?
How many lecture courses are offered where the student-to-teacher ratio is much higher?
One way to reduce expenses is to decrease the number of seminar courses and offer more lecture
courses. Another strategy option is to reduce faculty salaries. You may also increase student
enrollment, therefore increasing tuition dollars. Or you may need to increase student tuition.
Be careful. Each of these remedies is only a short-term solution to the crisis at hand. Tuition
increases are not popular or sustainable. Your university's infrastructure will not tolerate continual
increases in student enrollment. It will also be hard to keep faculty members and attract new ones in
the face of salary reductions. There are consequences for every action you take. A reduction in
seminar courses may adversely affect educational quality, faculty morale, or student morale.
Reducing faculty salaries and/or increasing student enrollment may seriously affect faculty morale.
Faculty members will not be happy about salary reductions that occur while the number of students
or courses they are expected to teach is increased.
Note:
You may only increase student enrollment provided that your institution is receiving
sufficient applications to support an increase.
Long-term Strategies
To achieve long-term stability, you may want to do one or more of the following:
1. Increase the amount of gifts given to your university.
2. Increase research volume at your institution.
3. Increase the success of or the competition level of your athletics programs.
For more information on each of these long-term strategies see Part III: Specific Strategies
Strategies.
Conclusion
As you have seen throughout this section, administering a college or university requires that you not
only solve the problem presented in the scenario but that you also attend to the other aspects of
running your university. Every action or policy you set has consequences. It is your job to control
the outcomes so that they promote the well-being of your institution.
Part III
Specific Strategies
Introduction
The first two sections of this manual have given you some strategies to follow when playing Virtual
U in general and playing scenario games more specifically. The goal of this section is to provide an
in-depth understanding of the specific strategies available to you to improve your tenure as a
university president. Continuing the focus on specific strategies, this section will review and
provide strategies for each of the areas on the Menu Bar as well as provide strategies for those
departments only accessible through the Campus Map. The areas covered in this section are in order
of their appearance on the Menu Bar and include Faculty, Students, Courses, and Finances. The
areas in this section that are found by means of the Campus Map are Admissions and Financial Aid,
Development and Alumni Affairs, Athletics, Library and Information Technology, Old Main
(Investments), Operations & Maintenance, Parking, and Police Station (Crime). Each section will
provide a general description of the issues you face and provide strategies for each policy decision
you can make.
Faculty
The faculty is central to the success of your college or university. Who you hire, when you hire,
how faculty members are required to spend their time, and how easy or difficult you make tenure
are all issues that attract or dissuade faculty members from working at your institution. The
following will cover the numerous policy decisions concerning faculty members that you must
make.
Faculty Hiring
As president, you determine how many women, minorities, tenured, long-term adjunct, and shortterm adjunct faculty members will be hired at your institution. In real life, a university president
must choose between equally necessary goods and services. You can steer the allocation of new
hires, including those who replace faculty members who have departed, by adjusting the weight
given to a department's teaching load, its relevance to institutional mission, its sponsored research
volume, and the year-to-year change in faculty size. Often, each department only hires one or two
faculty members each year, and in some years there are no hires.
Virtual U models this real world environment. Therefore, it is necessary to decide how you will
distribute available faculty hires and to set hiring policies early. Slow the game down, evaluate each
department and set hiring policies at the department level before you move on to setting universitywide policies. One exception applies here: the only other set of university policies with which
players should concern themselves at the beginning of the game is budget priorities. Ideally, your
university budget is as balanced as possible at the beginning of each school year.
If you do not set hiring policies early, Virtual U goes into a default mode that hires randomly. The
default mode will not move your institution toward the goals you have set. Keep in mind that hiring
tenured faculty members is controlled by three factors: teaching, scholarship, and research. Setting
priorities for the kind of faculty talent you want to attract will have positive effects on educational
quality, research, and/or institutional prestige.
Mission and Hiring
With regard to university mission, some departments will be viewed as critical to the player-created
university's mission, while others will be viewed as peripheral. This will bias hiring decisions
toward the highest mission-relevant departments. Suppose, for example, that chemistry is judged to
be more mission-relevant than sociology. If the departments are about equal in teaching and
sponsored research load, the new hire would go to the chemistry department.
Salary and Hiring
Salary at Virtual U can be manipulated by each player and is an important part of the hiring process.
Basically, the higher the salary as compared to peer institutions, the better quality of the hire. The
faculty salary market may also reflect a salary premium for gender and minority status. For
example, you may have to pay more to get African American women faculty members than their
white counterparts.
Strategy
There are two strategies in faculty hiring available to you:
1. Faculty members are concerned with teaching, research, and scholarship. When hiring faculty,
you may wish to give priority to time spent on sponsored research. This will attract other talented
faculty members to your institution.
2. Attracting talent will, in turn, increase prestige and sponsored research activities. But remember
talent is expensive.
Note:
The market for faculty with strong research skills is the most competitive and the most
costly -- a lesson you will learn as you attempt to upgrade a given department's research
capacity.
Faculty Morale
How do your faculty members feel about your institution? One of the essential tasks of a university
president is to create an environment where faculty members feel comfortable and successful. There
are several strategies available that will help achieve this end.
Strategy
1. One obvious way to increase faculty morale is to increase salaries. This is a decision you have to
make when you are setting the budget and it is dependent upon department affiliation.
2. Rewarding scholarship and research activities by increasing time spent on these activities or
offering higher salaries will also improve faculty morale.
3. If you have a situation where teaching quality is low and you have relatively few faculty
members, you should increase the teacher-to-student ratio. This means you should hire more faculty
members. Remember that one action affects all other aspects of the university.
4. Reducing the number of students to teachers will increase faculty morale and improve education
quality but the adverse effect will be costly. If you don't have a balanced budget, you will want to
think of other less costly ways of improving morale.
5. You can also improve faculty morale through related activities such as giving faculty more class
preparation time and out-of-class contact with students. The adverse effect is that faculty members
have limited time. More time spent teaching means less time on research and fund-generating
activities.
Note:
If you set every policy choice to its highest level, you are, in effect, making no decision at
all. University presidents have to make difficult choices. The key to faculty hiring is
balancing how faculty spend their time.
Promotion and Tenure
In Faculty Hiring, two of the most important policies you will set concern promotion and tenure.
These areas are concerned with how easy or difficult promotion and tenure is to achieve at your
institution. There are five steps you may want to follow.
Strategy
1. Carefully evaluate each department by slowing the game down so no time is passing while you
acquaint yourself with your university. Evaluate and hire.
2. Promotion policies, unlike hiring policies, which are done at the department level, are done at the
institutional level. Promotion is only considered once a year.
3. You must decide how difficult you want your promotion to tenure to be -- low, medium, or high - and the degree to which the policies you use to adjust salaries (for example, research or teaching
performance) are reflected in promotion -- low, medium, or high.
4. Review your tenure policy every five years. If you are not satisfied with the effects of your tenure
policies, make tenure more difficult to achieve.
5. Review and balance your budget before hiring.
Faculty Time
Faculty members experience one central dilemma when it comes to managing their time at work:
Do they spend more time on research or teaching? Between research and teaching, how do faculty
members divide their time between course preparation, class hours, out-of-class student contact,
educational development, scholarship, or institutional service? It is your job as president to be
sensitive to this dilemma. This section will provide strategies for each of the areas on the Faculty
Time screen. The greatest challenge you will have here is balancing the numerous activities that
claim faculty time while trying to meet faculty needs and interests.
Normal Teaching Load
The normal teaching load is six hours a week. You can increase or decrease this. (If you are
uncertain how many seminar classes, etc. each department is teaching, you may want to go to
Courses to see the course mix at your institution). If you want to get the most mileage out of your
faculty's teaching time, shift class type from seminar to general. In every case, as you evaluate your
departments, new professors should be teaching six hours per week.
Course Preparation
Course preparation is the amount of time that faculty members spend preparing for a class or
lecture. If you increase the number of hours that faculty members spend here, you improve the
quality of teaching and faculty morale.
Out-of-Class Student Contact Hours
Out-of-class student contact hours is the time faculty members spend with students outside of class.
If you increase student contact hours, you increase student morale and educational quality. But there
are consequences. The more you require faculty members to spend time with students outside of
class, the more you move faculty away from their internal preferences: to spend time on their
research and scholarship.
Educational Development
Educational development is the means by which you may develop new courses. The resources you
spend here will take longer to produce results. However, there are three tangible benefits:
1. You will increase student morale.
2. You will increase information technology.
3. You will increase educational quality.
Research and Scholarship Defined
Research is defined as those projects in which faculty members are engaged that involve
discovering new knowledge, the pursuit of truth, and discovery. Ideally, this is done without regard
to politics or political agendas. Scholarship is based on Earnest Boyer's definition of scholarship,
Scholarship Reconsidered: Priorities of the Professorate, 1990 but is more broadly defined. Boyer's
definition of scholarship has four parts: the scholarship of discovery, the scholarship of integration,
the scholarship of application, and the scholarship of teaching. The scholarship of discovery is best
understood in terms of research as defined above. The scholarship of integration is fundamentally
interdisciplinary and involves making connections across academic fields, interpreting existing
research, and putting data or findings in a larger social context. The scholarship of application
involves service to a faculty member's academic field, the university, and society at large. The
scholarship of teaching is the transmission, reinforcement, and transformation of knowledge by
professors to their students and to the broader social community. These are important definitions in
Virtual U and provide the theoretical underpinning for faculty work.
Research and Teaching
For excellence in either Research or Teaching, you must keep in mind that all departments are
different and have either a research or teaching focus. To identify the focus of a department, check
your opening letter, look at the departments in the hard or social sciences -- departments usually
associated with research. Research departments play an important role in your university since they
have the potential to generate funding and prestige for your institution. Notice the ratio of research
dollars to faculty members. The general strategy for improving research is to focus your energy and
funding on departments traditionally associated with sponsored research. The general strategy for
improving student morale is to focus your attention and resources on departments associated with
teaching, such as English, History, and Foreign Languages. In the case of both research and
teaching departments, excellence equals prestige and prestige attracts students.
Research
Research is increased through increased research proposals. You will see evidence of this on the
financial statement. The formula to follow is: increasing research dollars results in expanded
overhead (indirect
indirect cost
cost) recoveries, which will be reflected in your budget. Indirect costs are the
percentage of each grant that the university charges each grant for facilities and utilities. Indirect
costs are included in the Sponsored research revenue line of your budget but not in the Sponsored
research expenditure line. The latter includes only the direct costs of research - the amounts that
faculty members actually get to spend on their projects.
The Research button on the Faculty Activities screen has no place which calls for you to make a
decision. But this is an important screen as it provides means for you to track each department's
research activity and notice how much research is being generated. If the ratio between research
proposal acceptances to rejections is too low, you should immediately reduce the amount you
charge each grant for indirect costs. (The indirect cost rate is a variable on the Budget Plan:
Revenue and Expenditure screen.) In the shortterm, your strategy should be to increase faculty time
spent on research. In the longterm, you might try to improve the talent of the faculty at your
institution through your hiring policies.
Research and Hiring
Hiring research faculty is essential for building a signature research program, but there are risks.
Researchers may spend less discretionary time than teaching professors on education-related tasks.
This can have a big effect on the educational quality at your university. However, there are likely
benefits. Talented research faculty members who spend time on course preparation, course
development, and student contact might produce high-quality education. However, institutions that
choose not to hire the big research talent will retain faculty longer. Converting an institution to a
signature research program does take time, particularly given the relative permanence of existing
faculty.
Scholarship
There are many forms of faculty activity that fit into the category of scholarship; writing a new
book on Beowulf, performing service in the faculty member's professional society, or presenting to
the university community on the faculty member's latest research. The benefits of increasing
scholarship priority are tangible in several areas and you should see:
•
•
•
increases in institutional prestige
increases in faculty morale
increases in educational quality
Scholarship and Research
Scholarly work enhances teaching and institutional reputation but it does not increase the number of
research projects your institution generates. There is an inverse relationship between research and
scholarship. Faculty members need to do both. However, research-focused departments, like
Chemistry, should have higher research priority and lower scholarship priority. Teaching
departments, like History, should be given higher scholarship priority and lower research priority.
Institutional and Public Service
There are several avenues available to faculty members who wish to serve their university or
community. For example, faculty members who participate in the Faculty Senate Committee (the
faculty governing board) or who work with local schools are engaging in institutional and public
service. Increasing the priority for institutional and public service will show some increases in
alumni goodwill and administrative morale. The consequence of such an increase is that faculty
time is spent on an activity that draws them away from their research and teaching.
Faculty Retirement
A last minute addition and hidden aspect to Virtual U is the ability to offer individual faculty
members early retirement. While you can't fire individual faculty members on a whim, the ability to
retire some faculty members can be an important aspect of faculty management. It gives you some
ability to shape the faculty of your university.
Faculty members over 55 years of age can be offered retirement. You can evaluate faculty members
at this age and, if they lack some desired skills, are not performing as well as you want them to, or
they are receiving exorbitant salaries, you can offer them early retirement. The faculty member's
age and salary will have an impact on how significant the financial package must be to get them to
retire. You can offer from 25% to three times a faculty member's current salary. However, in some
cases they will reject even the highest of offers.
Retiring faculty members as a strategy should really only be pursued as part of a broader strategy.
Early retirement is a tool that can be used to shape faculty hiring priorities, cut expenses, decrease
the number of faculty members in over-staffed departments, or push faculty members to spend more
time teaching or doing research. At no time do you get to choose incoming faculty specifically (you
can only set hiring priorities), so you may find the replacement no better than the departed faculty
member.
Tip:
Set your hiring priorities before you begin offering faculty early retirement. Also note which
departments are now understaffed and will need new hires during the end-of-year budgeting
process.
Strategy
When retiring faculty, consider one of the following strategies:
1. To decrease costs, simply offer the lowest possible amount (25 percent of current salary) to each
faculty member of retirement age. After some faculty members have accepted (or declined) that
offer, make a higher offer, if necessary. Repeat the process until enough faculty have retired to
satisfy your need.
2. To change faculty demographics or talent mixes, offer specific faculty members retirement until
they accept. If faculty members won't retire even for the maximum possible offer (three times their
current salary), wait until they are older and try again (at lower amounts to start) until you have
successfully retired them. Obviously with this strategy retirements could be expensive undertakings.
You might decide to retire specific faculty members only if they accept a certain size offer or less.
Students
Under this menu item you have two policy decisions to consider: student housing and student
finance. If you decide to finance the resident halls, this means that you are building new residence
halls even if none are added to the campus map. However, as you build new buildings, you also
increase the cost for each average resident. If you decrease the number of students in residence
halls, this means you will have unused beds.
Student finance is concerned with spending on activities for students, referred to as student life.
Student life is directly concerned with how happy students are with their college or university.
Strategies
1. The easiest way to increase student morale is to increase the number of hours professors spend
with students outside of class.
2. If you increase the attention given to other projects at your institution, it will decrease student
morale.
3. If you are financially stable, you can increase spending on student life and you will see an
increase in student morale. However, if you are financially unstable, be cautious about increasing
the number of beds that you have. In effect, you will be building when you don't even have enough
income to keep your institution stable.
4. Increase the budget for student life to increase student morale.
5. Increase spending on athletics or admit more top athletes to increase student morale. Students like
to be at an institution with a winning team.
Courses
Courses provide their own unique set of challenges. What should be done when students are closed
out of courses? Should you have a summer term? When you can't hire more faculty members, are
there ways to increase class size or change course mix to meet student demand? Though there are
only two screens under Courses where you make policy decisions. The choices you make here can
affect issues of educational quality as well as student and faculty morale.
Course Mix
How you distribute the types of courses offered at your institution is an important measure for
promoting student and faculty morale. Issues of improvement turn on student-to-teacher ratio and
this ratio depends on whether you are running a public, private, or research university. You can find
this ratio by looking at each department. Basically, a lower student-to-teacher ratio is better.
Strategy
1. Change class mix -- especially if you can't hire more faculty members. Increase the numbers of
general courses and decrease the number of seminar courses. This saves money and makes the most
of faculty teaching hours.
2. In terms of educational quality, smaller class size is better. You should increase the number of
seminar classes and decrease the number of general classes.
3. If students are closed out of courses, student morale will decrease. To correct this, it is necessary
to increase class size. However, there is a balance here. Getting into a large class is better than not
getting into any class at all, but generally smaller classes will increase student morale most.
Summer Courses
At Virtual U, your school year begins in the fall and ends the following spring. However, you have
the option of expanding the year to include a summer term. What are the benefits of a summer
term? How do faculty members respond to teaching during the summer? Will a summer term ease
financial problems? What percentage of classes is taught in the summer trimester? You determine
the answers to these questions. You must decide if your need to expand course offerings should
extend to the summer. While there are some negative consequences to this expansion, it is a good
way to meet student course need.
Strategy
1. Summer classes spread need and create class sections.
2. However, expect faculty morale to decrease, particularly at the beginning of this policy. As
people get used to teaching a summer schedule, you should see faculty morale improve.
3. If you are experiencing financial problems, one way to capitalize on the teaching resources you
have is to create summer term and promote distance learning. In this way, you can increase the
number of course offerings as well as increase the number of students in each class without having
to hire more faculty members.
Finances
As mentioned in General Strategy 2, understanding the financial structure is perhaps the most
difficult aspect of Virtual U and one of the most important to the success of your administration. If
you have followed the advice suggested in General Strategies, you have familiarized yourself with
your institution and your budget in particular. This section will provide a quick lesson on things you
should look for as you review your budget and offer strategies for setting budget priorities.
A Quick Lesson in Reading Your Budget
Imagine this is your first week at your institution and you are trying to get to know your institution.
Today you have decided to review your budget and set institutional priorities for the rest of the year.
As you begin your review, there are several features of which you should be aware and several steps
you should follow.
1. Go to Revenue and Expenses. Notice how much revenue you are generating and how much you
are spending. What is your mix of revenue? Players should note:
•
•
•
Financial statements for public institutions will show public funds.
Wealthy institutions will have large endowments and cash resources.
Struggling colleges might have little or no endowment and scant cash reserve.
Here, you will find information on the budget that was predicted versus the actual budget, i.e. what
is actually being spent. As you examine each area, note the places that are strong and the areas that
are weak. You will want to continue to provide strong areas with suitable resources. Some weak
areas may require immediate attention. You will want to look at four areas in particular:
•
•
•
•
Real growth of tuition rate.
Real financial aid growth. Subtract this figure from tuition and you have the actual amount
that tuition is contributing to your budget.
Endowment spending rate. This is the amount of your endowment you are spending each
year to maintain university functions.
Indirect Costs. This is the overhead you charge sponsored research for the operation of
facilities and utilities.
If you need to generate more income, you can increase tuition and indirect cost rate.
2. Next, go to your Balance sheet. You should pay particular attention to the:
•
•
•
Operating Reserve. Think of this as your institution's savings account. It is from here that
deficits will be taken. If the operating reserve runs low, you can take a short-term loan.
However, you will need to limit the size of the loan balance or you will go bankrupt and the
game will be over.
Capital Reserve. Think of this as the bank book you have for facilities. This is the amount of
money you have to spend on new facilities. If your institution grows, you will have to
increase the amount in the capital reserve and build more buildings. You can do this by
increasing the transfer to plant or directing more alumni gifts to facilities.
Endowment Size. The size of your endowment determines the amount that you can spend
from it. Because the endowment is liquid, the size of your endowment counts more heavily
as an asset in the determination of debt limits than the physical plant does.
3. Note that you can influence some, though not all, external events including: endowment return,
growth of sponsored research, growth of gifts, growth of athletics revenue, interest rate on bank
debt, and growth of other income. For example, asset allocation might influence endowment total
return. Expenditures on advancement and athletics might influence income growth for those
categories. Heavy deficits requiring bank debt close to the credit limit might escalate the bank
interest rate. It is important to note that your university has a borrowing limit. Your institution's
credit rating determines the total amount of debt that can be outstanding at a given time. For
simplicity, Virtual U makes no distinction between plant debt, residence hall debt, and bank debt.
The institution's borrowing limit represents the difference between its overall debt capacity and the
debt currently outstanding.
4. Go to the Budget Plan. Ask yourself: What policies are in place now? What have you inherited
from the last president? Scroll completely through each screen including: Revenue and expenditure,
Functions (real budget growth fuels growth in the university functions, and conversely), and Faculty
Hiring.
Note:
You can view the revenue and expenditure statement at any time during the year. You can
also rescind amounts from some expenditure lines if and when shortfalls arise. For example,
rescissions can be from the student life and O&M budgets. However, Virtual U is not
intended to be primarily a financial exercise. For example, there is no general distinction
between restricted and unrestricted funds for most income and expense categories.
5. As you begin to set policy, imagine that you have given your Chief Budget Officer an instruction
to develop a budget plan. He or she will try to meet your instructions and always produces an
accurate set of results in the sense that income will always equal expenditures plus the surplus or
deficit. However, the results may not always be what you wanted. The budget officer will come as
close as possible, but if your requests are mutually inconsistent (e.g., growth in all expenses and a
budget surplus), that may not be very close. That has a growth of, for example, 1%. Suppose you set
the policy for real budget growth at 0%, for example. Then you'll fund your salary increases, but
won't have any additional money to distribute among the various budget functions. In other words,
the level real expenditures will be the same as last year. If you set your real budget growth at a
number greater than 0%, you can have more books for the library or more faculty members. As you
become more sophisticated in your game play, you can go to Detail for more specific information
about your budget.
Strategy
1. Decrease expenditures on staff and you will see an adverse effect on staff morale because of the
implications for increased workload and possible layoffs.
2. Decrease faculty hiring and faculty morale will decrease.
Other Campus Venues
Outside of the Menu Bar there are several areas on campus you will want to visit to set policies and
priorities. Failure to visit these campus locations will result in lost opportunity to set policies vital to
the success of your institution and administration. These areas include the Admissions and Financial
Aid Office, Development and Alumni Affairs Office, Athletics, Library and Information
Technology, Old Main (Investments), Operations & Maintenance, Parking, and Police Station
(Crime).
Admissions and Financial Aid
One of the areas at your college or university that you need to track carefully is the number of
undergraduate, graduate, and nontraditional students being admitted and how closely these numbers
match the targets you have set for your institution. Among the targets you set are the percentage of
students at your institution who receive financial aid and how much financial aid this group will
receive. The purpose of this section is to give you strategies for setting admissions and financial aid
targets.
As you set these targets there are several questions you may want to consider: How many students
are attending your university? How many students would you like to see attending your institution?
What are your university's peer institutions as seen by students? To what group of peer institutions
does your university aspire? How should you classify potential students? What are the current
profiles of your entering students? Are you satisfied with the profiles? If not, to what profiles do
you aspire and what would it take to get there? To what extent do yield rates indicate that yours is a
first-choice or backup school for students? What, if anything, can be done to improve your
institution's profiles, yield rates, or admit rates? What are the trends? Can you do anything to
improve matters? How does spending per student, student-faculty ratios, faculty quality indices,
endowment, and revenue mix measures differ from those of your actual and desired peer
institutions? Have you assessed the impact of institutional changes upon student preference -- and
hence upon your institution's application and yield rates?
Admissions
As you move through the four screens for student admissions, you will find many of the answers to
these questions. The policies you set on these screens will determine how successful you are in
attracting and keeping students at your institution. Low admit rates or high yield rates are set by
sliding the bars to the number of students you want to matriculate. Note that the goals you set on
these screens are your target numbers for the next year's students.
Strategy
1. If you are seeking to increase student quality and educational quality, reduce the number of
students admitted to your institution.
2. If you are seeking to increase your student populations, increase the numbers of students in your
target areas. However, you should note that a 10% increase in undergraduate students, for example,
is a 10% increase across all departments. You cannot target one or two departments and increase
their enrollments.
Note:
In nonselective institutions, setting admissions priorities that run counter to your
institutional mission will not be effective in increasing institutional prestige. This means that
your institution has a mission of serving all students regardless of their talent.
Financial Aid
Rising college and university tuition costs have forced students, parents, and college administrations
throughout the country to think about how people will pay for college. This type of aid is
traditionally referred to as needneed-based aid. Another type of aid is associated with academic talent
and is often referred to as merit aid. To which students will you give aid? What kind of aid do you
prefer to use? Are there students you would like to attract to your university who may qualify for
both types of aid? As you administer your institution, you will have to address these issues, too.
There are several strategies you may want to consider as you begin to set financial aid policy at
your institution.
There are two types of financial aid in Virtual U: merit aid and need-based aid. Manipulating the
kind of aid you give to students is your chance to shape the academic ability of the classes you
admit to your institution. Toward this end, if you increase merit aid, especially if you are a highly
prestigious institution you will increase the number of talented students, other things being equal. If
you increase need-based aid, especially if you are a private institution, you will increase the number
of students from disadvantaged backgrounds.
Strategy
1. In general, the more selective your institution is, the more you should move toward using needbased aid. The opposite is true as well.
2. The less selective your institution is, the more you should move toward using merit aid. You
should think of this as your chance to shape the kind of academic talent that you attract to your
school.
3. This is also your chance to diversify your student body by offering more need-based aid and
establishing the level of special treatment you want to give to minority students and athletes.
Note:
Nontraditional students are part-time learners, but they pay tuition. The tuition these
students' pay is a good moneymaker for your college or university. To increase tuition
dollars, increase the number of nontraditional students. Keep in mind, however, that
nontraditional students may want financial aid. You have to decide whether to give it to
them. Distance learners also can be moneymakers. They are part-time students, but they
attend classes over the Internet. This means that class size constraints are relieved and there
is no draw on the on- campus facilities. You can attract more distance students by improving
the quality of your internet connection and getting faculty to spend more time on using
information technology in teaching.
Development and Alumni Affairs Office
There are two screens at the Development and Alumni Affairs Office that need your attention. The
first includes a report on the alumni donations you received last year, your projections for this year,
and how well you are meeting your targets. You may choose to increase the fundraising budget on
this screen. The second screen shows how you use the gifts you receive. You can spend your alumni
donations on current use, the endowment, and facilities. This screen also gives you information on
alumni who have donated and the level of their satisfaction. Keeping donors happy has obvious
implications for receiving future donations. If you have low alumni morale, then you will see a
decrease in the number of alumni who give to the institution. The key question is: How do you
increase alumni morale thereby increasing donations? There are several methods available to you:
•
•
•
Spend more on development.
Increase university prestige.
Win more games.
Athletics
A winning football or basketball team can do wonderful things for a college or university. Winning
a football bowl game or having a winning season can bring in large sums of money, increase
institutional prestige, increase alumni donations, and increase applications. It sounds like a cure for
many things, but athletics are expensive. In addition, only winning Division I teams receive all the
benefits promised by a strong Athletics Department. However, not all schools will be able to
sponsor Division I teams.
What does it mean to be a Division I school? Colleges and universities who wish to participate in
sports nationally join the National Collegiate Athletic Conference (NCAA). Members of the NCAA
view intercollegiate athletics as an important aspect of the educational process and recognize that
different schools have different competitive abilities. To this end, three divisions were created:
Division I, Division II, and Division III.
Division I is the most competitive and has several requirements that universities must meet to
maintain this ranking. These include sponsoring at least seven sports for men and seven sports for
women, maintaining extensive athletic facilities for student athletes, p[laying a certain number of
games each year, and meeting minimum and maximum standards for financial aid.
Division II is less competitive but still has several requirements that must be met to maintain
ranking. These include sponsoring at least four sports for men and four sports for women, playing a
certain number of games each year, and meeting maximum financial aid standards.
Division III is the least competitive but still has requirements that participating colleges and
universities must follow. These include sponsoring at least four sports for men and four sports for
women, playing a certain number of games each year, and awarding financial aid on a need-only
basis. Virtual U stimulates these criteria with only two teams: Men's football and women's
basketball.
As you can see, based on the NCAA Division requirements alone, running any type of athletics
program is going to be costly. From a game perspective, investing in athletics early in your
administration is likely to lose money. After you have been running your institution for at least five
years and are looking to try something new, you may want to consider expanding your athletics
program from one division to another. As you begin to expand, there are strategies you may want to
follow.
Strategies
1. Change your admissions standards. Increase priority for enrolling student athletes. In Virtual
U, you have settings that allow you to determine whether you have a "high," "medium," or
"low" institutional priority for admission of student athletes. One way to improve the
performance of your athletic teams is to increase your priority for student athletes to "high."
2. Increase financial aid for student athletes. This increases the number of student athletes that
can attend your college.
3. Increase the Athletics Department budget. As you will see throughout Virtual U, the more
money you spend on a particular department, the better it will perform. Just be careful not to
overspend.
Library and Information Technology
Many of the resources for teaching and learning are found in your library. Likewise, the
commitment to information technology and improving your Internet connection affects the
resources your library has. Decisions you make here can affect educational quality, research
productivity, faculty morale, and student morale. You want to be sure to fund your libraries and
technology well. There are several ways to do this.
Strategies
1. Increase the time faculty members spend on course development. This is the way to develop
distance-learning courses. If you want the money-making advantages of distance-learning
and relief in class-size constraints, you must spend money here. Like many choices you
make in Virtual U that involve advantages and disadvantages, increasing the time faculty
members spend on course development may take time away from current course
preparation, out-of-class student contact, scholarship, and research.
2. To increase the number of volumes in your library, increase funding for your library.
3. Since the library and technology are connected in Virtual U and have such an important
relationship with each other, you must spend money here to improve your Internet
connection. To do this, go to your Budget and increase the budget line for libraries and
Internet connection. Seemingly small increases, 3% for example, may produce significant
results. You should see increases in applications from distance learners, research
productivity, educational quality, and faculty morale.
Old Main (Investments)
This is the location of your institution's investment portfolio and there are two screens in which you
will have to make policy decisions: asset allocation and the endowment. There are several questions
before you: How should you invest your money? What are the investment strategies that generate
the most money? Which are the riskiest investment strategies? Ask yourself these questions as you
make investment decisions.
Asset Allocation
Under asset allocation you have a choice between investing in large company stock, small company
stock, and bonds. Bonds are the safest investment, but they will also show the least amount of
return. Large company stocks are less stable than bonds since they are dependent on stock market
fluctuations. However, they will potentially show a larger return. The least stable choice is small
company stock, but this will show the greatest potential return on your investment. In short, the
more volatile the stock, the more risk you take but the greater return on investment. In Virtual U,
the stock market works on a randomized pattern of peaks and valleys as a means of simulating read
stock market behavior.
If you are a small institution or an institution experiencing financial difficulty, you will want to
make the safest investments possible. If the stock market crashes, you may not be able to absorb the
hit. If you are a wealthy institution and have some money you are willing to gamble, now is the time
to be more aggressive in your investment strategy.
Note:
If you play Virtual U with the primary goal of generating more money for your institution,
you have focused your attention too narrowly. As president, your job is about managing
multiple goals that produce multiple results.
The Endowment
Your endowment is key to the financial stability of your institution. On this screen you must decide
what kind of smoothing you want and whether to increase or decrease endowment spending.
In general, more smoothing means that the "endowment spending" component of your current
revenue is less impacted by stock market fluctuations. However, more smoothing will affect
fluctuations in the size of the endowment, which in turn may lead to greater budget impacts later.
More smoothing or less smoothing? It is a trade-off. Five-year smoothing provides more budget
stability and less endowment stability than three-year smoothing. Three-year smoothing provides
more endowment stability but less budget stability. Using no smoothing is probably not a good idea.
However, the initial smoothing setting is zero to simplify understanding and give the player a taste
of unmitigated market volatility.
The second area on this screen where you must make a decision is the endowment-spending rate.
When should you increase or decrease endowment spending? You can increase the endowmentspending rate when you have a short-term need for money. Increasing the spending rate will provide
an immediate source of funds for the budget, but you will pay a price later on as the endowment
market value fails to grow or perhaps even declines. Investing in small-cap stocks (which have
higher return but also greater risks) or increasing the fraction of incoming gifts going to the
endowment may compensate for an increased spending rate to some extent.
As president, you should decrease endowment spending when you can spare the cash currently and
want to grow the endowment. It is just the opposite of the above. When dealing with the
endowment, you should be careful about:
•
•
Balancing your current spending with your ability to spend in the future. The key variables
here are the spending rate, the investment mix, and the fraction of new gifts going to the
endowment.
Balancing greater investment return against greater volatility. You will also need to decide
how much to mitigate the effects of volatility through smoothing. Key variables are the
investment mix and the smoothing rule mentioned above.
Facilities
The Facilities Office deals with the upkeep of the current facilities and the building of new ones.
"Operations and maintenance" addresses current facilities. The other three areas deal with
construction.
One of the troubles facing many colleges and universities is that not enough resources are devoted
maintaining campus facilities. When this happens, you have deferred maintenance. Buildings that
need repair aren't repaired. For example, roof replacement may be delayed or routine servicing of
mechanical equipment is not done. Deferred maintenance begins to build up if you're not spending
the minimum amount needed to maintain the number of square feet of buildings you currently have.
(New construction will increase this minimum.) Once deferred maintenance becomes a pattern, it
may be hard to fix. You should be aware that the figure for closing the gaps between what needs to
be fixed and how much you can afford might be prohibitive.
You can track needed space versus actual space by looking at the "Space in use" graph. The
"Norm" depends on the number of faculty, the number of students (other than distance learners),
and expenditures for staff. For example, a decision to add faculty may need may need to be
accomplished y extra funding to add facilities, just as in a real university. If you do not act, Virtual
U goes into default mode to determine the annual spending for capital projects. You can override
these defaults at any time by setting specific figures for the transfer to the capital reserve, new debt,
and the flow of gifts to the facilities. New space becomes available one year after it is allocated.
Questions you should ask yourself are: How large is the deferred maintenance backlog? Do I need
more buildings, and if so, how do I build them?
Strategies
1. Your first step is to assess whether you need more buildings on your campus and how well
your current buildings are maintained.
2. Increase O&M budget line to avoid shortfalls and deferred maintenance backlog. O&M
budget surpluses reduce deferred maintenance backlog.
3. If you decide that you need to build more facilities, there are several ways that you can pay
for the new construction.
4. Allocate alumni donations to facilities. To do so takes alumni donations away from current
use and the endowment
5. Increase the amount you send to the capital reserve. Capital reserve is the amount of money
you divert from your budget each year to fund the construction of new ones.
6. Increase your debt limit. The debt limit is the amount of debt you are willing to carry for the
construction of new facilities. This will increase space but you have to borrow the money to
do so. Be careful not to overspend. Note that the financial markets impose their own debt
limit. In a well-run institution, the university debt limit will be less than the market-imposed
limit to allow room for additional debt in an emergency such as a fire or earthquake.
Note:
The buildings on the campus map do not change even though you are constructing new
buildings.
Parking
Your institution, like any other university, has parking lots for students, staff, and faculty. However,
you do not need to worry about building more parking garages or issuing parking stickers and
tickets. Parking reports are made available to you, but your institution's parking needs are taken
care of by Virtual U based on a formula of supply and demand.
Note:
Urban and some suburban settings may require parking structures in addition to parking lots.
Virtual U will build parking structures when required, but it will withdraw funds from the
capital reserve and/or issue new debt in order to do so. (Parking lots are free in Virtual U.)
Strategy
You cannot set or change policy so there is no strategy to follow here.
Police Station (Crime)
To find out the level of crime in your institution requires that you visit the police station. There are
no direct methods of solving the question of crime on campus, but it is an issue you want to
monitor. Petty crime on campus will cause low morale throughout your institution. However, there
are strategies available to you that will indirectly address the issue of crime.
Strategy
1. To reduce crime on your campus, spend more on Administration in your budget. (The Police
Department is funded as part of your administration.)
2. You may also want to increase your spending on staff salaries.
3. It is important to note that increasing student morale numbers will not correlate into lower
crime rates. Virtual U assumes that students do not commit crime, so having happier
students does not affect the level of crime at your college or university.
Performance Indicators
As you play Virtual U, there are several indicators that show how well you are doing in your
administration at both the departmental and institutional levels. Two of the indicators you may want
to pay particular attention to are Educational Quality and Prestige. There are several ways in which
you can raise your performance in these areas.
Educational Quality
If you are consistently scoring low on educational quality, it is time for you to examine the quality
of teaching at your institution. Are your courses well balanced among the choices available? Do you
have predominantly general courses? Are students frequently shut out of courses? The key factors
in establishing good educational quality are:
•
•
•
•
•
•
Balanced course mix
Low number of students receive course denials
High levels of teaching talent among faculty
Small class size
High faculty morale
The amount of time faculty spends on teaching, course preparation, course development, and
out-of-class conduct with students.
The easiest first step toward improving educational quality is to boost the amount of time faculty
spends on the teaching-related activities mentioned above. The second step is to reduce class size.
But be careful, you don't want the balance if faculty activities or faculty morale to drop. And you
must stay within class size constraints or students will be closed out of classes.
Prestige
Prestige is a measure of how your institution is perceived. There are several factors that build
prestige including the faculty research talent you attract and the amount of sponsored research your
institution generates. Generally, departmental and institutional prestige is gained through a
successful research program. However, here you encounter a problem: research activities compete
for faculty time and other resources that might not otherwise be used to improve educational
quality. (Research does enhance educational quality through its contributions to intellectual
prowess, but it also consumes significant resources.) In general, you need to focus on either
educational quality or on building up your research program. It is important to remember "General
Strategy 5: Know Who You Are." If you are a liberal arts college, you'll see more success if you
play within your role. Do not try to turn a liberal arts college into a research institution and vice
versa.
Conclusion
The specific purpose of this section has been to offer specific strategies for the numerous policy
decisions you must make in your tenure as a college or university president. The next section will
review some of the special features of Virtual U that increase difficulty of game play and it will
offer strategies for each of these areas.
Part IV
Chance Cards and Random Objectives
Chance cards are incidents that happen suddenly during game play and require your immediate
attention. They are in the game to simulate the unexpected happenings that all administrators must
deal with during their tenure. Perfect plans or stabilized systems can go perfectly awry when a
chance card hits in Virtual U.
With chance cards, your objective is to capitalize or minimize the effects of the news you receive –
e.g., the football team wins an important game, there is an earthquake on campus, or the stock
market plunges leaving your institution with a revenue shortfall or an endowment loss.
There are 18 chance cards in Virtual U. Some of them have obvious strategies and some do not. The
goal of this section is to give you information about the chance cards that exist in Virtual U, what
outcomes you should anticipate, and strategies you might employ as a result.
Note:
When you receive a chance card during game play, you are being informed of an event that
has happened, not a goal you are expected to achieve. This is an important distinction.
Chance cards should not be confused with Random Objectives, which are discussed later in
this section.
Chance Cards
As mentioned, there are 18 chance cards in Virtual U. Many will appear only once during play – but
some might repeat. Here is a complete breakdown of strategies for each one:
1. Alumnus dies
An alumnus leaves a specific amount of money to the University. This of course provides you with
a nice windfall (as well as other chance cards) so you should go to the development office
immediately. Given the gift's size you might adjust spending strategy for the rest of the year for
alumni donations to direct that extra largess to any of the three areas donations can be sent to
(endowment, current spending, or facilities). Another idea, if the budget is tight, would be to lower
the development budget and redirect funds to other areas because the large gift means you are less
in need if alumni donations for the time being.
2. An assault occurs on campus
This chance card creates a serious dip in morale – especially among students on campus. It also
represents a need to spend more money in the next few budget cycles on administration (which
includes spending on campus security). You will also need to put in extra time in raising student
morale since it will take a hit during this crisis.
3. More physically challenged students require upgrading facilities
Several chance cards such as this one will affect the maintenance and facilities budget. Your only
strategy is to assess the cost and effect on the deferred maintenance backlog and space in use, to see
if more money needs to ne appropriated to service the needs. As a short-term measure, you might
visit the Development Office building and route more incoming donations to the facilities budget.
This will hurt money going to current use and the endowment somewhat, but can be an effective
way to deal with unexpected budget problems concerning facilities.
4. Earthquake strikes campus – space in use drops dramatically
Like the need to upgrade facilities for physically challenged students described earlier, an
earthquake is a facilities and maintenance issue – albeit a much more drastic one since it will
dramatically affect the space in use in the facility. The only strategy to deal with this is to quickly
get the space back in order to deal with student housing and classroom shortfalls. As with other
facility issues, directing more incoming donations to the facilities budget will immediately up
investment in this area. You may need to increase the transfer to the capital reserve and also the
university's debt load because the size of the problem created by an earthquake.
5. Congress changes research funding policy negatively
The government is a huge funding source for university research, but cycles in Washington being
what they are this source fluctuates. This chance card will cause research funding at your university
to drop. Remember that research is a key contributor to your university's income so a drop in
funding by Congress not only affects the amount of research your faculty will conduct but it will
affect income. You probably won't notice its effect until budget time, however. Give this card a few
months to play out and then assess your strategy. One thing to do is increase the amount of time
faculty members spend on research. By increasing the amount of time they spend, you might make
yourself more competitive for the fewer dollars that exist. You might also lower the indirect cost
rate to make yourself more competitive in price. Another strategy would be to increase money for
current use supplied by alumni donations to offset the short-term shortfall from reduced research
funds.
6. Stock market soars or crashes
Your endowment, however well allocated, will always be at the mercy of the stock market. There is
no way to time the market perfectly, so your strategy should never be to anticipate this card landing
one way or the other. Instead, you need to be reactive to the card's effects and manage the shortterm boost or loss it creates for you.
If the stock market soars, you might subsequently reallocate the endowment investment strategy to
include more bonds for the next few years. Although while the endowment growth will slow as a
result, you will lock in the gains from equity growth while protecting against a downside due to
market volatility. Another strategy might be to leave the endowment investment strategy as is, but
reallocate incoming donations so less money is going to the endowment and more money is going
to current use and facilities for the next few years. This would represent a cash-flow bonus gained
because of the stock market.
If, on the other hand, the stock market crashes, you should react by cutting the budget a bit and
reallocating more money to the endowment to make up for the decrease in endowment distributions
to current use. Once the market has rebounded somewhat or the endowment is growing again, you
can stabilize the growth. It's important not to reallocate too much after a loss in the market.
Otherwise you would lock in losses. Instead focus on tightening the belt and riding out the shortterm effects.
7. Scandalous use of funds
This chance card will cause two problems. First it will cause an immediate loss of operating
reserves, which will compound your problems if you are already running a deficit and have a big
bank loan. You'll have to cut costs quickly if this is the case. The second problem is a shortfall in
incoming donations as alumni hold back funds while they assess what the problems are. This means
income for a few years might take a hit or not meet growth projections. One strategy to deal with
this situation is to spend more time on recruiting donations. Work harder to win over alumni by
communicating more with them. Another strategy is to focus even more on prestige issues that
attract university donations. This includes winning sports programs.
8. A new governor wants to spend more on prisons and university appropriation
drops (public universities only)
As the Rev. Jesse Jackson once said, "It costs more to go to jail than it does to go to Yale." With
this chance card it becomes clear that your new Governor and the state legislature agree and thus
they have to cut your budget so they shift more money into their crime bill to build more prison
cells. There is little you can do to change the basic nature of the appropriation you get. While in the
real world you could fight the political powers and increase time spent lobbying legislators, in
Virtual U you must deal with the shortfall as it comes.
9. Court bans favoring admissions based on race and ethnicity (public universities
only)
An affirmative action admissions policy is a staple of many universities. In Virtual U, you may
decide whether your admissions policy will include favorable treatment of minorities and, in some
scenarios, you are encouraged to improve the population of minorities in the student body.
However, as seen in California and other jurisdictions, there is a clamor to stop such favorable
treatment. Should this chance card appear, you will need to accept the court order. The result may
be a drop in minority enrollment as funds and initiatives previously used to encourage minority
enrollment cease. One of your few remaining strategies to increase minority enrollment is to recruit
more minority faculty, which in turn may lead to grabbing more of the minority students who are
still applying.
10. Risky genetic research attracts protestors who cause $1 million in damages
Genetic research, whether it be human, animal or vegetable, is causing concern in a broad cross
section of the public, and universities that are involved heavily in genetic research can be just as
much a target as global multinationals and pharmaceutical companies. There's nothing you can do
to mitigate the immediate problem, so you will have to live with its budget implications. Over the
long run, you can cut the chance of this happening again by decreasing the pressure on faculty in the
Biology Department to do research. However, this will hurt your overall research program and
perhaps also the university's financial condition.
11. Your athletes took illegal drugs. Your athletic talent drops and you cannot
recruit for three years. Donations fall.
In Virtual U, you cannot affect the drug problem. However, you can try to mitigate adverse effects
on alumni morale by spending more on development and building university prestige in other ways.
12. A professor receives the Nobel Prize, prestige soars
As the home of a Nobel Prize winner, your university will see a considerable rise in prestige. Since
prestige helps in many areas, it's probably a good time to take advantage of the bump. This might
include being more selective about incoming students or expanding the budget for alumni giving,
which will be indirectly affected (positively) as a result.
13. The engineering department signs a deal to receive royalties on some
technology it developed
This is a great chance card to get because it will improve funding by several millions for five full
years, making it one of the biggest budget boosts you can receive in Virtual U. The best thing to do
is to reallocate your budget to take care of some previously neglected or underfunded problem areas
(especially deferred maintenance.) You might also increase the amount of money sent to the
endowment by alumni donations. Since this money will flow into current use funds, you can reduce
that allocation from alumni donations and as a result save more money to the endowment, thus
increasing its value and resulting pay-out in future years.
14. You announce a capital campaign; spending on development increases
When this chance card appears, it indicates that as president you have begun a campaign to
accelerate donations to the university. In so doing, you increase your development budget by some
amount, and then growth in that budget is locked in at 0 for the next five years. At the same time
you will see a noticeable increase in gifts to the university. You have two critical issues to deal
with. First is where to direct incoming gifts. Since gifts will increase noticeably, you should
consider reallocating alumni donations to the endowment, facilities needs, or current use depending
on where the need is greatest. The second issue to deal with comes at the end of the five-year
campaign. The game will unlock the development budget, which will allow you to regain control
and either pare its growth or keep it growing as your budget needs dictate.
15. Plagiarism occurs on campus; students are dismissed and morale falls
This chance card will wreak all sorts of havoc, given the severe effect that cheating and wide-spread
plagiarism can have on an institution. The first thing you need to deal with is that there will be an
immediate impact on the number of students in the university. Visit the admissions department and
think about increasing the number of accepted students for the coming academic year to help make
up the revenue shortfall that all those expelled students will cause. More important, you need to
assess and address the damage to student and faculty morale. This may mean an increase in funds
for areas that tend to raise the morale of each of those groups (e.g., boosting faculty salaries,
reducing teaching load, improving student housing).
16. For-profit universities are growing fast, competition for students increases,
tuition hikes must be curtailed.
Raising tuition is always one of the easiest ways to push revenue up in a university, but this chance
card's appearance means that competition for students won't let you do that. In real life, this would
result in a budget shortfall as inflationary effects in other areas of the budget would create pressure
to raise tuition to keep revenues in place. Virtual U doesn't feature inflation, so that's not as much
of a problem in this simulation. However, it still means that as debt load picks up or the need to
spend in other areas forces you to search for ways to increase revenue, you won't be able to get it
from tuition for three years after this chance card appears. A way around this would be to increase
the number of students accepted and subsequently matriculated, although you must be able to
handle the increased student load or run the risk of this strategy backfiring.
17. The football team wins the national title
This is good news, but there is more for you to do here than just enjoy it. You have three tasks you
need to perform simultaneously. First, you need to apply this new income to departments or
facilities that will benefit most. Second, you need to capitalize on new donations (perhaps increase
the budget for fundraising by 5% during these heady times). Finally as a direct result of new
applications, you have an opportunity to increase student selectivity and hence increase prestige at
your institution.
18. The basketball team wins the national tournament
This works in the same way as the football championship title. Keep in mind that these cards are
triggered only by building a winning program. This requires plowing more money into athletics and
being aggressive with recruiting.
Random Objectives
In addition to chance cards, Virtual U also features random objectives. These are events that pop up
during play and outline a specific goal to achieve. If you achieve the goal in the allotted time, you
will receive a specified number of bonus points.
Random objectives can be anything from increasing faculty morale overall at your institution to
increasing the research performance of a specific department. For example, you might be
challenged to raise faculty morale at your institution by the end of the semester or in X number of
years. If you meet this deadline, extra points will be added to your score.
Each objective may be different, and specific strategies for objectives can be found by utilizing
many of the specific strategies outlined earlier in this game. The difference is that with a random
objective you will have a timeframe attached to achieving the goal.
Specific strategies aside, there are some basic strategies to employ for all random objectives in
Virtual U:
1. Don't get sidetracked by an objective.
All objectives carry a big danger - that you will become so focused on them that many other issues
that need attention will fall by the wayside. In Virtual U it's easy to become focused only on a
random objective, and in an attempt to beat the clock, you may completely overcompensate toward
the goal. This can include pushing the budget too far in one direction to achieve the objective, or
you might let months tick by just to see if there is a positive trend toward the objective's goals while
not doing anything else.
2. Determine if an objective is truly achievable in the time given.
When an objective first appears, check to see if it's even achievable--especially in the given
timeframe. The biggest way to waste time with an objective is to get only halfway toward it by the
end of the given period. If you think an objective is doable, pursue it--but be ready to ignore it too.
Remember you are not penalized by the game or the Board for failing to achieve random objectives.
And while the game will reward you if you achieve random objectives, the Board doesn't take such
achievement into account.
3. Be sure you make steady progress toward an objective.
Another pitfall to consider with random objectives is that you start out on the right track making
progress but not fast enough. Chart your progress toward a random objective closely (on paper
because the program will not offer any notes on progress until the deadline is up) to ensure you are
on schedule to complete it. If you fall too far behind, give up and refocus on other personal or
board-oriented objectives.
4. Don't forget the Board's objective either.
The true work of the year is to achieve the overall objectives that the Board defined for you,
because those objectives outline the weakest performing areas for the university. Random objectives
on the other hand may not be asking you to improve a weak aspect of the university.
5. Pause the game as soon as a Random Objective appears.
As soon as a random objective hits, you need to assess the possibility of achieving it. The faster you
do this and set in any changes that will accomplish it the better. Thus, it pays to pause time in
Virtual U immediately when a random objective hits and take the time to go around to all the
necessary screens and implement your strategy.
Part V
Under the Hood: How Virtual U Works
Overview of the Drivers
Virtual U operates on seven computer modules. Knowing a little about how these modules work
will help you play Virtual U and be a better university president. This section describes each of the
modules that run Virtual U. Keep in mind that much of what is described below is invisible to the
player. However, how well a player manages his or her institution does affect what each module
does. Toward this end, it is useful to understand the manner in which the simulation is divided and
the assumptions built into the game.
Virtual U's seven modules are: the Enrollment Management Module, the Faculty Hiring and
Retention Module, the Academic Operations Module, the Non-Academic Operations Module, the
Physical Plant Module, the Resource Allocation and Budget Module, and the Endowment Asset
Allocation & Total Return Module. The following material briefly describes how each module
works behind the scenes.
Module 1: Enrollment Management Module (EMM)
The Enrollment Management Module simulates the behavior of students as they choose a university
to attend and the behavior of the university as it chooses students to admit. The EMM is broken into
six submodules, three of which provide the actual number and descriptions of the students admitted
to your university while the other three provide the actual numbers for the "universe" of other
institutions. This means that Virtual U sets up and operates your university's enrollment activities
based on the parameters you set at the beginning of the game. To compare how you are doing, the
game also keeps track of how your institution does in comparison with all of the institutions in the
database. These parallel submodules generate data for three phases of the ordinary enrollment
process:
1. Application submissions
2. Admission offers
3. Matriculation decisions
In sum, the EMM calculates applications, offers, and matriculations for both your university and the
universe of other colleges in the database.
How the EMM Works
The EMM runs once before each new academic year as the game progresses. This approach
generates an appropriate mix of new students each year for your institution. Here's how the EMM
actually works:
1. The EMM has a permanent database of student information from which it operates.
2. From this database, the EMM first determines the number of student applications for the universe
of colleges and universities that can be attended. The EMM immediately takes this number and
breaks it down into who applies where.
3. Next, the EMM takes these data and compares them to the policies and parameters of the player
created university. It then calculates the number of applications the player-created university gets
for each year the game is played.
4. From here, the EMM decides which students the player-created university will admit. This is
based on the policies and parameters of the player-created university. Basically, Virtual U assigns
application choices based on the type of student and types of school that would give the students the
most for their dollar, e.g. financial aid, prestige, etc. This means that students send out their
applications according to the likelihood of their acceptance. Are they long-shots? Likely? Shoe-ins?
One of Virtual U's lessons is to internalize the idea that how you administer your institution affects
student preference and, hence, demand.
How does Virtual U simulate admissions decisions? First, Virtual U does the reverse for students
that it did for institutions in the applications submodule of the EMM. This means that Virtual U
over-admits students, because not all students matriculate. While Virtual U automatically performs
these two tasks, it also allows admissions decisions based on race and gender. However, it is the
player, not Virtual U, who sets the policies concerning race and gender. The player also manipulates
decisions concerning financial aid. These decisions are key to the success of the player-created
university. Virtual U allows for three types of financial aid:
•
•
•
Merit-based aid -- aid based on academic excellence
Need-based aid -- aid based on the economic needs of the student
Universal aid -- aid given to doctoral candidates.
5. Finally, the EMM simulates the behavior of students who have been accepted as they decide to
matriculate or not. In effect, Virtual U simulates how the player-created institution looks to the
prospective student because application and matriculation decisions are made by the students
themselves. If, for example, the player-created university looks like a private generic institution, one
can expect that it will draw applications from students' market segment at rates typical of that kind
of institution.
In the real world and in Virtual U, there are hundreds of institutions from which potential students
must choose. When playing Virtual U, your challenge is to take actions that will attract prospective
students to your college or university. The policies you set should create an institution that is
attractive to students. This may seem obvious, but it is the details that matter here. For example, do
your financial aid policies make your institution more attractive or less? Does your institution
experience a high or low level of prestige? Do you have a winning football team? Financial aid
policies, institutional prestige, and athletics are factors that attract students to your college or
university. And one of the central lessons in Virtual U is to get the player to think in terms of how
your actions as President trigger marketplace reactions. Toward this end, focusing on enrollment
management will help you understand the great sorting that takes place when students are selecting
an institution and the institution's need to employ strategies to manage enrollments effectively.
Module 2: Faculty Hiring and Retention Module (FHRM)
As the name suggests, this module handles faculty hiring based on player policies for the type of
faculty needed (see the Faculty: Hiring screen) and the department where the hiring is to take place
(see the Budget Plan: Faculty Hiring screen.) The model also handles the promotion of faculty from
one rank to another (See the Faculty: Promotion screen), the aging of faculty, and the departure of
faculty from the institution (which depends on salary, morale, and other factors).
1. The hiring model is called from the last stage of the resource allocation and budget model. It uses
inputs from that screen and also the Policy screen under the Faculty: Hiring menu item.
2. The new faculty budget is converted from dollars to the total number of faculty positions
available or the year. Next the budget model counts the number of faculty remaining in each
department after departures have been determined. Subtracting the number of remaining faculty
from the total number of budgeted faculty determines the open to hire number. (Players can adjust
the open to hire number using the slider on the third-stage resource allocation screen.)
3. The hiring model creates new faculty in the departments and with the characteristics targeted by
the player. The departmental targets, on the budget screen, determine where the faculty will be
hired. Policies like emphasize new blood determine what kind of faculty will be hired (in this case,
assistant professors). Some of the criteria, like new blood and experience,
experience are mutually exclusive:
emphasizing both will cancel each other out. Other criteria are not mutually exclusive: e.g., one can
emphasize new blood,
blood, minorities,
minorities and teaching talent at the same time.
4. New faculty members will be created as part of the hiring process. The player's policies will
determine a unique rank, age, talent level, gender-ethnic status, and salary level for each new
individual. (These can be viewed on the Faculty: Detail screens.) The new individuals will become
available for teaching and research immediately after hiring.
Module 3: Academic Operations Module (AOM)
Once students have arrived at your institution, how do they behave? What classes do they choose?
What departments do they choose as their major? How do faculty members act? Do you continue to
attract research sponsors? How well are your departments performing? The Academic Operations
Module answers these questions by simulating four areas of the university environment at the
department level. These are:
1. Behavior of students once they have reached the institution
2. Behavior of the research sponsors
3. Faculty behavior
4. Departmental performance
The AOM operates from the data contained in the EMM, the faculty roster, and other items
contained in the game database and the player-created policies and parameters. The AOM has six
submodules that are designed to simulate the university environment and mimic the behavior of
faculty and students:
1. Student submodule
2. Course demand submodule
3. Faculty submodule
4. Course supply and teaching load submodule
5. Faculty discretionary time submodule
6. Sponsored research submodule
The results of these faculty and student simulations affect the performance of the department (and
therefore your university) in four areas: quality of teaching, progress on educational development
projects, the amount and quality of research, and faculty and student morale. In this simulation,
players cannot directly control student behavior, but players can set policies that affect how students
will react.
Here's how the AOM works:
1. The AOM model begins by simulating students' choice of major and movement toward
graduation or dropout. This Student Submodule produces figures for the number of majors and
undecided students in each department, and the number of graduates and other departures for each
type of student at your university e.g., athletes, high achievers, low achievers, and average students.
2. Then the Course Demand Submodule determines students' course choices as a function of major
and student level. At Virtual U, course supply and demand follows a simple formula. Course
demand is determined by student decisions about majors and student commitment to a major.
Course supply is determined by faculty decisions about what to teach. The Course Supply and
Demand Submodule translates full-time students (gained by the program) by student ability and
student commitment to a major into course enrollments by department, course, and semester. This is
done for you by Virtual U, though you can set policies that influence financial aid and athletics.
AOM admits students according to the student's department major. This means that students are
either admitted to a program (e.g., master's or doctoral) or a department major (Chemistry,
Communications, History, Math) or are considered undecided student status for undergraduates.
Note:
Students who have not decided on a major may move from one department to another.
Migration by students to various departments depends on department prestige (which can be
influenced by the player -- more research dollars, more discretionary time, more teaching
training, more faculty directory). Student migration is also determined by built-in factors,
i.e., national trends that are built in to the program. For example, if Chemistry is popular,
then student migration is to Chemistry.
This part of the AOM simulates what happens to a student once he or she has entered the playercreated university and is applied to each combination of student level and gender/ ethnic group. It
calculates the proportion of existing students who graduate, drop out, and change fields. These
transition rates change every year. Changes depend on external factors like national trends in
graduation rates and time-to-graduation, and internal factors like departmental performance at your
institution. For example, if Psychology improves educational quality while quality in Chemistry
declines, more students will transfer from Chemistry to Psychology. Psychology also will lose
fewer students to other departments, fewer will drop out, and a larger fraction will graduate with
diminished average time to graduation.
3. The Faculty Submodule determines the faculty resources that will be available to fulfill course
demand and other departmental obligations. Working from the results of the FHRM and player
policies, it determines the faculty's teaching load and the number of class sections that can be
offered in response to student demand. For example, in every trimester, each faculty member is
assigned a number of teaching contact hours based on the normal teaching load for his or her rank
and age, academic discipline, the amount of sponsored research brought in, and your priorities for
teaching as opposed to other uses for faculty time. The faculty also has preferences for class size
and the mix of course types. Many faculty members may expect lecture courses with 100 or more
students and seminar classes with 15-25 students, for example, but there are exceptions. Adjuncts
teach more students and full professors teach less. Research professors do not teach as much as
regular professors and spend more time on research programs. The research professor's work is
evaluated and incentives are given for the amount of research done.
4. Working from the data on course demand and faculty availability, the Course Supply and
Teaching Load Submodule generates each department's course offerings and faculty teaching
assignments. At Virtual U, just like any college or university, each department requires certain
courses for certain majors. Once a course is full, however, no more simulated students may enroll.
Students may then choose other courses but the substitutions may diminish and may not satisfy
degree requirements.
The course supply-and-demand module contains two important features of the Virtual U academic
year:
1. Regular trimesters
2. Summer trimester
The regular trimesters represent the normal academic year. The summer trimester allows the player
to move to year-around operation, for example. See the Courses: Summer Teaching and Technology
screen.
5. The Faculty Discretionary Time Submodule simulates how faculty members allocate their time
outside of direct student contact hours. At most academic institutions, faculty members generally
have a significant amount of discretionary time. Discretionary time refers to activities other than inclass contact. It includes class preparation and grading, out-of-class student contact, research and
scholarship, institutional and public service, and educational development.
6. The results from the Faculty Discretionary Time Submodule inform various departmental
performance models dealing with the quality of research, and faculty and student morale. Each
player will need to increase incentives to encourage faculty members to use discretionary time in a
way that enhances department productivity. Extrinsic incentives stem from player-generated
polices. Virtual U provides opportunities for players to describe policies that favor course
preparation, student contact, educational development, research, or institutional services. Examples
include statements about the criteria for gaining tenure and salary increases, use of teaching ratings,
and the volume of sponsored research expected from faculty in different categories. Some Virtual U
policies will be issued at the departmental level and some at the institutional level.
7. A separate Sponsored Research Submodule determines each department's proposal and award
volume. In higher education, institutions often depend on externally sponsored research to fund
activities that generate prestige and contribute to fixed costs. Faculty members submit proposals for
the work they would like to perform and learn if the proposals are successful. The market for
sponsored research funding is highly competitive, and usually only a small fraction of submitted
proposals result in awards.
Each element of the AOM runs once per trimester. The results of the AOM inform the resource
allocation module, physical plant and institution-level performance modules, and the EMM when it
is run for the next year. The discussion of the resource allocation module, physical plant and
institution-level performance modules follows.
Module 4: Nonacademic Operations Module
The Nonacademic Operations Module includes Athletics, Libraries and Information Technology,
and Development and Alumni Affairs
Athletics
1. The athletics module consists of models to determine wins and losses in football and basketball,
and athletics revenues. (Expenditures are determined by the budget models, subject to some random
variation.)
2. Win probabilities depend primarily on the athletic talent available in the traditional undergraduate
student body (i.e., the number of star athletes and the average athletic talent of the remaining
students), and on the amount of money being spent on athletics. The expenditure effect depends on
the level of competition: it costs a lot more to compete successfully at the Division I level than it
does in Division II. And competing in Division II costs more than competing in Division III.
3. Athletic revenues depend on the win-loss record and the level of competition. As in real life, it is
difficult to break even at the Division I level and almost impossible to do so in the lower divisions.
Libraries and Information Technology
4. Spending more on libraries increases the number of books in the library, and spending more on
IT improves the University's Internet connection. These two outcomes stand as surrogates for all
the aspects of service in these two functions. They affect a variety of other game aspects of game
behavior, in the quality of education, research, and scholarship.
5. IT performance also affects the number of courses taught using distance technology and the
University's attractiveness to distance students. These variables also depend on the amount of
faculty effort put into course development and the emphasis placed on using technology in teaching.
Development and Alumni Affairs
6. Spending more on this function boosts alumni morale and the volume of gifts raised by the
University. These variables also are affected by a host of performance factors ranging from prestige
and admissions selectivity to the current athletics record.
7. Gifts can be directed to current operations, where they turn up in the New gifts line in the revenue
and expense statement, or to endowment or the capital reserve. How the gifts are directed has no
bearing on the volume of gifts received.
Module 5: Resource Allocation and Budget Module (RABM)
Resource allocation is the central policy focus of Virtual U because the creation and distribution of
resources drive most of a college's or university's functions. Here, resource allocation is the same
as budgeting -- the annual process that determines tuition rates, salary guidelines, plans for
increased costs, and the amount spent on academic and nonacademic operations. The Budget
Module's two main outputs are your university's annual budget and capital budget. This module
determines:
•
•
•
•
Prices
Salary guidelines
Provisions for rising costs
Net changes in expenditure authorizations for academic and non-academic operations.
In addition, the Resource Allocation and Budget Module (RABM) simulates several areas of the
university financial environment, including: tuition, room, and board rates; student financial aid
budget; projected income and inflation; allocation of funds to the various central and departmental
expenditures as well as capital; additional sources of capital; capital expenditure allocations; faculty
and staff salaries; faculty hiring and other related expenses; student life; fund-raising; and plant
operation and maintenance.
Here's how the Resource Allocation and Budget Module works:
1. The RABM begins by defining the player-created university's financial structure -- that is, its
financial resources and use of funds. This is largely determined by the player's institution selection,
e.g., public or private. The resulting financial statements vary in structure and content depending on
the player's choice of institutional characteristics. The statements for public institutions will include
state support. Wealthy institutions will have large endowments and cash reserves; struggling
colleges might have none. The financial statements provide the initial conditions for the RABM that
determines revenue and expense.
2. Once the player selects and sets institutional parameters and policies and creates a university,
Virtual U creates the RABM. It has three components: revenues and expenditures, allocations, and
faculty functions.
3. Each spring you allocate resources for the next year. The RABM assumes accurate estimates for
the current year's financial outcomes. The RABM uses the current year's figures as a baseline to
project the budget adjustments that will have to be made. The player determines admissions targets
as part of budgeting but deviations may occur as part of the RABM from the targets you set.
The new budget takes effect on July 1 and remains in effect for the next 12 months, unless the
player decides to rescind expenditure authorizations. Actual revenues and expenditures will tend to
conform to the player-created university's planned budget, but some deviations may occur. These
deviations are designed to simulate the real world fact that some events remain outside of your
control. The RABM uses the coming year's budget as the initial condition for the coming year's
revenue and expenditure statement. Changes occur as a result of:
•
•
•
Internal events: These are events that randomly occur within the university system. For
example, suppose the EMM produces a shortfall or overflow of students. If this occurs, the
RABM will adjust tuition dollars and financial aid flow accordingly.
External events: These are events that randomly occur outside the university system. For
example, a plunge in the stock market will produce a drop in gift income and investment
return. This in turn will affect the resources available to the institution.
Random events: Small random deviations are also programmed to affect most or all of the
revenue and expense items. For more information on random events, see Part IV.
Module 6: Physical Plant Module (PPM)
The Physical Plant Module (PPM) contains all of the programs that simulate physical plant
operations at the player-created university. This module deals with the buildings and grounds at
Virtual U. Here the term physical plant is defined as all the buildings on campus except residence
halls and food service. The PPM runs once per simulated year and simulates the effects of:
•
•
Operations and maintenance decisions on building condition and depreciation.
New construction of academic buildings and residence halls.
The PPM has five primary components of a college or university:
1. Space needs and the use of existing space. This component translates information about space
requirements for each academic department, the central administrative functions, and the support
functions at your university. Funding data for your institution come from the Resource Allocation
and Budget Model. One of the key assumptions in this first component is that campus buildings and
facilities do not last forever and must be maintained.
2. Operations & Maintenance. This component determines the yearly cost for your university's
existing space needs and tracks the rise and fall of deferred maintenance. Studies show that modern
academic facilities require maintenance in the order of 1% to 2% of the replacement cost of a
building or facility in order to avoid building up a deferred maintenance backlog. Virtual U
simulates the depreciation of buildings and facilities. Players can set policies that control the size of
their institution's deferred maintenance backlog.
3. Facilities planning and construction. This component contains your university's capital reserve
and plant debt, determines the level of funding for the each year's construction program, and then
allocates these funds among alternative construction and conversion projects. New academic
programs create demand for new facilities. Even when demand is steady, deterioration of facilities
creates gaps between need and availability. In other words this component determines the funds
available for closing these gaps.
4. Residence halls. This component tracks demand for residence hall space and constructs new
capacity if needed or decided by the player. Following real-world practice, Virtual U treats
residence halls and food service operations as an auxiliary enterprise, that is, separate from main
university expenses. This means that the residence halls and food service must cover their own costs
from their own revenue sources -- i.e., in this case room and board fees paid by traditional
undergraduate students. (Graduate students and nontraditional students are assumed to be ineligible
for campus housing.) It also sets room and board rates so that it only breaks even. Operating costs
are determined as a function of occupancy and capacity.
5. Parking. While not on the Facilities screen, parking also can represent a draw on the University's
capital reserves. (The parking report is accessed from the Reports list or by clicking on a parking lot
or structure.) In Virtual U, parking demand depends on the total number of students, the total
number of faculty, and the total budget for staff, divided by a national average staff salary. Because
land is cheap, rural campuses always meet parking demand by using parking lots, which are
assumed to be of negligible cost. Rural campuses are endowed with a certain number of lots, but
any additional demand due to expansion probably will have to be satisfied by building expensive
parking structures. Suburban campuses fall in between these extremes. The cost of structures comes
from the capital reserve, which leaves less money available for constructing buildings.
Module 7: Endowment Asset Allocation and Total Return Module
(ETRM)
The Endowment Asset Allocation and Total Return Module analyzes and generates output for
which endowment assets should be allocated among the following asset categories: large-company
stocks, small-company stocks, and bonds. Total investment return is an input to the RABM. The
player decides how these assets should be allocated. Changes in asset allocation can be introduced
at any time, but they will not take effect until the beginning of the next fiscal year. The player's
main budget decision comes near the end of each fiscal year and takes effect at the beginning of the
next fiscal year (the fiscal year runs from July 1 to June 30). By managing asset allocation, players
are encouraged to learn that boosting total return -- e.g., increasing the percentage of stocks
(particularly small-company stocks) -- comes at the price of increased risk.
How Virtual U's Budget Office Carries Out Your Instructions
The manual describes how Virtual U's budget office tries to carry out your instructions. You may
have wondered just how that is accomplished.
Recall that your inputs include a target, the relative importance of the target (prefer
preferences
preferences),
ences and
acceptable upper and lower limits for each decision variable. In carrying out your directions, the
budget office sets its recommended values to minimize an index equal to the weighted sum of
squared deviations between these values and the targets. This index, called an objective function in
the vernacular of modeling, uses your preferences to determine the weights. If you targeted tuition
growth at 2.5% and financial aid growth at 3%, with the financial aid target being twice as
important as the tuition target, the part of the objective function that deals with these variables
would be 1 (tuition_growth - 2.5)2 + 2 (aid_growth - 3.0)2.
In a perfect world, the budget office would be able to meet your objectives exactly: for example, by
setting tuition_growth = 2.5 and aid_growth = 3.0 to produce the smallest possible objective
function value, 0. But the world isn't perfect. Achieving these targets might preclude you from
achieving other targets - e.g., such as for real expenditure growth and the surplus-deficit. The model
includes the accounting identities needed to make revenues and expenses add up to the surplusdeficit in the first stage of budgeting, the expenditures for each function add up to the available
dollars of real expenditure growth in the second stage, and the number of faculty hires add up to the
available faculty budget in the third stage. In other words, you don't have to provide the budget
office with a mutually consistent set of targets: your loyal staff will impose consistency and then
meet your instructions as closely as possible.
The upper and lower bounds provide you with another way to communicate with the budget staff.
For example, you might say that tuition growth shouldn't go above 2.75% if at all possible. In
effect, this temporarily overrides your preference weight by penalizing the objective function if
tuition tries to go above 2.75%. (The model assesses the penalty by adding a big number times the
amount by which tuition growth exceeds 2.75%.) The budget office may propose values outside
your upper and lower bounds, but only if it has to in order to make things add up. If you don't like
the proposal, you are free to change any of the targets, preferences, or bounds, and then re-optimize.
How Virtual U's Underlying Mathematical Engine Works
You may be wondering how the mathematical engine underlying Virtual U works. Space doesn't
permit a detailed explanation here, but you are welcome to read the technical documents posted on
www.virtual-u.org. The following provides a general overview of the programming approach.
Virtual U's so-called main loop drives the calendar and schedules all the activities and events
embodied in the game. The game starts on September 1 of Year 1, which happens to be the
beginning of the fall semester. The first thing that happens is that students decide what courses they
want to take and faculty decide what courses they want to teach. (The resulting interaction between
course supply and course demand determines class sizes and the number of students denied entry to
courses.) So how is this accomplished?
The first thing to know is that Virtual U simulates every student and every faculty member as an
individual. You can see this by looking at the faculty detail screens, where you see demographic,
talent, activity, and other data for every faculty member. (Similar data are tracked for each student,
but there are too many students to warrant looking at the detail.) The courses desired by each
student are determined by his or her major and year in program. Virtual U contains program profile
tables, which describe the numbers of introductory, intermediate, and advanced courses in each
department typically taken by students in a given major. (The model is based on research by
William Massy and Robert Zemsky, and the data were provided by Zemsky's team at the University
of Pennsylvania.) Random numbers based on the profiles determine each student's specific course
requests. Each request will be granted as long as space is available in an existing course OR a
faculty member is available to teach a new course in the area desired. However, no new courses will
be offered by a department once every faculty member is teaching at the maximum permissible
load.
Simulating students and faculty members as individuals is not difficult in the C++ programming
language used in Virtual U, and it provides a powerful benefit in terms of realism and simplicity of
concept. For example, the aforementioned course selection procedure directly mimics the one
actually used. Other examples include the simulation of student graduation (which occurs when a
sufficient number of courses have been completed successfully) and dropout (the probabilities
increase as graduation is delayed), and faculty promotion (depends on performance and longevity)
and departure (depends on morale and age). These and other student and faculty behavior patterns
depend in easily understandable ways on the individual's characteristics and past behavior.
Moreover, the model eliminates individuals from the population when appropriate (e.g., due to
graduation or dropout) and creates new ones on demand (e.g., due to student admissions and faculty
hiring). The general technique, called micromicro-analytic simulation,
simulation is a mainstay of economic and
behavioral modeling.
Virtual U's other behavior patterns are modeled at the aggregate rather than the micro-analytic
level. For example, the university's staff members are treated as a group - or rather as a series of
groups, one for each function (e.g., administration, development office). Their behavior is modeled
using "S-shaped response functions," where the middle part of the "S" is elongated so the curve
always moves upward and to the right. These functions transform inputs such as salary growth,
workload, and office space into behavioral indices such as morale. Actually, Virtual U employs two
kinds of response functions: the single-S and the dual-S. As the name implies, the single-S produces
the biggest effect in the middle of its range (where the curve slopes most strongly upward) and
flattens out at the two tails. The dual-S stacks two single-S curves on top of one another so that the
largest effects occur on both sides of the middle, with the middle being rather gentle. (This
simulates a situation where not much happens as long as the input is near its norm, but where the
effect grows with deviations from the norm before flattening again at the tails.) The S-curves
provide a flexible method for the judgmental specification of behavior while ensuring that the result
remains within predictable bounds. In addition to determining aggregate behavior, they also are
used to modify the probabilities that drive the behavior of student and faculty members in light of
Virtual U's current environment, morale, salary levels, etc.
Virtual U also makes use of a number of other mathematical techniques, some of which are quite
advanced for simulation games. For example, linear programming is used for faculty hiring and in
parts of the student admission process, quadratic programming is used in student admissions and as
the central budgeting engine, and Poisson probability models are used to determine sponsored
research proposals and awards. Rectangular (equal probability) and bell-shaped random number
generators are used liberally throughout the game engine. Because of their complexity, parts of the
engine were prototyped in the Mathematica programming language.
Virtual U is mostly database-driven. That is, most of the important parameters and initialization
elements are stored in text files that can be modified without reprogramming. This includes the
aforementioned student program profiles, student dropout, and faculty promotion probabilities, and
parameters for the S-shaped functions, as well as data for determining student application and yield
decisions and the characteristics of the different kinds of institutions the user can choose to
simulate. (See www.virtual-u.org for more detailed descriptions of these data.) Among other things,
the database-driven architecture opens the possibility of customizing Virtual U to different
countries, university systems, or even institutions.
Appendix A:
Virtual U Glossary
Academic Operations Module (AOM)
(AOM): Simulates behavior at the departmental level and generates
output for student and faculty behavior.
administrative effectiveness
effectiveness: The measurement used to determine the effectiveness of
administrative activities at the player-created institution; high values translate into high faculty,
staff, and student morale; low values translate into lower morale and also increase the proba- bility
of adverse administrative outcomes (e.g., audit problems).
alumni donation:
donation Measured in terms of the percentage of alumni who have donated in the last five
years and can be used in place of the effectiveness of fund-raising efforts and alumni satisfaction.
alumni morale:
morale The attitudes alumni have toward the institution.
asset accumulation:
accumulation The degree to which the player-created institution is accumulating total assets
on an inflation-adjusted basis.
assets to liabi
liabilities
lities ratio:
ratio The degree to which the player-created institution is burdened by debt.
assistant professor:
professor A beginning faculty member.
associate professor:
professor The middle rank of professor.
average class size
size: Average, over all courses in the department or institution, of class size as
appropriate to the teaching methodology (norms for classes with breakout sections are greater than
those for seminars).
average teaching load
load: Average number of classes taught by a tenure-track faculty member.
budgeting:
budgeting The annual process that determines prices, salary guidelines, provisions for cost-rise, and
the amount spent on academic and nonacademic operations.
comprehensive university:
university One of four categories of Virtual U institutions; these are four-year
colleges and universities, have low-selectivity requirements, have a large part-time student body,
are for students who want a specific course rather than a degree, and have low graduation rates.
course demand submodule:
submodule A submodule of the Academic Operations Module which determines
students' course choices as a function of major and student level.
course supply and teaching load submodule:
submodule A submodule of the Academic Operations Module
which generates each department's course offerings and faculty teaching assignments.
departmental performance modules:
modules Submodules of the Academic Operations Module that deal with
the quality of research, and faculty and student morale.
deferred maintenance backlog
backlog: Size of the physical plant repair and maintenance that has been set
aside at the player-created institution.
degrees granted
granted: A widely used measure of educational output that indicates how many students are
graduating.
departmental academic standing:
standing The player-created institution's average academic competitiveness
as opposed to the pubic perception of the institution.
departmental faculty members:
members Size of the faculty roster for each department.
development and alumni affairs:
affairs The office whereby players can increase or decrease spending on
fund raising, alumni affairs and governmental relations.
deviation from longlong-run financial equilibrium:
equilibrium The degree to which the player-created institution
departs from long-run financial equilibrium; equilibrium requires that the surplus/deficit and rate of
change in the deferred maintenance backlog be zero, and that the growth rates of income and
expense be equal.
discretionary time:
time Faculty activities other than in-class contact with students including class
preparation and guarding, out-of-class student contact, research and scholarship, institutional and
public service, and educational development.
doctoral students:
students Highest level of graduate student; the number and quality of doctoral students is
dependent on departmental standing and the overall performance of the player-created institution.
education quality:
quality The measurement of each department's, and ultimately the university's, success
in educating students as determined by class-size, student contact hours, course mix, and library
development.
Endowment Asset Allocation and Total Return Module (ETRM):
(ETRM) This module analyzes and
generates output for endowment assets that should be allocated among the following asset
categories: large-company stocks, small-company stocks, and bonds.
endowment spending rate
rate: relative to the equilibrium spending rate; for endowed institutions,
indicates whether financial policies will be viable over time.
endowment spending rate:
rate Percentage of endowment market value that can be spent each year;
market value grows or declines in response to general economic conditions and the player's
investment strategy.
enrollment management:
management Success here depends on the effectiveness of the admissions office, the
financial aid office, and institutional advertising such as brochures and recruitment in attracting and
keeping students.
Enrollment Management Module (EMM):
(EMM) This module analyzes data and generates output for three
phases of the enrollment process: student applications, institutional admission offers, and student
matriculation decisions; module runs before each new academic year.
year
FTE:
FTE Stands for fullfull-time equivalent and represents the faculty and staff who are employed fulltime.
faculty discretionary time module:
module A submodule of the Academic Operations Module which
simulates how faculty allocate the time available over and above direct student contact hours.
faculty diversity:
diversity Success here depends on the degree to which faculty diversity goals have been
met -- calculated for each faculty and gender-ethnic group, by faculty group, by gender-ethnic
group, and overall.
faculty educational development time:
time Average number of hours per week professors spend on
developing courses, including use of information technology and other nontraditional methods of
instruction.
faculty expense:
expense Increase or decrease of funds available for faculty after taking account of salary
increases; translates roughly into how many faculty members the player-created institution will lose
or gain.
faculty morale
morale: The attitudes faculty have toward the institution (as opposed to attitudes toward
individual departments) and is important for long-term institutional well-being.
faculty research performance:
performance Average of research performance ratings for all regular faculty
(adjunct faculty do not conduct research and are not included in the average).
faculty salaries:
salaries Faculty salaries are determined according to the priorities you set as president, with
the one requirement that the sum of all salaries equals the budget.
full professor:
professor The senior rank of professor.
faculty scholarship
scholarship performance:
performance Average of scholarship performance ratings for regular faculty
members (adjuncts do no scholarship and are not included in the average).
faculty submodule:
submodule A submodule of the Academic Operations Module which determines the faculty
resources that will be available to fulfill course demand and other departmental obligations; it
simulates faculty hires, promotions, departures, and retentions.
faculty teaching performance
performance: Average of teaching performance ratings for all faculty members
including adjuncts.
financial aid
aid: Money made available to students to assist with tuition expenses as well as room and
board.
graduate student
student: A student who is pursuing a graduate or professional degree.
graduation rates
rates: Measures the percentage of entering students who graduate by student level.
hiring:
hiring The number of new faculty hires possible is determined by the salaries offered; lowersalaried hires will increase the total number of available positions and inversely, higher salaries
decrease the total number of available positions.
indirect cost rate:
rate Overhead rate (i.e., a percentage of each grant) charged by the university for
sponsored research projects; covers administration, support services, and plant operations.
information technology:
technology Success here depends on the degree to which the information technology
infrastructure supports teaching and research; this includes equipment resources, training, software,
and service provision.
institutional advancement results:
results This is the dollar value of gift income; total gift income is divided
into gifts for current use, gifts for endowment, and gifts for plant according to player-determined
percentages.
intercollegiate athletics:
athletics The institution's overall effectiveness in athletic competitions; translates
into wins and losses in the key sports of football and basketball (which occur in the fall and winter
trimesters, respectively) -- which in turn affect morale and attitudes toward the institutions.
libraries:
libraries Measurement used to determine the degree to which library operations provide effective
support for teaching and research programs; this includes both library collection development and
service provision.
longadjunct: A faculty member who teaches one class per term over several terms but is
long-term adjunct
neither a researcher nor a tenure-track professor.
matriculations:
matriculations People who have been offered admission into a college or university and accept the
offer.
medallion:
medallion One of four categories of institutions which includes public and private research
institutions and private liberal arts institutions; these institutions have several common features:
market dominance, substantial endowments in the case of the private institution, substantial state
support in the case of the public institution, highly selective, and graduate a very high proportion of
those who matriculate.
NonNon-Academic Operations Module:
Module The Non-Academic Operations Module contains programs that
simulate all operating activities of the player-created university except Academic Operations
(AOM) and physical plant; four submodules: student life, resident hall operations, fund raising, and
endowment management.
operations and maintenance
maintenance: The physical plant and how well it is maintained; high values translate
into high faculty, staff, and student morale; low values translate into lower morale and also increase
the probability of adverse administrative outcomes (e.g., building and equipment malfunctions);
operates through the physical plant to increase or decrease the deferred maintenance backlog.
operating budget
budget: Money that is available to administer and maintain the player-created institution.
Physical Plant Activities Module:
Module This module contains all of the programs which simulate the
buildings and grounds at Virtual U; runs once per simulated year and simulates the effects of:
operations and maintenance decisions on building condition depreciation, and new construction of
academic buildings and residence halls.
preference:
preference The four levels of preference given to the player when setting budget priorities and
includes: low priority, medium priority, high priority, and required.
prestige:
prestige Measure that is used as one indicator of institutional quality but is based largely on
subjective information (e.g., how talented the basketball team is).
research faculty:
faculty Faculty members who have been hired for their research skills and spend less
discretionary time in education-related task; attracting research faculty is competitive and costly but
can positively effect the number of sponsored research projects generated at the player-created
institution.
research performance
performance: A performance indicator that measures the aggregation of departmental
research performance scores to the institutional level; high scores may result in favorable comments
from the media and high placement in the government scientific research rankings.
Resource Allocation and Budget Module (RABM):
(RABM) This module determines: resource allocation,
prices, salary guidelines, provisions for rising costs, and net changes in expenditure authorizations
for academic and non-academic operations.
scholarship:
scholarship The by-product of professors who create knowledge, are able to put this knowledge
into larger social context, serve their academic fields and university with this knowledge, and
communicate this knowledge to the student body and the general public through teaching.
sponsored research:
research Research projects conducted at the university but funded by groups outside of
the university; reflects the success in the competition for funding, which in many fields correlates
with the quantity and quality of research.
shortadjunct: A faculty member who teaches one class per term for one or two terms but is
short-term adjunct
neither a researcher nor a tenure-track professor.
smoothed surplus:
surplus Degree to which the budget tends to enhance or erode the player-created
institution's financial well-being.
sponsored research submodule:
submodule A submodule of the Academic Operations Module that determines
each departments' proposal and award volume.
STE:
STE Stands for student full-time equivalent and represents the full-time undergraduate and
graduate students.
staff morale
morale: The attitudes of the employees who provide support services toward the institution.
student diversity:
diversity The percentage of students who are members of a minority.
student life:
life Measures the effectiveness of student life programs and student services to meet the
needs of students; and includes: extracurricular activities, intramural athletics, counseling and
medical care, and other services provided to students.
student morale:
morale Measures the attitudes of students toward the institution (as opposed to attitudes
toward individual departments).
student submodule:
submodule A submodule of the Academic Operations Module which produces figures for
the number of majors in each department (and in an undecided category), and the number of
graduates and other departures, for each student level.
surplus or deficit:
deficit Total revenue minus total expenditure; the bottom line of the budget; surpluses
flow into the institution's operating reserve and deficits are taken from the reserve.
tenured faculty:
faculty Professors who have passed the tenure review process based on their teaching,
scholarship, and research.
threshold amounts:
amounts Large sums of money at low interest rates.
top athlete:
athlete One of the student market segments and includes students who are star athletes and not
members of the blue chip, scholar, and extra-curricular active categories.
transfer to plant:
plant Percentage increase and decrease in funds transferred from the operating budget to
the capital budget.
trimester:
trimester The length of time each school term lasts and is divided into three terms -- Summer,
Winter, and Spring.
tuition:
tuition Cost of attending the player-created institution for one academic year.
tuition discounting:
discounting Represents the degree to which the player-created institution discounts its
sticker price through financial aid.
undergraduate student
student: A student who is pursuing a bachelor's degree.
universe of other institutions:
institutions The average of all of the institutions in the database so that the
information may be expressed as a single number.

* Your assessment is very important for improving the work of artificial intelligence, which forms the content of this project