07-TO1-171 523t605t853t Bro_m2.indd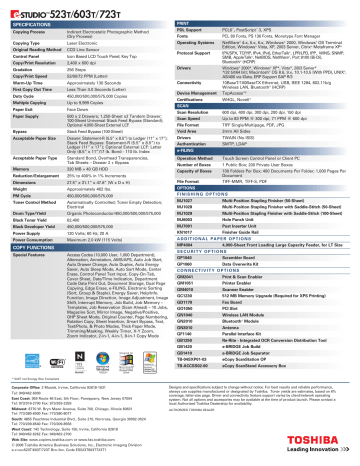 PRINT
SPECIFICATIONS
Copying Process
Indirect Electrostatic Photographic Method
(Dry Process)
Copying Type
Laser Electronic
Original Reading Method
CCD Line Sensor
Control Panel
Icon Based LCD Touch Panel; Key Top
Copy/Print Resolution
2,400 x 600 dpi
Gradation
256 Steps
Copy/Print Speed
52/60/72 PPM (Letter)
Warm-Up Time
Approximately 130 Seconds
First Copy Out Time
Less Than 4.0 Seconds (Letter)
Duty Cycle
450,000/500,000/575,000 Copies
Multiple Copying
Up to 9,999 Copies
Paper Exit
Face Down
Paper Supply
500 x 2 Drawers; 1,250-Sheet x2 Tandem Drawer;
100-Sheet Universal Stack Feed Bypass (Standard);
Optional 4,000-Sheet External LCF
PDL Support
PCL6™, PostScript™ 3, XPS
Fonts
PCL 80 Fonts, PS 136 Fonts, Monotype Font Manager
Operating Systems
Device Management
NetWare® 4.x, 5.x, 6.x, Windows® 2000, Windows® OS Terminal
Edition, Windows® Vista, XP, 2003 Server, Citrix® Metaframe XP®
IPX/SPX, TCP/IP, IPv4, IPv6, EtherTalk®, LPR/LPD, IPP, WINS, SNMP,
SMB, AppleTalk®, NetBIOS, NetWare®, Port 9100 (Bi-Di),
Bluetooth® (HCRP)
Windows® 2000*, Windows® XP*, Vista*, 2003 Server*
*(32 bit/64 bit); Macintosh® OS 8.6, 9.x, 10.1-10.5 (With PPD), UNIX®,
AS/400 via iData, ERP Support SAP R/3
10BaseT/100BaseTX Ethernet, USB, IEEE 1284, 802.11b/g
Wireless LAN, Bluetooth® (HCRP)
TopAccess™
Certifications
WHQL, Novell®
Protocol Support
Drivers
Connectivity
SCAN
Scan Resolution
600 dpi, 400 dpi, 300 dpi, 200 dpi, 150 dpi
Scan Speed
Up to 83 PPM @ 300 dpi, 71 PPM @ 600 dpi
File Format
TIFF Single/Multipage, PDF, JPG
Bypass
Stack Feed Bypass (100-Sheet)
Void Area
2mm All Sides
Acceptable Paper Size
Drawer: Statement-R (5.5" x 8.5") to Ledger (11" x 17");
Stack Feed Bypass: Statement-R (5.5" x 8.5") to
Ledger (11" x 17"); Optional External LCF: Letter
Only (8.5" x 11")17 lb. Bond - 110 lb. Index
Drivers
TWAIN (No ISIS)
Authentication
SMTP, LDAP
Standard Bond, Overhead Transparencies,
Tab Sheets – Drawer 2 + Bypass
Operation Method
Touch Screen Control Panel or Client PC
Memory
320 MB + 40 GB HDD
Number of Boxes
1 Public Box; 200 Private User Boxes
Reduction/Enlargement
25% to 400% in 1% Increments
Capacity of Boxes
Dimensions
27.5" x 31.1" x 47.8" (W x D x H)
File Format
100 Folders Per Box; 400 Documents Per Folder; 1,000 Pages Per
Document
TIFF-MMR, TIFF-S, PDF
Weight
Approximately 462 lbs.
OPTIONS
PM Cycle
450,000/500,000/575,000
FINISHING OPTIONS
Toner Control Method
Automatically Controlled; Toner Empty Detection;
Electrical
MJ1027
Multi-Position Stapling Finisher (50-Sheet)
MJ1028
Multi-Position Stapling Finisher with Saddle-Stitch (50-Sheet)
Drum Type/Yield
Organic Photoconductor/450,000/500,000/575,000
MJ1029
Multi-Position Stapling Finisher with Saddle-Stitch (100-Sheet)
Black Toner Yield
62,400
MJ6003
Hole Punch Unit
Black Developer Yield
450,000/500,000/575,000
MJ7001
Post Inserter Unit
Power Supply
120 Volts; 60 Hz; 20 A
KN1017
Finisher Guide Rail
Power Consumption
Maximum 2.0 kW (115 Volts)
ADDITIONAL PAPER OPTIONS
Acceptable Paper Type
MP4004
COPY FUNCTIONS
Special Features
e-FILING
Access Codes (10,000 User, 1,000 Department),
Alternation, Annotation, AMS/APS, Auto Job Start,
Auto Drawer Change, Auto Duplex, Auto Energy
Saver, Auto Sleep Mode, Auto Sort Mode, Center
Erase, Control Panel Text Input, Copy-On-Tab,
Cover Sheet, Date/Time Indication, Department
Code Data Print Out, Document Storage, Dual Page
Copying, Edge Erase, e-FILING, Electronic Sorting
(Sort, Group & Staple), Energy Saver, Help/Info.
Function, Image Direction, Image Adjustment, Image
Shift, Interrupt Memory, Job Build, Job Memory –
Templates, Job Reservation (Scan Ahead) – 10 Jobs,
Magazine Sort, Mirror Image, Negative/Positive,
OHP Sheet Mode, Original Counter, Page Numbering,
Rotation Copy, Sheet Insertion, Smart Bypass, Text,
Text/Photo, & Photo Modes, Thick Paper Mode,
Trimming/Masking, Weekly Timer, X-Y Zoom,
Zoom Indicator, 2-in-1, 4-in-1, 8-in-1 Copy Mode
*
4,000-Sheet Front Loading Large Capacity Feeder, for LT Size
SECURITY OPTIONS
GP1040
Scrambler Board
GP1060
Data Overwrite Kit
CONNECTIVITY OPTIONS
GM2041
Print & Scan Enabler
GM1051
Printer Enabler
GM4010
Scanner Enabler
GC1230
512 MB Memory Upgrade (Required for XPS Printing)
GD1170
Fax Board
GO1050
PCI Slot
GN1040
Wireless LAN Module
GN2010
Bluetooth® Module
GN3010
Antenna
GF1140
Parallel Interface Kit
GB1250
Re-Rite - Integrated OCR Conversion Distribution Tool
GB1420
e-BRIDGE Job Build
GB1410
e-BRIDGE Job Separator
TB-04SXP01-03
eCopy ScanStation OP
TB-ACCSS02-00
eCopy ScanStand Accessory Box
* 523T not Energy Star Compliant
Corporate Office: 2 Musick, Irvine, California 92618-1631
Tel: 949/462-6000
East Coast: 959 Route 46 East, 5th Floor, Parsippany, New Jersey 07054
Tel: 973/316-2700 Fax: 973/263-2393
Midwest: 8770 W. Bryn Mawr Avenue, Suite 700, Chicago, Illinois 60631
Tel: 773/380-6000 Fax: 773/380-8077
South: 4855 Peachtree Industrial Blvd., Suite 210, Norcross, Georgia 30092-3024
Tel: 770/209-8540 Fax: 770/209-8556
West Coast: 142 Technology, Suite 150, Irvine, California 92618
Tel: 949/462-6262 Fax: 949/462-2700
Web Site: www.copiers.toshiba.com or www.fax.toshiba.com
© 2008 Toshiba America Business Solutions, Inc., Electronic Imaging Division
e-STUDIO523T/603T/723T Bro./Inv. Code ES523T603T723T1
Designs and specifications subject to change without notice. For best results and reliable performance,
always use supplies manufactured or designated by Toshiba. Toner yields are estimates, based on 6%
coverage, letter-size page. Driver and connectivity feature support varies by client/network operating
system. Not all options and accessories may be available at the time of product launch. Please contact a
local Authorized Toshiba Dealership for availability.
AUTHORIZED TOSHIBA DEALER
Power Packed. Feature Rich. Volume Heavy.
PPM
52/60/72
4 in 1
L
Workgroup
Black & White
Copy / Print / Scan / Fax
Power an entire business.
And then some.
Toshiba brings you the power, functions
and capacity needed to run the busiest,
most sophisticated business. The
e - STUDIO 523T/603T/723T
Tandem
Series includes everything people have
come to appreciate in Toshiba MFPs,
plus a tandem drawer configuration for
even greater paper handling capacity.
From
for
an
extra
ease-of-use
large
to
the
LCD
display
high-quality
output—up to a maximum of 7,600
pages—businesses can now operate
more efficiently than ever.
Toshiba technology in tandem.
Maximum flexibility.
S H E E T S
M O R E
The e-STUDIO523T/603T/723T Tandem Series
allows for an additional 2,500-sheet capacity.
This can be added to the optional maximum
capacity for a grand total of 7,600 sheets.
Combining high-volume document processing
with speed and image quality, these Toshiba
MFPs make short work of long jobs.
Two universal 500-sheet drawers accommodate statement to ledger-size
paper of up to 110-pound index stock. In addition, a built-in large capacity
drawer holds two stacks of letter-size paper, each consisting of 1,250 sheets.
When the first stack of paper has been used, the second stack automatically
shifts over so operation remains uninterrupted. This allows for longer runs in
a shorter period of time. The standard capacity, including a 100-sheet Smart
Stack Feed Bypass, totals 3,600 sheets. Add the optional 4,000-sheet LCF for
a grand total of 7,600 sheets to complete any job, large or small.
Speed and performance.
Utilizing advanced Toshiba technology, the
e-STUDIO523T/603T/723T Tandem Series can
produce all the documents you need, right when you
need them. Copies and printouts are produced at the
rate of 52, 60, and 72 pages per minute, respectively, with a first copy out time under 4 seconds.
Originals can be scanned at the rate of 71 per minute
at 600 dpi, and even faster at lower resolutions. In
order to save more time, the units offer 100% duplex
productivity along with a 130-second warm-up time
and a 30-second recovery from standby.
The full-featured
information hub.
With eCopy™ ScanStation OP document imaging
and distribution software, take advantage of flexible,
rapid solutions for paper-to-digital business
integration. Essentially what you have is a fullfeatured information hub that can integrate hardcopy
documents directly into the workflow of your
critical business processes. Whether it's reporting,
administration, document management, financials,
human resources, or customer management, tasks are
handled quickly and efficiently.
Convert scanned documents.
Thanks to e-BRIDGE™|Re-Rite™, you can convert scanned documents into 17 different
formats, instantly, without user intervention. Optical Character Recognition (OCR)
file format transforms scanned text and graphic documents into editable,
searchable file formats such as .doc, .html, .pdf, and more. Converted
images can then be sent to network drives, or emailed—or both.
Tandem paper
configuration
4,000-Sheet
Large Capacity Feeder
The top performers.
Secure MFP.
Change toner, avoid downtime.
The security of document production
has become extremely important in
today's business environment. These
MFPs have been designed with security
in mind. Each has a scrambler board
option that encrypts hard drive data. A
data disk overwrite option protects previous copy and
print job data on the hard disk drive by writing over it
multiple times. Also, full SMTP authentication with LDAP
support ensures scanned documents are only emailed
by users who can be identified by the recipient. To
regulate usage and allow only those with authorized
access, there are 10,000 user codes available. Providing
even more security, the latest 802.11g wireless encryption
protocol support enables secure wireless usage.
The e-STUDIO523T/603T/723T Tandem Series reduces downtime
in a variety of ways. In fact, when it comes to changing the toner
cartridge, downtime is eliminated altogether. Thanks to advanced
Toshiba technology called "toner on the fly", you can replace the
high-yield toner cartridge right in the middle of an important job.
There's no need to stop operation or miss a tight deadline.
Performance never looked better.
Speed is only valuable when the product remains high-quality.
That's why Toshiba ensures image quality with a crisp, clear 2400
x 600 dpi using an advanced image processor unit. Ultra-fine
8-micron toner and 40-micron developer help keep images crisp,
offering exceptionally fine resolution. An 8-bit monochrome scanner
produces precise grayscales while sharpening onscreen images.
And when outputting these impressive-looking documents, choose
from three finishers—a 50-sheet multi-position stapling finisher, a
50-sheet unit with saddle-stitch booklet making, and a 100-sheet
finisher with saddle-stitch.
A single board with multiple advantages.
Toshiba's single board architecture uses e-BRIDGE TM
technology to combine copy, print, scan and other functions.
This allows you to add functionality as needed with Enablers
that can be installed quickly and easily—simply plug and
print. Even fax functionality is easily added. Also, frequently
reprinted documents can be stored on the device's hard disk
drive and accessed from the front panel or your desktop
using e-FILING. Other features include Scan-to-Email, Internet
faxing, and TopAccess®—the remote administration utility
with a common interface across Toshiba products.
Make professional
looking booklets with
letter, legal, and
ledger-size paper.
The Toshiba Quality Commitment is our
guarantee that you're getting the utmost
in advanced technology, dependability, service
and support. Toshiba stands squarely behind our
promise with the assurance of complete satisfaction.
Everything we do contributes to that goal. From
setting the industry standard for research and
development, to providing instant access to
Toshiba support personnel. Look around. Nothing
compares to Toshiba...quality guaranteed.

* Your assessment is very important for improving the work of artificial intelligence, which forms the content of this project