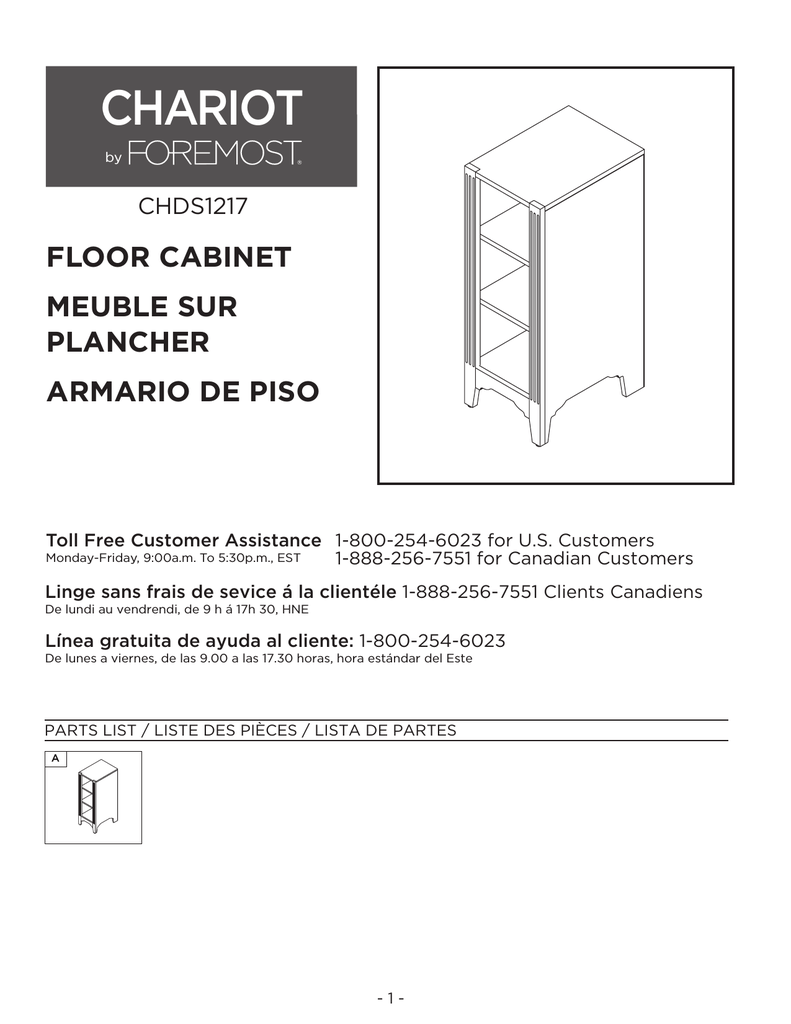 CHARIOT
by
CHDS1217
FLOOR CABINET
MEUBLE SUR
PLANCHER
ARMARIO DE PISO
Toll Free Customer Assistance 1-800-254-6023 for U.S. Customers
Monday-Friday, 9:00a.m. To 5:30p.m., EST
1-888-256-7551 for Canadian Customers
Linge sans frais de sevice á la clientéle 1-888-256-7551 Clients Canadiens
De lundi au vendrendi, de 9 h á 17h 30, HNE
Línea gratuita de ayuda al cliente: 1-800-254-6023
De lunes a viernes, de las 9.00 a las 17.30 horas, hora estándar del Este
PARTS LIST / LISTE DES PIÈCES / LISTA DE PARTES
A
-1-
1
-2-
1 Year Warranty Information
Each FOREMOST® product manufactured
by Foremost Groups, Inc. & Foremost
International Ltd. is covered by a 1
Year / Limited Lifetime Warranty. We
warrant our products to be free from
defects in material or workmanship
for a period of 1 year from the date
of delivery.
warranty on our drawer suspension
systems. These warranties are made to
the original purchaser and are limited
to the repair or exchange of any parts
which prove defective under normal
use during the warranty period.
These warranties do not apply where
products have been improperly stored
or improperly installed, misused,
abused, or modified in any way. They
do not cover the costs of removing
warranted material or the installation
of replacement material.
These warranties are the sole
warranties of Foremost Groups, Inc. &
Foremost International Ltd., and in lieu
of all other warranties, express implied,
including any implied warranties of
merchantability and fitness for a
particular use. Labor charges for
removal of or installation of warranted
material as well as incidental or
consequential damages are excluded.
We do not assume for us any other
liability in connection with the sale of
our product.
Renseignements concernant la
garantie de 1 année
Información sobre la garantía
de 1 año
Chaque produit FOREMOST® fabriqué par
Foremost Groups, Inc. et Foremost International
Ltd. est couvert par une garantie limitée à vie
ou de 1 année. Nous garantissons que nos
produits sont exempts de défauts matériels et
de main-d'œuvre pendant une période de 1
année à compter de la date de livraison.
Cada producto FOREMOST® fabricado por
Foremost Groups, Inc. y Foremost
International Ltd. está cubierto por una
garantía de 1 año / limitada para toda la
vida. Garantizamos, por un período de 1 año
contado a partir de la fecha de entrega, que
nuestros productos no tienen defectos de
materiales ni de mano de obra.
limitée sur nos systèmes de suspension de
Además, ofrecemos una garantía limitada
par a toda la vida sobre los sistemas de
suspensión de los cajones. Estas garantías
se otorgan al comprador original y quedan
limitadas a la reparación o al cambio de
cualquier pieza que se demuestre que se
encuentra defectuosa en condiciones
normales de uso, durante el período de la
vigencia de la misma.
l'acheteur d'origine et elles sont limitées à la
réparation ou à l'échange de toute pièce que
ce soit, s'il est établi qu'elle est défectueuse
dans des conditions d'utilisation normale au
cours de la période de garantie.
Elles ne s'appliquent pas dans le cas où les
produits ont fait l'objet d'une installation ou
d'un entreposage inapproprié, d'un usage non
conforme, d'une utilisation abusive, ou s'ils
ont été modifiés de façon quelconque. Elles
ne couvrent pas le coût que représente
l'élimination du matériel garanti, ainsi que
l'installation du matériel qui le remplace.
Les présentes garanties sont les seules
garanties de Foremost Groups, Inc. et
Foremost International Ltd., et remplacent
toute autre garantie, expresse ou implicite, y
compris toute garantie implicite de qualité
marchande et de conformité du produit à un
usage particulier. Les coûts de main-d'œuvre
liés à l'élimination ou à l'installation du
matériel couvert par la garantie, ainsi que les
dommages directs ou consécutifs ne sont pas
compris. Nous ne pouvons être tenu
responsable d'aucune obligation ayant trait à
la vente de notre produit.
Estas garantías no amparan los casos de
productos incorrectamente guardados o
armados, ni el maltrato, abuso o las
alteraciones de cualquier tipo. Las garantías
no cubren los costos de remoción de piezas
amparadas ni la instalación de piezas
cambiadas.
Estas son las únicas garantías que otorga
Foremost Groups, Inc. y Foremost
International Ltd., y se otorgan en lugar de
toda otra garantía, sea expresa o implícita,
incluyendo las garantías implícitas sobre la
idoneidad
del
producto
para
su
comercialización o para un uso determinado.
Quedan excluidos los gastos de mano de
obra de remoción o de instalación de las
piezas amparadas, así como los daños y
perjuicios accesorios o indirectos. No
asumimos ninguna otra responsabilidad en
relación con la venta de este producto.
© 2013 Foremost Groups, Inc. & Foremost International Ltd.
6241 Northwind Parkway
Hobart, Indiana
46342
11/13/13
www.foremostgroups.com
5970 Chedworth Way
Mississauga, Ontario
L5R 3V5
www.foremostcanada.com
Thank you
for purchasing this FOREMOST®
furniture. Your new assembled furniture is
constructed using only the finest materials
and captures the essence of timeless
beauty and style.
Nous vous remercions
d'avoir acheté ce
meuble FOREMOST®. Votre nouveau meuble
assemblé est fabriqué en ne faisant appel qu'aux
matériaux de la meilleure qualité et il renferme
l'essence de la beauté et du chic traditionnels.
Gracias
At Foremost Groups, Inc. & Foremost
International Ltd., each piece of quality
cabinetry is designed with the customer in
mind. Every aspect of what we do revolves
around the customers needs.
Chez Foremost Groups, Inc. et Foremost
International Ltd., chaque pièce d'ébénisterie est
conçue en gardant la clientèle à l'esprit. Chaque
chose que nous faisons est orientée vers les besoins
du client.
En Foremost Groups, Inc. y Foremost International
Ltd., cada mueble de calidad se hace pensando en
el cliente. Cada aspecto de lo que hacemos gira
en torno a las necesidades del cliente.
por comprar este mueble FOREMOST®.
Su nuevo mueble armado ha sido fabricado
usando únicamente los materiales más finos y
capta la esencia de la belleza y del estilo de
elegancia eterna.
Si tiene alguna pregunta acerca de su mueble, nos
gustaría atenderla con prontitud. Nuestro personal
capacitado está listo para ayudarlo y ofrecerle un
servicio rápido y eficiente. Sírvase lla mar al
teléfono de llamada gratuita del Servicio de
atención al cliente.
Should you have any questions about your
furniture, we would like to address the
Si vous avez des questions à poser concernant notre
mobilier, nous souhaitons y répondre dans les
meilleurs délais. Notre personnel bien formé est prêt
call our toll free Customer Service number.
la clientèle sans frais.
U. S. Customers: 1-888-620-3667
Canadian Customers: 1-888-256-7551
Monday-Friday, 9:00a.m. To 5:30p.m., EST
Clients Canadiens: 1-888-256-7551
Du lundi au vendredi, de 9 h à 17 h 30, HNE
Clientes de Estados Unidos: 1-888-620-3667
De lunes a viernes, de las 9.00 a las 17.30 horas,
hora estándar del Este
Conservez une belle apparence à votre
mobilier
Cómo conservar la belleza de sus
muebles
Quality wood furniture is a significant
investment expected to last for generations.
To maintain its beauty and help it last, wood
furniture needs the right care. FOREMOST®
furniture is finished with two to three coats
of lacquer for extra depth and long-lasting
durability. The sheen, or gloss, of the finish
ranges from high to low, depending on the
piece or collection. The finish protects the
wood and adds to its beauty. No finish is
totally indestructible, but with regular care,
the finish will last much longer, providing
years of enjoyment to you.
Le mobilier en bois de qualité constitue un
investissement important sensé durer pendant des
générations. Pour conserver longtemps son
élégance, le mobilier en bois requiert un bon
To protect and care for your furniture, we
suggest the following:
Afin de protéger et d'entretenir votre mobilier, nous
vous suggérons de prendre les mesures suivantes :
Los muebles finos de madera pueden ser una
inversión considerable, que se espera que sirvan
por generaciones. Para conservar su belleza y
ayudar a que los muebles de madera duren mucho
tiempo, es necesario darles el cuidado adecuado.
Los muebles FOREMOST® son acabados con dos o
tres capas de laca para lograr una mejor
profundidad y durabilidad. El brillo, o lustre, del
acabado varÌa desde alto hasta bajo, lo que
depende del mueble o de la colección. El acabado
protege la madera y realza su belleza. Ningún
acabado es completamente indestructible, pero
cuidándolo regularmente, puede durar un tiempo
mucho mayor, y ofrecerle muchos años de
satisfacción. Para proteger y conservar sus
muebles, le ofrecemos las siguientes sugerencias:
Keeping Your Furniture Beautiful
finition composée de deux à trois couches de
vernis-laque pour une résistance à toute épreuve et
une profondeur supplémentaire. Le lustre ou le
brillant du fini varie d'élevé à faible, selon la pièce ou
la collection. Le fini protège le bois et l'embellit. Il
n'existe
aucun
fini
qui
soit
parfaitement
indestructible, mais grâce à un entretien régulier, le
fini durera beaucoup plus longtemps, vous
permettant ainsi d'en profiter pendant des années.
• Avoid placing your FOREMOST®
furniture in direct sunlight, as sunlight
causes fading.
• Évitez de placer votre mobilier FOREMOST®
en plein soleil, car les rayons décolorent le
mobilier.
• Evite colocar sus muebles FOREMOST®
bajo la luz solar directa, ya que ésta
provoca su descoloración.
• Clean up spills immediately. Use a
blotting rather than a wiping action.
Water left over a long period of time
will cause white spots in the finish.
Alcohol, perfume, after-shave and
medications can cause severe finish
damage.
• Nettoyez sans délai les liquides renversés.
Il vaut mieux éponger la surface que
l'essuyer. La surface laissée humide pendant
une période de temps prolongée entraînera
l'apparition de taches blanches sur le fini.
L'alcool, le parfum, la lotion après rasage,
ainsi que les médicaments risquent de
gravement endommager le fini.
• Limpie inmediatamente los derrames.
Séquelos absorbiendo con un paño, en
lugar de frotar. El agua que se queda por
mucho tiempo deja manchas blanquecinas
en el acabado. El alcohol, los perfumes, las
lociones para después de afeitar y los
medicamentos pueden causar mucho daño
al acabado.
Cleaning and polishing your furniture:
We recommend dusting frequently with a
clean, soft, dry, lint-free cloth. Clean the
surface by rubbing in the direction of the
grain. We recommend polishing your
furniture
approximately
every
six
months, using a clean, soft, lint-free cloth
and rubbing the polish in the direction of
the grain.
Nettoyage et polissage de votre meuble :
Nous vous recommandons de l'épousseter
fréquemment au moyen d'un linge propre, doux et
non pelucheux. Nettoyez la surface en la frottant
dans le sens du grain. Nous vous recommandons
de polir votre meuble tous les six mois environ, au
moyen d'un linge propre, doux et non pelucheux
et de nettoyer la surface en la frottant dans le
sens du grain.
What furniture care products do we
recommend?
We recommend polishes which contain
detergents, emulsifiers and mineral oil. The
detergents clean dirt from the furniture, the
emulsifiers give it body to clean and last
longer and the mineral oil is left behind as a
barrier for dirt and moisture that could
harm finishes. There's no grit to harm the
finish, no wax to build up and no silicone to
raise the sheen and act as a barrier for
touch-up and refinishing.
Quels produits recommandons-nous pour
l'entretien du mobilier?
Nous recommandons des produits à polir contenant
des détergents, des émulsifiants et de l'huile
minérale. Les détergents enlèvent la saleté du
mobilier, les émulsifiants font mousser et durent plus
longtemps, et l'huile minérale agit comme d'une
barrière protectrice contre la saleté et l'humidité
susceptibles d'abîmer les finis. Il ne se trouve ni
s'accumuler, ni silicone pour enlever la brillance et
servir de barrière aux retouches et à la remise en
état du produit.
¿Qué productos para la conservación de
muebles recomendamos?
Recomendamos productos para lustrar muebles
que contengan detergentes, emulsificantes y
aceite mineral. Los detergentes limpian la
suciedad de los muebles, los emulsificantes le dan
cuerpo para que limpie y dure un mayor tiempo, y
el aceite mineral deja una capa de protección
contra la suciedad y la humedad que pudieran
dañar el acabado. No contienen partículas
abrasivas que dañen el acabado, cera que se
acumule ni silicona que aumente el brillo, y actúan
como una barrera para los retoques y la
restauración del acabado.
Sink Care and Maintenance
Entretien de l'évier
Cuidado y mantenimiento del lavamos
Clean the surfaces with mild soap and warm
water. Then dry with a soft cloth.
Nettoyez les surfaces à l'eau chaude additionnée de
détergent doux. Essuyez ensuite à l'aide d'un
Limpie las superficies con jabón suave y agua
tibia. Luego séquelas con un paño suave.
Cómo limpiar y lustrar sus muebles:
Recomendamos limpiar el polvo con frecuencia
con un paño limpio, seco, suave y sin pelusas.
Limpie la superficie frotando en la dirección de la
veta de la madera. Recomendamos lustrar sus
muebles cada seis meses aproximadamente, con
paño limpio, seco, suave y sin pelusas, frotándolos
en la dirección de la veta de la madera.