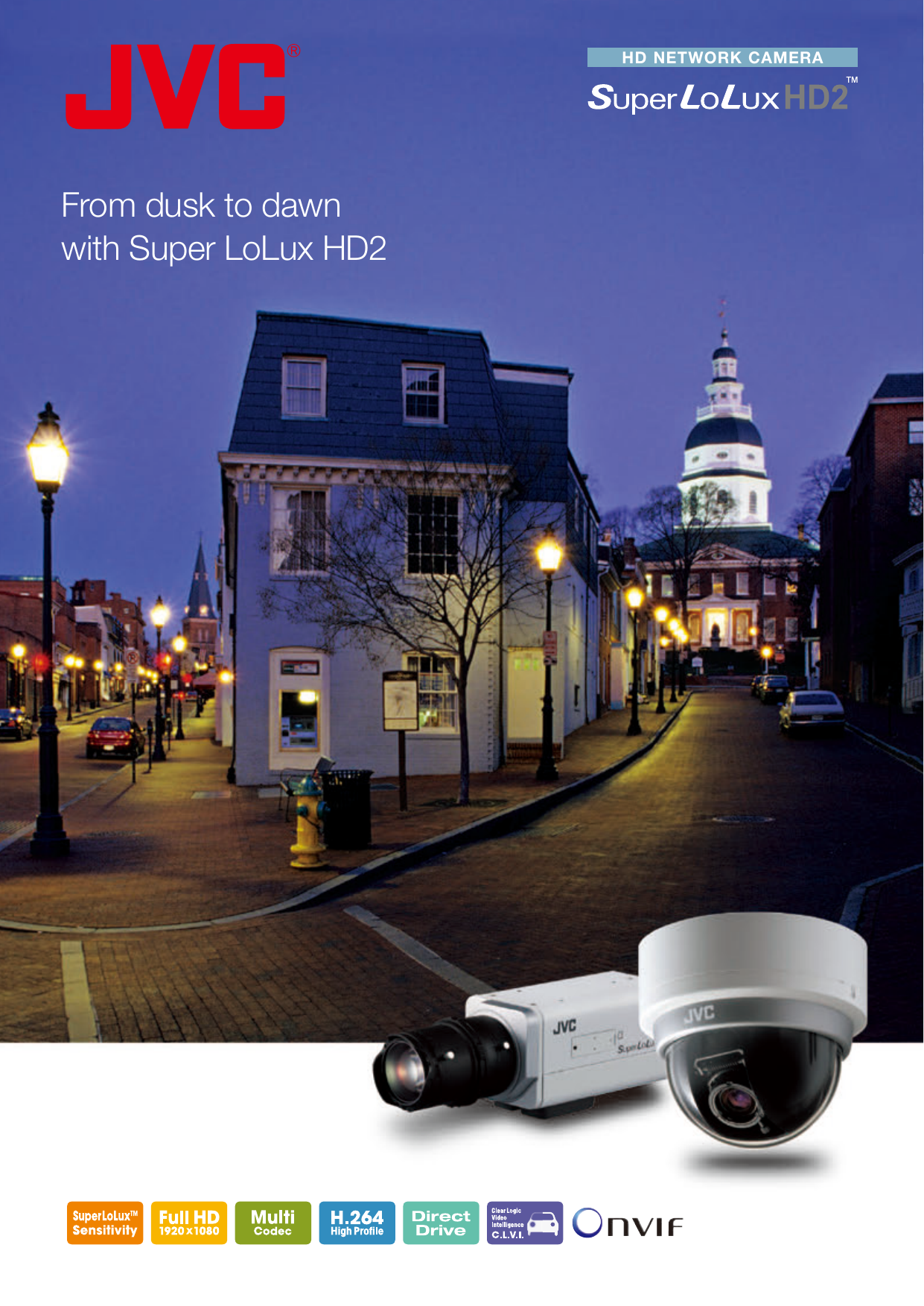 HD NETWORK CAMERA
From dusk to dawn
with Super LoLux HD2
Your Security. Our Solutions.
Next Generation Super LoLux HD2 Technology
Superior Colour Reproduction at Low Light
New Super LoLux HD2 cameras (EX models) deliver outstanding
performance and precise colour reproduction, and are equipped
with newly-developed sensors for exceptional low light performance
with full 1080p resolution. Sensitivity has been greatly improved
from the first generation of these cameras and the new Super
LoLux HD2 deliver impressive details and colour – without requiring
LEDs – at light levels as low as 0.05 lux (0.012 lux b/w).
Normal Super LoLux HD camera
(Actual image taken at 0.1 lux)
Super LoLux HD2 camera
(Actual image taken at 0.1 lux)
JVC Reliability: Built to Last
Thorough Temperature Simulation Delivers Long Camera Life
JVC Quality Vandal Protection
Heat accumulation has a major impact on the
lifespan of a camera. JVC's knowledge of heat
dissipation design enables our cameras to deliver
both high quality and long life. The expertise
we've gained in the analogue camera field gives
our cameras industry-leading service life and the
same holds true for our HD IP cameras.
JVC dome cameras provide superior protection against vandalism.
The indoor mini dome offers IK10 level vandal resistance and is
safeguarded by a protective cushion mechanism that absorbs shocks
from the outside. The outdoor vandal-proof model goes even further
with 50J high impact resistance by virtue of its sturdy polycarbonate
dome cover and aluminum die-cast camera body. It's the best choice
for traffic, logistics and railways which require superior vandal-proof
performance and water/dust protection.
Network Failure Detection
Cushion mechanism
When the camera detects no network connection, it starts recording
on an SD card automatically
until the network connection
recovers. This function helps
assure instant recording in
case of network failure.
02
Super LoLux HD2™ Series
CS Mount
Integrated Lens
VN-H37U(EX)
VN-H57U(EX)
VN-H137BU(EX)
*Lens not included
Mini Dome
Outdoor/Vandal Dome
Integrated Housing
Indoor PTZ Dome
VN-H237BU(EX)
VN-H257U(EX)
VN-H257VPBU(EX)
VN-H157WPU
VN-H557U
Direct
Drive
Direct
Drive
Direct
Drive
-30°
C
-30°
C
Operation
Operation
-30°
C
-30°
C
-30°
C
Operation
Optional Heater
-30°
C
Optional Heater
Direct
Drive
Direct
Drive
60°
C
60°
C
Optional Heater
Direct
Drive
Operation
Operation
60°
C
Operation
Indoor PTZ Dome
VN-H657BU
Direct
Drive
-30°
C
Outdoor PTZ Dome
Mounting accessories
VN-H657WPBU
For VN-H657BU
For VN-H657WBPU For VN-H237BU/
H257U
Direct
Drive
-30°
C
Operation
• WB-S2205 Ceiling
recessed bracket
Operation
-30°
C
Optional Heater
Direct
Drive
Direct
Drive
60°
C
60°
C
Operation
• WB-S682U Wall
mount
For VN-H557U
• WB-S684U Outdoor
pendant mount pole
Operation
• WB-S685U Ceiling
recessed bracket
• WB-S681U Pendant
mount pole
• WB-555 Ceiling
recessed bracket
Quick Comparison
Model
Features
Integrated
lens
CS mount
VN-H37U(EX)
VN-H57U(EX)
Lens integrated
20J vandal protection [IK10]
Mini dome
VN-H137BU(EX) VN-H237BU(EX)
ç
ç
ç
50J vandal proof
Dust/water protect [IP66]
1080p full HD resolution
H.264 High Profile
C.L.V.I.
3DNR
Privacy mask
Motion detection
Network failure detection
Analogue video output
Tampering detection
True Day/Night
Advanced BLC
ç
ç
ç
ç
ç
ç
ç
ç
ç
ç
ç
Auto focus/back focus adjustment
ç
ç
ç
ç
ç
ç
ç
ç
ç
ç
ç
ç
Fine focus adjustment
Audio In/Out, Audio detection
ç
ç
Alarm In/Out
Power
PoE
PoE, AC24V
ç
ç
ç
ç
ç
ç
ç
ç
ç
ç
ç
ç
ç
ç
ç
ç
ç
ç
ç ç
ç ç
PoE
PoE
VN-H257U(EX) VN-H257VPBU(EX)
ç
ç
ç
ç
ç
ç
ç
ç
ç
ç
ç
ç
ç
ç
ç
ç
ç
ç
ç
ç
ç
ç
ç
ç
ç
ç
ç
ç
ç
ç
ç
ç
ç
ç
ç
ç
PoE, AC24V
03
Outdoor dome
PoE, AC24V
Integrated
housing
Indoor PTZ
VN-H157WPU
ç
VN-H557U
ç (x10 optical)
ç
ç
ç
ç
ç
ç
ç
ç
ç
ç
ç
ç
ç
ç
ç
ç
PoE, AC24V
ç
ç
Indoor PTZ
Outdoor PTZ
VN-H657BU
VN-H657WPBU
ç (x18 optical, x10 digital) ç (x18 optical, x10 digital)
ç
ç
ç
ç
ç
ç
ç
ç
ç
ç
ç
ç
ç
ç
ç
ç
ç
ç
ç
ç
ç
ç
ç
ç
ç
ç
ç
ç
ç
ç
ç
ç
ç
PoE, AC24V/DC12V
PoE Plus/24VAC
PoE Plus/24VAC
HD NETWORK CAMERA Super LoLux HD2™
JVC Quality: Clear Images with Precise Colour
Powerful 3D Noise Reduction (3DNR)
SLL HD Series Camera Management
3DNR is a powerful method of improving image quality even for
images shot in the dark. Noise data is detected by comparing
consecutive frames and reduced by blending it into other frames
over time.
SLL HD Series Camera
Management software helps
quick setup by providing the
following functionality.
•
•
•
•
•
IP search and change
Firmware update
Setting change/copy
Focus adjustment
VGA preview, etc.
Advanced BLC
Competitor's
This function effectively attenuates the backlighting effect that
occurs at entrances. It keeps the faces of those entering from
becoming blacked out to enable recognition. Set the high-priority
areas of the picture and capture them in optimum condition.
JVC 3DNR
Full HD Monitoring and Auto Patrol Function
Monitoring with high resolution 1920x1080 full HD images. Since
high resolution is achieved, you can cover a larger area with a
smaller number of cameras. "Auto Patrol" is made possible with
the Digital PTZ function. Select up to 20 areas as "Preset
positions" to be clipped from within the original angle and
distributed sequentially.
Normal camera
Advanced BLC
The area setting screen enables
you to accurately specify the
light-sensing areas. Facial
recognition is therefore possible
free of backlighting even in
high-contrast locations inside
buildings.
• VGA/4CIF/PAL
• Quad VGA
• Full HD
Area setting
Dual/Triple Stream for Zero-Latency Switching
C.L.V.I. (Clear Logic Video Intelligence)
The camera is capable of
outputting not just one,
but actually two or even
three video streams
simultaneously. Simply
switch channels to select
a different stream with no
noticeable time lag, such
as when switching from
normal bandwidth-saving
VGA stream to a full HD stream when an alarm is tripped or suspicious
activity is detected. This enables observation of critical scenes with
higher resolution and clearer details.
High performance image processing technology offers superior anti-fog
capability. It assures clear pictures by digitally removing ambient fog,
haze, or smoke by intelligent image correction process electrically. Edge
enhanced images contribute to more precise recognition of monitoring
objects.
Normal camera
C.L.V.I.
Super LoLux HD2™ Series Meets Three Global Standards of Security Cameras
1. Eco-Friendly Super Low Power Consumption
2. ONVIF Support
JVC Super LoLux HD2™
Series saves 20% more
energy than various
competitors' models.
Supports ONVIF – the world standard protocol for network
cameras. It expands the possibility for various system integration.
JVC VN-H37/H237 Series
120mA / 5.8W
3. Various VMS Support
Partnership with various VMS companies.
Brand A
Brand B
Brand C
143mA / 6.8W
145mA / 7.0W
158mA / 7.6W
04
SLL HD VN-H657 Series – Professional-Use 360º Endless PTZ Camera
Latency for Pan/Tilt commands is among the lowest in the industry at
a mere 50 msec. This quick responsiveness makes remote operation
with a USB joystick more efficient, accurate and stress-free.
World-class pan/tilt function offering Super
Fast [400º/sec] and Super Slow [0.07º/sec].
Count on speedy response during wide area
surveillance, and precise viewing during highmagnification observation.
Among the quietest in the industry, our Direct
Drive system is 20% quieter than conventional
belt-driven cameras. Ideal for use in hospitals,
libraries and research labs.
Adjusts to preset positions with high accuracy,
offset less than 0.03°. Maintains precise
viewing positions even at high magnification
with virtually no deviation.
Outdoor model (VN-H657WPBU) offers
reliable surveillance in any environment from
freezing cold to arid desert. The dome cover
offers IK10 level vandal protection.
Direct
Drive
Proven Reliability with JVC Standard
Assurance of reliability comes not only from JVC's
long years of experience and solid track record, but
also by inspecting every single product at our QC
facility based on our strict quality standards. For all
models, this includes gruelling tests for Pan/Tilt and
Zoom in/out movement accuracy, and for the outdoor
model, severe tests against water, dust, and shocks
are applied to ensure stable performance that
conforms to the IP66 Standard.
• Tests like these are applied to each and every model.
Count on durability.
2
million times
of zooming
4
million times
of focusing
5
million times
of panning
Numbers are guides and vary depending on the usage conditions.
SLL HD VN-H557U – Indoor-Use Simple Non-endless PTZ Camera
This model is a PTZ camera ideally
suited for indoor surveillance. Auto
Panning and Remote PTZ operation
enable it to monitor an even wider
area than static cameras. It provides
expansive coverage of indoor
locations at a cost-conscious price,
with powerful performance offering
simultaneous distribution at full
frame 1080p@25ips plus analogue
25ips for monitoring.
30º upward monitoring
also possible.
Ceiling recessed
installation with
WB-555 optional
bracket
Pro-Style Detailed Adjustment
Powerful Focus Assist Technologies
Dual Auto Focus Mode (VN-H57/H157/H257 Series)
Two focus (back focus) modes are available. Narrow scan mode lets
you roughly adjust the focus manually and click one push auto focus,
to get rapid focus adjustment in approx. 20 sec. Full scan mode
offers precise focusing by simply clicking on the focus adjust button
without any handling of the lens.
• Fine Focus Adjustment Mechanism (Lens integrated models)
Extremely sensitive HD camera focus adjustment is facilitated with
the use of an exclusive gear.
"Fine Adjust" mechanism
Patent
Pending
With a very subtle movement,
finer, more accurate adjustment is
possible.
Quick Analogue Output Mode
Ideal for professional users with conventional
CCTV monitors who might require an
analogue output for view angle adjustment
at the installation spot. Also, special
recording/viewing from the analogue output
is available by using this function.
Normal Focus ring and lock screw
05
Specifications
• Super LoLux HD2™
VN-H37U(EX)
Camera/Lens
Image device
Minimum illumination colour
B&W mode
Day/Night
Wide dynamic range function
3DNR
White balance
Sens-up
BLC
Scene file
Privacy mask
Smart motion detection
Advanced audio detection
PTZ function
Lens
Fine focus adjust mechanism
Focus adjustment
Network
Image compression
Picture resolution
Compression levels
Maximum frame rate
Distribution
Max. clients
Access protection
FTP recording
ONVIF
Protocol
General
Web viewer
Video management
Maintenance tool
Monitor out
Audio communication
VN-H57U(EX)
1/3-type Super LoLux CMOS, 1080p 2.2M
0.05 lx (25% AGC HIGH)
0.012 lx (25% AGC HIGH)
True D/N
Advanced BLC
Yes (Low / Mid / High)
Manual / ATW-Wide / ATW-Narrow / AWC
Off, x2 to x60
4 patterns, Area selectable
8 patterns
Yes (8 areas)
Yes
–
Yes
20 preset positions, Auto patrol, Auto return, 8x digital zoom
CS
–
Manual
Remote / Auto back focus
VN-H137BU(EX)
VN-H157WPU
VN-H237BU(EX)
0.05 lx (25% AGC HIGH) 0.042 lx (25% AGC HIGH)
Easy D/N
0.05 lx (25% AGC HIGH)
0.012 lx (25% AGC HIGH)
True D/N
0.05 lx (25% AGC HIGH)
0.042 lx (25% AGC HIGH)
Easy D/N
–
Yes
–
3.0 - 9.0 mm 3x vari focal, F1.2
Yes
Manual
Remote / Auto focus
Manual
H.264 High Profile / H.264 Main Profile / MPEG4 / Motion JPEG
H.264 High Profile : 1920x1080, 1280x960, 1280x720, 640x480, 640x360, 320x240 MPEG4: 640x480, 320x240 JPEG: 1920x1080, 1280x960, 1280x720, 640x480, 640x360, 320x240
JPEG:VFS 7 levels / AFS 5 KB - 320 KB H.264 High Profile 64 kbps - 8000 kbps MPEG4: CBR/VBR/adjustable 64 kbps - 4000 kbps
H.264 High Profile : 30 fps JPEG : 15 fps MPEG4 : 30 fps
Triple stream by the same encoding simultaneously by different resolution, Dual stream by H.264+JPEG or MPEG4+JPEG, or Single stream
20 users by unicast / unlimited users by multi cast
3 levels password, IP address filtering
Yes
Supported
TCP/IP, UDP/IP, FTP, ICMP, ARP, DHCP, SNTP, HTTP, DSCP, SMTP, RTP, RTSP, IGMP, IPv6 (VN-H37/137/237/57/157/257 Series only), HTTPS, SNMP, AMX Device Discovery
Local recording
Tamper alarm
Alarm In/Out
Pan/Tilt range
Pan/Tilt speed
Power
Power consumption
Dust and water proof
Vandal protection
Working temperature
Core2Duo (3GHz), 2GB RAM, Windows Vista Business (SP2) / Windows XP pro (SP3) / Windows 7 pro
VR-X1600U/3200U, Milestone and other leading VMS software
IP address setup, device search, batch updater
Yes
–
Line in/out, two-way(full/half duplex),
µ-law 64kbps, AD/DA 16bits Fs=8kHz
SDHC (Continuous / Alarm / Network fault detection)
Yes
–
In x2 / Out x 2
–
–
PoE
PoE / AC24V
120 mA
150 mA
–
–
-10 °C to 50 °C
Dimensions (WxHxD)
Weight (approx.)
55mm x 61mm x 121 mm
340 g
55mm x 61mm x 124 mm
360 g
–
Line in/out, two-way(full/half duplex),
µ-law 64kbps, AD/DA 16bits Fs=8kHz
–
–
In x2 / Out x 2
–
PoE
120 mA
PoE / AC24V
150 mA
IP66
-30*°C to 50 °C
PoE
120 mA
–
Vandal resistant IK10 level
-10 °C to 50 °C
140mm x 167mm x 257 mm
1.8 kg
ø111mm x H 117m
450 g
55mm x 61mm x 170 mm
390 g
• Network Video Recorder
Camera channel
Video compression
Audio compression
Frame rate (720p, H.264)
CPU and memory
HDD capacity
Additional HDD
NAS
RAID
Master slave configuration
Export function
Recording function
Playback function
Search function
Security
Language
Supported protocol
Minimum requirements for remote PC
Remote PC operation
I/F
Power supply
Power consumption
Operating temperature
Dimension (W×H×D)
Weight (approx.)
Optional equipment
VR-X1600U
VR-X3200U
16 (Up to 32-ch in total by additional channel option)
32 (Up to 64-ch in total by additional channel option)
H.264 High Profile/JPEG/MPEG-4
µ-law (64kbps) A/D 8-bit, Fs 8 KHz
Recording/Display/Distribution: 100/100/100 (simultaneous)
Recording/Display/Distribution: 150/150/150 (simultaneous)
Intel G6950 Dual-Core (2.8 GHz) RAM: 4 GB
Intel Core i3 (3 GHz) RAM: 4 GB
1 TB
3 TB (Optional bracket VR-HDD0U is required.)
Yes
1/5/10
Yes (Max. 8 units)
Export media: USB memory, CD-R/RW or DVD-R/RW (USB external) Export format: AVI (video), JPEG (image), database (internal format)
Alarm recording, Scheduled recording, Manual recording
Normal/Slow/Fast playback, fast forward and reverse, Frame-by frame playback, simultaneous playback/recording
Time/Date search, Alarm search, Motion detection on playback images
Protected by user name and password
English
HTTP, SMTP (client), TCP, DHCP (client/IP lease), ARP, DNS (client), NTP, SNMP (Ver. 1 and 2c), DDNS, SMNP
OS: Microsoft Windows XP Professional*, Windows Server 2003*, Windows Server 2008 R1*/R2*, Windows Vista (Business*, Enterprise*, Ultimate*),
Windows 7 (Professional*, Enterprise*, Ultimate*) CPU: Intel Core2 Duo, 2.4 GHz or higher RAM: 1 GB Network: Ethernet, 100 Mbit or higher
Graphic card: AGP or PCI-Express, minimum 1024 × 768 (1280 × 1024 recommended), 16-bit color HDD capacity for installation: Minimum 100 MB free
Software: DirectX 9.0 or newer required to run Playback Viewer application. Microsoft .NET 3.5 Framework SP1, or newer
Live viewing, Playback of recording images, Camera control, Data export
LAN 1: 1000 BASE-T, 100 BASE-TX, 10 BASE-T LAN 2: 1000 BASE-T, 100 BASE-TX, 10 BASE-T Serial: USB 2.0 × 6 Display output: × 6, DVI × 1 (Digital only)
External storage: eSATA × 1 Audio in: mini jack Audio out: mini jack Alarm terminal: Alarm in × 8, Alarm reset in, OPE on/off, Warning out, REC tally
120 VAC – 240 VAC
Max. 1.2 A (120 VAC)
5 °C to 40 °C
420 mm × 140 mm × 350 mm
9.1 kg excluding power supply
VR-HDD0U (HDD installation bracket), JVCNVRCL (1ch additional license)
06
*32-bit or 64-bit
HD NETWORK CAMERA Super LoLux HD2™
VN-H257U(EX)
VN-H257VPBU(EX)
0.05 lx (25% AGC HIGH)
0.012 lx (25% AGC HIGH)
True D/N
VN-H557U
VN-H657BU
VN-H657WPBU
1/2.8-type super LoLux CMOS
0.2 lx (25% AGC HIGH)
0.2 lx (25% AGC HIGH)
Easy D/N
Active gamma (Digital Wide-D)
0.35 lx (25% AGC HIGH)
0.15 lx (25% AGC HIGH)
True D/N
Manual/ATW-Wide/ATW-Narrow/ATW-Full/AWC
Off, x2 to x32
4 patterns
Yes (4 areas)
Yes (8 areas)
Yes
Remote / Auto focus
100 preset positions, Auto return/flip/pan, 10x optical zoom, 10x digital zoom Direct Drive PTZ, 100 preset positions, Auto patrol/return/flip/trace/pan, 18x optical zoom, 10x digital zoom
6.3 - 63.3 mm, F1.8
4.7 - 84.6 mm, F1.6
–
Manual/Easy AF/One push AF
Remote / Auto focus
H.264 High Profile/H.264 Baseline Profile/Motion JPEG
1920x1080, 1280x960, 1280x720, 720x480(D1), 640x480, 640x360, 352x240, 320x240
H.264 : 30fps, JPEG : 30fps
Single/Dual/Triple
ONVIF supported
Corei5 (3GHz), 2GB RAM, Windows 8 Pro, Windows 7 Professional (SP1), Windows XP Professional/Home (SP3)
Yes
–
SDHC (Continuous/Alarm)
Micro SDHC (Contimuous/Alarm)
Line in/out, two-way(full/half duplex),
µ-law 64kbps, AD/DA 16bits Fs=8kHz
In x2 / Out x 2
Pan: +/- 175° Non-endless / Tilt: +/- 120°
Pan: 1° to 300 °/sec Tilt: 1° to 170 °/sec
PoE/AC24V/DC12V
660mA
–
Vandal proof [Over 50J]
–
-30 °C to 50 °C with KA-ZH215U optional heater -10°C to 50°C
PoE / AC24V
150 mA
[20J]
φ120mm x 171mm (H)
1.1kg (2.4lbs)
ø160mm x H 126mm
1.3 kg
480 g
Pan: 360°endless / Tilt: -5°to 185°
0.07 ° to 400 °/sec
PoE Plus/AC24V
1.3A
2.5A
IP66
Vandal resistant IK10 level [20J]
-40ºC to 58ºC (Up to 60ºC by PoE operation without
SD card rec and audio communication)
ø260mm x 385mm x 350mm (incl. housing)
5.6kg (12.3 lbs)
ø160mm x H 201mm
2.0kg (4.4lbs)
• Dimensions
Unit: mm
1/4-20UNC
1/4-20UNC
37
Ø50
37
34
53
61
Screw hole for the camera-mounting
Ø140
162
170
53
61
165.5
85
53
61
55
114
123.5
55
114
121
257.5
Screw hole for the camera-mounting
34
34
1/4-20UNC
184.5
55
214.5
(Maximum shade extention)
152
170.5
42
121
113
140
Screw hole
120
213
176
27
126
117
2
SR
4
160
Camera unit
diameter
120
SR
Insta
llatio
n ho
le
20
80
160
46
0
Screw holes
23
Position to pull out cables
22.5
120
160
199
.5
87
4.5
4.5
9
42
83.5
5
4.5
385
260
.5
350
Screws for duct G3/4-14UNC
(Bottom, side)
72
SR
Mounting hole for a screw
201
16
4.5
90.5
Mounting hole
for a screw
Camera front
126
111
* For VN-H157WPU, when the power is turned on at a temperature of -30ºC, it may take several dozen of minutes for the camera to start up. Be sure to keep the power turned on until the camera operation starts.
07
Recording Solution for Full HD Surveillance
Multi-Codec Network Video Recorder
VR-X1600U/X3200U
• Viewer
• Supports H.264 High Profile/Motion JPEG/MPEG-4 camera
recording
• 2800 ips powerful recording (H.264 VGA)
• Full HD 1920x1080 output for precise monitoring
• Pre-installed Milestone Xprotect Enterprise software for userfriendly interface and easy operation
• Master/Slave configuration for large system without any additional
license or server PC
• VR-X3200U: Up to 32-channel recorder fully camera licensed,
optional license up to 32 channels additionally
Video Management Software
Super LoLux HD Software
• All JVC IP cameras (VN-V/X/H series) supported
• No storage limitation • Various recording modes
• PTZ control • Remote access via LAN/WAN/
VPN/NAT • Motion detection • Image export
• 9ch/12ch/24ch/36ch/64ch • Powerful mobile
app (Android or Apple selectable) • Low CPU
occupation • Multi server login (option)
• VR-X1600U: Up to 16-channel recorder fully camera licensed,
optional license up to 16 channels additionally
• Optional camera license JVCNVRCL available per channel
• Built-in 1TB HDD with 3 additional expansion slots (optional bracket
VR-HDD0U required)
• Available NAS archiving, Data export function
• Supports RAID 1, 5, 10 in case of HDD failure
Maintenance-friendly HDD installation directly
from the front panel
OS
Microsoft® Windows® XP SP3 (Professional or better), Microsoft® Windows Vista® (Home Premium/Pro/Ultimate),
Microsoft® Windows® 7 (Home Premium/Pro/Ultimate), Microsoft® Windows Server® 2003 SP 1 + R2 SP 1
(Standard, Enterprise), Microsoft® Windows Server® 2008 + R2 (Standard, Enterprise)
CPU
Intel® Core™ 2 Duo, 2 GHz or comparable/better
RAM
Client: 1 GB (32 bit OS) / 2 GB (64 bit OS) or more, Server: 2 GB (32 bit OS) / 4 GB (64 bit OS) or more
Network
Graphic Card
Gigabit ethernet connection
Dedicated graphics card
Available Disk Space
Client: about 10 GB, Server: about 50 GB
*32 bit and 64 bit editions are supported.
Language supported: German, English, French, Italian, Spanish, Russian, Dutch, Turkish, Swedish, Polish, Portuguese, Hungarian,
Traditional Chinese, Czech, Norwegian, Danish, Finnish, Romanian, Slovak, Serbian, Croatian
Professional Monitors
From a 17" desktop model to
a 55 large format display,
JVC offers a variety of
professional LCD monitors.
Model
Screen size
Resolution
3D filter
Luminance
LED backlight
Contrast ratio
Viewing angle
PAL/NTSC format
BNC loop function
Video input
PC input
Audio input
External control
Metal chassis
Power supply
GD-171/191
17" / 19" (5:4)
1280x1024 (SXGA)
GD-W192
18.5" (16:9)
1360x768 (WXGA)
Yes
250Cd/m2
–
800:1
1000:1
170 / 160
GD-W232
GM-552
23" (16:9)
55"
1920x1080 (Full HD)
–
450Cd/m2
Yes
4000:1
178 / 178
Yes
Yes
RGB D-sub 15-pin
–
Composite x2, Y/C x1
RGB D-sub / HDMI
Yes
–
Yes
100 – 240V AC
–
RGB D-sub / DVI / HDMI
RS232
Screen images are for marketing purposes only and were not obtained using CCTV cameras. All brand or product names are trademarks and/or registered trademarks of their respective owners.
Copyright © 2014 JVCKENWOOD Corporation. All Rights Reserved.
Design and specifications subject to change without notice.
DISTRIBUTED BY
VEC-0335E Super LoLux HD2 2014.8
"JVC" is the trademark or registered trademark of JVCKENWOOD Corporation.