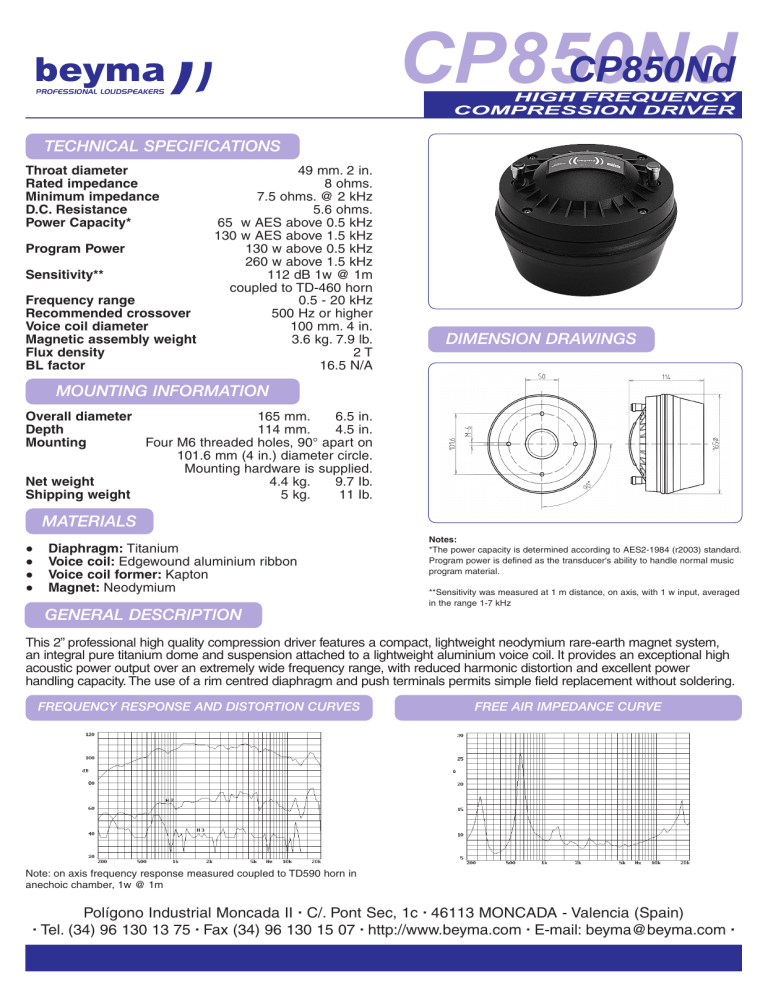 CP850Nd
CP850Nd
PROFESSIONAL LOUDSPEAKERS
HIGH FREQUENCY
COMPRESSION DRIVER
TECHNICAL SPECIFICATIONS
Throat diameter
Rated impedance
Minimum impedance
D.C. Resistance
Power Capacity*
Program Power
Sensitivity**
Frequency range
Recommended crossover
Voice coil diameter
Magnetic assembly weight
Flux density
BL factor
49 mm. 2 in.
8 ohms.
7.5 ohms. @ 2 kHz
5.6 ohms.
65 w AES above 0.5 kHz
130 w AES above 1.5 kHz
130 w above 0.5 kHz
260 w above 1.5 kHz
112 dB 1w @ 1m
coupled to TD-460 horn
0.5 - 20 kHz
500 Hz or higher
100 mm. 4 in.
3.6 kg. 7.9 lb.
2T
16.5 N/A
DIMENSION DRAWINGS
MOUNTING INFORMATION
Overall diameter
165 mm.
6.5 in.
Depth
114 mm.
4.5 in.
Mounting
Four M6 threaded holes, 90° apart on
101.6 mm (4 in.) diameter circle.
Mounting hardware is supplied.
Net weight
4.4 kg.
9.7 Ib.
Shipping weight
5 kg.
11 Ib.
MATERIALS
●
●
●
●
Diaphragm: Titanium
Voice coil: Edgewound aluminium ribbon
Voice coil former: Kapton
Magnet: Neodymium
Notes:
*The power capacity is determined according to AES2-1984 (r2003) standard.
Program power is defined as the transducer's ability to handle normal music
program material.
**Sensitivity was measured at 1 m distance, on axis, with 1 w input, averaged
in the range 1-7 kHz
GENERAL DESCRIPTION
This 2" professional high quality compression driver features a compact, lightweight neodymium rare-earth magnet system,
an integral pure titanium dome and suspension attached to a lightweight aluminium voice coil. It provides an exceptional high
acoustic power output over an extremely wide frequency range, with reduced harmonic distortion and excellent power
handling capacity. The use of a rim centred diaphragm and push terminals permits simple field replacement without soldering.
FREQUENCY RESPONSE AND DISTORTION CURVES
FREE AIR IMPEDANCE CURVE
Note: on axis frequency response measured coupled to TD590 horn in
anechoic chamber, 1w @ 1m
Polígono Industrial Moncada II . C/. Pont Sec, 1c . 46113 MONCADA - Valencia (Spain)
. Tel. (34) 96 130 13 75 . Fax (34) 96 130 15 07 . http://www.beyma.com . E-mail: [email protected] .

* Your assessment is very important for improving the work of artificial intelligence, which forms the content of this project