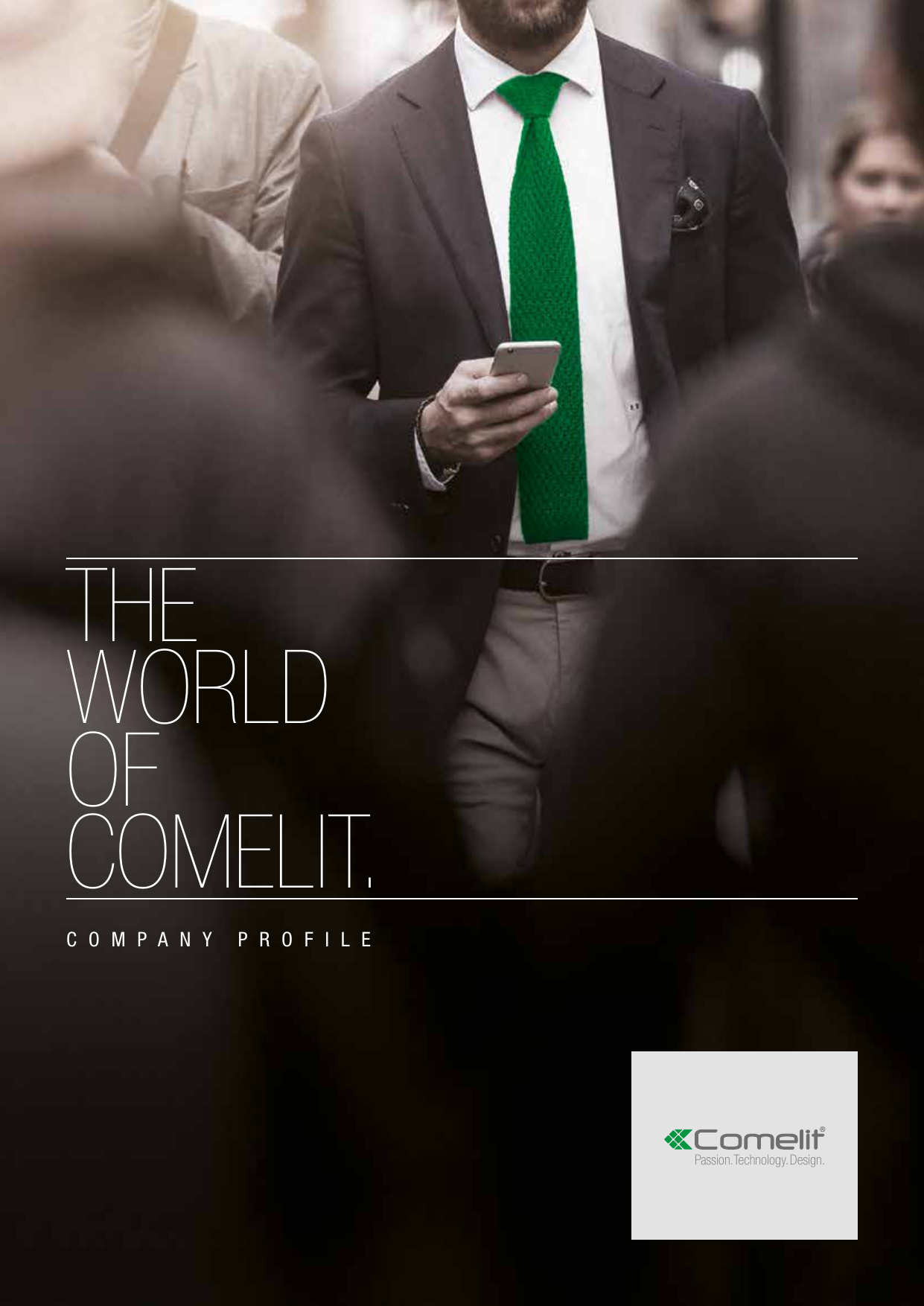 THE
WORLD
OF
COMELIT.
C O M P A N Y
P R O F I L E
Passion.Technology.Design.
3
COMELIT IS AN
INTERNATIONAL
GROUP SPECIALIZED
IN INTEGRATED
SECURITY SYSTEMS
FOR PROFESSIONALS.
Founded in 1956, Comelit Group SpA is an industrial company operating on a worldwide scale
and specialising in the design and manufacture of video entry, video surveillance, burglar
alarm system, home automation, access control systems and fire-evac.
VIDEO-ENTRY
2-wire and digital IP systems, the best technical solution for responding to all
application requirements.
VIDEO SURVEILLANCE
SimpleCCTV, a comprehensive range of products for video surveillance. Analogue, IP
and HD over coaxial cable.
BURGLAR ALARM SYSTEM
A complete system capable of fulfilling all security requirements with wired systems
or via radio.
HOME-AUTOMATION
Home automation system offers full control of your own space for optimum confort
and security.
ACCESS CONTROL
Basic or Advanced access control system featuring Mifare technology.
FIRE - EVAC
Fire detection system with conventional and addressable technology, aspirating
system complete with voice evacuation system.
4
DEEP ROOTS,
INTERNATIONAL VOCATION.
United States
of America
Colombia
5
The company has a strong international vocation thanks to its close ties with the area in which
it was founded and in which its headquarters are still located today.
Comelit exports to over 70 countries worldwide and, in addition to its Italian headquarters,
has 15 branches located in strategic areas in which the company operates: from Europe to
the Far East, the United States and the Middle East. This articulated sales structure integrates
shared know-how with the awareness of specific requirements in each market.
Ireland
Great Britain
Belgium
The Netherlands
Germany
Russia
France
Spain
Greece
Hong Kong
Republic of
Singapore
Italy
HEADQUARTER
United Arab
Emirates
Australia
6
MILESTONES: 1956/1992.
1956
1957
Comelit Compagnia Elettronica
Italiana Srl is established in
Bergamo.
Comelit's "Polyphony Uberlaut"
- the fist "valve" Intercom with
unprecedented vocal quality rapidly
affirms itself on the market.
1962
Comelit launches a transistor
amplifier to be combined with an
internal flush-mounted, hands-free,
single-channel ISAR internal unit
which both speaks and listens. It is
economical, small and indestructible.
Some of them are still working today!
1965
1968
Following the single-channel,
the dual-channel flush-mounted
hands-free model is introduced: the
hands-free, battery-powered DUO.
The moulds are made of plastic - at
this time an absolute novelty.
New external unit products are
designed which, protruding from
the plate, greatly reduced the
"Larsen" effect and incorporates an
outstanding design.
1969
Duetto Pile is made - a highly
successful hands-free Intercom for
home use. Comelit starts to offer
CCTV products. Research into being
able to produce an efficient video
entry phone at acceptable market
costs continues.
1973
1974
Okay is born - Comelit's first
advanced telephone. The system
is 4+1 and 2+1. Configurations
reach up to 12 push buttons. The
smaller intercoms, in a very wide
range of models, are presented
simultaneously.
This is the year of the VISI/7 video
door entry system. Thanks to
availability of a 7 inch picture tube,
it is at last possible to make a video
entry monitor to respond to market
expectations.
1977
Comelit, which has grown
significantly both in human resources,
means and management and
becomes a Limited Company.
7
1978
1979
Comelit present the President
Intercom, the first product in the
sector to be created in collaboration
with a well-known designer.
Comelit present a world novelty:
the first digital telephone which,
with just 3 wires, allows up to 999
telephones to be connected.
1980
Eurovision is presented: the first video
entry phone produced using moulds
for plastic. A very important and
highly significant market success.
1982/1984
Riding the wave of world
development, the company becomes
Comelit International S.p.A. Comelit
brings out Vox, the high performing
telephone, and Videovox - the first
video entry phone with reflected
vision (4+1 system).
Installed in the same way as a door
entry phone, it is immediately a great
success.
1984
1988
Comelit is the first italian company to
produce a Vidicom TV camera and a
CCD TV camera, featuring technology
with hybrid circuits and a plastic
housing coated with brass to screen it
against external interferences.
With its PEP video entry phone,
Comelit brings about a new and
true revolution in the market sector:
in fact, the external unit with a
protrusion of only 6 centimeters
compared with the traditional 20.
1990
1991
Organisational and company growth
lead to setting up Comelit Group
SpA. Again in this year, Comelit
Engineering is formed. The Crystal
monitor is born. Voxalarm and
Videovox alarm are introduced to the
market place.
The Ciao telephone is presented,
aiming at combining excellent price/
quality ratio.
1992
The Next monitor is born, designed
and put into the catalogue within
a year. Crystal is now available in
colour.
8
MILESTONES: 1993/TODAY.
1993
1994
The modular Logicom entrance
panel comes to life.
The single-plate Unicom entrance
panel comes out.
ISO 9001 Certification achieved.
1996
The Okay telephone is
introduced. The first branch
abroad is set up with its head
office in Lyon in France.
1998
1999
The Eurocom monitor is launched,
featuring different brackets according
to the type of system.
Comelit Group S.p.A. patents
Simplebus, the first digital system
for door and video door entry phone
systems with 2 wires+2 in parallel: it
was a real success!
2001
The branch, Comelit Belgium, is set
up in Belgium with its head office in
Dilbeek.
The Comelit Security division is
formed, an all-round specialist in the
world of remote surveillance.
2001
Comelit's expansion in Europe
continues with creation of local
branches. Comelit Group UK is set
up (with its head office in Welwyn
Garden city, Herts) and Comelit
Nederland BV (with its head office
in An Molenaarsgraaf in Holland).
Comelit presents the Powercom
entrance panel - the first entrance
panel with LED illumination.
2003
2004
Comelit China sales branch is formed,
with its head office in Shanghai.
Comelit's R&D centre studies the
Simplebus2 system - the first 2-wire
The new Diva hands-free monitor
is launched with an innovative and
attractive design. Comelit obtains
certification of its Environmental
Management System, in conformity
with the ISO 14001 Standard. Comelit
Espana is established in Barcelona.
system to allow connection of up
to 240 users, including the monitor
power supply.
9
2005
2006
Commercial expansion continues
throughout the world with
Representative Offices being opened
up in major strategic areas in the
world (for example, in the Arab
Emirates and Singapore). Bravo, the
new monitor is launched.
The great work continues
in Comelit's Research and
Development centre where new
products with attractive designs and
highly technological performances
are launched: Simplebus2C come
out (Simplebus2 in color),
Style (the new telephone), and
Genius, the monochrome monitor.
the first two branches are opened
in Italy: Comelit Piemonte and
Comelit Sud, with the aim of being
increasingly close to our partners
and installers.
2007
Comelit add two new families to
its offer: Burglar Alarm System and
Home Automation.
simple
2008
simple
The future lies in a world without
wires… Comelit designs the first
system using wireless technology.
The Comelit R&D company is set up
in Bergamo to expand research and
development activities for innovative
products.
S af
Hom
2009
Comelit introduces the Training
School to teach installers how to
install and connect Comelit products.
2010
2011
One of the most successful and
iconic products is introduced: the iKall
external unit.
After years of market presence in
Singapore, Comelit South East Asia
is established there to look after the
Asia-Pacific region, home of World
highest growth potential economies.
2012
2013
Comelit gets restyled! On December
13th Comelit inaugurates its new
headquarter, in the same position
but new, fresh, more modern and
bigger!
Comelit is awarded the Media center
for 2014 Winter Olympics games in
Sochi, Russia. System is installed on
the existing LAN network and serves
1.512 users while sharing other
services like CCTV cameras, internet,
telephone, TV.
2014/2015
2017
From the collaboration with Habits,
the innovative 3one6 external panel
that mixes functionality, design and
luxury, comes to life. Always thanks
to the collaboration, in 2015 Comelit
launches Quadra, Mini, Mini HF,
Icona and Maxi.
Chasing the success. Comelit tryes
to reinvent the market with the
launch of the revolutionary smart
video doorbell named Visto.
10
FOCUSING ON MANKIND
AND HIS VALUES.
Comelit has always placed mankind at the centre of its vision. This humanist approach is evident
in the company's focus on its employees, in the organisation of its working environment, in the
ethics governing its relationships with suppliers and distributors, and in the partnership it
fosters with installers. Every Comelit product expresses this vision, constructed on the basis
of enduring values.
CONSTANT INNOVATION,
FRIENDLY TECHNOLOGY.
Comelit makes constantly looking to the future its mission. Innovation through continuous
investment in manpower and technology finds an outlet in the design of new solutions
dedicated to improving the quality of everyday life by maximising simplicity and functionality.
11
DESIGN: STYLE,
PASSION, ART.
D E S I G N
M I L A N O
Besides placing technology at the service of mankind, Comelit is also a byword for design.
Its unique and original style combines the most hi-tech materials with simple lines, clean
shapes and cutting-edge colours. Every Comelit product therefore conveys a new concept for
living in a space, in harmony with modern architectural trends.
12
VIDEO-ENTRY
DOOR SYSTEM:
OUR VALUABLE SOLUTION.
THE EASY AND ACCESSIBLE SYSTEM FOR BUILDINGS WITH A SINGLE RISER.
BUILDING KIT
The Building Kit is a door entry monitor system that uses 2-wire cabling throughout, even to the external unit. It can
manage up to 3 ringtones in parallel, 1 main monitor and 2 secondary monitors per apartment. The distances between
the devices are limited to: 250 metres between the external unit and the monitor, 125 metres between the external unit
and the power supply unit, 125 metres between the power supply unit and the last monitor.
32 CALLS WITH ANALOGUE
ENTRANCE PANEL (ADD ART. 1595
FOR UP TO 100 CALLS)
SIMPLE AND ADVANTAGEOUS
100 CALLS WITH DIGITAL ENTRANCE
PANEL
SIMPLEBUS TOP. TWO WIRES, INFINITE POSSIBILITIES.
SIMPLEBUS TOP
2 non-polarised wires THROUGHOUT for quick, simple installation. Ideal for single villas and large residential complexes: 4
main entrances, 32 riser columns, 128 users per riser for a total of 120,000 users. Free intercom function with 4 monitors
in parallel, integrated video surveillance, second entrance management.
CONNECTION DISTANCE OF UP TO
1,200 METRES BETWEEN EXTERNAL
AND INTERNAL UNITS
V I P
INTERCOM FUNCTION
WITHOUT ADDITIONAL
DEVICES
UP TO 120,000 USERS
VIP SYSTEM: THE INTERNET IN THE SERVICE OF VIDEO ENTRY MONITOR SYSTEMS.
COMPATIBLE WITH H.264 FORMAT.
Maximum extension, no limit to the number of users, risers, control panels and conversations. Can be used with fibre
optic cables. Ideal for large residential complexes with high demand for integration (access control, control panels, antiintrusion, video surveillance, intercom function). Self-diagnosis function to check system status. Remote control.
INTEGRATION WITH EXISTING
NETWORKS
ANSWER FROM
SMARTPHONE
WITHOUT LIMITS
13
VIDEO-ENTRY
DOOR SYSTEM:
COMELIT APP.
Completely free and compatible with all modern devices, Comelit App allows you to receive calls from an
external entrance panel wherever you are, view recordings from any cameras connected to your system and
video messages of visitors in the case of missed calls. With the Comelit App you can call internal devices
connected to your system and also open gates and doors and switch on lights directly from your smartphone.
Comelit App
LIVE STREAM VIDEO
PUSH NOTIFICATION
14
VIDEO-ENTRY
DOOR SYSTEM.
SYMBOL OF "MADE IN ITALY".
The numerous and prestigious international awards won are
testament to Comelit style, in line with the universal recognition of
"Made in Italy" as an influential creative force.
15
D E S I G N
M I L A N O
16
VIDEO
SURVEILLANCE.
ADVANCED TECHNOLOGY TO INCLUDE EVEN
THE TINIEST DETAIL.
Available with analogue or digital technology (IP, HD over coax, hybrid
solution), Comelit Video Surveillance System can be used to monitor
large outdoor spaces or single rooms, guaranteeing a clear, detailed and
well-defined picture with a resolution up to 4K. We offer a full range
of products, from standard to advanced solutions with intelligent Video
Analysis. Our system can save recordings to guarantee the integrity of
the storage with RAID recording. We also offer Plug&Play solutions with
easy control from mobile phones or tablets and an advanced monitoring
software. Video surveillance integrates with all the other Comelit systems.
IP
ANALOGUE
ANALOGUE HD O FULL HD
TRI-HYBRID (ANALOGUE - AHD - HD)
17
Comelit View 100
APP COMELIT VIEW 100: TOTAL CONTROL
AND EASY CONFIGURATION.
The APP can be downloaded free of charge from the App Store or
Google Play.
18
BURGLAR
ALARM SYSTEM.
RESIDENTIAL, COMMERCIAL AND INDUSTRIAL
SURVEILLANCE. ALL THE TIME.
Maximum security and a high level of customisation, combined with a
simplified programming process: VEDO is the new revolutionary antiintrusion system which allows you to monitor your own home at all times,
even while you are away. System is backup powered 24/7 to guarantee
alarm video management also with main power loss, and it can manage
up to 400 zones. Alarm situations are transmitted to the user's mobile
device immediately via MMS, or by means of a specific APP, as a live
video stream. (VEDO integrates with IP cameras and equivalent Comelit
cameras). Our systems are certified EN50131, IMQ and Incert.
19
Comelit Vedo
APP VEDO: STREAMING LIVE ALARM POP-UP.
The APP can be downloaded free of charge from the App Store or
Google Play.
20
HOMEAUTOMATION.
ALL IN A TOUCH.
WELLBEING, SECURITY, COMFORT.
WHEREVER YOU ARE.
Comelit home automation systems are designed to make managing all
the systems and technologies installed simpler, more convenient and
safer, while helping to reduce consumption and improve efficiency.
A touch is all it takes to check and adjust the setup for every area in
your home.
From lighting to climate control, security and irrigation. Comelit home
automation systems can be used to control all systems and manage
every zone of the home remotely via the most common mobile
devices, just as if you were there.
COMFORT
CUSTOMISED
SCENARIOS
AUDIO
DISTRIBUTION
LIGHTING
MANAGEMENT
ANTI-INTRUSION
VIDEO
SURVEILLANCE
CLIMATE
CONTROL
SAFETY
VIDEO ENTRY
ECONOMY
LOAD
MANAGEMENT
CONSUMPTION
SAVING
DOOR AND GAT
AUTOMATION
IRRIGATION
21
STREAMING RADIO
22
ACCESS
CONTROL.
EACH KEY OPENS A WORLD OF OPTIONS.
A TAILORED SOLUTION.
SimpleKey (Basic and Advanced) is the user-friendly access control
system from Comelit, capable of satisfying all requirements relating to
access management in the residential sector. System installation and
use are particularly easy, thanks to the application of specific keys.
Key operation can be cancelled following loss or theft.
BASIC
THE EASY AND ACCESSIBLE SOLUTION
WITH MINIMAL PROGRAMMING REQUIRED.
A system for controlled opening of the main access door. Keys
can be copied for up to 1,500 users. The detection control
panel can be integrated into the video entry system or surfacemounted individually.
23
ADVANCED
THE SECURE AND ACCESSIBLE SOLUTION FOR
FULL MANAGEMENT OF ALL COMPLEX ACCESS.
A system for the controlled opening of all access points of a residential/
commercial complex. Comelit technology offers a number of functions
without requiring any connection between readers, as well as the
option of adding and removing users by means of programming
(including remote programming).
Available as network or stand-alone and in a 868 MHz version. System
programming and maintenance are also possible on site by means
of the dedicated software SK9091 or via the web, through the site
www.simplekey.eu (free registration).
24
FIRE - EVAC.
COMELIT FIRE PROTECTION SYSTEMS
SAVE LIVES AND PROTECT PROPERTY.
The aim of an automatic fire detection system is to automatically
detect and alert you to the start of a fire as quickly as possible, in
order to protect human lives and safeguard cultural and material
possessions by starting evacuation procedures, activating protection
systems and taking other safety measures as necessary.
Comelit proposes diversified systems that include control panels,
automatic smoke and heat detectors, manual alarm devices, audio
and visual indication devices, system accessories (electromagnetic
stops, power supply units, etc.) and a range of wireless devices.
CONVENTIONAL
THE IDEAL SYSTEM
FOR SMALLER FACILITIES.
Conventional systems are particularly suited to fire
detection in smaller buildings and those with a simpler
layout. These systems require the installation of detectors
and manual alarm buttons in separate 2-wire zones, with
a maximum of 32 devices per zone.
ADDRESSABLE
MAXIMUM PROTECTION FOR FACILITIES
OF ALL TYPES.
Addressable systems can identify the precise location of
a fire and are suitable for buildings of all types. Each loop
of an addressable control panel can include up to 250
devices.
25
EXPANSIONS
ASPIRATING SMOKE
DETECTION SYSTEM
To be used in combination with an addressable system and is the
ideal substitute for point detectors in situations where access and
maintenance are difficult.
WIRELESS SYSTEMS
Used in aesthetically sensitive environments where it is not possible
to install additional elements, in mobile facilities or to significantly
reduce installation time.
VOICE EVACUATION SYSTEMS
The perfect way to ensure guided evacuation in a safe and orderly
manner, protecting all the occupants of the building and preventing
general panic.
26
UK, London, Riverlight
residences
15 x 316Touch entrances
- 33 x 1Button Concierge
call panels,stainless steel
- 11 Penthouses Creston
Interfaces - 800 Planux
Lux Monitors Central
Porter Switchboard
Glasgow, Scotland,
Southern General
Hospital
84 Vandalcom Entrance
Panels - 84 Virtual
Monitors software
UK, Poole, Moriconium
Quay
Exclusive resort
forehead-sea in the bay
of Poole with deprived
inside harbor for yacht
and boats
120 Planux - Complete
of Simplekey Control
accesses
Monaco, Tour odeon
Luxury skyscrapers
250 apartments with
Planux and Planux
Lux - 65 apartments
with image on Crestron
Home Automation
supervisor - 4 Panels
Touch 316 - 4CPSs 55 1button iKall Panels
USA, NY, Manhattan,
Sty town
110 Buildings 11250
Apartments
220 Entrance Panels
A WORLD OF APPLICATIONS.
From individual homes to offices, residential buildings to industrial
settings, and large commercial areas to service structures. Plus
airports, banks, stadia and schools. Comelit systems can be installed
in many contexts, whether private or public. Simply by choosing the
technology and solution that offers the best performance and costs for
each situation.
Spain, La Coruna,
Trebol Tower
One of the highest
building in La Coruna
(27 floors), 206
apartments
27
Qatar, Doha, Sidra
Hospital
Integration with other
IP systems, advanced
communication feature
(Call diversion, alarm
logs,..), remote door
operation. Remote
diagnostic
Holland, Rotterdam,
New Orleans Tower
One of the most
prestigious building in
Rotterdam
240 Planux monitor
Turkey, Istanbul
Varyap Meridian
Color Planux monitors.
Integration with Fire
Alarm System and panic
messages. Integration
with additional CCTV
cameras - Burglar alarm
Singapore, Singapore,
Costa Rhu
Famous residential
complex of 737 luxury
apartments complete of
all services and possible
conveniences
Powercom entrance
panels, CPS, Diva/Bravo
colour monitors
UAE, Dubai, Palm
Jumeirah
Luxury residential
building in Palm
Jumeirah
Comelbus System
1.323 color Videocom
monitors complete with
CCTV system
UAE, Abu Dhabi, Sun
and Sky Towers Al
Reem Island
Luxury residential
buildings
Simplebus TOP and
CCTV System
1104 Planux
Malaysia, Kuala Lumpur,
Kiaramas Danai
2 Towers, 4 entrance
panels x Tower (8panels in
total), 3CPS (1Main CPS
in common + Guardian in
each Tower), 282 monitors
in total. Integration with
Lift System
28
COMELIT SUPPORT.
Responding to market dynamics and installer feedback, anticipating and interpreting users
expectations: at Comelit these factors are just as important and strategic as the technological
innovation and reliability of our products. That's why the Company has developed and
implemented a network of services that confirm Comelit's role as a pro-active partner, capable
of going beyond the standard solutions of its product range.
UTC
Professional telephone support for resolving every
type of problem.
SATCO ASSISTED PROGRAMMING
Support for installers with testing and for solving
any type of problem. Expert professionals covering
different geographical areas and specialising in
Comelit products.
COMELIT ENGINEERING
Comelit Engineering is a division dedicated entirely
to providing customers with the ideal solutions
for all requests for non-standard systems.The
division delivers turn-key projects, chiefly for large
residential, commercial and industrial complexes.
29
WEB.
Comelit's website provides a comprehensive resource for consultation, with technical
and commercial information to assist installers. A point of reference active 24/7, 365
days a year, to obtain practical answers, request assistance, and receive advice.
Consumer
Professional
30
CONTACTS.
[ IT ] Comelit Group Spa
Via Don Arrigoni 5
24020 Rovetta S. Lorenzo
Bergamo Italy
Tel. +39 (0) 346 750011
Fax +39 (0) 346 71436
www.comelitgroup.com
[email protected]
[ AU ] Comelit Australia Pty Ltd
Unit 6/11 Sabre Drive
Port Melbourne
Victoria 3207
Ph. 1300 889000
[email protected]
[ BE ] Comelit Group Belgium
Kleinewinkellan 24
1853 Grimbergen
Belgium
Tel. +32 2 411 50 99
Fax. +32 2 411 50 97
www.comelit.be
[email protected]
[ CO ] Comelit Colombia
Carrera 76#73-44, 2° piso
Bogotá, Colombia
Tel. (57-1) 4929358/79686
www.comelit.com.co
[email protected]
[ DE ] Comelit Group S.p.A. Deutschland
Konrad-Zuse-Str. 2
41516 Grevenbroich
Tel. 0 21 82-82 96-0
Fax: 0 21 82-82 96-299
www.comelit.de
[email protected]
[ ES ] Comelit Group Spa
Sucursal en Espana
Calle Pintor Roig i Soler, 28
08916 - Badalona (Barcelona)
Tel. +34 932 430 376
Fax +34 934 084 683
www.comelit.es
[email protected]
[ FR ] Comelit Immotec
18, rue Séjourné
94000 CRETEIL CEDEX
Tél. +33 (0) 1 43 53 97 97
Fax +33 (0) 1 43 53 97 87
www.comelit.fr
[email protected]
[ GR ] Comelit Hellas - Telergo Security Ltd
Roumelis, 59
16451 Argiroupoli - Athens Greece
Tel. +30 210 99 68 605-6
Fax +30 210 99 45 560
www.comelit.gr
[email protected]
[ IE ] Comelit Ireland
Ground Floor
14 Herbert Street - Dublin 2
Tel. +353 (0) 1 619 0204
Fax +353 (0) 1 619 0298
www.comelit.ie
[email protected]
[ NL ] Comelit Nederland BV
Buitendijks 1-3356 LX Papendrecht
Tel. +31 786511201
Fax +31 786170955
www.comelit.nl
[email protected]
[ SG ] Comelit South East Asia Pte Ltd
Victory Centre
110 Lorong 23 Geylang, #05-10
388410 Singapore
Tel. +6567024780
www.comelit.sg
[email protected]
[ AE ] Comelit Middle ​East
Office 1-154, Techno Hub
Dubai Silicon Oasis
Free zone - Dubai, UAE
www.comelit.ae
[email protected]
[ GB ] Comelit Group UK Ltd
Unit 4 Mallow Park Watchmead
Welwyn Garden City Herts
AL7 1GX
Tel: +44 (0)1707377203
Fax: +44 (0)1707377204
www.comelitgroup.co.uk
[email protected]
[ US ] Comelit Usa
2021 S. Myrtle Avenue
Monrovia, CA 91016
Tel. +1 626 930 0388
Fax +1 626 930 0488
www.comelitusa.com
[email protected]
[ RU ] Comelit Group Russia
Moscow,
Krasnogvardeisliy bulvar, 7A
tel: +7(495)789-49-33
www.comelit.ru
mail: [email protected]
mail: [email protected]
[ HK ]Comelit Hong Kong Representative Office
Rm 601, 6/F,
Tung Hip Commercial Building,
248 Dex Voeux Road Central,
Office direct line:
+852 3582 1632
www.comelit.hk
[email protected]
cod.
2G32000605
w w w.comelitgroup.com
No part of this document may be reproduced without prior written authorisation from Comelit Group Spa.
The brands and trade names cited in this publication are the property of their respective owners.
Passion.Technology. Design.