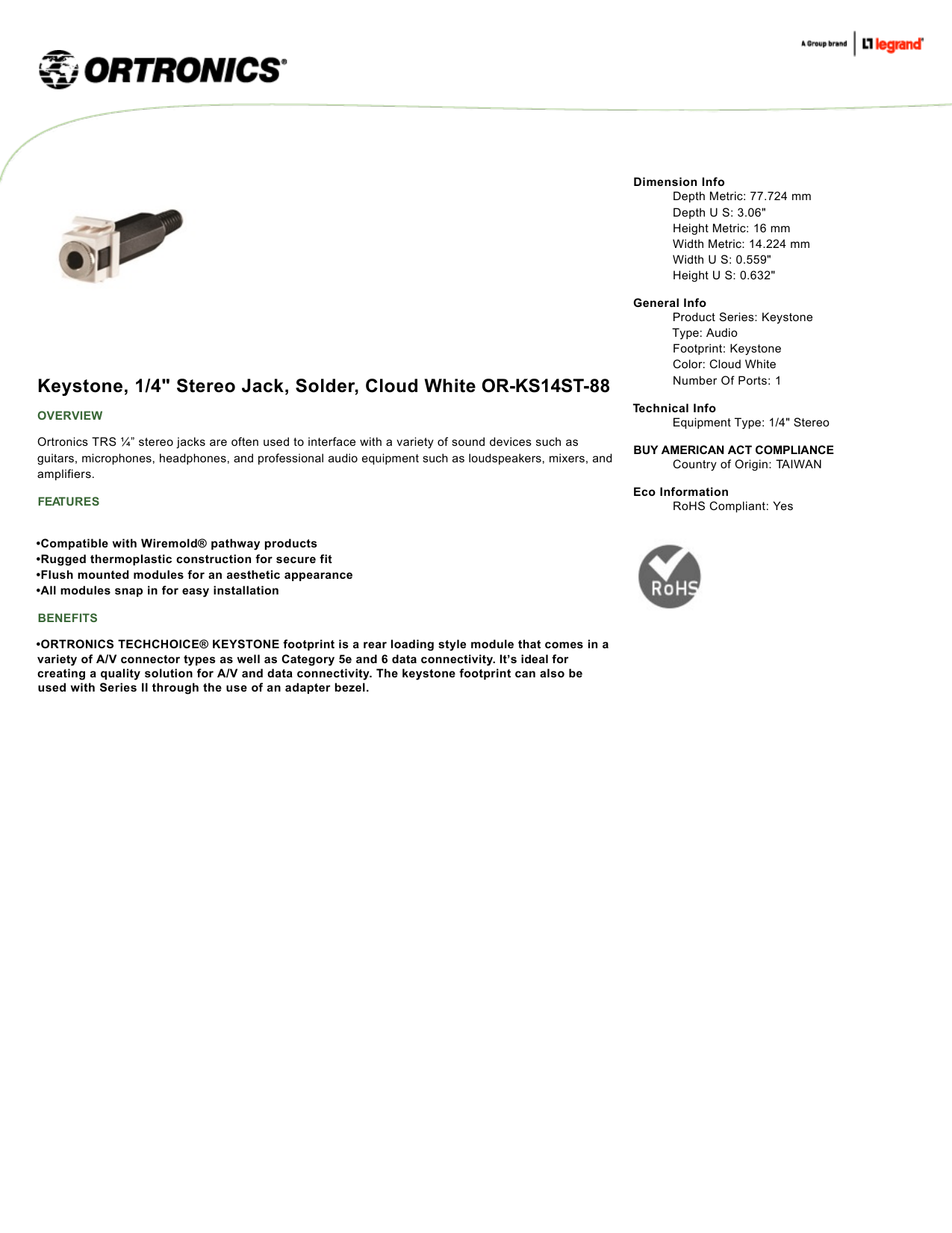 Dimension Info
Depth Metric: 77.724 mm
Depth U S: 3.06"
Height Metric: 16 mm
Width Metric: 14.224 mm
Width U S: 0.559"
Height U S: 0.632"
Keystone, 1/4" Stereo Jack, Solder, Cloud White OR-KS14ST-88
General Info
Product Series: Keystone
Type: Audio
Footprint: Keystone
Color: Cloud White
Number Of Ports: 1
OVERVIEW
Technical Info
Equipment Type: 1/4" Stereo
Ortronics TRS ¼" stereo jacks are often used to interface with a variety of sound devices such as
guitars, microphones, headphones, and professional audio equipment such as loudspeakers, mixers, and
amplifiers.
BUY AMERICAN ACT COMPLIANCE
Country of Origin: TAIWAN
FEATURES
Eco Information
RoHS Compliant: Yes
•Compatible with Wiremold® pathway products
•Rugged thermoplastic construction for secure fit
•Flush mounted modules for an aesthetic appearance
•All modules snap in for easy installation
BENEFITS
•ORTRONICS TECHCHOICE® KEYSTONE footprint is a rear loading style module that comes in a
variety of A/V connector types as well as Category 5e and 6 data connectivity. It's ideal for
creating a quality solution for A/V and data connectivity. The keystone footprint can also be
used with Series II through the use of an adapter bezel.

* Your assessment is very important for improving the work of artificial intelligence, which forms the content of this project