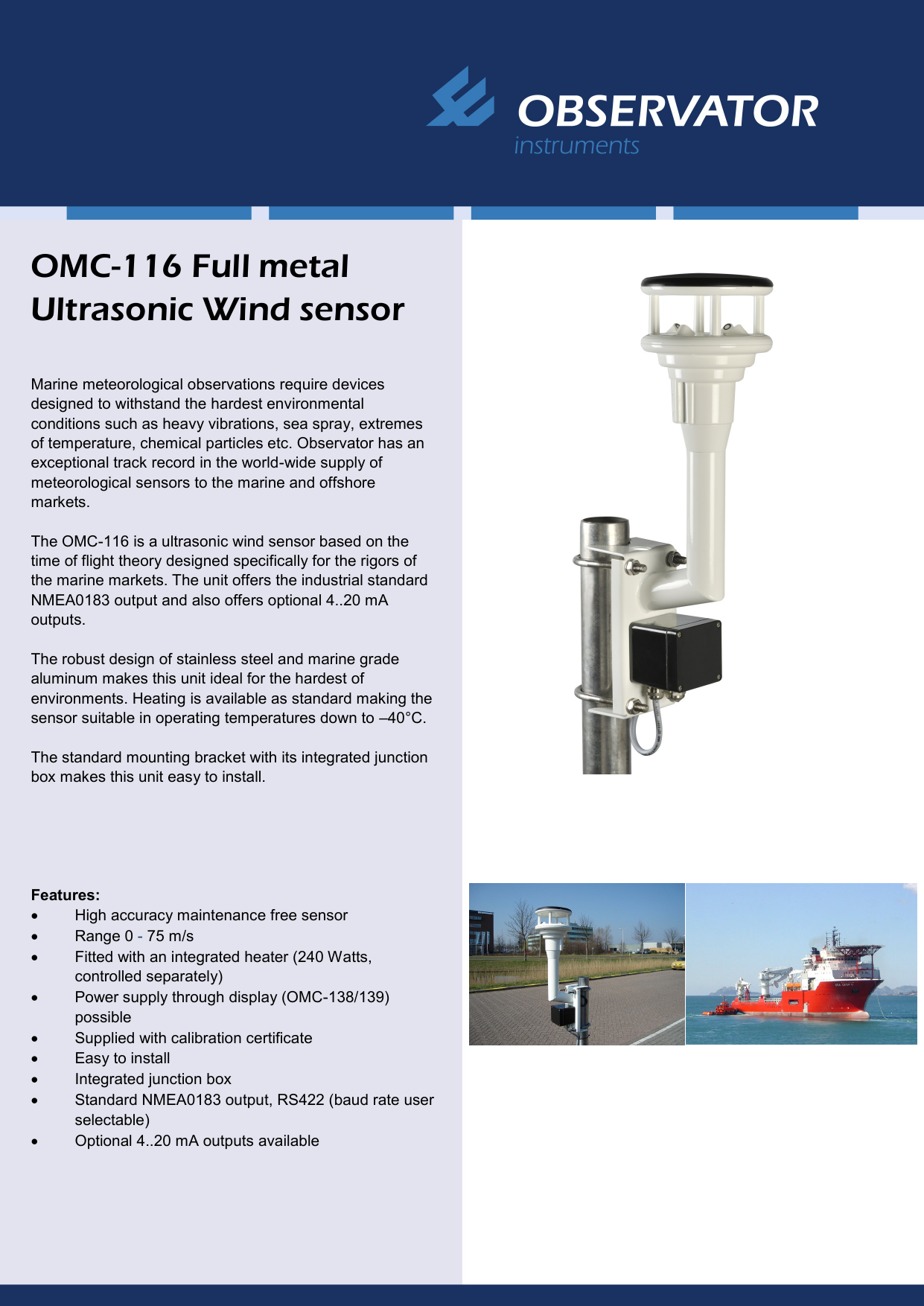 OMC-116 Full metal
Ultrasonic Wind sensor
Marine meteorological observations require devices
designed to withstand the hardest environmental
conditions such as heavy vibrations, sea spray, extremes
of temperature, chemical particles etc. Observator has an
exceptional track record in the world-wide supply of
meteorological sensors to the marine and offshore
markets.
The OMC-116 is a ultrasonic wind sensor based on the
time of flight theory designed specifically for the rigors of
the marine markets. The unit offers the industrial standard
NMEA0183 output and also offers optional 4..20 mA
outputs.
The robust design of stainless steel and marine grade
aluminum makes this unit ideal for the hardest of
environments. Heating is available as standard making the
sensor suitable in operating temperatures down to –40°C.
The standard mounting bracket with its integrated junction
box makes this unit easy to install.
Features:

High accuracy maintenance free sensor

Range 0 - 75 m/s

Fitted with an integrated heater (240 Watts,
controlled separately)

Power supply through display (OMC-138/139)
possible

Supplied with calibration certificate

Easy to install

Integrated junction box

Standard NMEA0183 output, RS422 (baud rate user
selectable)

Optional 4..20 mA outputs available
OMC-116 Full metal
Ultrasonic Wind sensor
In applications where heating is not required (and hence
disabled), the OMC-116 can be powered directly from an
Obsermet display or data logger. In cases where the
heater is to be used (advised in cases where temperatures
below zero may be expected) an external 24Vdc power
supply should be used with a capacity of not less that 250
watts.
The unit comes complete with a calibration certificate at no
extra cost. Although the unit is maintenance free and does
not need re-calibration, it is possible to return the sensor to
Observator for a re-calibration if required.
WMO compliant
The OMC-116, is in compliance with the Operational
Measurement Uncertainly Requirements and Instrument
Performance Specifications for wind sensors, as defined
by the World Meteorological Organization in Doc. No 8,
Guide to Meteorological Instruments and Methods of
Observation, 7th edition, 2008, Part 1, chapter 1 , Annex
1B.
DATA SUMMARY
WIND SPEED
• principle Ultrasonic
• range
0..75 m/s
• accuracy ± 0.2 m/s
• threshold 0.1 m/
WIND DIRECTION
• principle Ultrasonic
• range
0..359.9⁰
• accuracy < 2⁰
• threshold 0.1⁰
POWER REQUIREMENTS
• Power supply 10 - 30 Vdc
• Current, no heating [email protected] 12 Vdc
• Current with heating [email protected] 24 Vdc
OUTPUTS
• NMEA0183 version 2.30
• RS422, baud rate selectable,
• Identifier selectable
• Optional 4..20 mA outputs (2)
DIMENSIONS
• Weight 4 kgs
• Mounting arm with two U-bolts for pole max 65 dia
ENVIRONMENTAL
• Operation temperature -20°..+60°C
• With heater –40°..+60°C
• Moisture protection IP66
• Humidity 10..99% RH
Version 012015 The Observator range is in continuous development and so specifications may be subject to change without prior notice
GENERAL
The OMC-116 Ultrasonic wind speed and direction sensor
comes standard with an industrial mounting bracket
provided with 2 U-bolts suitable for mast mounting (max 65
mm dia.). An integrated junction box allows easy
connection of sensor signal and power supply using
standard cabling. The internal heater should be powered
separately if used. The sensor can be configured to enable
or disable the heater.

* Your assessment is very important for improving the work of artificial intelligence, which forms the content of this project