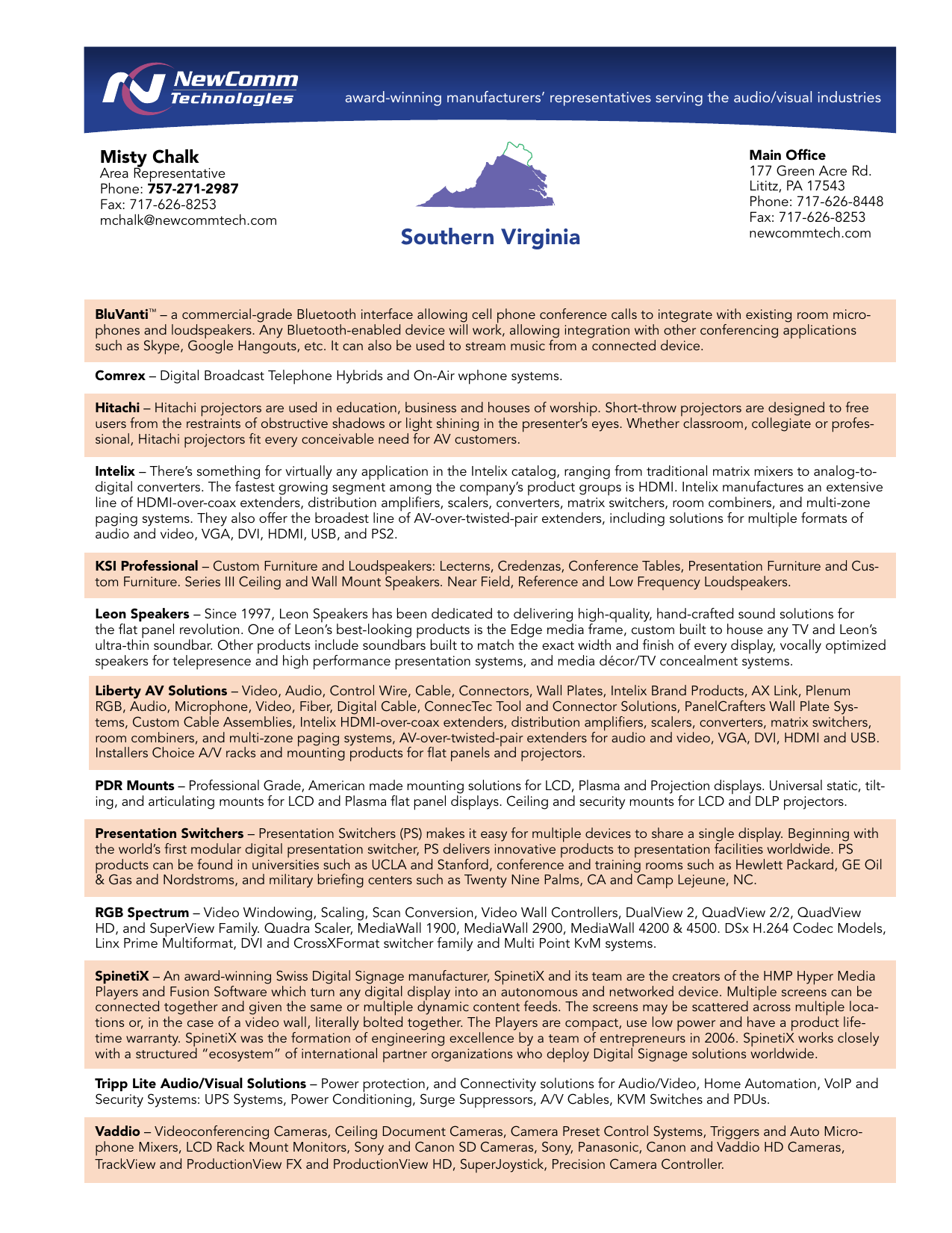 • •• ••• •
• • • • • • •• • ••serving
•
award-winning manufacturers' representatives
the audio/visual industries
Misty Chalk
Area Representative
Phone: 757-271-2987
Fax: 717-626-8253
[email protected]
Southern Virginia
Main Office
177 Green Acre Rd.
Lititz, PA 17543
Phone: 717-626-8448
Fax: 717-626-8253
newcommtech.com
BluVanti™ – a commercial-grade Bluetooth interface allowing cell phone conference calls to integrate with existing room microphones and loudspeakers. Any Bluetooth-enabled device will work, allowing integration with other conferencing applications
such as Skype, Google Hangouts, etc. It can also be used to stream music from a connected device.
Comrex – Digital Broadcast Telephone Hybrids and On-Air wphone systems.
Hitachi – Hitachi projectors are used in education, business and houses of worship. Short-throw projectors are designed to free
users from the restraints of obstructive shadows or light shining in the presenter's eyes. Whether classroom, collegiate or professional, Hitachi projectors fit every conceivable need for AV customers.
Intelix – There's something for virtually any application in the Intelix catalog, ranging from traditional matrix mixers to analog-todigital converters. The fastest growing segment among the company's product groups is HDMI. Intelix manufactures an extensive
line of HDMI-over-coax extenders, distribution amplifiers, scalers, converters, matrix switchers, room combiners, and multi-zone
paging systems. They also offer the broadest line of AV-over-twisted-pair extenders, including solutions for multiple formats of
audio and video, VGA, DVI, HDMI, USB, and PS2.
KSI Professional – Custom Furniture and Loudspeakers: Lecterns, Credenzas, Conference Tables, Presentation Furniture and Custom Furniture. Series III Ceiling and Wall Mount Speakers. Near Field, Reference and Low Frequency Loudspeakers.
Leon Speakers – Since 1997, Leon Speakers has been dedicated to delivering high-quality, hand-crafted sound solutions for
the flat panel revolution. One of Leon's best-looking products is the Edge media frame, custom built to house any TV and Leon's
ultra-thin soundbar. Other products include soundbars built to match the exact width and finish of every display, vocally optimized
speakers for telepresence and high performance presentation systems, and media décor/TV concealment systems.
Liberty AV Solutions – Video, Audio, Control Wire, Cable, Connectors, Wall Plates, Intelix Brand Products, AX Link, Plenum
RGB, Audio, Microphone, Video, Fiber, Digital Cable, ConnecTec Tool and Connector Solutions, PanelCrafters Wall Plate Systems, Custom Cable Assemblies, Intelix HDMI-over-coax extenders, distribution amplifiers, scalers, converters, matrix switchers,
room combiners, and multi-zone paging systems, AV-over-twisted-pair extenders for audio and video, VGA, DVI, HDMI and USB.
Installers Choice A/V racks and mounting products for flat panels and projectors.
PDR Mounts – Professional Grade, American made mounting solutions for LCD, Plasma and Projection displays. Universal static, tilting, and articulating mounts for LCD and Plasma flat panel displays. Ceiling and security mounts for LCD and DLP projectors.
Presentation Switchers – Presentation Switchers (PS) makes it easy for multiple devices to share a single display. Beginning with
the world's first modular digital presentation switcher, PS delivers innovative products to presentation facilities worldwide. PS
products can be found in universities such as UCLA and Stanford, conference and training rooms such as Hewlett Packard, GE Oil
& Gas and Nordstroms, and military briefing centers such as Twenty Nine Palms, CA and Camp Lejeune, NC.
RGB Spectrum – Video Windowing, Scaling, Scan Conversion, Video Wall Controllers, DualView 2, QuadView 2/2, QuadView
HD, and SuperView Family. Quadra Scaler, MediaWall 1900, MediaWall 2900, MediaWall 4200 & 4500. DSx H.264 Codec Models,
Linx Prime Multiformat, DVI and CrossXFormat switcher family and Multi Point KvM systems.
SpinetiX – An award-winning Swiss Digital Signage manufacturer, SpinetiX and its team are the creators of the HMP Hyper Media
Players and Fusion Software which turn any digital display into an autonomous and networked device. Multiple screens can be
connected together and given the same or multiple dynamic content feeds. The screens may be scattered across multiple locations or, in the case of a video wall, literally bolted together. The Players are compact, use low power and have a product lifetime warranty. SpinetiX was the formation of engineering excellence by a team of entrepreneurs in 2006. SpinetiX works closely
with a structured "ecosystem" of international partner organizations who deploy Digital Signage solutions worldwide.
Tripp Lite Audio/Visual Solutions – Power protection, and Connectivity solutions for Audio/Video, Home Automation, VoIP and
Security Systems: UPS Systems, Power Conditioning, Surge Suppressors, A/V Cables, KVM Switches and PDUs.
Vaddio – Videoconferencing Cameras, Ceiling Document Cameras, Camera Preset Control Systems, Triggers and Auto Microphone Mixers, LCD Rack Mount Monitors, Sony and Canon SD Cameras, Sony, Panasonic, Canon and Vaddio HD Cameras,
TrackView and ProductionView FX and ProductionView HD, SuperJoystick, Precision Camera Controller.