larucp single family dwelling/duplex plan check list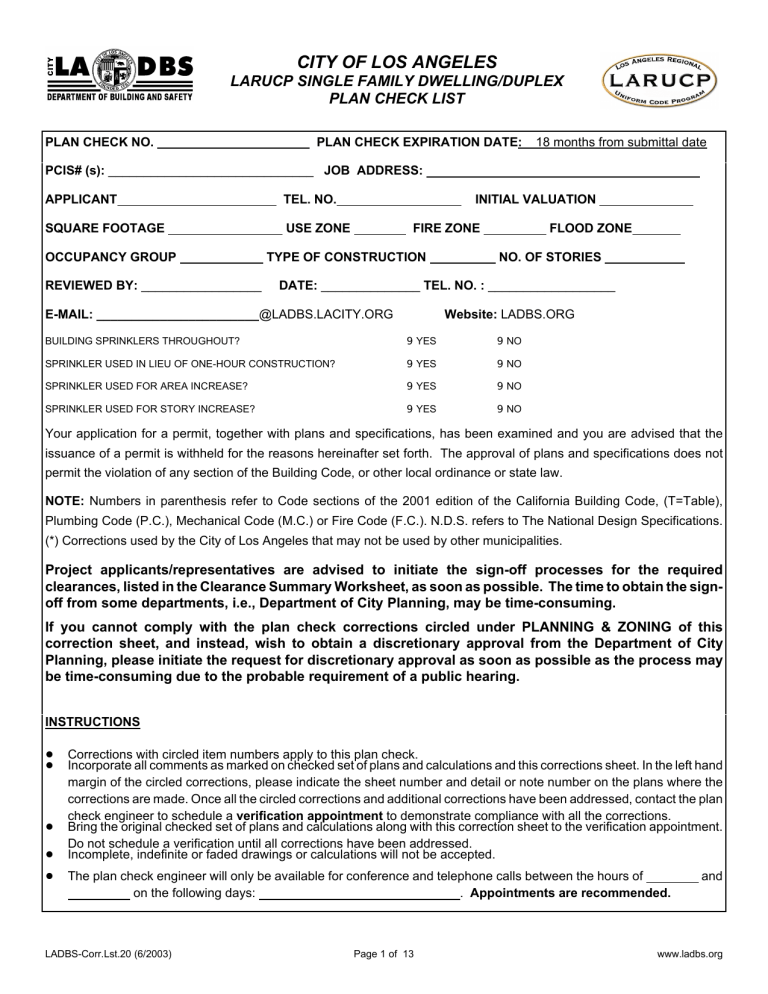 CITY OF LOS ANGELES
LARUCP SINGLE FAMILY DWELLING/DUPLEX
PLAN CHECK LIST
PLAN CHECK NO. PLAN CHECK EXPIRATION DATE: 18 months from submittal date
PCIS# (s): _____________________________ JOB ADDRESS:
APPLICANT TEL. NO. INITIAL VALUATION
SQUARE FOOTAGE USE ZONE FIRE ZONE FLOOD ZONE
OCCUPANCY GROUP TYPE OF CONSTRUCTION NO. OF STORIES
REVIEWED BY: _________________ DATE: ______________ TEL. NO. : __________________
E-MAIL: _______________________@LADBS.LACITY.ORG
Website: LADBS.ORG
BUILDING SPRINKLERS THROUGHOUT?
SPRINKLER USED IN LIEU OF ONE-HOUR CONSTRUCTION?
SPRINKLER USED FOR AREA INCREASE?
SPRINKLER USED FOR STORY INCREASE?
9 YES
9 YES
9 YES
9 YES
9 NO
9 NO
9 NO
9 NO
Your application for a permit, together with plans and specifications, has been examined and you are advised that the issuance of a permit is withheld for the reasons hereinafter set forth. The approval of plans and specifications does not permit the violation of any section of the Building Code, or other local ordinance or state law.
NOTE: Numbers in parenthesis refer to Code sections of the 2001 edition of the California Building Code, (T=Table),
Plumbing Code (P.C.), Mechanical Code (M.C.) or Fire Code (F.C.). N.D.S. refers to The National Design Specifications.
(*) Corrections used by the City of Los Angeles that may not be used by other municipalities.
Project applicants/representatives are advised to initiate the sign-off processes for the required clearances, listed in the Clearance Summary Worksheet, as soon as possible. The time to obtain the signoff from some departments, i.e., Department of City Planning, may be time-consuming.
If you cannot comply with the plan check corrections circled under PLANNING & ZONING of this correction sheet, and instead, wish to obtain a discretionary approval from the Department of City
Planning, please initiate the request for discretionary approval as soon as possible as the process may
be time-consuming due to the probable requirement of a public hearing.
INSTRUCTIONS
!
Corrections with circled item numbers apply to this plan check.
!
Incorporate all comments as marked on checked set of plans and calculations and this corrections sheet. In the left hand margin of the circled corrections, please indicate the sheet number and detail or note number on the plans where the corrections are made. Once all the circled corrections and additional corrections have been addressed, contact the plan check engineer to schedule a verification appointment to demonstrate compliance with all the corrections.
!
Bring the original checked set of plans and calculations along with this correction sheet to the verification appointment.
Do not schedule a verification until all corrections have been addressed.
!
Incomplete, indefinite or faded drawings or calculations will not be accepted.
!
The plan check engineer will only be available for conference and telephone calls between the hours of and
on the following days: . Appointments are recommended.
LADBS-Corr.Lst.20 (6/2003) Page 1 of 13 www.ladbs.org
Revise plans and provide notes to show compliance with the following attached handouts and supplemental correction sheets checked ::
9
Energy
9
Structural Observation
9
16d -30d Shear Transfer
9
Hillside Seismic Design (slope >3:1)
9
Impact Hazard Glazing
9 Steel Frame Design
A. APPLICATION AND PERMITS
1.
Provide fully dimensioned plot plan to scale, in ink, or copied to the application plot plan sheet provided. Show building lines, easements, lot size, street center line, alley, parking spaces, and location of all buildings. (Show type of construction, number of stories and use of all buildings.) Must agree with plot plan shown on plans. 91.106.3.2.1, 91.106.4.3~
8.
Prior to issuance of building permit, obtain approval from: a). California Division of Occupational Safety and Health(Cal-
OSHA) for (excavations exceeding 5-ft height where worker descends) (Building over 3-story's or 35-ft height). 350 W.
4 th
St. Ste 850, Los Angeles, CA (213)576-7451 or 6150
Van Nuys Bl, Rm 405, Van Nuys, CA (818)901-5403
2.
Block, Grant Deed). Application must be rechecked prior to permit issuance.
3.
Provide complete and correct legal description ( Tract, Lot,
Obtain proof of lot cut date prior to ( ) . (After
6-1-46, comply to zone minimums.) (After 7-29-62, obtain city planning approval) (prior to 7-1-67 R1 yds OK for RE15.)
4.
Project's valuation is $ ( check fee needs to be paid. 91.107.2
) . Additional plan b). Los Angeles County Health Department for: (water well construction/monitoring/destruction)
3530 Wilshire Bl, 9 th
floor Los Angeles, CA (213)351-7352
6851 Lennox Ave, 3 rd
floor, Van Nuys, CA (818)902-4470
6053 Bristol Parkway, 2 nd
floor, Culver City, CA (310)665-
8483
122 W. 8 th
St. Rm 20-A, San Pedro, CA (310)519-6081
Admin HQ: 5050 Commerce Dr., Baldwin Park, CA
(626)430-5560
5.
In order to issue a building permit to the agent of the property
owner, a notarized authorization letter by the owner enabling the agent to pull the permit(s) must be presented. Instead, if the permit is pulled by a licensed contractor or his/her agent, the following information is required per P/GI 2001-01: c). Dept. of Conservation, Division of Oil and Gas (DOG) for project on land with an abandoned oil well. 5816 Corporate
Ave., Room 200, Cypress, CA (714)816-6847.
a) Certificate of Workers Compensation Insurance made out to the Contractors State License Board.
9.
A separate permit is required for (grading) (demolition)
(retaining walls) (swimming pool) ( ) 91.106.1
b) Copy of City of LA business tax registration certificate or a newly paid receipt for one. c) Copy of contractors state license or pocket ID.
10. Affidavit required for
Safety prior to recording.
( ) . The affidavit must be approved by the Department of Building and d) Notarized letter of authorization for agents of contractor.
6.
See the clearance summary worksheet for clearances required from other agencies.
Project applicants/ representatives are advised to initiate the sign-off processes for these clearances as soon as possible. The time to obtain the sign-off from some departments, i.e., Department of City Planning, may be timeconsuming. Read the comments attached to the clearance, if any, as they often contain important and useful information.
11. Provide copies of the following documents which appear on this parcel: ( )
For information on how to obtain copies of affidavits, please call Building and Safety Records Section, Metro office (213) 482-6899
or Van Nuys Office (818) 374-4390.
For all other City Planning documents contact the
Department of City Planning at (213) 978-1259, or fax
request to (213) 978-1263. Additional corrections and/ or clearances may follow upon review of the documents.
B. PLANS.
1.
Two sets of plans and one set of calculations will be required when permit is issued per 91.106.3.2.2 & 91.106.3.3.
Plans shall be:
7. Call ( ) ___________ for information on obtaining the required clearance for ______________ Specific Plan,
_______________ HPOZ, ______________ CDO, and
_______________ POD. Not all projects can be cleared the same day and an appointment may be necessary. a) Quality blue or black line drawings with uniform and
light background color.
b) Max. 36" x 48" size with minimum 1/8" lettering size c) Sticky back details must produce prints without contrasting shades of background color.
LADBS-Corr.Lst.20 (6/2003) Page 2 of 13 www.ladbs.org
2.
Provide the following with each set of plans:
9
Topography survey map
9
Foundation Plan
6.
A
( ) car garage or carport is required 12.21A4(a).
7.
Provide ( ) paved parking spaces. A minimum of one space per dwelling unit shall be a standard stall.
12.21A4(a), 5(c).
9
Floor Plan
9
Two Elevations~
3.
4.
5.
9
9
Construction Section
Structural Details
9
Grading Details~
The address of the building and the name and address of the owner(s) and person(s) preparing the plans are required on the first sheet of the plans. 106.3.3.1
Show elevations for all floors, top of roof, natural and finish grade around perimeter of building (and top point of building.)
Survey map must be signed by a licensed Surveyor or Civil
Engineer. 106.4.3.3
Incorporate all comments as marked on checked set of plans and calculations and this correction sheet. Return originally
checked plans & calculations with corrected plans.
8.
Maximum driveway slope shall not exceed 20%. [Grade details and transition slopes required where slope exceeds
12½%. Maximum driveway cross slope is 10%. Maximum slope within parking area is 5%. 12.21A5(g), Information Bulletin#
P/ZC 2001-01 ( see LADBS.ORG )
9. In A & R zones Parking is not permitted in the required front yard and a 5' side yard along the side street lot line of a corner lot.12.21A6(a).
10. Automobiles are not permitted to back onto a public street or sidewalk.* 12.21A5(i)1. *Except for local Streets.
11. Parking Aisle: Revise plans to provide additional back up space at garage. 12.21A5(b).
12. Walls: Parking and turning areas within 15' of property line must be enclosed by 5' 9" high solid wall. 12.21A6(d), (e), (f).
13. Maintain minimum 10' separation between dwelling and accessory building. 12.21C5(d).
14. A ( ) passageway is required from the street to each dwelling unit and guest room. 12.21C2(b)
6.
Void or delete all plans, details and notes that do not pertain to this project.
7.
Show the legal description, building area, occupancy group(s), use(s), type of construction, number of story(s), fire zone, lot size, lot area and height on the first sheet or title sheet of plans.
8. A supplemental plan check and permit with the applicable fees is required for deferred item(s) :
9
9
Prefabricated stairs including handrails
Prefabricated roof and floor trusses
The engineer of record shall review the design of the deferred item(s) and verify their conformance with the intent of the original design.
15. Maximum eave projection of (
( )
) inches allowed in
provided the yard is not reduced to less than 30". 12.22C20(b)
16. Projection of ( ) into the (
) yard/passageway (not permitted) (limited to ) .
12.22C20.
17. Fences, planters, and retaining walls shall not exceed a height of (
( )
) ft. above the natural ground level in required yard. 12.22C20(f).
C. PLANNING & ZONING
18. Provide 30" minimum clear access around main building(s) and accessory living quarters. 12.22C20(l).~
If you cannot comply with circled corrections in this section, and instead, wish to obtain a discretionary approval from the
Department of City Planning, please initiate the request for discretionary approval as soon as possible as the process may be
19. Comply with the provisions of the Specific Plan
(
20. Zoning Information File No. ZI
)
( )
.
requires
time-consuming due to the probable requirement of a public hearing.
( ).
21. A wet bar is permitted provided it has no more than 10 sq.
ft of counter surface area, and no hot water, garbage disposal,
220 v. electrical or gas outlet. ZA 90-0080(ZAI)
1.
Basement constitutes a story. Any basement containing a habitable room shall be considered a story for side yard, rear yard and Height District purposes. 12.21C1(l), 12.21.1A8.
2.
Provide and dimension: ( ) side yard; ( )
22. Accessory building is not permitted on front half of lot,except when located minimum 55-ft from the front line or
rear yard as required for the
3.
Provide (
( ) Zone.
Submit Block Plot showing setbacks from the front property line of all buildings on the same side of the street, to establish required setback.
4. Building exceeds or RE zone. 12.21.1
(
) Front yard. But not less than prevailing.
private garage located on sloping lot in accordance with
12.21C5(l). 12.21C5(b).
23.Provide minimum 5-ft setback from rear property line (10' from alley center line ) and ( ) setback from side property
) height for A1, A2, R1, R2, RS line for accessory building containing recreation room or accessory living quarters. 12.21C5(e), (f), (g)
24. No mezzanine is permitted within a recreation room.
5.
Building exceeds (
(12.21A17(c) ) for Zone (
) h e i g h t p e r H i l l s i d e O r d .
).
12.03
LADBS-Corr.Lst.20 (6/2003) Page 3 of 13 www.ladbs.org
25. For any lot within the Hillside ordinance, where the elevation of the ground at a point 50 feet from the front lot line and midway between the side lot lines is 33 feet or more higher than the lowest point of the front lot line, no portion of a building or structure within 20 feet of the front line shall exeed
24 feet in height. The 24 feet maximum building and structure height shall be measured from the elevation at the centerline
26. For any lot within the Hillside ordinance, Open unenclosed stairways, porches, platforms and landing places not covered by a roof or canopy shall not project or extend into the front yard. 12.21A17 (a)(3)
27.
For any lot within the Hillside ordinance, balconies with 10 feet of vertical clearance beneath them may project or extend no more than 30 inches into the required front yard.
12.21A17(a)(3)
D. ROOM-LIGHT, VENTILATION AND DIMENSIONS
2.
3.
Smoke detectors shall be provided as follows:
91.310.9.1.3,4 a) In new construction smoke detectors shall receive their primary power source from the building wiring and shall be equipped with battery back up and low battery signal. Smoke detectors shall be located in each sleeping room & hallway or area giving access to a sleeping room, and on each story and basement for dwellings with more than one story.
b) In existing construction smoke detectors may be battery operated, installed in location as specified in a) above.
Provide smoke detectors at the top of common stairwells serving two or more tenants. (Health and Safety Code 13113.7)
1. One room must be a min. of 120 sq. ft. in area. Other habitable rooms, except kitchens, must be a min. of 70 sq. ft.
( 310.6.2)
4. Add note "Provide an approved spark arrester for the chimney of a fireplace, stove, or barbecue." (L.A.M.C. 57.20.25
)
2. Habitable rooms other than a kitchen shall not be less than
7' in any direction. ( 310.6.3)
3. Required ceiling height is 7'-6" min., 7'-0" min. in kitchen, halls and bathrooms.
4.
(
Provide natural light in
)
10% of floor area with a minimum of 10 sq ft.
( 310.6.1)
(habitable rooms) by means of exterior wall openings with an area not less than
1203.2
5. Provide natural ventilation in (habitable rooms) (bathrooms)
( ) by means of openable exterior wall openings with an area not less than 5% of floor area with a minimum of 5 sq ft. Mechanical ventilating systems may be permitted. 1203.3
6. Provide a door and window schedule. Show type and size of each.
7. Under-floor ventilation shall be not less than 1/150 of under floor area. ( 2306 )
5. Add note "Provide an alarm for doors to the dwelling that form a part of the pool enclosure. The alarm shall sound continuously for a min. of 30 seconds when the door is opened
It shall automatically reset and be equipped with a manual means to deactivate (for 15 secs. max.) for a single opening.
The deactivation switch shall be at least 54" above the floor."
P/BC 2001-14.
6. Add note "An approved Seismic gas shutoff valve will be installed on the fuel gas line on the down stream side of the utility meter and be rigidly connected to the exterior of the building or structure containing the fuel gas piping." (Per
Ordinance 171,874-for work over $10,000.)
8. Attic ventilation of 1/150 of the area of ventilated space
(approximately 10 sq. in. for each 10 sq. ft. of attic area) is required.
( 1505.3 )
9. Dimension on plans the 30" clear width for water closet compartment and 24 in. clearance in front of water closet for
( ) bathroom. 91.2904
E. SPECIAL HAZARDS
7. Add note "Water heater must be strapped to wall."
Sec. 507.3, UPC
1.
a.
b.
Glazing in hazardous locations shall be tempered.
91.2406.4
Ingress and egress doors
Panels in sliding or swinging doors c.
Doors and enclosure for hot tub, bathtub, showers (Also glazing in wall enclosing these compartments within 5' of standing surface)
8.
Fire lane access is required. The entrance to the dwelling is more than 150 ft. as measured from the edge of an improved street or approved fire lane along the normal entrance roadway or walkway to the front door. Obtain clearance from the Hydrants and Access Unit of the Fire Department in 221 N.
Figueroa Street, Suite # 1500. (L.A.M.C. 7.09.03) A fire lane is
20' min. width, 15%max. Slope and has a std. turn around.
d.
If within 2' of vertical edge of closed door and within 5' of standing surface e.
In wall enclosing stairway landing
LADBS-Corr.Lst.20 (6/2003) Page 4 of 13 www.ladbs.org
F.
1.
2.
3.
EXITS AND STAIRWAYS.
Provide emergency egress from sleeping rooms. Show details on plans. Min.- 24" clear ht, 20" clear width, 5.7 sq.ft. min.
area & 44" max to sill. 91.310.4
Provide window wells (with fixed ladder) at emergency egress windows below grade. 91.310.4
At least one exit doorway shall not be less than 3'-0" wide and 6'-8" high and shall be so mounted that the clear width of 32" is maintained. 91.1003.3.1.3a
4. Add note "The ( ) door must open over a landing not more than 1" below the threshold.
Exception: Providing the door does not swing over the landing, landing shall be not more than 8" below the threshold.
91.1003.3.1.6
5. Landing at a door shall have a length measured in the direction of travel of no less than 36". 91.1003.3.1.7
6. Show the following stairway details: a). 7" (8") rise & min. 11" (9") run. 91.1003.3.3.3
b). Min. 6 ft 8 in. vertical headroom at tread nosing.
91.1003.3.3.4 c). Min. (36") (44") clear width. 91.1003.3.3.2
d). Handrails 34" to 38" high above tread nosing.
91.1003.3.3.6
e). Handgrip portion of handrail shall not be less than 1 1/4" nor more than 2" cross-sectional dimension having a smooth surface with no sharp corners. 91.1003.3.3.6
f).
Handrail extensions of min. 12" beyond top and bottom risers when serving more than one unit. 91.1003.3.3.6
g). Less than 4" clear spacing between intermediate rails.
91.509.3
7.
Enclosed useable space under interior stairs requires one-hour fire-resistive construction on enclosed side.
91.1003.3.3.9 (Such as 5/8" type X, Gyp. Brd.).
8.
Show stairway landing details.
a) Landing dimension in the direction of travel must be no less than 36 inches. 91.1003.3.1.7 b) Swinging doors shall not swing over the top step.
91.1003.3.1.6
9.
Provide 36" high guardrails with less than 4" clear spacing between intermediate rails. 91.509.2,3
10.
Spiral stairway cannot be used as the required exit from areas exceeding 400 sq. ft. 1006.6
11.
Every stairway shall have a headroom of not less than 6'-8" measured vertically from a plane parallel and tangent to the stairway tread nosing . 1003.3.3.4
12.
Winding stairs, or winding sections used when changing direction, shall have a run width of not less than 6" at its narrow end and 9" at a point 12" from the end. 1003.3.3.8.2.
13.
Ramp slopes shall not exceed one foot in (8 feet).
91.1003.3.4.3
14.
Exterior stairs and exit balconies shall not project into areas where protected openings are required. 91.1006.2.1
15.
Second story with an occupant load of 10 or more (3000 sq ft) requires at least two exits. 1004.2.3.2
16.
Third story larger than 500 sq ft requires at least two exits 1004.232.
17.
Roof decks require at least two exits when they exceed
500 sq ft and when they are higher than immediately above the second story. 1004.2.3.2
18.
Provide 2 exits from (
) . 91.1004.2.3.2, T 10-A
19.
Exits shall be separated by at least ½ the maximum diagonal of the area served.. 91.1004.2.4
G. GARAGE.
1.
9
The following are required for attached U-1 occupancy garage / carport:
9
a)Specify materials of one-hour fire-resistive construction on the garage side for walls and, when supporting an upper floor, ceilings, posts and beam of garage. 302.4 and T 3-B b)Doors to be self closing, 1 3/8" solid wood slab or 20 minute rated door assembly. 91.302.4.
2. Garage shall not open directly into a room used for sleeping purposes. 91.312.4
3.
noncombustible or asphaltic paving materials. The minimum thickness of concrete floor slabs supported directly on the ground shall not be less than 3-1/2 inches. 91.312.5
4. Exterior walls of a U-1 occupancy less than 3' from a property line must be one-hour construction without openings.
T 5-A
5. and one-story in height. 91.312.2.1, 91.312.2.2
H. CONSTRUCTION - GENERAL.
5.
6.
7.
The garage/carport floor surface shall be of
U-1 Occupancy garage is limited to
Projections beyond exterior walls shall not extend more than 12 inches into areas where openings are prohibited (i.e
within 3' from a property line.
Eaves over required windows shall not be less than 30" from the side or rear property lines. 91.1204
Show/Detail on plan that exterior posts located on a slab shall be at least 1" above floor/slab and 6" above exposed earth.
Isolated piers must be 8" above exposed earth. As an alternate, use pressure treated posts. 91.2306.5
(1000) (3000) sq. ft.
1..
Attic (with over 30" headroom) must have access opening
(22" x 30" min). 91.1505.1
2. Glass skylight shall comply with 91.2409. Plastic skylight shall comply with 91.2603.7.1.
3. Provide veneer details. Show method of anchorage, size and spacing of anchors, and type of backing. 91.1403.6.4.2 -~
4. A corrosion resistant weep screed is required below the stucco a minimum of 4" above earth or 2" above paved area.
91.2506.5
LADBS-Corr.Lst.20 (6/2003) Page 5 of 13 www.ladbs.org
8. Show roof elevations to provide a minimum 1/4 inch per foot roof slope for drainage or design to support accumulated water.
1506.1 & 1611
9. Note on the plan " The construction shall not restrict a fivefoot clear and unobstructed access to any water or power distribution facilities (Power poles, pull-boxes, transformers, vaults, pumps, valves, meters, appurtenances, etc.) or to the location of the hook-up. The construction shall not be within ten feet of any power lines-whether or not the lines are located on the property. Failure to comply may cause construction delays and/or additional expenses."
5. Provide 12" clearance under floor girders and 18" clearance under floor joists. 91.2306.3
6. Show minimum 18" x 24" under floor access opening.
91.2306.3
7. Add note "Provide 70 inch high non-absorbent wall adjacent to shower and approved shatter-resistant materials for shower enclosure." 91.807.1.3, 91.2406.4(5), 91.1115B.9.6, 7,
8
8. Provide 32" wide doors to all interior accessible rooms.
91.6304.1
I. PRODUCT APPROVALS
1. Pre-fab fireplaces require manufacturer, model, and
Underwriter Laboratories certification (or ICBO). Top of chimney must extend a minimum of 2' above any part of the building within
10'. 91.3102.3.6
2. The following items shall comply with a specific Los Angeles
City Research Report (RR #). Clearly specify the product specs,
RR # and show compliance with RR.
9. A fire retardant roof covering is required. Provide a complete description on plans. Class A roof covering is required for all buildings located in a Mountain Fire District or Fire Buffer
Zone.
(1503, 1504, 7207.4)
K. FIRE PROTECTION
9
9
9
3. skylights holdowns
straps
9
9
9
framing clips retrofit anchor bolts truss conn. plates
ICBO evaluation reports or LA RR's are acceptable for the following non-structural items; provide report number:
9
deck coating
9
roofing tile
9
sound/thermal insulation
9
fiber cement panel
9
9
9
9
9
9
shear plates joist hangers
interior finishes
hardboard siding~
----------------------
4. Provide a class A, B or C fire-retardant roof covering other than wood and show roof pitch (2% min slope). 91.1503,
91.1506..1
1. Draft stops shall be provided within a concealed floor-ceiling assembly formed of combustible construction.
(1000 sq ft & 60' max between draft stops) 91.708.3.1.1.1
2. Draft stops shall be provided within attics, mansards, overhangs and similar concealed spaces formed of combustible construction. 91.708.3.1.2.2 (3000 sq ft & 60' max.)
3.
Show draft separation for attic areas between units in a duplex.. 708.3.1.2.1
4.
Building exceeds allowable height limit of T 5-B for Type
( ) construction. 91.506
5. Type V buildings in FD II shall have 1 hr. exterior walls per 91.7206.2. Except walls facing a 60 ft. yard.
6. Add note "Provide fire sprinklers throughout. The
Sprinkler System shall be approved by Plumbing Div. prior to installation". 12.21A17(d), 91.506
7. Members providing vertical support for concrete or masonry in upper story require l-hour fire resistive protection.
91.704.4
J. MISCELLANEOUS
1. High wind area: For structures in a high wind area, provide the following per P/BC 2001-16 (See LADBS.ORG): a) 30# felt underlayment attached to the roof deck with 1" headed nails, or nails driven thru tin caps,
L.
BUILDING MORE THAN 2 STORIES IN HEIGHT.~
1. A sprinkler system is required for a four-story, Type V building. 91.506.
2. Add note "2 x 6 or 3 x 4 minimum size studs at 16" o.c. required for first story bearing walls." 91.2320.11.1,
T 23-IV-B
3. Roof nailing must be designed for wind uplift when the mean roof height exceeds 35 feet. T 23-II-B-2, 2304.3 b) Design glass thickness per T 24-A c) Anchor posts with 2 ½" bolts, d) Design roof overhang for 15 psf uplift or as required on T
16-H whichever is restrictive.
2. Provide planter box detail. Show a 2" air space from wall to planter. 91.2306.8
3. Add note "Provide damp-proofing for all walls below grade that enclose usable space." 91.1402.4 Specify Research Report
(RR # or ICBO#) for membrane.
4. Add note "Provide ultra flush water closets for all new construction. Existing shower heads and toilets must be adapted for low water consumption."
M.
STRUCTURAL-GENERAL.~
1. All structural plan sheets and index sheet of calculations
(showing number of pages) must be signed by the same civil/structural engineer or architect, licensed by the State of
California. Plans and calculations for products designed by others (trusses, stairways etc) must be reviewed and approved by the engineer of record for the project. 91.106.3.3
LADBS-Corr.Lst.20 (6/2003) Page 6 of 13 www.ladbs.org
2. Structural calculations are required to justify the adequacy of the structural system in resisting seismic and wind loads, and supporting dead and live loads. Building does not conform to the
Conventional Light-frame Construction of 2320.
3. Provide key plan sketches in the calculations cross referencing member sizes of joists, beams, shear walls, etc. to the design drawings, i.e., framing plans.
4.
Structural observation per Section 1702 is required for this project. The engineer of record shall prepare an inspection program, including the name(s) of the individuals or firms who will perform the work. The inspection program shall be shown on the first sheet of the structural drawings.(See attached "General Notes for Structural Observation" form).
9
Add note "LA City Bldg. Dept. licensed fabricator is required for (Trusses)(Structural Steel) (
) " on the plan.
9
Add note "Continuous inspection by a deputy inspector required for ( ) ." on the plan.
9
Specify that foundation sills shall be pressure treated, or foundation grade Redwood. 91.2306.4
10. Show size, spacing & direction for the following wood
framing members:
9
Girders
9
9
Floor joists
9
Rafters
Ceiling joists
9
Beam Over ( )
9
Post Under ( )
5.
Specify the size, height and spacing for studs. Wall construction shall comply with T 23-IV-B unless an engineered design is provided. Provide calculations for bearing walls higher than 10 feet.
6.
Show full height studs at gable end walls for vaulted ceiling room(s).
7.
Bearing wall studs cannot be notched more than 25% of their width. Bored holes cannot have a diameter greater than 40% of the stud width.
8.
Cripple walls exceeding 4' in height shall be framed of studs having the size required for an additional story. 91.2320.11.5
9. Add the following material specifications and/or notes to plans:
9
Soil: Type of soil and bearing value Per T 18-I-A.
9
Plywood diaphragms: Product Standard PS 1-95, Douglas fir-Larch, Structural I (or CDX).
9
Particle board: ANSI A208.1-1989. Moisture protection is required.
9
Wood Framing members: Grade and species of all lumber.
Add note "must be grade marked."
9
Glue Lam Beams: add note "GLB must be fabricated in LA
City Bldg.. Dept. licenced shop." Identify grade symbol and lamination species per T 5-A, '91 NDS Supp.
9
Add note "Field Welding to be done by welders must be certified by the L.A. City Building Department for (structural steel) (reinforcing steel) (light gage steel) . Continuous inspection by a deputy inspector is required."
9
Steel: Structural steel ASTM (A36) (A992) , Structural
Pipe ASTM A53 Gd B, Tubing ASTM A 501. Reinforcing bars ASTM A615.
Add note Shop welds must be performed in a LA City Bldg.
Dept. licenced fabricator's shop."
9
"Concrete: Standard 2500 psi concrete. 3000 psi min for grade beams and caissons." 91.1905.1, 91.1921.2.4.1
9
Add note "Continuous inspection by a deputy inspector is required for all concrete designed with f'c greater than
2500psi." 91.1701.5.1
9
Add note "Lag Bolts: Provide lead hole 40%-70% of threaded shank dia. and full dia. for smooth shank portion."
'91 NDS
9
Masonry: Specify type and f'm of masonry units.
Proportions of mortar and grout mixes. 2103, T 21-D
11. Structural plans and calculations will be required for all roof or floor trusses prior to issuance of the building permit.
12. Provide double joists under parallel bearing partitions.
2320.8.5
13. When the roof slope is less than 3 units vertical in 12 units horizontal, members supporting rafters and ceiling joists such as ridge board, hips and valleys shall be designed as beams.
2320.12.1
14. Design railings and its components for a 20 pound-per-foot horizontal force applied at top. Detail connections T 16-B.
15. Exterior stairs and balconies must be positively attached to the structure without the use of toenails or nails in withdrawal.
2320.13
16. Design the ceiling framing for a live load of 10 psf. T 16-B
17. Rafter ties spaced 4 ft. (max.) on center are required immediately above ceiling joists which are not parallel to the rafters. 2320.12.6
18. Provide factor of safety of 1.5 to resist for design of retaining walls. 1611A.6
19. Use allowable stresses Fb of T 4A, '91 NDS, supp., and adjustment factors from footnote 3, T 2.3.1, NDS , for 2x and 4x lumber.
20. Design the garage/carport floor system to support a wheel load of 2,000 lbs acting on an area of 20 sq. inches without uniform live loads. 1607.3.3
21. Provide details and calculations for a brick fireplace and chimney. Show compliance with 3102
(sliding) (overturning)
22. Structural calculations and details are required for anchored masonry or stone veneer that extends more than 5 ft. above the first floor. 2320.5.3
23. Veneer supported by wood frame shall not exceed 30' above ground unless differential movement is considered by an engineer. 1403.1.2
24 Calculate seismic drift,
∆
M
= 0.7R
∆
S
, using strength level forces in accordance with Section 1630.9.2 and provide separation from property line or adjacent building(s) in accordance with Section 1633.2.11.
25. The value of R used for design in a specific direction shall not exceed the lowest value of R for any of the lateral force resisting systems utilized in that same direction. (1630.4.4)
LADBS-Corr.Lst.20 (6/2003) Page 7 of 13 www.ladbs.org
26. Provide calculations and details to show that collector elements, splices, and connections to resisting elements have the strength to resist the combined loads resulting from the special seismic load of Section 1612.4. (1633.2.6)
27. Provide mix design calculation for concrete with f' c
$ 6000 psi.
28.
Frame members assumed not to contribute to lateral resistance shall be detailed per section 1921.7.
29.
Submit structural calculations and connection details for the structural members that provide support for the seismic forces generated by elevators. The seismic forces must be determined in accordance with Section
1632. The calculations and details provided must show the complete load path from the rail supports to the building's lateral-force-resisting system.
N. SEISMIC - SHEAR WALLS AND DIAPHRAGMS.
1.
Show size, type and location of all bracing wall panels.
Clearly show required braced wall lines (25 ft. o.c. maximum for
Conventional Light-Frame construction.) 2320.5.1
2.
O "Solid blocking shall be provided at all horizontal joints occurring in braced wall panels." 2320.11.3
3.
Allowable shear for stucco is (90 plf for seismic) (180 plf for wind) and for gypsum brd (30 plf for seismic) (100 plf for wind).
T 25-I
4.
Stucco and drywall shear walls cannot exceed a height to
length ratio of 1:1. These shear walls are not allowed below the top level of a multi-story building. 2513.4 T 25-I
5.
Add note "Stucco shear walls shall utilize furring, galvanized nails (having a minimum 11 ga., 1-1/2" long, 7/16" diameter head, and furred out a min of 1/4") to attach the lath to the studs. Staples shall not be used." On the plan.
Table 25-I.
6.
The maximum allowable shear for three-ply plywood resisting seismic loads is 200 PLF. Footnote 6 of T 23-II-I-1
7.
Limit height:length of plywood shear walls to 2:1. Provide complete calculations (including deflection) and details where straps are used at openings to reduce the effective height of shear walls. 2315.5.7, Table 23-II-G d) Stagger nails if nail spacing is less than 2" o.c.
e) Square plate washers shall be used with all anchor bolts. Table 23-II-L
5/8" bolt - 2.5x2.5x1/4 3/4" bolt - 2.75x2.75x5/16
7/8" bolt - 3x3x5/16 1" bolt - 3.5x3.5x3/8
12. Add note "All diaphragm and shear wall nailing shall utilize
common nails or galvanized box." On the plan.
T 23-II-I-1
13. Wood shear wall panels shall meet the story drift limitation of Section 1630.10. Calculated deflection shall be determined according to UBC'97 Standard 23-2, Section 23.223 and shall be increased 25 percent to account for inelastic action and repetitive loading. Contribution to the vertical elongation from the anchor or tie down and fastener slippage shall also be included.
2315.5.7, 1630.2.3.4
14. The principle of diaphragm rotation shall not be permitted to distribute shear forces to shear walls. 2315.1
15. Cantilevered diaphragms shall not exceed 15% of the distance between lines of lateral load resisting elements from which the diaphragm cantilevers. The depth to width ratio of the cantilevered portion of the diaphragm shall not be less than 4:1.
2315.1
O. CONNECTIONS
1.
2.
3.
Provide a framing nailing schedule on plan for
Conventional Light-Frame Construction. T 23-II-B1
O"All bolt holes shall be drilled 1/32 to 1/16" oversized.
8.1.2.1, ' 91 NDS
Provide calculations and details for chord splices.
4.
Provide calculations and details for drag struts for shear walls. See checked plans.
8.
Design ( ) for load combinations specified in 1612.2.1 when using Strength Design or Load and
Resistance Factor Design in 1612.3.1 if using Allowable Stress
Design. Load duration factor may be used for wood
9.
Provide a shear wall schedule on the plans and specify the maximum design shear load for each shear wall type. Limit the design shear wall loads to those allowed by Table 23II-I-1
10. Detail top and bottom shear transfer connection for shear wall(s) located at ( )
5.
Hold down straps - Include the following in design and detailing between floors: a) Design and detail straps installation when used as hold downs across floor joists. Account for reduced number of nails across joist.
b) Determine the allowable load based on the number of nails thru the strap into the posts above and below the
"Dead Space" between floors. Specify # of nails required.
c) Design and detail straps so that the minimum nail spacing will be provided when the strap nailing is combined with the shear wall edge nailing (i.e. provide 4x member wherever a trap and shear wall edge nailing occur or detail strap nailed over and thru unnailed plywood--show nailing pattern on plan).
11. The following applies to all shear walls with a shear value greater than 300 plf. These walls shall be clearly identified on the plans. Table 23-II-I-1 footnote 3. Provide the following: c) 3x foundation sill plates. b) 3 x studs and blocks between adjacent panels.
c) 1/2" edge distance for plywood boundary nailing..
LADBS-Corr.Lst.20 (6/2003)
6.
Provide the design for the shear transfer from the roof diaphragm or upper shear wall to the shear wall below the floor or roof. Detail nails, bolts, shear plates, sill plates and blocking as required by design. Use reduced values for nails with reduced embedment. In general, 16d nails are too short. See attached handout.
Page 8 of 13 www.ladbs.org
7.
For connections exposed to weather multiply other allowable fasteners loads per T 7.3.3, '91 NDS.: a) Bolts x .70
b) Lateral nails loads x .70
c) Nail withdrawal loads
8.
For wood to wood connections, where there are over 3 bolts in a row, reduce the allowable bolt loads per T 8.5.5, '91 NDS.
Q. FOUNDATIONS AND GRADING.~
1.
Dimension exterior and bearing wall foundations: a) ( ) inches below natural grade, b) ( ) inches above finished grade, c) ( ) inches wide on bottom, d) ( ) inches wall width.
2.
Dimension interior piers: a) ( ) inches below grade, b) ( ) inches in size.
9.
Specify on plans the type, size, embedment, edge distance,
and spacing of all anchor bolts (including HD bolt anchors.)
9
O"Design includes reduced edge distance. Deputy inspection is required."
9
a) Show the required embedment and edge distance for all anchor bolts in connections details per T 19-D. (6 dia min. or 3 dia. with 50% stress reduction).
3.
For Conventional Light-Frame Construction the minimum size anchor bolt is 5/8" with 7" embedment , 7 bolt diameter end distance, 6' spacing, and plate washers per Table 23-II-L
(see anchor bolt corrections above.) 1806.6
4.
Add notes/details to show compliance with all corrections on enclosed grading pre-inspection report, GPI.
A reduction factor is often needed due to the larger size of bolt for HD anchors. Continuous inspection for embedded plate washers or double hold down anchors may be required.
9
b) When bolting to an existing footing, provide a copy of the Research Report Approval for the type of bolt, allowable design loads and required edge distances.
Deputy inspection is generally required. For a 6" wide stem wall special design may be needed for HD's.
10. Limit allowable hold down loads to 75% of that allowed in
Research Report approval (for HD's and straps). 2315.5.6
11. When determining the maximum uplift force for design of hold downs multiply the dead load resisting moment by 0.9 for seismic loads. (2/3 DL for wind loads.) 1612.1, 1612.3.1 eq. 12-10 (load comb.)
12. Add note "Plate washers are required for all hold downs." On the plan. 2315.5.6
13. Place a note adjacent to the foundation plan stating: "Hold-downs shall be re-tightened just prior to covering the wall framing." 2315.5.6
14.
Provide LARR number for screws used in plywood shear walls framed with cold formed steel studs. Shear values for plywood shear walls framed with cold formed steel studs other than 20 gauge shall be justified by complete, accurate analysis or tests.
(T 22-VIII-C, footnote 2, 2220.3)
5.
Provide a copy of soil/geology reports and the Grading
Section approval letter which provide foundation design and footing setback requirements. Show compliance with all the requirements of the reports and the approval letter conditions.
6.
There is an excavation of a greater depth than are the walls or foundation of an adjoining building or structure and located closer to the property line than the depth of the excavation. The owner shall provide the Department of Building and Safety with evidence that the adjacent property owner or owners have been given a 30-day written notice by certified mail of such intent to make an excavation prior to the issuance of the permit. This notice shall state the depth of such excavation and when it will commence. 3301.2.1
7.
Detail a footing setback of H/3 to the face of slope or as required by the approved soil report. 1806.5.3, Fig 18-I-1
8.
Provide an ascending slope clearance to building of H/2 or
15' max. 1806.5.6, Figure 18-I-1
9.
Detail stepped foundations on ground slopes more than 1 unit vertical in 10 units horizontal (18" max. vertical step.) Steps must be such that both top and bottom are level. 1806.4
10. Provide pile ties: Individual pile caps and caissons subject to seismic forces shall be interconnected by ties in two directions. Ties shall be capable of resisting, in tension or compression, a minimum horizontal force equal to 10% of the larger column load. Design lateral force resisting piles and caissons for flexure for a length equal to 120% of the flexural length. 1921.4.2, 1807.2, 1809.5.1.
P.
STEEL CONSTRUCTION
1.
Cantilevered columns (K=2.1) resisting seismic forces shall be designed with a R factor of 2.2 and shall be limited to a maximum drift,
∆
M
, of 0.025h. T 16-N, 1630.10.2
2.
For Steel moment frame connection design see attached "
Steel Frame Design" supplemental correction sheets.
11. Expansive soil requirements:
If soil is found to be expansive, the footings must meet the following minimum requirements: 1804.4 a) Depth of footings below the natural and finish grades shall not be less than 24 inches for exterior and 18 inches for interior footings.
b) Exterior walls and interior bearing walls shall be supported on continuous footings.
LADBS-Corr.Lst.20 (6/2003) Page 9 of 13 www.ladbs.org
c) Footings shall be reinforced with minimum four ½ -inch diameter deformed reinforcing bars. Two bars shall be placed 4 inches of the bottom of the footing and two bars within 4 inches of the top of the footings.
d) The soil below an interior concrete slab shall be saturated with moisture to a depth of 18 inches prior to placing the concrete.
12. Concrete slabs on grade on expansive soil or compacted fill shall be placed on a 4-inch fill of coarse aggregate or on a 2" sand bed covered moisture barrier membrane. The slabs shall be at least 3-1/2 inches thick and shall be reinforced with #4 bars spaced at intervals not exceeding 16 inches each way. 1804.4
13. Earthquake Induced Liquefaction/Landslide Area:
A geotechnical report is required to evaluate the potential for soil liquefaction and soil strength loss during earthquake.
1804.5
14. Site drainage: Show on plans how concentrated drainage is being conveyed to the street via non-erosive devices. 7013.10
15. Add note " Provide rain gutters and convey rain water to the street" on the plan. 7013.9
16. Add note " If adverse soil conditions are encountered, a soils investigation report may be required" on the plan. 1804.2, Figure
18-I-2
17. A grading bond is required to be posted for projects involving over 250 cubic yards of soil in "Hillside Grading Areas". 7006.5.1
18. Provide plans for temporary shoring of excavations that remove the lateral support from a public way or an existing building. Excavations adjacent to a public way require Public
Works approval prior to issuance of building permit. 3301.2.3.2
R. FLOOD HAZARD.~
1. The lot is located in an area subject to flood.
An Elevation Certificate must be filled out for submittal to the inspector certifying that foundation was built at the required elevation.
2.
This project is in the Special Flood Hazard Zone ( ) . Elevate the structure above elevation ( ) , or design the structure for flood proofing.
3.
Flood Zone (A, AR VI-30, AO (AF), A1-30 (FW)) require clearance from the Department of Public Works, NFIP
Coordinator, (213) 847-5210.
4.
Note on the plan: a) "Survey by a licensed surveyor or Civil Enginner authorized to perform survey work is required to verify elevation of lowest finished floor." b) "Completed (Elevation/Flood Proofing) Certificate
(attached) shall be given to the inspector. If misplaced, the certificate can be downloaded from the Internet at http://www.fema.gov/library/elvinst.htm
"
S.
STORM WATER - BEST MANAGEMENT PRACTICES
1.
Storm water provisions are required to be shown on the plans
LADBS-Corr.Lst.20 (6/2003) Page 10 of 13 in accordance with the following requirements of exception
14, section 106.4.1.
a Construction Projects - Small construction sites with less than two acres of disturbed soil and not located in designated hillside areas nor in or adjacent to an environmental sensitive areas shall implement the Best Management Practices (BMP) identified on attachment "A" entitled "Minimum
R e q u i r e m e n t s f o r C o n s t r u c t i o n
Projects/Certification Statement". In addition, attachment "A" shall be signed by the owner or an authorize agent of the owner.
b Priority Projects - Medium construction sites of two or more acres and up to, but less than five acres of disturbed soil shall prepare a local Storm Water
Pollution Prevention Plan (SWPPP). The plans shall show all BMPs necessary to control and prevent discharge of sediments and other pollutants generated by the construction activities specific to each site, see Attachment "B" .
Included as part of the SWPPP, the owner or authorized agent of the owner must sign the certification statement, attachment "1", and incorporate attachment "2" into the SWPPP. All sediment and pollution prevention measures identified on the plans shall be in place and maintained for the duration of the project or until no longer deemed necessary by the responsible
City/County inspector.
c General Construction Permit Projects - Large construction sites with five acres or more disturbed soil are required to comply with the State General
Permit for Construction Activity. This permits requires the submittal of a Notice of Intent to the
State Water Resources Control Board and development of a state Storm Water Pollution
Prevention Plan. The developer is required to show proof of these submittals.
2.
Note: An Wet Weather Erosion Control Plan
(WWECP), utilizing sediment and erosion control
BMPs, for projects that will leave disturb soil during the rainy season (October 1 to April 15) is required. The
WWECP must be prepared, for projects that have already broken ground, not less than 30 days priors to the beginning of each rainy season during which soil will be disturbed, and implemented throughout the entire rainy season. A copy of the WWECP shall be kept on the project site at all times beginning 30 days prior to the start of the rainy season through the end of the rainy season. For projects that will begin construction during the rainy season, the WWECP must be available 30 days before construction commences. The WWECP must be submitted to the
Bureau of Engineering, Public Works for review and approval. The WWECP is not a requirement for the
issuance of a building or grading permit.
www.ladbs.org
T.
SOUND REQUIREMENTS BETWEEN UNITS
General
In Group R Occupancies, wall and floor- ceiling assemblies separating dwelling units or guest rooms from each other and from public space such as interior corridors and service areas shall provide airborne sound insulation for walls, and both airborne and impact sound insulation for floor-ceiling assemblies. All such separating walls and floor-ceiling assemblies shall provide an airborne sound insulation equal to that required to meet a sound transmission class (STC) f 50 (45 if field tested). All separating floor-ceiling shall provide impact sound insulation equal to that required to meet an impact insulation class (IIC) of 50 (45 if field tested) 91.1208A.2.
EXCEPTION: Impact sound insulation is not required for floor-ceiling assemblies over non habitable rooms or spaces not designed to be occupied, such as garages, mechanical rooms or storage areas.
1.
Identify all sound rated partitions on the floor plans.
2.
Provide construction details for sound rated wall assemblies.
3.
Provide construction details for sound rated floor-ceiling assemblies
4.
All penetration into sound rated partitions or approved
permanent resilient sealant.
5.
All rigid conduit, ducts, plumbing pipes, appliance vents located in sound assemblies shall be isolated from the building construction by means of resilient sleeves, mounts or minimum 1/4" thick approved resilient material. vents located in sound assemblies shall be isolated from the building construction by means of resilient sleeves, mounts or minium1/4" thick approved resilient material
6.
An approved permanent, and resilient acoustical sealant shall be provided along the joint between the floor and the separation walls. Floor-ceiling assemblies shall be sealed, lined or insulated with .........................
7.
Carpets or similar surface material which are part of the floor-ceiling assembly must be installed and inspected before the Certificate of Occupancy is issued and may be replaced only by other floor covering that provides the required impact sound insulation. 1208A.3
8.
Metal ventilating and conditioned air ducts located in sound assemblies shall be lined. (Exception: Ducts serving only exitways, kitchen cooking facilities, and bathrooms need not be lined).
9.
Mineral fiber insulation shall be installed in joist spaces whenever a plumbing piping, or duct penetrates a floor-ceiling assembly or where such unit passes through the plane of the floor-ceiling assembly from within a wall. The insulation shall be installed to a point 12" beyond the pipe or duct. This requirement is not applicable to fire sprinkler pipe, gas line or electrical conduit.
10. Electrical outlet boxes in opposite faces of separation walls shall be separated horizontally by 24" and note that back and sides of boxes will be sealed with 1/8" resilient sealant and backed by a minimum of 2" thick mineral fiber insulation. (TV, telephone and intercom outlets must be installed in boxes accordingly.)
11. The entrance doors to residential units from interior corridors are required to have a minimum STC rating of 26.
(Laminated 1 3/4" solid-core doors with resilient stops and gaskets or 18 gauge insulated steel slab doors with compression seals all around, including thresholds will meet this requirement). 91.1208A.2
12. Wall mounted lavatories and toilets are not permitted on sound rated partitions.
U. SECURITY REQUIREMENTS
General:
1.
All entry doors to dwelling units or guest rooms shall be arranged so that the occupant has a view of the area immediately outside the door without opening the door.
Such view may be provided by a door viewer, through windows located in the vicinity of the door or through view ports in the door or adjoining wall. 91.6706
2.
Screens, barricades, or fences made of material which preclude human climbing shall be provided at every portion of every roof, balcony, or similar surface which is within 8 ft.
of the utility pole or similar structures. 91.6707
Doors:
3.
4.
Wood flush-type doors shall be 1 3/8" thick minimum with solid core construction. 91.6709.1 - Door stops of in-swinging doors shall be of one-piece construction with the jamb or joined by rabbet to the jamb. 91.6709.4
Every door in a security opening for an apartment house shall be provided with a light bulb (60 watt min.) At a maximum height of 8 feet on the exterior. 91.6708
5.
All pin-type door hinges accessible from outside shall have non-removable hinge pins. Hinges shall have min. 1/4" dia. steel jamb stud with 1/4" min. protection. The strike plate for latches and holding device for projecting dead bolts in wood construction shall be secured to the jamb and the wall framing with screws no less than 2-1/2" long.
91.6709.5, 91.6709.7
6.
Provide dead bolts with hardened inserts; deadlocking latch with key-operated locks on exterior. Locks must be openable from inside without key, special knowledge or special effort (latch not required in B, F, and S occupancies.
91.6709.2)
7.
Straight dead bolts shall have a min. throw of 1" and an embedment of not less than 5/8", and a hook-shaped or an expanding-lug deadbolt shall have a minimum throw of 3/4".
91.6709.2
8.
The use of a locking system which consists of a deadlocking latch operated by a doorknob and a deadbolt operated by a non-removable thumb turn which is independent of the deadlocking latch and which must be separately operated, shall not be considered as a system which requires special knowledge or effort when used in dwelling units. The door knob and the thumb turn which operates the deadbolt shall not be separated by more than
8 inches.
LADBS-Corr.Lst.20 (6/2003) Page 11 of 13 www.ladbs.org
9.
Wood panel type doors must have panels at least 9/16 in. thick with shaped portions not less than 1/4 in. thick and individual panels must be no more than 300 sq. in. in area.
Mullions shall be considered a part of adjacent panels except mullions not over 18 inches long may have an overall width of not less than 2 inches. Stiles and rails shall be of solid lumber in thickness with overall dimensions of not less than 1 3/8 inches and 3 inches in width. 91.6709.1 item 2
10. Sliding doors shall be provided with a device in the upper channel of the moving panel to prohibit raising and removing of the moving panel in the closed or partially open position.
91.6710
11. Sliding glass doors shall be equipped with locking devices and shall be so constructed and installed that they remain intact and engaged when subjected to the tests specified in 91.6717.1
12. Metal or wooden overhead or sliding doors shall be secured with a cylinder lock, padlock with a min. 9/32" diameter hardened steel shackle and bolted, hardened steel hasps, metal slide board, bolt or equivalent device unless secured electrically operated. 91.6711
13. Provide metal guides at top and bottom of metal accordion grate or grille-type doors and cylinder locks or padlocks. Cylinder guards shall be installed on all cylinder locks whenever the cylinder projects beyond the face of the door or is otherwise accessible to gripping tools. 91.6712
16. Louvered windows shall be protected by metal bars or grills with openings that have at least one dimension of 6" orless, which are constructed to preclude human entry.
91.6715.3
17. Other openable windows shall be provided with substantial locking devices. In B, F, M and S occupancies, such devices shall be glide bars, bolts, cross-bars, and/or padlocks with minimum 9/32" hardened steel shackles and bolted, hardened steel hasps. 91.6715.2
18. Sliding windows shall be provided with a device in the upper channel of the moving panel to prohibit raising and removing of the moving panel in the closed or partially open position. 91.6715.1
19. Sliding windows shall be equipped with locking devicesand shall be so constructed and installed that they remain intact and engaged when subjected to the tests specified in 91.6717.2
20. Any release for metal bars, grills, grates or similar devices constructed to preclude human entry that are installed shall be located on the inside of the adjacent room and at least 24 inches from the closest opening through such metal bars, grills, grates or similar devices that exceeds two inches in any dimension. 91.6715.4
Glazing:
14. In B, F, M, and S occupancies, panes of glazing with at least one dimension greater than 5 in. but less than 48 in, shall be constructed of tempered or approved burglaryresistant material or protected with metal bars or grilles.
91.6714
15. Glazed openings within 40" of the door lock when the door is in the closed position, shall be fully tempered glass or approved burglary resistant material, or shall be protected by metal bars, screens or grills having a maximum opening of 2".
The provisions of this section shall not apply to view ports or windows which do not exceed 2" in their greatest dimensions.
91.6713
Windows:
Openings other than Doors or Glazed Openings:
21. All other openings must be protected by metal bars or grilles with openings of not less than 6 inches in one dimension. 91.6716
ADDITIONAL CORRECTIONS
(SEE PLANS FOR ADDITIONAL COMMENTS)
LADBS-Corr.Lst.20 (6/2003) Page 12 of 13 www.ladbs.org
LADBS-Corr.Lst.20 (6/2003) Page 13 of 13 www.ladbs.org
* Your assessment is very important for improving the work of artificial intelligence, which forms the content of this project