2011 VIDEO DMP-B200 Portable Blu-ray Disc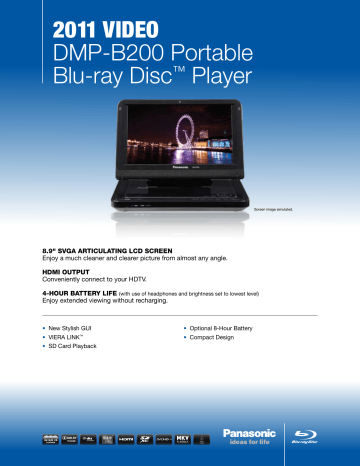 2011 VIDEO
DMP-B200 Portable
Blu-ray Disc™ Player
Screen image simulated.
8.9" SVGA Articulating LCD Screen
Enjoy a much cleaner and clearer picture from almost any angle.
HDMI Output
Conveniently connect to your HDTV.
4-HOUR Battery Life (with use of headphones and brightness set to lowest level)
Enjoy extended viewing without recharging.
• New Stylish GUI
• VIERA LINK™
• SD Card Playback
• Optional 8-Hour Battery
• Compact Design
2011 VIDEO
DMP-B200 Portable Blu-ray Disc™ Player
Playable Discs
BD-ROM
BD-Video
•
BD-RE / BD-RE DL (Ver.3)
JPEG
•
BD-R / BD-R DL (Ver.2)
MKV
•
DVD
DVD-Video
•
DVD-RAM
DVD Video Recording*1
•
JPEG
•
AVCHD
•
DVD-Video
•
DVD Video Recording*1
•
DVD-R*2/DVD-R DL*2/DVD-RW*2
+R*2/ +R DL*2/ +RW*2
CD, CD-R/-RW*4
AVCHD
•
MP3*3/ JPEG
• (DVD-R/ DVD-R DL)
MKV
• (DVD-R/ DVD-R DL)
Video
•
AVCHD
•
CD-DA
•
MP3*3
•
JPEG
•
MKV
•
Audio System
Dolby® Digital
Decode (2 ch) and Bitstream Output*5
DTS™
Decode (2 ch) and Bitstream Output*5
SD Memory Card
Compatible Media
Playback
SD / SDHC / SDXC
JPEG
•
MPEG2/ AVCHD
•
High Quality Picture
LCD Monitor (Widescreen)
8.9inch (WSVGA)
P4HD (Pixel Precision Progressive Processing for HD)
•
1080/24p Playback*6
•
x.v.Color™*6*7
•
Digital Noise Reduction
•
High Quality Sound
Built-in Speaker
2 ch
Dialog Enhancer
•
Audio D/A Converter
192kHz/24bit
Easy to Use
VIERA Link™*8 (HDAVI Control 5)
•
Playback Times*8
approx. 4H*9 (with battery pack)
Rechargeable Battery
•
Car DC Adaptor
•
OFF Timer
• (30min/ 1h/ 2h/ 3h/ 6h/ 12h)
Terminal
HDMI Out
•
Headphone Out
•
Others
Video System
NTSC
Power Supply
Power Consumption (using included AC adaptor) (Approx.)
AC 110-240V, 50/ 60Hz
Normal Use
Standby
15W
Quick Start Off
0.3W
Quick Start On
4W
Dimensions, Weights
Main Unit (Approx.)
Dimensions (W x H x D excluding protrusions and battery) (Approx.)
9-3/ 8 x 2-1/ 16 x 7-13/ 32 inch
(238 x 52.7 x 188.3 mm)
Weight (including battery)
48.52oz (1376g)
*1 CPRM is not supported.
*2 Discs recorded and finalized on recording devices.
*3 For contents recorded disc media from CDs for your personal use.
*4 Playability may vary depending on the contents, discs and quality of the recording. *5 HDMI connection required.
*6 An HDTV connected with an HDMI cable is required.
*7 This function is effective only when reproducing AVCHD data recorded with x.v.Color technology. The function cannot be used with BD-ROM or DVD-ROM discs. HDMI connection is required. x.v.Color is a registered trademark.
*8 When brightness is set to lowest level and use of headphones.
*9 When fully charged (Eco-Charge OFF).
04/11 Specifications subject to change without notice.

* Your assessment is very important for improving the work of artificial intelligence, which forms the content of this project