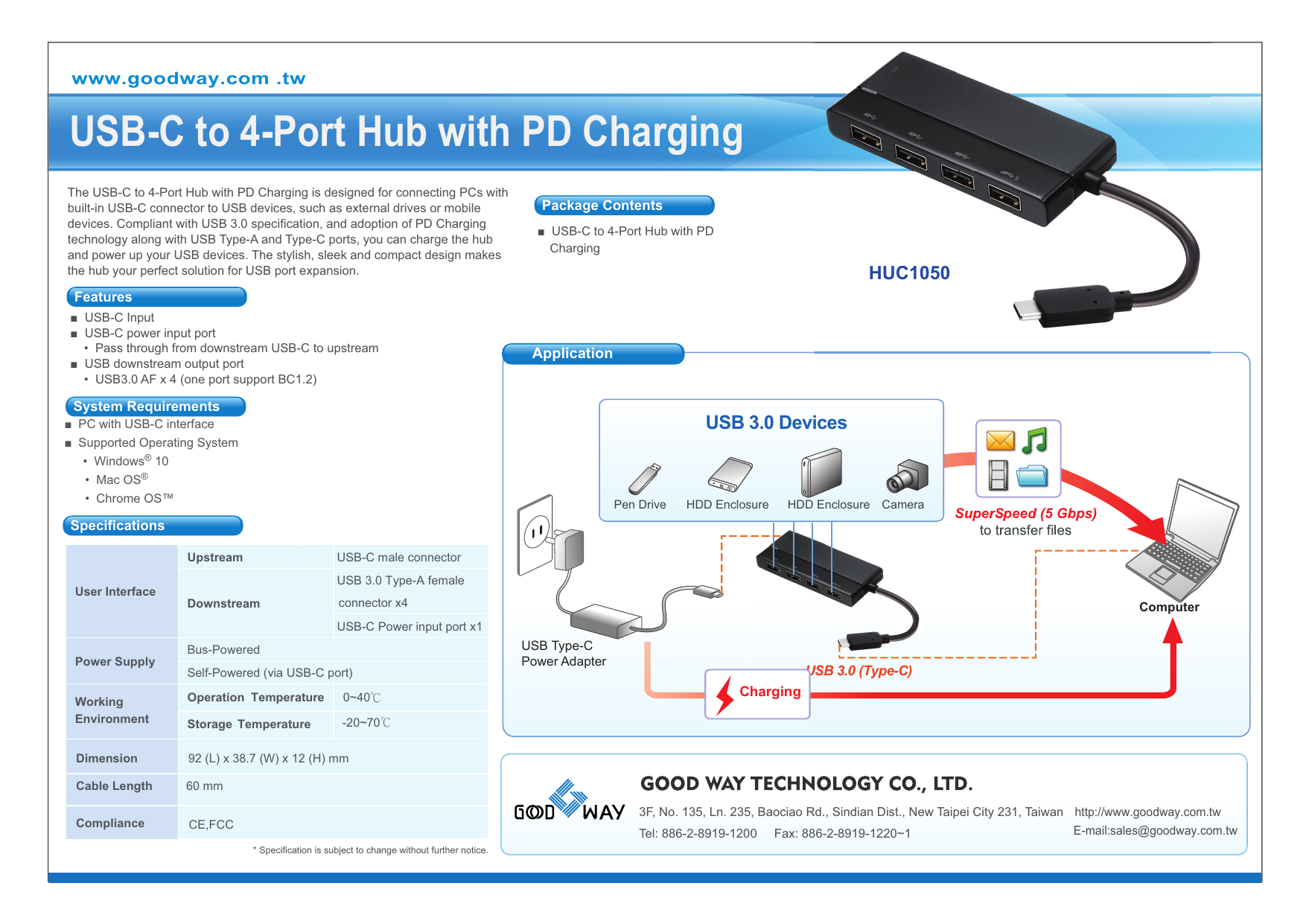 www.goodway.com .tw
USB-C to 4-Port Hub with PD Charging
The USB-C to 4-Port Hub with PD Charging is designed for connecting PCs with
built-in USB-C connector to USB devices, such as external drives or mobile
devices. Compliant with USB 3.0 specification, and adoption of PD Charging
technology along with USB Type-A and Type-C ports, you can charge the hub
and power up your USB devices. The stylish, sleek and compact design makes
the hub your perfect solution for USB port expansion.
Package Contents
■ USB-C to 4-Port Hub with PD
Charging
HUC1050
Features
■ USB-C Input
■ USB-C power input port
• Pass through from downstream USB-C to upstream
■ USB downstream output port
• USB3.0 AF x 4 (one port support BC1.2)
Application
System Requirements
USB 3.0 Devices
■ PC with USB-C interface
■ Supported Operating System
• Windows® 10
• Mac OS®
• Chrome OS™
Pen Drive
HDD Enclosure
HDD Enclosure Camera
Specifications
USB-C male connector
Upstream
USB 3.0 Type-A female
User Interface
Downstream
connector x4
Computer
USB-C Power input port x1
USB Type-C
Power Adapter
Bus-Powered
Power Supply
USB 3.0 (Type-C)
Self-Powered (via USB-C port)
Working
Environment
Operation Temperature
0~40к
Storage Temperature
-20~70к
Dimension
92 (L) x 38.7 (W) x 12 (H) mm
Cable Length
60 mm
Compliance
CE,FCC
Charging
3F, No. 135, Ln. 235, Baociao Rd., Sindian Dist., New Taipei City 231, Taiwan http://www.goodway.com.tw
E-mail:[email protected]
Tel: 886-2-8919-1200 Fax: 886-2-8919-1220~1
* Specification is subject to change without further notice.

* Your assessment is very important for improving the work of artificial intelligence, which forms the content of this project