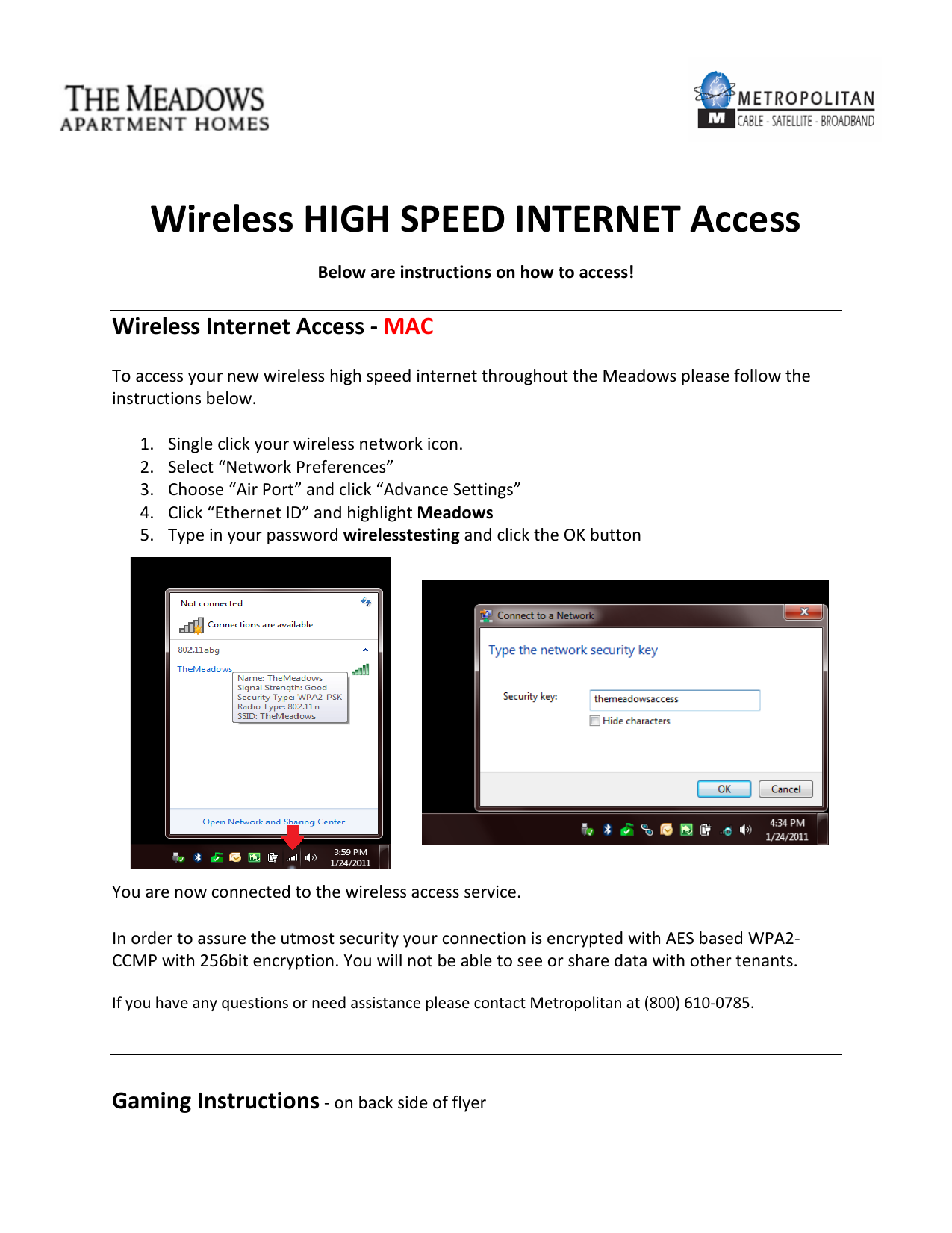 Wireless HIGH SPEED INTERNET Access
Below are instructions on how to access!
Wireless Internet Access - MAC
To access your new wireless high speed internet throughout the Meadows please follow the
instructions below.
1.
2.
3.
4.
5.
Single click your wireless network icon.
Select "Network Preferences"
Choose "Air Port" and click "Advance Settings"
Click "Ethernet ID" and highlight Meadows
Type in your password wirelesstesting and click the OK button
You are now connected to the wireless access service.
In order to assure the utmost security your connection is encrypted with AES based WPA2CCMP with 256bit encryption. You will not be able to see or share data with other tenants.
If you have any questions or need assistance please contact Metropolitan at (800) 610-0785.
Gaming Instructions - on back side of flyer
Wireless Internet Access – MAC
Gaming Instructions
GAMING / BLUE RAY / BRIDGE WARE LAUNCH STEPS
1. Make sure wireless network adapter is securely plugged into gaming system. Usually
plugs in through any USB port, (some consoles or systems may have wireless network
adapters built in internally).
2. Turn console/system power on.
3. Find the system settings on your console/system and select it to open it.
4. After opening system settings, locate the network connections and open that.
5. After opening network connections, then look for a wireless connections tab and open
that tab.
6. After opening this tab, you should have a few options where you can test your
connection, configure connections or scan for networks. You will first need to scan for
networks. Note: you may need to search around through the wireless connection tab to
find this option if it's not there right when you open it. Most systems/consoles have the
option right away.
7. After scanning for networks, network "THE MEADOWS" should be obtained from the
search.
8. After the network is obtained, simply select the network and enter the password
wirelesstesting.
9. Once that is selected and entered in, test your connection.
10. Network will sign you online and you will be live and ready to enjoy your experiences.
If you have any questions or need assistance please contact Metropolitan at (800) 610-0785.

* Your assessment is very important for improving the work of artificial intelligence, which forms the content of this project