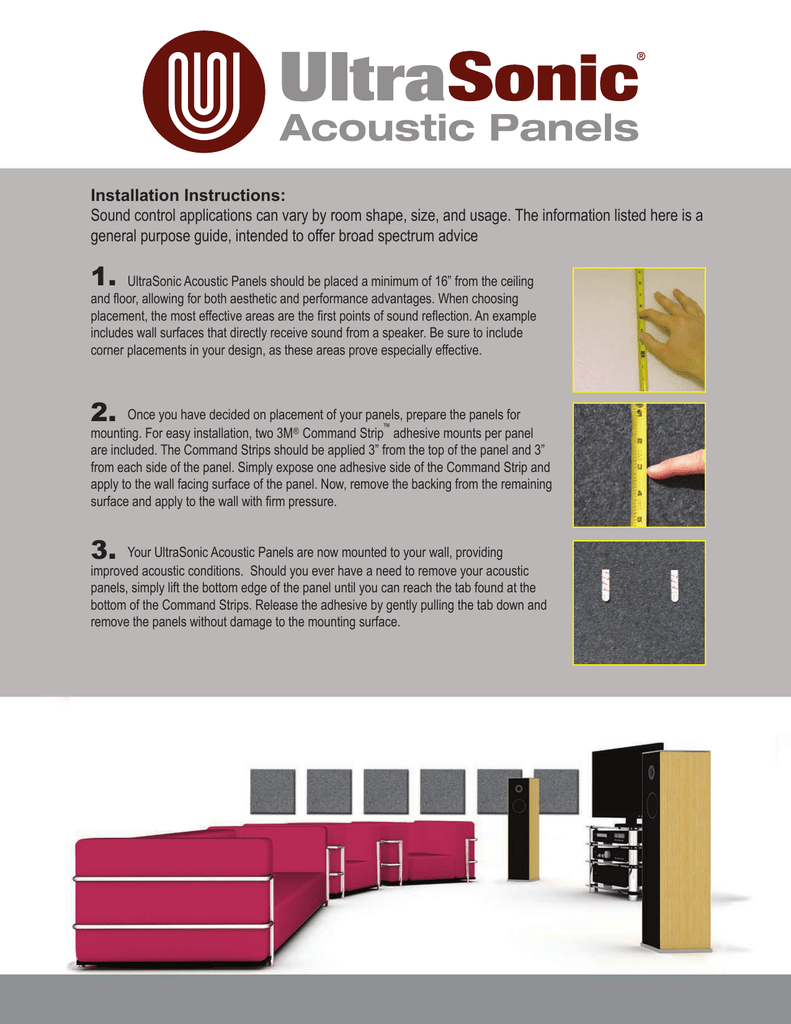 Installation Instructions:
Sound control applications can vary by room shape, size, and usage. The information listed here is a
general purpose guide, intended to offer broad spectrum advice
1.
UltraSonic Acoustic Panels should be placed a minimum of 16" from the ceiling
and floor, allowing for both aesthetic and performance advantages. When choosing
placement, the most effective areas are the first points of sound reflection. An example
includes wall surfaces that directly receive sound from a speaker. Be sure to include
corner placements in your design, as these areas prove especially effective.
2.
Once you have decided on placement of your panels, prepare the panels for
™
mounting. For easy installation, two 3M® Command Strip adhesive mounts per panel
are included. The Command Strips should be applied 3" from the top of the panel and 3"
from each side of the panel. Simply expose one adhesive side of the Command Strip and
apply to the wall facing surface of the panel. Now, remove the backing from the remaining
surface and apply to the wall with firm pressure.
3.
Your UltraSonic Acoustic Panels are now mounted to your wall, providing
improved acoustic conditions. Should you ever have a need to remove your acoustic
panels, simply lift the bottom edge of the panel until you can reach the tab found at the
bottom of the Command Strips. Release the adhesive by gently pulling the tab down and
remove the panels without damage to the mounting surface.

* Your assessment is very important for improving the work of artificial intelligence, which forms the content of this project