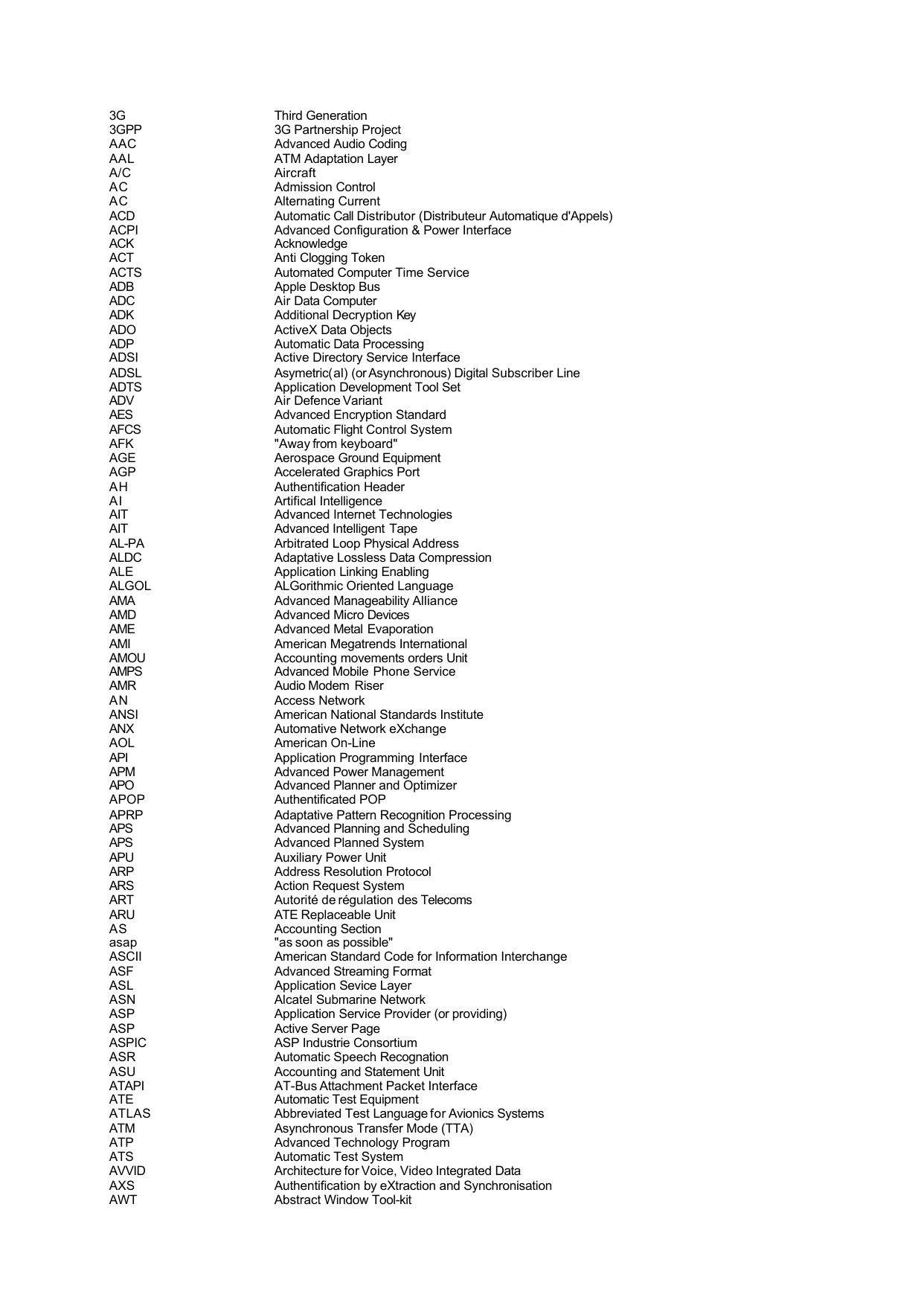 3G
3GPP
AAC
AAL
A/C
AC
AC
ACD
ACPI
ACK
ACT
ACTS
ADB
ADC
ADK
ADO
ADP
ADSI
ADSL
ADTS
ADV
AES
AFCS
AFK
AGE
AGP
AH
AI
AIT
AIT
AL-PA
ALDC
ALE
ALGOL
AMA
AMD
AME
AMI
AMOU
AMPS
AMR
AN
ANSI
ANX
AOL
API
APM
APO
APOP
APRP
APS
APS
APU
ARP
ARS
ART
ARU
AS
asap
ASCII
ASF
ASL
ASN
ASP
ASP
ASPIC
ASR
ASU
ATAPI
ATE
ATLAS
ATM
ATP
ATS
AVVID
AXS
AWT
Third Generation
3G Partnership Project
Advanced Audio Coding
ATM Adaptation Layer
Aircraft
Admission Control
Alternating Current
Automatic Call Distributor (Distributeur Automatique d'Appels)
Advanced Configuration & Power Interface
Acknowledge
Anti Clogging Token
Automated Computer Time Service
Apple Desktop Bus
Air Data Computer
Additional Decryption Key
ActiveX Data Objects
Automatic Data Processing
Active Directory Service Interface
Asymetric(al) (or Asynchronous) Digital Subscriber Line
Application Development Tool Set
Air Defence Variant
Advanced Encryption Standard
Automatic Flight Control System
"Away from keyboard"
Aerospace Ground Equipment
Accelerated Graphics Port
Authentification Header
Artifical Intelligence
Advanced Internet Technologies
Advanced Intelligent Tape
Arbitrated Loop Physical Address
Adaptative Lossless Data Compression
Application Linking Enabling
ALGorithmic Oriented Language
Advanced Manageability Alliance
Advanced Micro Devices
Advanced Metal Evaporation
American Megatrends International
Accounting movements orders Unit
Advanced Mobile Phone Service
Audio Modem Riser
Access Network
American National Standards Institute
Automative Network eXchange
American On-Line
Application Programming Interface
Advanced Power Management
Advanced Planner and Optimizer
Authentificated POP
Adaptative Pattern Recognition Processing
Advanced Planning and Scheduling
Advanced Planned System
Auxiliary Power Unit
Address Resolution Protocol
Action Request System
Autorité de régulation des Telecoms
ATE Replaceable Unit
Accounting Section
"as soon as possible"
American Standard Code for Information Interchange
Advanced Streaming Format
Application Sevice Layer
Alcatel Submarine Network
Application Service Provider (or providing)
Active Server Page
ASP Industrie Consortium
Automatic Speech Recognation
Accounting and Statement Unit
AT-Bus Attachment Packet Interface
Automatic Test Equipment
Abbreviated Test Language for Avionics Systems
Asynchronous Transfer Mode (TTA)
Advanced Technology Program
Automatic Test System
Architecture for Voice, Video Integrated Data
Authentification by eXtraction and Synchronisation
Abstract Window Tool-kit
B2B
B2C
B2E
B2M
B-ISDN
BAK
BAT
BBL
BBP
BBS
BCG
BeIA
BER
BES
BFD
BFN
BI
BIC
BIND
BINDI
BIOS
BITE
Bler
BLR
BML
BMP
BO
BPI
BRAN
BRB
BSC
BSD
BSR
BSIG
BSOD
BTS
BTW
BVD
BW
C#
C&W
c-HTML
C2T
CA
CA
CA
CACS
CAD
CADPS
CAE
CAI
CAL
CAM
CAM
CAM
CAMS
CAM
CAN Bus
CAP
CAPI
CardBus
Caro
CAS
CASE
CAT
CATV
CBQ
CBT
CCD
CCM
CCP
CCR
CCTS
CCW
CD
CD
CDMA
Business to Business
Business to Consumers
Business to Employee
Business to Mobile
Breitband-ISDN
"Back at keyboard"
Bouquet Association Table (BR)
"Be back later"
Business to Business Procurement
Bulletin Board System
Boston Consulting Group
Be Internet Appliance
Binary Error Rate
Best Effort Service
"Big fucking deal"
"Bye for now"
Business Intelligence
Business Internet Consortium
Berkeley Internet Name Daemon
Busy INDIcator
Basic Input Ouput System
Built-in Test Equipment
Block Error Rate
Boucle Locale Radio
Business Management Layer
BitMap Picture
Business Object
Business Process Integration
Broadband Radio Access Networks
"Be right back"
Base Station Controller
Berkeley Standard Distribution
Broadband Services Router
Bluetooth Special Interest Group
Blue Screen of Death
Base Transceiver Station
"By the way"
Biometric Virus Detection
Warehouse.Baan
C Sharp
Cable & Wireless
Compact HTML
Cable Connect Technology
Conditional Access
Certificate Authority
Computer Associates
CA Control System
Computer Aided Design
Central ADP System
Computer Aided Engineering
Computer Aided Instruction
Computer Aided Learning
Content Addressable Memory
Computer Aided Manutention
Computer Aided Manufacture
Cast Application Mining Suite
CA Module
Controller Area Network
Common Authentification Protocol
Common Application Programing Interface
PCMCIA Bus Master
Computer Antivirus Research Organization
Computer Aided Selling
Computer Aided Software Engineering
CA Table
Community Antenna Television
Class Based Queuing
Computer Based Training
Common Core of Data
Cisco CallManager
Compression Control Protocol
Commission Consultative des Radiocommunications
Call Center Test System
Continous Composite Worm
Compact Disc
Comity Draft
Code Division Multiple Access
CD-R
CD-ROM
CDO
CDOEX
CDONTS
CDOSYS
CDOWF
CDPD
CE
CEMS
CETS
CEO
Cert
CF
CFMS
CFO
CGEY
CGI
CGI
CGI
CGOV
CHAP
CHTML
CI
CIDR
CIDX
CIFS
CIM
CIR
CLR
CLS
CMIP/CMIS
CMISS
CMM
CMOS
CMS
CMTS
CMYK
CN
CNOS
CNS
COBOL
Codec
COE
Coma
ComLog
COO
COPS
CORBA
COTS
CPAN
CPC
CPC
CPDM
CPE
CPEX
CP/M
CPU
CR
CRC
CRCS
CRM
CRQ
CRT
CRT
CS
CSC
CSDBC
CSI
CSN
CSS
CSU
CSV
CTIA
CTP
CU
CVR
CD-Recordable
CD-Read Only Memory
Collaboration Data Object
CDO for EXchange
CDO for Windows NT
CDO for Windows 2000
CDO for WorkFlow
Cellular Digital Packet Data
Communauté Européenne
Community of European Management Schools
Contractors Engineering Technical Support
Chief Executive Officer
Computer Emergency Response Team
CompactFlash Slot
Compaq fraud management system
Chief Financial Officer
Cap Gemini Ernst&Young
Common Gateway Interface
Computer Generated Images
Cell Global Identity
Configuration Governor
Challenge Handshake Authentification Protocol
Compact HTML
Common Interface
Classless Inter-Domain Routing
Chemical Industry Data eXchange
Common Internet File System
Common Information Model
Corba Image Router
Common Language Runtime
Control Load Service
Common Management Information Protocols/Services
Carnegie Mellon Institute for Survivable Systems
Capacity Maturity Model
Complementary Metal Oxide Silicon
Content Management System
Cable Modem Termination System
Cyan Magenta Yellow Black
Core Network
Communication Network Operating System
Communication Network Systems
COmon Business Oriented Language
Coder-Decoder
Central Office Equipment
Cache Only Memory Architecture
Commando Logistico (Logistic Command IAF)
Chief Operating Officer
Common Open Policy Service
Common Object Request Broker Architecture
Commercial Off-the-Shelf
Comprehensive Perl Archive Network
Chipcard Personalisation Center
Collaborative Product Commerce
Colaborative Product Definition Management
Customer Premier Equipment
Customer Profile EXchange
Control Program Monitor
Calcul Pocessor Unit or Central Processing Unit
Carriage Return
Ciclic Redundancy Check (ing)
Conference Reservation and Control System
Customer Relationship Management (e-CRM: eBusiness CRM)
Call Routing and Queuing
Cathode Ray Tube
Carriage Return
Communication & Systems
Computer Sciences Corporation
Common Source DB
Customer Service Interface
Commerce Sevices Network
Cascading Style Sheet
Common Switch Unit
Coma Separated Values
Cellular Telecommunications Industry Association
Cambridge Technology Partners
Codification Unit
Mission Data Entry and the Voice Recorder
CVS
CWP
CXML
DAB
DAFS
DAMA-A
DAMA-E
DAMA-P
DARPA
DASL
DAT
DATE
DAV
DAVIC
DBMS
DC
DCN
DCom
DCS
DDE
DDOS
DDR
DECT
DEMUX
DES
Dessert
DFS
DHCP
DHTML
DIME
DIMEL
DIN
DL
DLCI
DLI
DLL
DLO
DLT
DMA
DMI
DMS
DMTF
DMZ
DNA
DNS
DNS
DNSSEC
DOC
Docsis
DOS
DP
DRAM
DRCP
DRE
DSC
DSIU
DSL
DSLAM
DSP
DSP
DSR
DSS
DTD
DTG
DTM
DTMF
DTP
DTU
DU
DUNS
DVB
DVD
DVD-R
DVI
DWDM
e-ACS
e-CRM
Concurrent Versions System
Contractor Work Package
Commerce eXtensible Markup Language
Digital Audio Broadcasting
Direct Access File System
Development And MAintenance of Administrative systems
Development And MAintenance of Electronic commerce systems
Development And MAintenance of Patent-granting systems
Defense Advanced Research Projects Agency
DAv Searching and Locating
Digital Audio Tape
Depot Automatic test Equipment
Distribution Authoring and Versioning
Digital Audio-Visual Council
DataBase Management System
Direct Curent
Demand Chain Networks
Distributed Component Object Model
Digital Cellular System
Dynamic Data Exchange
Distributed Denial Of Service
Double Data Rate (Double taux de transfert)
Digital Enhanced Cordless Telecommunications
Demultiplexer
Data Encryption Standard
Document Encoding and Structuring Specification for Electronic Recipe Transfer
Dynamic Flight Simulator
Dynamic Host Configuration Protocol
Dynamic HTML
DIrect Memory "Execute".
Direct Memory Execute and Local
Deutsche Industrie Norme
DownLoad
Data Link Connection Identifier
Device Layer Interface
Dynamic Link Library
Defense Logistics Organization
Digital Linear Tape
Direct Memory Access
Desktop Management Interface
Distributed Modules System
Distributed Management Task Force
DeMilitarized Zone
Distributed Internetwork Architecture
Domain Name System (or Service)
Data Name Server
DNS Security
Digital Document Company
Data Over CAble Service Interface Specifications
Disk Operating System
Data Processing
Dynamic RAM
Dynamic Registration and Configuration Protocol
Dynamic Reasoning Engine
Dynamic Services Client
Distribution and Stocking Items Unit
Digital Subscriber Line
DSL Access Multiple
Digital Signal Processor
Digital Sound Processor (or Process)
Dynamic Services Registry
Digital Signature Standard
Document Type Definition
Digital Terrestrial Group
Dynamic Transfer Mode
Desktop Management Interface Specifications
DeskTop Publishing
Digital Test Unit
Dispatch Unit
Data Universal Numbering System
Digital Video Broadcasting
Digital Video (or Versatile) Disc
DVD Recordable
Digital Video Interface
Dense WDM, Dense Wavelength Division Multiplexing
e-Application Connection Switching
eBusiness CRM
e-SCM
E-OTD
EAI
EASE
EBN
EBN
ebXML
EC
ECM
ECMA
ECR
ED
EDC
EDCAS
EDGE
EDI
EDO
EDP
EEPROM
EDS
EDS
EFA
EGA
EIC
EIDE
EIP
EIP
EIS
EISA
EIT
EJB
EMA
EMEA
EML
EMM
EMS
ENC
EOC
EPG
EPROM
EPS
EPS
EQ
ERP
ESMTP
ESP
ESS
ESS
ESTI
ETA
ETL
ETSI
EV
EXCA
FAQ
FAT
FB
FC
FCA
FCC
FC-AL
FCIA
FCS
FD
FDD
FDD
FDD-WCDMA
FDDI
FEC
FEC
FEL
FIPS
FIRST
FMS
FPM
FRA
FRO
e-Supply Chain MAnagement
Enhanced Observed Time Difference
Enterprise Application Integration (or Interface)
Enterprise Application Services Extension
European Backbone Network
Ericsson Business Networks
e-business XML
Europeen Comunity
Entitlement Control Message
European Computer Manufacturers Association
Electronic Combat and Reconnaissance
Extended Density
Error Detection Channel
Equipment Designers Cost Analysis System
Enhanced Data Rates for GSM Evolution
Electronic Data Interchange
Extended Data Out
Electronic Data Processing
Electrically Erasable Programmable ROM
ETSI Documentation Service
Electronic Data Systems
European Fighter Aircraft
Enhanced Graphics Adaptor
Enterprise Interaction Center
Enhanced IDE
Enterprise Information (or Internet) Portal
Engine Improvement Program
Executive Information Service
Extended Industry Standard Architecture (Bus)
Event Information Table (BR)
Enterprise JavaBean
Enterprise Marketing Automation
Europa, Middle East, Africa (Europe, Moyenn-Orient, Afrique)
Element Management Layer
Entitlement Management Message (BR)
Expanded Memory Specification
Encryptor
Embedded Operation Channel
Electronic Programming Guide
Erasable Programmable ROM
Encapsulated Post Script
Enhanced Procurement System
Emotional Query
Enterprise Resource Planning
Extended SMTP
Encapsulating Security Payload
Enterprise Storage Server
Engineering Support System
European Telecommunication Standard Institute
Expected Time Arrival
Extraction , Transformation, Loading
European Telecommunications Standards Institute
Enterprise Vault
EXchangeable Card Architecture
Frequently Asked Questions
File Allocation Table
"Furrowed brow"
Fibre Channel
Fibre Channel Association
Federal Communication Commission
Fibre Channel Arbitrated Loop
Fibre Channel Industry Association
Flight Control System
Floppy Disc
FD Drive
Frequency Division Duplex
FDD-Wideband CDMA
Fiber Distributed Data Interface
Forward Error Correction
Fowarding Equivalence Class
Facilities Equipment List
Federal information processing standards
Forum of Incident Response and Security Teams
Full Mission Simulator
Fast Page Mode
Full Resource Associates
"Fuck right off"
FSC
FSDB
FSF
FSPF
FTC
FTP
FTN
FUBAR
FXO
FXS
FYI
GAF
GAL
GArn
Garp
GARP
GART
GB
GCC
GDI
GECA
GEM
GEO
GGSN
gid
GIF
GIGO
Glibc
GMA
GML
GPL
GPO
GPRS
GPS
GQC
GRD
GRE
GSAPI
GSM
GSR
GSS
GTA
GTIN
GTP
GTRM
GUI
GUI
GVRP
HBA
HCA
HD
HD
HDD
HDDA
HDML
HDS
HDSL
HEC
HFC
HIPERLAN
HLR
HMA
HMS
HomePNA
HP
HPC
HSB
HSCSD
HSMD
HSSI
HSRP
HTH
HTML
HTTP
HTTPS
HUD
I/O
Fujitsu Siemens Computer
File System DeBugger
Free Software Foundation
Fabric Shortest Path First
Federal Trade Commission
File Transfert Protocol
Fidonet Technology Networks
"Fucked up beyond all recognition"
Foreign eXchange Office
Foreign eXchange Station
For Your Information
German Air Force
"Get a life"
Engineer for Aeronautics
GEMPAK Analysis and Rendering Program
Global Association of Risk Professionals
Graphics Address Remapping Table
GigaByte
GNU Compiler Collection
Graphical Device Interface
Group Electric Capital Assurances
Global Enterprise Management
Geostationary Earth Orbit
Gateway GPRS Support Node
group identification
CompuServe Graphics Interchange Format
Garbage In Garbage Out
Bibliotheque GNU C
Grocery Manufacturers of America
Geographic Markup Language
General Public License
Group Policy Object
General Packet Radio Service
Global Positioning System
Guaranted Quality Service
"Grinning, running and ducking"
Generic Routing Encapsulation
Generic Security Services API
Global System for Mobil Communications
Gigabit Switching Routing
Ground Support System
Ground Training Aids
Global Trade Item Number
GPRS Tunneling Protocol
"Going to read mail"
Graphical User Interface
Global Unique Identifier
Garp VLAN Registration Protocol
Host Bus Adapter
Host Channel Adapter
Hard Disk
High Density
Hard Disk Drive
High Density Disk Array
Handheld Device Markup Language
Hitachi Data Systems
High-Speed Digital Subscriber
Head-end Controller
Hybrid Fiber Coax
HIgh PErformance Radio Local Area Network
Home Location Register
High Memory Area
HFC-Network Management System
Home Phone Networking Alliance
Hewlett-Packard
High Performance Computing
Hue, Saturation and Brightness
High Speed Circuit Switch Data
High Speed Mobil Data
High Speed Serial Interface
Hot Standby Router Protocol
"Hope this helps"
HyperText Markup Language
HyperText Transfer Protocol
HTTP Secure
Head Up Display
Input/Output
i.a.w.
IAB
IAD
IAE
IAF
IAI
Iana
Iata
IBOC
IC/USIM
IC Card
ICA
ICE
ICG
ICMP
ICN
ICNIRP
ICP
ICSA
ID
IDCT
IDE
IDE
IDEA
IDG
IDL
IDS
IDS
IDT
IEEE
IETF
IETM
IETP
iFS
IFS
IFU
IIOP
IIS
IGN
IKE
IMAP
IMHO
IMO
IMN
IMT
ING
IOW
IP
IPC
IPEA
IPC
IPDR
IPL
IPMI
IPPV
IPSec
IQ
IRC
IRD
IrDA
IRM
IRQ
IS
IS
ISA
ISAKMP
ISCS
ISDN
ISMA
ISMC
ISMHO
ISO
ISOP
ISP
ISS
IT
ITSEC
"in accordance with"
Internet Advertising Bureau
Integrated Access Device
"In any event"
Italian Air Force
Internet Application Integration
Internet Assigned Numbers Authority
International Air Transport Association
In-Band On-Channel
Integrated Circuit
Integrated Circuit Card
Independent Computing Architecture
Information (and) Content Exchange
Internet Capital Group
Internet Control Message Protocol
Information and Communication Networks
International Commission for Non Ionising Radiation
Internet Cache Protocol
International Computer Security Association
Identify
Inverse Discrete Cosinus Transform
Interactive Development Environments
Integrated Disc Enhanced (or Electronic)
International Data Encryption Algorithm
Integrated Driving Generator
Interface Definition Language
Intrusion Detection System
Interdictor/Strike
Integrated Device Technology
Institute of Electronic and Electrical Engineers
Internet Engineering Task Force
Interactive Electronic Technical Manual
Interactive Electronic Technical Publication
Interfile System
Internet File System
Interface Unit
Internet Inter-ORB Protocol
Internet Information Service (or Server)
Institut de Geographie National
Internet Key Exchange Protocol
Internet Message Access Protocol
"In my humble opinion"
"In my opinion"
Initiativ Mobiles Netz
International Mobile Telephone
Internet and Networking Group
"In other words"
Internet Protocol
Illustrated Parts Catalogues
Internet Positionning European Association
Image Processing Control
Internet Protocol Detail Record Organisation
Illustrated Parts List
Intelligent Platform Management Interface
Impulse Pay per View
IP Security (or Secure)
Intelligence
Internet Relay Chat
Integrated Receiver Decoder
infrared data link
Internet Relationship Management
Interruption ReQuest
Information Systems
International Standard
Industry Standard Architecture
Internet Security Association and Key Management Protocol
Inter-System Communication Services
Integrated Services Digital Network
Internet Streaming Media Alliance
International Society for Measurement and Control
International Society for Mental Health On-line
International Standards Organization
Interoperability and Security for Open Platform
Internet Service Provider
Internet Security Systems
Information Technology
Information Technology Security Evaluation Criteria
ITSP
ITU
IU
IVU
IXA
IYSWIM
J2EE
JCA
JCE
JDBC
JDK
JES
JFC
JiT
JPDA
JPEG
JPM
JRE
JSAPI
JSP
JSP
JVM
KB
KM
KVS
L2F
L2TP
L4G
LAD
LAN
LBV
LCC
LCCA
LCD
LCR
LDAP
LDP
LDPS
LE
LED
LEO
LER
LFB
LGPL
LIF
LM
LMDS
LMT
LOL
LOLSTC
LORA
LOX
LPD
LQ
LRE
LRU
LSA
LSI
LSP
LSR
LTO
LVD
m-Commerce
MAC
MAN
MAP
MAPI
MB
MBps
MBC
MC
MCA
MCU
MDSR
MEC
MECU
MECU
Internet Telephony Service Provider
International Telecommunications Union
Invoices Unit
i-View
Internet Ex change Architecture
"If you see what I mean"
Java to Enterprise Edition
Java Cryptography Architect
Java Cryptography Extension
Java Database Connectivity
Java Develoment Kit
Java Embedded Server
Java Fondation Class
Just in Time
Java Platform Debugger Architecture
Join Photographic Expert Group
Jet Pipe Module
Java Runtime Engine
Java Speech API
Java Script Page
Java Server Page or JavaServer Page
Java Virtual Machine
KiloByte
Knowledge Management
KVault Software
Layer to Fowarding
Layer Two Tunneling Protocol
Language Fourth Generation (L3G: Language Third Generation)
Lecture Automatique de Document
Local Area Network
Layered Biometric Verification
Life-Cycle-Cost
LCC Analysis
Liquid Crystal Display
Least Cost Routing
Lightweight Directory Access Protocol
Label Distribution Protocol
Linux Development Platform Specification
Local Exchange
Light Emitting Diode
Low Earth Orbit
Label Edge Router
Local Frame Buffer
GNU Library General Public License
Location Interoperability Forum
Live Motion
Local Multipoint Distribution System
Local Management Terminal
"Laughing out loud"
"LOL, Scaring the cat"
Level of Repair Analysis
Liquid Oxygen
Line Printer Daemon
Letter Quality
Long Reach Ethernet
Line Replaceable Unit
Logistics Support Analysis
Large Scale Integration
Label Switch Path
Label Switch Router
Linear Tape Open
Low Voltage Differential
mobile-commerce
Media Access Control
Metropolitan Area Network
Management and Administration Platform
Messaging API
MegaByte
MegaBytes per second
Medical Business Channel
Main Computer
Micro Channel Adapter
Multipoint Conference Unit
Multi Dimensional Space Rotation
Microsoft Exchange Conference
Main Engine Control Unit
Maintenance Engine Control Unit
Mems
MFN
MHP
MIB
MIC
MIDI
MIME
MIPS
MIS
MIT
MKE
ML
MMCH
MMDS
MME
MMS
MNP 4,5...)
MOB
MOD
MoD
MoL
MOM
MOM
Mori
MPA
MPAA
MPEG
MPI
MPLS
MPPC
MS
MS
MSB
MSC
MSDE
MSF
MSI
MSiE
MSN
MSS
MTA
MTBF
MTBR
MTS
MTU
MUD
MVFS
MVNO
N4S
NABN
NAS
NAS
NAS
NAT
NBIA
NCO
NCP
NDB
NDMP
NDT
NDRC
NDS
NDS
NER
NETMA
NeWS
NFL
NFS
NFW
NIC
NICS
NIS
NIT
NLM
NLO
NLQ
NLS
Micro Electronical Systems
Metromedia Fiber Network
Multimedia Home Platform
Management Information Bases
Media Ingénierie Conseil
Musical Instrument Digital Interface
Multipurpose Internet Mail (or Multimedia) Extension
Million Instructions Per Seconds
Mobil Internet for System
Massachusetts Institute of Technology
Matsushita Kotobuki Electronics
Maintenance Level
Multimedia Communications Exchange System
Multichannel Multipoint Distribution System
Microsoft Mobile Explorer
Microsoft Multimedia Streaming
Microcom Networking Protocol
Main Operating Base
Modulator
Ministry of Defence
Mac on Linux
Message Oriented Middleware
Microsoft Operation Manager
Market Opinion Research Institut
MultiProtocol Analyser
Motion Picture Association of America
Motion (or Moving) Picture Expert(s) Group
MPEG Packet Inserter
MultiProtocol Label Switching
Microsoft Point-to-Point Compression Protocol
Mobile Station
MicroSoft
Most Significant Bit
Mobile Switching Center
Microsoft Data Engine
Modification Screening Form
Medium Scale Integration
MicroSoft internet Explorer
MicroSoft Network
Mutual Supply Support
Message Transfer Agent
Main Time Before Failure (or Between Failures)
Mean time between Replacement
Microsoft Transaction System (or Server)
Maximum Transfert Server
Multi User Dongeons
Multi-Version File System
Mobile Virtual Network Operator
Net for Student
North America Backbone Network
Network Attached Storage
Network Attached Storage
Network Access Server
Network Address Translation
National Business Incubator Association
Non Commission Officer
Network Layer Control Protocol
No Big Deal
Network Data Management Protocol
Non Destructive Testing
National Resources Defense Council
Netware Directory Server
Novell Directory Services
Network Efficiency Rate
NATO Eurofighter and Tornado Management Agency
Network Extended Window System
National Football League
Network File System
"No fucking way"
Network Interface Card
Novell Internet Caching System
Network Information Service
Network Information Table (BR)
NetWare Loadable Module
Net Liberated Organizations
Near Letter Quality
Network Library Sharing
NMS
NMS
NNM
NNTP
NOC
NRN
NRPB
NSAD
NSN
NTFS
NTU
NUMA
NUI
NVoD
Nurbs
O-E-O
O-MSP
O-SNCP
OADM
OAMI
OBI
Obis
OCR
ODASI
ODBC
ODS
OEB
OE
OEM
OEPI
OHMI
OIA
OIC
OIC
OLA
OLE
Olap
OM
OMAP
OMG
OMT
ONE
OPN
OPT
ORB
OS
OS
OSCE
OSD
OSDL
OSGI
OSI
OSII
OSM
OSPF
OTI
OTD
OTOH
OTN
OTPS
OUNI
P2P
P3
P-LET
PAE
PAL
PAN
PAP
PARC
PASC
PAT
PBNM
PBX
PC
PCB
Perl
PC
Network Management System
Natural MicroSystems
Network Node Manager
Network News Transport Protocol
Network Operating Center
"No reply necessary"
National Radiological Protection Board
Network and Service Anomaly Detection
NATO Stock number
New Technology File System
Network Termination Unit
Non-Uniform Memory Access
Network User Identification
Near Video on Demand
Non-Uniform Rational B-Splines
Optique Electronique Optique
Optical-Multiplex Section Protection
Optical-Sub Network Connection Protocol
Optical Add & Drop Multiplexer
Office of Academic Multicultural Initiatives
Open Business Interchange
Oracle Business Intelligence System
Optical Character Recognition
Optical Domain Service Interconnect
Open Database Connectivity
Oracle Dynamic Services
Office Européen des Brevets
Oracle Exchange
Original Equipment Manufacturer
OE Partner Initiative
Office for Harmonisation in the Internal Market
Open Interchange Architecture
"Oh I see"
On the Job Training
Optical Line Amplificator
Object Linking and Embedding
On-Line Analytical Processing
Operation Manager
Open Multimedia Applications Platform
Object (or Open) Management Group
Optical Multiplexer Terminal
Open Net Environment
Optical Packet Node
Open Packet Telephony
Object Request Broker
Operating System
Operational Services
Oracle Supply Chain Exchange
On Screen Display
Open Source Development Lab
Open Service Gateway Initiative
OS Interconnection
Open SAN Interoperability Initiative
On Screen Manager
Open Shortest Path First
One Touch Installation
Observed Time Difference
"On the other hand"
Oracle Technology Network
One-Time Pad Simulation
Optical user network interface
Peer to Peer Netw orks
Planning, Procurement & Project support
Proactive LAN Equipment Topology
Physical Address Extension
Phase Alteration Line
Personal Area Network
Password Authentification Protocol
Palo Alto Research Center
Portable Applications Standards Committee
Program Association Table (BR)
Policy-Based Network Management
Private Branch Exchange
Personal Computer
Printed Circuit Board
Pratical Extraction and Report Language
Personal Computer
PCI
PCISIG
PCMCIA
PCSC
PCU
PDA
PDC
PDA
PDD
PDN
PDX
PEM
Perl
PgDn
PgUp
PGP
PHP
PHS
PID
PIM
PIN
PIO
PIN
PIP
PKI
PMC
PMT
PNC
PNG
PnP
PnPS
POC
POF
PoP
POP
POP3
POS
PPC
PPP
PPPoE
PPTP
PPV
PRML
PROM
PSA
PSI
PSS
PSTN
PWS
QAM
QED
QoS
QPSK
R&D
R&P
R-BAC
RAC
RAD
Radius
RAID
RAM
RAQ
RAS
RAVE
RC4
RCDS
RCE
rcp
RDBMS
RDML
RDP
RED
REMUX
Revs
RFC
RGB
RIP
Peripheral Component Interconnect
PCI Special Interest Group
Personal Computer Memory Card International Association
PC Smart Card
Packet Control Unit
Personal Digital Assistant
Personal Digital Cellular
Portable Object Adapter
Post Dial Delay
Packed Data Network
Phone Data eXchange
Privacy-Enhanced Mail
Practical Extraction and Report Language
Page Down
Page Up
Pretty Good Privacy
Personal Homepage Hypertext Preprocessor
Personal handy-phone System
Packet Identifier
Personal Information Management
Personal Indentification Number
Programmed I/O
Peripheral Interchange Program
Partner Interface Process
Public Key Infrastructure
Process Modeler Client
Program Map Table (BR)
Personal Network Card
Portable Network Graphic
Plug and Play
Plug and Play Specifications
Playout Center
Print Object File
Point of Presence
Post Office Protocol
POP version 3
Packet Over SDH (or Of Sonet)
Pay per Channel
Point to Point Protocol
Point to Point Protocol over Ethernet
Point to Point Tunneling Protocol
Pay Per View
Partial Response Maximum Likehood
Programmable ROM
Professional Service Automation
Program Specific Information (MPEG-2 for BR)
Playout Scheduling System
Public Switched Telephony Network
Personal Web Server
Quadrature Amplitude Modulation
Quantum Effect Design
Quality of Service
Quaternary Phase Shift Keying
Research & Development
Research & Prototyping
Role-Based Access Control
Real Application Cluster
Rapid Application Development
Remote authentification dial-in user service
Redundant Array of Inexpensive Disks (or Independant Disks)
Random Access Memory
Rarely Asked Questions
Remote Access Server
Real Animated Vector Effects
(fast DES)
Remot Control and Diagnostic System
Regional Code Enhancement
remote copy
Relational DataBase Management System
Rapid Development Method Language
Remote Desktop Protocol
Random Early Detection
Remultiplexer
Rapid exchange of virus samples
Request For Command
Red Green Blue
Routing Information Protocol
rlogin
RM
RMI
ROI
ROM
rsh
ROSA
ROTFL
RPC
RPV
RS
RSA
RST
RSTP
RSVP
RTFM
RTP
RTSP
RVA
S2ML
S/Mime
SA
SAF
SAN
SAR
SARC
SAS
SAT
SAX
SBC
SBS
SC
SCC
SCM
SCOL
SCR
SCS
SCSI
SCSL
SDC
SDH
SDK
SDLT
SDM
SDMI
SDRAM
SDSL
SDT
SEC
SEI
SET
SGML
SGSM
SHDSL
SHDSL
SI
SID
SIM - ME
SIMM
SIP
SiS
SLA
Slam
SLDRAM
SLIP
SLM
SMART
SMB
SMBus
Smil
SMK
SML
SMP
SMS
SMS
SMS
SMTP
remote login
Real Media
Remote Method Invocation
Return of Investisment
Read-Only Memory
remote shell
RCDS Open Software Architecture
"Rolling on the floor laughing"
Remote Procedure Call
Reseau Privé Virtuel
Reed-Salomon
Ronald Rivest, Adi Shamir & Leonard Adleman
Running Status Table (BR)
Rapid Spanning Tree Protocol
Resource ReServation (or Reservation-Setup) Protocol
"Read the fucking manual"
Real Time Protocol
Real Time Streaming Protocol
Ramac Virtual Array
Security Service Markup Language
Secure MIME
Security Association
Sales Force Automation
Storage Area Network
Specific Absorbtion Rate
Symantec Antivirus Research Center
Subscribers Authorization System
SIM Application Toolkit
Simple API for XML
Siemens Business Services
Siemens Business Service
Smart Card
Secure Computer Corporation
Supply Chain Management
Standard Cryo Online Language
Scrambler
Site Construction Set
Small Computer Systems Interface
Sun Community Source License
SmartMedia, Click
Synchronous Digital Hierarchy
System Developer (or Development) Kit
Super DLT, Super Digital Linear Tape
Synchronous Digital Hierarchy
Secure Digital Music Initiative
Synchronous DRAM
Symetric DSL (Digital Subscriber Line)
Service Description Table (BR)
Securities and Exchange Commission
Software Engineering Institute
Secure Electronic Transaction
Standard Generalized Markup Language
Serving GPRS Support Node
Symetrical HDSL
Symetric High-Bit-Rate DSL
Systems Infrastructure
Security IDentifier
Subscriber Identity Module - Mobile Equipment
Single In-line Memory Module
Session Initiation Protocol
Silicon Integrated Systems
Service Level Agreement
Service Level Agreement Management
Synchronous-Link Dynamic Random Access Memory
Serial Line Internet Protocol
Service Level Management
Self Monitoring Analysis and Report Technology
Server Message Bloc
System Management Bus
Synchronous Multimedia Integration Language
SuperMasterKey
Service Management Layer
Symmetric MultiProcessing
Short Message Service
Subscriber Management System BR
Subscriber Management System
Simple Mail Transfer Protocol
SNA
SNIA
SNMP
SNTP
SOA
SOAP
SOHO
SOI
SOL
Sonet
SOX
SQL
SRAM
SRM
SRM
SRM
SS7
SSA
SSH
SSI
SSID
SSL
SSML
SSO
SSP
ST
STB
STK
STM
StP/OMT
StP/SE
SVG
SVGA
SVNL
SYL
SysOp
T.O.N.I.
Tacacs+
TASTE
TBSM
TC
TCA
TCO
TCP
TCP/IP
TDD
TDM
TDMA
TD-SCDMA
TDT
TE
TELNET
TET
TFT
TFTP
TGA
TGEM
TIA
TIFF
TIM
TIS
TLDA
TLS
TMI
TMN
TMPEG
TMT
TND
TNG
TPE
TOA
TOC
TOS
TOT
TpaML
TPC
TRAM
System Network Architecture
Storage Network Industry Association
Simple Network Management Protocol
Simple Network Time Protocol
Service Oriented Architecture
Simple Object Access Protocol
Small Office Home Office
Silicon On Insulator
"Sooner or later"
Synchronous Optical Network
Schema for Objectoriented XML
Structured (or Simple) Query Language
Static RAM
Storage Resource Manager
Service Relationship Management
Suppliers Relationship Management
Signaling System 7
Serial Storage Architecture
Secure Shell
System Server Infrastructure
Start Session ID
Secure Sockets Layer
Speech Synthesis Markup Language
Single Sign On
Storage Service Provider
Stuffing Table (BR)
Set Top Box
IBM-StorageTek
ST Microelectronics
Software through Pictures for Object Modeling Technique
Software through Pictures for Structured Environments
Scalable Vector Graphic
Super VGA
Silicon Valley Networking Labs
"See you later"
System Operator
Tele Online Navigation Instrument
Terminal access controler access control system
Tuxia Appliance Synthesis Technology Enabled
Tivoli Business Systems Manager
Technical Committees
Target Channel Adapter
Total Cost Ownership (Coût total d'exploitation)
Transport Control Protocol
Tranfert Communication Protocol/Internet Protocol
Time Division Duplex
Time Division Multiplexing
Time Division Multiple Access
Time division-Synchronous CDMA
Time and Date Table (BR)
Type Enforcement
TErminaL NETwork protocol
Test Environment Toolkit
Thin Film Transistor
Trivial File Transfert Protocol
Targa format
Tivoli Global Enterprise Manager
Thanks In Advance
Tagged Image File Format
Telecom Italia Mobil
Trusted Information Systems
Technology Licencing and Distribution Agreement
Transport Layer Security
T-Mobil International
Telecomunication Management Network
Tsunami MPEG
Technologies, Media et Télécoms
The Next Dimension
The Next Generation
Tres Petite Entreprise
Time of Arrival
TÜV Online Check
Type of Service
Time Offset Table (BR)
Trading Partners Agreement Markup Language
Transaction Processing Performance Council
Transport & Routing Protocol
TRP
TS
TS
TSE
TTA
TTS
TTYL
UAP
UBS
UCC
UCEC
UCLA
UDDI
UDO
UDP
UDP/IP
UDSL
UL
ULTRAN
UM
UMA
UML
UMTS
UN/SPC
UPS
URL
USB
USHB
USim
USMV
USP
UTC
UTRA
UTP
UUCP
VACM
VAN
VAP
VAR
VAS
VB
VBA
VBM
VCR
VDI
VDSL
VDU
VC
VESA
VGA
VI
VIA
VLAN
VLB
VL Bus
VLIW
VLM
VLSI
VLSM
VM
VMO
VMTP
VOB
VoIP
VPN
VRMA
VRML
VSM
VSR
VTS
VVR
VXML
W3C
W-CDMA
WACM
WAE
WAE
TRAsputer Module
Technical Support
Transport Stream (BR)
Toronto Stock Exchange
Technologie Temporelle Asychrone (ATM)
Text To Speech
"Talk to you later"
User Agent Profil
Uninterruptable Power Supply
Union Code Council
Universal Content Extented Classification
University of California in Los Angeles
Universal Description, Discovery and Integration (protocol)
Ultra Density Optical
User Data Protocol
Universal Data Protocol/IP
Universal DSL
UpLoad
UMTS Terrestrian Radio Access Network
Unified Messaging
Unified Memory Architecture
Unified Modeling Language
Universal Mobile Telecommunications Services (or System)
Universal Standard Products and Services Classification
Uninterruptible Power Supply
Uniform Resource Locator
Universal Serial Bus
User Services : Hague & Berlin
Universal Sim
User Services : Munich & Vienna
Universal Service Processor
Universal Time Coordinated
UMTS Terrestrial Radio Access
Unshielded Twisted Pair (double paire torsadée)
Unix to Unix CoPy
VA Cluster Manager
Value Added Networks
Value Added Provider
Value Added Reseler
Voice Activated Switching
Visual Basic
Visual Basic for Access (or Application?)
Virtual Bandwith Manager
Videorecorder
Voice Data Integration
Very high rate Digital Subscriber Line
Visual Display Unit
Venture Capital
Video Electronics Standard Association
Video Graphic Adapter (or Array)
Virtual Interface
VI Architecture
Virtual LAN
VL Bus
VESA Local Bus
Very Long Instruction Word
Virtual Library Manager
Very Large Scale Integration
Variable Length Subnet Mask
Virtual Machine
Virtual Mobile Operator
Versatil Message Transaction Protocol (RFC1045)
Versioned-Object Base
Voice ov er IP
Virtual Private Network
Volatile RAM
Virtual Reality Modeling Language
Virtual Storage Manager
Very Short Reach
Virtual Tape Server
Visibilité, Vulnérabilité et Recommandations
VoiceXML
WWW Consortium
Wideband-Code Division Multiple Access
Web Application Configuration Manager
Wireless Application Environment
Web Application Extension
WAM
WAN
WAP
WASP
WC3
WCCP
W-CDMA
WDM
WDP
WDR
WDVL
WebDAV
Weca
WEP
WFQ
WiFi
WGAS
WIM
WIPO
WLAN
WLL
WML
WMLS
WOL
WORM
WOS
WP
WPAD
WPan
WSDL
WSP
WSP
WTLS
WTP
WWAN
WWW
Wysiwig
XAML
XDR
XDR
xDSL
XFB
XML
XPP
XSLT
XSSL
YAST
YL
Web Application Manager
Wide Area Network
Wireless Application Protocol
Wireless Application Service Providing
World Wide Web Consortium
Web Cache Control Protocol
Widebande-CDMA
Wavelength Division Multiplexing
Wireless Datagram Protocol
Westdeutsche Rundfunk
Web Developer's Virtual Library
Web Distribution Authoring and Versioning
Wireless Ethernet Compatibility Alliance
Wired Equivalent Privacy
Weighted Fair Queuing
Wireless Fidelity
"Who gives a shit?"
WAP Identify (Identification) Module
World Intellectual Property Organisation
Wireless LAN
Wireless Local Loop
Wireless Markup Language
WML Script
World Online
Write Once Read Many times
Web Operating System
Word Processing
Web Proxy Autodiscovery Protocol
Wireless Personal Area Network
Web Services Description Language
Web Standard Project
Wireless Session Protocol
Wireless Transport Layer Security
Wireless Transaction Protocol
Wireless WAN
World Wide Web
What you see is what you get
eXchange Authority Markup Language
eXtended Data Representation
XML Data Reduced
Local Loop Access Technology
eXtended File Broker
eXtended Markup Language
eXtreme Processor Platform
eXtended Style (or Stylesheet) Language Transformation
eXtensible Style Sheet Language
Yet Another Setup Tool
"Young lady"

* Your assessment is very important for improving the work of artificial intelligence, which forms the content of this project