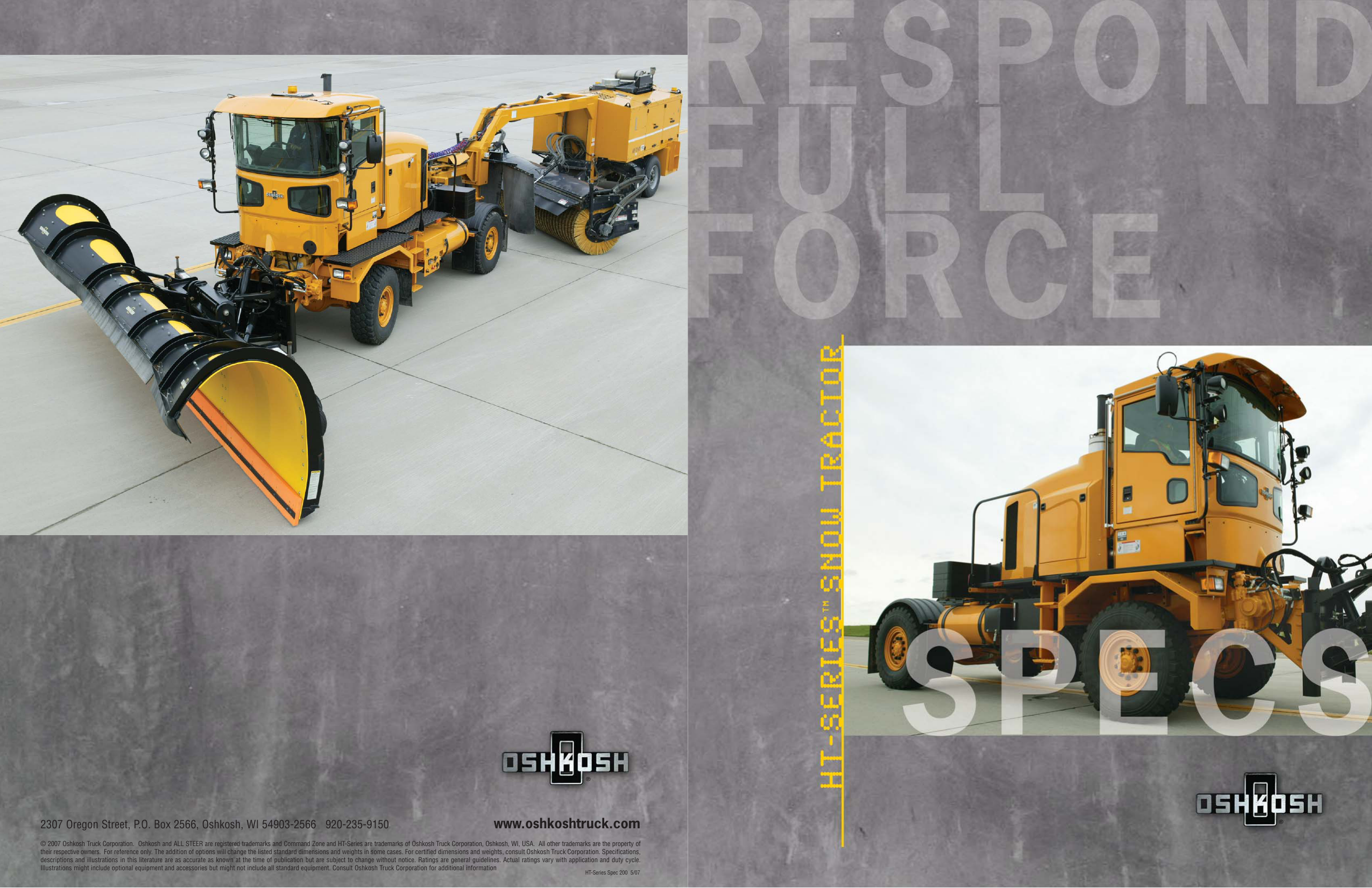 2307 Oregon Street, P.O. Box 2566, Oshkosh, WI 54903-2566 920-235-9150
www.oshkoshtruck.com
© 2007 Oshkosh Truck Corporation. Oshkosh and ALL STEER are registered trademarks and Command Zone and HT-Series are trademarks of Oshkosh Truck Corporation, Oshkosh, WI, USA. All other trademarks are the property of
their respective owners. For reference only. The addition of options will change the listed standard dimensions and weights in some cases. For certified dimensions and weights, consult Oshkosh Truck Corporation. Specifications,
descriptions and illustrations in this literature are as accurate as known at the time of publication but are subject to change without notice. Ratings are general guidelines. Actual ratings vary with application and duty cycle.
Illustrations might include optional equipment and accessories but might not include all standard equipment. Consult Oshkosh Truck Corporation for additional information
HT-Series Spec 200 5/07
OSHKOSH HT-SERIES ™ SNOW TRACTOR
®
MODEL HT2723
102.18
82.65
149.01
66.38
143.92
12.37
58.68
50.69
17.19
49.77
24.42
98.50
56.76
158.00
44.50
259.38
262.03
CHASSIS SPECIFICATIONS:
AIR CLEANER
Type: Dry, two-stage with safety element
Underhood/outside air intake selector
AXLE, Front
Make & Type: Oshkosh Model 27K, single
reduction with special heat-treated alloy steel
shafts, driver-controlled traction differential and
Oshkosh cage ring type steering ends
Ratio: 6.17:1
AXLE, Rear
Make & Model: Eaton 231S2, full floating, single
reduction with special heat-treated alloy steel
shafts and driver-controlled traction differential
Ratio: 6.14:1
AIR BRAKES, PARKING AND EMERGENCY
Type: Spring, mounted on rear axle
Secondary Emergency System: Modulated split
type Auxiliary air inlet, left side Quick drain
lanyards on all tanks
BRAKES, SERVICE
Type: Dual system, air operated mechanical,
Electronic Antilock Brake System (4S4M)
Front: 16.5 x 7 in [419 x 179 mm] S-cam rotary
Rear: 16.5 x 7 in [419 x 179 mm] S-cam rotary
Compressor: 15.7 cfm
CAB CONSTRUCTION
Oshkosh extra heavy duty Corrosion resistant
Aluminum body with fiberglass roof and fascia Full-length stainless steel piano type door hinges
Fully rustproofed One piece panoramic
reverse slope windshield Power windows left
and right Stationary rear windows (3) Dome
lights (2) Courtesy entry lights (2) Tinted
safety glass 70 inch cab width Three-point
rubber mount Cab-over construction with flat floor
STANDARD ACCESSORIES
Electric horn National® Standard Plus air ride
driver's seat, right of center Fold up cloth
passenger jump seat 55,000 BTU
heater/defroster Digital Climate Control
Cigar lighter (1) 12 volt Power outlet (1)
Cup holders (2) Doors, locking (2) Ashtray
Electronic engine controls with on-board
diagnostic connection Electric remote control
heated West Coast type mirrors with separate
remote adjustable heated spotter mirrors Ether
starting aid, thermally protected, ignition switch
activated Keyed chassis engine Floor mat
Fresh air type heater and defroster Grab
Handles LCD dash display Light bars
Quad electric windshield wipers mounted above
windshield with intermittent speed control
Self-canceling turn signals Side window
defrosters Sun visor, full width exterior front
Tilt/telescoping steering wheel Windshield
washer, 6 quarts Three point seat belts High
idle cruise control Digital clock
(dual system) Fuel Level with low fuel level
warning Warning Icons for: Low Air Pressure,
ABS Fail / ABS Communication lost / Engine
communication lost / Engine stop / Engine fail
mode / Low voltage / Engine overheat / Engine
low oil pressure / Transmission overheat –
Transmission fail / Transmission communication
lost / Hydraulic temperature / Hydraulic fluid level /
Parking brake applied / Low transmission oil
sensor / Transfer case range / Traction
enhancement locked-unlocked / Transmission
gear selection
CHASSIS EQUIPMENT
Air dryer Backup alarm Crankshaft PTO
adapter Dual 75 gal [284 liter] fuel tanks
Flat top steel fenders front; snow shedding radial polymer fenders rear Catwalks to cab and
maintenance access Heated fuel/water separator
Mud flaps front and rear of rear tires Molded
fiberglass enclosure behind cab with removable
side doors for cooling and chassis systems protection Vertical exhaust Maintenance/daily
check cluster; left hand side
DRIVE ENGINE
Make & Type: Caterpillar, C-13 ACERT, in-line
6 cylinder, four cycle
Displacement: 763 in3 [12.5 L]
Horsepower: 470 @ 2100 RPM; 485 @ 1800
RPM
Peak Torque: 1,650 @ 1,600 rpm
Governed RPM: 21002,100
INSTRUMENTATION
Oshkosh Command Zone™ LCD dash pod on
steering column Speedometer Odometer
Tachometer Hourmeter (registering engine
run hours) Voltmeter Air system pressure
FRAME
Material: Carbon manganese steel, heat-treated
Type: Single formed channel
Size: 12.38 x 3.88 x .38 in [314 x 98 x 9.5 mm]
Yield Strength: 120,000 psi [827 Mpa] minimum
Tapered Section Modulus: 19.67 to 23.4 in3
[322.34 to 384.94 cm3] per rail
RBM: 2,818,000 in-lb per rail
Construction: Grade 8 flanged bolts and
flanged locknuts
Front Frame: DIN Adapter Plate
Rear Tow Hooks: Two
Side Drain Kit
PROPELLER SHAFTS
Make & Type: Dana 1710 Series
Dynamically balanced
Splines: "Glidecoat" treated
TRANSFER CASE*
Make & Model: Oshkosh 55000 Series, front axle
declutch
Speeds: Two
Ratios: 2.66:1 and 0.98:1
STEERING SYSTEM
Make & Type: Sheppard D120 integral hydraulic
power gear (with M90 slave for 29K front)
Chassis Hydraulics Warning System: Low
level/high temperature
*Versions are available with bevel gear center differential
with driver-controlled lock, or automatic (Dorr-Miller)
differential
SUSPENSION
Front: Type: Hotchkiss, semi-elliptic spring
Main: 7 leaf, 48 x 3 in [1,219 x 76 mm]
Auxiliary: 5 leaf, 39.63 x 3 in [1,006 x 76
mm]
Rating: 27,000 lb [12,247 kg]
LIGHTING
Cab-mounted headlights with turn signals
Clearance and marker lights to comply with federal regulations Lighting in enclosure for
coolant and chassis systems Fender-mounted
headlights and turn signals Roof-mounted
strobe light Dual back-up lights Dual stop,
tail, turn signal lights (LED) at rear
Rear: Type: Hotchkiss, semi-elliptic spring
Main: 7 leaf, 48 x 3 in [1,219 x 76 mm]
Auxiliary: 5 leaf, 39.63 in [1,006 x 76 mm]
Rating: 23,000 lb [10,445 kg]
PAINT
Acrylic urethane Epoxy primer One color
from Oshkosh standard color chart
TIRES
Make & Tread: Michelin XZL
Size: 395/85R20
TRANSMISSION
ALLISON® GEN IV 4-speed electronic
1st ............3.51:1
Reverse ............4.80:1
2nd ...........1.91:1
3rd ............1.43:1
4th ............1.00:1
VEHICLE RATINGS
Ratings at Axle Hubs:
Front: 27,000 lb [12,247 kg]
Rear: 23,000 lb [10,455 kg]
Total: - 50,000 lb [22,727 kg]
WHEELBASE
158in [4,013 mm]
WHEELS
Type: Steel Disc
Size: 20.00 x 10.00 in
COOLING SYSTEM
Radiator Core: Fin and tube type with built-in
deaeration system • Horizontal flow
Frontal Area: 2,143 in2 [5,443cm2]
Radiator Construction: Bolted, with built-in
deaeration system
Charge Air Cooler: Cooling flow parallel to radiator
Fan: Temperature controlled hydrostatic fan drive
ELECTRICAL SYSTEM
Alternator: 145 amp, chassis engine driven
Lighting: 12 volt
Starting: 12 volt
Battery: Four 12 volt, 950 CCA each @ 0ºF
[-18ºC] (3800 CCA total) • Battery disconnect at
battery box • Battery charger, 1-1/2 amp trickle
type • Jumper lugs at battery box
CHASSIS OPTIONS*
Accessories: Air conditioning Auxiliary heater
Heated side window wipers Heated front
wipers (n/a with heated windshield) National
Premium heated driver's seat with 3-way air
adjustable lumbar support Air ride seat for
passenger AM/FM radio with weather band &
CD player Deluge system Heated windshield
Lubrication data plate
Attachments: Displacement plow packages
Underbody scraper Fifth Wheel for various
towed attachments Dump bodies Material
spreaders
Drive Train: Caterpillar® C-13 engines rated at
380 HP (1,450 lb/ft torque), 470 HP (1,550 lb/ft
torque) Allison® GEN IV 4500 transmission 29K front axle 26K rear axle; 46K, 52K or 58K
rear tandem axle ALL STEER® electronic allwheel steering system (23K or 26K rear single
axle; 46K or 52K rear tandem axle) Driver
controlled and automatic lock/unlock transfer
case differentials
Electrical System: 160 amp high-output alternator HID and other lighting
On-board battery charger, 20 amp
self regulating
Frame & Chassis: Single side fuel fill
110-volt in-tank fuel heater Pintle hitch
Tires & Wheels: 16R20 Michelin XZL
Spare tires & wheels
Winterization: Engine block heater, 1500 watts
Battery heater, 300 watts In-tank fuel heater
* Consult factory for complete option list and option compatibility. Other engine ratings may be available.