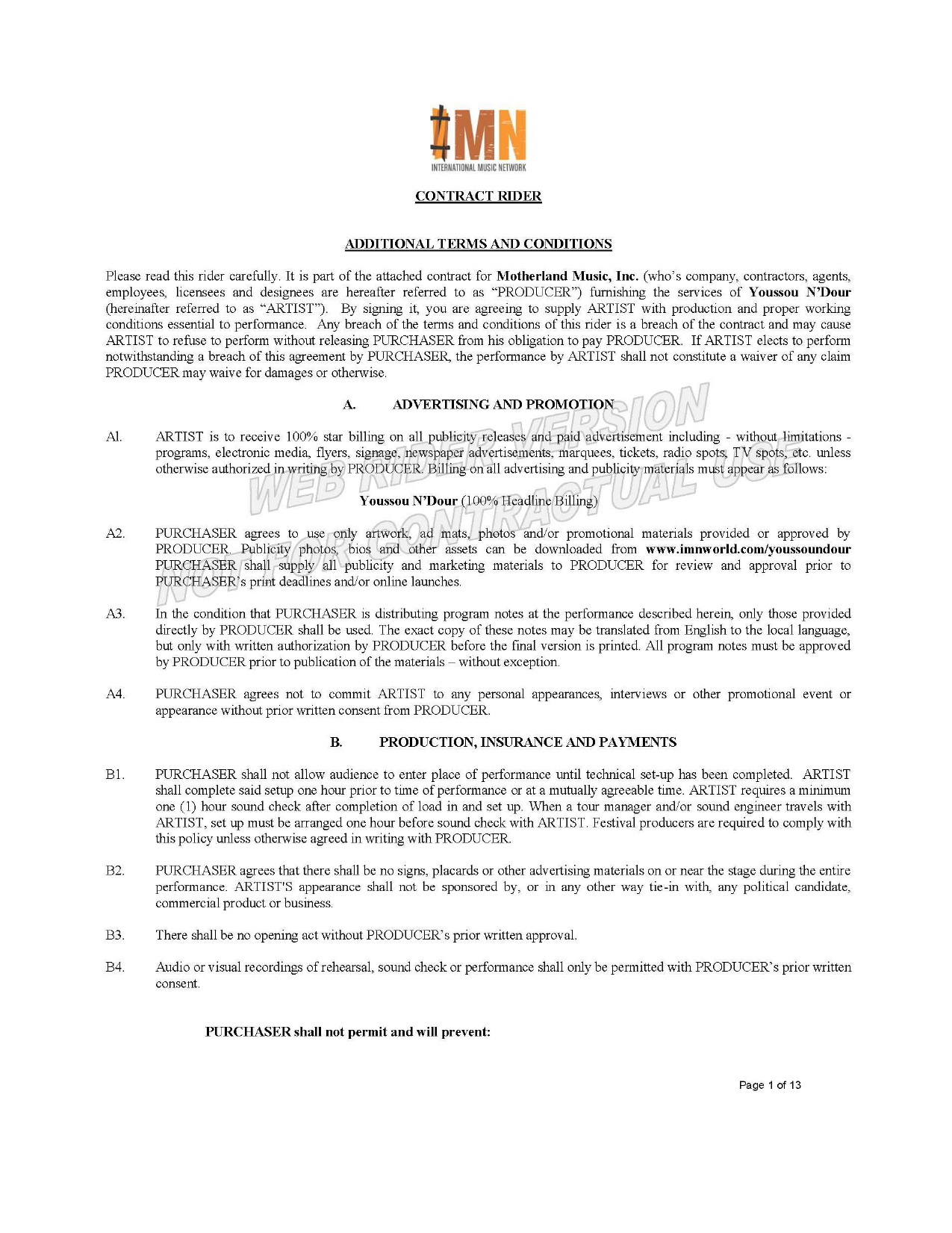 YOUSSOU N'DOUR
2014 SUMMER TOUR - UNOFFICIAL RIDER
Please treat this document as confidential, and disseminate it only as widely as is necessary. Thank you for reading this carefully and
in its entirety, and we are very much looking forward to our concert with you.
Please read this technical rider carefully.
Everything listed is absolutely necessary to ensure proper conditions for the performance.
STAFFING
We will need two (2) English-speaking engineers (FOH/Monitors), two (2) sound technicians for stage, and one (1) backline
technician to assist in set-up, sound check, show and tear down.
SOUND SPECIFICATION
One first class sound system suitable for the venue and capable of delivering 110db full bandwidth to all areas of the auditorium with
seamless coverage throughout. There should be independent control over each area of the auditorium, via matrix, outboard EQ,
processing and amplification, and this should be fully accessible to Youssou N'Dour's engineers. The sound consoles and all
outboard processing equipment is for the sole use of Youssou N'Dour's technicians.
The FOH desk must be placed in the middle of the venue, not under a balcony, or in an enclosed space. The system should be
ready for full use by Youssou N'Dour's technicians three hours prior to sound-check. It should be noted that unless informed
otherwise, the Youssou N'Dour show is a full electric performance (with respect to the sound specifications).
SPEAKER SYSTEM
The main FOH system should be line array wherever possible.
Preference: D&B J Series, Q Series/L-Acoustics K1, V, KUDO, DV/Adamson Y18, Y10 with corresponding SUB BASS.
Where this is not possible – and only where this is not possible – the main FOH system should be of a highly professional nature with
regards to speaker enclosures, amplification and cabling. Cables should be correct gauge, amplifiers should be of correct power rating.
Preference: D&B C Series/L-Acoustics/Adamson with corresponding SUB BASS.
FOH MIXING DESK
NO Digital Desks please.
Provided by the promoter:
FOH
-House mixing desk 48/8/8/2 (MIDAS H2000, H3000, XL 4, XL 3/YAMAHA PM 4000, PM 5000, PM 3500/SOUNDCRAFT MH 4)
-2 Graphic EQ 1/3 Octave 31 Bands (Klark-Teknik DN360/BSS/DBX)
-NO YAMAHA EQ or DIGITAL EQ
-NO DIGITAL DESK
-2 LEXICON PCM 70 or 1 LEXICON 480
-2 YAMAHA SPX 990
-1 TC ELECTONICS M 5000/M 6000
-2 TC ELECTONICS D-Two
-16 Channels Compressors (DRAWMER DL 241/DBX 160XT, X, A/BSS DPR 402, 404)
-6 Distressor ELX 8 Empirical Labs
-8 Channels Noise Gate (DRAWMER DL 201/BSS 504)
-1 DI AVALON U5
-1 MANLEY VOX BOX or 1 MILLENIA STT 1 or 1 SSL XLOGIC SUPERANALOG CHANNEL or AVALON VT 737 FOR
YOUSSOU N'DOUR'S VOCAL. 1 MAXX BCL WAVES or AVALON VT 747 SP or 1 SSL XLOGIC G SERIES
COMPRESSOR ON INSERT ON THE MAIN MIX.
-1 order microphone for speaking on stage.
-1 CD-RW recorder with 10 blank CDs/1 CD player
∗ 110 DB SPL required at the front desk, placed in the middle of the venue with D&B J Series, Q Series/L-Acoustics K1,V,
KUDO, DV/Adamson Y18, Y10 with corresponding SUB BASS.
MONITORS
MONITOR DESK: 1 YAMAHA PM5D RH VERSION 2 OR SOUNDCRAFT VI6, which must be located stage left at the
same level with direct access to stage.
MONITORS/DRUMFILL/SIDEFILLS
As per the stage plan, we require:
-20 monitors, including 2 for PFL (preferred D&B M4, D&B MAX15, L. Acoustics 115HiQ XT, MTD115 or 115FM, Martin LE1500
or LE700 (mirrored pairs only) All monitors must be of high quality, minimum 400 watts with 15"LF + 1.3" HF minimum, identical
and bi-amped.
-1 drum fill: 1 monitor with dedicated sub unit or full range drum fill (preferred D&B Qsub + Q7, L-Acoustics dV-SUB + MTD115)
-2 side fills (preferred D&B C7 + CSUB, L-Acoustics dV-DOSC + dV-SUB) With MF/HF at 2 meters above stage floor.
-Sufficient processing/x'overs and amplification must be available for 16 discrete mixes (including listen).
MISC AUDIO
-We provide Youssou N'Dour's vocal mic and in-ear wireless system.
-We need one intercom system between front of house desk, monitor desk and lighting desk.
-We need one talk on stage from FOH to stage – please provide switch on mic.
-We need one talk on stage from monitor world to stage – please provide switch on mic.
-Please ensure that this is checked and tested prior to the scheduled start of the sound check.
IT IS ESSENTIAL THAT THE PATCH LIST (SEE PAGE 7) IS COMPLETED BY THE TECHNICAL TEAM'S AGREED
ARRIVAL TIME, WITH ALL RISERS ASSEMBLED AND AMPS, MICS AND STANDS IN SITU.
MONITORS SEND PATCH LIST
SENDS
NB OF WEDGES
1.
2
2.
DESIGN
YOUSSOU NDOUR/Downstage
OWN IN-EARS
3.
2
VOCALS/Stage Left
4.
2
5.
1
TAMA
6.
1
BASS
7.
2
LEAD GTR/ Stage Left
ELECTRIC GTR/Stage Right
8.
NOT USED
9.
2
PERC
10.
(2)+SUB
DRUM FILL
11.
1
KEY M3/XS8
12.
1
KEY M3/XS8
13.
1
KEY DX7/TRITON
14.
NOT USED
15.
SIDE FILL/Stage Right
16.
SIDE FILL/Stage Left
No economy/budget wireless mics
BACKLINE
DRUMS
-1 DRUM KIT (DW, PEARL, YAMAHA, LUDWIG, GRETCH) -1 22" Kick drum with pedal -1 Wooden snare 14"X05" (pref.
Ludwig) + stand -1 Hi-hat + stand -1 Rack mounted 10" tom -1 Rack mounted 12" tom -1 Rack mounted 16" tom -1 Set cymbals -1 x
12" Crash, 1 Light Ride, 1 x 14" Crash -1 x 16" Crash, 2 x 8/10" Splash -1 Set of hardware to suit -4 Drum stools -1 Drum carpet
BASS
-1 BASS AMP: AMPEG strongly preferred: 1 x 8X10" or 1 x 4X10" + 1 x 1X15" speakers cabinets or GALLIEN KRUGER or EBS
or SWR(Goliath 3/BETA)
-1 BASS HEAD AMPEG SVT PRO 2/3 or EBS 500 or SWR PRO 500 -2 GTR BASS Stands
GUITARS
-3 GTR Stands
KEYBOARDS
-1 KORG M3
-1 YAMAHA MOTIF XS8 88 notes
-1 KORG TRITON STUDIO V2
-4 c/w Sustain pedal
-2 Headphones (Sennheiser/Sony/AKG
ABSOLUTELY NO SUBSTITUTIONS
-20 Jack cables
-1 Stereo volume pedal
-3 Double tier keyboard stands (first level 1 m high)
* Depending of the stage size, we need 10 to 14 Rolling Risers (2Mx1M 40cm high).
PATCH
IN
DESIGN
MIC/DI
INS FRONT
1
KICK
Beta91/SM91
COMP
MONITOR
STAND
2
KICK
BETA 52
COMP
Small Boom
3
SN Top
441/SM 57/Beta 57a
COMP
Small Boom
4
SN Bottom
Beta 57a/SM 57
COMP
Small Boom
5
HH
C 414/KM 184/SM 81
Small Boom
6
TOM 1
E 604/Beta 56/421/B57a
Boom
7
TOM 2
E 604/Beta 56/421/B57a
Boom
8
FLOOR TOM
E 604/Beta 56/421/B57a
Small Boom
9
OH
C 414/KM 184/SM 81
Tall Boom
10
OH
C 414/KM 184/SM 81
Tall Boom
11
SABAR 1
Beta 57a/SM 57
Small Boom
12
SABAR 2
Beta 57a/SM 57
Small Boom
13
SABAR 3
Beta 57a/SM 57
Boom
14
DJEMBE Top
Beta 57a/SM 57
Boom
15
DJEMBE Bottom
BETA 52/421/M88
Small Boom
16
DOUM
421/M88
Small Boom
17
OH BELLS
Beta 57a/SM 57
Boom
18
NDER
Beta 98
19
BASS
DI AVALON U5/DI
COMP
20
Cable Length 10 m
BASS
421/609/M88
COMP
21
ELEC GTR 1
ACTIVE DI
COMP
22
ELEC GTR 2
ACTIVE DI
COMP
23
LEAD GTR L
ACTIVE DI
COMP
24
LEAD GTR R
ACTIVE DI
COMP
25
KORG M3 L
ACTIVE DI
26
KORG M3 R
ACTIVE DI
27
MOTIF XS8 L
ACTIVE DI
28
MOTIF XS8 R
ACTIVE DI
29
TRITON L
ACTIVE DI
Small Boom
30
TRITON R
ACTIVE DI
31
DX 7
ACTIVE DI
32
TAMA
Beta 57a/SM 57
COMP
33
M'BAYE VC
UHF-R SM 58/Beta 58a
COMP
Cable Length 10 m
Boom
34
TYRONE VC
SM 58/Beta 58a
COMP
Boom
35
BIRAM VC
SM 58/Beta 58a
COMP
Boom
36
CALI VC
SM 58/Beta 58a
COMP
Boom
37
YOUSSOU VOCAL
OWN UHF/HF KSM9
COMP
Boom
38
SPARE VOCAL
HF KSM9/B.58a
COMP
Boom
*************** USA / CANADA ONLY ******************
5 x 110v – 220v Transformers, terminating in two-pin euro connectors,
and delivering a maximum of 10A each.
5 x6 way breakouts (euro connectors)
Please note the above transformers are ESSENTIAL to the
performance.
*******************************************************
BATTERIES PER SHOW: 6 X 9 VOLT 12 X AA 12 X AAA
LIGHT SPECIFICATIONS





Enough lighting to cover the stage area with a minimum of 4 colour washes, and six profiles.
PLEASE ENSURE SUFFICIENT FRONT LIGHT plus any suitable moving lights / specials.
1 Follow spot and 1 Operator
1 Lighting engineer to operate the show
Note: NO smoke machine to be used during this performance
VARIOUS
2 STAGE FANS (VENTILATEURS) FOR MR. N'DOUR.
HOSPITALITY AND CATERING
This rider pertains to Youssou N'Dour et le/and the Super Etoile de Dakar's (hereinafter referred to as Artist)
engagement and is herein made a part of the attached contract. If you, the Purchaser, deem it necessary to make any
changes to this rider please contact P. Doudou Sarr at Motherland Music prior to making the changes. Purchaser
agrees to meet the following requirements at his/her expense:
1. GENERAL REQUIREMENTS -CONTRACTUAL OBLIGATIONS:
A. The Contract and this Rider may not be changed or modified except by an instrument in writing signed by both
parties. Nothing herein shall require the commission of any act contrary to law, or any other regulation of any union,
guild or similar body having jurisdiction over the services of Artist or the performances, and wherever there is any
conflict between any provision hereof and any law, rule or regulation, then such law shall prevail and the contract
and this rider shall be curtailed, modified or limited only to the
extent necessary to eliminate such conflict.
B. Purchaser hereby warrants and represents that he/she has received permission and appropriate licenses from the
authority controlling the facility in which the engagement is to be held in order to promote this concert. If for any
reason the issuing authorities cancel the permission and/or licenses for this engagement, Artist shall, nevertheless, be
paid the full Contract price. It is specifically understood and agreed that Purchaser's obligations hereunder to pay
Artist shall not be modified or affected.
Boom
C. The Artist will not accept the responsibility for any charges incurred by the Purchaser in meeting all contract
rider requirements including, but not limited to, stagehands, overtime, and transportation.
D. Purchaser agrees to contact P. Doudou Sarr at Motherland Music regarding any difficulties in meeting the above
contract or rider requirements
1. PARKING PROVISIONS: If transportation is not being provided, Purchaser shall provide at no expense to
Artist, overnight parking spaces and 2 (two) x continuous power supplies for 2 (two) full size tour / sleeper busses in
close proximity and with direct access to the stage.
2. SECURITY PROVISIONS: Purchaser shall provide proper security to ensure the safety of the Artist and
Artist's equipment at all times, before, during and after performance.
3. DRESSING ROOM REQUIREMENTS: Purchaser agrees to provide 1 (one) dressing room with private toilet
for Mr. N'Dour, 1 (one) dressing room with private toilet for Mr. N'Dour's female backing vocalist(s) and dancer(s),
and at least 1 (one) large dressing room with private toilet for the musicians. All dressing rooms must be adequately
lit with, full length mirrors, hand towels, toilet paper, soaps, table, chairs, waste basket, etc. plus lock on door with
key available only to ARTIST and/or his representative. Access to WIFI/an internet connection is also appreciated
where possible. Please also provide 2 (two) quality irons with ironing boards, and 2 (two) clothes racks and hangers.
In the event that the dressing rooms do not have private toilet facilities the EMPLOYER must provide the ARTIST
with easy access to private toilet facilities in the venue and as near as possible to the dressing rooms.
4. BACK STAGE PROVISIONS: Purchaser agrees to provide at no expense to Artist on the day of each
performance of the engagement scheduled and for the exclusive use of Artist and/or Artist's representative:
Hot meal provided on site for up to 25 persons to include chicken / roast beef / steak, salads with any salads
dressing, rice, potatoes, tomatoes, green beans and dessert or fruit. NB: absolutely no ham, pork, or associated by
products, and no alcohol must be used in the preparation of the food. Please also provide one vegetarian / fish
option. The hot meal has to be ready two hours before performance until the end of performance, with provisions
made for Mr. N'Dour to eat following the performance where requested.
Dressing room catering to include on technician's arrival:
- Deli-tray for 25 persons with cold cuts NB: absolutely no ham, pork or associated by products,
vegetables (avocado, tomatoes, olives etc.), cheeses, and bread, or sandwiches, as well as a selection of
fruit.
- Assorted fruit juices (apple, orange, cranberry), 24 x bottled still water, variety of soft drinks (regular and
diet). -Good quality, strong coffee with 2 x boxes of sugar cubes, 1 jar of Australian honey and whole milk
(no artificial creamers).
- A variety of teas which must include: English Breakfast tea, green tea, mint tea, Chinese Gunpowder tea
(loose), and lemon and ginger tea.
- Twenty four (24) bottles of premium beer, two (2) bottles of quality red wine (locally sourced or
Australian or South American), one (1) bottle of quality white wine (locally sourced or Australian or South
American), two (2) bottles of single malt whiskey.
5. STAGE REQUIREMENTS: Purchaser to provide 25 medium clean, black towels and 24 small bottles of still
water for the bands exclusive use during the performance.
6. INTERVIEWS: All interviews for the news media require approval of the Artist or Artist's representative prior
to concert date. Interviews to be conducted by authorized press personnel only.
7. PHOTOS: Purchaser agrees to prohibit the use of any flash cameras on or off-stage except when specifically
approved by Artist.
8. AUDIO/VIDEO RECORDING PROVISIONS: There is to be no audio or visual recording of the performance
without the express written permission of the Artist or Artist's management.
9. MERCHANDISING PROVISIONS: Artist shall have the sole and exclusive right to sell souvenir posters,
programs and all other merchandise directly pertaining to and/or bearing the likeness of Artist, inclusive of Artist's
recordings, at the performance and to retain 100% of the receipts there from. Artist requests a table and volunteer to
help with sales. Purchaser shall not use the likeness of Artist in any way other than to promote the engagement of
Artist without the express written permission of Artist or Artist's representative. Accordingly, Purchaser is
prohibited from selling any merchandise bearing the name and/or likeness of Artist or any member of Artist without
the express written permission of Artist or Artist's Management representative. It is the sole responsibility of
Purchaser to enforce this clause.
10. INSURANCE REQUIREMENTS:
A. Purchaser must carry public liability and property damage insurance with sufficiently high limits to adequately
insure against bodily injury, death, or loss of or damage to property in connection with a part of the performance.
B. Purchaser shall also indemnify Artist against any and all loss, damage and/or destruction occurring to Artist, their
employees, contractors and agents, and equipment at the venue, including but not limited to damage or destruction
due to acts of God.