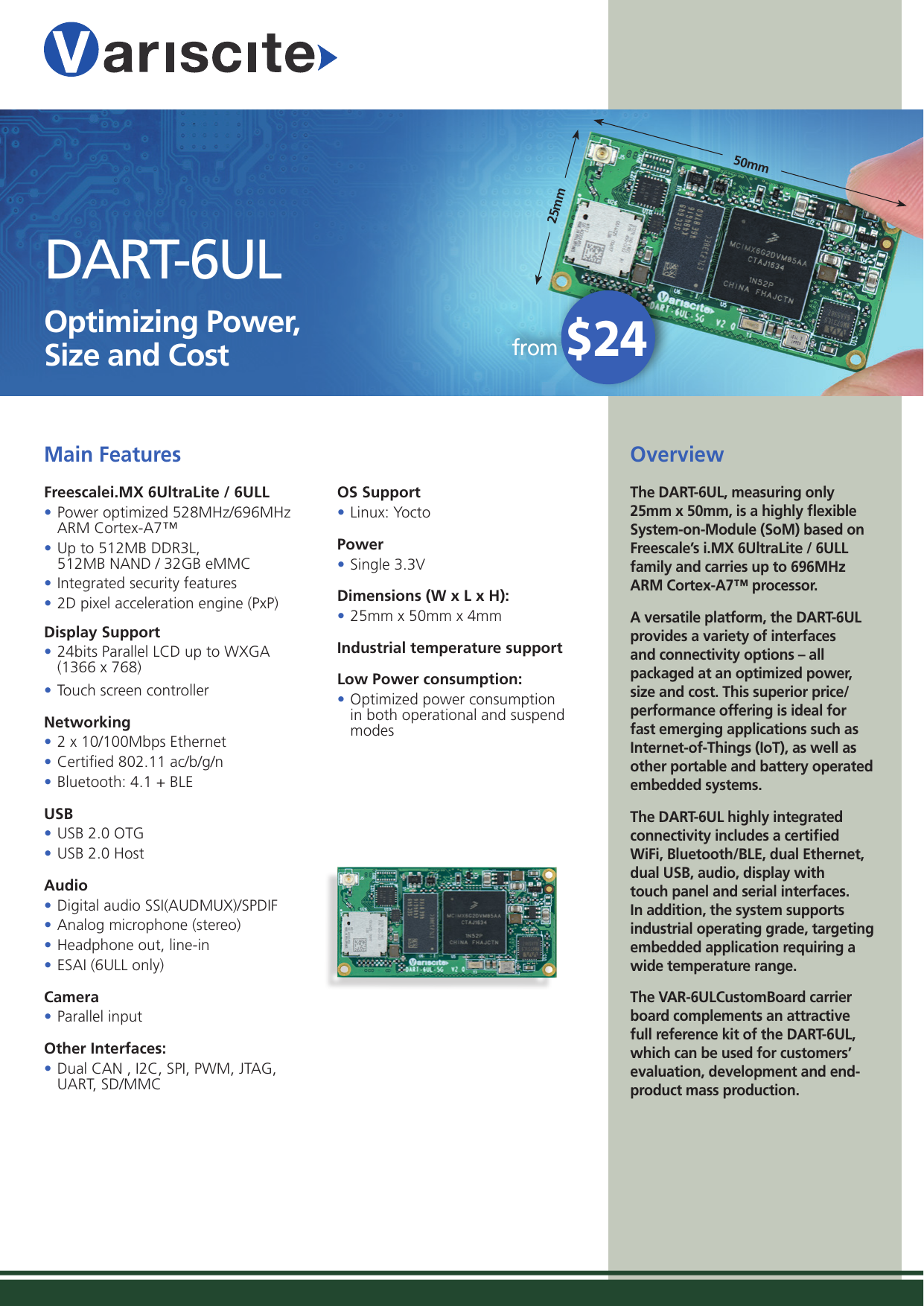 25m
m
50mm
DART-6UL
Optimizing Power,
Size and Cost
from
Main Features
Freescalei.MX 6UltraLite / 6ULL
•Power optimized 528MHz/696MHz
ARM Cortex-A7™
•Up to 512MB DDR3L,
512MB NAND / 32GB eMMC
•Integrated security features
•2D pixel acceleration engine (PxP)
Display Support
•24bits Parallel LCD up to WXGA
(1366 x 768)
•Touch screen controller
Networking
•2 x 10/100Mbps Ethernet
•Certified 802.11 ac/b/g/n
•Bluetooth: 4.1 + BLE
USB
•USB 2.0 OTG
•USB 2.0 Host
Audio
•Digital audio SSI(AUDMUX)/SPDIF
•Analog microphone (stereo)
•Headphone out, line-in
•ESAI (6ULL only)
Camera
•Parallel input
Other Interfaces:
•Dual CAN , I2C, SPI, PWM, JTAG,
UART, SD/MMC
$24
Overview
OS Support
•Linux: Yocto
Power
•Single 3.3V
Dimensions (W x L x H):
•25mm x 50mm x 4mm
Industrial temperature support
Low Power consumption:
•Optimized power consumption
in both operational and suspend
modes
The DART-6UL, measuring only
25mm x 50mm, is a highly flexible
System-on-Module (SoM) based on
Freescale's i.MX 6UltraLite / 6ULL
family and carries up to 696MHz
ARM Cortex-A7™ processor.
A versatile platform, the DART-6UL
provides a variety of interfaces
and connectivity options – all
packaged at an optimized power,
size and cost. This superior price/
performance offering is ideal for
fast emerging applications such as
Internet-of-Things (IoT), as well as
other portable and battery operated
embedded systems.
The DART-6UL highly integrated
connectivity includes a certified
WiFi, Bluetooth/BLE, dual Ethernet,
dual USB, audio, display with
touch panel and serial interfaces.
In addition, the system supports
industrial operating grade, targeting
embedded application requiring a
wide temperature range.
The VAR-6ULCustomBoard carrier
board complements an attractive
full reference kit of the DART-6UL,
which can be used for customers'
evaluation, development and endproduct mass production.
Complementing the DART-6UL
VAR-DVK-6UL Evaluation Kit
Overview
The VAR-DVK-6UL allows full
performance and capability evaluation,
serving as a evaluation, development
and production platform for hardware
and software teams.
Evaluation Kit content
•VAR-6ULCustomBoard populated
with DART-6UL
•7" LCD + capacitive touch panel
•Power supply and communication
cables
•Documentation and design package
VAR-6ULCustomBoard
Overview
VAR-6ULCustomBoard - Supporting DART-6UL
The VAR-6ULCustomBoard ensures a scalable and simplified development
and reference board to achieve a short time-to-market for customer's designs
and end-products.
Display Support
•24-bit RGB
•18-bit LVDS
Touch Panel
•Capacitive touch support
(6-pin FFC/FPC)
•Resistive touch support (via header)
Audio
•Headphone
•Line-in
Variscite DART-6UL 062017 | Design: SRVC.co.il
USB
•2 x USB 2.0 host
•Optional 1 x USB OTG
Ethernet
•2 x 10/100Mbps Ethernet RJ45
Storage
•SD/MMC card socket
Additional expansion Connectors
•SPI, I2C
•CAN Bus
•UART, RS232
•Digital Audio
•PWM
Debug
•Micro USB
•JTAG (header)
RTC backup battery
•CR1225 coin battery socket
Power
•5V DC input
Size
•7cm x 10cm
About Variscite
Variscite is a leading System on Modules (SoM) and Single-Board-Computer (SBC) design and manufacture
company. A trusted provider of development and consulting services for a variety of embedded platforms,
Variscite transforms clients' visions into successful products.
For more information contact:
sales@variscite.com
www.variscite.com
Copyright ©2017 Variscite. All rights reserved. Variscite Ltd. logos and product names are registered trademarks of Variscite Ltd. No part of this document may be reproduced by any means, nor translated to any electronic medium
without the written consent of Variscite. Information contained in this document is believed to be accurate and reliable; however, Variscite assumes no responsibility for its use. Specifications are subject to change without notice.

* Your assessment is very important for improving the work of artificial intelligence, which forms the content of this project