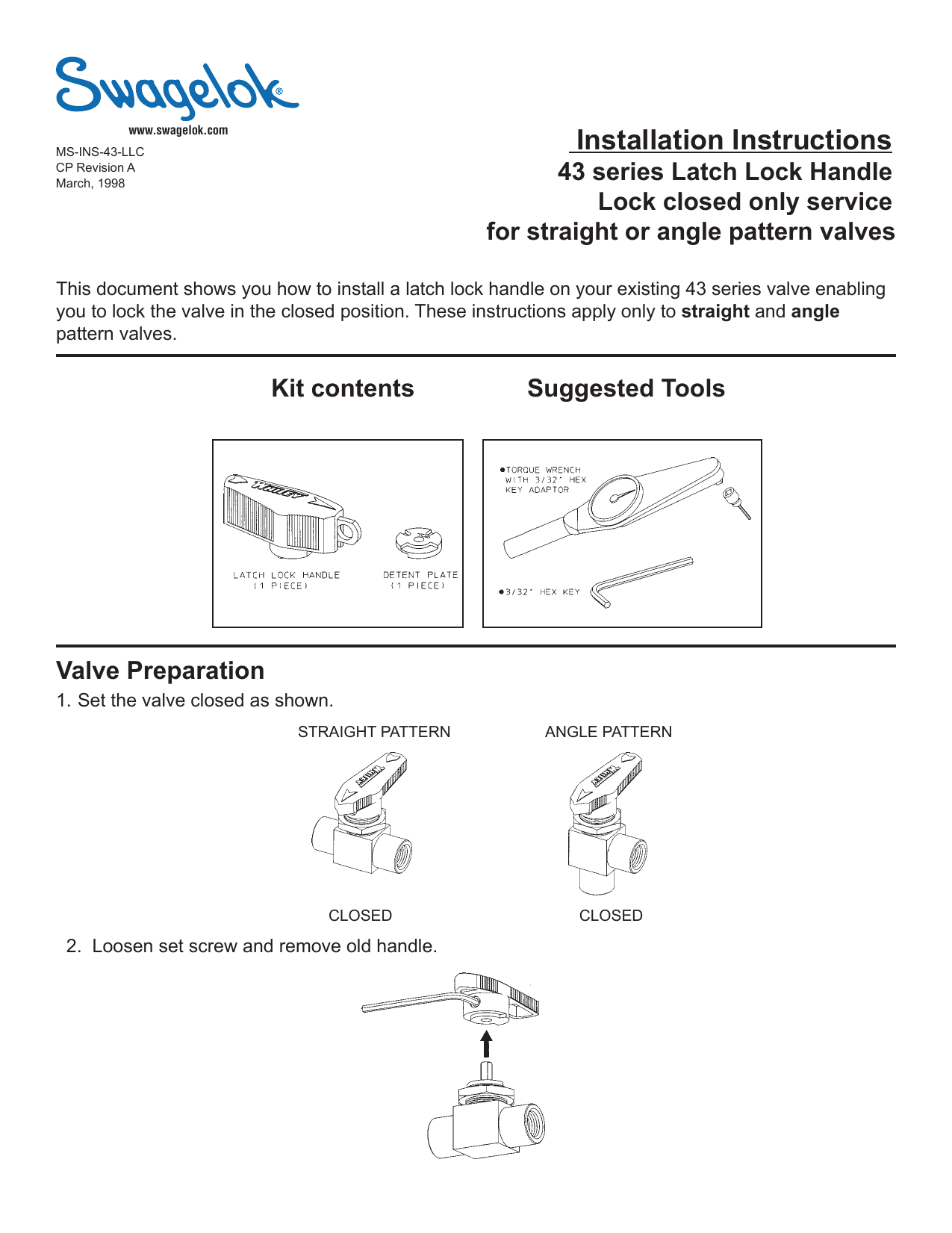 www.swagelok.com
Installation Instructions
MS-INS-43-LLC
CP Revision A
March, 1998
43 series Latch Lock Handle
Lock closed only service
for straight or angle pattern valves
This document shows you how to install a latch lock handle on your existing 43 series valve enabling
you to lock the valve in the closed position. These instructions apply only to straight and angle
pattern valves.
Kit contents
Suggested Tools
Valve Preparation
1. Set the valve closed as shown.
STRAIGHT PATTERN
CLOSED
2. Loosen set screw and remove old handle.
ANGLE PATTERN
CLOSED
Installation
1. Slide detent plate over stem with the word "TOP" facing up. Relief on bottom of detent
plate fits over handle stop on valve.
2. Line up set screw with stem flat and install latch lock handle. Make sure stop lug is in groove
on detent plate and lock pin is in the slot on detent plate.
3. Tighten set screw to 30-35 in-lbs.
Operation
1. Depress trigger all the way into handle.
2. Begin turning handle and release trigger.
3. Continue turning handle until the valve is
in the open position. (The handle will not
"click" back into the open position.)
4. Turn handle back until it "clicks" into the
closed position.
5. Valve can be locked out in the closed
position by placing a padlock or locking
device through hole in trigger.

* Your assessment is very important for improving the work of artificial intelligence, which forms the content of this project