EPS 1208 - Energy Matters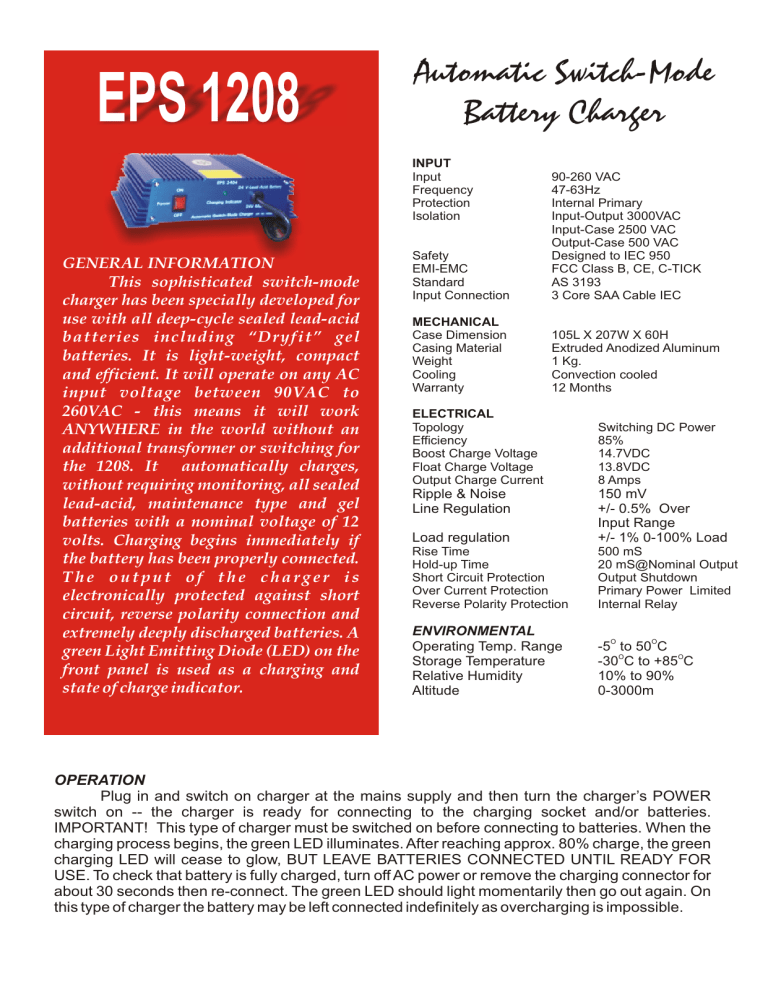 EPS 1208
Automatic Switch-Mode
Battery Charger
INPUT
Input
Frequency
Protection
Isolation
GENERAL INFORMATION
This sophisticated switch-mode
charger has been specially developed for
use with all deep-cycle sealed lead-acid
batteries including "Dryfit" gel
batteries. It is light-weight, compact
and efficient. It will operate on any AC
input voltage between 90VAC to
260VAC - this means it will work
ANYWHERE in the world without an
additional transformer or switching for
the 1208. It automatically charges,
without requiring monitoring, all sealed
lead-acid, maintenance type and gel
batteries with a nominal voltage of 12
volts. Charging begins immediately if
the battery has been properly connected.
The output of the charger is
electronically protected against short
circuit, reverse polarity connection and
extremely deeply discharged batteries. A
green Light Emitting Diode (LED) on the
front panel is used as a charging and
state of charge indicator.
Safety
EMI-EMC
Standard
Input Connection
90-260 VAC
47-63Hz
Internal Primary
Input-Output 3000VAC
Input-Case 2500 VAC
Output-Case 500 VAC
Designed to IEC 950
FCC Class B, CE, C-TICK
AS 3193
3 Core SAA Cable IEC
MECHANICAL
Case Dimension
Casing Material
Weight
Cooling
Warranty
105L X 207W X 60H
Extruded Anodized Aluminum
1 Kg.
Convection cooled
12 Months
ELECTRICAL
Topology
Efficiency
Boost Charge Voltage
Float Charge Voltage
Output Charge Current
Ripple & Noise
Line Regulation
Switching DC Power
85%
14.7VDC
13.8VDC
8 Amps
Load regulation
150 mV
+/- 0.5% Over
Input Range
+/- 1% 0-100% Load
Rise Time
Hold-up Time
Short Circuit Protection
Over Current Protection
Reverse Polarity Protection
500 mS
20 [email protected] Output
Output Shutdown
Primary Power Limited
Internal Relay
ENVIRONMENTAL
Operating Temp. Range
Storage Temperature
Relative Humidity
Altitude
-5O to 50OC
-30OC to +85OC
10% to 90%
0-3000m
OPERATION
Plug in and switch on charger at the mains supply and then turn the charger's POWER
switch on -- the charger is ready for connecting to the charging socket and/or batteries.
IMPORTANT! This type of charger must be switched on before connecting to batteries. When the
charging process begins, the green LED illuminates. After reaching approx. 80% charge, the green
charging LED will cease to glow, BUT LEAVE BATTERIES CONNECTED UNTIL READY FOR
USE. To check that battery is fully charged, turn off AC power or remove the charging connector for
about 30 seconds then re-connect. The green LED should light momentarily then go out again. On
this type of charger the battery may be left connected indefinitely as overcharging is impossible.

* Your assessment is very important for improving the work of artificial intelligence, which forms the content of this project