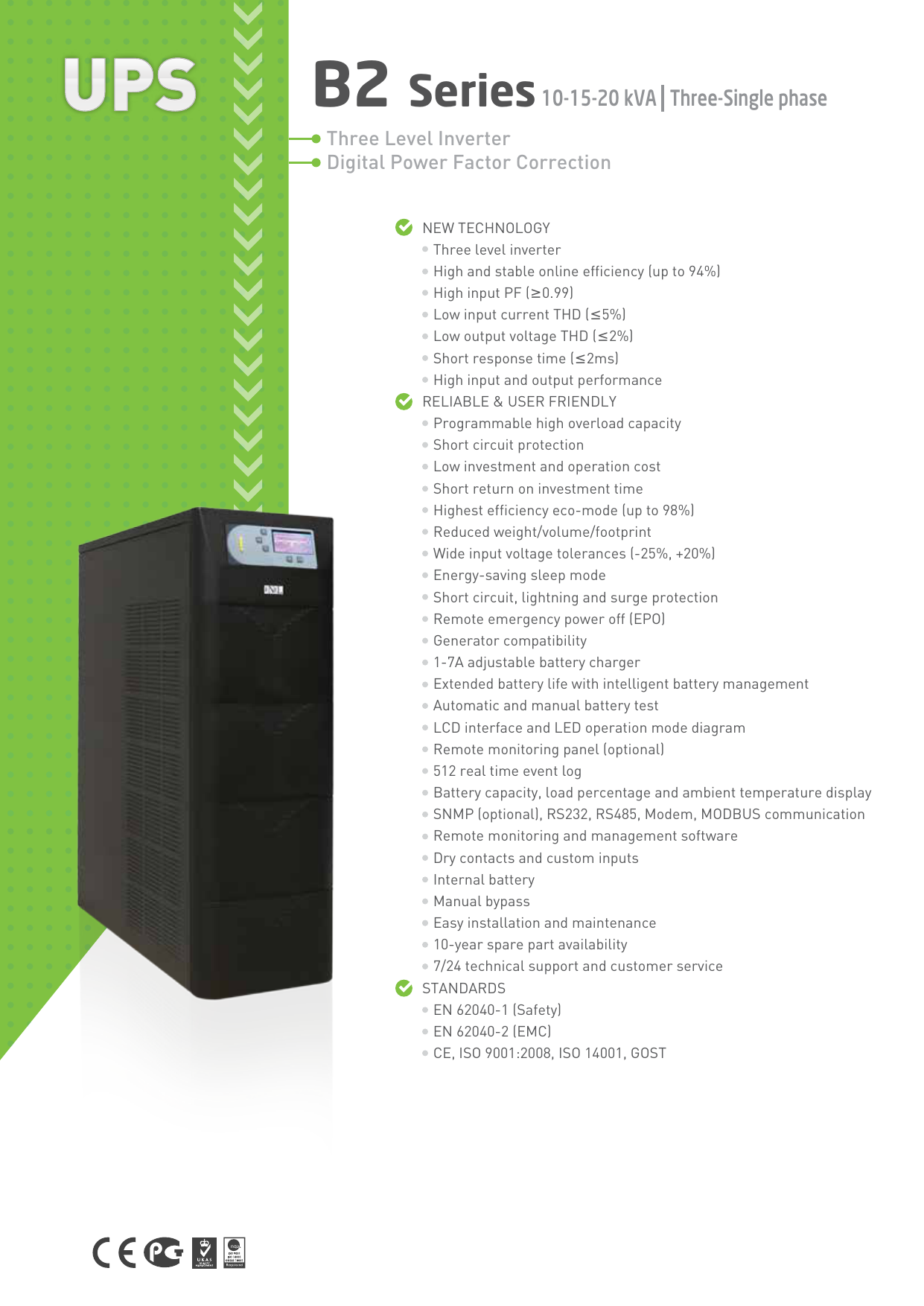 B2 Series
10-15-20 kVA Three-Single phase
Three Level Inverter
Digital Power Factor Correction
NEW TECHNOLOGY
Three level inverter
High and stable online efficiency (up to 94%)
High input PF (≥0.99)
Low input current THD (≤5%)
Low output voltage THD (≤2%)
Short response time (≤2ms)
High input and output performance
RELIABLE & USER FRIENDLY
Programmable high overload capacity
Short circuit protection
Low investment and operation cost
Short return on investment time
Highest efficiency eco-mode (up to 98%)
Reduced weight/volume/footprint
Wide input voltage tolerances (-25%, +20%)
Energy-saving sleep mode
Short circuit, lightning and surge protection
Remote emergency power off (EPO)
Generator compatibility
1-7A adjustable battery charger
Extended battery life with intelligent battery management
Automatic and manual battery test
LCD interface and LED operation mode diagram
Remote monitoring panel (optional)
512 real time event log
Battery capacity, load percentage and ambient temperature display
SNMP (optional), RS232, RS485, Modem, MODBUS communication
Remote monitoring and management software
Dry contacts and custom inputs
Internal battery
Manual bypass
Easy installation and maintenance
10-year spare part availability
7/24 technical support and customer service
STANDARDS
EN 62040-1 (Safety)
EN 62040-2 (EMC)
CE, ISO 9001:2008, ISO 14001, GOST
B2 SERIES
UPS TECHNICAL SPECIFICATIONS
10
POWER kVA
Voltage
-25%, +20% (without downgrading)
Frequency
50 / 60 Hz
Frequency tolerances
± 10%
Power factor
≥ 0.99
THDi
< 7%
220 / 230 / 240 Vac 1ph + N
Voltage
Voltage tolerances
± 1% (static load), dynamic load in accordance with VFI-SS-11
50 / 60 Hz
Frequency
OUTPUT
± 0,1% (self-synchronize), ± 1% (mains-synchronize)
Frequency tolerances
0,8 (0,9 optional)
Power factor
≤ 2% (linear load), ≤ 5% (non-linear load)
THDv
3:1
Crest factor
OVERLOAD
CAPACITY
EFFICIENCY
≤ %110
30 min.
≤ %130
10 min.
≤ %150
1 min.
Online
up to
Eco-mode
up to
Three level inverter, PFC
Technology
Dual-DSP, SPWM
Control
SNMP (optional), RS232, RS485, Modem, MODBUS
Communication
SNMPView, Remote monitoring panel (optional)
Remote monitoring
GENERAL
Programmable 3 dry contact
Dry contacts
Generator, Remote EPO, Remote Start/Stop
Custom inputs
Standard
Maintenance bypass
Operating temperature
ENVIRONMENT
from 0 °C up to +40 °C (from 20 °C to 25 °C for maximum battery life)
Relative humidity
0% - 85% (without condensation)
Maximum altitude
≤ 2000 m
Noise level
< 55 dB (A)
255 x 730 x 870
Dimensions (W x D x H) (mm)
UPS CABINET
Weight (kg)
Degree of protection
Colour
Internal Battery quantity
BATTERY
Internal Battery capacity (Ah)
External Battery Cabinet Socket
STANDARDS
UPS LIFETIME
20
380 / 400 / 415 Vac 3ph + N
Voltage tolerances
INPUT
15
46
49
51
IP20
RAL9005
30
7-9
Standard
Safety
EN 62040-1
EMC
EN 62040-2
10 Years
ELEN reserves the right, at its sole discretion, to change, amend and modify the information given above without prior notice.

* Your assessment is very important for improving the work of artificial intelligence, which forms the content of this project