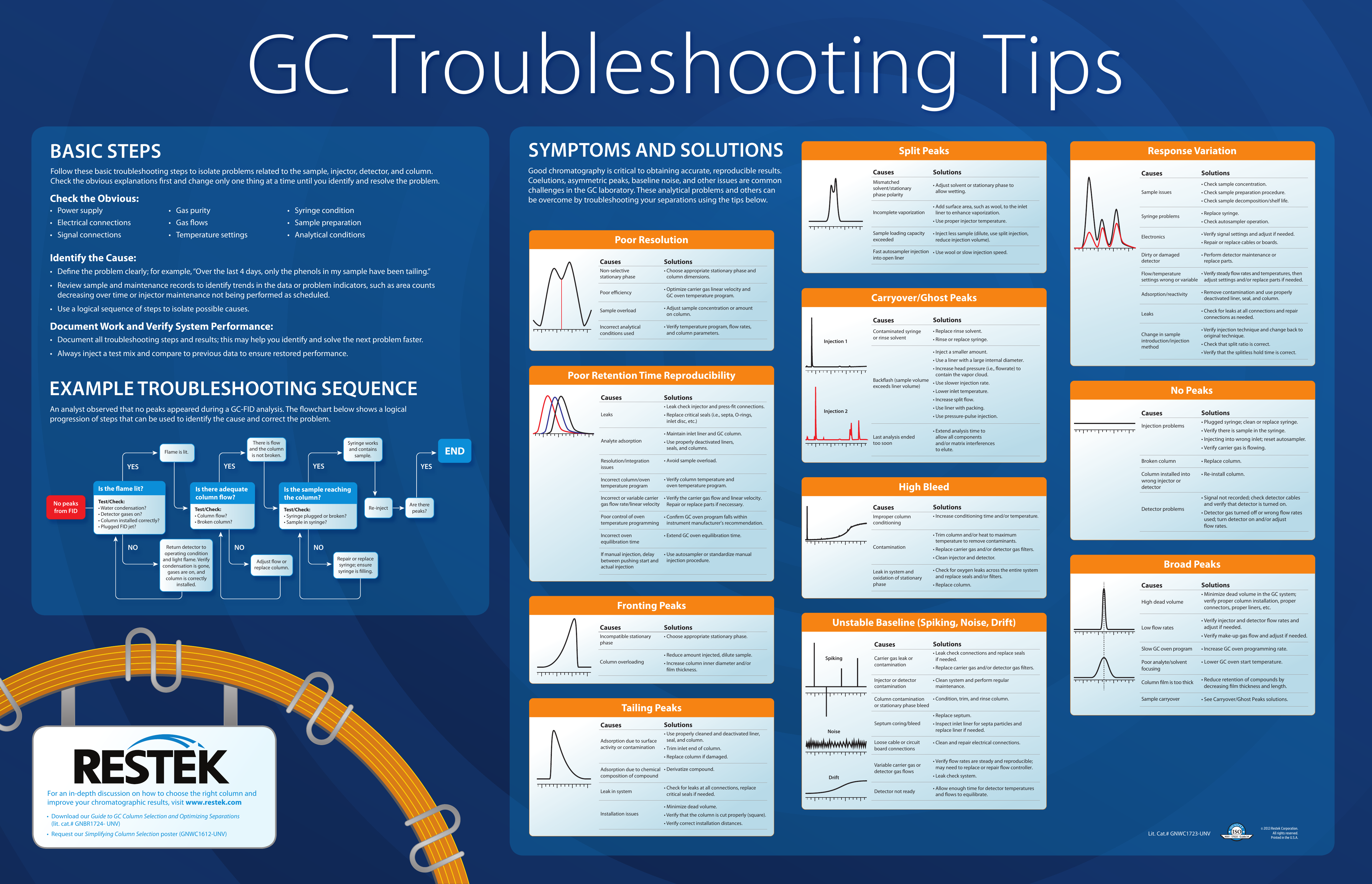 GC Troubleshooting Tips
BASIC STEPS
SYMPTOMS AND SOLUTIONS
Follow these basic troubleshooting steps to isolate problems related to the sample, injector, detector, and column.
Check the obvious explanations first and change only one thing at a time until you identify and resolve the problem.
Good chromatography is critical to obtaining accurate, reproducible results.
Coelutions, asymmetric peaks, baseline noise, and other issues are common
challenges in the GC laboratory. These analytical problems and others can
be overcome by troubleshooting your separations using the tips below.
Check the Obvious:
• Power supply
• Electrical connections
• Signal connections
• Gas purity
• Gas flows
• Temperature settings
• Syringe condition
• Sample preparation
• Analytical conditions
Split Peaks
Causes
Solutions
Causes
Mismatched
solvent/stationary
phase polarity
• Adjust solvent or stationary phase to
allow wetting.
Sample issues
Incomplete vaporization
Identify the Cause:
Causes
Solutions
• Define the problem clearly; for example, "Over the last 4 days, only the phenols in my sample have been tailing."
Non-selective
stationary phase
• Choose appropriate stationary phase and
column dimensions.
• Review sample and maintenance records to identify trends in the data or problem indicators, such as area counts
decreasing over time or injector maintenance not being performed as scheduled.
Poor efficiency
• Optimize carrier gas linear velocity and
GC oven temperature program.
• Use a logical sequence of steps to isolate possible causes.
Sample overload
• Adjust sample concentration or amount
on column.
Incorrect analytical
conditions used
• Verify temperature program, flow rates,
and column parameters.
Document Work and Verify System Performance:
• Document all troubleshooting steps and results; this may help you identify and solve the next problem faster.
Sample loading capacity
exceeded
Carryover/Ghost Peaks
Causes
Solutions
Contaminated syringe
or rinse solvent
• Replace rinse solvent.
Is the flame lit?
No peaks
from FID
Test/Check:
• Water condensation?
• Detector gases on?
• Column installed correctly?
• Plugged FID jet?
Causes
Leaks
• Replace critical seals (i.e., septa, O-rings,
inlet disc, etc.)
NO
Return detector to
operating condition
and light flame. Verify
condensation is gone,
gases are on, and
column is correctly
installed.
Analyte adsorption
END
YES
Test/Check:
• Syringe plugged or broken?
• Sample in syringe?
NO
Re-inject
NO
Adjust flow or
replace column.
Syringe problems
• Replace syringe.
• Check autosampler operation.
• Verify signal settings and adjust if needed.
Electronics
• Repair or replace cables or boards.
Dirty or damaged
detector
• Perform detector maintenance or
replace parts.
Adsorption/reactivity
• Remove contamination and use properly
deactivated liner, seal, and column.
Leaks
• Check for leaks at all connections and repair
connections as needed.
Change in sample
introduction/injection
method
• Verify injection technique and change back to
original technique.
• Check that split ratio is correct.
• Verify that the splitless hold time is correct.
Repair or replace
syringe; ensure
syringe is filling.
Are there
peaks?
No Peaks
• Increase split flow.
• Use liner with packing.
Injection 2
• Use pressure-pulse injection.
Last analysis ended
too soon
• Use properly deactivated liners,
seals, and columns.
• Extend analysis time to
allow all components
and/or matrix interferences
to elute.
Solutions
Causes
Injection problems
• Plugged syringe; clean or replace syringe.
• Verify there is sample in the syringe.
• Injecting into wrong inlet; reset autosampler.
• Verify carrier gas is flowing.
Resolution/integration
issues
• Avoid sample overload.
Broken column
• Replace column.
Incorrect column/oven
temperature program
• Verify column temperature and
oven temperature program.
Column installed into
wrong injector or
detector
• Re-install column.
High Bleed
Incorrect or variable carrier • Verify the carrier gas flow and linear velocity.
gas flow rate/linear velocity Repair or replace parts if neccessary.
Poor control of oven
• Confirm GC oven program falls within
temperature programming instrument manufacturer's recommendation.
Incorrect oven
equilibration time
• Extend GC oven equilibration time.
If manual injection, delay
between pushing start and
actual injection
• Use autosampler or standardize manual
injection procedure.
Causes
Solutions
Improper column
conditioning
• Increase conditioning time and/or temperature.
Contamination
Solutions
Incompatible stationary
phase
• Choose appropriate stationary phase.
Column overloading
• Increase column inner diameter and/or
film thickness.
• Replace column.
Spiking
Carrier gas leak or
contamination
Adsorption due to surface
activity or contamination
• Use properly cleaned and deactivated liner,
seal, and column.
Leak in system
• Download our Guide to GC Column Selection and Optimizing Separations
(lit. cat.# GNBR1724- UNV)
Installation issues
• Check for leaks at all connections, replace
critical seals if needed.
High dead volume
Low flow rates
• Verify injector and detector flow rates and
adjust if needed.
Slow GC oven program
• Increase GC oven programming rate.
• Replace carrier gas and/or detector gas filters.
Poor analyte/solvent
focusing
• Lower GC oven start temperature.
• Clean system and perform regular
maintenance.
Column film is too thick
• Reduce retention of compounds by
decreasing film thickness and length.
Sample carryover
• See Carryover/Ghost Peaks solutions.
• Leak check connections and replace seals
if needed.
Septum coring/bleed
• Inspect inlet liner for septa particles and
replace liner if needed.
Loose cable or circuit
board connections
• Clean and repair electrical connections.
Noise
• Replace column if damaged.
For an in-depth discussion on how to choose the right column and
improve your chromatographic results, visit www.restek.com
Solutions
• Minimize dead volume in the GC system;
verify proper column installation, proper
connectors, proper liners, etc.
• Replace septum.
• Trim inlet end of column.
Adsorption due to chemical • Derivatize compound.
composition of compound
Solutions
• Condition, trim, and rinse column.
Column contamination
or stationary phase bleed
Tailing Peaks
Solutions
Causes
• Verify make-up gas flow and adjust if needed.
Injector or detector
contamination
Causes
Broad Peaks
• Check for oxygen leaks across the entire system
and replace seals and/or filters.
Unstable Baseline (Spiking, Noise, Drift)
Causes
• Reduce amount injected, dilute sample.
• Detector gas turned off or wrong flow rates
used; turn detector on and/or adjust
flow rates.
• Replace carrier gas and/or detector gas filters.
• Clean injector and detector.
Leak in system and
oxidation of stationary
phase
Causes
Detector problems
• Signal not recorded; check detector cables
and verify that detector is turned on.
• Trim column and/or heat to maximum
temperature to remove contaminants.
Fronting Peaks
• Request our Simplifying Column Selection poster (GNWC1612-UNV)
• Check sample decomposition/shelf life.
Backflash (sample volume
• Use slower injection rate.
exceeds liner volume)
• Lower inlet temperature.
Solutions
• Leak check injector and press-fit connections.
Is the sample reaching
the column?
Test/Check:
• Column flow?
• Broken column?
• Check sample preparation procedure.
• Increase head pressure (i.e., flowrate) to
contain the vapor cloud.
Poor Retention Time Reproducibility
Syringe works
and contains
sample.
YES
Is there adequate
column flow?
• Check sample concentration.
• Use a liner with a large internal diameter.
• Maintain inlet liner and GC column.
YES
• Rinse or replace syringe.
• Inject a smaller amount.
An analyst observed that no peaks appeared during a GC-FID analysis. The flowchart below shows a logical
progression of steps that can be used to identify the cause and correct the problem.
YES
Solutions
• Verify steady flow rates and temperatures, then
Flow/temperature
settings wrong or variable adjust settings and/or replace parts if needed.
Injection 1
EXAMPLE TROUBLESHOOTING SEQUENCE
Flame is lit.
• Inject less sample (dilute, use split injection,
reduce injection volume).
Fast autosampler injection • Use wool or slow injection speed.
into open liner
• Always inject a test mix and compare to previous data to ensure restored performance.
There is flow
and the column
is not broken.
• Add surface area, such as wool, to the inlet
liner to enhance vaporization.
• Use proper injector temperature.
Poor Resolution
Response Variation
Drift
Variable carrier gas or
detector gas flows
Detector not ready
• Verify flow rates are steady and reproducible;
may need to replace or repair flow controller.
• Leak check system.
• Allow enough time for detector temperatures
and flows to equilibrate.
• Minimize dead volume.
• Verify that the column is cut properly (square).
• Verify correct installation distances.
Lit. Cat.# GNWC1723-UNV
© 2013 Restek Corporation.
All rights reserved.
Printed in the U.S.A.