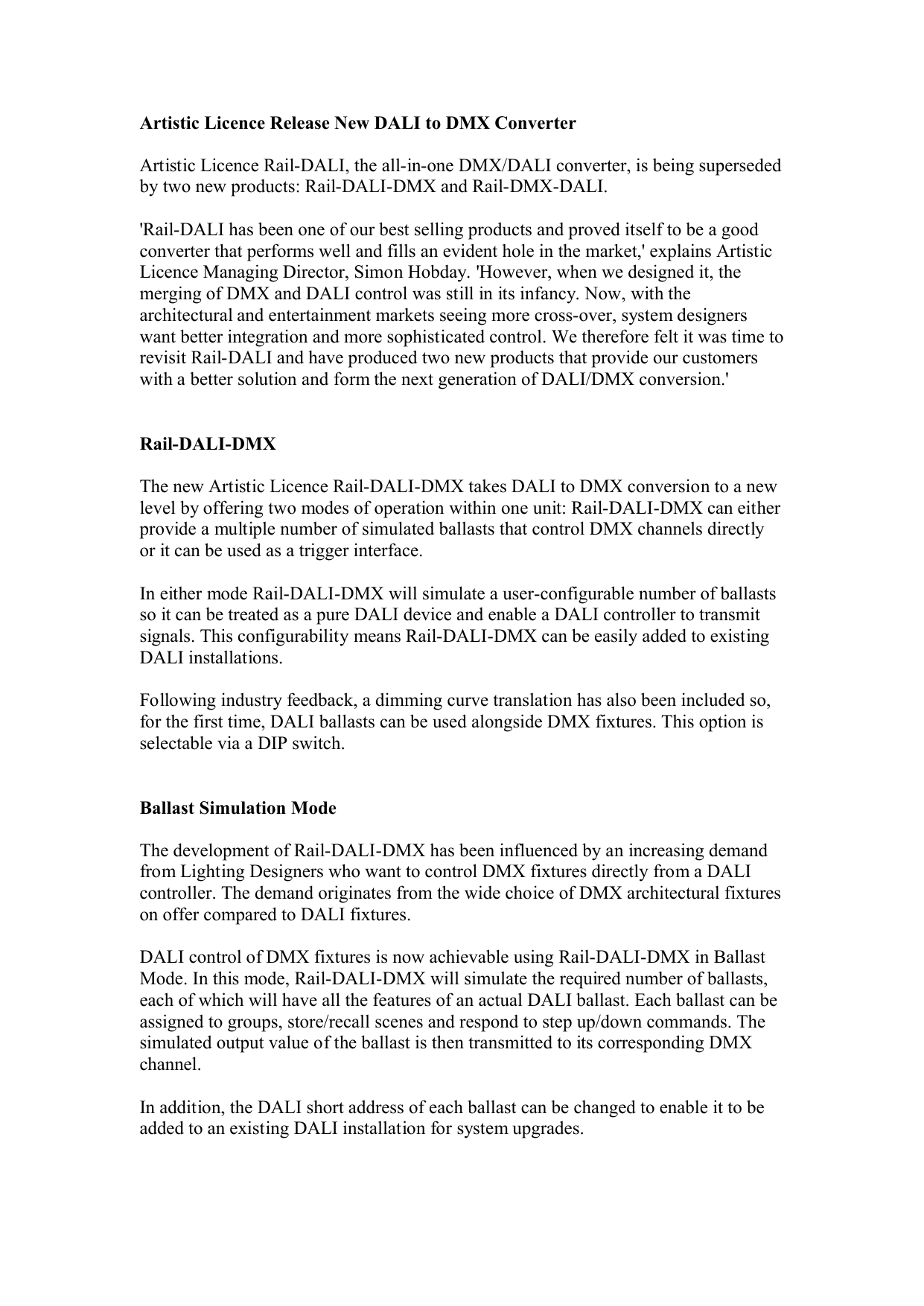 Artistic Licence Release New DALI to DMX Converter
Artistic Licence Rail-DALI, the all-in-one DMX/DALI converter, is being superseded
by two new products: Rail-DALI-DMX and Rail-DMX-DALI.
'Rail-DALI has been one of our best selling products and proved itself to be a good
converter that performs well and fills an evident hole in the market,' explains Artistic
Licence Managing Director, Simon Hobday. 'However, when we designed it, the
merging of DMX and DALI control was still in its infancy. Now, with the
architectural and entertainment markets seeing more cross-over, system designers
want better integration and more sophisticated control. We therefore felt it was time to
revisit Rail-DALI and have produced two new products that provide our customers
with a better solution and form the next generation of DALI/DMX conversion.'
Rail-DALI-DMX
The new Artistic Licence Rail-DALI-DMX takes DALI to DMX conversion to a new
level by offering two modes of operation within one unit: Rail-DALI-DMX can either
provide a multiple number of simulated ballasts that control DMX channels directly
or it can be used as a trigger interface.
In either mode Rail-DALI-DMX will simulate a user-configurable number of ballasts
so it can be treated as a pure DALI device and enable a DALI controller to transmit
signals. This configurability means Rail-DALI-DMX can be easily added to existing
DALI installations.
Following industry feedback, a dimming curve translation has also been included so,
for the first time, DALI ballasts can be used alongside DMX fixtures. This option is
selectable via a DIP switch.
Ballast Simulation Mode
The development of Rail-DALI-DMX has been influenced by an increasing demand
from Lighting Designers who want to control DMX fixtures directly from a DALI
controller. The demand originates from the wide choice of DMX architectural fixtures
on offer compared to DALI fixtures.
DALI control of DMX fixtures is now achievable using Rail-DALI-DMX in Ballast
Mode. In this mode, Rail-DALI-DMX will simulate the required number of ballasts,
each of which will have all the features of an actual DALI ballast. Each ballast can be
assigned to groups, store/recall scenes and respond to step up/down commands. The
simulated output value of the ballast is then transmitted to its corresponding DMX
channel.
In addition, the DALI short address of each ballast can be changed to enable it to be
added to an existing DALI installation for system upgrades.
Finally, Rail-DALI-DMX will also respond to DALI Status commands so monitoring
software can be used to check the efficiency of the system and achieve full
integration.
Trigger Mode
Rail-DALI-DMX, when used in Trigger Mode, serves as an interface between DALI
and DMX systems. In this mode Rail-DALI-DMX bridges the gap between the simple
on/off function of a commercial lighting controller and the more sophisticated control
of decorative lighting effects offered by DMX control.
A prime example would be in an office environment where lighting is controlled by
an existing DALI controller and has recently been installed with an LED pixel wall. It
is not possible to control the LED pixel wall using DALI, since a DALI controller
cannot control so many fixtures and is too slow to run a program of effects. However,
the simple installation of a Rail-DALI-DMX converter makes it possible to control
the wall using the existing DALI control system.
This is achieved by Rail-DALI-DMX simulating a single ballast and then monitoring
the commands sent to this ballast. The values and commands are split out into
channel, group and scene values and sent via DMX. Within the DMX signals there is
a block of channel values, a block of 16 channels for group values and a single
channel used for Scene Commands. These values are then used by the DMX
controller as trigger values to run 'shows' for the LED pixel wall.
DALI-Scope
A Rail-DALI-DMX needs to be configured before use. A DALI commissioning tool,
such as a DALI-Scope, is used to set a short address, assign ballasts to groups and sets
scenes.

* Your assessment is very important for improving the work of artificial intelligence, which forms the content of this project