ac2000 security hub is a powerful, unified security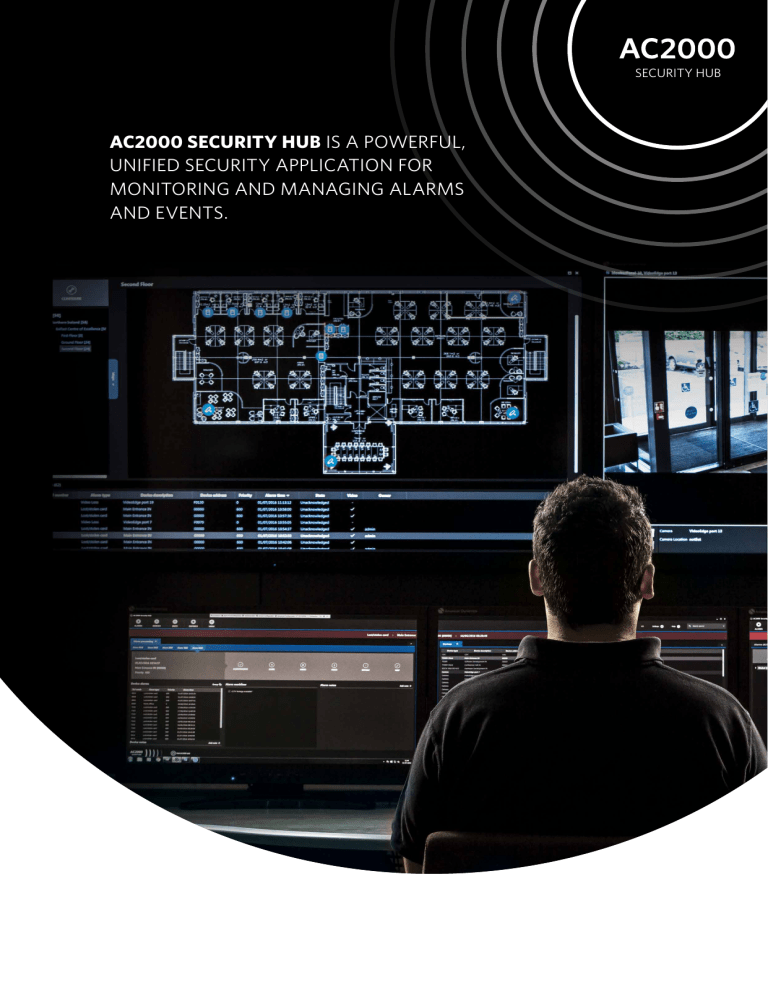 SECURITY HUB
AC2000 SECURITY HUB IS A POWERFUL,
UNIFIED SECURITY APPLICATION FOR
MONITORING AND MANAGING ALARMS
AND EVENTS.
SECURITY HUB IS THE CENTRALIZED ALARM AND EVENT
MANAGEMENT APPLICATION FOR AC2000; SEAMLESSLY BLENDING
IP SECURITY SURVEILLANCE SYSTEMS AND ALARM PROCESSING
INTO A SINGLE, SIMPLE AND INTUITIVE USER INTERFACE.
With it's highly configurable central command and control interface, AC2000 Security Hub manages all events and
alarms within the AC2000 access control system and its highly integrated sub-systems; including video, fire, intruder
and building management systems.
AC2000 Security Hub helps businesses:
• simplify security operations
• reduce risk and response times to critical events
• increase situational awareness
• improve alarm accountability
Seeing is believing. Request your demo today!
SECURITY HUB
UNIFIED COMMAND AND CONTROL
AC2000 SECURITY HUB IS ONE INTERFACE FOR ALL COMMAND
AND CONTROL FUNCTIONS, OFFERING BETTER VISION OF
PRIORITY ALARMS TO IMPROVE SECURITY AND HELP
INCREASE OPERATIONAL EFFICIENCY.
SECURITY HUB TRANSMITS REAL-TIME GRAPHICAL, AUDIO
AND TEXT-BASED INFORMATION ON ALL ALARMS THAT OCCUR
WITHIN AC2000 SECURITY MANAGEMENT SYSTEM AND ITS
INTEGRATED SYSTEMS.
IN ONE ALARM AND EVENT MANAGEMENT APPLICATION
SECURITY PERSONNEL CAN PROCESS ALARMS, VIEW ASSOCIATED
VIDEO, RUN AD HOC REPORTS AND SO MUCH MORE.
*Requires supported AC2000 video integration license. ** Requires AC2000 Security Hub Maps license
GRAPHICAL MAPS
INTEGRATED SYSTEMS
Maps, Icons and Sounds: User
friendly graphical maps, icon type,
style, colour, angle, annunciation,
and sounds can be configured to
meet your needs.**
AC2000 Security Hub provides monitoring and
processing of alarms and events across multiple security
systems including access, video, intrusion, fire and
building management systems.
SIMPLE & INTUITIVE
EASILY CONFIGURABLE
A powerful and highly intuitive user interface that can
handle advanced alarm and event functionality and
processes. The security of your site is clearly visible
and more manageable.
AC2000 Security Hub facilitates the
creation of a sophisticated site-specific
command and control centre that is highly
configurable by security operators to meet
your unique security requirements.
HIGHLY SCALABLE & RESILIENT
MULTIPLE USERS AND SITES
AC2000 Security Hub boasts all the resilience and
reliability of prior AC2000 AED (Alarm Event Display)
application. Security Hub is highly scalable with the ability
to handle over 2 million alarms in large, complex sites.
AC2000 Security Hub provides local or multi-site security
management and enables simultaneous operation by multiple
users, who can each design and save their own custom screen
layout templates.
VIDEO MICRO VIEWER
USER RESTRICTIONS
View live and pre-recorded video footage
for specific events. Two micro-viewer apps
with associated camera pop-up lists are
displayed within Security Hub.*
User Restrictions determine
who is allowed access to specific
configured maps, devices and alarm
types based on assigned criteria.
GUARD TOURS
Guard Tour Events displays an overview and
brief summary of each event, including the
device it occurred on, the guard who triggered
the event, the type of event that occurred and
the tour it relates to.
ALARM OWNERSHIP
AND ACCOUNTABILITY
REPORTING TOOLS
WORKFLOWS
In-built, easily accessible reports
include Alarms, Alarm Priorities,
Alarm Escalation or User Reports,
giving access to data on the go to
help improve your site security.
Choose how to view and process
alarms using a set of user
determined sequential actions
configured to ensure the correct
course of action is followed.
To ensure accountability alarms must be
acknowledged and associated to an alarm owner.
Owners can reset, acknowledge alarms, or leave
event notes, ensuring full visibility and reasoning.
CEM/B/373
AC2000 SOFTWARE OPTIONS
AC2000
AC2000 Lite
AC2000 Airport
• Powerful and fully integrated
access control & security
management system
• Cost effective access control
for smaller sites
• Integrated airport-specific
access control & security
management system
• Supports a scalable number
of doors
• Supports up to 5 workstations
• Supports a scalable number
of cardholders
• Supports up to 128 doors
• Supports up to 10,000
cardholders
• Highly customizable
• Encompasses core AC2000
software modules
• High level integrations with
leading video, intruder, fire &
perimeter detection partners
• Integration with selected video
and intruder systems
• Ideal for medium to large scale
complex projects
www.cemsys.com
© 2016 Tyco Security Products
• Ideal for small to medium
sized projects
• Proven in leading airports
around the world; including
80% of UK Airports
• Highly customizable
• Aviation features include
check-in-desk enabling,
passenger segregation,
air-bridge monitoring
And much more.

* Your assessment is very important for improving the work of artificial intelligence, which forms the content of this project