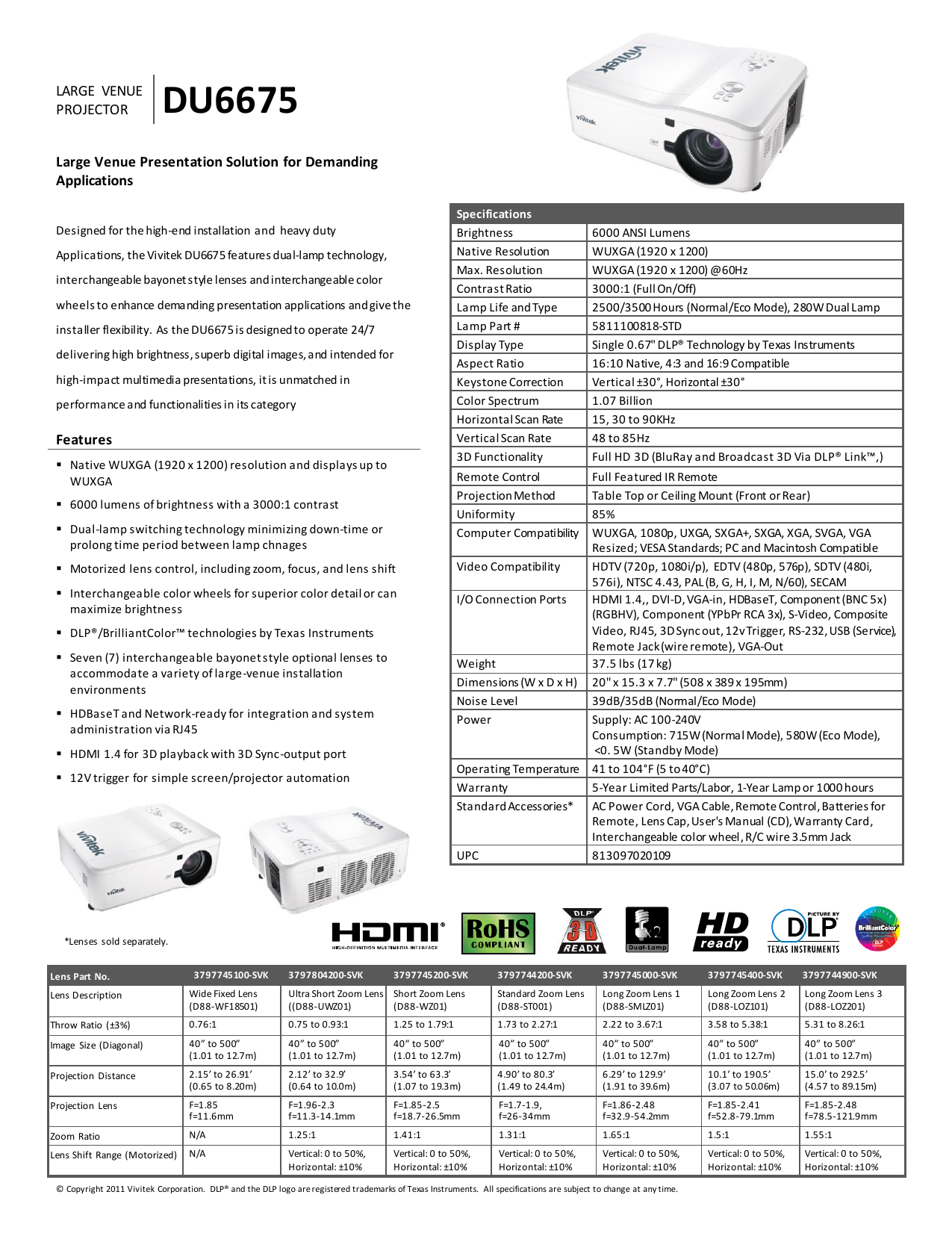 LARGE VENUE
PROJECTOR
DU6675
Large Venue Presentation Solution for Demanding
Applications
Designed for the high-end installation and heavy duty
Applications, the Vivitek DU6675 features dual-lamp technology,
interchangeable bayonet style lenses and interchangeable color
wheels to enhance demanding presentation applications and give the
installer flexibility. As the DU6675 is designed to operate 24/7
delivering high brightness, superb digital images, and intended for
high-impact multimedia presentations, it is unmatched in
performance and functionalities in its category
Features
 Native WUXGA (1920 x 1200) resolution and displays up to
WUXGA
Specifications
Brightness
Native Resolution
Max. Resolution
Contrast Ratio
Lamp Life and Type
Lamp Part #
Display Type
Aspect Ratio
Keystone Correction
Color Spectrum
Horizontal Scan Rate
Vertical Scan Rate
3D Functionality
6000 ANSI Lumens
WUXGA (1920 x 1200)
WUXGA (1920 x 1200) @60Hz
3000:1 (Full On/Off)
2500/3500 Hours (Normal/Eco Mode), 280W Dual Lamp
5811100818-STD
Single 0.67" DLP® Technology by Texas Instruments
16:10 Native, 4:3 and 16:9 Compatible
Vertical ±30°, Horizontal ±30°
1.07 Billion
15, 30 to 90KHz
48 to 85Hz
Full HD 3D (BluRay and Broadcast 3D Via DLP® Link™,)
Remote Control
Projection Method
Uniformity
Computer Compatibility
 6000 lumens of brightness with a 3000:1 contrast
 Dual-lamp switching technology minimizing down-time or
prolong time period between lamp chnages
 Motorized lens control, including zoom, focus, and lens shift
 Interchangeable color wheels for superior color detail or can
maximize brightness
 DLP®/BrilliantColor™ technologies by Texas Instruments
 Seven (7) interchangeable bayonet style optional lenses to
accommodate a variety of large-venue installation
environments
 HDBaseT and Network-ready for integration and system
administration via RJ45
 HDMI 1.4 for 3D playback with 3D Sync-output port
 12V trigger for simple screen/projector automation
Full Featured IR Remote
Table Top or Ceiling Mount (Front or Rear)
85%
WUXGA, 1080p, UXGA, SXGA+, SXGA, XGA, SVGA, VGA
Resized; VESA Standards; PC and Macintosh Compatible
Video Compatibility
HDTV (720p, 1080i/p), EDTV (480p, 576p), SDTV (480i,
576i), NTSC 4.43, PAL (B, G, H, I, M, N/60), SECAM
I/O Connection Ports
HDMI 1.4,, DVI-D, VGA-in, HDBaseT, Component (BNC 5x)
(RGBHV), Component (YPbPr RCA 3x), S-Video, Composite
Video, RJ45, 3D Sync out, 12v Trigger, RS-232, USB (Service),
Remote Jack (wire remote), VGA-Out
Weight
37.5 lbs (17 kg)
Dimensions (W x D x H) 20" x 15.3 x 7.7" (508 x 389 x 195mm)
Noise Level
39dB/35dB (Normal/Eco Mode)
Power
Supply: AC 100-240V
Consumption: 715W (Normal Mode), 580W (Eco Mode),
<0. 5W (Standby Mode)
Operating Temperature 41 to 104°F (5 to 40°C)
Warranty
5-Year Limited Parts/Labor, 1-Year Lamp or 1000 hours
Standard Accessories* AC Power Cord, VGA Cable, Remote Control, Batteries for
Remote, Lens Cap, User's Manual (CD), Warranty Card,
Interchangeable color wheel, R/C wire 3.5mm Jack
UPC
813097020109
*Lenses sold separately.
3797744200-SVK
3797745000-SVK
3797745400-SVK
3797744900-SVK
Lens Description
Wide Fixed Lens
(D88-WF18501)
Ultra Short Zoom Lens Short Zoom Lens
((D88-UWZ01)
(D88-WZ01)
Standard Zoom Lens
(D88-ST001)
Long Zoom Lens 1
(D88-SMLZ01)
Long Zoom Lens 2
(D88-LOZ101)
Long Zoom Lens 3
(D88-LOZ201)
Throw Ratio (±3%)
0.76:1
0.75 to 0.93:1
1.25 to 1.79:1
1.73 to 2.27:1
2.22 to 3.67:1
3.58 to 5.38:1
5.31 to 8.26:1
Image Size (Diagonal)
40" to 500"
(1.01 to 12.7m)
40" to 500"
(1.01 to 12.7m)
40" to 500"
(1.01 to 12.7m)
40" to 500"
(1.01 to 12.7m)
40" to 500"
(1.01 to 12.7m)
40" to 500"
(1.01 to 12.7m)
40" to 500"
(1.01 to 12.7m)
Projection Distance
2.15' to 26.91'
(0.65 to 8.20m)
2.12' to 32.9'
(0.64 to 10.0m)
3.54' to 63.3'
(1.07 to 19.3m)
4.90' to 80.3'
(1.49 to 24.4m)
6.29' to 129.9'
(1.91 to 39.6m)
10.1' to 190.5'
(3.07 to 50.06m)
15.0' to 292.5'
(4.57 to 89.15m)
Projection Lens
F=1.85
f=11.6mm
F=1.96-2.3
f=11.3-14.1mm
F=1.85-2.5
f=18.7-26.5mm
F=1.7-1.9,
f=26-34mm
F=1.86-2.48
f=32.9-54.2mm
F=1.85-2.41
f=52.8-79.1mm
F=1.85-2.48
f=78.5-121.9mm
Zoom Ratio
N/A
1.25:1
1.41:1
1.31:1
1.65:1
1.5:1
1.55:1
Lens Shift Range (Motorized)
N/A
Vertical: 0 to 50%,
Horizontal: ±10%
Vertical: 0 to 50%,
Horizontal: ±10%
Vertical: 0 to 50%,
Horizontal: ±10%
Vertical: 0 to 50%,
Horizontal: ±10%
Vertical: 0 to 50%,
Horizontal: ±10%
Vertical: 0 to 50%,
Horizontal: ±10%
Lens Part No.
3797745100-SVK
3797804200-SVK
3797745200-SVK
© Copyright 2011 Vivitek Corporation. DLP® and the DLP logo are registered trademarks of Texas Instruments. All specifications are subject to change at any time.