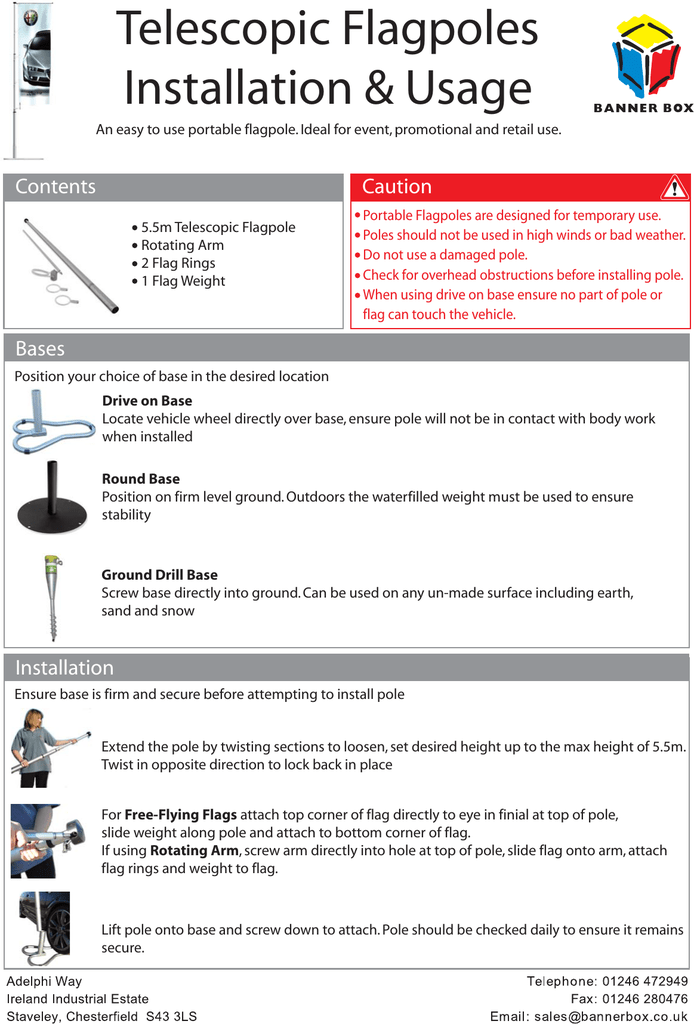 Telescopic Flagpoles
Installation & Usage
An easy to use portable flagpole. Ideal for event, promotional and retail use.
Contents
Caution
5.5m Telescopic Flagpole
Rotating Arm
2 Flag Rings
1 Flag Weight
Portable Flagpoles are designed for temporary use.
Poles should not be used in high winds or bad weather.
Do not use a damaged pole.
Check for overhead obstructions before installing pole.
When using drive on base ensure no part of pole or
flag can touch the vehicle.
Bases
Position your choice of base in the desired location
Drive on Base
Locate vehicle wheel directly over base, ensure pole will not be in contact with body work
when installed
Round Base
Position on firm level ground. Outdoors the waterfilled weight must be used to ensure
stability
Ground Drill Base
Screw base directly into ground. Can be used on any un-made surface including earth,
sand and snow
Installation
Ensure base is firm and secure before attempting to install pole
Extend the pole by twisting sections to loosen, set desired height up to the max height of 5.5m.
Twist in opposite direction to lock back in place
For Free-Flying Flags attach top corner of flag directly to eye in finial at top of pole,
slide weight along pole and attach to bottom corner of flag.
If using Rotating Arm, screw arm directly into hole at top of pole, slide flag onto arm, attach
flag rings and weight to flag.
Lift pole onto base and screw down to attach. Pole should be checked daily to ensure it remains
secure.

* Your assessment is very important for improving the work of artificial intelligence, which forms the content of this project