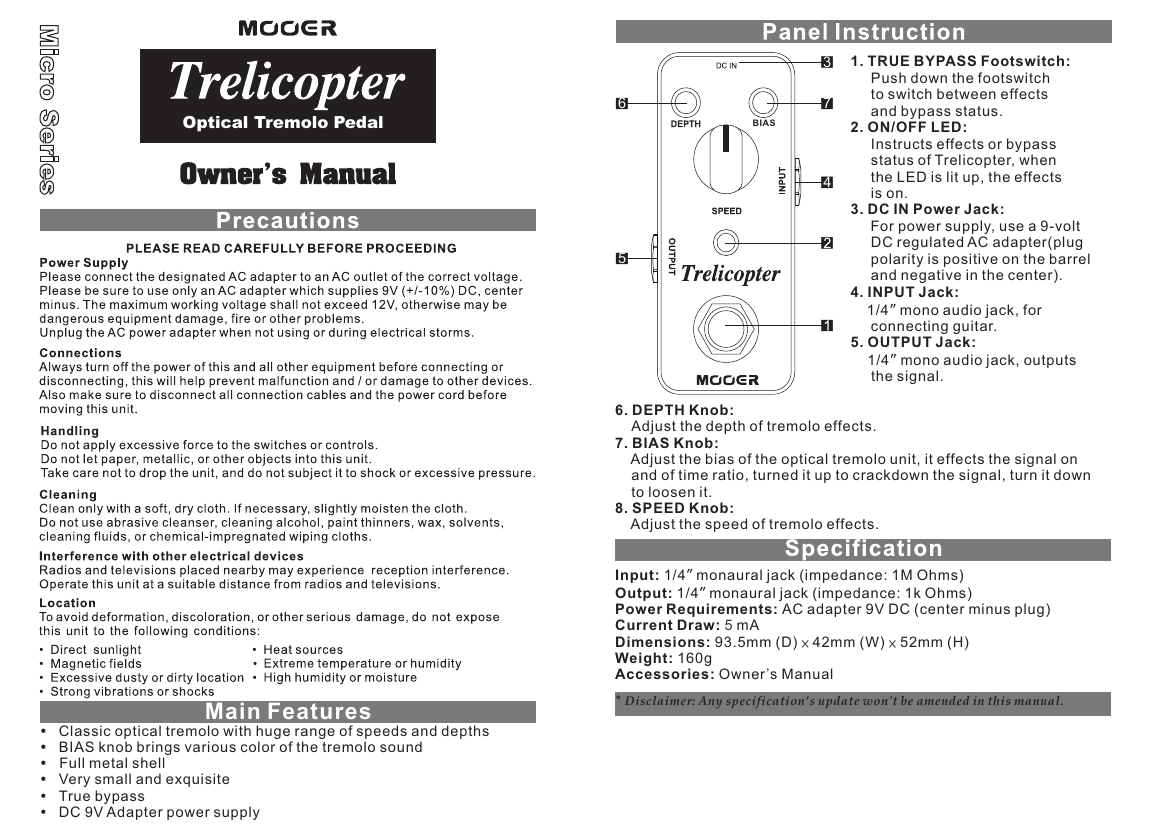 3
6
Optical Tremolo Pedal
7
BIAS
4
5
1. TRUE BYPASS Footswitch:
Push down the footswitch
to switch between effects
and bypass status.
2. ON/OFF LED:
Instructs effects or bypass
status of Trelicopter, when
the LED is lit up, the effects
is on.
3. DC IN Power Jack:
For power supply, use a 9-volt
DC regulated AC adapter(plug
polarity is positive on the barrel
and negative in the center).
4. INPUT Jack:
1/4" mono audio jack, for
connecting guitar.
5. OUTPUT Jack:
1/4" mono audio jack, outputs
the signal.
6. DEPTH Knob:
Adjust the depth of tremolo effects.
7. BIAS Knob:
Adjust the bias of the optical tremolo unit, it effects the signal on
and of time ratio, turned it up to crackdown the signal, turn it down
to loosen it.
8. SPEED Knob:
Adjust the speed of tremolo effects.
Input: 1/4" monaural jack (impedance: 1M Ohms )
Output: 1/4" monaural jack (impedance: 1k Ohms)
Power Requirements: AC adapter 9V DC (center minus plug)
Current Draw: 5 mA
Dimensions: 93.5mm (D) × 42mm (W) × 52mm (H)
Weight: 160g
Accessories: Owner's Manual
Main Features
Ÿ
Classic optical tremolo with huge range of speeds and depths
Ÿ
BIAS knob brings various color of the tremolo sound
Ÿ
Full metal shell
Ÿ
Very small and exquisite
Ÿ
True bypass
Ÿ
DC 9V Adapter power supply
* Disclaimer: Any specification's update won't be amended in this manual.

* Your assessment is very important for improving the work of artificial intelligence, which forms the content of this project