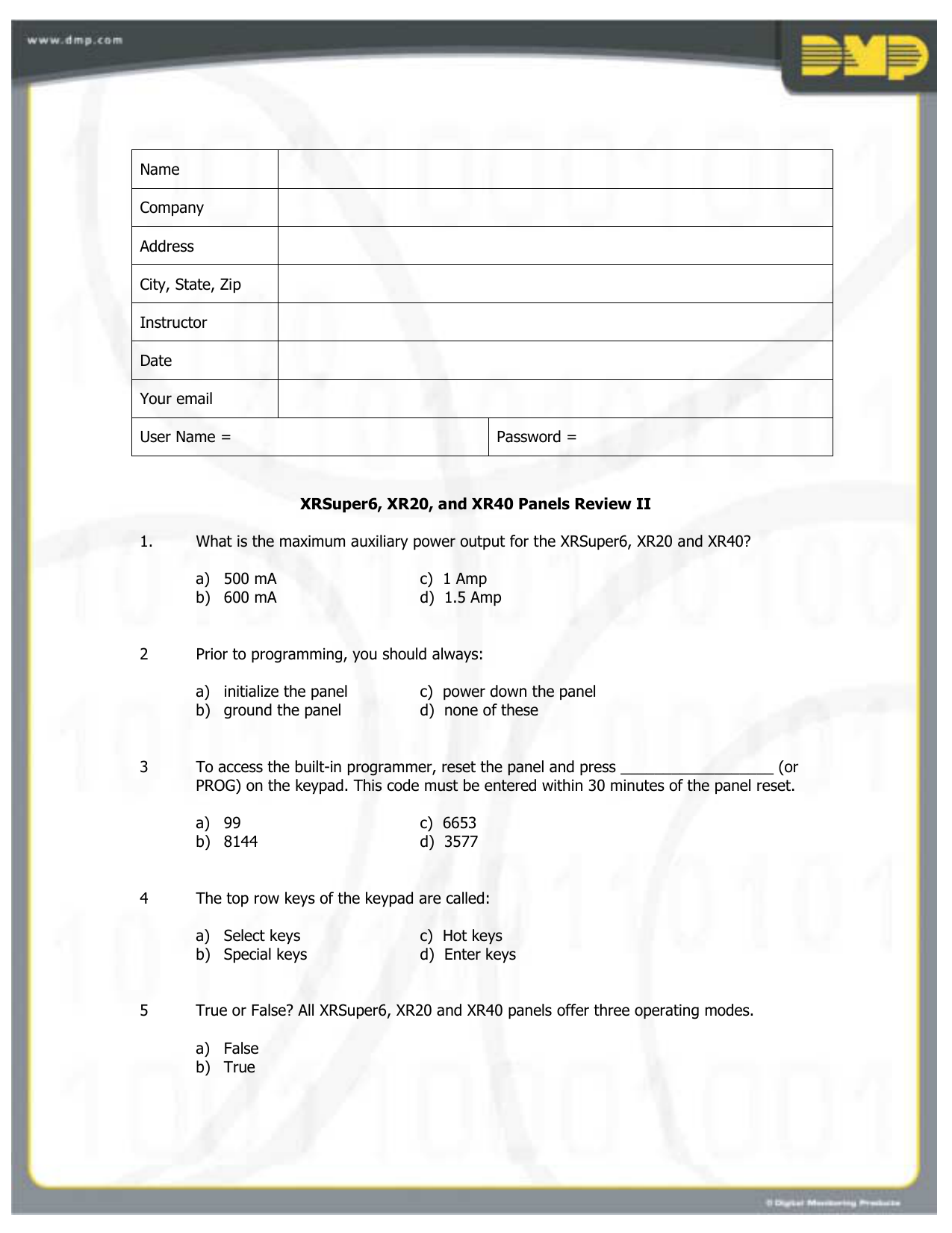 Name
Company
Address
City, State, Zip
Instructor
Date
Your email
User Name =
Password =
XRSuper6, XR20, and XR40 Panels Review II
1.
What is the maximum auxiliary power output for the XRSuper6, XR20 and XR40?
a) 500 mA
b) 600 mA
2
Prior to programming, you should always:
a) initialize the panel
b) ground the panel
3
c) 6653
d) 3577
The top row keys of the keypad are called:
a) Select keys
b) Special keys
5
c) power down the panel
d) none of these
To access the built-in programmer, reset the panel and press __________________ (or
PROG) on the keypad. This code must be entered within 30 minutes of the panel reset.
a) 99
b) 8144
4
c) 1 Amp
d) 1.5 Amp
c) Hot keys
d) Enter keys
True or False? All XRSuper6, XR20 and XR40 panels offer three operating modes.
a) False
b) True
6
What must you have to program Inovonics transmitters into the FA426 wireless
receiver?
a) FA400
b) FA472
7
c) FA113
d) FA116
True or False? Out of the box, XRSuper6, XR20 and XR40 panels can communicate over
data networks.
a) False
b) True
8
The XRSuper6 and XR20 keypad data bus supports up to four supervised devices
(keypads and/or zone expanders). How many zones does this add to either panel?
a) 32
b) 16
9
For an XR20 or XR40 to send signals over a data network, such as a LAN, what piece of
equipment is needed at the panel?
a) ICOMsl
b) EtherCOM XR
10
______ -
c) 1-65535
d) 0-9999
The report types you can selectively enable are: ALARM, __________________, O/C
USER and TEST.
a) Temporal Code 3
b) Pager
12
c) Router
d) ePAD
Valid account numbers for DD and HST communication range between
__________.
a) 0-65535
b) 1-9999
11
c) 22
d) 4
c) Opening/ Closing
d) Supervisory/Trouble
The ABORT option allows the panel to send an abort or cancel report if the system is
_________________.
a) Disarmed during Bell Cutoff Time
b) Silenced
c) Aborted
d) In an alarm condition
13
The AMBUSH option can be used to send an ambush report any time ______________ is
entered at any keypad.
a) 911
b) User Code #99
14
_______________ allows you to program how many hours a countdown timer will
run when the system is completely armed and burglary zones are disarmed, or after
a panel reset and burglary zones are disarmed.
a) Armed Activity Days
b) Zone Activity Hours
15
c) Everyday at midnight
d) Never
Which of the following is NOT an option in Area Information?
a) Common
b) Auto Arm
19
c) 10
d) 3
The XR20 and XR40 have Auto Arming that takes place at the scheduled CLOSING TIME.
If no schedules are entered, how often will the panel automatically arm?
a) Every 15 minutes
b) Every hour
18
c) Closing Wait
d) Closing Time
The COMM FAIL OUTPUT will turn on when the panel has failed to communicate with the
receiver after __________ dial attempts.
a) 2
b) 5
17
c) Exit delay
d) AC Power Fail
Selecting YES for Bell Test also enables the ______________ feature.
a) Closing Check
b) Closing Code
16
c) User Code #1
d) 3577
c) Bad zones
d) Auto Disarm
The _________________ output is not compatible with the CUTOFF OUTPUT option.
a) Bell
b) Phone Trouble
c) Fire Trouble
d) Fire Alarm
20
How many times must a zone trip before the panel will swinger bypass the zone?
a) 3
b) 4
21
Which zone type has the option to set a PREWARN address?
a) Supervisory
b) Fire
22
c) Armed Short
d) Disarmed Short
How many zone conditions are there?
a)
b)
c)
d)
25
c) Priority
d) Armed Short
Alarm Action prompts for 24-hour zones begin with _______________.
a) Disarmed Open
b) Armed Open
24
c) Aux 2
d) Exit
Which prompt in Zone Information tells the panel that the zone must be a normal state
before it's assigned area can be armed?
a) Fast Response
b) Armed Open
23
c) 7
d) it is programmable
2
9
4
6
When the arming mode is HOME/SLEEP/AWAY, how many areas may be armed?
a)
b)
c)
d)
1
2
3
4
LT-0729 (12/04) © 2004 Digital Monitoring Products, Inc.

* Your assessment is very important for improving the work of artificial intelligence, which forms the content of this project