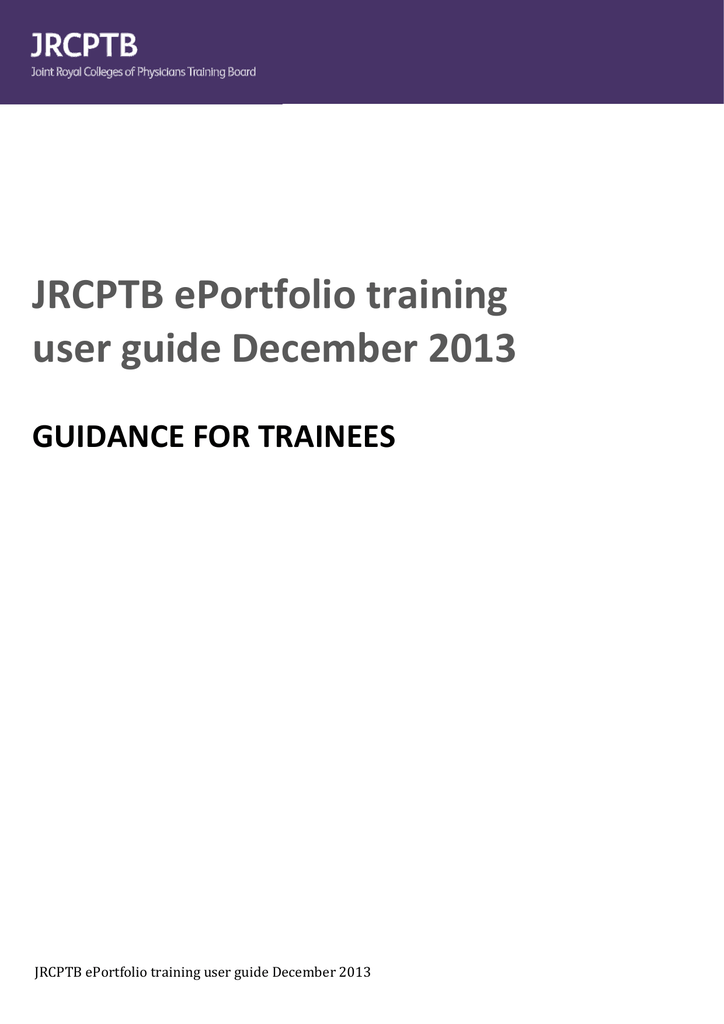 JRCPTB ePortfolio training
user guide December 2013
GUIDANCE FOR TRAINEES
JRCPTB ePortfolio training user guide December 2013
How to save documents in the Personal Library
The Personal Library has a capacity of 80MB of storage space. Documents can be uploaded here as collection of
evidence.
Follow the guide on how to upload files in the personal library.
Step 1:
From the Profile tab, select the 'Personal Library' sub-menu.
Step 2:
Create a folder first. Type in the name of the folder you want to file all you documents under and then select 'New
folder'. The new folder will appear in the Library where you can upload files under.
Step 3:
Under the 'Upload file' section, browse the file you want to upload. Once you have selected this, you can restrict who
can view this by clicking on 'Shared' or 'Private'. You can add a description of the file/document for your information.
Once you have done this, click on 'Upload fie'
Upload File
Step 4:
The file is now saved in the personal library. You can view the file by clicking on the file name.
Step 5:
If you want to delete a file from your Personal Library, select the relevant file and then click on the delete button.
Confirm you want to delete the file.

* Your assessment is very important for improving the work of artificial intelligence, which forms the content of this project