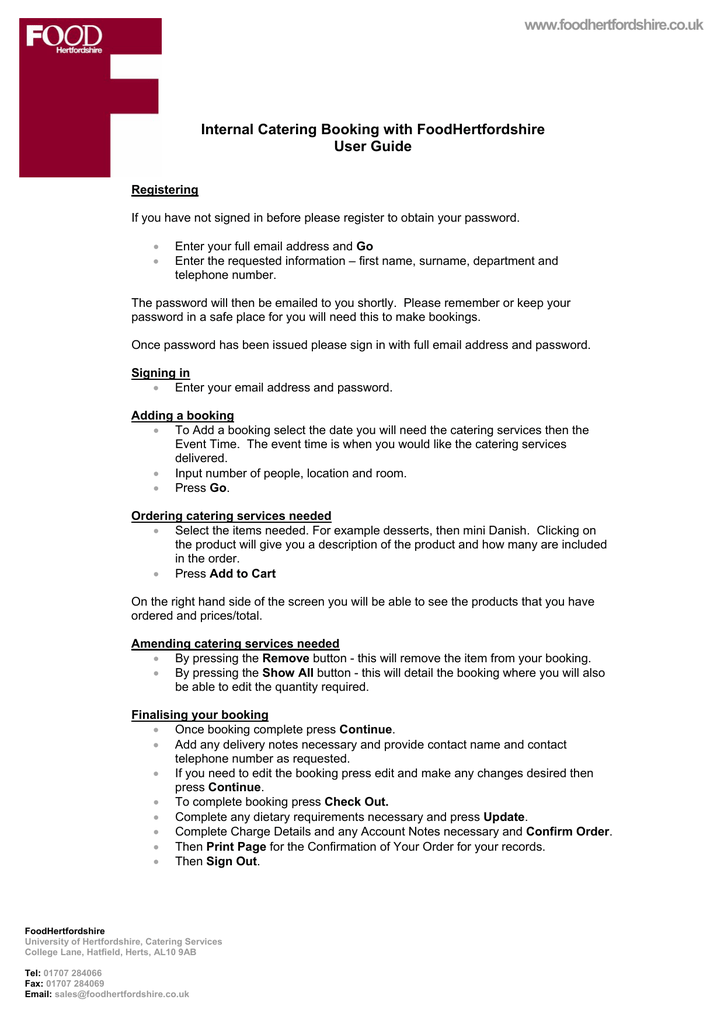 www.foodhertfordshire.co.uk
Internal Catering Booking with FoodHertfordshire
User Guide
Registering
If you have not signed in before please register to obtain your password.
!
!
Enter your full email address and Go
Enter the requested information – first name, surname, department and
telephone number.
The password will then be emailed to you shortly. Please remember or keep your
password in a safe place for you will need this to make bookings.
Once password has been issued please sign in with full email address and password.
Signing in
! Enter your email address and password.
Adding a booking
! To Add a booking select the date you will need the catering services then the
Event Time. The event time is when you would like the catering services
delivered.
! Input number of people, location and room.
! Press Go.
Ordering catering services needed
! Select the items needed. For example desserts, then mini Danish. Clicking on
the product will give you a description of the product and how many are included
in the order.
! Press Add to Cart
On the right hand side of the screen you will be able to see the products that you have
ordered and prices/total.
Amending catering services needed
! By pressing the Remove button - this will remove the item from your booking.
! By pressing the Show All button - this will detail the booking where you will also
be able to edit the quantity required.
Finalising your booking
! Once booking complete press Continue.
! Add any delivery notes necessary and provide contact name and contact
telephone number as requested.
! If you need to edit the booking press edit and make any changes desired then
press Continue.
! To complete booking press Check Out.
! Complete any dietary requirements necessary and press Update.
! Complete Charge Details and any Account Notes necessary and Confirm Order.
! Then Print Page for the Confirmation of Your Order for your records.
! Then Sign Out.
FoodHertfordshire
University of Hertfordshire, Catering Services
College Lane, Hatfield, Herts, AL10 9AB
Tel: 01707 284066
Fax: 01707 284069
Email: [email protected]
Amendments to a Current Booking
If you have amendments to do at a later date for a particular booking enter your email
address and password as before.
Your current bookings will appear. If more than one booking is made on a day, then all
the bookings will appear on the first booking made.
Press Edit on the booking you would like to make amends to and follow instructions as
before.
To Add a Further Booking
If you would like to add a further booking, input details as before under Add Further
Booking and Press Add Delivery.
And follow instructions as before.

* Your assessment is very important for improving the work of artificial intelligence, which forms the content of this project