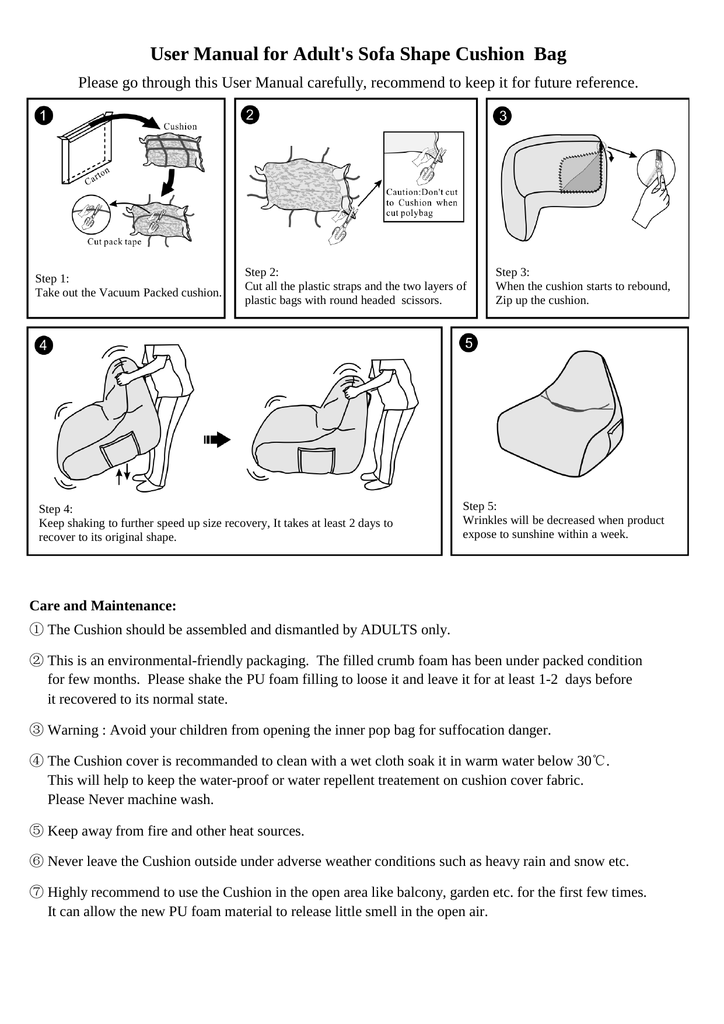 User Manual for Adult's Sofa Shape Cushion Bag
Please go through this User Manual carefully, recommend to keep it for future reference.
Step 1:
Take out the Vacuum Packed cushion.
Step 2:
Cut all the plastic straps and the two layers of
plastic bags with round headed scissors.
Step 4:
Keep shaking to further speed up size recovery, It takes at least 2 days to
recover to its original shape.
Step 3:
When the cushion starts to rebound,
Zip up the cushion.
Step 5:
Wrinkles will be decreased when product
expose to sunshine within a week.
Care and Maintenance:
① The Cushion should be assembled and dismantled by ADULTS only.
② This is an environmental-friendly packaging. The filled crumb foam has been under packed condition
for few months. Please shake the PU foam filling to loose it and leave it for at least 1-2 days before
it recovered to its normal state.
③ Warning : Avoid your children from opening the inner pop bag for suffocation danger.
④ The Cushion cover is recommanded to clean with a wet cloth soak it in warm water below 30℃.
This will help to keep the water-proof or water repellent treatement on cushion cover fabric.
Please Never machine wash.
⑤ Keep away from fire and other heat sources.
⑥ Never leave the Cushion outside under adverse weather conditions such as heavy rain and snow etc.
⑦ Highly recommend to use the Cushion in the open area like balcony, garden etc. for the first few times.
It can allow the new PU foam material to release little smell in the open air.

* Your assessment is very important for improving the work of artificial intelligence, which forms the content of this project