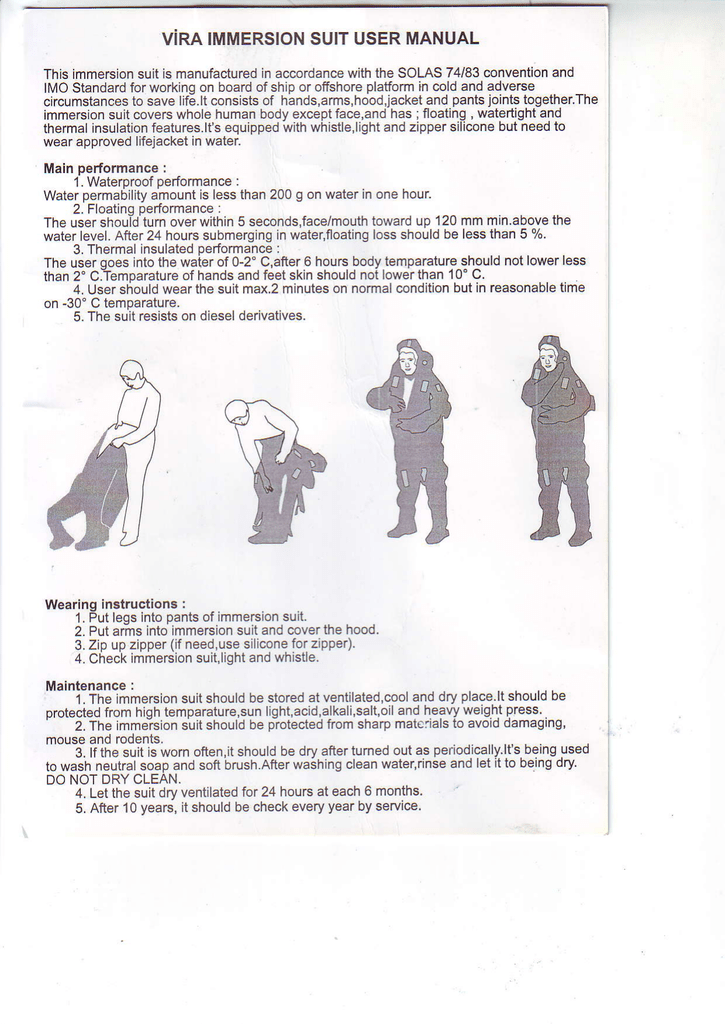 V|RAIMMERSION
SUITUSERMANUAL
and
withthe SOLAS74183convention
in accordance
Thisimmersionsuit is manufactured
platform
adverse
ln
cold
and
on
board
of
ship
or
offshore
IMOStandardfor working
and pantsjointstogether'The
to savelife.liconsistsof hands,arms,hood,jacket
circumstances
immersionsuitcoverswholehumanbodyexceptface,andhas ; floating, watertightand
butneedto
andzippersilicone
equipped
withwhistle,light
features.lt's
thermalinsulation
wearapprovedlifejacketin water.
Main oerformance:
performance
:
1.Wateroroof
amountis lessthan200 g on waterin one hour.
Waterpermability
:
2. Floatinqperformance
towardup 120mm minabovethe
Theusershouldturn overwithin5 seconds,face/mouth
lossshouldbe lessthan5 %.
in water,floating
waterlevel.After24 hourssubmerging
:
3. Thermalinsulatedperformance
shouldnot lowerless
The userqoesintothe waterof 0-2' C,afrer6 hoursbodytemparature
of handsandfeetskinshouldnot lowerthan 10' C.
than2" C.Temparature
time
4. Usershouldwearthe suit max.2minuteson normalconditionbut in reasonable
on -30' C temparature.
5. The suit resistson dieselderivatives.
wearinq instruqtions:
suit.
1.Futteasintopantsof immersion
2 Putar-msintoimmersionsuitandcoverthe hood.
forzipper).
silicone
3. Zipup zipper(if need,use
andwhistle.
suit,lighl
4. Checkimmersion
Maintenance:
and dry place.ltshouldbe
1. The immersionsuitshouldbe sioredat ventilated,cool
and
heaw weightpress..
protected
light,acid,alkali,salt,oil
fromhightemparature,sun
protected
to avorcoamaglng'
matc.|als
from
sharp
be
2. The immersionsuitshould
rodents.
and
'mouse
lt's beingused
C lf the suitis wornoften,ftshouldbe dry aftertumedout as periodically
let
it
to beingdry
and
wate(rinse
waihingclean
to waih neutralsoapandsoftbrush.After
DONOTDRYCLEAN.
4. Letthe suitdry ventilatedfor 24 hoursat each6 months.
5. Afte|l0 years,it shouldbe checkeveryyearby service.

* Your assessment is very important for improving the work of artificial intelligence, which forms the content of this project