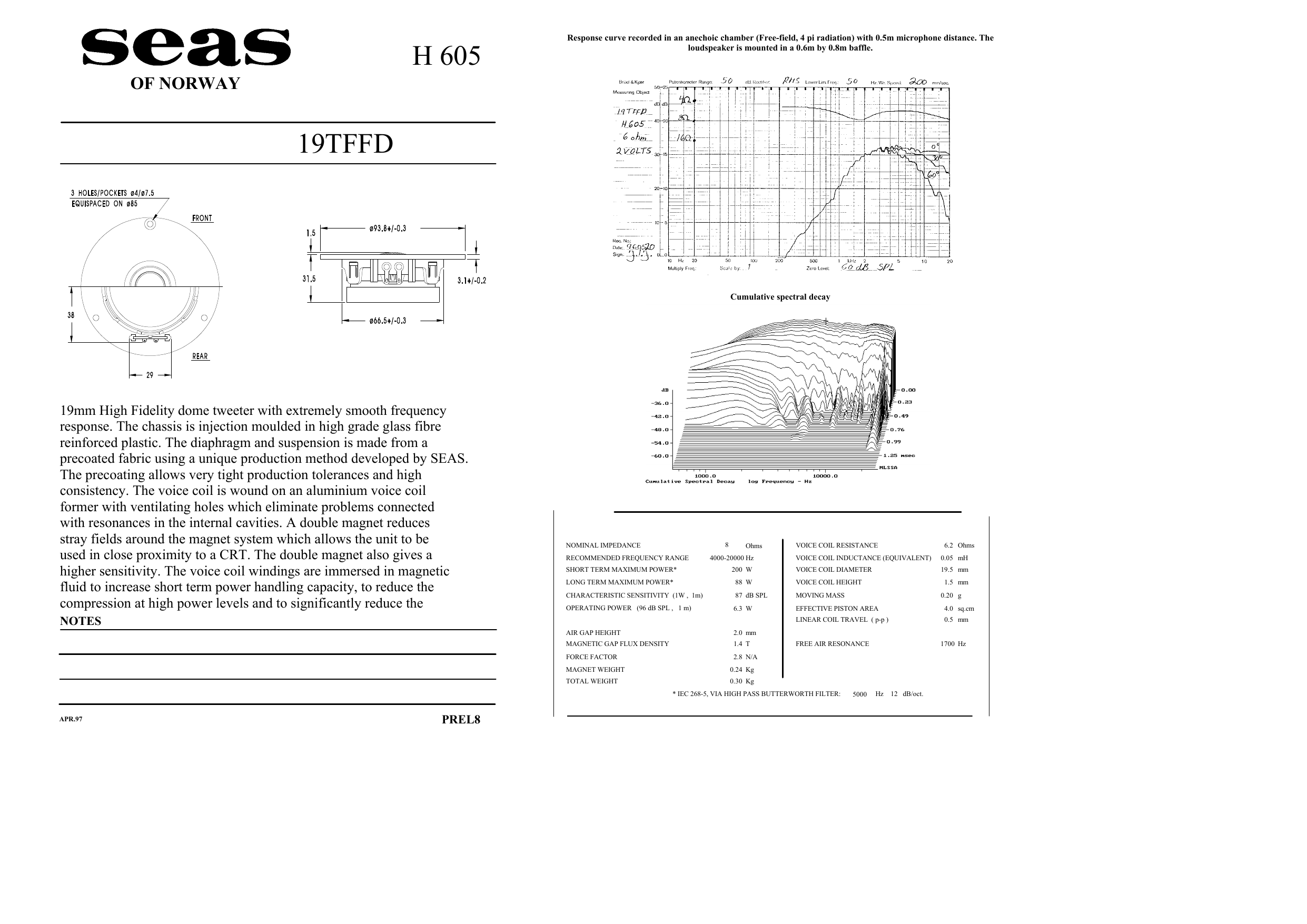 H 605
Response curve recorded in an anechoic chamber (Free-field, 4 pi radiation) with 0.5m microphone distance. The
loudspeaker is mounted in a 0.6m by 0.8m baffle.
OF NORWAY
19TFFD
Cumulative spectral decay
19mm High Fidelity dome tweeter with extremely smooth frequency
response. The chassis is injection moulded in high grade glass fibre
reinforced plastic. The diaphragm and suspension is made from a
precoated fabric using a unique production method developed by SEAS.
The precoating allows very tight production tolerances and high
consistency. The voice coil is wound on an aluminium voice coil
former with ventilating holes which eliminate problems connected
with resonances in the internal cavities. A double magnet reduces
stray fields around the magnet system which allows the unit to be
used in close proximity to a CRT. The double magnet also gives a
higher sensitivity. The voice coil windings are immersed in magnetic
fluid to increase short term power handling capacity, to reduce the
compression at high power levels and to significantly reduce the
Q factor.
NOTES
8
NOMINAL IMPEDANCE
RECOMMENDED FREQUENCY RANGE
Ohms
4000-20000 Hz
VOICE COIL RESISTANCE
0.05 mH
VOICE COIL DIAMETER
19.5 mm
SHORT TERM MAXIMUM POWER*
200 W
LONG TERM MAXIMUM POWER*
88 W
VOICE COIL HEIGHT
CHARACTERISTIC SENSITIVITY (1W , 1m)
87 dB SPL
MOVING MASS
OPERATING POWER (96 dB SPL , 1 m)
6.3 W
EFFECTIVE PISTON AREA
4.0 sq.cm
LINEAR COIL TRAVEL ( p-p )
0.5 mm
AIR GAP HEIGHT
2.0 mm
MAGNETIC GAP FLUX DENSITY
1.4 T
FORCE FACTOR
2.8 N/A
MAGNET WEIGHT
TOTAL WEIGHT
PREL8
1.5 mm
0.20 g
FREE AIR RESONANCE
1700 Hz
0.24 Kg
0.30 Kg
* IEC 268-5, VIA HIGH PASS BUTTERWORTH FILTER:
APR.97
6.2 Ohms
VOICE COIL INDUCTANCE (EQUIVALENT)
5000
Hz
12 dB/oct.

* Your assessment is very important for improving the work of artificial intelligence, which forms the content of this project