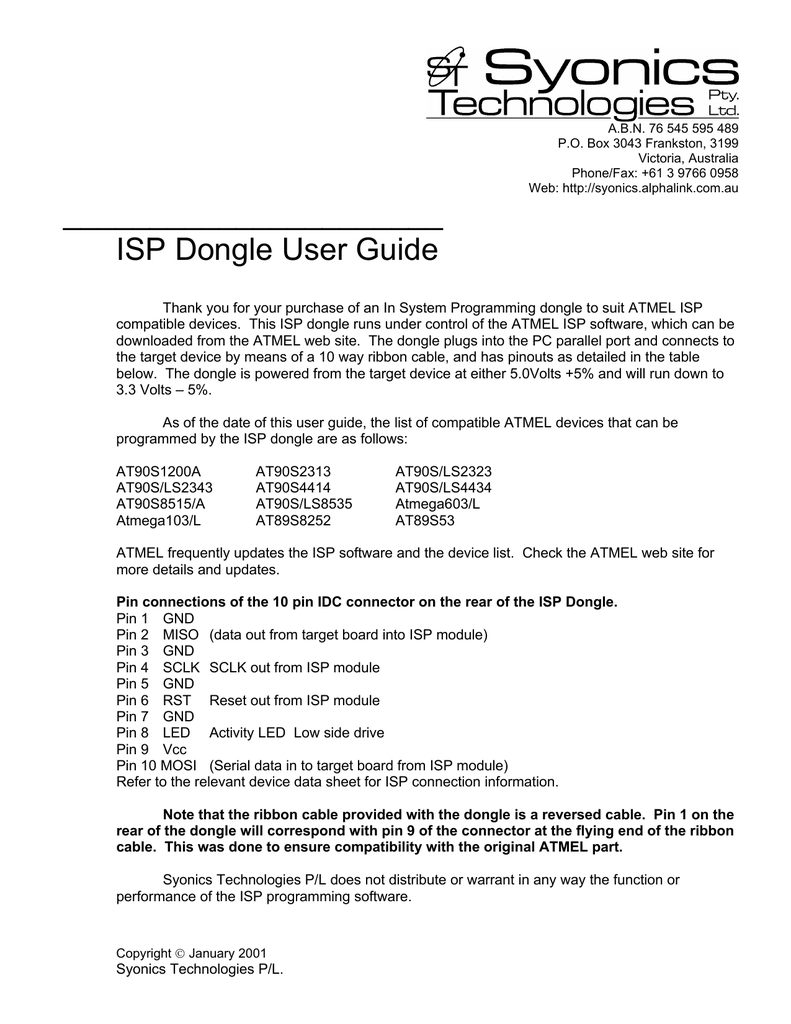 A.B.N. 76 545 595 489
P.O. Box 3043 Frankston, 3199
Victoria, Australia
Phone/Fax: +61 3 9766 0958
Web: http://syonics.alphalink.com.au
______________________
ISP Dongle User Guide
Thank you for your purchase of an In System Programming dongle to suit ATMEL ISP
compatible devices. This ISP dongle runs under control of the ATMEL ISP software, which can be
downloaded from the ATMEL web site. The dongle plugs into the PC parallel port and connects to
the target device by means of a 10 way ribbon cable, and has pinouts as detailed in the table
below. The dongle is powered from the target device at either 5.0Volts +5% and will run down to
3.3 Volts – 5%.
As of the date of this user guide, the list of compatible ATMEL devices that can be
programmed by the ISP dongle are as follows:
AT90S1200A
AT90S/LS2343
AT90S8515/A
Atmega103/L
AT90S2313
AT90S4414
AT90S/LS8535
AT89S8252
AT90S/LS2323
AT90S/LS4434
Atmega603/L
AT89S53
ATMEL frequently updates the ISP software and the device list. Check the ATMEL web site for
more details and updates.
Pin connections of the 10 pin IDC connector on the rear of the ISP Dongle.
Pin 1 GND
Pin 2 MISO (data out from target board into ISP module)
Pin 3 GND
Pin 4 SCLK SCLK out from ISP module
Pin 5 GND
Pin 6 RST Reset out from ISP module
Pin 7 GND
Pin 8 LED Activity LED Low side drive
Pin 9 Vcc
Pin 10 MOSI (Serial data in to target board from ISP module)
Refer to the relevant device data sheet for ISP connection information.
Note that the ribbon cable provided with the dongle is a reversed cable. Pin 1 on the
rear of the dongle will correspond with pin 9 of the connector at the flying end of the ribbon
cable. This was done to ensure compatibility with the original ATMEL part.
Syonics Technologies P/L does not distribute or warrant in any way the function or
performance of the ISP programming software.
Copyright  January 2001
Syonics Technologies P/L.

* Your assessment is very important for improving the work of artificial intelligence, which forms the content of this project