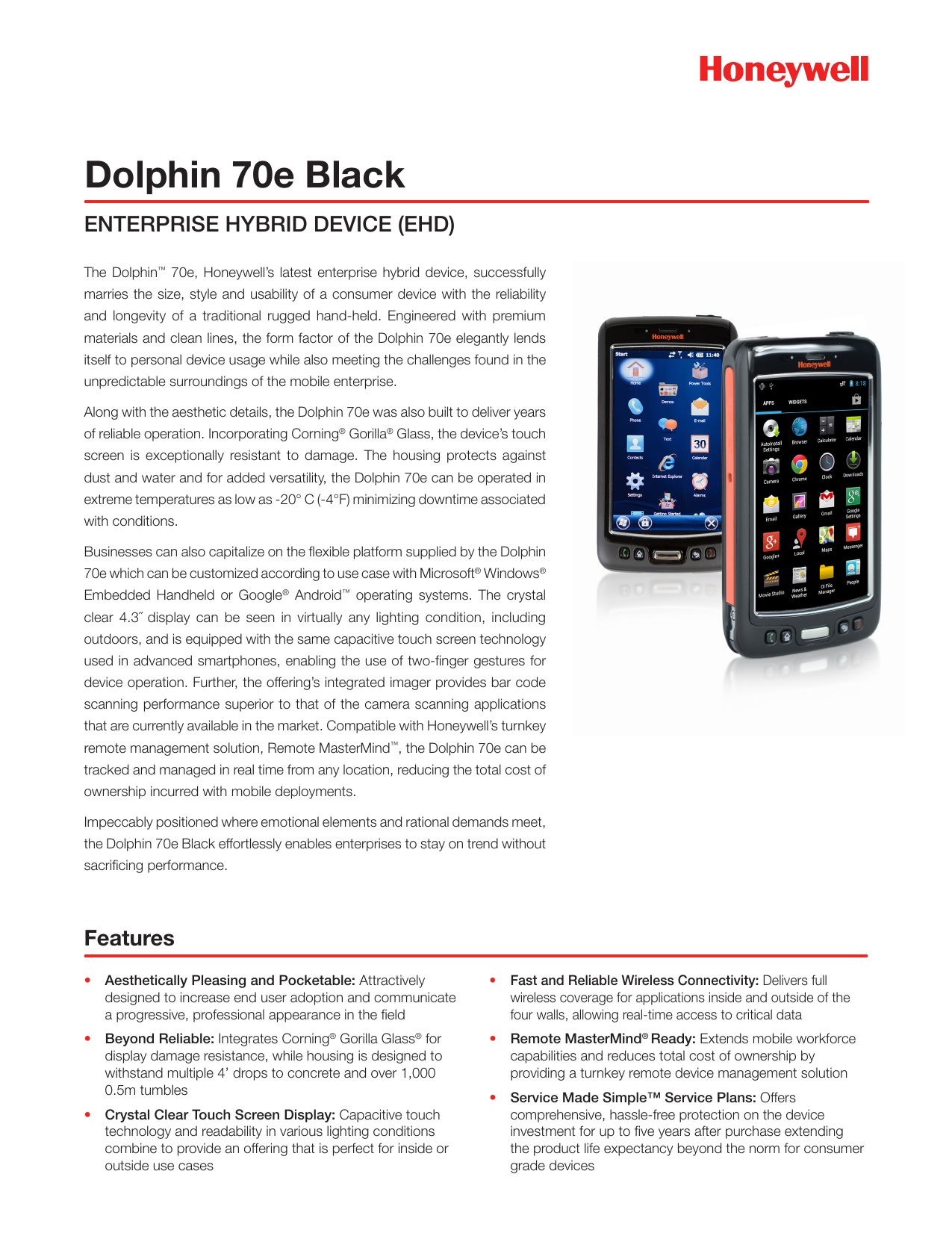 Dolphin 70e Black
ENTERPRISE HYBRID DEVICE (EHD)
The Dolphin™ 70e, Honeywell's latest enterprise hybrid device, successfully
marries the size, style and usability of a consumer device with the reliability
and longevity of a traditional rugged hand-held. Engineered with premium
materials and clean lines, the form factor of the Dolphin 70e elegantly lends
itself to personal device usage while also meeting the challenges found in the
unpredictable surroundings of the mobile enterprise.
Along with the aesthetic details, the Dolphin 70e was also built to deliver years
of reliable operation. Incorporating Corning® Gorilla® Glass, the device's touch
screen is exceptionally resistant to damage. The housing protects against
dust and water and for added versatility, the Dolphin 70e can be operated in
extreme temperatures as low as -20° C (-4°F) minimizing downtime associated
with conditions.
Businesses can also capitalize on the flexible platform supplied by the Dolphin
70e which can be customized according to use case with Microsoft® Windows®
Embedded Handheld or Google® Android™ operating systems. The crystal
clear 4.3˝ display can be seen in virtually any lighting condition, including
outdoors, and is equipped with the same capacitive touch screen technology
used in advanced smartphones, enabling the use of two-finger gestures for
device operation. Further, the offering's integrated imager provides bar code
scanning performance superior to that of the camera scanning applications
that are currently available in the market. Compatible with Honeywell's turnkey
remote management solution, Remote MasterMind™, the Dolphin 70e can be
tracked and managed in real time from any location, reducing the total cost of
ownership incurred with mobile deployments.
Impeccably positioned where emotional elements and rational demands meet,
the Dolphin 70e Black effortlessly enables enterprises to stay on trend without
sacrificing performance.
Features
• Aesthetically Pleasing and Pocketable: Attractively
designed to increase end user adoption and communicate
a progressive, professional appearance in the field
• Fast and Reliable Wireless Connectivity: Delivers full
wireless coverage for applications inside and outside of the
four walls, allowing real-time access to critical data
• Beyond Reliable: Integrates Corning® Gorilla Glass® for
display damage resistance, while housing is designed to
withstand multiple 4' drops to concrete and over 1,000
0.5m tumbles
• Remote MasterMind® Ready: Extends mobile workforce
capabilities and reduces total cost of ownership by
providing a turnkey remote device management solution
• Crystal Clear Touch Screen Display: Capacitive touch
technology and readability in various lighting conditions
combine to provide an offering that is perfect for inside or
outside use cases
• Service Made Simple™ Service Plans: Offers
comprehensive, hassle-free protection on the device
investment for up to five years after purchase extending
the product life expectancy beyond the norm for consumer
grade devices
Dolphin 70e Black Technical Specifications
Mechanical
Dimensions
Standard Battery: 134 mm x 73 mm x 18 mm (5.3˝ x 2.9˝ x 0.7˝)
Extended Battery: 134 mm x 73 mm x 23.9 mm (5.3˝ x 2.9˝ x 0.9˝)
Weight
Standard Battery: 204 g (7.2 oz); Extended Battery: 244 g (8.6 oz)
Environmental
Operating Temperature
-20° to 50°C (-4°F to 122°F)
Storage Temperature
-25° to 70°C (-13° to 158°F)
Humidity
Humidity 0 to 95% relative humidity (non-condensing)
Drop
Withstands multiple 4' (1.2m) drops to concrete, all axis, and across operating temperature range
(standard and extended batteries)
Tumble
Exceeds 1,000 (0.5m) tumbles per IEC 60068-2-32 specification (standard battery)
Exceeds 300 (0.5m) tumbles per IEC 60068-2-32 specification (extended battery)
ESD
± 15KV Air and ± 8KV Contact
Environmental Sealing
Independently certified to meet IP54 standards for moisture and particle intrusion
System Architecture
Processor
1GHZ single core TI OMAP
Operating System
Microsoft® Windows® Embedded Handheld 6.5
Google® Android™ version 4.0 with Honeywell security and manageability features
Memory
512MB RAM X 1GB FLASH
Display
4.3˝ WVGA (480 x 800), super bright, sunlight viewable
Touch Panel
2 finger capacitive touch, optically bonded for extra durability and better sunlight viewability
Keypad
Dedicated scan key, 4 programmable keys, volume up and down keys, side scan key, Honeywell Virtual Keypad
and Keypad Creator
Audio
Speaker, dual array digital microphones with echo and noise cancellation
I/O Ports
Micro USB, 3.5 mm headphone/mic combo jack
Camera
5.0 megapixel camera with autofocus and flash
Sensors
Accelerometer, vibration, ambient light and proximity
Storage Expansion
User accessible microSD slot (SDHC compatible). Please check with your Honeywell representative for available
qualified card options
Battery
Standard: Li-ion 3.7 V, 1670 mAh; Extended: Li-ion 3.7 V, 3340 mAh
Hours of Operation (reference)
Talk time over 3G network with standard battery: 6 hours
Talk time over 3G network with extended battery: 12 hours
Decode Capabilities
Dedicated imager capable of decoding standard 1D and 2D bar code symbologies
Development Environment
Honeywell SDK for Microsoft® Windows® Embedded Handheld 6.5
Honeywell SDK for Google® Android™ version 4.0
HSM Application Software
Honeywell Powertools® and Demos, Remote MasterMind™ for Mobility remote device management
Warranty
1 year factory warranty
Wireless Connectivity
WWAN
Software definable (Voice and Data): 3.9G – HSPA+/UMTS (850/1900/2100MHz), GSM/GPRS/ EDGE
(850/900/1800/1900MHz) and EVDO Rev A - 1xRTT/EVDO (800/1900 MHz). Assisted GPS included.
WLAN
WLAN Security
WPAN
IEEE 802.11 a/b/g/n; Wi-FiTM certified
WEP, 802.1x, LEAP, TKIP, MD5, EAP-TLS, EAP-TTLS, WPA-PSK, WPA v2.0, PEAP, CCXv4
2.4 GHz Bluetooth® v2.1; Support EDR 2.0 Mbps & 3.0 Mbps Rates Class II (10m)
Microsoft, Windows, and the Windows Logo are registered trademarks or trademarks of Microsoft Corporation. The Bluetooth trademarks are owned by Bluetooth SIG, Inc. U.S.A. and licensed
to Honeywell International Inc.
For a complete listing of all compliance approvals and certifications, please visit www.honeywellaidc.com/compliance
For a complete listing of all supported bar code symbologies, please visit www.honeywellaidc.com/symbologies
RoHS
2002/95/EC
For more information:
www.honeywellaidc.com
Honeywell Scanning & Mobility
Honeywell Building
17 Changi Business Park Central 1
Singapore 786073
Tel: (65) 6355-2828
Fax: (65) 6587-0509
D70E-DS Rev B 07/13
© 2013 Honeywell International Inc.