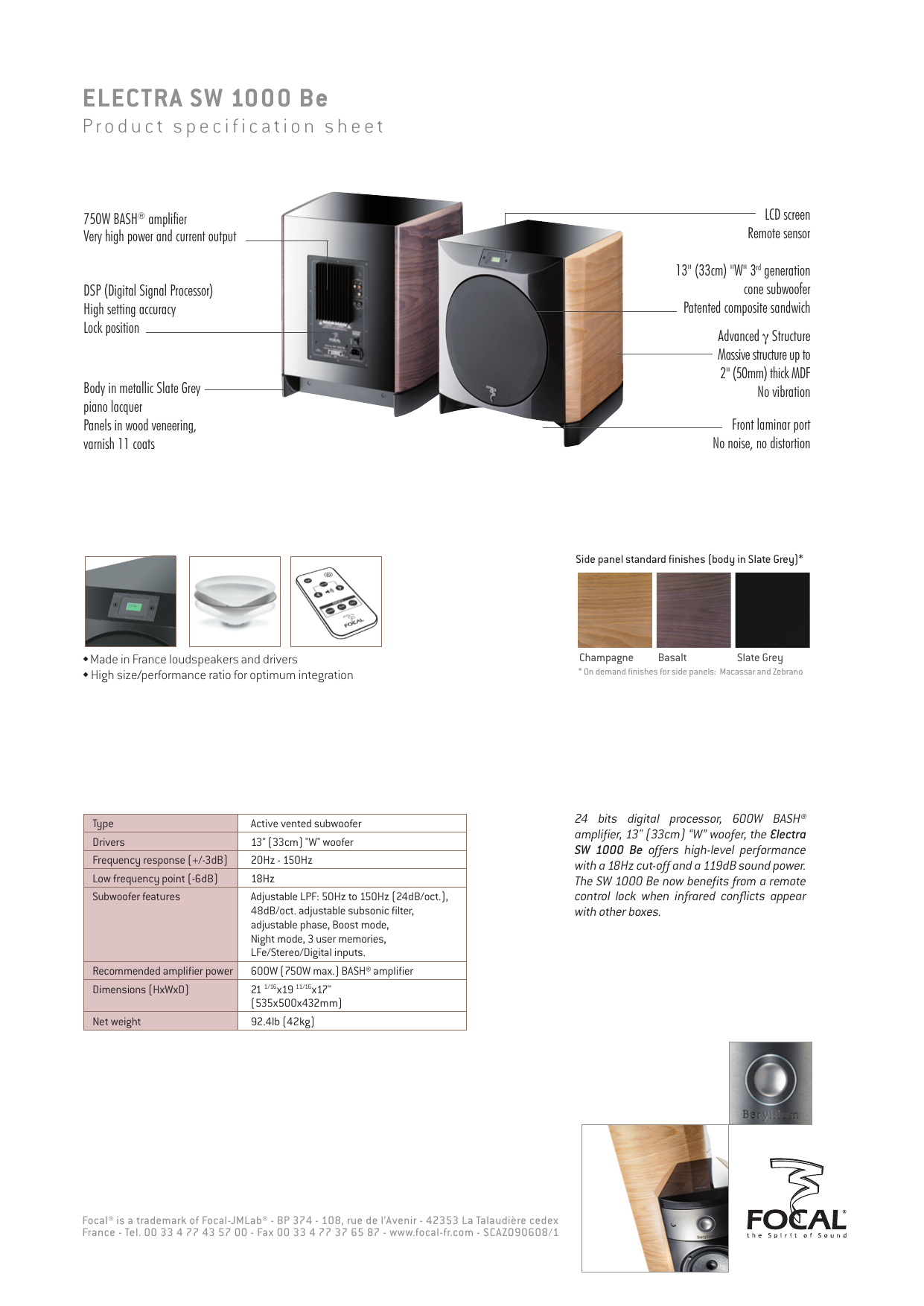 Electra SW 1000 Be
Product specification sheet
LCD screen
Remote sensor
750W BASH® amplifier
Very high power and current output
13" (33cm) "W" 3rd generation
cone subwoofer
Patented composite sandwich
DSP (Digital Signal Processor)
High setting accuracy
Lock position
Advanced γ Structure
Massive structure up to
2" (50mm) thick MDF
No vibration
Body in metallic Slate Grey
piano lacquer
Panels in wood veneering,
varnish 11 coats
Front laminar port
No noise, no distortion
Side panel standard finishes (body in Slate Grey)*
w Made in France loudspeakers and drivers
w High size/performance ratio for optimum integration
Type
Drivers
Frequency response (+/-3dB)
Low frequency point (-6dB)
Subwoofer features
Recommended amplifier power
Dimensions (HxWxD)
Net weight
Active vented subwoofer
13" (33cm) "W" woofer
20Hz - 150Hz
18Hz
Adjustable LPF: 50Hz to 150Hz (24dB/oct.),
48dB/oct. adjustable subsonic filter,
adjustable phase, Boost mode,
Night mode, 3 user memories,
LFe/Stereo/Digital inputs.
600W (750W max.) BASH® amplifier
21 1/16x19 11/16x17"
(535x500x432mm)
92.4lb (42kg)
Focal® is a trademark of Focal-JMLab® - BP 374 - 108, rue de l'Avenir - 42353 La Talaudière cedex
France - Tel. 00 33 4 77 43 57 00 - Fax 00 33 4 77 37 65 87 - www.focal-fr.com - SCAZ090608/1
Champagne
Basalt
Slate Grey
* On demand finishes for side panels: Macassar and Zebrano
24 bits digital processor, 600W BASH®
amplifier, 13" (33cm) "W" woofer, the Electra
SW 1000 Be offers high-level performance
with a 18Hz cut-off and a 119dB sound power.
The SW 1000 Be now benefits from a remote
control lock when infrared conflicts appear
with other boxes.

* Your assessment is very important for improving the work of artificial intelligence, which forms the content of this project