From paris to rome … in 15 seconds* Travel First class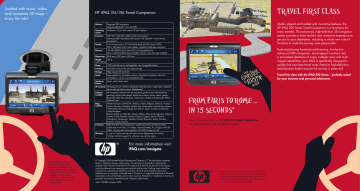 Loaded with music, video
and awesome 3D maps –
enjoy the ride!
Travel First class
HP iPAQ 314/316 Travel Companion
Wireless
Integrated GPS navigation
Integrated Bluetooth® v2.0 with EDR
Operating
system
Windows® CE 5.0 with custom HP user interface
Processor
SiRF Titan™ 600 MHz ARM11 dual-core processor
Advanced SiRF embedded GPS receiver with InstantFix™ time-to-first-fix
acceleration
Display
4.3-inch transmissive TFT 16-bit RGB depth 65,000 colour WVGA
800 x 480 pixel touch screen display, antiglare, landscape orientation
Memory
128 MB SDRAM main memory for running applications
Up to 2 GB Flash ROM (user-available memory varies by maps installed)
Dimensions
86.8 mm x 110.2 mm x 18.2 mm
Stylish, elegant and loaded with innovative features, the
HP iPAQ 300 Series Travel Companion is a must-have for
every traveller. This advanced, high-definition 3D navigation
system provides a more realistic and immersive experience to
get you to your destination, including a whole new suite of
functions to make the journey more pleasurable.
Featuring blazing hardware performance, turn-by-turn
advanced GPS navigation¹, text-to-speech functions and
a pre-loaded database of maps, multiple views and multilingual capabilities, your iPAQ is specifically designed to
quickly find your best travel route. Premium high-definition
entertainment further ensures the journey is never dull.
Weight
187 g
(with battery)
Power
1700 mAh Lithium Ion rechargeable, user changeable battery
Interfaces
Mini-USB connector for sync/data/charge
Storage
High-capacity SD card slot
Audio
Large speaker for navigation volume, integrated microphone with echo
cancellation, 3.5 mm 3 pin headphone jack
Hardware
buttons
Power, scroll wheel, reset
Travel first class with the iPAQ 300 Series – perfectly suited
for your business and personal adventures.
HP exclusive HP-designed user interface, Bluetooth hands-free phone application, Bluetooth
device pairing (phone, stereo headphones)
Software
installed
HP navigation software with text to speech guidance and web-based trip
planning, digital video player, digital music player, picture viewer, games,
Bluetooth hands free, calculator, world clock, contacts with Microsoft® Office
Outlook® sync
Maps
installed
Western Europe on iPAQ 314: Andorra, Austria, Belgium, Denmark, Finland,
France, Germany, Gibraltar, Ireland, Italy, Liechtenstein, Luxembourg, Monaco,
Netherlands, Norway, Portugal, San Marino, Spain, Sweden, Switzerland,
United Kingdom
Eastern Europe on iPAQ 316: Albania, Belarus, Bosnia/Herzegovina, Bulgaria,
Croatia, Czech Republic, Estonia, Greece, Hungary, Latvia, Lithuania,
Macedonia, Montenegro, Moldova, Poland, Romania, Serbia, Slovakia,
Slovenia, Turkey, Ukraine
In the box
iPAQ 314/316 Travel Companion, windshield mount with device holder,
dashboard mount disk, car charger, standard battery, AC charger, mini-USB
cable, carrying case, documentation, HP iPAQ Companion CD
Warranty
1 year or 2 years pick-up and return service (depending on country),
90 days technical support for software, may vary by region
From paris to rome …
in 15 seconds*
Travel first class with the HP iPAQ 314 Travel Companion.
The high-definition 3D navigation system.
For more information visit:
iPAQ.com/navigate
¹ GPS navigation software is
included in select countries.
Purchase of additional maps
and/or software may be required
to enable some features or allow
navigation in certain areas.
Availability of maps is limited.
Map coverage may vary and is
not guaranteed.
© Copyright 2008 Hewlett-Packard Development Company, L.P. The information contained
herein is subject to change without notice. This document is provided for informational
purposes only. The only warranties for HP products and services are set forth in the express
warranty statements accompanying such products and services. Nothing herein should be
construed as constituting an additional warranty. HP shall not be liable for technical or
editorial errors or omissions contained herein. Windows is a registered trademark of MIcrosoft
Corporation in the United States and/or other countries. Bluetooth is a trademark owned by its
proprietor and used by Hewlett-Packard Company under licence.
4AA1-7229EEE. January 2008
* Find your destination fast with the powerful SiRF Titan™
600 MHz dual-core processor and advanced SiRF GPS
receiver with autonomous time-to-first-fix acceleration.
Time to calculate routes may differ based on individual
circumstances and GPS signal strength.
your ideal travel companion
Introducing the HP iPAQ 314 Travel Companion,
your partner on the road − wherever it may take
you. With its powerful performance (SiRF Titan™
600 MHz ARM11 dual-core processor) and 3D
graphics, your navigation experience is driven
with incredible efficiency.
ave
Top 5 must-h
accessories
HP iPAQ External GPS Antenna 5 m (FB058AA)
✓ External GPS antenna provides enhanced
reception inside vehicles
✓ 5-metre cable with low profile, non-sliding puck
✓ Compatible with HP iPAQ GPS-enabled devices
HP iPAQ TMC Car Charger (FB055AA)
✓ Add real-time traffic and travel information
capabilities to your iPAQ GPS
✓ Integrated traffic data on GPS navigation
software for alternative routing
Premium entertainment
The premium entertainment system
plays all your music, videos and
photos in DVD-like quality, while
a collection of pre-installed games
ensures your journey on the road
is never boring. You can also enjoy
convenient viewing in your car with
the included premium car kit.
Awesome GPS navigation
Feast your eyes on richly detailed
3D maps and a database loaded
with millions of points of interest*.
Locate your destination by zooming
in from 3,000 metres to street level,
then use your finger for easy onscreen map navigation. Together
with HP online trip planning
services, getting to where you
want to go has never been more
rewarding.
HP iPAQ 300 Sport Case (FB005AA)
✓ Sport-inspired construction with form-fitting design
✓ Offers protection from scratches and knocks
when you're on the go
Your Trip. Your Way.
Travel smart with HP navigation and trip planning services.
Go online at iPAQ.com/navigate, plan your trip and download
everything to your device. Even share your itinerary and trip
plans with colleagues and friends. You can stay up to date
with the latest maps, search online for personal or business
points of interest, and easily incorporate them into your plans.
Drive smart. Stick to the speed limit.
Gain access to over 47,000 speed camera locations throughout
Europe* and not only avoid possible fines but make your trip
safer for yourself and others.
Use traffic information to avoid delays.
Put traffic jams and blocked roads out of your mind when
using Traffic Message Channel (TMC) information**.
Receive the latest information and then have optimal routes
automatically calculated! The easy way to avoid delays.
Loaded with all this, as well as music and videos, you'll be
travelling in style.
✓ D
etachable carabineer clip to easily attach your
HP iPAQ to a bag
Flexible connectivity
While you travel, use your iPAQ 300 as
a hands-free answering system for your
Bluetooth®-enabled phone.
HP iPAQ Bluetooth® Stereo Headphones (FA303AA)
✓ Listen to MP3s, video or any audio files up to
9 metres from your iPAQ
✓ Bluetooth technology for a great listening
experience without wires
✓ "Behind the head" for a secure fit
olume on/off, play/pause, forward/back on
✓ V
the ear piece
For more information, visit: iPAQ.com/navigate
HP iPAQ 300 Screen Protector (FB007AA)
✓ Protect your iPAQ screen from scratches
✓ Antiglare coating allows use in bright sunlight
* Vary from country to country.
✓ Includes handy cleaning cloth
¹D
ual-core is a new technology designed to improve performance of certain software products.
Not all customers or software applications will necessarily benefit from use of this technology.
**Currently available for Austria, Belgium, Denmark, Finland, France, Germany, Ireland,
Italy, Luxembourg, Netherlands, Norway, Poland, Portugal, Spain, Sweden, Czech Republic
and the United Kingdom.
** Where available and only in combination with the HP iPAQ TMC Car Charger (optional).

* Your assessment is very important for improving the work of artificial intelligence, which forms the content of this project