May 2011 - CityBike Magazine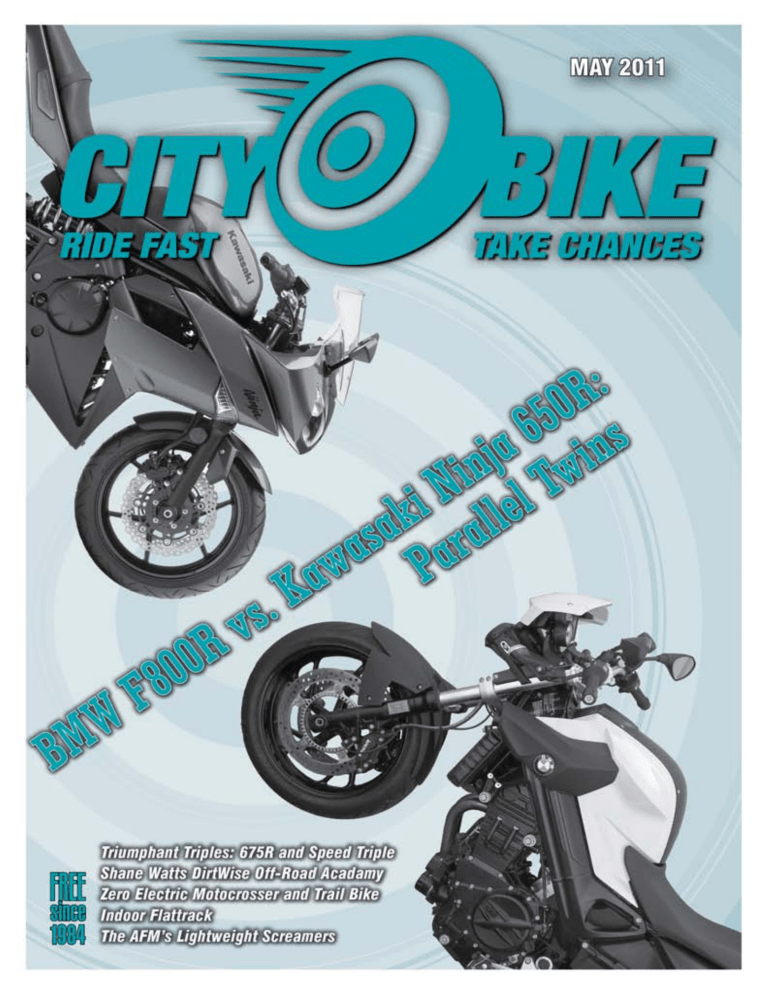 Volume XXVIII, Issue 5
Publication Date: April 26, 2011
On The Cover:
Art Director Alan Lapp uses his magical art-directin' skillz to make a BMW F800R and a Kawasaki Ninja 650R hover in mid air.
Contents:
NCR . . . . . . . . . . . . . . . . . . . . . . . . . . . . . . 3
New Stuff . . . . . . . . . . . . . . . . . . . . . . . . . . 6
Events . . . . . . . . . . . . . . . . . . . . . . . . . . . . .11
BMW F800R v . Ninja 650R . . . . . . . . . . . . 13
Tealdo's Super Ninja . . . . . . . . . . . . . . . . 19
Daytona 675R and Speed Triple . . . . . . 22
Press Intro Fly on the Wall . . . . . . . . . . . . 23
Shane Watts Dirtwise Academy . . . . . . . 26
San Jose Legends and Indoor Racing . . . 28
Zero Dirtbikes . . . . . . . . . . . . . . . . . . . . . 29
Ed Hertfelder . . . . . . . . . . . . . . . . . . . . . . 31
Maynard Hershon . . . . . . . . . . . . . . . . . . . 32
Dr Gregory W Frazier . . . . . . . . . . . . . . . . 33
Tankslappers . . . . . . . . . . . . . . . . . . . . . . 34
Marketplace . . . . . . . . . . . . . . . . . . . . . . . 35
Classifieds . . . . . . . . . . . . . . . . . . . . . . . . 36
AFM: Lightweights . . . . . . . . . . . . . . . . . . 38
AFM Race Results: . . . . . . . . . . . . . . . . . . 39
Free Beer Directory . . . . . . . . . . . . . . . . . 41
CityBike Staff:
PO Box 10659 Oakland, CA 94610 phone:. . . . . . . . . . . . . . . . . . 415/282-2790 e-mail: . . . . . . . . . . . . . [email protected] .com
Find us online: . . . . . . . www .citybike .com
News 'n Clues: . . . . . . . . . . . . . . . . . . .Staff
Editor-in-Chief:. . . . . . . . . . Gabe Ets-Hokin
Senior Editor: . . . . . . . . . . Robert Stokstad
Contributing Editor: . . . . . . . . . . John Joss
Chief of the World Adventure
Affairs Desk:. . . . . . . . . Dr. Gregory Frazier
Staff Photographers:
— Robert Stokstad
— Gary Rather
Art Director: . . . . . . . . . . . . . . . . Alan Lapp
Advertising Sales: . . . . . . . . . Kenyon Wills
Publisher: . . . . . EHW Informal Partnership
Contributors:
Brenda Bates, Dan Baizer,
Craig Bessenger, John Bishop,
Joanne Donne, John D'India (RIP),
Mike Felder, Dr. Gregory Frazier,
Will Guyan, Joe Glydon (RIP),
Brian Halton, David Hough,
Maynard Hershon, Ed Hertfelder,
Harry Hoffman, Otto Hofmann, Jon Jensen,
John Joss, David Lander, Lucien Lewis,
Ed Milich, Patrick Moriarty, Larry Orlick,
Jason Potts, Bob Pushwa, Gary Rather,
Curt Relick, Charlie Rauseo, Mike Solis,
Ivan Thelin, James Thurber, Adam Wade.
CityBike is published on or about the 15 month. Editorial deadline is the 1 st th of each
of each month.
Advertising information is available on request.
Unsolicited articles and photographs are always welcome. Please include a full name, address and phone number with all submissions. We reserve the right to edit all manuscripts.
Web hosting and design by mojotown .com
©2011, EHW Partnership. Citybike Magazine is distributed at over 150 places throughout California each month. Taking more than a few copies at any one place without permission from EHW Partnership, especially for purposes of recycling, is theft and will be prosecuted to the full extent of civil and criminal law. So there.
CityBike magazine is owned by EHW Informal
Partnership and was not purchased by anybody. That was a joke. It was the April issue, you know.
News, Clues & Rumors
FEELING FAT?
Well, we are. At least when it comes to page count. You'll notice that this issue is 40 pages, the biggest it's been for at least five years. We'd like to entirely attribute the success to our brilliant sales and marketing department, but the economy and motorcycle market seems to be showing signs of life after a long, cold, four-year winter.
"News, Clues" gets out and about among the various shops and events, and we're hearing—and seeing—much positive activity. In fact, distributing the April issue, we saw salespeople closing deals before our eyes, and where we usually stand around shooting the ship with dealers and parts people, they were too busy to pay attention to us.
DUBBEL YOUR PLEASURE
Remember July 12, 1991? No? The folks at
Dubbelju Motorcycle Rentals do, vividly.
That day, the first customer rode out of their tiny shop in a San Francisco back alley and crossed the Golden Gate Bridge.
"Twenty years on, it's still a pleasure to watch our customers ride out of the door," says Germany native Wolfgang Taft, who started Dubbelju.
We used a Dubbelju (just say "W") BMW F800GS for a story ("Bye-Bye
1200?" March, 2010) and found a profoundly well-maintained ride.
Tell your out-of-town friends they don't have to rent a Harley or a scooter (though Dubbelju has those, too) when they're in town. Contact Dubbelju at
415/495-2774 or dubbelju.com.
SAN JOSE BMW'S
A-TRACK-TIVE OFFER
Sorry about the bad pun, but we can't all bat 1000. Anyway, San Jose BMW wants you to know you can drop by the dealership at 1886 West San Carlos street in San Jose to fill out an entry blank to won one of two trackday passes at Infineon Raceway on Thursday, May 11 (that's the weekend before the West Coast Moto Jam, which you should go check out, trackday or not).
Call SJBMW (bsjbmw.com ) at 408/295-
0205 for more info.
MORE ABOUT ART
From
CB contributor Curt Relik:
Art Baumann, 68, local road racer recognized internationally during the '70s, died of heart failure February 11, 2011.
Widely known as "Art The Dart", #30
[briefly #24] could be "…..a bit crazy, but one tough dude," according to an AMA
Superspeedway race report from the '70s.
Art Baumann was a mid-'60s graduate of the rough, often-temporary NorCal AFM
'road' courses. This talented racer with the surfer looks won the '67 AMA Junior contest near the beach—Daytona—riding the Pacifica-based Kibblewhite Precision
Machine CB450.
Adventure by the end of 2012 as a 2013 model. Apparently, the new powerplant has been delayed in development because it was initially too similar to the BMW
Art's AFM racing success on privateer
Hondas led to consecutively sporting the AMA National &
Trans-Atlantic factory leathers of Yamaha,
Suzuki, & Kawasaki teams. His initial factory connection was Brisbane's expat-Brit racer, Ron
Grant. This local pair (initially aboard various 250s) soon capitalized on their
Suzuki 500 twins' grunt, appearing on
AMA podiums.
Photo: R. Schedl
Art Baumann experienced his greatest moment in the sun at the 1969 Sears Point
National, on that same Suzuki. After repeatedly being denied a maiden victory, Art notched maiden victory, Art notched one that was 3-times historic
- first-ever AMA National road race wins for Art; a
Japanese machine; and a
2-stroke
When the triples appeared,
Art migrated to Kawasaki and two ferocious frontrow teammates - Miguel row teammates - Miguel
Duhamel's pop, #17 Yvon, and #9 Gary Nixon.
Tho' Art maintained his Tho' Art maintained his competitiveness over the next years, crashes and too-frequent mechanical issues interfered with continued success - his career quieted in the late '70s.
In sum, that quiet, tough guy in the
Japanese manufacturer's handsome skins set a standard to which any AFM racer can aspire; Art rode for 3 major factories and made AMA and international manufacturer history with a memorable local win.
Twin it's slotted to compete against. It should appear in 1200cc, 1000cc and a lightweight 700 or 800cc version—an answer to Triumph's acclaimed new Tiger
800. Expect traction control and plenty of horsepower from the new mills.
Prieleninger also allowed the journos to spy a new 700cc single-cylinder Duke. The new bike has a more aggressive appearance and should be a beast—the light, agile and powerful 690 Duke was a favorite of ours at the KTM press launch at Laguna Seca in
2009 ("KTM 2010," December 2009). We look forward to the new bikes.
THROTTLE YARD SALE
Car nuts among our readership may already know about Bring a Trailer
(bringatrailer.com), a great site that culls the best of vintage automotive listings on
CraigsList, eBay and other online services.
Now the company has turned its expertise in fidning interesting stuff (like vintage military equipment or pristine one-owner
Mecerdes diesels) to the motorcycle world.
Now you don't have to wade through the dumb crap on eBay and CraigsList
("FS: PINK-AND-PURPLE 1994
GIXXER 750, 28,000 MILES, MISSING
BODYWORK, NEVER CRASHED,
$5900 PLEASE NO TIME-WASTERS) to find proper moto-porn. Throttle Yard
KTM
What's next from the big orange building in
Matinghofen,
Austria? How about a whole new range of modular
V-Twin powerplants, ranging from
800-1200cc?
That's the news from
Dutch website
Niewsmotor.nl.
KTM's R&D guy, Robert
Prielinger, told the site of a new
SuperDuke and
You could comb CraigsList for hours to find a bike as clean as this pristine
900SS...or you could just check out ThrottleYard .com.
May 2011 | 3 | CityBike.com
THE QUAIL MOTORCYCLE GATHERING
carmel | california | maY 14, 2011
Saturday, May 14, 2011
The Quail Motorcycle Gathering and Bonhams & Butterfields Auction
10:30am – 3:00pm, Auction immediately following
The 3rd Edition of The Quail Motorcycle Gathering celebrates the finest sports and racing bikes from around the world, with a special feature honoring the "100th Anniversary of the Isle of Man TT Races." There will be displays by leading motorcycle manufacturers, dealerships and accessory and lifestyle vendors.
New for 2011 is the optional full concours judging, for those enthusiasts interested in entering a motorcycle and competing for the coveted "blue ribbon" in their class. Admission includes lunch prepared by the Culinary Team at Quail on a woodfired grill, brew tents, live entertainment and much more.
The Bonhams & Butterfields Auction will highlight multiple motorcycles offered with no-reserve bidding, as well as various automobilia, racing posters and collectibles.
Friday, May 13, 2011
The Quail Ride
Vintage and modern motorcycles welcome!
9:30am Departure
Vintage and modern motorcycles will depart on separate routes of the Monterey Peninsula before uniting at Mazda Raceway
Laguna Seca for touring laps. Enjoy an exclusive lunch at the top of the corkscrew before returning for The Quail Motorcycle
Dinner and Bonhams & Butterfields Auction Private Preview.
Participation in The Quail Ride also includes: 100 mile ride, ticket to The Quail Motorcycle Gathering including lunch, access to the Bonhams & Butterfields Auction and a place to display your
"Ride" motorcycle on the field as an "entrant".
For event packages, ticket information and additional Motorcycle
Gathering events, including the Bonhams & Butterfields Auction
Preview & Dinner, please visit www.quaillodgeevents.com
Tickets and Information
Phone: 1 (831) 620-8887 Toll-free: 1 (877) 734-4628
Email: [email protected] Web: www.quaillodgeevents.com
May 2011 | 4 | CityBike.com
(throttleyard.com)has some gems like a
1973 Rickman motocrosser for $1000 or a stunningly clean 900SS for $4500. We say check it out.
TRAPPED!
This warning came in from CB reader Will and has not been checked for veracity at presstime:
Beware!!! CHP is running a tag-team speed trap on Highway 116 in Sonoma county.
Usually weekend days. At Packing House
Road, at the bottom of the hill, is the lower parking lot for Forestville elementary school. Halfway down the hill on the approach the speed limit changes from
45 to 35, and one of the "revenuers" steps out into the road with his radar/laser and points you into the school parking lot.
As an aside, just to prove it's all about revenue and not safety, they are having people park and block the roadway leading in the parking lot. Definitely not safe.
There is a legal easement on that road for residents behind the school to have 24/7 unimpeded access besides.
SOS CARNEGIE SOS
This comes in from Off-Road-Riding rights group Carnegie Forever:
December 28, 2009 was a cold, bleak, rainy day for Carnegie State OHV Park and the
150,000 people that bring their families and friends there for outdoor recreation.
The riders group (CORE) that met with the park staff for the last 12 years sponsored a
Rally that day to say goodbye to our park which was due to close the next day. On
December 29th, however, an appeals court ruled that the park could remain open while further research was done.
For the last 15 months we have developed a series of defensive programs to help keep our park open and able to expand. We have reached a point of departure and need your financial help with the following plans:
We have completed the paperwork for a 501 (c) (3) non-profit called Carnegie
Forever. The legal fees were waived but we need to meet an $800 filing fee.
We want to have a Carnegie Rally II to bring the park users together to bring them up to date and have them develop a closer working association with our planning group. We will advertise this event and bring in activities and food services. Cost:
$1500.
We want to expand our Internet and advertising capability to reach more riders and organizations. Cost $2,000.
We plan soil/water surveys at the park to help debunk the data acquired by the people who want us gone. Cost $500
We have funded ourselves out of pocket but now need your help to continue the process of defending ourselves from organizations that have 100 times our resources. The work we are doing helps us but especially helps the next generation.
Can you please dig into your pocket and send us a small donation? A check or cash amount of $10/$20/$50 will get us into 2nd gear. We need this support which will keep the park open and expanding.
Thank you,
Mark Speed, Mark Martinez, Pete
Krunich, Dave Duffin, Diane Tweedy
Board of Directors
CORE
2532 Santa Clara Avenue, PMB 453
Alameda, CA 94501
SHIFT GETS THE SHAFT
Morgan Hill, California-based Fox Racing announced it is discontinuing its line of
Shift Racing street motorcycling gear.
The announcement surprised us—the stylish, functional gear seems popular enough, carried in most accessory marts and dealerships, and worn so frequently by moto-journalists they call themselves
"Shift whores." The Shift pimp himself, communications man Brian Horton, was amazingly skillful at getting his product in the hands of the media.
In the meantime, Shift apparel and accessories are on blowout across the Bay
Area—scoop up the deals while you can.
FATALITIES DECLINE
A report from the Governors Highway
Safety Association that revealed motorcycle fatalities declined "by at least two percent" in 2010. That's good news, right? Well, not when the rate slid 16 percent in 2009...and 2010 saw fewer new bikes on the road. It also saw helmet use decline from 67 percent to 54 percent in
2010. And most alarmingly, the last part of the year saw an increase in the fatality rate, and with gas prices increasing and the economy improving, expect it to rise once again in 2011. We here at "News, Clues" wish motorcycle fatalities weren't a leading indicator of economic activity and we urge our readers to wear all the gear all the time
(ATGATT) and get some professional rider education, whether from the MSF
(msf-usa.org) or a for-profit school like
California Superbike School, Lee Parks
Total Control or a local track-day organizer.
AMA BRINGS SPORTSTER
RACING BACK TO INFINEON
You may remember watching some pretty intense racing action at Sears Point way back in the day with the old Harley-
Davidson AMA 883 Series. Re-live those days at the upcoming Moto Jam at
Infineon Raceway May 13 to 15. It'll be the debut of the Vance & Hines XR1200
Championship, with similarly prepped
Harley-Davidson XR1200 racebikes battling it out on Infineon's tight, technical roadcourse.
Last month's race at Daytona was the biggest to date for the class, with 18 bikes entered and a .016-second margin of victory. Danny Eslik, Steve Rapp, Joe Kopp and others will be banging bars and maybe trading paint and other fluids (hey, it's
really close racing) on the brutally simple machines.
If you don't dig Harleys, there's plenty of other stuff. There will be AMA Pro Road
Racing (which may be dominated by local talent), Supermoto on the kart track, electric motorcycles humming along, vintage motocross and even flattrack. Plus there will be scantily clad young women
May 2011 | 5 | CityBike.com
Reliable, timely service at reasonable rates on all makes of motorcycles
890 Second Ave.
Redwood City
CA 94063
280
92
84
101
880
237
85
HOURS:
Tuesday–Friday 9am-6pm • Saturday–9am-5pm • Sunday & Monday–closed
650-367-9000
412 Valencia, San Francisco www.munroemotors.com
(415) 626-3496
AP-RSV4 fac_dealerAd_rockridgetwowheels.indd 1
Are you ready to run with the Diavel?
1931 Market St. Concord www.eastbayace.com
(925) 969-7818
RockRidge Two wheels
ApRiliA demo sAle
RSV4 Factory $20,888 + fees.
Demo pricing $17,888 + fees. 0% financing for 6 months. Free track day.
Only two at this price.
TWO WHEELS cAll 510 594 0789
© Piaggio Group Americas, Inc. 2011. Aprilia® is a U.S. and worldwide registered trademark of the Piaggio Group of companies. Obey local traffic safety laws and always wear a helmet, appropriate eyewear and proper apparel.
Call to schedule a private demo ride
3600 Soquel Ave, Santa Cruz www.motoitaliano.com
(831) 462-6686
1289 W. El Camino Real, Sunnyvale www.hondapeninsula.com
(408) 739-6500
walking around, celebrity autograph sessions, and appearances by past legends
Scott Russell, Brad Lackey, Rich Oliver and
Reg Pridmore. We attended last year and it's a can't miss event. Did we mention the scantily clad women?
Check the ad in this issue for more information or call 800/870-RACE. A full schedule of events is at infineonraceway.com.
MOTOGP TO LEAVE
LAGUNA FOR TEXAS?
If the Moto Jam doesn't satisfy your craving for racing action, have no fear—
MotoGP will return to Mazda Raceway
Laguna Seca for 2011—July 22-24 to be exact.
Dorna, MotoGP's organizers, signed a 10-year deal with the new Circuit of organization is managed by none other than CityBike subscriber and GP legend
Kevin Schwantz), but there is no word if the USA will host three MotoGP events in
2013 (Laguna, Austin and Indy). Indy's attendance has slipped 31 percent since its inaugural race, so it may be out for 2013, but Laguna has a contract till 2014. "Mazda
Raceway Laguna Seca brought MotoGP to the United States in 2005 and we welcome the addition of a third venue in anticipation of expanding the World Championship to a broader audience," said Laguna's CEO and
General Manager Gil Campbell. "There's no denying that our country's and state's economic condition the past two years has hindered attendance growth. I am hopeful that this expansion into a new demographic is a sign that fans and corporate sponsors are intensifying their support of the world's best motorcycle racers."
ROSSI'S PIZZA PLACE
Like pizza? Like Vale Rossi? Then be sure to visit Tavullia, Italy the next time you're on the Continent. The "Bar Pizzeria da Rossi" is now open for business. Have a pizza, watch MotoGP, browse through a line of
VR46 merchandise. It's just a half-hour ride from Rossi's hometown of Urbino, so you may even see the Doctor himself.
NEW STUFF
SPRAY N' WASH PART I:
BIKE BRITE
We hate cleaning motorcycles, and our motorcycles probably hate us, as we wash them but once or twice a year. Sometimes we forget what color the wheels are.
So Bike Brite Motorcycle Spray Wash may be just the thing. "Fantastic tripleaction cycle formula washes-cleansdegreases," promises the label. "Brings new brilliance to painted surfaces. Adds sparkle to brightwork, wheels and trim.
Imparts a rich luster to vinyl, rubber and tires...biodegradeable...approved by leading motorcycle manufacturers." Holy crap! Does it cook you breakfast and buy birthday presents for your spouse also?
We're suspicious of products that promise to do so many things at once, but we had a
BMW testbike I had to return (and you do
not want to bring a BMW back dirty), and not much time—or motivation—to do a really good job cleaning it.
May 2011 | 6 | CityBike.com
KARI'S KORNER
We started "Kari's Korner" last year to celebrate the life and poetry of Kari Prager, the iconic founder of Cal BMW in Mountain View. We hoped printing his poetry would encourage CityBike readers to send in their poetry, and it has! This entry is from Duffy Collin of the East Oakland
Moto Bros. Kari would have surely approved...
Baja 2010: The Poem
Every four years (or every 'college education...')
The East Oakland Moto Bros, do a major two-wheeled vacation
Down South to Mexico, Baja to be exact
(In a year or two there'll be a movie, be sure ta' catch their act).
Started up North near Tecate, a place called Veronica's
Criss-crossing the peninsula south, so far you'd need binoculars
To see this group hauling ass, across this beautiful land,
All the way to 'group pics at the beach,' on the sweet
Cabo sand.
From Mark's wheelies on the beach, Phil's bee sting between the eyes
'Prospects' on lowered 250s, Eric's "help me" cry-baby cries
Duffy's falling in the rocks, Jeff's failed rear wheel bearings.
Got these Bad Ass Baja jerseys, proudly we be wearing
Tough guys goin' home, after only three days...
While 'top prospect' Dawn Hill, makes it the whole way
EOMB history was being made, in this Baja game
"Lil' Bad Ass" was to be her official nickname
(But she made a good point, round the fire one night:
"Hey dudes, try childbirth, then we'll see who's right..."
She said Baja's not as tough, as labor havin' a kid
Us guys what do we know, 'bout somethin' we never did?)
The Moto Bros (and sisters) relaxing poolside in Cabo, 2010.
Hey we used ta' party 'til way late, in the '02 and '06 trips...
What the hell happened, we're not a bunch of crips...?
So now it's off to bed by 10, gotta get up early an' ride,
Is it 'cause we're 'olde'? Or maybe it's just pride...
'Cause gettin' good rest, riding these incredible toys,
Might have been more important, than "partyin' with the boys.
Don't get me wrong, there was plenty of partyin'—you bet:
Loreto, Hotel California, Cabo, and a few further yet.
Twenty-one of us did it, Baja's 1700 miles,
Almost all of it off-road, just the thought of it makes me smile.
Because there's nothing like Baja, to truly stir your soul
And with THIS cast of characters, it'll never get
'olde'...
Four years fly by so quickly, before we know it—Oh shit!
Gotta get my stuff together, gotta pack my things just right
Maybe on a lighter bike? Or will the 650 still be
"tight?"
Don't know enough just now, but when I do know I'll clue you in.
This group of individuals, are the BEST to have as friends,
Whether it was help getting it all together, or helping on
Baja's trails
The bros in the E.O.M.B., will always help you...post bail!
So we wet the bike down, sprayed the cleaner all over it, scrubbed at the greasy bits with an old and soft scrub pad, and rinsed it off. Ha! It didn't really work that well— the bike was clean, but not as spotless and shiny as the label promised.
Oh, wait—the label has directions on it.
And the directions toothbrush the bike was clean, but not as spotless and shiny as the label promised.
Oh, wait—the label has directions on it.
And the directions tell you to spray the stuff on a dry bike and then to immediately tell you to spray the stuff on a dry bike and then to immediately rinse it off. But how could that possibly work? Smelling a Pulitzer, we decided to do some investigative journalism, pulling out a criminally filthy
Ducati Supersport that hadn't cleaned since last October
(why wash a bike if it's just going to get rained on, right?). just going to get rained on, right?).
We spritzed the
Bike Brite and rinsed it right off. It took two minutes.
The following silence was the Pulitzer committee not calling. After a quick chamoising, the bike was
(almost) spotless.
The painted and metal surfaces gleamed.
Tires and other rubber bits sparkled. From
10 feet away, it looked really good. Closer, we could see some really hard-toclean areas the Bike Bright couldn't work its magic on, like the build-up of greasy residue on the wheels and splash from the chain.
Still, if you want to clean your bike in two minutes, this is a remarkably effective product and definitely worth the
$10 or so (the price varies from retailer to retailer and there is no MSRP on the manufacturer's site, so shop around) for a 32-ounce spray bottle.
You can find out where to buy it
(and a lot of other bikecleaning products) at
Bike Bright's website
(bikebright.
com).
May 2011 | 7 | CityBike.com
May 2011 | 8 | CityBike.com
SPRAY N' WASH PART II:
MAXIMA HIGH GLOSS
SC1 CLEAR COAT
Last fall, I rode my new-to-me 2004
Kawasaki ZRX1200 to the good local
Kawasaki store in a west Denver suburb.
My bike had been ridden hard in wintertime and put away with road salt on it. I replaced many corroded parts and had finally gotten most of the bike to look as good as the near-pristine (red) painted surfaces.
The guys at the Kawasaki shop looked at my bike. One of them went into the shop, emerging with a black-topped, 12-ounce can of Maxima SC1 ($9). Look at this side cover, he said, pointing at the dull gray plastic cover under the seat, behind the tank. He sprayed SC1 on that cover, and on my bronze-colored engine cases and clutch cover and black plastic chain guard and rear fender.
We waited just a moment. He massaged the newly sprayed stuff with a microfiber cloth and just like that, those parts looked new. Not just better than before. Not just glossy. New.
According to the blurb on the back of the can, not only does the SC1 make that plastic, fiberglass or painted surface
(or anodized engine cases) look better, it somehow makes it easier to clean by preventing "buildup of mud and dirt."
I can't speak for that sort of protection, but
I will say that my bike looks like a 2010 now instead of a clean 2004.
You wash and dry your bike. You spray on SC1. You wait 30 seconds. You wipe it off with a clean towel and buff the area. The can says what results is
"a beautiful, dry sheen and a long-lasting shine."
Seems to be true. I'm sold.
Contact:
MaximaUSA.com
—Maynard Hershon
HOT UNDER THE
COLLAR, PART
I: AEROSTICH
KANETSU
Electric vests are for wusses. That's what I thought for most of my riding life: if it got really cold, stuff newspaper under your jacket and keep going. Much later
I mellowed and, in a weak moment, bought weak moment, bought an e-vest on sale at a
BMW dealer. Suddenly I discovered what I'd been missing all those years— comfort in the cold.
That vest worked for years, as I kept repairing the wires when they broke at the terminal connection.
But, eventually, hot spots developed in the heating wires and
I had the sensation of being burned over my belly, a spot where, over belly, a spot where, over these years, the fit had tightened. I needed a new one (vest, that is).
I bought a Kanetsu electric liner from Aerostich. The liner is more than a vest as it has heated sleeves, which is the upgrade in heating capability that I wanted. The liner is the top-of-theline model—the Airvantage—which has an inflatable air bladder in the front.
Blowing air into this bladder does two things. It presses the heating wires to the body, which increases heat transfer, and adds insulation via the additional air space. Finally, I added a thermo-controller, which allows you to adjust temperature between on and off—my previous vest had only an on/off switch. I had to regulate temperature by leaving the switch on until
I was too warm, and then leave it off until
I felt cold again. The thermo-controller eliminates that bother.
A Pacific storm with rain, wind, temperatures in the 40s provided the first chance to try out my new equipment. I had a T-shirt and long-sleeved cotton shirt between the Kanetsu and my skin, and an
Aerostich TL-Tec Windblocker fleece over the electric liner, next to my Darien jacket.
Over a ride lasting several hours, I was
A much better test was a winter trip to
Baja. We crossed the
Tehachapi range when there was snow on the ground and the temperature ranged from 35 to
50 degrees, with considerable wind chill at freeway speeds. In a situation like this, much more is required than a heated liner and
A much better test was a winter trip to
Baja. We crossed the
Tehachapi range when there was snow on the ground and the temperature ranged from 35 to
50 degrees, with considerable wind chill at freeway speeds. In a situation like this, much more is required than a a fleece.
From inside to out, I had on a thermal undershirt, cotton shirt, Kanetsu liner, lightweight wool sweater, medium weight fleece, TLtec fleece and Darien jacket. The thermo controller was full on, as were the heated grips and, at the coldest part, I resorted comfortable and immediately recognized the benefit of heated sleeves.
The added insulation when the air bladder was inflated was evident.
When not inflated, I turned up the current through the controller to compensate.
So far, so good. comfortable and immediately recognized the benefit of heated sleeves.
The added insulation when the air bladder was inflated was evident.
When not inflated, I turned up the current through the controller to compensate.
So far, so good. to the old-timer's trick of adding some newspaper (we hope it was CityBike! —ed.).
It worked because the Darien jacket was large enough to accommodate all these layers, though there was no room left to blow up the air bladder. Staying warm made the ride not only tolerable but thoroughly enjoyable.
At maximum current (4.3 amps at 14.3 volts) the liner is pumping 63 watts into the space inside the jacket. So, as it gets colder, the only way to stay warm is to increase the insulation between the source of heat (the liner) and the sink (the cold surface of the outer jacket). The adjustable parameter is the number of layers (and their insulating quality) that you add to this space. On the Baja ride, I was maxed out in layers. In this case, the thermo-controller is useful because, as the air temperature warms up during the day, I could turn down the current instead of having to stop and remove a layer or two of clothing.
The Kanetsu AirVantage liner is great, but it's not cheap at $327. It comes with a coiled connecting cord with a lighted switch that tells you at a glance if the power's on. The thermo controller adds another $60, but is well worth it, I find. If I had to save some money, I'd forgo the air bladder ( saves
$40) rather than the controller.
There are four basic combinations in the
Kanetsu line to choose from: vest or liner, with or without air bladder, ranging in cost from $187 to $327. Aerostich design and quality craftsmanship are behind the price.
Good gear makes for great riding.
—Bob Stokstad
HOT UNDER THE COLLAR,
PART II: POWERLET HEATED
JACKET, GLOVE LINERS AND
REMOTE CONTROLLER
Powerlet's new rapidFIRE ProForm heated liner ($250) adds an extra dimension to the utility of heated gear. That's because it's very thin and comfortable to wear, thanks to lots of stretch panels and Powerlet's
"Carbon Nano-Fiber Core" heating elements which use far infrared (FIR) for a deep, safe, penetrating heat. The cuffs are finished to reduce bunching, as do the
"ProForm" stretch panels. Because of all that, Powerlet promises a tailored fit with a minimum of sizes. Powerlet also claims it's the warmest heated liner on the market, with a 105-watt rating.
To complement the liner, Powerlet also offers a very clever solution to the problem of too many wires. It's a wireless controller
($110 for single, $140 for dual) that uses a
Bluetooth-ish system to communicate with a dongle plugged into the liner, eliminating the need to have a controller hard-wired into the jacket. This minimizes the wires going from bike to rider.
The liner is stylish and comfortable (and may we add, slimming in basic black) to wear as a standalone garment. Its polyester construction has good wind-blocking qualities, and the stretch panels give it a snug but comfy fit.
A high Polar Fleece collar blocks wind and wicks moisture away from your neck. Unlike other heated garments, there is a minimum of wires.
Instead, the heating
May 2011 | 9 | CityBike.com
May 2011 | 10 | CityBike.com
EVENTS MAY-JUNE 2011
Every Saturday: $7 All-you-can-eat
Bacon and Waffles at Godspeed!
10:00 am to 3:00 pm: Godspeed
Oakland, 5532 San Pablo, Oakland,
510/547-1313, godspeedoakland.com
Bacon bacon bacon bacon bacon bacon bacon waffle.
First Monday of each month
(May 2
nd
, June 6
th
):
6:00-8:00 pm: NORCAL Guzzi Bike
Night at Applebee's in Milpitas (84
Ranch Drive, off N. McCarthy Blvd.).
All motorcycles welcome! Call John
510/377-5575 or check
pastariders.com for more details.
First Monday of each month
(May 2
nd
, June 6
th
):
6:00 pm: American Sport Bike Night at Dick's Restaurant and Cocktails,
3188 Alvarado Street, San Leandro.
Bring your Buell and hang out with like-minded riders. All brands welcome! Our meeting of Buell and
Motorcycle enthusiasts has been happening the first Monday of the month for the last 12 years, without ever missing a meeting. We have had many local and national celebrities from the Motorcycle world grace our meetings. It has been fun and exciting.
amricansportbikenight.net
First Monday of each month
(May 2
nd
, June 6
th
):
6:00 pm: California (Northern, East
Bay) NORCAL Guzzi Bike Night at
Applebee's at McCarthy Ranch Mall, off 880, in Milpitas, California. All
MGNOC members, interested Guzzi riders, and all other motorcycle riders always welcome. More information, contact John Cerilli at: 510-377 5575
First Monday of each month
(May 2
nd
, June 6
th
)
2:30 – 10:00 pm: Northern California
Ducati Bike Nights at Benissimo (one of Marin's finest Italian Restaurants),
18 Tamalpias Dr, Corte Madera.
NorCalDoc.com
Third Monday of each month
(May 16
th
, June 20
th
):
6:00 pm to 10:00 pm: East
Bay Ducati Bike Night at Pizza
Antica (3600 Mount Diablo Blvd.,
Lafayette, 925/299-0500) Bike parking on the street right in front of the restaurant, indoor and heated outdoor seating, excellent wine list. All moto brands welcome.
Bring your appetite and a smile, be prepared to make new friends.
Third Sunday of each month
(May 15
th
, June 19
th
)
9:00 am: California (Northern)
Moto Guzzi National Owners Club
(MGNOC) breakfast at Putah
Creek Cafe in picturesque Winters,
California (Highways 505/128)
MGNOC members and interested
Guzzi riders meet for breakfast and a good time. The Putah Creek Cafe is located at Railroad Avenue. More information contact: Northern
California MGNOC Rep, Don Van
Zandt at 707-557-5199.
Third Sunday of each month
(May 15
th
, June 19
th
):
Moto-Sketch at Tosca Cafe: come and sketch a live model draped over a custom bike. $7 to sketch, free to just watch. Tosca Cafe, 242 Columbus
Ave. in S.F.
First Saturdays of each month
(May 7
th
, June 4
th
)
Mission Motorcycles (6292 Mission
St. Daly City, missionmotorcycles.
com 650/992-1234) has Brown
Bag Saturdays: 15% off all parts and accessories you can stuff into a brown paper sack.
Sunday, May 1
st
, 2011
10:00 am to 4:00 pm
21st Annual Pacific Coast Dream
Machines Show. Half Moon Bay
Airport, on Highway 1, 20 miles south of San Francisco and 5 miles north of
Highway 92.
One of the West Coast's biggest shows, this remarkable exhibit of over 2000 vehicles will feature motorcycles from antique turn-of-the-century models, high-performance sport, racing and off-road bikes to the hottest custom bikes of the modern era. All motorcycles are welcome for display.
Club rides are welcome.
You'll see everything from Ducati,
Norton, BMW, Moto Guzzi and more represented. The show also includes antique, vintage, classic, and custom automobiles, trucks, aircraft, tanks and massive gas engines and steam tractors. Spectator admission is $20
(adults), $10 (age 11-17 and 65+), and free (age 10 and under). To show a motorcycle, the registration fee is $30
($40 for entries postmarked after April
15) and includes a commemorative pin and admission for two people.
CityBike will have a booth at the event, so come by and say hello! If you have an interesting bike you'd like to show off, email us: [email protected] or call
415/282-2790.
For information and registration forms, call 650/726-2328 or
miramarevents.com.
Saturday, May 7
th
12:00 am to 3:00 pm
Kali Helmets Release Party at SF Moto,
275 8th St. San Francisco. Barbeque, helmet raffle and meet the designers and owners of KALI helmets. 415/255-3132,
sfmoto.com.
Saturday, May 7
th
10:00 am to 5:00 pm
Triumph Open House at Munroe
Motors! Release party for the long awaited Tiger 800 and Speed III.
Call for demos. 412 Valencia St. S.F.
415/626-3496, munroemotors.com
Wednesday, May 11 to
Sunday, May 15
Moto Jam at Infineon Raceway: Five series, four tracks, one great weekend!
The two-wheel excitement of AMA
Pro Road Racing returns to Infineon
Raceway. You'll catch just about every form of motorcycle racing, including
AMA Pro Road Racing, Supermoto
USA, Flat Track, AHRMA National
Motocross and TTXGP Electric
Motorcycles.
Plus FREE Demo rides in the expanded Motorsports Midway, appearances by the Infineon Raceway
Girls, autograph sessions and more!
We'll also honor riders Scott Russell,
Brad Lackey, Rich Oliver and Reg
Pridmore as part of our season-long
Legends in Sonoma program. More info: infineonraceway.com or call
800/870-RACE
Friday, May 13
th
and
Saturday, May 14
th
Third Annual Quail Lodge (800 Valley
Greens Drive, Carmel, 831/620-8887,
quaillodgeevents.com) Motorcycle
Gathering. 100-mile kick-off ride
Friday for 50 participants--$250 fee includes tracktime at Laguna
Seca Raceway and intimiate dinner reception featuring guest speakers and preview of the Saturday Bonhams and
Butterfields auction.
Saturday's events include display of rare, interesting and classic motorcycles, including the John Edgar Vincent
"bathing suit bike" that Rollie Free rode at Bonneville in 1948, as we as a tribute to racing, bike judging, sounthern-style barbeque lunch and then the auction
(which will include Steve McQueen's 1971
Husqvarna 400). $65 per person, proceeds to benefit Riders for Health.
Jamestown. More information: Neil, 408-
374-6288 or check cjmc.org.
Saturday, June 4 th
Sunday, June 5 th
to
Classic Japanese Motorcycle Club Swap
& Show, biggest Classic Japanese Swap/
Show - Swap both days, Show only on
Sunday. All are welcome! Auburn, CA
Fairgrounds. For more info contact Neil,
([email protected] or phone
408/374-6288) or check CJMC.org,
Drag some knee with Lee!
Saturday, May 14 th
and
Sunday, May 15 th
Total Control Advanced Riding Clinic
Level I and Level II at San Mateo.
The Man hisself, Lee Parks will be on hand both days for these engaging, fun and totally worthwhile riding classes.
totalcontroltraining.net or call
800/943-5638.
Saturday, May 14 th
9:00 am: CJMC Cherry Lake Quarter-
Horse Ride. Ride to Cherry Lake from
Jamestown, CA. 250cc and smaller classic motorcycles welcome. Meet at the
Ranch House, 8971 French Flat Road,
Sunday, May 29 th
11:00 am-2:00 pm (times subject to change) First (and maybe last!) Annual
CityBike day at the Junction!
Yes, take one of the most challenging, fun rides in the Bay Area and then meet
CityBike staff and contributors, get demo rides on BMW, Triumph, Can-Am and other brands. Also: seminars, book readings, Maynard Hershon dunking booth and more fun stuff. Free admission, proceeds benefit the Roman Polanski
Home for Unwed Mothers. Look for the ad in this month's issue, citybike.com or call us: 415/282-2790. The Junction Bar and Grill (CityBike does NOT condone drinking and riding in any form!) is located at 47300 Mines Road, at the junction of Del Puerto Canyon road and
San Antonio Valley Road).
Friday, June 3
Sunday June 5 rd th
to
Three-day, 500-mile guided tour for women riders only. Five riders will accompany Dubbelju motorcycle tours.
Redwoods, wine country, spa, Highway
One and more. Ride your own bike or get a 15% discount on a Dubbelju rental.
Dubbelju Motorcycle Rentals, 689
Bryant St, San Francisco. 415/495 2774 or dubbelju.com/Tours.htm
Sunday, June 26 th
9:00 am-4:00 pm:
th
Annual
Capitola/Soquel Vintage Motorcycle
Show. Bring the family and check out hundreds of American, British, European and Japanese motorcycles and scooters.
Find the part you've been looking for at the Motorcycle Swap Meet or purchase your dream motorcycle in the Bike Corral where used motorcycles and scooters will be for sale. Vendors showcase the latest in bike accessories, clothing, parts and services. Capitola Mall Parking Lot off
41st Avenue in Capitola.
Enjoy entertainment, food and awards. Admission is FREE! Hosted by the Capitola-Soquel Chamber of
Commerce. For more information call the Chamber at 831.475.6522 or visit
bikesonthebay.com
May 2011 | 11 | CityBike.com
elements are soft, flexible fabric, and the heat seems to be distributed over a broader area than other heated garments.
The dream is to find a heated liner that can be used without a thick, bulky insulating layer, but you'll have to keep looking to find a perfect solution. Although the rapidFIRE delivers some serious heating power, under an uninsulated leather or textile jacket we felt warm (burning, almost) where the heating elements were, chilled where they weren't. Insulation keeps the heat evenly distributed, and you'll feel so toasty you'll wonder why you even have a car. However, even without insulation it's better than nothing, allowing you to get a few more rides out of your favorite (but close-fitting) leather jacket.
The controller is practical and easy to use, a simple process taking less than a minute.
The controller uses a small coin-cell battery that should last a season. The receiver unit is waterproof, so it won't get killed by the rain—or a forgetful launderer. The controller can be Velcroed onto a handy spot on your bike, luggage or apparel. It's also compatible with most DC heated clothing with coaxial-style connectors, and in fact Firstgear sells a similar unit (which is actually manufactured and sold by the
Warm and Safe company). There is a dual
(for separate items of clothing, like gloves and a liner) and single controller available.
The final bit of Powerlet kit to test are the
RapidFire glove liners ($80). These use the same FIR technology as the jacket liner, so they are thin and lightweight. Still, they made tight-fitting leather gloves (especially accessories (including trickle chargers). sport-oriented ones) a little snug for comfort. But a pair of Lee Parks' deerskin gloves provided enough give to let them fit nicely. Once hooked up to the liner (which has built-in plugs for heated gloves as well as trouser liners), you can enjoy the warmth sinking into the backs of my hands. The fingers, thumbs and palms are unheated— probably because they would get too hot pressed up against the grips.
You can just wire them straight to the battery (how crude!), but Powerlet has replacement wiring harnesses called the
"iCAN" ($30) to connect the power outlet to the battery.
Powerlet's new heated products are practical, effective and well made, with a lifetime warranty on the electrics.
Contact Powerlet: powerlet.com or
586/276-0900.
A note to BMW owners: you may be suffering from CAN-BUS blues. That's not how commuters in Montreal get to work—it's the electrical system on many late-model BMWs. It has a feature that shuts off power to your accessory socket if the draw exceeds 5 amps, which can defeat electrically heated clothing and other
Design Geek
Graphic Design & Illustration
I'm Alan Lapp, a 25-year veteran designer & illustrator.
If you have a need for virtually any kind of printed work, give me a call. I'm experienced in publication design (duh), annual reports, catalogs, packaging, direct mail, glossy advertising, collateral materials, logo and identity work, stationery, or anything else you may need.
Great work to follow.
510-295-7707 • www.levelfive.com
May 2011 | 12 | CityBike.com
CB Tested: 2011 BMW F800R vs.
Clapped-Out 2006 Kawasaki Ninja 650R
By: CityBike Staff
Photos: Bob Stokstad
Gabe Ets-Hokin:
Age: 41, Height: 4'6",
Favorite Cream Album: Wheels of Fire
H ere's a nice thing about owning your very own motorcycle magazine: you can go full Colonel
Kurtz on the motorcycle industry and do things a big, corporate-owned glossy would never, ever do, even after being high on cheap crank at the Tijuana bus station for three nights. Things like publish a review by a writer who not only hadn't ridden the bike in question but also had no desire to do so, or compare a brand-new, shiny $11,000 motorcycle against your art director's $2500 CraigsList special. What price self indulgence? Probably a national ad contract, not that I know anything about that, ensconced behind my Chinese firewall of editorial impartiality and all that. Now please excuse me while I anoint myself with this lovely Ducati cologne for men that I got at the
Diavel press introduction.
Ah. Much better. Now where were we? Oh, yes—the BMW F800R.
Seems the Motorrad volk had a spare F800R stranded up here in Ess
Eff, and why not get another publication to review it before it went back down to El Lay to be handed over, yet again, to Angelina Jolie?
Sounds good, said I, but since it's so late in the model year, why not do something different from the usual road test?
So I got the bike to a couple of contributors, then I had Art Director Alan Lapp donate the use the Ninja 650 he bought with an eye towards converting to a dual-sport.
Why did I do that? Well, the BMW is a really good has a really like bike. It's well-built, sweet motor and is fun to ride...just
Kawasaki's 650
Ninja. I wanted to find out the difference between the two bikes, especially after the Ninja had been subjected to several years of the harsh reality that is being a motorcycle in the S.F. Bay Area.
The F800R is actually a pretty unique bike, and one that highlights both the excellence of BMW as an automotive manufacturer and the versatility of the parallel
Twin engine configuration.
The F800R is based on the
F800ST, with a similar aluminum frame and motor—not the tube frame found in the
F800GS and F650GS. However, it's had some tweaks to give it some character of its own.
The motor is tuned for low-end grunt.
It's rated at 87 horsepower (about 80 at the wheel) and makes foot-pound numbers in the '50s from 3000 rpm all the way to the 8900 rpm redline. It's also counterbalanced, has a novel semi-dry sump, stacked transmission shafts and a zillion other tricks to make this one of the smoothest, most powerful and technologically advanced parallel Twins on the market. It also sounds cool, if you think the oddball blatting of old BMW Boxers is as cool as I do.
Chassis is as conventional as the engine is avant-garde. Twin-spar aluminum frame, single-sided swingarm, 43mm nonadjustable inverted Showa forks, linkageequipped preloadand-
1204 PORTOLA AVE • 925-371-8413 • WWW.MOTOWRX.COM
May 2011 | 13 | CityBike.com
damping-adjustable shock. There's even a chain back there. It all weighs in at 450 pounds wet on
Motorcycle Consumer News' scale
(BMW claims 438), with a long
59.8-inch wheelbase. Small by BMW standards, perhaps.
But the brilliance of the F800R is that it feels much smaller and manageable than it actually is. The
4.2-gallon tank is under the seat, and the steering geometry, handlebar style and weight distribution are all nicely balanced. Everybody who rides one remarks on how nice the handling is, with light steering effort and high-speed stability. It's a pleasure to ride, not a burden, with no bad habits.
May 2011 | 14 | CityBike.com
So what is it? It's a bike without a niche. You can commute, tour, do a trackday or two if you're not too nutty, maybe even tackle a fire road. In short, it's what the classic
BMW airhead Twins were—a solidly built, dependable partner in crime that will do most of what you ask of it. Base price is
$9990 (and good luck finding a base model, but the add-ons are good stuff that you want, like ABS and heated grips), pricey for a "budget" bike, but you get a unique motorcycle that will please just about anybody who rides one.
As for Mr. Ninja, well, let's just say that it's also a good value at $2500...as is a new one at $7199. It's 80 percent the bike the BMW is, but a Ford Fusion is
80 percent the car a BMW 3-series is, too. Some motorcycle buyers want the best in the category—not just best value, but the best—and the F800R is faster, better handling, has better brakes and suspension, and looks Euro-trash cool.
Alan Lapp
Age: 71, Height: 5' 14"
Favorite Cream Album: A Bottle of Cream
I
'll admit right up front that I've never been a big fan of BMW bikes. It really boils down to two facts: I'm tall, and
I'm usually broke. I hit my shins on the cylinders of the Boxer motor bikes every time I try to back one out of a parking space. Being broke means the newer multicylinder bikes have generally been out of reach. The singles seem like an answer to a question I didn't ask.
When Gabe suggested I spend some quality time getting to know the 2011
F800R, I leaped at the chance to update my opinion. A few years ago, I used an early 800ST for a couple days and really liked it—it was very agreeable, if somewhat plain-vanilla. My impression at the time was that it was a great $9000 bike, except that it actually cost $12,000. Now, the real excitement for me is that this is the first twin-cylinder BMW priced below
$10,000 seemingly since the Clinton administration. Perhaps BMW listened to potential clients and built something for them instead of aiming at their existing customer base. Smart move.
Recently, I bought a post-crash beater
Ninja 650 parallel twin, possibly overpaying at $2500. Gabe and I were talking about it when we realized how, on paper, these bikes are quite similar. Both are liquid-cooled, fuel injected, dual-overhead cam, six-speed, mid-displacement parallel
Twins. They both have suspension components selected for cost savings and both even have the rear shock in the same location. Also, both are aimed at bringing new riders to the brand. Heh. Twin Twins.
Sort of, until you ride them back to back.
The most interesting thing I noticed about riding the BMW is that people like it. Notice I said "people", not just other motorcyclists, which, in my experience, is very unusual. Furthermore, people make comments specifically about the bike beyond the banal "nice day for a ride" drivel you get from bored gas station clerks.
And it is striking in white bodywork with black frame and suspension components, handsome in a purposeful, angular, muscular way that seems fresh and current. well. The Ninja is slightly shorter, slightly
With my Ninja, people usually ask if it's going to damage their clothes, so score one for the BMW.
well. The Ninja is slightly shorter, slightly narrower, and the bars are slightly closer to the seat. In other words, it's built for a smaller person. Unfortunately, the seat is also slightly less comfortable.
The next thing worthy of comment is the ergonomics: the BMW wins hands down.
I felt immediately very comfortable on the bike and it has a truly wonderful seat. The relationship between the seat and bars is really good, although the pegs are a little higher than they need to be, but I say that about most bikes. In the Europe vs. Asia contest, some gross generalizations hold true for bikes as
On the road, the personalities of the bikes couldn't be more different. The beater
Ninja is a pierced, tattooed, scarred punk rocker. With its loud exhaust, scraped engine cases, crooked handlebars and cracked bodywork, it looks like it's been around the block more than twice. In stark contrast, the BMW F800R is Batman's loyal butler, Alfred. It's dressed in black and white, in impeccable style. It's a competent, trustworthy associate who unobtrusively makes your life better while making you feel confident if not downright smug about yourself.
If you want to do impulsive, irrational things, you ask the Punk Rocker to be your partner in crime. On a recent trip to Anza
Borrego Desert Park, I had no qualms about flogging the Ninja over gravelly, rock-strewn jeep trails, trying to flat-track it around turns. With the F800R, you just wouldn't do that. It would be like asking
Alfred the Butler to accompany you to a
Rave. He'd go, but wouldn't approve, and nobody would enjoy it. Lest you think that
Alfred is some kinda candy-ass fashionista, fan-bois of the campy '60s-era Batman TV show know he can open a can of whoop-ass on the bad guys. The F800R is no different.
Turn it loose on the right kind of road, and it will reward you.
Some of the most notable successes on the F800R are the brakes and the relaxed, natural riding position. The brakes feel good all the way from "I'm going to roll on the throttle just as I feather off the brakes right past the apex of this decreasing radius turn" to "OMG! Why is that idiot abruptly moving into my lane, with his rear bumper aligned perfectly with my front wheel?" More importantly, the throttle response is crisp, clean, and linear. This is why an accomplished rider can use the above-mentioned trail braking technique so pleasingly on this bike. It all works together nicely as a team, mostly.
Bad things can happen to good motorcyclists
I
f bad things happen when you're on a motorcycle, our legal system and the people in it aren't always set up to understand the difference between a motorcyclist and everyone else.
I'm Scotty Storey and I ride motorcycles.
I know the obstacles motorcyclists face when moving their claim or case forward and I know how to best overcome those hurdles for you to achieve
the best
outcome for your situation.
Accidents, Personal Injury, Criminal Defense, Traffic Citations, License Issues:
We keep bad things from getting worse after the fact.
Call us when you need us.
We're here 24 hours a day,
7 days a week to help you.
You will speak to a real live attorney, not a call center.
800-264-4379
Free legal seminars held weekly!
See our website for schedule and details.
www.twowheellaw.com
May 2011 | 15 | CityBike.com
West Coast Moto Jam
AMA Pro Road Racing | Supermoto USA | Flat Track | AHRMA National Motocross | TTXGP
5
Series,
1
Weekend
Catch all the two-wheel racing you can handle at the biggest motorcycle race weekend of the year!
Special appearances by AMA legends Scott Russell,
Brad Lackey, Rich Oliver and Reg Pridmore
Buy today and save! Tickets start at just $15
Kids 12 & under Free
Parking Free
May 11-15
800-870-RACE
infineonraceway.com/ama
SONOMA
May 2011 | 16 | CityBike.com
The close-ratio transmission was the only thing I found a bit out of place on the
F800R. Over 40 mph, and hard on the gas, it's a real joy to row the short throw shifter up and down through the top five gears.
In fact, it's one of the nicest, most silkysmooth gearboxes I've ridden in ages. The problem is that all close-ratio transmissions are a trade-off. In order to space the high gears so enticingly closely, first gear must be so very tall that it causes the bike to feel underpowered and dreary at lower speeds.
Redline in first results in an astronomical
60 mph. That means that cruising around town is essentially a one-gear affair. I frequently found myself going 35 mph and trying to downshift from first into first.
The ultra-tall gearing also drags down the acceleration. The F800R has 87 horsepower at the brochure
(Eighty on
the MCN dyno—ed.), but you'd never know it to ride it. It simply will not power wheelie in first gear. Admittedly, this is asking Alfred the Butler to participate in juvenile hooliganism, but c'mon. If the gearing were shuffled around so first topped out at 50 instead of 60, and each gear had a slightly wider gap between them, it would make more sense. The Ninja has a ubiquitous
"Japanese Standard" transmission—no peculiar gaps, nothing unexpected, but it does rev pretty high on the freeway, and I catch myself trying to find seventh gear. This could easily be fixed with new sprockets to change the final drive ratio, but there is no easy remedy for the BMW.
The suspension is usually where budgetconscious bikes fall down. In this case, there is no deviation from this maxim.
The Ninja uses very budget-minded stuff. Nothing is adjustable except rear preload, and the forks are damper rod.
It is in over it's head on twisty, bumpy stuff, but is surprisingly controlled on smooth pavement. The BMW suspension bits are much nicer, having a cartridge fork, adjustable damping on the shock, and a hydraulic preload adjuster. The
May 2011 | 17 | CityBike.com
shock adjuster is an easily-reached which you can turn with your bare hands. This is a huge step forward in user-friendly design.
Other makers should take note.
Unfortunately, the sole knob seems to adjust only low-speed damping and both compression and rebound simultaneously. It was impossible to achieve both supple ride and control while leaned over. I settled on mostly cushy, and lived with a little wallowing in the turns.
So, is the F800R worth the additional $7500? That's actually a bad question because the answer is personal, so I'm not going to answer it. Instead, I'll pose another question: which do you like better: punk rockers or English butlers?
Therein lies your answer.
Heidi Burbank
Age: 38, Height: 5' 6"
Favorite Cream Album: The Best of Cream
A t first glance these were two different bikes...and then I got to know them better and they started to seem more similar. I was surprised to find both had a seat height of 31.5 inches. Previously unable to touch the ground with both feet on any other BMW motorcycle, I was shocked by the F800R's shorter seat height—it's adjustable to 32.5 inches or to 30.5 inches with optional seats. The F800R's perch was also nicely cushioned, but the Ninja 650R had a much thinner seat and was definitely not as comfortable.
Ergonomically, both were nearly perfect.
The two bikes had handlebars nicely positioned a little forward and slightly raised, which made riding less exhausting and handling more confidence-inspiring.
Both motorcycles were light (pretty much the same weight, in fact) and well balanced. BMW placed the F800R fuel tank under the seat for a noticeably lower center of gravity.
The naked F800R is sexy and sporty. The tank has a sharp modern aerodynamic shape that your body just fits into with an ultra-low center of gravity. As a daily commuter, I really appreciate the on-board computer. I could instantly visually check tire pressure, gear visually check tire pressure, gear position, outside temperature, fuel consumption, and time. The BMS-
KP gives the rider an abundance of information at the touch of a finger
including two trip meters and more.
From the electronic fuel injection to the lightweight stock exhaust, BMW took no short cuts with the F800R. The asymmetrical H7 headlight is extremely bright and clear, excellent for traveling at night and showing an impressive distance for path of travel. The small windscreen gives sufficient wind deflection, however, I would not give up my full face helmet.
The Kawasaki Ninja 650R is also gets a liquid-cooled, fuel injected
DOHC parallel Twin with six-speed transmission. The 2006 Ninja 650R made about 65 hp and 45.5 ft/lbs of torque, and even though the numbers were slightly under those of the F800R, I felt both bikes had a wealth of power everywhere
I rode. On the highway, roll-on was good for both bikes even at speeds well over the legal speed limit. However, newbies might want to practice a slow roll on for first gear with the BMW F800R. Initial roll on in first gear felt punchy and maybe a little too power-packed for a new rider. Once into higher gears the BMW F800R throttle roll on was really smooth. The throttle gave immediate power, especially in lower gears. At higher rpm you can feel the gears max out, making the rider practice good shifting technique.
The only complaint I have with the
BMW F800R was the increased vibration in sixth gear—especially at 60 mph or faster—in the handlebars and pegs. The vibration also distorted the vision in the mirrors, and I found myself constantly readjusting my throttle hand to grab more power—frustrating after an hour of riding.
A Throttle Rocker or similar device may help eliminate this need to constantly readjust. With lower gears and speeds I only sensed a slight vibration. The Kawasaki 650R has minor vibrations in all gears and speeds, and first gear roll on was less aggressive.
The BMW F800R shifts very smoothly and quietly with a small click and the clutch was soft and easy to use. The
F800R is naked and slim in design making tight
GTSE6X7BW
GTSE6X7BW
May 2011 | 18 | CityBike.com
squeezes through Bay Area traffic an ease. The body position and seating keep you upright and high which allows for better visibility for splitting lanes and viewing upcoming traffic, as does the Ninja 650R. Body and bar position made riding through curves and tight turns easy on both these bikes.
Commuting on both bikes was enjoyable. For long-distance riding the F800R would definitely please the seasoned rider with its excellent suspension, heated hand grips and steering damper—I wish more motorcycle manufacturers would follow
BMW in placing steering dampers on all bikes as standard. All these components and the well-cushioned saddle make riding the F800R more comfortable the Ninja 650R for long distances.
Furthermore, the suspension and springs on the F800R are better suited for carrying a passenger and luggage.
Traveling on rough roads and through aggressive curves, the steering damper made a huge difference in maintaining control and stabilized handling. In addition, the heated grips were a nice comfort for riding on cold mornings.
Riding in temperatures as low as 39 degrees with winter riding gloves with the grips set to level one was not noticeable, however, level two I could feel a little warmth. A level three would have been nice for real cold mornings.
When riding in temperatures above 50 degrees you could feel warmth at both levels.
Both bikes were gentle on the wallet.
Infrequent gas stops are welcome with gas prices closing on five dollars a gallon. The
BMW F800R was supposed to average 56 mpg city and 54 mpg highway, but in my
800 miles of mostly commuting seat time,
I averaged between 40 to 48 mpg—about the same as the Kawasaki.
More than impressive were the Brembo brakes on the BMW. Brembo 320mm double disk front brakes and a single disk rear brake are equipped with four-piston calipers. I felt the ABS system was well worth the extra $900 ($1445 if you get the whole premium package). The Brembo braking system is in a league of its own and made the Ninja 650R brakes feel like wooden blocks.
Overall, the BMW F800R felt compact, solid, and very reliable. This sporty naked bike has more torque than any bike in its class, is lightweight and will seamlessly rip through the curves. I always felt like
I was riding a dirtbike on steroids, which made romping the roads on the BMW very entertaining. The F800R would please any rider new or seasoned with its exceptional agility, and near perfect riding position.
You won't be disappointed with the power delivery, gas economy or handling qualities of the BMW F800R.
Heidi Burbank is an MSF RiderCoach and her first ride was on an 80cc Yamaha dirtbike when she was 12 (back when gas tanks were metal). She likes ice cream and has racked up 45,000 commuting miles on her 2008 YZF-R6. Because she lives in
East Oakland, she calls the brakes on the BMW
"Brem-Bros."
H ello, my name is Tealdo and
I'm a modaholic. I used to believe that all real men rode big bikes. Then I started riding the Ninja 650R.
A couple of years ago, my beautiful wife told me to go buy my own
Ninja 650R. (I think she got tired of me stealing hers.) So I found one on Craigslist that I watched for four months; when the advertised price on this particular 2006 model got down to $2500, I decided to take a look.
To call the bike a heap would be generous.
It needed a new battery, tires and throttle bodies. Worse, the poor thing had been crashed on both sides and the previous owner had sanded it with 60-grit sandpaper, and then painted as much as he could with a single bomb can of vomitgreen paint. Still, the bike only had 3300 miles on it and the owner was willing to take $2200.
I named the bike "Fugly." And Fugly turned out to be an extremely fun and reliable little bike, my favorite workhorse
(now with 29,000 fun and trouble-free miles) for commuting and teaching, after some, ahem, modifications.
First, the stock suspension was, um, stock and that almost a four-letter word for a mod-aholic. Enter eBay. I soon owned a complete 2005 ZX636 front end for
$250. A Z1000 triple tree will bolt right up but, heck, the front end came with a perfectly good triple tree! So, I then spent several hours on my $500 Harbor Freight toy lathe, 15 minutes on my welder and another couple hours on the lathe to yield a ZX636 triple-clamp set that would bolt right into a Ninja 650 frame.
Next, Race Tech provided gold valves and springs. The front-end feel was instantly transformed and Fugly had real brakes!
But the rear suspension was still lacking.
So, back to eBay, where I scored the swing arm from a 2009 Versys for only $125 shipped. The Versys arm has exactly the same functional dimensions as the stock boat anchor but is
5.5 pounds lighter and far less flexy.
My ride was beginning to improve, but the stock Ninja 650 shock is, well, useless. A phone call to Öhlins rectified that. The bike was really starting to handle well. However, I still wanted more gription on the rear. eBay again!
This time, I bought a ZX636 rear wheel with rotor and cush drive for $110. After a couple more hours on the crappy lathe,
I had proper spacers and a narrower cush drive.
Now that I had the bike handling like something from Tron, it was time to reevaluate the 64-horsepower dilemma. I started with a header from Arrow coupled with a custom mid-pipe, and then added a
Yoshimura can and, finally, a Power
Commander.
Funny how the airbox baffles and PAIR valve all mysteriously disappeared right after I had the tank off. You know
Fugly's gotta be pumping out at least 65 horsepower now.
Finally, I modded
Fugly's ugliness.
Last fall, my friend
Pete the painter decided he simply could not abide the horrific paint job on the bike. So for $12 in Easy-Off Oven
Cleaner/paint stripper, $50 in paint and three days of sanding and spraying, Fugly has a new, improved look. Thanks, Pete!
Sure, I could've walked into a dealership and plunked down twice the money for a new bike than I did for Fugly. And sure, I may have gotten funky asymmetric headlights and factory paint but a new bike still would need new bike still would need a suitcase full of dead presidents to make it handle like my little 650.
But even after all the mods and parts, I'm into this bike less than
$5000 and I did all the work in my twocar garage in my spare time. So, how much bike can you get for 50 Benjamins and a few busted knuckles? Well, let's put it this way: I've sold my ZRX1200, my V-Max and both of my ZX-7s. The biggest bike I own now is 675cc. Oh yeah, did I mention that I'm a mod-aholic? Stay tuned…
Tealdo has been riding on the street for 26 years and is a instructor for the Lee Parks Total Control school. When not teaching, he can usually be found in his garage modifying something.
SUBSCRI
BE!
PO Box 10650
Oakland, CA 94610 or use Paypal!
FREE LEAT
HER
LAPTOP CA
(Retail Value Over $150)
SE
With Any Purchase
Over $500!
20% to 50% off stock items, excluding Forcefield Armour.
May 1 st
- May 31 st
We stock a large selection of heavy duty jackets , pants, chaps, & bags.
Custom garments and accessories. We repair, alter and clean leather products.
Our leathers are guaranteed against defect for life.
We make custom 1 & 2 piece leathers!
1833 Polk St. (@ Jackson) San Francisco - johnsonleather.com
(800) 730-7722 • (415) 775-7393
Forcefield Body Armour, The worlds leading "Soft armour technology"
Body protection system specialists.
May 2011 | 19 | CityBike.com
★
★
★
★
First Annual CityBike Day at The Junction
★
★
★
★
May 29th, 2011
★ ★ ★
★
★
★
★
★
★
★
★
In addition to our fine sponsors, numerous exhibitors of bike gear and apparel will be in attendance to show you their products
CityBike Day Sponsored by:
Special Guests Speakers:
Steven L. Thompson, author of "Bodies in Motion"
Ed Milich, Moto-Poet
Willie and Chris Hodgson show off their Bonneville racebikes and the season's latest technical riding gear
Plus other guests, seminars and activities!
CityBike Day Sponsored by:
Tri Valley Moto will have the new BMW
K1600 and the new Triumph Tiger 800 XC on hand for your viewing pleasure!
Call or visit Tri Valley Moto at
952 North Canyons Parkway
Livermore, CA 94551-9494
(925) 583-3300 www.trivalleymoto.com
Motorcycle Surgeon Generals Warning: The roads leading to The Junction are technically challenging and among the most demanding on the planet. They are infested with bicyclists, free range cattle, tarantulas, dualie trucks towing fifth-wheel horse trailers, and are hella narrow with no center line. All of the hazards above are frequently found in your path of travel, sometimes together. There are aparently no functional ambulances in the area. Emergency room transport is usually done by helicopter. This road must be treated with respect. This isn't a casual trip to poserville at Alice's Restaurant via silky smooth rolling blacktop. In other words, this road will bite you hard if you aren't paying full and complete full attention (that was a test). Lastly: if you have to choose between your Ultra-Suede Bagger Deluxe and another bike, bring the one with better cornering clearance.
May 2011 | 20 | CityBike.com
California Speed-Sports will have
Can-Am Spyder, Aprilia and MV Agusta motorcycles available for inspection.
Call or visit California Speed-Sports at
2310 Nissen Drive
Livermore, CA 94551-7608
(925) 606-1998
47300 Mines Road
Livermore, CA
Look it up on Google... it's really out there.
May 2011 | 21 | CityBike.com
First Rides: 2011 Triumph Daytona 675R and Speed Triple
By Gabe Ets-Hokin
Photos by Nelson & Riles
Daytona 675R:
Fast Bargain
S ometimes a motorcycle company deserves a hearty "well done," a cheap cigar and a pat on the back.
Triumph's success with its 675 Daytona is one of these times. It's not so long ago that
Triumph seemed to be floundering in the sportbike department. The 955 Daytona was never a huge success (although a very nice machine to ride, to be sure), quickly outclassed by its Japanese and Italian competition. Its middleweight cousins, the TT600, Speed Four and Daytona 650 were solid bikes, but again, it was tough for a small company like Triumph to compete in a class with two-year product life cycles, and the machines were outclassed before they entered the showrooms.
That all changed when the new Daytona
675 came out in 2006. Triumph's product planners made a brilliant decision to build the best bike in its class—an all-new class of one, using Triumph's signature inline-
Triple engine configuration. With down-low torque, a class-leading 110 horsepower at the back wheel and a feathery 410-pound wet weight, it was an instant hit with magazine
CLAMPS!
testers and sportbikers alike. In fact, 96 percent of 675 owners call their bikes outstanding, and 97 percent recommend the bike to friends. Thanks to its dominance in the class-of-one, as well as a slowdown in new supersport model introductions from other brands, the 675 is still a strong contender in the middleweight market, despite just one minor update (aside from
BNG) in five model years. So how do you make a good thing better? Ducati will tell
Now how much would you pay? But wait, there's more.
you, if you care to ask—make an "R" model with premium suspension and brakes.
That's just what Triumph's done for 2011 with the 675R.
I got to ride the 675R and the revamped
Speed Triple (but that's another story) for two days. A day on the street, on the twisty roads leading to Idlewild, California, and a day on the incredibly fun new Chuckwalla raceway. Before the ride, Triumph's technical guru Chris Langlois told us what was different about the R.
Not only does the 675R get full Öhlins suspension, it's just about the best you can buy if you don't have a factory sponsorship patch on your leathers—or even if you do.
In front is the NIX30 43mm inverted fork, available for the first time on a production model of any brand, according to Chris. It offers
2mm more slider diameter than the fork on the standard 675
(for better rigidity). As for adjustability, well, what do you think? Of course there is full adjustability— preload, compression and rebound damping, fore and aft, but more importantly, the adjusters actually do something when you turn them. Other brands (and
I've been told this by at least one OEM rep) put the adjusters on there, but they work about as well as the "PUSH TO CROSS" buttons mounted near crosswalks. You see, they don't want you to adjust it wrong, hurt yourself, then sue them (what, you think that hasn't happened?). So you're paying for adjustable damping, but getting nonadjustable. Triumph either trusts you more, or has better lawyers.
For even more racetrack credibility,
Triumph has upgraded brakes as well.
Instead of the Nissin units on the standard
675, the R has monoblock (not cast)
Brembo racing calipers. The disc size is unchanged, but the master cylinder is also upgraded to an 18mm Brembo unit.
Triumph promises a 10 percent increase in
"braking performance."
Now how much would you pay? But wait, there's more. You also get a factory quickshifter (this interrupts ignition during clutch-less upshifts) and some carbon-fiber—front fender, rear hugger and some trim pieces. All for the low, low price of $11,999, and I checked that price twice as I thought it was a typo.
It's just $1500 more than the standard
675, plus you get the cool red accents on the wheels and subframe. That doesn't even cover the cost of the forks, much less the brakes, shock or quickshifter. How do they do it?
Who cares? I get to ride the bike on a very fun track, with smooth pavement, maddeningly challenging corners and a sweet banked bowl turn with no limits on how fast you can exit. And that's where the 675R is really meant to be, although it makes a fine streetbike as well. The suspension is excellent (especially when there are two Öhlins USA techs on hand to set it up for you); compliant, controlled and very comfortable. One of the techs asked me how it was, and I, not being much of a suspension guy, said it felt so good I forgot about suspension completely—if we had been in Massachusetts or Vermont he might have asked me to marry him on the spot. The other journos—some of whom are top-level fast guys who can truly utilize the capabilities of good suspension—were similarly impressed.
The brakes are just as sweet.
The master cylinder provides great feel at the lever, the pads bite hard, and the power is fantastic, with a single-finger squeeze sufficient for my slow-ish pace. The calipers on the Speed Triple feel nice, too, but the top-shelf Brembos just feel...expensive.
And the quickshifter is just a no-brainer.
Once you get used to using it, you wonder how you ever managed without one, it makes banging though the Triple's smooth gearbox and close ratios so easy.
Just as I remembered from the last time I rode a 675, the motor is the best part of the experience. Powerful on top, strong-pulling down low, and very smooth everywhere.
Unlike some other middleweights, gear selection is not as important, which lets you focus on learning a new track, for instance. Or finding the perfect line thorough your favorite turn. Triumph calls the R the "ultimate trackday tool," and while everybody has their own idea of what that is, I'd bet the 675R is close to what most of us want—competent, forgiving, controlled and very fast when it needs to be. It may be getting long in the tooth, but it's still sharp enough to please the most discerning riders.
On the street the 675R can be very civil.
I thought that while compact— with a 55-inch wheelbase and a width of just 28 inches it's hard to find a narrower sportbike—the seating was humane, with a comfortable reach to the bars and pegs that felt naturally placed.
The seat is hard, as you'd expect, but wind protection is surprisingly good. And that
Triple makes for a much easier experience riding at low speeds, although I struggled a little with an abrupt off-idle throttle response. All is forgiven when you hear that three-cylinder exhaust note behind you, though.
Twelve grand is a lot for a middleweight sportbike, half again as much as you'd pay not very long ago. But what you get is at least half again compared to the 80-hp,
480-pound middleweights from the late
'90s, bikes with soggy suspenders, crummy tires and poor cornering clearance. So
I'll say it again—well done, Triumph and where do I send the box of Swisher Sweets?
Were I in the market for a middleweight trackbike the 675R would be on the top of a very short list.
Speed Triple: Why don't they build a sportbike? Oh, this
is a sportbike...
Some of us like to ride naked. And that means, unless you're a Santa
Cruz Vampire, you prefer your motorcycle as simple as possible.
You like to see the mechanicals, you don't need a windscreen, you like to sit upright.
If you wanted a bike with some displacement that meant, unless you built your own streetfighter or rat, you would get a de-tuned version of a big-bore Japanese streetbike, something with an old-spec motor that had lots of torque. Optimal for street riding, perhaps, but about as fun as a Dodge Volare. The chassis was similarly inspiring—usually tube steel, with rubber mounting everywhere, low-spec suspension and brakes.
It's arguable that Triumph saved us from the UJM. Triumph took its open-class
Daytona sportbike, removed the fairing,
Service & Repair
Our replacement triple clamps are stouter than a brick outhouse.
The added rigidity helps keep your front wheel pointed where you want it to go, increasing directional stability.
Call for pricing & availability.
While we are well-known for our work on Ducatis, we provide outstanding service on all brands and all models!
Plus, it's a friendly place...swing by on a Saturday for a cup o' coffee and some bench racing.
Nichols Manufacturing
913 Hanson Court
Milpitas, CA 95035
(408) 945-0911
www.nicholsmfg.com
Nichols Sportbike Service
913 Hanson Court
Milpitas, CA 95035
(408) 945-0911
www.nicholsmfg.com
May 2011 | 22 | CityBike.com
May 2011 | 23 | CityBike.com
added upright bars, slapped on some funky-looking headlights and called it good. You called it good, too—Triumph is growing its market share, selling 65,000 of the bug-eyed
Triples since 1994.
But by 2011, it was due for an overhaul. The frame is all-new
(although it retains the distinct look of a Triumph frame), and it repositions the motor farther forward, moves the battery in front of the airbox and offers new steering geometry, with sharper rake and trail numbers. Wheelbase grows to 56.5 inches. The wheels are new—and lighter by three pounds each. It keeps its radial-mounted four-piston
Brembo calipers, but it gets an ABS option for the first time. Suspension is new—the inverted, fullyadjustable cartridge fork is 2mm beefier at 43mm, and the rear shock gets a more linear linkage ratio. The
1050cc dohc inline Triple doesn't get any major changes, although the
ECU and exhaust are re-worked to yield an extra five horsepower, to a claimed 133 at the crank.
Lots of minor changes add up to make the bike feel smaller than before. In fact, the goal was "to make it feel more like a Street Triple," which sounded good to me—I'm actually buying a Striple, as I love its small, racy feel. To get there,
Triumph reshaped the seat—it's wider and also a smidge lower than
If you want to behave like a jackass, the Speed
Triple is willing to be your idiot buddy...
before at 32.5 inches— moved the footpegs forward over an inch, and moved the stylish tapered bars back towards the rider. Wet weight is six whole pounds lighter than the 2010 at 471 pounds. Weight distribution has been altered by the changes, so steering inertia is reduced five percent.
And did you think I'd write this whole thing without mentioning the headlights?
Well, for Triumph it was a
"difficult decision," but "you can't keep building the same bike" forever, something
Ducati grappled with when it had to kill the iconic
916 series in 2004. Round lights are passé, so get used to it. And if you attach the accessory windscreen, it looks less like a sportbike missing the fairing.
The best thing about the new lights is that you can't see them when you're riding, so let's go ride already. I confess to have never ridden the
2005-2010 Speed Triple, so
I can't tell you how different the bike feels, but after a few hundred street and track miles, I can tell you a thing or two about the new bike.
Ergonomics are as good as you'd expect. The seat is comfy enough for all-day rides, the pegs aren't too low, and the bar position puts you at a relaxed slight lean forward.
Taller folk might feel different, but I'd be surprised. Wind protection is pretty much nonexistent, but there are various screens available. Around-town riding is easy, with the light steering, wide bars and low reach to the ground, and freeway cruising is pleasant, as the suspension is compliant, the wheelbase is long enough to keep things from getting too jouncy and there's plenty of torque to keep your spot in any sort of traffic flow. Fuel range and economy is acceptable—I rode a
2-hour, 150-mile stint on less than a single tank without hitting reserve, impressive for a powerful naked.
Dyno Tuning
Performance Work
Restorations
If you want to behave like a jackass, the Speed Triple is willing to be your idiot buddy, if that's what you want. The front wheel comes up with a twist of the throttle and a jerk on the bars (besides the one holding the bars, heh, heh), and if you want to get the back wheel aloft, the Brembos have all the power and sensitivity you'll need.
But where this bike is best, I think, is on the racetrack. The aforementioned AMA jocks and fast guys were pretty surprised with themselves when they found themselves having as much fun on the big Triple as they were on the race-ready Daytona.
It feels much smaller and easier to toss about than you'd think, the suspension is both compliant and controlled, and the brakes, while not as expensive-feeling as the race-spec Bremmies on the 675R, are really good—powerful and sensitive and not prone to fading. I was expecting a rorty, snarling pitbull on track after riding the smooth, refined 675, but found a bike that was just as easy to manage, if a little harder to ride at triple-digit speeds because of the upright position and lack of fairing. It steers easily, is stable in high-speed turns and not prone to unintended wheelies or slapping of the tank.
I'm not one to promote the replacing of stock exhausts (living in Oakland will do that to you), but this is a bike that needs it. Not so you can hear that orgasmic triple-cylinder exhaust note (it actually sounds pretty good stock, and you'll still get Christmas cards from your neighbors), but because the stock mufflers put a lot of weight high up, making the stock bike feel more top heavy than the Daytona (yes, it has an undertail exhaust too). The Arrow slip-ons don't feel too different, but the full
Arrow exhaust system ($1299) weighs 70 percent less than the stock system, sounds good, looks sexy and noticeably lightens the bike where it counts. It would be the first thing I'd change, even though it made the bike I was riding make popping sounds while decelerating.
The elephant in the room is the Trip's power...or lack thereof. As competitive as the 675 is in its class, the 1050 is overwhelmed compared to its brethren.
It's why Triumph (wisely) stays out of the open-class sportbike wars—this 1050
Triple just doesn't have the huevos to take on the S1000RRs, R1s, Ninja ZX-10Rs and 1198s of the world. Punching it out to 1200cc or upping the revs might get it closer, but it would lose the character and flexibility that make it so appealing and suitable for street and trackday use. But it's still flexible, torquey and fun to use, and that's what I like in an engine. How often will you use more than 120 horsepower?
This was the first time I'd really ridden a modern Speed Triple, and it left me wanting more. I don't always understand the appeal of a cultish bike like this, but I do this time. It can get you around town, commute with aplomb, and is more than entertaining at a trackday. It looks like a standard, but it's truly a naked sportbike.
At $11,799 ($12,599 with ABS) it's a pretty good deal and definitely deserving of a test ride.
Just be sure to wear pants.
May 2011 | 24 | CityBike.com
I
CityBike is a tiny fish in the mediumsized pond that is motorcycle journalism, so we kind of lucked out getting invited to the 657R/Speed Triple event. It helped that CB fan (and founder of the outstanding Thunder Press, CityBike's feet-forward cousin) Reg Kitrelle is
Triumph North America's press liaison.
But we're not the only beneficiaries of
Triumph's favor—local racers Ken Hill and Kevin Smith also got to come along.
Kevin did yeoman's duty wrangling the many logistical details necessary for an event like this. Moto-mags try to shy away from showing you too much of what goes on behind the curtain, as we all like eating the sausage more than we like watching it being made, but we thought you'd enjoy Kevin's well-written account of his view of the event.
've read countless bike reviews: they all talked about the bikes but never about the experience. I mean, what's it like to fly around the world and get star treatment while riding the latest bikes? That had to be the
Best Job Ever, right? My chance to find out came during three days at the Triumph press intro.
The press junket officially started on
Wednesday so Ken, Nick Ienatsch and I did a pre-ride on Tuesday. It was a long day but the sun was out, traffic was light and the bikes were great. We got back to the airport hotel just in time for dinner with the press. I'd never met most of the journalists but regardless of whether they were print, Web, or both, all the guys had one thing in common: they were passionate about bikes. I listened in as old friends got reacquainted and new friends quickly found common threads. It was better than being a fly on the wall; I was surrounded by people who understood— in fact, fostered—my passion. I tossed and turned most of the night as their stories kept replaying in my head.
Wednesday morning the Triumph folks gave a short presentation while the journalists ate a breakfast of Egg
Beaters and green leafy stuff. Unlike the journalists I didn't need to know technical details, so I half-listened while the others took notes and asked questions.
The day's ride started after a one-hour bus trip to the foothills. Just two miles in, the journalists had to do endless loops over a short stretch of pavement where the photographers hired by Triumph had set up the day's first organized shoot. Wheelie shots came shortly afterward and then the journalists were released. Much to my surprise, most of them were willing to follow
Ken and Nick on the morning's ride.
We climbed quickly to over 6000 feet, with snow still scattered throughout the higher elevations. The biggest risk came not from snowmelt but from the cinders scattered along the center of each lane. It was important to pick a tire track early and use a cautious corner speed and I was impressed that the journalists—a group collectively known for exceeding limits—had no problems. After lunch, smaller groups formed as some of the guys stopped for video or still photos. Despite the delay all the press easily made it to the evening's to the airport hotel where the journalists new hotel on the edge of Palm Springs.
The real treat at dinner was hearing more stories, good-natured ribbing and the swapping of rumors. to the airport hotel where the journalists scattered to local homes, red-eye flights, or a quick shower. The stragglers took over a corner of the bar and swapped more stories late into the night.
Except for the 6:00 am wake-up call,
Thursday became my dream day.
Chuckwalla was a really deceptive track and with temperatures in the high 90s,
I had to admire the journalists as they swapped bikes, worked with Öhlins to tweak different settings and take notes after each stint. Since both the Speed
Triple and 675R were brand-new models there were only enough machines at the press intro to match the number of journalists (or vice versa). Riders were encouraged to switch between the two bikes, Triumph apparently confident that the Speed Triple would survive the comparison even on the racetrack.
More than one journalist commented that it was unusual to have both bikes available on both days; most press intros had the "street" bike for the street ride and the "sport" bike for the track. With track temperatures over 118 degrees, breaks were frequent and I took out different bikes as they became available.
The day ended with a long bus ride back
After three days of stress, challenge and absolute fun, I could easily see getting addicted to this lifestyle. Not because of the bikes but because of the camaraderie.
Briefly, I got to join this wonderful tribe of oddballs.
As an insider I did everything they did and more...without having to fly across multiple time zones, face possibly harsh weather, take notes, pose repeatedly for the cameras, record video (since it's a multimedia world), write stories that included the smallest details or, finally, think of new ways to say that both of these bikes were bitchin'.
A week ago I figured that being a professional motorcycle journalist would be a great job (
until we told him how much we get paid—ed.)
For those who love the work—and there's a lot of work involved—maybe it is. I'll pass on the lifestyle but would be honored to pull up a chair at the table every now and then. Next time, though, I'll make sure that I'm not eating spaghetti when Mark Cernicky describes his injuries after crashing at 100 mph on the freeway wearing a T-shirt.
—Kevin Smith
43rd Annual
2011
May 21, 2011
Kings Fairground, 801 S. 10th Avenue, Hanford, CA 93232
May 2011 | 25 | CityBike.com
Shane Watts DirtWise Academy
By Lucien Lewis, Words and Photos
D riving the 120 miles from Marin
County to Lincoln, California in frigid monsoon conditions at five in the morning for the Shane Watts
DirtWise Academy of Offroad Riding made me question my sanity. What makes a guy do something like this? Going out in the worst weather of the year to ride motorcycles in horrible conditions with lousy traction? Even to a rider, it sounds a bit wacky, and to a 'normal' person?
Fuhgeddaboudit! To them riding bikes is bad enough! Ninety-five percent of the population wouldn't even consider doing it.
This? Unexplainable and bizarre.
Then my thinking turns the corner. I remember that humans that have been testing their physical skills for countless millennia, and looking for the distinctions, however small, to get a bit of an edge here or a small improvement there. For the last
100 years or so, men (and more than a few ladies) have been attaching motors to two wheels and going out to see what's possible; pushing ourselves to go faster, to be better, to be more skillful. Bottom line, sane or insane, the simple fact is this: Like most of my riding compadres, I don't have a choice. If I want to live my life to the fullest, I must ride. It is in my DNA, my blood, and bones. Life without motorcycles for me is drab. So, if I have to do it, I might as well do it well. Therefore, yours truly, and a dozen guys somewhere between exercises was to ride as slowly as possible
7 and 70 years old are standing out in the cold on a private ranch/slash/motorcycle boneyard in the middle of nowhere, hoping that we can become better riders.
My goals for attending this course were simple: To ride better and faster with more control and relaxation and less crashing
(always less crashing). This for me is the essence of riding masterfully. From everything I had heard and read, I was going to be in good hands. I have several friends who have attended Shane's course, and all of them reported excellent results. They talked about improvements in bike control, confidence, and overall riding ability. Despite the dismal weather, I was looking forward to sharpening my skills with Mr. Watts.
exercises was to ride as slowly as possible using body English, both brakes, throttle, and clutch. Imagine participating in the world's slowest race, where the guys who are passing you are losing. Fun stuff. Do that for 5 or 10 minutes and you will know the meaning of fatigue—and you will have measurably better control of your bike.
Watts asserts than when you are standing on
Shane 'Wattsy' Watts is a monster dirtbike rider. World Champion is the proper term. Australian Enduro
Champion (six times), World Enduro
Champion, I.S.D.E. Overall Champion
(on a 125cc!), and GNCC Champion.
Those titles don't come easily. This guy is blazing fast. Luckily for us mortals, he is willing and able to share what he knows, and share it well. Watts comes across as humble, down to earth, helpful, and honest. He has that rare ability to be just as generous with his praise as he is with his critique. He is full of tips and tricks to help us ride just a wee-bit more like a world champion would.
The day begins with the most basic instruction: throttle, brakes, balance, and clutch control. The teaching style is very effective. Watts explains the exercise in detail, demonstrates it, then has us do it as he coaches us.
As the morning progressed, the drills got more and challenging. One of the early the pegs, you have much better motorcycle control. I questioned this. Being a tall guy, I said that I felt like my center of gravity was lower while riding seated, and that, in turn, allowed me to be more maneuverable. Shane explained that actually, if all your weight is on the footpegs, the center of gravity is much lower than if your cushion is on the cushion.
In addition, response time to hazards is decreased and maneuverability is increased.
One of the most challenging exercises of the morning was to ride as far as possible while skidding the front tire and keeping the throttle cracked open. This is sphincter-puckering work, but before we started Shane explained what makes it worth doing. The point of all of these drills is to get these skills into our body's muscle memory, so that the body learns to perform these moves automatically in the future, without the brain even having to tell it to. We practice it here, over and over and over, so that when we need it out there on the trail, it we need it out there on the trail, it just happens. Much front tire sliding occurred, and several bikes hit the ground (not mine….this time). The last drill before lunch was to do several laps drill before lunch was to do several laps around the mile-long track standing on the pegs the whole time. Not the easiest or fastest way around the track, but great training for a guy who needs to get off his ass a little more.
After a quick lunch and an even quicker nap in the truck, I was ready for more. The weather had given us reprieve for a few hours, but the track was degrading rapidly, making the drills more and more difficult to practice. Mud holes got deeper and things got more slippery. I dropped the bike and went rolling down a slope.
I didn't even know what I had done wrong, but Shane was standing right there. If you are going to crash, might as well swallow your pride and do it in front of the instructor so you can learn something.
He told me that I had run my front wheel too high up the side of the berm. It's useful having another set of eyes to help see what you're doing wrong.
The weather forecast was bleak, so Shane put it up to a vote: Should we do the full two day class as planned, or should we just
May 2011 | 26 | CityBike.com
cram as much training as possible into one day and get refunds for day two? We chose the one-day option, and I think everyone there was glad for it. From that point on we worked hard until dusk, squeezing a day and a half of training into one day.
Mid-afternoon we learned a technique of attacking ruts called "grinding." This is one of those skills that, with practice, will change your riding forever. It involves putting the front tire outside the rut with the back tire in the rut. Gas it and 'grind' the edge of the rut with the spinning back tire. Meanwhile point the front wheel toward the end rut so it feels as if you are pulled in two directions at once. At first it feels sketchy as hell, but once you get the feel for it, it is transformational.
Watts usually teaches this by having the students ride with one wheel on either side of a telephone pole. We skipped that step and went right to the rut. Ten minutes of practice and we were flying through the rut like pros (well, kinda).
I have been riding a dirt bike for around
25 years, so I assumed that after doing it thousands of times, I know how to get around a flat corner. The truth is I had unknowingly become something of a lazy rider. To really rail a corner correctly there is a whole lot that has to happen all at once. Stand up, hard on the gas, hard on both brakes to just beyond the available traction, throw your weight up to the front of the seat while throwing bike over and rolling gas on until the throttle is pinned. It all happens in a couple seconds, and the corrections need to be made in milliseconds. I was accused by the Aussie
Dirt God of being a "street rider" because
I wasn't using my rear brake going into the corner. Actually, in the real world, I use my rear brake all the time, both street and dirt.
My brain was just flooded with all the new information and my body wasn't able to do it all at once. Watts swore that once you get good at this, it will become so innate that you will be doing it effortlessly, meanwhile thinking about the housework that needs to be done or the lawn that needs mowing.
Let me get back to you on that one.
Bermed corners are a different animal all together, and the whole key is to keep the front wheel as low as possible, right at the bottom of the berm. We all tried to do this many times and found it deceptively difficult. Shane pulled us over and said it was all about a lack of commitment.
Commit to going in hard and having the front tire low and you will find yourself roosting just like the magazine pictures.
After a couple more times of flubbing it, I stuck the tire down in there in the hole and came out the other side going faster than I thought possible with a huge roostertail coming off the back wheel. My moment of greatness.
At the end of the day we did the wheelie drills. I've always wanted to be adept at wheelies but I've felt a bit out of control with it because I couldn't seem to make the mental connection of controlling the height of the front end using the rear brake. As a result, I've had a couple fantastic wheelies in my life, a lot of mediocre wheelies well south of the balance point, and one or two that ended with me on my ass and the bike flip-flopping down the trail. It wasn't that I didn't know how to do wheelies. My brain knew I was supposed to cover the rear brake. The problem was that I was missing a skill and didn't know how to get my body to learn it. With just a few simple drills, I was able to make that rear-brake connection and wheelie with more confidence.
By the end of the day we were a tired and muddy bunch. Everyone I talked to said they felt they got great bang for the buck, and a whole new set of tools to play with. One rider felt that having more instructors on site would have been helpful, and upon reflection I would agree. One-on-one instruction time and feedback has been enormously valuable to me on the racetrack, and would certainly be just as valuable in the dirt. That being said, Wattsy does a superb job of running a one-man show out there, and no one could dispute that.
Driving home, I had a bit of an epiphany about these super fast guys: Yes they're super fast. Yes they are incredibly gifted.
But the skills but they are exhibiting so effortlessly are actually learnable. It is possible for a beginning or intermediate rider to become fairly adept at these skills. Shane Watts can teach you these skills brilliantly. From there on in it is all about practice.
Shane's schools are held all over the country and will return to California later this year. Tuition is $360 for two days. Find out more at shanewatts.com.
May 2011 | 27 | CityBike.com
Video Review: Dirtwise with Shane Watts
shanewatts.com, $24.95
If you are looking for a way to become a better dirt rider without having to wait for
Wattsy to train you in person, you might want to pick up a copy of this DVD. This is the first in a series of videos, and it covers many of the skills taught in academy as well as advanced techniques including jumps, logs, and line selection. Shane Watts is not just a good rider and teacher, he is also quite a marketer. He has cleverly, (or maybe you'd say intrusively) inserted his sponsor's ads throughout the video. I have never really minded motorcycle-related ads, but if they bother you, you have been warned. There are also several interviews with Watts and other riders describing his mindset and attitudes that have allowed him to become one of the fastest riders in the world.
Thrown into the mix are stunning sequences of
Watts riding sections of trail at warp speed. You get a sense of what fast really is.
This video should be in your library if you are serious about improving your dirt riding.
San Jose Legends: Racing the Past
By Karen Gould,
Checkered Flag Photos
R ain was promised all weekend, but it wouldn't keep those young and old strongly-addicted-tomotorcycle-racing men and women away from the Santa Clara County Fairgrounds on March 25 th and 26 th . That's where they would breathe exhaust fumes and tell stories of their racing conquests during the fifth annual San Jose Legends Tribute and
Indoor Race 2011. Once again, the banquet was a sell out and the slideshow and tribute were memorable.
This year's focus was on some of the area's tuners. Mario and Dave Zanotti were recognized as the only father-and-son tuner
A slide show was shown to commemorate the loss of our local Legend Rick "The
Hock" Hocking, four- time AMA Grand
National winner and a name that is well recognized in flat-track racing, not only in California but across the nation by past and current flat-track riders. Hocking was one of the few men honored with an AMA
Grand Slam in racing during his career, winning all four types of flat-track events.
Other attendees included old timers like
Joe Leonard and Eddie Mulder, also a stunt man in Hollywood in his time, and Jimmy
"the Flea" Felice, an accomplished flat track and road racer.
The racetrack is fashioned like the original indoor short track, in fact inside one of the
2009 Grand National champ Jared Mees collected a helmet full of cash—and more—winning the Pro class. Promoter Rod Lake congratulates Mees on his victory.
team to have both won an AMA GNC
Championship #1 plate. Erv Kanemoto was also honored. Kanemoto built some of the best motors on the track today and is still building motors.
same buildings that held the races years ago. Its measurements are also exactly the same and the surface is polished concrete.
On Friday night before the banquet is the
"Legends" race, and the old timers race against one another once more. Dana Perri, called the "Short
Track Specialist" in his day, rode to a victory in front of one of last year's riders,
Larry Silva. Perri is well known for his jump-the-line rolling starts, giving him an edge into the first turn of his races. "Boo Boo"
Bob Scalley, well known for his old-time Bell
"Boo-Boo" Bob Scalley shows the young 'uns how it's done.
helmet and white flat cap, took the B class win this year. Scalley was honored as a
Legend a couple of years ago at this event.
The Legends racers' bikes mirror their own era—vintage and time-worn, but gleaming with shiny chrome and glossy new paint.
Seemingly belonging in the bike show next door rather than on the race track, these gorgeous fossils are ridden around a small oval concrete track for eight laps to completion, some two strokes puffing smoke all the way around the track. One of the bikes this year, however, ridden by well-known racer Carl Tressor, appeared to have been pulled out of the shack in the back yard, looking as though it hadn't been back yard, looking as though it hadn't been touched in years. Tresser enjoyed this competitive ride nonetheless, finishing fifth in his race.
Saturday night is a whole different event featuring a Pro class race with the current
Professional and A-class riders competing for a fairly substantial purse. These depend on sponsor donations and whatever the ever-alluring trophy girls can scrounge up by passing a helmet through the grandstands. This night's winner was Jared
Mees, the 2009 AMA Grand National
Twin Champion. Flat track fanatic Rod
Lake and his supportive wife Marcie, created and sponsored the original plan for this event five years ago and they are still sponsoring it today. Lake is also well known around some circuits for his acting role in the 2001 Costner/Kurt Russell flick
3000 Miles to Graceland. Lake is perhaps the largest sponsor of flat track racing and riders in California.
The youngest riders at the event were between 12 and 15 years old, accomplished racers riding 250cc modern bikes. A battle between brothers ensued during this fleeting race, with the younger of the two taking the victory, 14-year old Bronson
Bauman. His brother Briar finished third on Saturday but first on Friday. Briar earned the 2010 AMA Horizon Award,
AMA's highest profile special award a youngster can earn before becoming a pro racer.
No event would be complete without the unavoidable, though crowd-pleasing flare of tempers. As if the chain-link fence surrounded a boxing ring, one racer took fist to another rider's helmet after he had been wrongfully bumped on the track.
This was a battle foreseen since Friday night when the two could be seen bashing elbows during the open practice. It had escalated overnight to the testosteronedriven payback standoff that aroused such attention. The stands went wild, on their feet cheering for more action.
At the end of the night, after the last cellophane wrapper and empty disposable cup had been picked up, and what was once a track appeared only as a black, rubber crop circle in a field of concrete, the empty ringing in the ears of the last straggling fans seemed to whisper secrets as to what next year's race may hold in store. Once again, Pete and Dianne Francini of P&D
Promotions had orchestrated another successful and entertaining weekend of racing and remembering.
Zero Motorcycles 2011 press intro, dirt models
Words by Charlie Rauseo
Photos: Zero
W ith forecasts calling for continued torrential rain, I think that mud-challenged
Gabe
(read "News, Clues and Rumors," April
2011 for our riding impressions of the 2011
Zero street models) was relieved to know that I, not he, was going to ride Zero's new dirt bikes (the "X" and the "MX") on the motocross track and the half-mile woods trail. I'm a dirt rider, the sloppier the better.
It has been years since a new bike has piqued my interest like this. I'm rooting for electric bikes. Just think of the benefits and possibilities of a silent(ish) electric dirt bike: 4:00 am races on the backyard
MX track without annoying the neighbors, poaching mountain bike trails while waving to admiring tree-huggers, avoiding closure of off-road parks too close to noisesensitive housing, warehouse races without all the choking fumes, less dependence on foreign oil, cleanliness, happiness and world peace. If an electric dirt bike can come close to the fun and performance of a gas-powered bike, we should all run out and buy them.
9:00 am at the private riding area and no sign of rain yet. I hop on one of the bikes with knobbies and head out on the woods trail. The Zero chassis feels fine, like a lighter TTR125 with stiffer suspension.
The bike handles bumps, turns, and ruts easily. Balance is great. Brakes are okay, but the lack of engine braking made the rear feel strange. Zero no longer uses mountain bike-derived suspension and brakes. Instead, there are real motorcycle components, albeit stuff more similar to a hopped-up pit bike than a full-sized moto. Ergonomics are perfect: flat seat, very narrow bike, and tall, wide bars. The seat may be a bit tall for shorter riders, but otherwise this bike is a perfect fit for older kids and smaller riders.
The X and MX bikes look almost the same, with clean, aggressive styling. Both are outfitted with knobbies for our ride. The X is aimed at the trail rider, while the MX is designed for small motocross tracks. I really didn't notice a big difference between the two models as they are much more similar to each other than like anything else I've ever ridden. The MX uses a different, slightly more powerful "Agni" electric motor, but neither bike has a combustion chamber, clutch, or transmission.
Naturally, I try to ride the Zero like a bigbore thumper—as a former Dakar rider, that's what I do. From that perspective,
I turn the throttle and am disappointed.
Speed builds gradually, kind of like an automatic scooter. The bike isn't slow, but it lacks throttle response, especially at low engine speeds. At a loamy uphill switchback, I shut the throttle off entering the turn, and pin it for the exit. I'm rewarded with a nearly imperceptible forward urge.
I am a big guy and often have similar problems riding little bikes. But on an
80cc motocross bike, I can find the narrow powerband using the throttle and clutch.
On the Zero there is no clutch or power peak, so it is only twist and wait. The suspension doesn't seem to mind slamming through rough stuff that I would rather wheelie over. The bike does not give you that snap of instantaneous acceleration necessary when riding over unpredictable off road terrain, even for Beginners. I finish the loop scratching my head wondering how to ride the Zero.
The Zero crew knows about my throttle response issues. On the X and MX models, the twistgrip is keyed directly to engine rpm, and engine rpm equals speed, they tell me. So, if I close the throttle completely when entering a corner, but I don't stop, then the first part of my twist coming out of the corner does nothing but catch the engine up to my current ground speed.
They advise me to keep the throttle on as much as possible in the corners, which improves the situation a bit. Both the X and
MX are just about the same.
I notice a tiny Italian journalist going much faster than me on the trail section.
Maybe I weigh too much for the Zero.
Maybe I just suck.
In order to appreciate these electric bikes, I need to alter my mental approach. Sure, the
Zero is not a high-horsepower traditional dirt bike. It is a quiet, clean, high-quality, fun way to mess around in the dirt. As I tried to let go of expectations built up over
30 years of riding gas-powered dirt bikes, I found it easier to enjoy riding the Zero.
Out on the small-scale motocross track, the bike is more at home. Without so many tight and technical turns to slow me down, I can keep my speed relatively constant. So long as I don't need explosive responsiveness from the motor, this bike is very fun to toss around.
Zero serves us a gourmet lunch in a tent near the MX track. Riders are still circuiting the track, but there is no noise to disturb our conversations. Nice. More than half of the journalists are from Europe, where Zero hopes its bikes will sell well.
Zero employees answered a few of my questions:
Is this the next big thing, like, say, Honda in
1965? "Yes"
Who is the competition? "Only the Swiss."
(Quantya: quantyausa.com)
May 2011 | 28 | CityBike.com
May 2011 | 29 | CityBike.com
What are the biggest problems and hurdles for Zero now? "Battery life, motor availability (they are developing their own now), and controllers" (the brain that communicates throttle input from the battery to the motor).
At a spirited trail pace, expect a Zero X or
MX battery to last 30 or more minutes. The fastest riders in our group were able to burn through a battery in 12 and a half minutes, pinned all the time. So, riding style really makes a difference. Battery swaps are simple and very quick, a few minutes at most.
Batteries take about an hour to recharge and
Zero says it will upgrade to better battery technology as it develops, which is quickly.
For the X and MX models, Zero will offer an optional Fox shock for $675. The stocker is fine, but the Fox is much better.
Riding hard, I got the Zero pretty hot. Fans come on, lights blink, and then it just stops.
Wait a few minutes for it to cool down and it will go again.
About 2:00 pm and the sky looks dark and very threatening, so we start to pack it in. I am starting to learn the techniques necessary to ride this electric bike. But I am a long way from mastering them.
Leaving the riding area, I can appreciate that a new type of off-road machine has arrived. These bikes have two wheels and handlebars, but are otherwise very different from bikes we know. Try to compare this bike's performance to a gas-powered bike and it flops. You won't win an enduro on it.
May 2011 | 30 | CityBike.com
Instead, think of it as a quiet, clean, lowmaintenance fun scoot. Do you have enough room for a small motocross track in your back yard? Would you like to ride trails undetected, in silence? Maybe teach a non-motorcyclist how to ride without confusing them with a clutch and gears? Need something to trailer behind the Tesla? Want to ride your trail bike on the street, or not have to worry about green stickers or red stickers or having to rebuild your top-end every season? Maybe a Zero is perfect for you.
After riding the Zeros, I stopped by Scuderia
West in San Francisco to take a short spin on the Brammo electric bike. I was wondering if the lack of throttle response was endemic to electric bikes. The Brammo seemed to pull from low speeds a little better than the Zero, but neither was impressive by any measure.
Don Lemelin, owner of Scuderia, mentioned that he had helped the Mission Motors guys tune their electric motorcycle on his dyno. that he had helped the Mission Motors guys tune their electric motorcycle on his dyno.
(ridemission.com). Don said that electric bike manufacturers could tune their bikes to deliver maximum power immediately off idle, but avoided this because it would make an unwieldy bike for beginners. He planned to tell Brammo to dial in a little more low to tell Brammo to dial in a little more low speed acceleration for its bikes. I'd like Zero to do the same, if only for the X and MX models intended for off-road riding.
Zero dirtbikes start at $7995 and are eligible for state and federal tax incentives.
Find out more by calling 888/RUN-ZERO or go to zeromotorcycles.com.
South of Charter
N orman was draining his canteen while standing beside his Yamaha
XT360 on the other side of the old sand road. We had parked our motorcycles at one of those seven-way intersections deep in the New Jersey Pine Barrens because Norman was "getting turned around a little." In fact, Norm was getting turned around a lot because I'd noticed that
"turned around a little" look on his face 14 miles ago at a six-way intersection. Since then he had gradually reduced our cruising speed to get better fuel mileage. I wasn't a direction as humanly possible until you meet your own tire tracks—then turning left and repeating the whole procedure.
In this manner we usually manage to break out onto a blacktop road before the buzzards start circling overhead. Then we wait for the next bus to come along and read its posted designation. Atlantic
City means it's heading east; Philadelphia means west. There are no other possible destinations unless the bus has an outboard motor clamped on the back.
The old blacktop road that we finally found had high embankments on each side as if the builder was expecting 40 days and 40 nights of heavy rain. The first sign of mechanized life to come along was a convoy of fellows towing trailered boats with underpowered and overloaded automobiles who had taken the back
The fuel in Norm's tank was beginning to slosh around, indicating that he had better have his boots well broken in because he was going to be doing some walking soon.
Norm didn't agree with this but he did have the nerve to suggest that anyone who rode a motorcycle with a fuel tank as large as mine should also carry a cellular phone so as to be sure and call home during the holidays.
A bus came snorting around a bend in the blacktop in a slow-motion tilt because of the embankment. It looked as if all the passengers were sitting on the same side and heading to a lapsed Weight Watchers recovery meeting.
As soon as Norm read the destination sign he picked up his helmet and gloves and swung aboard his motorcycle. "Lets get going", he said. "I was turned around a little but I'm pretty sure 'Charter' is up toward
Jersey City." Then he said, "Follow me close; I heard they're opening a gas station in Ong's Hat".
So I followed him close until his tank ran dry. I slid the Honda's fuel line off the big plastic tank's fitting and transferred a gallon of fuel to Norm's Yamaha with a reasonably worried about fuel consumption because
I have one of those monstrous White
Brothers fuel tanks on my Honda and the chances of turning myself into bacon food are slim in a state that is only 70 miles side to side and surrounded by water.
In Arizona they drive farther than that just to get the feathers on their Stetsons dry-cleaned.
After Norman finished drinking, he looked up at the tree branches. Norm bases his sense of direction on the false assumption that a pine tree's longest branches grow on the south side.
Personally, I think the longest branches
(as God intended) point toward the U.S.
Marine Corps Combat Development
Command in Quantico, Virginia.
In the Pine Barrens, knowing which way is south is only helpful if you're interested in getting a tan. The narrow sand roads seem to aim toward one compass point, then turn, ever so gradually, before ending somewhat abruptly at the edge of a swamp.
This forces you to stand on the rear brake pedal, squeeze in all the front brake you can find and hold your left hand over your head so you won't have to find out if your new wristwatch really is water resistant.
The fuel in Norm's tank was beginning to slosh around, indicating that he had better have his boots well broken in because he was going to be doing some walking soon.
Loud sloshing means Norm will admit to be really turned around and, at this point, he'll usually resort to PLAN B. He has never really explained the entire plan to me but I believe it involves riding in as straight roads for safety reasons. We had no way of knowing if they were diehards heading for the seashore or die-easies who had enough of whatever imagined joys boating is supposed to offer.
As we waited for a bus, I drew Norm's attention to the fact that the longest branches on the trees along the road were pointing
toward each other. Further proof that his forest navigation skills were not, shall we say, stellar.
Repair & Service
clean Piel's beer can, then he followed me close to where our vans were parked.
I expect they'll build a gas station in
Ong's Hat shortly after they build one on the moon.
For a copy of Ed's latest book, 80.4 Finish
Check, send $29.95 with suggested inscription
to Ed Hertfelder, PO Box 17564, Tucson, AZ
85731. Go ahead and do it—Ed only gives it away for free for so long...
Send us $14.99 + $5 for shipping and we'll send you a shirt... really! Email us:
[email protected] or mail a check. Let us know your shirt size (S-XXL) and shipping address*
City Bike Magazine
PO Box 10659
* if you have stress management issues, and allergic reactions to shellfish, 1 out of 7 doctors recommend wearing this shirt only under professional supervision.
We Ship Worldwide
CALL US FIRST!
Salvaged & New Parts!
Tue–Fri 10–6 Sat 9–5
May 2011 | 31 | CityBike.com
I
maynard
told Ross I'd have the chimichangas, coffee and water, thank you, and handed him my menu. I sat on the patio watching some of the world roll by and the rest pull into Zoka's for breakfast as I had. I heard a loud motorcycle
Our Favorite Customers
approaching, not the only one I'd hear that morning. I looked up and by golly it was a trike, a red, white and chrome Gold Wing- or Valkyrie-based one, with a man and a woman on it. No helmets.
controlling it as I do steering a conventional motorcycle. I figure they're for guys who are getting old enough to distrust their strength or balance. Maybe I'm wrong though. Often
I am, and not just about trikes.
HERSHON
They rolled in and stopped in a space just below my table. He shut
'er down—to general relief, mine certainly.
I admit it: I don't get trikes. What's the attraction? If I rode one, I'd wear a helmet and wouldn't feel as free as if I were driving a car with the top down. And the trike wouldn't lean—so I wouldn't enjoy
The guy climbed off the converted Honda, leaving the woman in the saddle. He was a big dude and solid, well over six foot and over 225. Maybe about 55 years old. He had silky blond hair parted in the middle and hanging to his shoulders, like Mary
Travers from Peter, Paul and Mary. Jeans, a biker belt, t-shirt and a vest. Tattoos down both arms. Maybe I remember a studded leather wristband, black in color.
Standing next to the left back wheel of the trike, he pulled a comb from his pocket and eased the in-the-wind snarls from his hair. I don't think I want that guy to hit me,
I thought. I don't even want him to notice me. I don't like who he says he is.
Maybe you don't feel as I do. Maybe you don't feel that the way people present themselves means anything about how they are. Life's a huge costume party, right?
I look at a guy or a woman outfitted as one kind of person or another; I believe that's what they are. When people dress in a connotative way, I figure they're aware of the impression they're making. There's nothing accidental about it. They're trying to produce an effect.
Call me old-fashioned. If an urban kid looks like a cheap gangster, I believe he's what he appears to be. If a woman dresses like a boy-toy, I figure she wants me to think she is a boy-toy. If I don't get to know her, I'll never realize that she's not— she's a missionary and neurosurgeon and not a bit promiscuous.
When I see a guy in biker gear, resplendent in body art and riding with his feet stuck out in front of him and without a helmet on his head or silencing devices in his exhaust pipes, I figure he aims to intimidate.
Or would he claim that a black leather vest with a patch on the back is effective protective clothing? Warm on cold days?
Keeps the rain off? What good is it except to tell folks how bad you are?
A guy in biker gear wants folks to think he's anti-social and downwardly mobile.
That he holds society's norms in low regard.
That the woman on the back seat is "riding' bitch." Isn't that what all that stuff says?
The big blond guy's woman, heavyset and gray-haired, was still sitting in the saddle of the trike. She's no hot Daytona biker-bar chick, I thought. She's kinda dowdy, like a waitress in a Midwestern small-town cafe.
Warm your coffee, honey?
As the seconds passed, I began to wonder why she didn't climb off and walk up the steps onto Zoka's patio. Then I saw the guy holding a cane with four rubber-tipped prongs at the bottom. He handed it to her and ever-so-gently reached under her arms and lifted her up and off the saddle of that trike. I'll bet it took 30 seconds of lifting before her right leg slid over the seat.
Until and after she got both feet on the ground, he had his arm around her. To call it gentle doesn't half describe it.
They stood there for a full minute, I'd say, looking at the wooden steps. Then they very slowly walked, his arm still around her, to the stairs and yet more slowly up them to the patio and the cafe door. He opened the door for her and helped her through it.
I thought: This is maybe the sweetest thing
I've ever seen.
So when Ross came back with my water and coffee, I said, I just watched the guy with that trike help his wife off the bike and into the restaurant. Really somethin', I said.
He said, "They are genuinely nice people.
Come in three or four times a week, always on that trike. He takes care of her and fusses over her every time. They're like among our favorite customers.
"Something happened to her, some illness,
I think," Ross said, "maybe 10 years ago.
He's been taking care of her since. As I said, we see them really often, and it's always the same thing. He can't do enough for her.
Cool, huh?"
I said, "Super cool," but I felt foolish. I'd weighed the evidence, the heavily chromed trike, the loud pipes, the bare heads, the tattoos, the biker clothing...and was led to the wrong conclusion.
I want to say to the guy: Hey, until I saw you in a better light, what was I supposed to believe?
You look like you're under FBI surveillance but you behave like someone
I could trust babysitting my pre-teen daughter. Maybe you were a hell-raiser at one time. But you're not raisin' hell now, are you? You're a loving, patient man, looking after your ol' lady.
If you are a loving, patient man who reveres a woman or all women, why the bad-guy outfit? Why do you try to look scary? When people see you and choose to walk on the other side of the street, does that mean you've earned their respect?
A black leather vest isn't just clothing, is it? It's an emblem. It advertises who you are. That's the idea, right? You don't wear it expecting no one to notice. They will notice and they will make assumptions about you, as I did. Until I saw that cane, you had me fooled.
May 2011 | 32 | CityBike.com
dr. gregory w.
dead wife's lifetime adventure
died she had no Last Will and Testament, leaving an estate to her husband of nearly
$1,700,000. After paying off some claims and the attorney, my friend received a check well into six figures, an economic reward for having never tied the marriage knot again. He also received a future income stream from his departed wife's retirement and Social Security.
"I just bought you a new Kawasaki, a red KLR650. I knew you would be too cheap to buy one yourself."
The motorcycle philanthropist had telephoned me some minutes earlier and was answering my curious question. He had started the conversation with, "Do you like the color red?"
I answered, "Yes. Why?"
Nearly two years earlier he had been contacted by an attorney who wanted a retainer to represent my pal during the probate of his former wife's estate. The couple had been married
...we immediately
Wife Memorial
Adventure Ride.
when they were both 22. Five weeks later while the new husband was away serving his country the frisky wife scampered away for the newlywed's home with another man. She paid for a quickie divorce, breaking my friend's heart and steeling him against any future marriages.
He said of his short marriage, "Hell, it was Hell. I didn't even get a Dear John letter, just a note saying we were no longer married and that she'd taken off with my best friend."
Women, like the many motorcycles he owned over the next 44 years, were a passion, but like those many motorcycles he had often moved on to different or newer models, never settling on a keeper.
The lawyer made a pitch that sounded like a salted gold mine. For investment of a bit of money now there was promise of great rewards in the future. The offer smelled too good to be true, another bogus telephone solicitation, but my buddy asked me to look into the matter for him, pleading Internet ignorance and unsure footing in the legal world.
When asked what I planned to do with my new KLR650, I told my donor I thought that we should make a memorial ride in memory of his wife and to celebrate his new wealth, long life and luck, an ultimate motorcycle adventure journey. He agreed and immediately dubbed it The Dead Wife
Memorial Adventure Ride.
We mapped a tentative route from Mexico to Canada that zigzagged across the Rocky
dubbed it The Dead
Mountains and he spent the next month outfitting the Kawasaki to my specifications while he did much the same to his
Suzuki DR650.
Our plan was to often camp in the wild, not to save money, but to enjoy the outdoors, so we needed numerous upgrades such as more aggressive tires, significant luggage carrying systems, crash bars, and upgraded suspensions. The last bit of preparation was to register the Kawasaki. We debated the advantage of papering it in my home state of Montana, where our adventure would end, or his southern state from where we would start. Since the motorcycle and he were physically located together, that was where the paperwork was processed.
He telephoned me with a last minute detail.
A personalized license plate could be had for a few extra dollars and he wanted to know if I had any in mind. I suggested
"KLRGUY." The next day he called back and said that name was already taken, and asked if I had another suggestion.
I thought for a few seconds, and then asked,
"What was your wife's name?"
"Shirley," he laughingly answered a few seconds after the light in his head blinked On.
The Dead Wife Memorial Adventure Ride started with a celebratory toast to Shirley.
For the next three days we hammered ourselves and the motorcycles riding dirt and sand tracks over some rugged ground far into the Rocky Mountains of Colorado.
Deep water crossings once flooded the
Suzuki and we spent several hours laboring in the hot sun drying out electrics and a hydro-locked engine. My virgin Kawasaki earned several adventure riding merit scratches after I stepped off in loose rocks the size of footballs opting to let if flop instead of trying to muscle-match gravity.
At the end of the third day we were camped in a remote area of southern Colorado, watching the orange sun set while drinking an after-dinner cup of coffee. The campfire flames reflected off the back of my KLR and I noticed for the first time the license plate. It had the letters SURELY.
I said, "Hey, what's with the license plate name on my KLR?"
"Ahhh. I forgot to tell you. The letters
SHIRLEY were already taken, so I got what was the next best."
I pondered the twist on the words for a few seconds, and then said, "Okay, it sounds the same but it just doesn't quite seem to have the same wrinkled meaning as the name of your wife."
He spit out some coffee grounds, stood up and tossed the remains in his cup onto the fire. Some flames died and a log sizzled. He spit again and then said, "Yeah it does. If it weren't for dead
Shirley, you'd not be out here living the adventure of a lifetime on the motorcycle she bought, don't you think?"
I reflected for some seconds on his philosophical pronouncement, then understood and said so by saying,
"Surely."
Dr. Frazier's latest book, Motorcycle
Adventurer, has been described as "the true
story of the world's longest, most difficult and most perilous motorcycle journey ever attempted," and "should be a must read for every red-blooded motorcyclist." It is about the first motorcycle ride around the world in 1912-1913 and can be found at
motorcycleadventurer.com. Watch for news about a 2012 'round the world ride retracing the original route to celebrate the incredible achievement by
Carl Stearns Clancy.
I spent several days researching the law firm, the attorney, and the wife's background trying to find some fool's gold the wild claim. I finally made a confident call to my friend and said, "Send this legal guy the $1000 he wants. If you lose it I'll cover it, but I think he's on to something."
Two years later I answered the telephone call about my new red Kawasaki. I was told it was a way of saying "Thank you."
The sad tale involved a divorce decree paid for in cash that was signed by a crooked judge who had never recorded it properly. The divorce was not valid.
Neither my motorcycle buddy nor his run-away wife ever re-married. When she
May 2011 | 33 | CityBike.com
From 3:14 Daily
Valencia @ 25th
415-970-9670
A
Tankslapper
DIAVEL IS IN THE DETAILS
ll this chatter and innuendo about
"poseurs" ("Ducati Diavel," May 2011) has me thinking. By my understanding the term is used in a pejorative sense to describe someone who is more interested in "looking" than
"being." In the case of your most recent cover story on the new Ducati Diavel, "poseur" to my reading seems to be the underlying subtext of two of your three contributors. An elaborate case was made by both Maynard and Andy that "real" riders couldn't possibly find the Diavel in their quiver for a variety of esoteric and cerebral reasons. Both Maynard and
Andy question just about everything they can think of regarding this bike… 'what about this and what about that' they rattled on! I have a question for them, "Why don't you ride one"???
I had the opportunity to take a solid test ride through the good offices of my local Ducati dealer,
Munroe Motors, and as a result, I bought one of these devils five days ago. I've put 1300 miles on it thus far. I've ridden it on real roads. I've ridden it in the rain. I've ridden it to the limit of its 240 rear tire. I've ridden it fast up The Coast. I've ridden it all over San Francisco where I live. I've ridden it in the day and night. I did 400 miles one long afternoon, and I've ridden it on short hops to run errands.
It maneuvers better than a BMW GS yet it's not frumpy. On the open road it is a mile-munching thrill machine well suited to the accomplished, serious rider.
You want to know anything about this truly remarkable machine, ride one or ask someone who has. I ride.
Andy Sills
San Francisco
I
Gee Maynard, almost always enjoy your writing in
CB, but what was that Diavel tirade all about? I would have thought you would want to see one in person and take a little ride before dissing it as useless and ugly.
Take a look at what Hank Desjardins over at
Chrome Asylum had to say about his ride on the devil. It's an entertaining read. He's an HD guy now but he's been a sportbike rider and off-roader as well during a lifetime on two wheels.
Jim McLaughlin at Ace Motorsports offered me a ride on their Diavel demo last Saturday. While a cruiser is not my style, I can appreciate all kinds of scoots and the Diavel was a hoot to ride with a soundtrack right out of the car chase in "Bullitt". A
45 minute ride on the canyon roads and a few WOT moments tell the story. A cruiser it's not. This is a different kinda motorsickle. It'll blow the cobwebs outa your head and put a smile on your face, just in time to talk to the lawman about your pedestrian status. Righteous motorcycle!
Ted Tome
The Internetz
AEROSITCHED TOGETHER AT
THE HIP
L ike Courtney, I was a late-comer to the
Aerostich experience ("The Aerostich
Shopping Experience," April 2011, p. 21).
Having always admired them, I pined for one.
So it was a comfort to read Gabe's piece, "The Final
Word," included in the Aerostitch love-fest, for my sizing and purchasing of the suit was not all that much of a honeymoon.
If you have a standard, slim figure, you will be fitted and in love faster than a pair of breeding bunnies.
Any quirks from that ideal form and it gets a tad hairy.
My $847 Roadcrafter ended up costing roughly a grand by the time the butt-gusset mod was made, and return shipping was paid. It is not that the guys at Aerostich shipping was paid. It is not that the guys at Aerostich aren't outstanding. They truly are. But if you have any diversions short of the tall, slim male form, total instant gratification is a pipe dream.
Am I happy with the suit?
Pretty much. I think it rocks for its specific purpose.
But it is clunky. I had to temporarily replace the shoulder pads with thin tri-armor for the first year or the wedgie made my crotch go numb. The arms and legs are a tad longer than I'd prefer, but I could pay $800 more to get this suit to fit me just right. The upper body is freezing cold in the winter, layering leaves you sweating bullets just to fill the gas tank, and it's a honker to store and lug around.
I'm probably going to get hate mail and death threats if this is published—and maybe I'm just jealous of all those people out there that are madly in love and happily married to their
Roadcrafters after 20-years. So be easy on me—I am utterly and completely in like with mine.
was now plainly visible through the new holes. But remarkably, he was just a little bruised.
We used a 17mm deep socket as a left side footpeg, duct taped his bike and suit, and continued the ride.
Almost all of us wear the Roadcrafter suit, and boy, a few more of us became Andy Goldfine / Aerostich advocates that day. American made, by Americans in Duluth MN. In this world of cheap, throw away products, coming from third world countries where mothers and their children work 12 - 16 hour days right next to each other, why buy anything else?
Duffy Collin
Oakland Moto Bros MC
HOUGH ENOUGH
A s an active MSF rider coach I read David
Hough's article ("Should Rider Training
Be Mandatory?" April 2011, p 23) with great interest. I, too, would like to believe that rider training makes a difference and, anecdotally, I know that for some people it does make a difference. Last
Sunday I had a young Navy Seaman tell me that she wouldn't have wrecked her first motorcycle if she knew then what she learned in class over the weekend. It's comments like that which keeps many
RiderCoaches coming back weekend after weekend to stand around in a parking lot and watch other people ride. Having said that, I don't believe that mandatory training is going to significantly impact motorcycle accident statistics. To reduce accidents a lot more than training needs to change.
Let me explain. I spent 25 years of my life working in heavy manufacturing. For the first 10 of those years we basically paid lip service to safety. We met our OSHA commitments, measured our incident rate and got along with the business of making paper. About 15 years ago the CEO made employee safety his top priority and made the point that management was going to "walk the talk." He drove accountability for working safely down through
Barbra
Like
Photo: Bob Stokstad
Another "Aerostich
Saved Me" Story:
J ust read your report on the Aerostich 1 and
2 piece suits in your April issue. There are so many "saved me" stories about Aerostich, but a one comes to mind when I think of the best investment in protection I've made, my Aerostich
Roadcrafter. a company with 55,000 employees. It resulted in an 90-percent reduction in serious injuries and a complete shift in the company's culture. It didn't come easy, but today you would be hard pressed to find an employee that doesn't understand what's expected of them when it comes to working safely.
I ride with a pretty damned fast group of guys. We're flying up this twisty road past LaGrange, and we go over this sudden drop off - at least at 80 or 90 mph. The guy in front of me gets some air, I fly off the thing too. But all of us are long-time dirt riders, so it's no biggie. So a few miles up, we wait up at the next junction for the group to re-gather, and one of the fast guys comes rolling up, yelling, "Somebody went down back there, we gotta go back!"
We get there, and a Suzuki V-Strom is off to the side and the rider, in his newly ventilated Roadcrafter, is already making repairs on it. Apparently the sudden drop compelled him to shut off the throttle, so he landed front wheel down at near 80 mph, the rear got light and the bike spit him off at speed. So I'm checking his suit, and yeah, it's beat up. Definitely not water or windproof anymore. He had the harder optional armor in his Roadcrafter, which
Photo courtesy of Tim Martinez
So, how does all that relate to motorcycle safety?
All of the employees of the above company went through extensive training. The training included a significant safety focus, not unlike the MSF's Basic
Rider Course. Most employees understood how to work safely, but the culture in place didn't support it. Once the culture shifted, employees' behavior shifted to conform with it.
For most people the BRC is the first and last training they will ever get on how to ride a motorcycle. As one of my peers frequently tells students at the end of class, "As a new rider you now have 17 miles of riding experience in a parking lot at no more than 25 mph. I wouldn't recommend hitting I-80 tomorrow at rush hour. Practice what you've learned on your own motorcycle and get additional training." I know that at our range we see maybe two percent of our students back to take the BRC2, a class that I would consider at best the bare minimum in additional training. If even 20 percent of the students who went through a BRC followed up with an advance course, the MSF, Reg Pridmore, Lee Parks, et al would be swamped with business. I haven't noticed that happening.
In general, I don't believe that our current culture as motorcyclists values the idea of riding well. We'd much rather let people "do their own thing". David
Bromfield wrote an excellent article in On The Level a couple of months ago on the reception he got when he tried a little constructive criticism with some of his riding peers. It seems that it didn't go well. In a culture that valued riding well, David's comments would have been met with little more positive response. Training by itself whether mandatory or not probably isn't the answer. Training with a commitment to improving upon what you've learned would be a big step in the right direction.
Unless the culture changes it's unlikely that mandatory training is going to do much to reduce the statistics.
Scott
Alameda
I
USE A DECOSTER
am a former club racer (WSMC, ASRA/CCS) heavily influenced by my dad taking me to see
On Any Sunday in '71 and tons of car and bike races. Dad was the DeCoster's auto mechanic when
Roger was married to Lorry from my home town of
Santa Barbara. Roger gave this photo to my dad.
That's Roger in Barry Sheene's suit and hat on a factory back up F1 bike going for his first ride on a road racer. Gene Romero is to his left and Sheene is behind the bike in his leathers.
Tim Martinez
Ventura, CA
Formerly WSMC #30
TAKE A HAIKU REDUX
Warm, dry, sunny Sunday
Motor screaming wildly
Infraction in hand
BT
Disenchantment
May 2011 | 34 | CityBike.com
Marketplace
Come on Down to:
MOJOTOWN !
Good ol' fashion customer service.
Our Service Shop Is Now Open Tues - Fri
Store Hours
Mon - Sat 10-6
Ph. 415.457.6656
1345 E. Francisco Blvd. San Rafael, Ca 94901
• Porting • Polishing •
Cylinder Head
Specialists
In Business Since 1978
All Makes
All Models
All Years
Santa
ClaraCycle
accessorie s
*free mount and balance w/wheels off bike
lowest prices on dirt and street tires in the bay area.
993 e. el camino real sunnyvale, ca btwn. lawrence & wolfe
E
NGINE
D
YNAMICS
, LLC
Phone 707-763-7519
Fax 707-763-3759 www.enginedynamics.com
2040 Petaluma Blvd. N.Petaluma, CA 94952
FREE!
ADMISSION & RIDE OUT
Sacramento Drive-In – Sacramento, CA
SEPTEMBER 18, 2011
(800) 762-9785 • WWW.TOPPINGEVENTS.COM
R
ecommended
S
eRvice
• /5 and later Airheads
+ Early K-Bikes
• Service and Repair
• Original Parts
• Since 1980
Dave Gardner
Certified Technician
1064 ReveRe ave. S.F., Ca mon-FRi 11:00 to 7pm (415) 822-2041
May 2011 | 35 | CityBike.com
CLASSIFIEDS
CLUBS
The Northern California Norton Owners' Club (NCNOC) is dedicated to the preservation and enjoyment of the Norton motorcycle. Membership is open to all British Motorcycle enthusiasts and is currently $25 per year, you can join online.
Our monthly rides, meetings and tech session and events are open to all members and guests see our web site calendar at
www .nortonclub .com
Now celebrating our 40th year!
The Classic Japanese Motorcycle Club is dedicated to the celebration and preservation of the Classic and Vintage
Japanese motorcycle. We have rides, meets, shows, swaps and can help you find and sell parts, bikes and motorcyclerelated services. Members make the club function! www .
CJMC .org .
This 2002 BMW R1150R sold in less than 24 hours! While we can't guarantee it, we've been selling nice consignment motorcycles quickly. We have the staff, the customer base and the resources to make it happen fast and hassle free for
YOU! Call Tri Valley Moto today for a "no obligation" quote.
925-583-3300
www .trivalleymoto .com
NEW AND PRE-OWNED
BY DEALER
J&M Motorsports
1931 Old Middlefield Way #201, Mountain View
www .jm-ms .com
Good-used-motorcycle/Fair-price specialists
Sportbikes, Cruisers, & Dirt Bikes
We are a licensed operation run by two brothers who love motorcycles and specialize in newer, low-mile, affordable bikes that are worth owning. We have in-house financing and a wide variety of bikes all in one place.
Looking for your first bike? Your 10th? Come by and see why people like us: Easy to deal with and we really enjoy our work. J&M is not a giant dealership. When you call or visit, you're talking directly with the owner.
Come by and take a look! Open Mon-Sat - Closed Sunday
We buy (nice) used bikes. Trade-ins are almost always welcome.
$9,995 2006 Ducati 999 Biposto 1,884 Original Miles
$4,795 2007 HONDA VT750 Spirit Original 1,252 miles!
$5,895 2006 HONDA VTX1300C 5,322 miles
$5,995 2007 HONDA CBR600RR 16,593 miles
$6,795 2007 HONDA CBR600RR 7,331 miles
$5,795 2006 HONDA CBR600RR 9,467 miles
$5,995 2006 HONDA CBR600RR 13,383 miles
$2,295 2002 HONDA REBEL CMX250 1,523 miles
$995 2005 Honda CH80 Elite 80 5,519 miles
$6,995 2007 HONDA CBR600RR 3,175 miles
$5,995 2005 HONDA CBR600RR 5,873 miles
$7,195 2007 HONDA CBR600RR 1,727 miles
$8,495 2008 HONDA CBR1000RR 1,689 miles
$2,495 2007 Kawasaki EX250R Ninja 9,627 miles
$4,995 2009 Kawasaki EX650R Ninja 2,475 miles
$4,995 2007 Kawasaki VN900 Vulcan 8,603 miles
$3,995 2009 KX250F Kawasaki Monster Edition
$6,995 2008 Kawasaki ZX6R Ninja 2,408 miles
$5,495 2006 Suzuki Boulevard C90 6,818 miles
$4,995 2007 Suzuki SV650S 3,922 miles
$7,495 2008 SUZUKI GSXR750 5,014 miles
$5,495 2006 SUZUKI GSXR600 12,351 miles
$5,495 2007 SUZUKI GSXR600 10,143 miles
$4995 2008 Suzuki DRZ400SM 5,106 miles
$5,995 2006 SUZUKI GSXR600 8,365 miles
$6,695 2007 SUZUKI GSXR750 9,488 miles
$6,295 2007 SUZUKI GSXR600 4,686 miles
$6,995 2007 SUZUKI GSXR1000 5,945 miles
$7,795 2009 SUZUKI GSXR600 6,587 miles
$6,495 2008 SUZUKI GSXR600 22,000 miles
$4,695 2008 YAMAHA Vstar650 Classic 4,271 miles
$1,295 2003 Yamaha TTR225
$6,795 2008 YZFR6 YAMAHA 8,621 miles
$7,695 2009 YZFR6 YAMAHA 9,412 miles
$5,995 2005 Yamaha XV1700 Roadstar Midnight
12,369 miles
$4,995 2005 YAMAHA Vstar 1100 Classic 6,616 miles
$7,295 2008 YAMAHA YZFR6 982 Original Miles
$7,295 2009 YZFR6 YAMAHA 14,116 miles
ACE MOTORSPORTS
Ace has the largest selection of Used Motorcycles in the Bay
Area. We offer Financing on all our pre-owned inventory.
www .eastbayace .com - (925) 969 7818
2008 HD ROAD KING FLHR Damn this bagger is gorgeous…and spotless. It's had the Stage 1 treatment…Slip on exhausts keep the rumble alive, and the air cleaner helps it breathe. Bike has a Master Tune EFI Tuning kit and has been dyno tuned. Detachable back rest and some sweet chrome bits.
Yours for only $15,995
2004 DUCATI S4 Classic liquid-cooled Ducati Monster has the awesome 996 Desmo engine and much loved single-sided swing arm. Termi full system w/performance airbox completes the package…these are the hard-to-find high mount pipes too! On the open road the S4R is far and away one of the best
Monsters yet. $6.995
2002 DUCATI S4 What else can you say about this classic that hasn't been said already. This 2002 S4 has the engine from the 916 which puts out just over 100hp…it's also got a nice set of Arrow Titanium pipes, which sound amazing.
Some sweet carbon bits round out the package. Only 16, 500 miles. $6,750
1992 DUCATI 851 STRADA When it comes to the current crop of Ducati V-Twin Superbikes, they all have this model to thank. Concurrently introducing liquid cooling, four-valves per cylinder (with desmo, of course), and fuel injection, the 851 was a watershed bike for Ducati. Sporting top-level componentry and offering exceptional performance. $5,250
2003 SUZUKI GSX-R750 Clean '03 Gixxer 750…a motorcycle that's near perfect on the road or track. This one is pretty much stock with a nice set of frame sliders and only
10,800 miles on the clock.
If you're not familiar with the 750 you're in for treat… the handling is superb, the chassis flatters the novice and rewards the expert. $5,445
2001 HONDA SHADOW 750 It's been a long time since
I've ridden one of these Honda Shadow 750s. Yesterday I took it for a spin and was quickly reminded of why I used to like
'em so much. Firstly the bike looks gorgeous. Great paint job and lots of chrome make it look like it costs far more than it does. $3.995
2001 KAWASAKI VULCAN 750 Ooooh baby! Look at this bad boy…750cc of throbbing sound and V-Twin power.
It's got lots of chrome, a low seat height and a laid-back riding position…it's a smooth ride at an awesome price.
This one has a nice windscreen and those sweet whip-stitch saddlebags $2,750
2003 TRIUMPH SPEED III Naked and nasty. One of the original hooligan bikes, the Speed Triple never fails to impress…or intimidate. With 118 hp you're never left feeling…uhhh, inadequate.
This bike kinda of reminds me of a guy I used to know in high school. He was a bit of a flake and would often say inappropriate things in conversation. $4,750
2009 DUCATI HYPER 1100 Another Ace Motorsports preowned gem. 2009 Hyper 1100 with less than 2,600 miles and full factory warranty! We got this baby straight from Ducati.
It's in stock trim and has a fresh set of Dunlop Sportmax Q2's.
Ready to rip up the back roads, your for only $10,399.
2007 VESPA GT60 250 Man, is this Vespa gorgeous.
Limited to only 999 units worldwide – only 250 in the U.S. – this Vespa GT60 pays homage to the classic Vespas of 40's and 50's. Each GT60 received a commemorative badge, personalized with the owner's initials, identifying its limited production. $6,495
2007 SUZUKI GSX-R1000 Super clean Gixxer 1000 with only 2,050 miles. Comes with Two Brothers carbon slip-on and a few other carbon bits.
Gorgeous bike! $7,945
2007 APRILIA TUONO FACTORY R Gorgeous and rare!
The 2007 Aprilia Tuono R Factory is a truly professional machine for all those riders who demand the state of the art in technology and the absolute maximum in performance.
Awesome engine, Öhlins suspension, Arrow carbon exhaust, ultra-light wheels and a host of carbon fiber components.
$8,899
2002 DUCATI 900 SPORT Super clean 900 Sport with only
3880 miles. Remus exhaust. $6,399
2008 HONDA VFR 800 ABS Only 4k miles. As a sporttouring mount, Honda's VFR is a solid player that can give most liter sportbikes a run for their money (Just watch
Freddie Spencer-who uses a VFR as a teaching platform-put one through its paces at his riding school). $7,899
1999 DUCATI 750 SUPERSPORT 27,300 miles. Termi pipes. 1 owner bike. That sound…oh that sound! The growl of the two pipes. The instant low speed push that threatens to embarrass bigger bikes.
Tha handling is Sweet. Sweet sweet sweet. Loose arms, tight knees, push with the feet and around she goes. Change line halfway thru to skirt that tar ripple, no problem. $4,999
2007 VESPA GTS 250 Vespa's flagship model, the 2007
GTS 250ie, is a smooth number, whether you are cruising along in the summer sun, battling the traffic to work or on a weekend road trip on the open road. The 21hp, fuel injected, four-stroke motor is the most powerful engine that Vespa produces. $4,749
2006 DUCATI MUSTISTRADA 620 DARK This 2006
Multistrada in Dark comes with a set of Leo Vince slip-ons and is super clean. Only 4900 miles and all services are up to date. $5,999
2009 Suzuki Boulevard S40 with only 300 miles! The S40 is powered by a 652cc single-cylinder engine, has a very low
27.6 inch seat height and weighs only 381 lbs.A fantastic daily ride for commuting. Fuel Economy is in the 46-52
MPG. $3,299
2008 Ducati 1098 only 8,900 miles. It's great to see a yellow 1098…shame Ducati doesn't use this color anymore cuz it certainly has it's appeal. Termignoni slip-on,Sato adjustable rear sets,SpeedyMoto clutch cover, pressure plate and caps,Carbon rear hugger, Fender eliminator kit. $13,250
2009 BMW K1300GT The ultimate sport-touring machine.
The K1300 was given a major upgrade in 2009 and boasts
160 hp at 9,000 rpm with 99 ft-lbs of torque at 8,000 rpm… definitely no slouch.But you're not riding the K1300GT for ultimate speed anyway, you're riding the GT to go "fast enough," and do it with some style, convenience and comfort.
And this bike is loaded to the gills with all of the comforts you'd expect. $17,500
Golden Gate Cycles
1540 Pine Street
San Francisco, CA 94109
415-771-4535 email: [email protected] .com
www .GoldenGateCycles .com
Your ONE-STOP SUPERSTORE for all your motorcycling needs and the only authorized HONDA, SUZUKI, KAWASAKI, YAMAHA and SEA-DOO dealership in San Francisco for over 30 years!
Customer Service is our #1 Priority here at Golden Gate
Cycles and we strive to give you the best experience possible!
Preowned Bikes (safety-inspected and ready for the road!):
2010 Kawasaki Ninja 250 – Kawi green, Great SF bike and the one of the best beginner bikes out there! Practically new!
Only 76mi, $3999
2004 Honda VFR800 – Super Clean, low low mileage, only
10793mi, fresh 12k service already done, $4999
2007 Suzuki GSX-R750 – Suzuki blue and white, Super clean, super fast and super fun, 8934mi, $6000
2008 Suzuki S50 – black, compact cruiser, low seat height and a V-twin with plenty of power, only 3521mi, $4325
2009 Vespa GTV250 – sea-foam green, brown leather seat, clean!! Highway legal Luxury scooter at an affordable price, only 3312mi, $5199
2008 Kawasaki Vulcan 900 Custom – cobra exhaust, black and chrome, really well taken care of, 15k miles, $4999
2007 Suzuki Burgman 650 – classy white color, comfortable Corbin seat, 27k miles, $4995
2009 Vespa GTS250 – dark blue w/ beige seat, good looking scooter that's freeway legal, only 6221mi, $4699
1996 Kawasaki Eliminator 600 – easy and inexpensive transportation, only 10565mi, safety inspected, great city bike, $1699
2006 Kawasaki ZX10R – custom paint, fast, make a powerful track bike, 29k miles, $5499
2005 Yamaha Vino125 – reliable Japanese scooter with only
1255mi! Save money on gas getting 88miles/gallon, $1799
Golden Gate Cycles is buying Used Bikes!! Cash!!
We also have a Consignment Program: We advertise it for you! Your potential buyers will have financing options, as well as the use of their credit cards. Even if you still owe money,
Let us Help!
Service Department:
We have some of the best mechanics in Northern California with over 60 years of combined experience!
No appointment necessary!!! Bring your ride in before 10am for any minor service and we'll have it back in your hands the SAME day!
Parts Department:
Guaranteed Lowest Tires Prices here!!! We beat any online prices for accessories and hard parts!!
COME IN AND WIN A 2011 KAWASAKI NINJA 250!!!
Golden Gate Cycles is OPEN Monday—Fridays from 9am-
6pm and Saturdays from 9am-5:30pm. We are located at
1540 Pine St., between Van Ness and Polk, in San Francisco.
FREE CUSTOMER PARKING for our auto/truck drivers in our upstairs Parking Garage.
COME CHECK OUT THE NEW 2011 MODELS, ALL UNDER
ONE ROOF!!
www .GoldenGateCycles .com
415-771-4535
MISSION MOTORCYCLES
6232 Mission Street Daly City, CA 94014. 650/992-1234 or
415/333-1234 missionmotorcycles .com
1st Saturday of the month is BROWN BAG Saturday! Get it in the bag and Get 15% OFF!
Any Parts or Accessories in stock are 15% off the marked price! One bag per customer, so get in as much stuff as you can and have fun while saving money!
Our Service Department will check your tire pressures for free whenever you bring in your motorcycle, scooter, or ATV for servicing or repairs.
Zero Electric Motorcycles available here At Mission
Motorcycles. Call To Schedule A Demo Ride - (650) 992-
1234 The Zero S qualifies for the 10% Federal plug-in vehicle tax credit AND a sales-tax deduction!
Used Bikes:
2004 Honda VFR800FI – C436 Great all-around motorcycle. New Pirelli Angel ST tires. 49 state CA legal, only
9039 miles. $4999
2006 CRF250R – U970, Newly rebuilt motor! Only $2999
2006 CRF70F – U1100, Family fun starts with this greenstickered semi-auto! $1299
2008 Kawasaki KLX140L – U1111 Get dirt riding on this electric-start bike designed for kids or adults. $1799
2008 Kawasaki ZX-10R – U1049, "Willie D. Custom" Too many goodies to list! Only $8599
2010 Kawasaki Ninja 250R – 600 miles, gorgeous blue,
FLAWLESS!!! First service done, no setup or freight, warranty till November 2011! $3999
2007 Kawasaki Z1000 – C443, Sporty performance with a few great Extras! $6999
2010 Victory Kingpin – U1114 Kingpin Kruising with a
Stage One kit installed! Big power for little bucks! Only 460 miles, two-tone blue and sandstone metallic, $12,999
1993 Suzuki Intruder 800 – Only 740 (not a typo!) miles!
Recently tuned and ready to ride. $2699
See all of our bikes online at
www .missionmotorcycles .com .
Prices do not include government fees, taxes, dealer freight/ preparation(new vehicles only), dealer document preparation charges or any finance charges (if applicable). Final actual sales price will vary depending on options or accessories selected.
MUNROE MOTORS
SAN FRANCISCO'S OLDEST AND BEST MOTORCYCLE
SHOP—SINCE 1958
412 Valencia Street, 415/626-3496 www .munroemotors .
com Tues-Fri 9-6, Sat 9-5
USED BIKES
2007 MV Agusta F4 1000R – Immaculate monopostal Mv up for grabs for some lucky Italian bike lover.
All stock and ready to rock! Only 4900 miles. VIN#
ZCGAKFGM67V100471 $11,995
2010 Moto Guzzi V7 Cafe – A rarely seen used Guzzi V7
Cafe! Cruise to the coffee shop in pure Italian style. Ciao! 900
miles. VIN# ZGULWC013AM111669 $8295
2005 Ducati 999s – A beautiful 999s in Black with white number plates. This one is pretty rare! $8495
2010 Ducati Hypermotard 1100EVO – Only 800 miles!
Save thousands! Red and ready $10495
Call us for specials on new inventory we can't print!! 415-
626-3496x2
Events
May 7th
Triumph Open House! Release party for the long awaited
Tiger 800 and Speed III. Call to schedule your demo ride!
412 Valencia St. S.F. 415/626-3496
www .munroemotors .com
SF MOTO
255 8 th
Street at Folsom in San Francisco: 415/255-3132,
www .sfmoto .com. Located in the SOMA (South of Market) neighborhood in San Francisco, California we provide the bay area with new and used motorcycles, scooters, service,and gear. We have an overflowing inventory of used sportbikes, cruisers, supermoto, and scooters. Lots of options for financing as well. Our Service department has INCREASED operating hours. Every weekday morning service now opens at 8:00 a.m.
What's New:
In the parts department....
Swing by Saturday May 7 th
from 12-3 for our KALI helmets release party! Barbeque, helmet raffle and meet the designers/owners of KALI helmet!
2009 SYM Mio 50 Scooter tops the Vino & Vespa Get 100
MPG !!!!!! NEW! $1999
2008 SYM RV250 Scooter tops the Honda Helix & Reflex
SYM RV250 on SALE!!! NEW! $3,588
2010 SYM Citycom 300i Fuel injected, Liquid Cooled,
Freeway Legal, $4,699
2009 CPI E-CHARM Freeway Legal 4,720 Miles, Yellow,
$1,499
2010 Honda Elite 110 1,460 Miles, Black, $2,695
2006 Honda BIG! Ruckus 250! 13,232 Miles, Silver,
$3,599
2005 Honda Metropolitan 50, white, cute! 6,988 Miles,
$999
2009 SYM Mio50, 429 Miles, $1,599
2010 SYM Fiddle II, 125cc new, $2,298
2006 SYM HD200, 10,120 Miles, Blue, $2,395
2010 SYM HD200 driven across the USA ! Cannon Ball Run
Blue, Please Call For Price
2010 SYM HD200 EVO edition NEW! $3,399
2010 SYM SYMBA Cub-style 110cc retro step-through!
$2,398
1981 Vespa VSX P200E 4 speed manual two-stroke!
17,710 Miles, Burgundy, $2,499
2006 Vespa GTS250, 10,032 Miles, Silver, $3,999
2007 VESPA GTS250 2,384 Miles, Silver, $4,295
1969 Vespa Primavera ET3 2 stroke! CUTE!!! 46,353
Miles, White, $2,895
2009 Vespa GTS250ie, 315 Miles, Black, NEWLY ARRIVED!
Call for pricing.
2007 Yamaha Majesty 400 5,640 Miles, Blue, $4,295
2009 Yamaha Majesty 400 1,539 Miles, gray, call for price.
1999 YAMAHA RIVA Red, 8,565 Miles, $999
Hyosung!
2010 GT250R, fuel-injected, better than the 250 Ninja!
$3799.
2010 GV250 Aquilia Fuel-injected 250 V-Twin Cruiser, all colors, just $3899
SYM!
2010 STM Fiddle II 125cc, electric start, join the SYM
Army! Brand new and just $2,298
2010 SYM Symba 100 A Honda Cub for the 21 st cute! Pick your color: $2,398
Century! So
2010 SYM HD200, pick your color, freeway legal, just
$3399!
Be sure to go online: www .sfmoto .com for hundreds of pictures and hours of video of pre-owned inventory!
Also, bring in this ad any Saturday in May for 20% off the price of all Shift apparel, boots and other gear!
In the Service department:
Please remember that our service department opens early every weekday morning. Service opens at 8:00 am.
Now we have a direct phone line into the service dept:
415/861-7196
A new tool just arrived from Europe that allows us to make a working copy of your Vespa or Ducati key EVEN if you LOST your MASTER KEY! (red key)
The Sales department says:
WE BUY USED MOTORCYCLES,—CALL US FIRST!!—Still paying a loan? THAT'S OK, WE PAY YOUR LOAN. Call 415-
255-3132 to SELL us your bike today.
We will provide the safest way for you to get cash for your motorcycle or scooter. It only takes about 20 - 25 minutes.
The SYM SYMBA is now available in California, and we have limited stock on hand for you to see & feel. Come down and meet your new buddy the SYM SYMBA!
Sign up on our mail list to get NEW INVENTORY
NOTIFICATIONS in our weekly e mail newsletter.
MOTORCYCLES! BIGGEST
USED SELECTION IN S.F.!!!
2004 HONDA Shadow Aero 750 5,150 Miles Burgundy
$3,995
2006 HONDA CBR1000RR Silver, 11,258 Miles $6,695
2008 HONDA Rebel 250 Black, 3,439 Miles $2995
2005 HONDA 750 Shadow 750 10,658 Miles, Burgundy,
CALL FOR PRICE
2008 HYOSUNG GT250R Comet 2,070 Miles, Black, alternate to the 250 Ninja! $2,899
2007 HYOSUNG Comet GT250 11,654 Miles, yellow 250 standard! $3,299
2010 HYOSUNG GT250R w/ Fuel Injection beats the Ninja
250, NEW! just $3,895!
2010 Hyosung GV250 Aquila Cruiser. Fuel Injected !!!
Black new price just $3,899
2009 KAWASAKI Ninja 600 2,615 Miles $6,995
2009 KAWASAKI Ninja 250R 297 (really!) Miles, Black,
$4,995 WE FINANCE!
2009 YAMAHA YZF-R6 2,240 Miles, Black $7,795
2007 YAMAHA V-star 1100 Classic 9,816 Miles, Black,
Call for price!
2008 YAMAHA R6 1,500 Miles, Yellow, $6,795
2003 YAMAHA V-Star 650 10,188 Miles, Black, $3,395
SCOOTERS!
May 2011 | 36 | CityBike.com
FREMONT HONDA
KAWASAKI
41545 Albrae St. Fremont, CA. 94538
510-661-0100
*The only northern California dealer to receive the 2009
"Honda Counsel of Excellence" Award.
Service dept.- If you have your bike serviced and live within the Tri-City area, we'll pick your bike up and deliver it back at
NO charge. While we are an OEM Honda- Kawasaki service center, we do offer service on all makes and models. Our techs all average over 25 yrs. in the industry (one over 40 yrs.) so you know the job gets done right the first time. Oil change, ANY make or model $17.99 plus parts !
Parts dept. - Since Fremont Cycle Salvage moved in next door, we've combined all new accessories into one dept.
Same old smiling faces and personality as well as the brand names your looking for. Arai, Icon, HJC, Joe Rocket,
Alpinestar, Speed & Strength and still get your tires at 20% off MSRP. Mounting and balance is free when you bring wheels off bike.
Sales dept.- Great inventory on new Honda and Kawasakis as well as used.
We buy used bikes or can just help you sell yours. If you're buying your first bike, and you recently completed the MSF class, bring your certificate of completion in and we'll deduct your tuition from the cost of your new bike". Our sales staff all have 35-40+ yrs. in the industry so we can answer all your questions with out the B.S. If we can't get you financed, no one can.
2006 Yamaha FZ1, 14,000 miles, clean, silver. $5499
2001 Kawasaki Vulcan 1500 classic $5999 Like brand new, only 5700 miles Burgundy/Silver with windscreen, back rest, rear rack.
2007 Kawasaki 250 Ninja, red, extra clean. $2999
2004 Honda CBR1000rr, Black, Yoshimura Exhaust. $6999
LESS THAN 2000 MILES!!!
2009 Honda 250 Rebel, black with bags and back rest $3399
2003 Harley-Davidson FXD Dyna, black $8999 9K miles, sport screen, bags, backrest w/rear rack.
2003 Suzuki GZ250 UNDER 300 MILES!!! $2899 Like new.
2008 Honda VT750 Spirit C2 Only 958 miles !!! $6999
$3000 in custom extras. Tons of chrome. Saddle bags,
Mustang seat, windscreen, Honda digital MP3 sound system, back rest w/bag, custom pegs and grips, more chrome, tank belt with pocket for MP3 or iPod and did I mention chrome?
2004 Honda CRF80f Hand guards, FMF pipe $1399
2003 Honda XR100 Pro Curcuit pipe $1799
2009 Kawasaki Eliminator 125 NEW CityBike price
$2499 Perfect starter bike
2006 Yamaha YZ250F Extra clean, lots of accessories $3799
1999 Yamaha YZ250F $1499
2006 Honda CRF230F BBR Exhaust $2299
2008 Harley-Davidson FXD Low Rider Anniversary 6k miles $12499 #483 of 2000 Thunder Header, copper/blk. perfect.
2003 Harley-Davidson FXD, black, tons of extras $8799
PLEASE CALL OR CHECK OUR WEBSITE FOR LATEST
INVENTORY!!! Bill Keys 510/661-0100 ext.115 or E-mail
[email protected] .com
2003 Suzuki SV1000S, silver. One original owner, still on first set of tires! Just 3000 miles, like new. Other items available. $4500. Ask for Otto:
[email protected] .com
1999 Yamaha R1, blue, 4.6K miles, Öhlins, Race Tech,
Graves rearsets, V&H slip-on: $3500. Also, '97 Aprilia
RS250 & '99 R6 track bikes: prices negotiable. 408/343-
0381/921-9689.
1955 Zundapp 600cc: Restored to perfection. National award winner. Black. $25,000. Serious inquiries only.
415/781-3432
2002 Moto Guzzi LeMans: 7000 miles, Champagne gold, factory titanium canisters, factory ECU chip, Corbin Gel Seat.
$6000 Clay 510/758-7564, [email protected] .net
Three Trials Motorcycles for Sale! 70cc, 250cc and
350cc. Call 415/781-3432
PARTS AND ACCESSORIES
Complete 2008 Harley Road King 96" top end. Cylinders, pistons, cams, heads, valves, pushrods, throttle body, tuner. All parts from original owner, low miles, and in great condition. $500. Also available - Complete exhaust, including headers and Screamin' Eagle slip-ons. $200. Call
831/252-4449 or email [email protected] .net
O'NEAL'S MOTORCYCLE
PARTS
New, used and vintage
All Bikes Welcome
5015 Appian Way, El Sobrante, CA 95803
510/243-0781 "Find great deals at O'Neals!"
[email protected] .com
THE UNDERTAKER
Motorcycle towing system. No trailer, no tires, no tags. No parking or storing. Check it out at
www .TowYourBike .com. 925/413-4103.
Dirt Bike or Cruiser.
DUBBELJU
MOTORCYCLE STORAGE AND
RENTALS IN SAN FRANCISCO
Never worry about theft, vandalism, weather damage or parking tickets. DUBBELJU MC RENTALS, San Francisco's oldest motorcycle rental shop, offers safe storage for your bike in our shop at 689A Bryant St. Not only is it a great shop to store your motorcycle but we have cool rental bikes as well;
BMW, Triumph, Harley, Honda, Suzuki, and even Yamaha scooters. Keep us in mind when your bike is in the shop or you have a friend come in to town. Be sure to check out our web site: www .dubbelju .com and see all the things we have going on. 415/495-2774.
PARTS AND SERVICE
Galfer Braking
Rotors, Brake lines, Pads, Street, Race, Off-road, Super-Moto
PashnitMoto is one of the largest Galfer Braking dealers in the USA.
Colored brake lines, custom lengths, Wave Rotors. 50 Pages of part numbers.
www .PashnitMoto .com or call 530/391-1356
AMERICAN CUSTOM
MOTORCYCLE PARTS
Large Parts Inventory for American V-Twins
Full service on all American-made bikes
Machine Shop & Welding
925-689-9801
2395 H Monument Blvd, Concord
Have an old Japanese moto collecting dust in the garage ?
Let HONYASUKA MOTORCYCLE REPAIR put it back on the road , Doesn't matter how long has been sitting there. No job too big or too small . 30 years experience, plenty of parts hanging around here, too.
We charge $65 dollars per diagnostic.
Hire us to do the repair, and we'll credit this amount to the final bill.
530 Peralta St, West Oakland
Just off 7th St , between the Post Office & Bart Station
Manuel (510) 290-1668
Release the Hounds!
www .doubledogmoto .com
MOTO GIO
Motorcycle Performance Parts, Accessories, Services.
Low price on Tires!!!
We will PRICE MATCH with any store.
Phone : 408-298-8887
1391 N. 10th St
San Jose CA 95112
Email: [email protected] .com
www.motogio.com
Please mention this ad and you will receive an additional 5% off on your purchase.
USED MOTORCYCLES:
Since 1956
Knucklehead
Panhead
Iron Sportster
Shovelhead
Evolution
Twin Cam
Multi Valve 450cc and up
Cyl. boring on H.D. only
21050 Mission Blvd. Hayward, 94541
(510) 581-5315
BMW R75/5 AHRMA RoadRacer
WON APRIL 2010 AHRMA BEARS CLASS AND 1999
OMRRA
OPEN VINTAGE CHAMPIONSHIP
1972 BMW frame and engine case, late model crank and 5 speed trans, welded heads, flowed and dual plugged, 336 sport cam, 18" Akront rims, 62 hp rear wheel, clean and ready to run. $7500. more details email: Dave [email protected]
yahoo .com
2000 Moto Guzzi Quota 1100ES. Original owner. 36K miles. Garaged, well maintained. $3800.
guzziquota .com/forsale/
[email protected] .com 209/854-4567
2005 Yamaha FZ-1. Totaled, less than 20,000 miles on engine, $1300 or best offer. Contact JB at
[email protected] .com or call 415/871-7631
Introducing
Marin Moto Works!
Aprilia, KTM, and BMW Service and Repair
Located at 44 Harbor street, San Rafael
Open Monday-Saturday 10am-6pm
(415) 454-RIDE
2004 BMW R1150RT w/ Uni-Go trailer. E-mail [email protected]
cruzio .com for more info & photos
2005 BMW R1200ST 8000 miles. Graphite and Silver. One
Owner. Bought New in 2005. Always garaged. Below list:
$9000. 415/713-5602.
[email protected] .com
2003 KTM 200 MX/C. Low hours, bought new in 2004.
Garaged, well maintained, needs nothing. Only $3300 for this wicked dirt bike. Call 707/578-6686.
Parts and Repair for Classic British Motorcycles
1220 Pennsylvania Avenue, San Francisco
415/643-7467
www .sfvintagecycle .com
Name:
Address:
City: e-mail:
CityBike Classifieds
Reach thousands of Northern California motorcyclists. Just $15 for 25 words, 25¢ each additional word. Photos add $25. Industry classifieds are a higher price. Free
25-word listing for stolen bikes. Deadline is the 3
Francisco, CA 94103 rd of each month. Just fill out the form, or copy and send it with your check, payable to CityBike 69A Duboce, San
ADVANCED CYCLE SERVICE
*Motorcycle Service and Repair*
• Tires • Service •Insurance estimates
Monthly bike storage available
Come check us out
1135 Old Bayshore Hwy
San Jose, CA 95112
(408) 299-0508
[email protected] .com — www .advcycles .com
DUCATI SUZUKI KAWASAKI YAMAHA HONDA
Custom Design Studios
Mind-Blowing Custom Paint Since 1988
Visit Our Showroom!
V-Twin Service, Repair, Parts, & Fabrication.
Harley Factory Trained Tech.
415 382-6662
56 Hamilton Dr. # A
Novato, Ca. 94949
MOTO TIRE GUY
ROCKRIDGE TWO WHEELS
Need new rubber? To get you off to a good start in 2011, for
January and February, Rockridge Two Wheels is offering a $50 mount and balance with the purchase of two tires.
Factory techs. 40 years experience. 510/594-0789
CITYBIKE BACK ISSUES!
For sale: Old CityBike mags! From Early '90s to current (some years incomplete). $0.50 each. Call (916) 203-7526 (Davis).
Also available: Friction Zone and the other SF motorcycling publication.
RABER'S BRITISH MOTORCYCLE PARTS AND SERVICE
We offer parts and service for Triumph, Norton, BSA, Amal,
Lucas.
In-house cylinder boring, valve jobs, surfacing and much more.
1984 Stone Ave.
San Jose, CA 95125
Phone (408)998-4495
Fax (408)998-0642
Tues-Fri 11-6, Sat 8-5
www .rabers .com
FRISCO VINTAGE - Vespa Service & Repair
2-stroke shifty only. 30 years experience. Great rates.
No job too small. In San Francisco. By Appointment.
[email protected] .com
www .MotoTireGuy .com
Motorcycle Tire Services
San Francisco - Bay Area
(415) 601-2853
Order your tires online, Zero CA sales tax plus
Free UPS Ground, then have a Preferred Installer in your local area do the installation and save!
Please visit website for details.
TECH EXPRESS
For the Leading Mobile Repair Services
Automobile, Motorcycle and Watercraft
Serving the Greater Bay Area
Online Scheduling www .tech-express
888-875-3001
STOMPERS BOOTS, 323 10th Street, SF.
Motorcycle boots, engineer boots, work boots, construction boots! Working hard, playing hard, or just plain old shitkicking boots. Black leather, lugged sole & steel toe reinforced boots!
Best damn boot shop in world!
State: Zip:
TOWING
NORTHBAY: REDWOODS
MOTORCYCLE TOW & TRANSPORT
Providing safe and reliable transport of your motorcycle!
Licensed and Insured
Hold a California Motor Carrier Permit
Santa Rosa, CA
Serving Marin, Sonoma, Napa & Mendocino Counties
707-537-5212 cell. If no answer call 707-894-9125
SAN FRANCISCO AND BEYOND:
DAVE'S CYCLE TRANSPORT
The Old Man
The Old Truck
Dave is working
Dave's Cycle Transport
San Francisco-Bay Area and Beyond...
24 Hour Service
(415)824-3020 — www .davescycle .com
WHEELS AND DEALS
"NY Thin Crust Pizza and California's Best Micro-brews.
Redeem this ad for $5 off your next large pie at our new
Emeryville location (3645 San Pablo Ave.). Valid for dine in or take out."
EAT AT REDS JAVA HOUSE, SF.
"IT'S REALLY GOOD FOOD,"
SAYS CITYBIKE MANAGEMENT.
ACCIDENT OR INJURY?
Call 415/999-4790 for a 24-hr. recorded message and a copy of the FREE REPORT
EBAY SALES. Specialist with vehicles, 12 years experience, and 4000+ positive feedback rating. Flat listing rate. I can produce auctions with 20+ large format, gorgeous, high quality pictures with my dealer account and pro-grade camera. Dr. Hannibal Lechter reminds us that "we covet what we see." Let me show people what you have and why they should pay top dollar for it! Interested in larger lots of identifiable, good-quality motorcycle and car parts to buy as well. [email protected] or 415/699-8760.
STOLEN!
A 1999 Honda VFR800, red with a black tank and the name
"Cary" with black pinstriping on the front fairing was stolen from in front of the SFMC (in the mission) Easter morning, while the owner (a club member) was helping prepare breakfast for the riders coming back from the Mt. Tam Easter ride. The license number is CA 19Z4920. Any sightings or other information, please contact Cary at: [email protected] hotmail.com.
Stolen motorcycles are listed free in CityBike.
Send info to [email protected] .com
GET YOUR BIKE IN FRONT OF 40,000 EYEBALLS!
Classified advertising? In a newspaper? What will they think of next? Sliced bread? Frozen cheesecake? Flying machines?
Well, it's old as hell but it works. For $15, we'll run your ad
'till sold. Add $25 bucks to run a photo of your ride so people believe you're really selling something and not just lonely.
Subscribers get a free ad every month! Maybe you should subscribe, eh?
May 2011 | 37 | CityBike.com
The Lightweight Classes of AFM Roadracing
By Mike Solis, Racing Editor
Photos: GotBlueMilk.com
W ith newer, faster, and lighter models being released to the public on a regular basis, the grids of AFM races are always evolving.
This is especially true for the lightweight classes, as the grids of today look almost nothing like those of 10 or 15 years ago.
Two-stroke 250cc street bikes like the
TZR250, 400cc gray-market inline Fours
#6 plate on a Twin Works Factory SV a few seasons back.
"My first ride on an SV was in the four-hour endurance race, back in 2007," said Sewell.
"At first, I thought 'fine, I'll ride this thing.'
Afterwards, I had never giggled so much in my entire life—I just laughed my butt off out there every lap. At first, the SV classes almost seemed like a sideshow—I had no idea it was going to take me over and consume me." grunt, so you ride it sort of like an inline
Four—you're always trying to keep that motor spinning. I really like the smaller size of the class, as well as the competition."
Supermotos—Formula Singles,
250 Superbike
On paper, there are much more competitive bikes to run in both Formula Singles and
250 Superbike. A few years ago, riders who wanted to be competitive in Formula
The Kawasaki Ninja 250—
250 Production, 250 Superbike
It took a rule change to pull it off, but the
250 Production class has seen new life in recent years. Under the old Production rules, built motors were the norm, stock mufflers were bent out of the way for ground clearance, and Kosman Specialties
(kosmanspecialties.com) turned large numbers of stock wheels from 16 inchers to 17s to fit modern radial tires. Despite
An oddball collection of interesting machines can been seen at many AFM events.
like the FZR400, and 650cc V-Twins like the Honda Hawk are all but extinct, replaced by completely new machinery.
The Suzuki SV650—650 Twins,
Formula IV, 650 Production Twins
Few bikes have made an impact on club racing like the SV650. Since its inception,
Suzuki's 650cc Twin has reshaped the lightweight classes, providing racers with a fast yet friendly platform that appeals to both novice and veteran racers.
The machine that preceded it in the middleweight Twins classes wasn't a bad one, as developed Honda Hawks held their own against the Suzuki...initially. As the
SV gained popularity, the Hawk became all but extinct, while other lightweight racebikes like EX500s and GS500s looked less like starter racing platforms and more like budget mechanic specials.
The popularity of the Suzuki became so widespread, some competitors from the
'big bike' classes entered the mix, giving the 650 Twins class added legitimacy in the club-racing ranks. One such racer was
Robert Campbell, a 750 Superbike, 750
Production and Formula 1 champion on a
GSX-R750. Another rider—who has seen almost immediate results since entering the class—is Neill O'Reilly, a race-winning contender in the 750 Superbike and
Formula 1 classes during the 2006 season.
Dan Sewell, who spent most of his clubracing career on a 750, is perhaps one of the most accomplished SV racers, winning the
The Suzuki SV500—500 Twins,
450 Superbike
For the most part, the SV500 is "an AFM thing." Born as an SV400, the little SV had a chassis far superior to those of the
EX500s and GS500s of the 500 Twins class, with competitive horsepower numbers despite a 100cc disadvantage.
At first, many didn't realize that the 400 existed; in its first race at Willow Springs, competitors in the Lightweight Twins class (with its displacement limit of 500cc) protested it, believing it was an SV650 that mistakenly entered the wrong class.
Through the use of SV650 pistons and cylinders, riders were able to increase the displacement by 100cc, keeping it legal for both the 500 Twins and 450 Superbike classes. With the additional power, the little SV became a bit more competitive in
450 Superbike, which had a few strong but aging VFR400s running at the front of the field. Allen Erkman—once a competitive
650 Production Twins racer on an
SV650—won the 500 Twins championship and placed second in the 450 Superbike championship in 2009.
"I had some friends in the class, like Elrod
(Mark Elrod, 2009 first overall in 450
Superbike) and Wally (Elrod "Wally"
Wallis, third-place), and wanted to join them," stated Erkman. "I found an SV500 on Bay Area Riders Forum for $4500—so
I picked it up. It actually makes the same power as a stock 650, but without the
Singles would stuff a 450cc motocross motor into a 125 GP bike chassis, creating a machine that had razor sharp handling,
70-plus hp, and weighed less than 250 lbs. Similarly, the bike to have in the once-popular 250 Superbike class was the
TZR250, modified to accept TZ250 motor innards. The end result was a machine that made around 80 hp and weighed well under 300 pounds.
As time went on, supermoto racing gained popularity as the super-singles disappeared from grids—racers didn't seem as eager to sink the time or money into highmaintenance machines the way they used to. The grids soon found themselves invaded by supermotos—motocross bikes modified for use on pavement, or factorybuilt streetbikes like the Suzuki DR-
Z400SM or KTM 640SM that followed the dirtbike-with-sportbike-wheels-andbrakes formula. Michelin tire distributor
Alex Florea, who has raced (list bikes here), has found some success after spending the last few seasons on supermotos.
"I was on the fence at the start of the
2010 season, and realized that I already had this supermoto in my garage," said
Florea, when asked why he first started racing a supermoto. "All I had to do was change sprockets and the chain, and I could go racing. It was like, for a couple hundred more bucks, I had the ultimate triple purpose machine—I could go on big tracks, small tracks, or dirt."
May 2011 | 38 | CityBike.com
the strange production rules, the 250
Production class was one of the most popular for novice racers. With fields of
20-30 bikes and racers that shared both parts and shade together, the grid seemed more like a family than the more cut-throat classes in the paddock.
A few seasons ago, that all changed. Part of it was due to the Production class rule change, which limited extreme motor and chassis modifications. The other was the release of an updated Ninja 250, complete with 17-inch wheels that allowed the use of modern radial tires. Adding to its popularity was the introduction of race bike rentals—first by racebikerentals.
com of Southern California, then by AFM veteran Brian Bartlow and feellikeapro.
com. The days of 250 Production racers on beat up bikes held together by zip ties and duct tape were gone, replaced by wellpresented, professionally prepared rental machines.
"A lot of roadracers seem to think that if you're not on a bigger bike, you can't really have fun," said Bartlow. "I agree that bigger bikes are fun, but I also feel like you can get burned out going that fast all the time. Now that people have seen what Ninja 250s are like, they're parking their 600s and trying to get on my team."
Next month, we look at the Open Twins class—it's not just for gentleman anymore.
AFM Round 2
April 16-17, 2011
Infineon Raceway
Unofficial Results
Formula Pacific - 1. Ricky Corey (Yam YZF-R1) 2.
James Randolph (BMW S1000R)3. Brian Parriott
(Apr RSV1000R)4. Cory Call
(Suz GSX-R1000)5. Martin Szwarc
(Suz GSX-R1000)6. Michael Earnest
(Suz GSX-R1000)
The Track Club Open Production - 1. Neil
Atterbury (Suz GSX-R750) 2. Wyatt King (Suz
GSX-R750) 3. Patrick Corcoran (Suz GSX-R1000)
4. Hollis Adams (Suz GSX-R1000) 5. Tim Scarrott
(Suz GSX-R1000) 6. Anthony Manciu (Suz
GSX-R1000)
750 Production - 1. Jason Lauritzen (Yam YZF-R6)
2. Brian Stone (Suz GSX-R750) 3. Kevin Nekimken
(Suz GSX-R750) 4. Neil Atterbury (Suz GSX-R750)
5. Thomas Montano (Hon CBR600RR) 6. Jacob
Rower (Unknown)
CT Racing Open Superbike - 1. Brian
Parriott (Apr RSV1000R)2. Corey Sarros (Suz
GSX-R1000)3. Ricky Corey (Yam YZF-R1)4. David
Stanton (BMW S1000R) 5. Martin Szwarc (Suz
GSX-R1000) 6. Cory Call (Suz GSX-R1000)
Keigwins at the Track 600 Production - 1. Joey
Pascarella (Yam YZF-R6) 2. Lenny Hale (Yam
YZF-R6) 3. Berto Wooldridge (Yam YZF-R6)
4. Greg McCullough (Yam YZF-R6) 5. Thomas
Montano (Hon CBR600RR) 6. Jason Lauritzen
(Yam YZF-R6)
750 Superbike - 1. Lenny Hale (Yam YZF-R6) 2.
Berto Wooldridge (Yam YZF-R6) 3. Wyatt King
(Suz GSX-R750) 4. Neil Atterbury (Suz GSX-R750)
5. Kevin Nekimken (Suz GSX-R750) 6. Brian Stone
(Suz GSX-R750)
Pacific Track Time 600 Superbike - 1. Joey
Pascarella (Yam YZF-R6) 2. Thomas Montano
(Hon CBR600RR) 3. Greg McCullough (Yam
YZF-R6) 4. Jason Lauritzen (Yam YZF-R6) 5. Berto
Wooldridge (Yam YZF-R6) 6. Matt Presting (Yam
YZF-R6)
450 Superbike - 1. Thomas Dorsey (Apr SVX550)
2. Allen Erkman (Suz SV500) 3. Dave Moss
(Hon RVF450) 4. Craig Sanders (Kaw ZXR400)
5. Andrew Patterson (Suz SV500) 6. Ian Smith
(Unknown)
250 Superbike - 1. Joe Carrillo (Yam TZR250)
2. Paul Urich (Yam YZF450) 3. Kirko Korenko
(Kaw EX250) 4. Brian Bartlow (Kaw EX250) 5.
Rick Williams (Hon CRF450) 6. Nick Grice (Kaw
EX250)
650 Production Twins - 1. Thomas Dorsey (Suz
SV650) 2. Dan Sewell (Suz SV650) 3. James Strauch
(Suz SV650) 4. Alan Cunningham (Suz SV650) 5.
Patrick Murphy (Suz SV650) 6. John Willenberg
(Suz SV650)
Eric Stiegler Insurance 250 Production - 1. Kirk
Korenko (Kaw EX250) 2. Brian Bartlow (Kaw
EX250) 3. Robert Wetterau (Kaw EX250) 4. Nick
Grice (Kaw EX250) 5. Eric Kondo (Kaw EX250) 6.
Todd Grice (Kaw EX250)
Open Grand Prix - 1. James Randolph (KTM
RC8) 2. Cory Call (Suz GSX-R1000) 3. Martin
Szwarc (Suz GSX-R1000) 4. David Stanton (BMW
S1000R) 5. Brian Parriott (Apr RSV1000R) 6.
Corey Sarros (Suz GSX-R1000)
Scuderia West Formula 1 - 1. Lenny Hale (Yam
YZF-R6) 2. Berto Wooldridge (Yam YZF-R6) 3.
Matt Presting (Yam YZF-R6) 4. Kelly Barnett (Yam
YZF-R6) 5. David Raff (Suz GSX-R600) 6. Jesse
Carter (Suz GSX-R750)
Formula 2 - 1. Richard Snowden (Hon RS250)
2. Richard Denman (Hon RS250) 3. Michael
Altamirano (Yam TZ250) 4. Erik Kolstoe (Yam
TZ250) 5. Andre Benguerel (Unknown) 6. Sergio
Morales Galvan (Yam TZ250)
Formula 40 Middleweight - 1. Thomas Montano
(Hon CBR600RR) 2. David Glenn (Yam YZF-R6)
3. Andy Carman (Suz GSX-R750) 4. Kelly Barnett
(Yam YZF-R6) 5. Jay Avansino (Yam YZF-R6) 6.
James Hendricks (Suz GSX-R600)
Formula 40 Lightweight - 1. Dan Sewell (Suz
SV650) 2. Jay Kinberger (Suz SV650) 3. Robert
Campbell (Suz SV650) 4. James Strauch (Suz
SV650) 5. Thomas Dorsey (Suz SV650) 6. Alan
Cunningham (Suz SV650)
Formula 3 - 1. John Kreidle (Hon RS125) 2. Peter
Le Duc (Hon RS125) 3. Jess Ganuelas (Hon RS125)
Formula 4 - 1. Neill O'Reilly (Suz SV650) 2. Dan
Sewell (Suz SV650) 3. Spencer Smith (Suz SV650)
4. Jason Catching (Suz SV650) 5. Jay Kinberger (Suz
SV650) 6. Rory Kamper (Suz SV650)
Desmoto Sport Open Twins - 1. James Randolph
(KTM RC8) 2. Bud Anderson (Duc 1098) 3. Eric
Gulbransen (KTM RC8) 4. Patrick Blackburn (Duc
1098) 5. Neil O'Reilly (Suz SV650) 6. Brendan
Walsh (Duc)
650 Twins - 1. Neil O'Reilly (Suz SV650) 2. Dan
Sewell (Suz SV650) 3. Robert Campbell (Suz
SV650) 4. Spencer Smith (Suz SV650) 5. Jay
Kinberger (Suz SV650) 6. Jason Catching (Suz
SV650)
500 Twins - 1. Allen Erkman (Suz SV500) 2.
Andrew Patterson (Suz SV500) 3. Dan Azar (Kaw
EX500) 4. Eric Kondo (Kaw EX250) 5. Nick Grice
(Kaw EX250) 6. Todd Grice (Kaw EX250)
Formula Singles - 1. Paul Urich (Yam YZF450)
2. Rick Williams (Hon CRF450) 3. Peter Le Duc
(Unknown) 4. Yuri Barrigan (Yam WR450)
Formula AFemme - 1. Christie Cooley (Yam
YZF-R6) 2. Joy Higa (Duc 999) 3. Jennifer
Lauritzen (Yam YZF-R6) 4. Nikki Nienow (Yam
YZF-R6) 5. Bess Keigwin (Suz GSX-R600) 6.
Cassandra Gaddy (Kaw ZX-6R)
Super Dinosaur - 1. Roosevelt Charles (Hon
CBR600F4) 2. Paul Rico (Yam) 3. Guy Hyder (Hon
CBR600F3) 4. Jose Quintanar (Yam) 5. Dave Moss
(Hon RVF400) 6. Ed Haazer (Kaw KZ1000)
Clubman Heavyweight - 1. Blaine Bessler (Hon
CBR1000RR) 2. Ian Oss (Suz GSX-R1000)
3. Gregory Olson (Yam YZF-R6) 4. Jesus
Sanjuro (Kaw ZX-10R) 5. Warren Williams (Suz
GSX-R1000) 6. Gabriel Limon (Unknown)
Clubman Middleweight - 1. George Myshlyayev
(Suz GSX-R750) 2. Gregory Olson (Yam YZF-R6)
3. Adam Lavigna (Yam YZF-R6) 4. Eric Hobbs (Suz
GSX-R750) 5. William Butler (Suz GSX-R600) 6.
Sergio Fernandez (Suz GSX-R750)
Formula 40 Heavyweight - 1. David Stanton
(BMW S1000R) 2. Patrick Corcoran (Suz
GSX-R1000) 3. Patrick Blackburn (Duc) 4. Bud
Anderson (BMW S1000R) 5. Anthony Manciu (Suz
GSX-R1000) 6. Jeff Graham (Unknown)
Clubman Lightweight - 1. Patrick Murphy (Suz
SV650) 2. Charles Almy (Suz SV650) 3. Jason Vestri
(Suz SV650) 4. Ron Corey (Suz SV650) 5. Joseph
Jordan (Hon CBR600F2) 6. Ivan Lozano (Suz
SV650)
AMERICAN
FEDERATION of MOTORCYCLISTS
Come race with us!
Get the latest at www.afmracing.org
or call
(510) 796-7005
May 2011 | 39 | CityBike.com
2 0 1 1
Race Schedule
M A R C H 1 9 - 2 0
B U T T O N W I L L O W
A P R I L 1 6 - 1 7
I N F I N E O N
M A Y 7 - 8
I N F I N E O N
J U N E 4 - 5
T H U N D E R H I L L
J U L Y 9 - 1 0
I N F I N E O N
A U G U S T 2 7 - 2 8
I N F I N E O N
O C T 1 - 2
T H U N D E R H I L L
www.afmracing.org
* Your assessment is very important for improving the work of artificial intelligence, which forms the content of this project