SnCu Based Alloy Design for Lower Copper Dissolution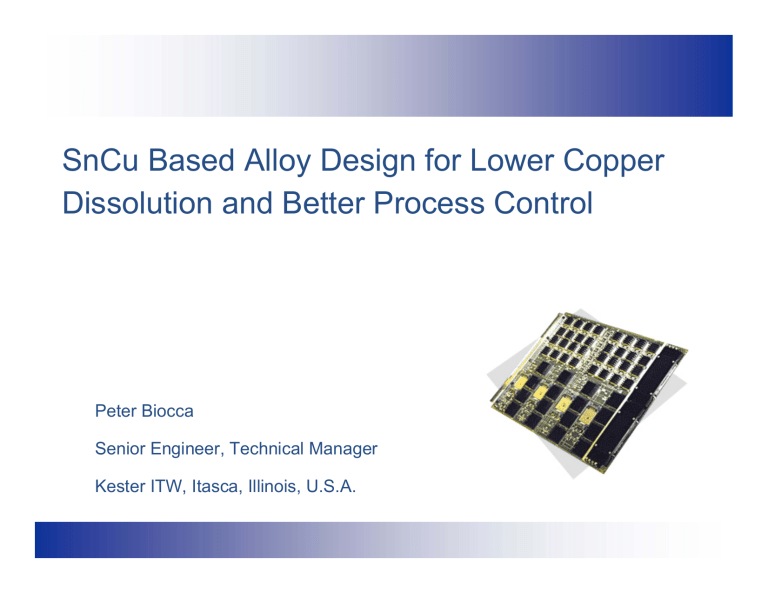 SnCu Based Alloy Design for Lower Copper
Dissolution and Better Process Control
Peter Biocca
Senior Engineer, Technical Manager
Kester ITW, Itasca, Illinois, U.S.A.
Material Concepts for Alternative Alloys
To meet the market demand for a best-in-class, low-cost leadfree alloy for wave, selective and dip soldering
"
SAC305 is the industry standard but higher in cost due to Silver content
"
New material had to have the following attributes:
"
"
"
"
"
"
Low cost, Silver free
Low drossing, low oxide potential
Shiny joints without shrink holes
Minimized dissolution of Copper and other metals
Low solder maintenance
Good wetting behavior on popular lead-free finishes
SAC305 Lead-Free Alloy
Industry standard lead-free alloy for SMT, wave, rework
3% Silver
Æ High Cost
Benefits:
"
Mass Production – Industry Standard alloy
"
Prevalence of Reliability Data
"
Lower Melting Temperature than SnCu systems
"
Increased Wetting Speed vs. SnCu systems (temperature dependent)
"
Perceived compatible in reflow soldering using SAC
SAC305 Lead-Free Alloy
Concerns:
"
Cost (3% Ag may add $6/pound to metals cost)
"
High Rate of Copper Dissolution
"
Dull or Matte Finish Solder Joints
"
Hot Tear / Shrink Hole Defects
"
Industry needs new materials to resolve these issues
Alloy Cost Comparative and new alloy design
Alloy
Sn63
K100
LD
SAC305
Composition
Sn63Pb37
Sn99.3Cu0.7 + Ni + Bi
Sn96.5Ag3.0Cu0.5
Relative Cost
(approx)
1x
1.5x
3x
Addition of bismuth and other elements in lead-free solders
Bismuth can be added in small amounts to certain lead-free solder alloy compositions to improve the wetting ability and slightly reduce the melting temperature of the solder. As much as 1% bismuth is soluble in solid tin.
The much lower surface tension of bismuth compared to tin helps wetting.
ƒ
Bismuth acts synergistically with Nickel to reduce copper dissolution further than nickel alone.
ƒ
Bismuth reduces surface tension of the SnCuNi alloy.
ƒ
Addition of phosphorus less than 0.010% reduces oxidation, usual practice.
Lower costs
K100
LD -
reduced costs for wave and selective systems
"
Silver-free alloy is ~50% less in metals cost vs. SAC305
"
Low Dissolution of Copper means lower pot maintenance and fewer defects
"
Shiny joints means minimal operator training and AOI recalibration costs
"
Minimal dross means lower maintenance & dross-handling costs
Typically seen with SAC solders in wave, selective and hand-soldering
SAC shrinkage on a wave joint
Many assemblers are concerned about hot tear inspection and long term effects.
SAC after 500 thermal cycles, photographs iNemi Lead-free Wave Project 2006, initial work.
Surface Cosmetics
SAC SnCuNi+Bi
Alloy properties summary
Melt Point
Pasty Range
Appearance
Shrink Holes
Copper Dissolution (Sn63 = 1)
Pot Management
Reactivity to Equipment
Suggested Pot Temperature
Approximate Relative Cost (Sn63 = 1)
Additive
K100
LD
~227C
0
Shiny
No
0.8
Easiest
Low
255 – 265 o C
1.5
K100LDa
SAC305
217-220C
3C
Dull
Yes
2.1
Difficult
High
250 – 260 o C
3.0
SAC300
SnCuNi+Bi surface finish after wave soldering
Low Dullness
K100
LD
is both doped with a small amount of Nickel to prevent surface shrinkage
Benefits:
"
Shininess means that operators don't need inspection training and and AOI equipment doesn't require recalibration
"
Lack of shrink holes reduces possibilities of reliability risk
Why is Copper Dissolution Important?
With many lead-free alloys,
Copper level in solder pot increases quickly over time
Æ
Melt point of alloy increases as Copper level increases
Æ
More Copper in the alloy makes it more sluggish
Æ
A more sluggish alloy will cause hole-fill defects increase!
Additionally, alloys that dissolve Copper quickly may completely erode Copper terminations during the soldering process
Why is Copper Dissolution Important?
"
By maintaining the Copper level through a low dissolution alloy, Copper levels are practically constant, producing consistent soldering performance
"
This reduces insufficient defects
"
No issues with complete erosion of Copper terminations
"
Low dissolution also means less maintenance and less use of "additive" bars to lower Copper content in the solder pot
Copper Dissolution Test
Objective:
To determine the Copper Dissolution time in a Solder Alloy
Equipment/Apparatus/Reagent:
SWET 2100 Wetting Balance
0.6 diameter copper wire (U bend wire)
RMA flux #186
Stop Watch
Wetting Balance Parameter Setting:
Test temperature: 300degC (need to ensure solder pot temperature is 300degC by using an external digital thermometer)
Dipping depth: 5mm
Speed: 2mm/sec
Test Method:
1. Preclean the copper wire using #5520 and rinse with water and IPA
2. Prepare the copper wire by bending it into a U bend wire [refer to appendix A Picture 1 to 7 for method of bending]
3. Melt the test specimen solder alloy into the inner pot
4. Attached the U bend copper wire onto the holder and dip about 1cm into #186 [refer to Appendix A picture 8]. Attached the holder to the wetting balance.
5. Before the start of the test, stirred the solder alloy in the inner pot for 10 times to prevent segregation of the elements in the solder alloy
6. Start the test which is similar to wetting balance test for chemical flux. Press 'Solder' and then press 'Start'
7. Once the solder pot is raised to the maximum height, press 'STOP' and press the stopwatch simultaneously.
8. Every 5 minutes stirred the solder alloy in the inner pot for 10 times to prevent segregation of the elements in the solder alloy. Take care not to disturbed the copper wire.
9. Note the time taken for the U bend copper wire to disconnect
10. Press 'START" for the solder pot to return to the original position.
11. minimum 3 samples per test
Result:
Reading
1
2
3
Ave 1
Std Dev 1
Ave 2
Std Dev 2
Ave 3
Std Dev 3
Note:
SnCuNi1
Operator A
Set A Set B
Operator B
Set A Set B
865
858
901
874.7
850
882
903
878.3
888
863
913
888.0
844
876
907
875.7
23.07
876.5
26.69
22.40
879.17
23.47
25.00
881.8
26.32
31.50
Operator A
Set A
SAC305
Set B
Operator B
Set A Set B
460
500
503
487.7
486
470
476
477.3
413
445
540
466.0
427
452
491
456.7
24.01
482.5
16.99
8.08
471.92
35.32
66.05
461.3
46.77
32.25
Operator A
Set A
K100LD
Set B
Operator B
Set A Set B
888
973
930
930.3
882
945
1020
949.0
902
958
1000
953.3
908
961
1010
959.7
42.50
939.7
52.31
69.09
948.08
47.32
49.17
956.5
44.94
51.01
Operator A
Set A
SnCuNi2
Set B
Operator B
Set A Set B
642
694
691
675.7
700
672
722
698.0
668
648
723
679.7
652
686
722
686.7
29.19
686.8
27.24
25.06
685.00
29.06
38.84
683.2
35.00
33.29
Lowest Dissolution of Copper
Minimizing Copper Dissolution is critical with the conversion to lead-free soldering.
Other lead-free alloys dissolve Copper much faster than K100
LD
:
Alloy
K100
LD
Sn63
SnCu+Ni
SAC+Bi
SAC305
SnCu
SnAg
Pure Tin
Relative Rate of Copper Dissolution
0.8
1.0
1.0
1.6
2.1
2.2
2.3
2.4
Celestica Independent Study
Copper dissolution on board copper in rework operation
Top is SnPb, blue green, red are SnCuNi, SnCuNi+Bi, SnCu+Co
Low Defects
K100
LD
is designed to give excellent wetting to through-hole and bottom-side SMT components
Dopants in K100
LD
promote fluidity and proper surface tension to yield good hole-fill without bridges
K100
LD
will work with all board and component finishes
Benefits:
"
Easy implementation of lead-free process
"
Reduction in rework costs and reliability risk
Diminish the 5D's
K100
LD
– Alloy that will Diminish the 5D's
Lowest Dissolution of Copper
"
Prevents Copper Erosion and Yields Consistent Soldering Results
Low Dullness
"
Produces Shiny, Smooth Solder Joints
Low Defects
"
Bridge-free with Excellent Top-Side Fillets
Low Dross
"
Anti-Drossing Additive Lowers Drossing by 20% vs. Sn63Pb37
Low Dollars
"
Silver-Free Alloy is ~50% Lower Metal Cost than SAC305
Comparing to SAC305, SnCuNi, K100LD
All 0.063" AgImm but similar behavior observed with OSP, SnImm, ENIG
Typical results obtained using no-clean ROL0
LF Implementation at a Major Contractor Level
They built 12 board types for Nautilus Europe with K100LD, NO-CLEAN ROLO
FLUX and SAC305 ROL0 NO-CLEAN solder paste
Mixed technology board with top and bottom-side SMDs, 0.063" SN100CL
Bottom-side SMDs and PTHs done with K100LD and N/C flux
The boards exhibited no defects and bright joints
K100LD Excellent Top-side Fillets; No Dullness, No Shrinkage
SAC305 N/C used top-side
K100LD and low solids no-clean flux ROLO
0.063" SN100CL Finish
K100LD and NO-CLEAN ROL0 Flux with SAC305 NO-CLEAN ROL0
Top-side reflow, 0.093" Thick SN100CL Finished
K100LD excellent defect-free bottom-side and top hole-fill
Low Dross
Lead-free alloys generally dross more than leaded counterparts
Due to combination of higher-Tin alloys and higher processing temperatures
Dross formation with lead-free can be 100% greater than traditional leaded process if not controlled via inert environment or anti-drossing technology
Low Dross
K100
LD
is designed with anti-drossing technology to reduce dross rate in wave soldering applications
Anti-dross additive can lower dross rate to 20% less than untreated Sn63
Benefits:
"
Lower maintenance time & costs
"
Reduced solder usage
"
Lower recycling costs & dross handling
"
Increased process robustness
Lead-free Wave Soldering Liquid Flux Compatibility
SnCuNi+Bi is compatible with all lead-free fluxes
No-Clean, Low Solids, No Rosin
No-Clean, Low Solids, With Rosin
VOC-Free
(water is solvent)
Best for LF *
N/A
Alcohol-based
Not suitable for LF
Suitable for LF
Organic Acid (Water washable residues)
Best for LF * Suitable for LF
Rosin-based N/A Suitable for LF
* Best selections for lead-free wave soldering, most popular global options today.
SnCuNi+Bi Cored Wire is used for hand-soldering
Testing of tip erosion is ongoing to determine if this alloy erodes tips to a lesser extent than SAC305.
ƒ
Compatible with SnCuNi and SnCuNi+Bi solder
ƒ
Being used to touch up SAC joints, no problems reported
ƒ
Flux percentage in is 3% by weight
ƒ
Excellent hole-fill at 700-800°F tip temperatures
Thank-you.
Further information is available.
* Your assessment is very important for improving the work of artificial intelligence, which forms the content of this project