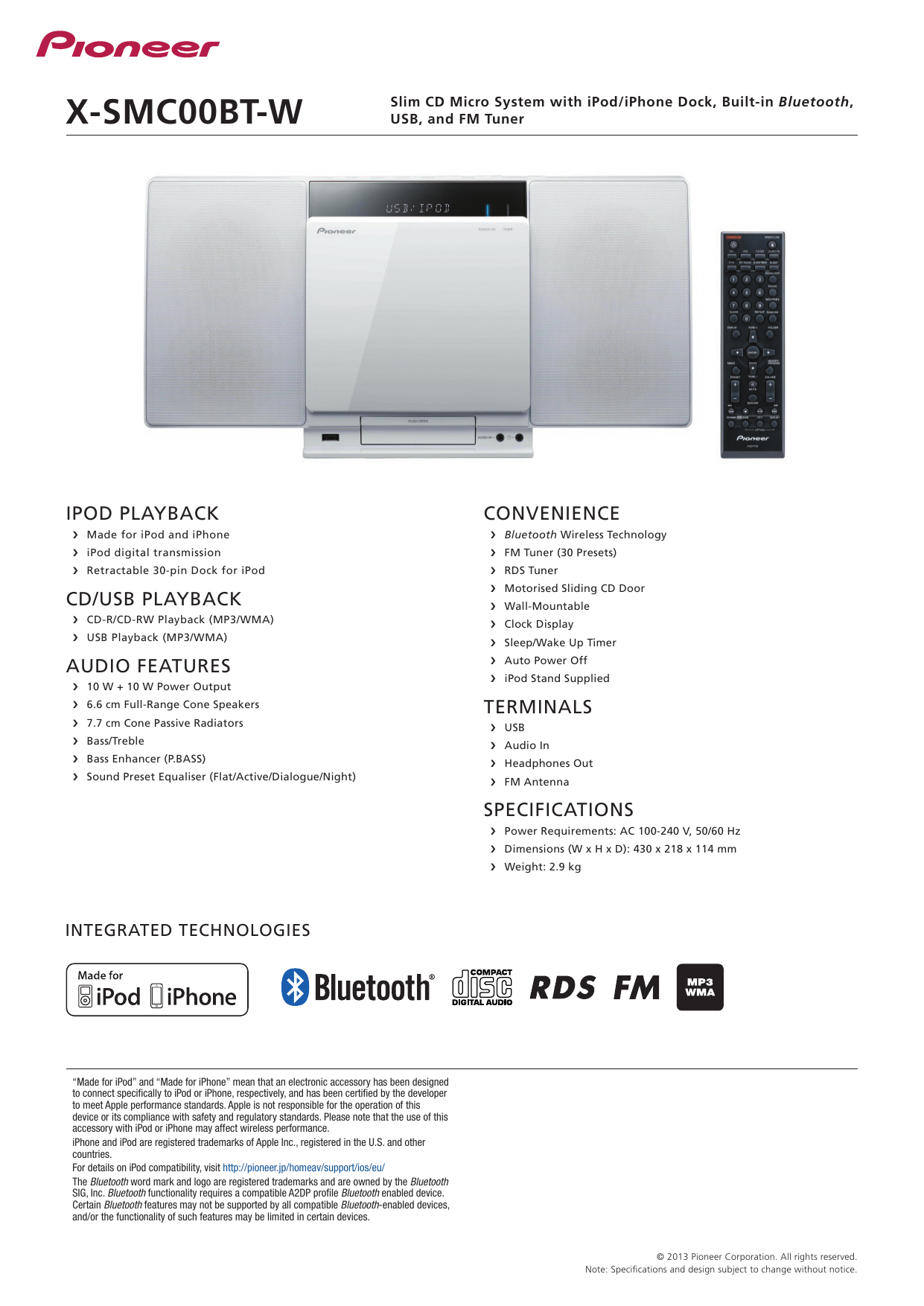 X-SMC00BT-W
Slim CD Micro System with iPod/iPhone Dock, Built-in Bluetooth,
USB, and FM Tuner
iPod Playback
Convenience
› › Made for iPod and iPhone
›› Bluetooth Wireless Technology
› › iPod digital transmission
›› FM Tuner (30 Presets)
› › Retractable 30-pin Dock for iPod
›› RDS Tuner
CD/USB Playback
›› Motorised Sliding CD Door
›› Wall-Mountable
› › CD-R/CD-RW Playback (MP3/WMA)
›› Clock Display
› › USB Playback (MP3/WMA)
›› Sleep/Wake Up Timer
Audio Features
›› 10 W + 10 W Power Output
›› 6.6 cm Full-Range Cone Speakers
›› 7.7 cm Cone Passive Radiators
›› Auto Power Off
›› iPod Stand Supplied
Terminals
›› USB
›› Bass/Treble
›› Audio In
›› Bass Enhancer (P.BASS)
›› Headphones Out
›› Sound Preset Equaliser (Flat/Active/Dialogue/Night)
›› FM Antenna
Specifications
›› Power Requirements: AC 100-240 V, 50/60 Hz
›› Dimensions (W x H x D): 430 x 218 x 114 mm
›› Weight: 2.9 kg
INTEGRATED TECHNOLOGIES
"Made for iPod" and "Made for iPhone" mean that an electronic accessory has been designed
to connect specifically to iPod or iPhone, respectively, and has been certified by the developer
to meet Apple performance standards. Apple is not responsible for the operation of this
device or its compliance with safety and regulatory standards. Please note that the use of this
accessory with iPod or iPhone may affect wireless performance.
iPhone and iPod are registered trademarks of Apple Inc., registered in the U.S. and other
countries.
For details on iPod compatibility, visit http://pioneer.jp/homeav/support/ios/eu/
The Bluetooth word mark and logo are registered trademarks and are owned by the Bluetooth
SIG, Inc. Bluetooth functionality requires a compatible A2DP profile Bluetooth enabled device.
Certain Bluetooth features may not be supported by all compatible Bluetooth-enabled devices,
and/or the functionality of such features may be limited in certain devices.
© 2013 Pioneer Corporation. All rights reserved.
Note: Specifications and design subject to change without notice.

* Your assessment is very important for improving the work of artificial intelligence, which forms the content of this project