Producing Effective Game Programs - ECAC-SIDA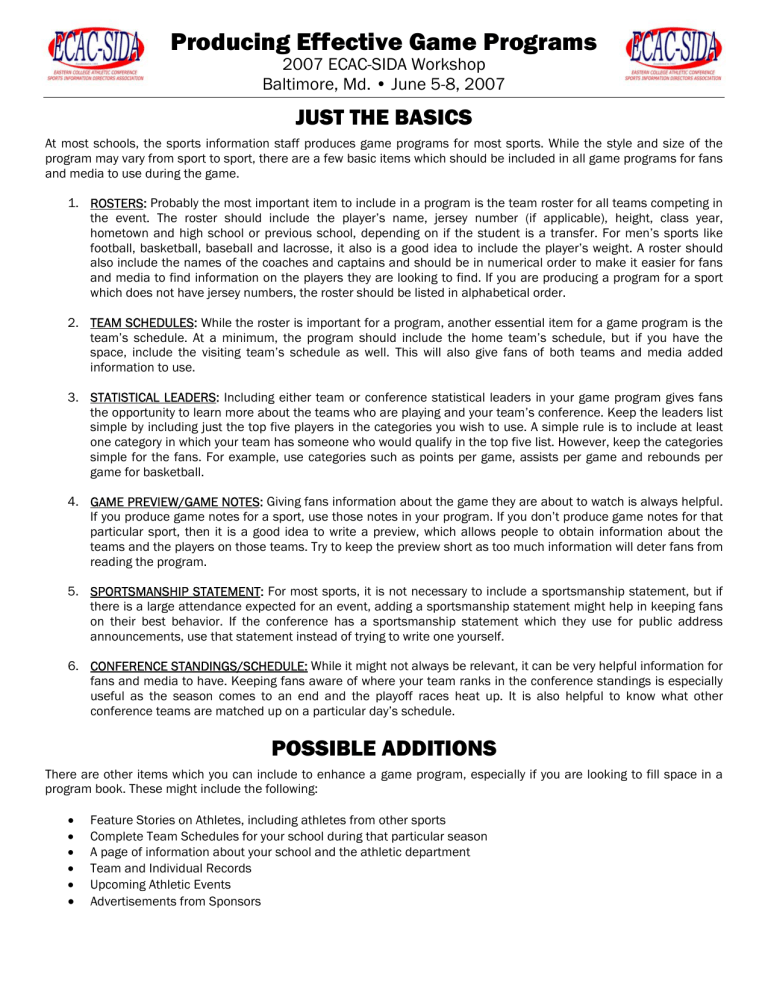 Producing Effective Game Programs
2007 ECAC-SIDA Workshop
Baltimore, Md. • June 5-8, 2007
JUST THE BASICS
At most schools, the sports information staff produces game programs for most sports. While the style and size of the
program may vary from sport to sport, there are a few basic items which should be included in all game programs for fans
and media to use during the game.
1. ROSTERS: Probably the most important item to include in a program is the team roster for all teams competing in
the event. The roster should include the player's name, jersey number (if applicable), height, class year,
hometown and high school or previous school, depending on if the student is a transfer. For men's sports like
football, basketball, baseball and lacrosse, it also is a good idea to include the player's weight. A roster should
also include the names of the coaches and captains and should be in numerical order to make it easier for fans
and media to find information on the players they are looking to find. If you are producing a program for a sport
which does not have jersey numbers, the roster should be listed in alphabetical order.
2. TEAM SCHEDULES: While the roster is important for a program, another essential item for a game program is the
team's schedule. At a minimum, the program should include the home team's schedule, but if you have the
space, include the visiting team's schedule as well. This will also give fans of both teams and media added
information to use.
3. STATISTICAL LEADERS: Including either team or conference statistical leaders in your game program gives fans
the opportunity to learn more about the teams who are playing and your team's conference. Keep the leaders list
simple by including just the top five players in the categories you wish to use. A simple rule is to include at least
one category in which your team has someone who would qualify in the top five list. However, keep the categories
simple for the fans. For example, use categories such as points per game, assists per game and rebounds per
game for basketball.
4. GAME PREVIEW/GAME NOTES: Giving fans information about the game they are about to watch is always helpful.
If you produce game notes for a sport, use those notes in your program. If you don't produce game notes for that
particular sport, then it is a good idea to write a preview, which allows people to obtain information about the
teams and the players on those teams. Try to keep the preview short as too much information will deter fans from
reading the program.
5. SPORTSMANSHIP STATEMENT: For most sports, it is not necessary to include a sportsmanship statement, but if
there is a large attendance expected for an event, adding a sportsmanship statement might help in keeping fans
on their best behavior. If the conference has a sportsmanship statement which they use for public address
announcements, use that statement instead of trying to write one yourself.
6. CONFERENCE STANDINGS/SCHEDULE: While it might not always be relevant, it can be very helpful information for
fans and media to have. Keeping fans aware of where your team ranks in the conference standings is especially
useful as the season comes to an end and the playoff races heat up. It is also helpful to know what other
conference teams are matched up on a particular day's schedule.
POSSIBLE ADDITIONS
There are other items which you can include to enhance a game program, especially if you are looking to fill space in a
program book. These might include the following:
•
•
•
•
•
•
Feature Stories on Athletes, including athletes from other sports
Complete Team Schedules for your school during that particular season
A page of information about your school and the athletic department
Team and Individual Records
Upcoming Athletic Events
Advertisements from Sponsors
Producing Effective Game Programs
2007 ECAC-SIDA Workshop
Baltimore, Md. • June 5-8, 2007
KEEPING YOUR PROGRAM TIMELY
One of the most difficult things about producing a game program is having the information as updated as possible. For
example, it may be difficult to produce a game program for a Sunday game when you have a game on Friday afternoon.
Unless you produce the programs in your office, it is nearly impossible to have updated programs for a weekend because
the printers are closed on the weekend. A simple rule to use is having an "As of" date listed next to statistical information.
ORGANIZATION AND DESIGN ARE KEYS FOR SUCCESS
Like most things in sports information, having an organized and well-designed program is also important to have an
effective game program. Your ideas should be well organized both in content and in design. Using pictures in your game
program adds an extra benefit of design, which will entice your fans and media to read through the program and learn
about your team. Adding graphics and lists of information can also help if they are relevant, but be careful of adding too
many graphics as they may clutter the design of the program.
FINAL THOUGHTS
Having an effective game program is something which benefits everyone. From fans to media to your staff, an effective
game program will allow people to be updated on the teams and players who are competing in an event. Keep the
program simple but informative and it will be effective.

* Your assessment is very important for improving the work of artificial intelligence, which forms the content of this project