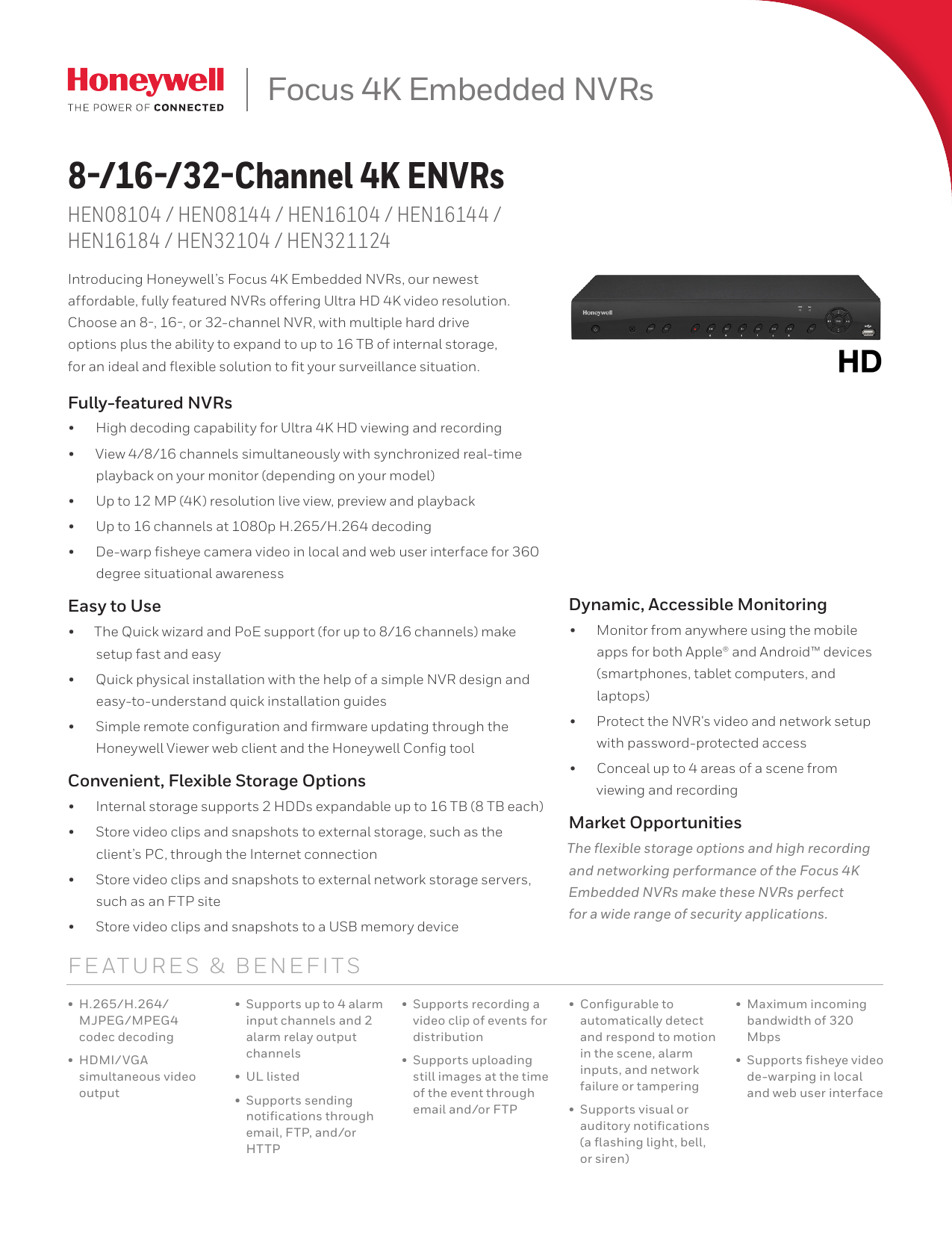 Focus 4K Embedded NVRs
8-/16-/32-Channel 4K ENVRs
HEN08104 / HEN08144 / HEN16104 / HEN16144 /
HEN16184 / HEN32104 / HEN321124
Introducing Honeywell's Focus 4K Embedded NVRs, our newest
affordable, fully featured NVRs offering Ultra HD 4K video resolution.
Choose an 8-, 16-, or 32-channel NVR, with multiple hard drive
options plus the ability to expand to up to 16 TB of internal storage,
for an ideal and flexible solution to fit your surveillance situation.
Fully-featured NVRs
•
High decoding capability for Ultra 4K HD viewing and recording
•
View 4/8/16 channels simultaneously with synchronized real-time
playback on your monitor (depending on your model)
•
Up to 12 MP (4K) resolution live view, preview and playback
•
Up to 16 channels at 1080p H.265/H.264 decoding
•
De-warp fisheye camera video in local and web user interface for 360
degree situational awareness
Easy to Use
Dynamic, Accessible Monitoring
•
•
•
The Quick wizard and PoE support (for up to 8/16 channels) make
apps for both Apple® and Android™ devices
Quick physical installation with the help of a simple NVR design and
(smartphones, tablet computers, and
laptops)
easy-to-understand quick installation guides
•
Simple remote configuration and firmware updating through the
•
•
Convenient, Flexible Storage Options
•
Internal storage supports 2 HDDs expandable up to 16 TB (8 TB each)
•
Store video clips and snapshots to external storage, such as the
client's PC, through the Internet connection
Store video clips and snapshots to external network storage servers,
such as an FTP site
•
Store video clips and snapshots to a USB memory device
Protect the NVR's video and network setup
with password-protected access
Honeywell Viewer web client and the Honeywell Config tool
•
Monitor from anywhere using the mobile
setup fast and easy
Conceal up to 4 areas of a scene from
viewing and recording
Market Opportunities
The flexible storage options and high recording
and networking performance of the Focus 4K
Embedded NVRs make these NVRs perfect
for a wide range of security applications.
F E AT U R E S & B E N E F I T S
• H.265/H.264/
MJPEG/MPEG4
codec decoding
• HDMI/VGA
simultaneous video
output
• Supports up to 4 alarm
input channels and 2
alarm relay output
channels
• UL listed
• Supports sending
notifications through
email, FTP, and/or
HTTP
• Supports recording a
video clip of events for
distribution
• Supports uploading
still images at the time
of the event through
email and/or FTP
• Configurable to
automatically detect
and respond to motion
in the scene, alarm
inputs, and network
failure or tampering
• Supports visual or
auditory notifications
(a flashing light, bell,
or siren)
• Maximum incoming
bandwidth of 320
Mbps
• Supports fisheye video
de-warping in local
and web user interface
8-/16-/32-Channel 4K ENVRs Technical Specifications
SYSTEM DIAGR AM
1 Power
2 IP Cameras
ON
DIMENSIONS
3 Monitor
(Not included)
4 Mouse
5 Router/Switch
(Not included)
8-/16-/32-Channel 4K ENVRs Technical Specifications
SYSTEM
PLAYBACK AND BACKUP
MAIN PROCESSOR
Quad-core embedded processor
OPERATING SYSTEM
Embedded LINUX
VIDEO
INPUTS
HEN081*4: 8 Channels IP
HEN161*4: 16 Channels IP
HEN321*4: 32 Channels IP
AUDIO
AUDIO INPUT/OUTPUT
1 Channel Input/1 Channel Output,
RCA
TWO-WAY COMMUNICATION
Supported
SYNC PLAYBACK
1/4/8/16
SEARCH MODE
Time/Date; Alarm; Motion Detection
(MD); Exact Search (accurate to a
second); Smart Search
PLAYBACK FUNCTION
Play; Pause; Stop; Rewind; Fast play;
Slow play; Next File; Previous File;
Next Camera; Previous Camera; Full
Screen; Repeat; Shuffle; Backup
selection; Digital Zoom
BACKUP MODE
COMPATIBILITY
USB Device; Network; Internal SATA
burner
NETWORK
DISPLAY
1 RJ-45 port (10/100/1000 Mbps)
INTERFACE
1 HDMI (up to 3840 × 2160);
1 VGA
ETHERNET
POE
RESOLUTION
3840 × 2160; 1920 × 1080;
1280 × 1024; 1280 × 720;
1024 × 768
HEN081*4: 8 ports (802.3af/at)
HEN161*4: 16 ports (802.3af/at)
HEN321*4: 16 ports (802.3af/at)
DISPLAY SPLIT
HEN081*4: 1/4/8/9
HEN161*4: 1/4/8/9/16
HEN321*4: 1/4/8/9/16/25/36
SUPPORTED PROTOCOLS2
HTTP, TCP/IP, IPv4/IPv6, UPnP,
RTSP, UDP, SMTP, NTP, DHCP, DNS,
IP Filter, PPPoE, DDNS, FTP, Alarm
Server, IP Search, P2P
OSD
Camera title; Time; Video loss;
Camera lock; Motion detection;
Recording
FISHEYE VIDEO DE-WARPING
Supported in local and web user
interface
MAXIMUM NUMBER OF USERS 128 users
NETWORK THROUGHPUT
Input 320 Mbps; Output 320 Mbps
SMART PHONE COMPATIBILITY iPhone; iPad; Android
STORAGE
RECORDING
INTERNAL HDD
COMPRESSION
H.265/H.264/MJPEG/MPEG4
AUXILIARY INTERFACE
USB PORTS
2 (1 rear USB3.0; 1 front USB2.0)
RS232
1 port (for PC communications and
keyboard)
RESOLUTION
12 MP (4000 × 3000); 8 MP
(3840 × 2160); 6 MP (3072 ×
2048); 5 MP (2560 × 1920); 4
MP (2560 × 1440); 3 MP (2048
× 1520); 1080p (1920 × 1080);
720p (1280 × 720); D1 (704 ×
576 / 704 × 480); CIF (352 × 288
/ 352 × 240)
POWER SUPPLY
Single, 100~240 V AC, 50/60 Hz
FRAME RATE
1–15 fps (8 MP); 1–25/30 fps
POWER CONSUMPTION
RECORD BIT RATE
320 Mbps
BIT RATE1
16 kbps ~ 20 Mbps, per channel
HEN081*4: 15.2 W max (no HDD)
HEN161*4: 14.5 W max (no HDD)
HEN321*4: 14.5 W max (no HDD)
PoE: 25.5 W for a single port
(130 W total)
RECORDING MODE
Schedule (Regular/Continuous,
Motion Detection, Alarm); Manual;
Stop
RECORDING INTERVAL
1 to 120 minutes (default 60 min)
PRE-EVENT RECORDING
INTERVAL
1 to 30 seconds
POST-EVENT RECORDING
INTERVAL
10 to 300 seconds
VIDEO DETECTION AND ALARMS
TRIGGER EVENTS
Recording; PTZ; Tour; Alarm; Video
Push; Email; FTP; Snapshot; Buzzer
VIDEO DETECTION
Motion Detection—MD Zones: 396
(22 × 18); Video Loss; Camera Blank
ALARM INPUT
4 Channels
RELAY OUTPUT
2 Channels
2 SATA ports, up to 12 TB
ELECTRICAL
ENVIRONMENTAL
OPERATING TEMPERATURE
14°F to 131°F (–10°C to 55°C)
RELATIVE HUMIDITY
10% to 90%, non-condensing
STORAGE TEMPERATURE
–4°F to 158°F (–20°C to 70°C),
0% to 90% relative humidity
PHYSICAL
DIMENSIONS
14.8" × 12.9" × 2.1"
(375 mm × 327 mm × 53 mm)
WEIGHT (WITHOUT HDD)
6.0 lb. (2.7 kg)
REGULATORY
EMISSIONS
FCC Part 15B, EN55032: 2012
+AC: 2013, EN61000-3-2: 2014,
EN61000-3-3: 2013
IMMUNITY
EN50130-4: 2011+A1: 2014,
EN55024: 2010+A1: 2015
SAFETY
EU: EN60950-1
North America UL listed to UL/CSA
60950-1
ROHS
EN50581: 2012
*The * = hard drive
capacity in TB.
1.Actual bitrate is scene
and motion dependent
with H.264 stream.
2.Some development
might be required in
specific user cases to
support some of these
protocols in the field,
as naturally protocols
will mature over time.
8-/16-/32-Channel 4K ENVRs Ordering and Recommended Accessories
SYSTEM INTEGRATION
RECOMMENDED CAMERAS
ONVIF support and open API
software integration. Refer to
www.onvif.org for the ONVIF
specification and the Honeywell
Open Technology Alliance website
(http://www.security.honeywell.
com/hota/) to learn more
about our open and integrated
solutions.
RUGGED 4K IR MINIDOME IP
CAMERAS
H4D8PR1
4K IR BULLET IP CAMERAS
HBD8PR1
4K IR BALL IP CAMERAS
HED8PR1
1080P IR PTZ IP CAMERAS
HDZP252DI
INDOOR 5 MP FISHEYE IP
CAMERAS
HFD5PR1
3-INCH INDOOR MINIDOME IP
CAMERAS
H3W2GR1; H3W2GR2; H3W4GR1
H4D3PRV2; H4W2PRV2;
4-INCH RUGGED MINIDOME IP H4W4PRV2; H4D3PRV3;
CAMERAS
H4W4PRV3; H4W2GR1;
H4W2GR2; H4W4GR1; H4D8GR1
INDOOR BOX IP CAMERAS
HCW2G; HCL2G; HCW4G; HCD8G
BULLET IP CAMERAS
HBD3PR2; HBW2PR2; HBW4PR2;
HBW2PR1; HBW4PR1; HBL2GR1;
HBW2GR1; HBW2GR3; HBW4GR1;
HBD8GR1; HBD1PR1; HBD3PR1
BALL/MICRO DOME IP
CAMERAS
H2W2PRV3; H2W4PRV3;
HEW2PRW1; HEW4PRW3;
HEW2PR1; HEW4PR3; HEW2PR2;
HEW4PR2; HED1PR3; HED3PR3
ORDERING
HEN08104
NVR, 8-Channel, H.265, 4K 12 MP, 2 SATA, 8 PoE, 240 fps, 0 TB
HEN08144
NVR, 8-Channel, H.265, 4K 12 MP, 2 SATA, 8 PoE, 240 fps, 4 TB
HEN16104
NVR, 16-Channel, H.265, 4K 12 MP, 2 SATA, 16 PoE, 480 fps, 0 TB
HEN16144
NVR, 16-Channel, H.265, 4K 12 MP, 2 SATA, 16 PoE, 480 fps, 4 TB
HEN16184
NVR, 16-Channel, H.265, 4K 12 MP, 2 SATA, 16 PoE, 480 fps, 8 TB
HEN32104
NVR, 32-Channel, H.265, 4K 12 MP, 2 SATA, 16 PoE, 960 fps, 0 TB
HEN321124
NVR, 32-Channel, H.265, 4K 12 MP, 2 SATA, 16 PoE, 960 fps, 12 TB
For more information
www.honeywell.com/security
Honeywell Security and Fire
2700 Blankenbaker Pkwy, Suite 150
Louisville, KY 40299
1.800.323.4576
www.honeywell.com
Honeywell reserves the right, without
notification, to make changes in
product design or specifications.
Doc | Rev | 04/17
© 2017 Honeywell International Inc.