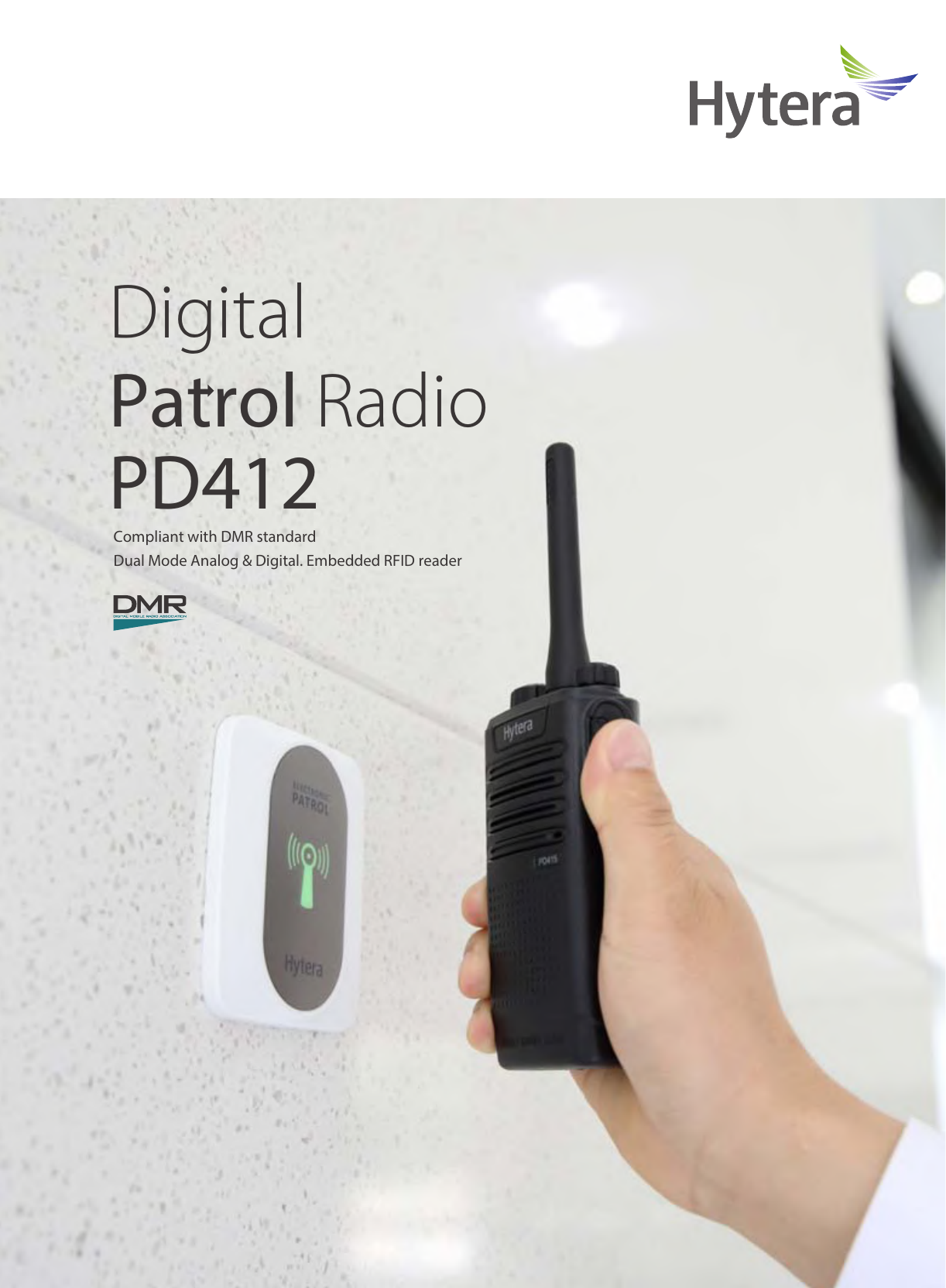 Digital
Patrol Radio
PD412
Compliant with DMR standard
Dual Mode Analog & Digital. Embedded RFID reader
Features
Voice Call
Embed
Voice call capability includes private, group and all call.
The PD41
data via th
and resou
Rugged & Reliable
Analog
Compliant with MIL-STD-810 C/D/E/F/G standards. IP54 rated.
The PD412
whether th
Small, Sleek, Light
Size: 112×55×31mm. Weight: 270g.
received t
analogue
The PD412
When the
mode, thu
Long Battery Life
In digital mode, the 1500mAh battery provides 16 hours on a
5-5-90 duty cycle. (5% transmit; 5% receive, 90% standby)
Preprogrammed Text Messages
One Touch Call/Text
One Touch Voice Calls and Preprogrammed Text Messages.
PD41
Dual Mode (Analog & Digital)
Dual modes (analog & digital) operation to ensure a smooth
migration from analog to digital.
VOX
The VOX (Voice-operated Transmit) feature allows you to trigger the
voice transmission by speaking into the radio rather than initiating a
voice call by pressing the PTT (Push To Talk) switch for convenient
use at high pace working environment.
Development Port for radio and RFID
The HYTERA API facilitates third party applications development
in support of customized solutions.
DMRA D
IIn DMO (
one frequ
Embedded RFID
The PD412 radio reads RFID tag data and automatically transmits the
data via the defined timeslot. An ideal application for patrol monitoring
and resource management.
NO.05000045
RFID
Analog & Digital Mixed Channel
The PD412 radio is dual mode capable, it automatically detects
whether the received signal is analog or digital. If a digital signal is
received the radio will transmit its response in digital mode, if an
analogue signal is received, the radio will respond in analogue mode.
The PD412 will function with existing analogue FM infrastructure.
When the infrastructure is updated to digital, it will operate in digital
mode, thus both protecting and future proofing your investment
Analog mode
PD41X
PD41X
Digital mode
Analog mode
DMRA Direct Mode TDMA (True 2-slot)
IIn DMO (Direct Mode Operation) The PD412 supports two talk paths on
one frequency.
Hyt
Hyt
era
Voice Call 1
(or data)
Hyt
era
era
TIME
SLOT 1
TIME
SLOT 2
Hyt
era
Slot 1 used for voice call 1
Slot 2 used for voice call 2
Voice Call 2
(or data)
LIGHT & DURABLE.DIGITAL VOICE,CLEARER AND LOUDER
EMBEDDED RFID READER
ANALOG & DIGITAL MIXED MODE
RFID board
Hytera PD412 Patrol System
The Hytera PATROL System is a tour guard or route management solution providing real-time resource
tracking and management. The system comprises PATROL Radios, Receiving Stations, PATROL Checkpoints
and PATROL Application Software. When the PD412 PATROL Radio is close to the PATROL Checkpoint, the
PATROL Radio automatically reads the Checkpoint RFID data, transmits RFID data in real-time to the Receiving
Station. The Receiving Station which is connected to a PC running the PATROL application, records the
incoming data, time and date stamps it and highlights the relevant PATROL Checkpoint in the application on
screen. Additional features include, one-touch radio alarm, PATROL data resend, simple or advanced PATROL
plan configuration, data query and data backup.
Operating Center
Indoor Checkpoint
Patrol Receiving
Station
Basement Checkpoint
Public Place Checkpoint
Target Markets
$
Bank
Residence
Standard
Hotel
Warehouse
Options
EAM12
EHM19
EHM20
Li-ion battery
(1500mAh)
BL1504
C Style Earloop Earpiece
with On-MIC PTT
POA71
Detachable Transparent
Acoustic Tube Earpiece
with PTT&MIC
cable
RFID Patrol Checkpoint
(passive device)
Belt clip
BC08
RFID Patroller ID card
(passive device)
Swivel Earpiece with
PTT&MIC cable
General MCU Rapid-rate Charger
(for Li-Ion/Ni-MH batteries)
CH10A07
POA72
Short antenna
ESM12
SM26M1
Earbud with On-MIC
PTT and VOX
switch
Remote Speaker
Microphone without
emerency button
(IP54)
PC76
Long antenna
NCN011
MCA08
BL2010
Switching Power Adapter
Hand strap
MCU Multi-unit Rapid
rate Charger
Nylon Carrying
Jacket
Li-ion battery
(2000mAh)
Data Programming
Cable
Specifications
Transmitter
General
Frequency Range
UHF: 400-470MHz, 450-520MHz
VHF: 136-174MHz
Channel Capacity
32
Zone Capacity
3
Channel Spacing
25/12.5KHz
Operating Voltage
7.4V
Battery
1500mAh (Li-Ion)
2000mAh (Li-Ion)
Battery Life (5/5/90 )
Analog/Digital:
12/16 hours (1500mAh)
16/22 hours (2000mAh)
Weight
270g
Dimensions
112×55×31mm
Frequency Stability
±0.5ppm
Antenna Impedance
50Ω
RFID Reading Range
up to 4cm
Receiver
RF Power Output
VHF High power: 5W
VHF Low power: 1W
UHF High power: 4W
UHF Low power: 1W
FM Modulation
11K0F3E @ 12.5KHz
16K0F3E @ 25KHz
4FSK Digital Modulation
12.5KHz Data Only: 7K60FXD
12.5KHz Data & Voice: 7K60FXW
Conducted/Radiated Emission
-36dBm <1GHz, -30dBm >1GHz
Modulation Limiting
±2.5KHz @ 12.5KHz
±5.0KHz @ 25KHz
FM Hum & Noise
40dB @ 12.5KHz
45dB @ 25KHz
Adjacent Channel Power
60dB @ 12.5KHz, 70dB @25KHz
Audio Response
+1 ~ -3dB
Sensitivity (Digital)
0.22μV / BER 5%
Audio Distortion
≤3%
Digital Vocoder Type
AMBE++
Sensitivity (Analog)
0.22μV (Typical) (12dB SIN AD)
0.4μV (20dB SIN AD)
0.22μV (12dB SIN AD)
TIA-603
60dB @ 12.5KHz/70dB @ 25KHz
Operating Temperature
ETSI
60dB @ 12.5KHz/70dB @ 25KHz
-30℃~ +60℃
TIA-603
70dB @ 12.5/25KHz
Storage Temperature
-40℃~ +85℃
ETSI
70dB @ 12.5/25KHz
TIA-603
70dB @ 12.5/25KHz
ESD
IEC 61000-4-2 (Level 4)
±8kV (Contact)
±15kV (Air)
ETSI
65dB @ 12.5/25KHz
Dustproof & Waterproof
IP54 Standard
Humidity
Per MIL-STD-810 C/D/E/F/G Standard
Shock & Vibration
Per MIL-STD-810 C/D/E/F/G Standard
Adjacent Selectivity
Spurious
Response
Rejection
Inter-modulation
Hum & Noise
40dB @ 12.5KHz
45dB @ 25KHz
Rated Audio Power Output
0.5W
Rated Audio Distortion
≤3%
Audio Response
+1 ~ -3dB
Conducted Spurious Emission
<-57dBm
Digital Protocol
ETSI-TS102 361-1,-2,-3
Environmental
PD412, X=0, 2, 5,6 or 8, model number varies geographically. For details, please contact
our regional sales representatives.
All specifications are subject to change without notice due to continuous development.
Hytera America
Address: 3315 Commerce Parkway
Miramar, Florida 33025
Tel: 800-845-1230 Fax: 954-846-1672
http: //www.hytera.us
are registered trademarks of Hytera Communications Co.,Ltd.
2013 Hytera Communications Co.,Ltd. All Rights Reserved.
Hytera Communications (Canada) Inc.
Address: 100 Leek Crescent, Unit 11
Richmond Hill, Ontario L4B 3E6
Tel: (905) 305-7545
http://www.hytera.ca http://www.hytera.us
are registered trademarks of Hytera Communications Co.,Ltd.
2013 Hytera Communications Co.,Ltd. All Rights Reserved.

* Your assessment is very important for improving the work of artificial intelligence, which forms the content of this project