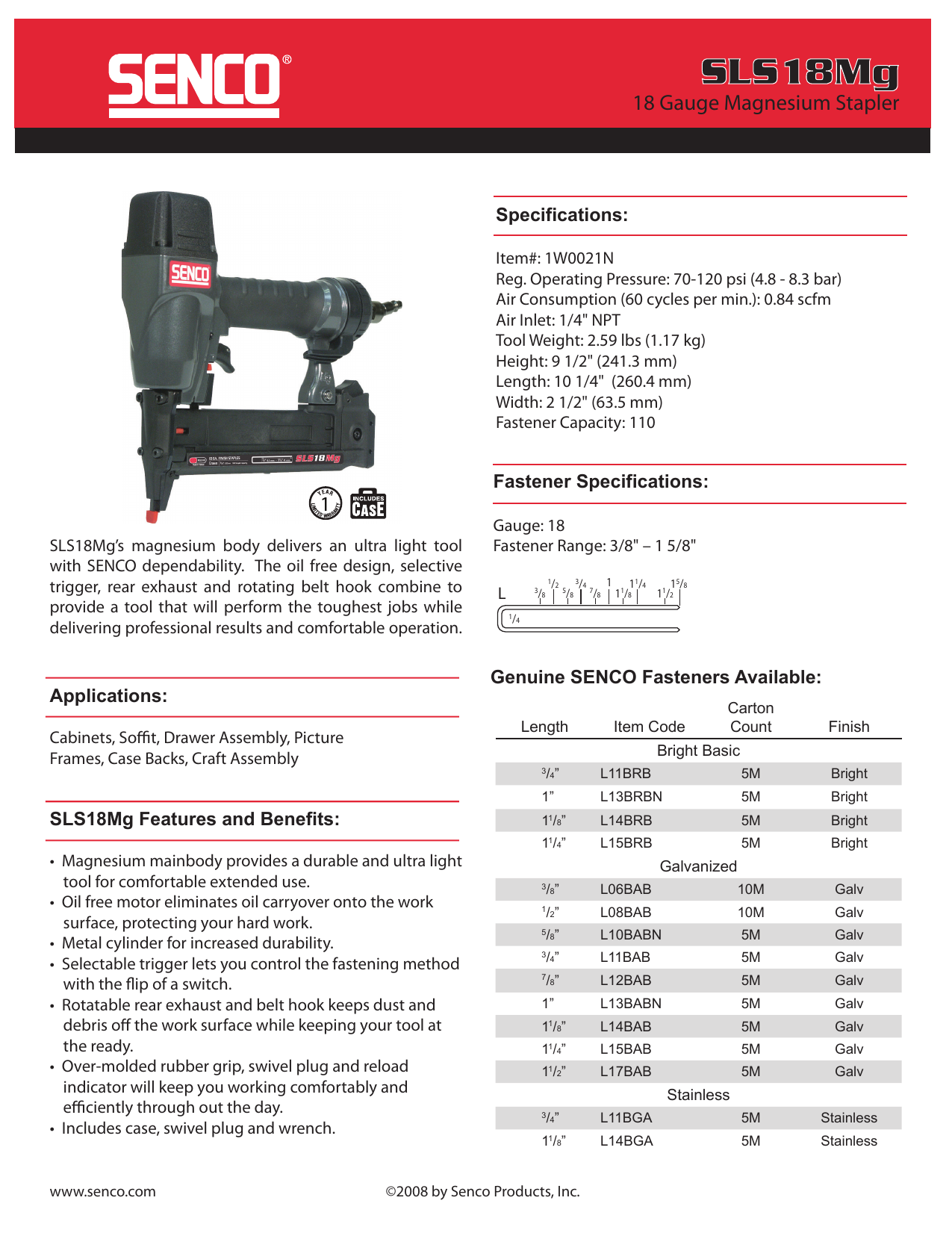 SLS18Mg
18 Gauge Magnesium Stapler
Specifications:
Item#: 1W0021N
Reg. Operating Pressure: 70-120 psi (4.8 - 8.3 bar)
Air Consumption (60 cycles per min.): 0.84 scfm
Air Inlet: 1/4" NPT
Tool Weight: 2.59 lbs (1.17 kg)
Height: 9 1/2" (241.3 mm)
Length: 10 1/4" (260.4 mm)
Width: 2 1/2" (63.5 mm)
Fastener Capacity: 110
Fastener Specifications:
1
SLS18Mg's magnesium body delivers an ultra light tool
with SENCO dependability. The oil free design, selective
trigger, rear exhaust and rotating belt hook combine to
provide a tool that will perform the toughest jobs while
delivering professional results and comfortable operation.
L
/
3 8
/
1 2
/
5 8
/
3 4
/
7 8
1
11/4 1 15/8
11/8
1 /2
/
1 4
Genuine SENCO Fasteners Available:
Applications:
Length
Cabinets, Soffit, Drawer Assembly, Picture
Frames, Case Backs, Craft Assembly
Item Code
Carton
Count
Finish
Bright Basic
L11BRB
5M
Bright
1"
L13BRBN
5M
Bright
1 /8"
L14BRB
5M
Bright
1
1 /4"
L15BRB
5M
Bright
3
/8"
L06BAB
10M
Galv
1
/2"
L08BAB
10M
Galv
5
/8"
L10BABN
5M
Galv
3
/4"
L11BAB
5M
Galv
7
/8"
L12BAB
5M
Galv
1"
L13BABN
5M
Galv
11/8"
L14BAB
5M
Galv
1 /4"
L15BAB
5M
Galv
1 /2"
L17BAB
5M
Galv
3
SLS18Mg Features and Benefits:
/4"
1
• Magnesium mainbody provides a durable and ultra light
tool for comfortable extended use.
• Oil free motor eliminates oil carryover onto the work
surface, protecting your hard work.
• Metal cylinder for increased durability.
• Selectable trigger lets you control the fastening method
with the flip of a switch.
• Rotatable rear exhaust and belt hook keeps dust and
debris off the work surface while keeping your tool at
the ready.
• Over-molded rubber grip, swivel plug and reload
indicator will keep you working comfortably and
efficiently through out the day.
• Includes case, swivel plug and wrench.
www.senco.com
Gauge: 18
Fastener Range: 3/8" – 1 5/8"
Galvanized
1
1
Stainless
/4"
L11BGA
5M
Stainless
1 /8"
L14BGA
5M
Stainless
3
1
©2008 by Senco Products, Inc.
SLS18Mg
18 Gauge Magnesium Stapler
Magnesium
Alloy Housing
Selectable
Trigger*
Over-molded
Rubber Grip
Rear Exhaust w/
360° Rotation
Swivel Plug
Oil-less
Engine
Swiveling
Belt hook
Reload
Indicator
Adjustable
Depth of Drive
*Choose the right actuation mode!
Sequential Actuation (also known as restrictive trigger or trigger fire) operates in
the following a sequence - depress the safety element at the nose of tool against the
work surface then pull the trigger. After each fastener is driven, release the trigger and
lift the tool off the work surface before starting the sequence again. This trigger is
recommended and acceptable for most applications.
Composite Magazine
Always read the Operators Manual and Safety Instructions with all tool to
ensure proper use and safety precautions. For additional information on
trigger systems and how SENCO will save you time, reduce costs and
increase quality, call our toll-free Action Line: 800-543-4596, or visit our
website at: www.senco.com
Contact Actuation (also known as dual action, bounce or bottom fire) operates in
the following sequence- pull the trigger first and keep the trigger pulled while moving
the tool along the work surface with a bouncing motion, depressing the safety element
at the nose of the tool against the work surface where the fastener is to be driven. This
trigger is recommended for use by trained professionals only in high production or
volume applications.
www.senco.com
©2008 by Senco Products, Inc.

* Your assessment is very important for improving the work of artificial intelligence, which forms the content of this project