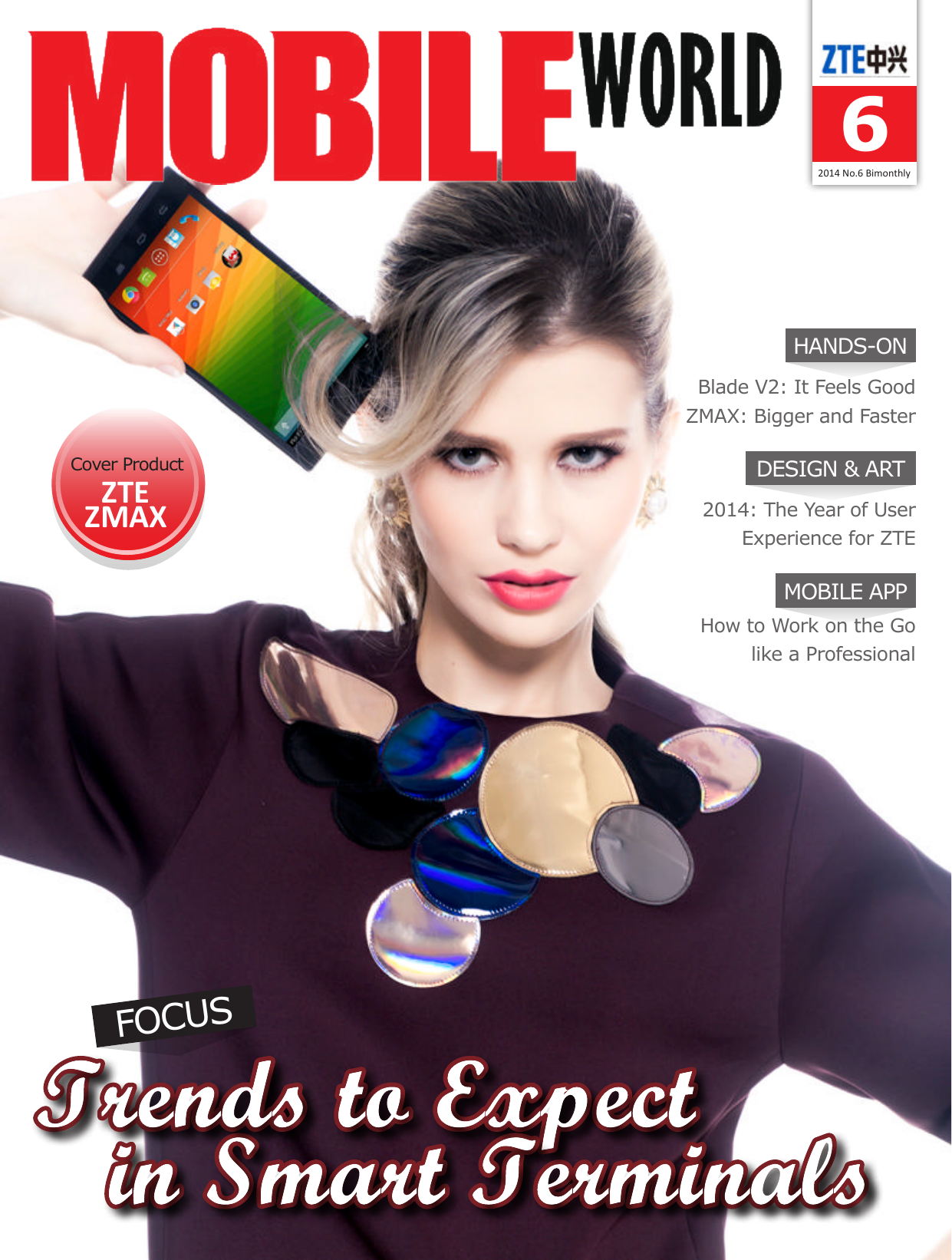 6
2014 No.6 Bimonthly
HANDS-ON
Blade V2: It Feels Good
ZMAX: Bigger and Faster
Cover Product
ZTE
ZMAX
DESIGN & ART
2014: The Year of User
Experience for ZTE
MOBILE APP
How to Work on the Go
like a Professional
FOCUS
4
INFORMATION ROUNDUP
6
SHOWCASE
8
HANDS-ON
8 Blade V2: It Feels Good
10 ZMAX: Bigger and Faster
12
FOCUS
Trends to Expect in Smart Terminals
20
DESIGN & ART
20 2014: The Year of User Experience for ZTE
Smartphones have improved greatly.
They have replaced feature phones and
are now an electronic companion that
many cannot live without. What
products will rise and reign? Let's now
look at what trends will grow
more apparent on smart
terminals.
p12
22 Android Lollipop: A Whole New
Look and Feel
p24
p25
2
NO.6 2014
http://wwwen.zte.com.cn/en/about/publications
24 ZTE's Unprecedented Smart Voice Services
Mobile World Editorial Board
25 The Art of Interaction in Monument Valley
26
MOBILE APP
Sponsor: ZTE Corporation
Edited by Shenzhen Editorial Office, Strategy
Planning Department
Editor-in-Chief: Huang Xinming
Executive Editor: Liu Yang
Editor: He Xi
Circulation Manager: Wang Pingping
How to Work on the Go like a Professional
28
SMART GADGETS
Address: NO. 55, Hi-tech Road South,
Shenzhen, P.R.China
Postcode: 518057
Tel: +86-755-26776663
Fax: +86-755-26775217
Email: [email protected]
Publishing Date: December 31, 2014
Volume 7 lssue 34
28 Android Auto: The Beginning of a Smart
Car Era
30 Toys that Go with Smartphones
32
Chairman: Zeng Xuezhong
Vice Chairman: Sun Zhenge
Members: Ao Wen, Chen Min, Dai Wenhong,
Ding Ning, Gao Feng, Huang Xinming, Jiang Hua,
Jiang Tao, Kan Yulun, Li Yuehua, Lin Rong, Ma
Wenlong, Wu Haoqiang, Xiao Qihu, Yan Hua, Zhu
Dongtang, Zhao Wei, Zhang Lei
FASHION
All rights reserved. The content of this magazine may not be
reproduced either in whole or in part without the written consent
of ZTE. Every effort has been made to ensure the information
included is both accurate and complete; however, ZTE cannot
accept misuse or misinterpretation of the information published
or implied from the content.
32 Hi-Tech Gadgets for Happy Cycling
34 Gardening Made Easy and Smart
p28
p32
3
INFORMATION ROUNDUP
Strategy Analytics: Global Shipments of ZTE Smartphones Up
42% in Q3 2014
ZTE Mobile Device
Revenue Up 40% in
Q3 2014
ZTE mobile device reported strong results in Q3
2014 with revenue up by 40 percent year-on-year.
The sales volume of smart devices account for 77
percent of sales overall, compared with 68 percent
in Q3 2013. ZTE's 4G expansion also marked a new
milestone as 4G terminals accounted for 38 percent
of terminal products, a 16 percent increase since the
same period last year.
In the first three quarters of 2014, shipments of ZTE
developed chips exceeded two million units. ZTE
smartphone average selling price (ASP) saw an 8 percent year-on-year increase compared with Q3 2013
and global active users reached a total of 68 million.
ZTE has secured leading positions in key markets
globally. Firstly, this has been led by the American
and European markets, which represent key growth
engines for ZTE.
Secondly, ZTE has expanded rapidly into developed
markets worldwide. In the Asia-Pacific market,
shipments of smartphones increased by 100% yearon-year and channel revenue also saw year-on-year
growth of 130%.
Last but not least, in Latin America, sales of ZTE
mainstream smart terminals grew by 580% year-onyear; while in the Middle East and Africa, ZTE smart
terminals growth has reached 400% in the same
period.
Global shipments of ZTE smartphones were up by a notable 42 percent year-on-year
in the third quarter 2014, according to a recent report from global market research
organization, Strategy Analytics. ZTE also saw a 15 percent year-on-year increase in
overall global handset shipments, its fastest growth rate in over two years.
The report from Strategy Analytics revealed that the US market was a particular
hotspot for ZTE, where third quarter shipments increased by 40 percent year-on-year.
As one of the fastest growing Chinese brands in the region, ZTE ranks fourth overall
in the North American mobile and smartphone market and second overall in the US
prepaid market.
Strong global growth for ZTE can also be attributed to the performance of its solid
flagship device range, with the ZTE STAR series, ZMAX and nubia Z7 representing
three of the best performers. The widely acclaimed ZTE STAR series has sold over one
million devices globally, and the STAR 1 is one of ZTE's leading 4G devices. The largescreen phablet ZMAX is expected to sell one million units worldwide. Finally, for ZTE
sub-brand nubia, third quarter sales have almost doubled in the Chinese market, and
the series has been successively launched in new markets overseas.
ZTE Becomes Smartphone Sponsor
for Three NBA Teams
On October 27, ZTE USA announced it will become the official smartphone sponsor
of the New York Knicks, Houston Rockets and Golden State Warriors. Following a
successful sponsorship season with the Houston Rockets, ZTE is continuing its partnership with the Rockets and teaming up with the Knicks and Warriors for the 2014
- 2015 NBA season. As part of the
partnership, ZTE will increase its
commitment to local communities
by supporting charitable initiatives
such as the Rocket's Season of Giving, the Knick's Garden of Dreams,
and the Warriors Community
Phone Drive, where fans are encouraged to bring their old phones
to donate to the Warriors' charity
benefiting underserved youth in
the San Francisco Bay Area.
ZTE Launches STAR 1 in Malaysia
On October 23, ZTE unveiled the highly anticipated ZTE STAR 1 smartphone in Malaysia. The
launch is in line with ZTE's goal to provide all
Malaysians with quality affordable smartphones, and is ZTE's first STAR 1 launch out of
China.
ZTE's decision to launch the STAR 1 first in
Malaysia is due to the nation's strong economy
and development in technology, and represents
4
an influential regional hub geographically and
culturally.
The STAR 1, ZTE's latest hero smartphone will
come equipped with excellent user-experience
features, such as 4cm macro shooting capability, Clarity+ imaging technology and a dual-color
temperature flash, great for photography. Also
launched during the event was ZTE's Blade Vec
Pro, Blade V5, Blade L2 and Blade G Lux.
INFORMATION ROUNDUP
ZTE's Smart Projector Named 2015 CES
Innovation Award Honoree
ZTE Launches Innovative Payment
Solutions
ZTE launched a range of innovative payment solutions including phone point of
sale (POS), photonic and Digital TV (DTV)
payment products at the GITEX exhibition
held during October 12-16 in Dubai.
With an NFC capable smartphone, users
can install the phone POS app to enable
the smartphone function as a POS payment device. Businesses and individuals
can then more easily manage a vast range
of transactions.
ZTE's photonic payment solution can be
downloaded as an app which is then linked
to the user's bank account. Shoppers can
complete payments with the click of a
button as the app uses the smartphone's
flash light to communicate with the seller's
photonic receiving device to complete the
payment in a way that is more secure than,
for example, contactless card transactions.
ZTE's Digital TV solution enables viewers
to purchase products with the click of a
button using a smartphone. The system
enables a wide range of payment opportunities including paying public utility bills
and topping up smartphone accounts.
On November 11, ZTE USA, the fourth largest smartphone manufacturer in the US, announced its
mobile smart projector was named a 2015 CES Innovation Awards Honoree in the portable media
players and accessories category. Products are chosen by a panel of independent industrial designers, engineers and members of the
trade media for outstanding design
and engineering in cutting edge consumer electronics products.
The smart projector has an excellent
short throw ratio and the ability to
stream 1080p content via Google
Play apps, other mobile devices and
a micro SD card. As a mobile hotspot
it supports up to eight mobile devices
via Wi-Fi or over a network connection. A 5,000 mAh lithium ion battery
can be used as a power bank to
charge other devices.
Sales of ZTE Blade Series Devices Exceed
20 Million Units
Blade Vec 4G
Sales of ZTE Blade series devices have exceeded 20 million units
worldwide since the first device in the series was launched in
September 2010. This is the first time that a smartphone series
by a Chinese vendor has reached the 20 million mark.
The Blade series of smartphones are feature rich and are available at affordable prices. These phones are sold in 60 markets
globally. The Blade series began with the ZTE Blade V880. The
Blade V880 has sold almost 13 million worldwide. Other smartphones in the Blade series have achieved similar successes with
over 8.6 million units sold to date worldwide.
Building on a strong foundation of popular 3G devices, such as
the Blade L2 and Blade III, the series recently entered the 4G
realm with the Blade Vec 4G.
Within the next few years, ZTE aims to reach a target of over
100 million Blade series device users worldwide. The ZTE Blade
series has already gained a strong foothold in Europe, Southeast Asia and Latin America.
ZTE Eyes More Market Share in Mideast
ZTE launched its three new smartphone devices at this year's GITEX Shopper held during
September 27-October 4 and has announced
a strategic partnership with Global Distribution FZE, a leading distributor of IT and Mobility products. Global Distribution FZE will be
the exclusive distributor of ZTE smartphone
products in the UAE.
Aiming to take on a bigger market share in
the Middle East smartphone market, ZTE is
showcasing its flagship products – Grand SII
LTE, nubia Z5S Mini and Blade Vec 4G – to
the region for the first time. ZTE is deemed
a 'game changer' in the region's smartphone
segment, and the launch of these products
is part of the global telecommunications
company's strategic efforts to strengthen its
market presence in the Middle East.
5
SHOWCASE
6
Enjoying LTE at an Affordable Price
Take Wi-Fi with You
Going Big
ZTE Blade A430
ZTE MF970
ZTE Blade L3
Young people require smartphones to be
reasonably priced and provide fast internet
access. ZTE Blade A430, targeted at young
users, is compact and has a flat UI design.
It sports a distinguishing blue circle to
indicate the home button. The back and
menu keys are small blue dots and can be
set according to user habits. It has a quadcore MT6732M processor, 1 GB RAM, and
8 GB ROM. This 4G LTE Cat4 smartphone
supports data rates of up to 150 Mbps.
The 8-megapixel autofocus camera has
interesting shooting modes.
Most smartphones can turn 3G/4G
networks into Wi-Fi hotspots. However,
this is not always a wise choice because
network connections may be interrupted
by unexpected incoming calls, and smartphone batteries do not last a long time. ZTE
MF970 is designed to convert an LTE signal
into a Wi-Fi signal. It supports a maximum
downlink rate of up to 300 Mbps. The 1.44inch screen displays network status clearly.
The device supports 802.11 b/g/n/ac Wi-Fi
standards, 2 × 2 MIMO, and dual band 2.4
GHz/5 GHz frequencies.
5 inches is the most popular screen
size, and most flagship models of major
cell phone manufacturers use this sized
screen. ZTE Blade L3 boasts a 5-inch screen
smartphone. It is powered by a 1.3 GHz
quad-core MT6582M processor and has
1 GB RAM. This processor provides an
outstanding entertainment experience,
which also takes into full play the phone's
large screen advantage. The phone will run
on Android 5.0 Lollipop. In addition, it is
available in several colors, including unique
pearlescent colors.
· Camera: 8-megapixel (rear); 5-megapixel
(front)
· Display: 4.5-inch FWVGA
· CPU: Quad-core MT6732M
· Memory: 1 GB RAM +8 GB ROM
· Battery: 2200 mAh
· Network: LTE-FDD: B1/2/3/7/8/20/28/
12&17, LTE-TDD: B38 (40); UMTS: B1/2/
5/8; GSM: Quad-band
· Wi-Fi Output: 802.11 b/g/n/ac, 2 x 2
MIMO, and 2.4 GHz/5.8 GHz dual band
· Camera: 8-megapixel (rear); 2-megapixel
(front)
· Display: 5-inch
· CPU: Quad-core MT6582M
· Memory: 1 GB RAM+ 8 GB ROM
SHOWCASE
A Smart Hotspot
A Shining Star
4G for All
ZTE MF923
ZTE STAR 1
ZTE MF975
With a 2.4-inch display, ZTE MF923 mobile
hotspot looks like a feature phone. The
display clearly shows the network status,
battery capacity, Wi-Fi SSID and password.
You can put an SDHC card of up to 32 GB
into the phone to create shared storage
space. The built-in 2800 mAh battery allows Wi-Fi signals to be shared between 10
devices for up to ten hours. In addition, the
WPS shortcut button can replace the Wi-Fi
password. If a device needs to connect to
the hotspot, it is very convenient to enable
password-free access by pressing the WPS
button.
Meticulous attention has been paid to
every detail of ZTE STAR 1's design. You
can feel its slimness and texture. A body
of 6.58 mm and the ultra-narrow bezel of
1.18 mm indicate its superb craftsmanship,
and the arced frame helps it sit comfortably in your hand. The 8-megapixel camera
features ZTE's Clarity+ color filter technology and an independent image-processing
chip. It is good for low-light shooting, and
its professional mode provides various
shooting options. The 5-inch OGS screen
with a high resolution of 443 PPI provides
sharp images and rich colors.
A few people may get together in a cafe
or somewhere else for work or entertainment, but the Wi-Fi networks in these
places are often congested or even
unavailable. In this case, it is a good idea to
convert 4G networks into Wi-Fi hotspots.
ZTE MF975 can convert a 4G network into
a Wi-Fi hotspot. The 2.4-inch screen allows
a user to set the Wi-Fi hotspot name and
password easily. It has a large capacity
2700 mAh battery to last over 8 hours of
continuous use. It supports 801.11 ac, 5
GHz frequency band, and 2 × 2 MIMO for
smooth wireless connectivity.
· Network: LTE: Band17/4/5/2/29; UMTS:
850/1900/2100 MHz
· Wi-Fi Output: 802.11 b/g/n
· Camera: 8-megapixel (rear); 5-megapixel
(front)
· Display: 5-inch full HD
· CPU: Quad-core MSM8928
· Memory: 2 GB RAM +16 GB ROM
· Speed: LTE FDD: DL/UL 300/50 Mbps
(CAT6); LTE TDD: DL/UL 220/11 Mbps
(CAT6)
· Wi-Fi Output: 802.11 b/g/n/ac, 2 x 2
MIMO, and dual bands (2.4 GHz and 5 GHz)
7
HANDS-ON
Blade V2
It Feels Good
Smartphones are becoming increasingly homogenized, and handset makers have to do something new and
different to win over customers. In 2014, smartphones keep on evolving in appearance and touch experience. Blade V2 impresses users with an attractive exterior and unforgettable touch experience, making it a
product you would not part with.
1. As smooth as baby's skin
Most smartphones feel smooth
because they are made of smooth
materials such as plastics and
metals, but they can also be cold
and lifeless. The situation is totally
different when it comes to Blade
V2. The surface feels elastic but is
slightly damped. With no significant friction, it is just like human
skin.
Impress Users at
the First Touch
There are many
ways to improve the
touch experience of
a smartphone, for
example, using the
previously popular
aluminum anodized
process or polycarbonate. Blade V2
uses a material that
offers better experience—baby-skin
rubber paint. This
paint is extracted
from cashew nuts
and when applied
has a soft and pleasant feel.
2. Easy one-hand operation
Blade V2 has a 5-inch screen and
a unique cross wrap form with
slightly rounded edges. It is also
coated with baby-skin paint and
has an 8.5 mm body to ensure a
comfortable grip. The phone uses
a thinner bezel, so that the thumb
can cover more than 80% of the
screen.
3
4
3. Powerful camera
The 5-megapixel BSI front camera has 88°
wide viewing angle, making the phone
particularly suitable for selfies. Its 13 MP
rear camera incorporates a Blue Glass
infrared sensor to enhance the clarity of
photo. You can take photos with more
accurate colors and details, even in low
light. In addition, it has smile detection
and shutter that allows you to take pictures by just saying "cheese!"
1
It
is
lig
ht
a
nd
th
Excellent
Good
Average
1 min
8
in
.
Th
co e
m so
fo ft
rta an
bl d s
e m
gr o
ip ot
. h
re
Th
ar
bu e
c
co
tto irc
ve
ns ula
rg
lig r h
ive
ht o
sa
up me
on ke
It
y
c
e
on is c
th flan
e on
e ke
ha v
sc d
nd en
re by
en t
. ien
tt
is wo
o
lit
us
.
e
i
t
It
w
ith
hi ha
gh s a
on
lig lo
ly
ht w
ed -k
sid ey
e col
bu or
tto sc
Th
ns he
. me
re e
ar sta
w
ca in
ith
m les
er s
a i st
s e ee
ye l rin
-c g
at a
ch ro
in un
Th
g. d
ca e d
th
n p is
e
p
ut la
th y h
e b as
rig hig
ht h
ne br
ss igh
at tn
ab es
Th
ou s a
an e
t h nd
gle fro
alf yo
n
. u
en t c
su am
re e
s g ra
re wi
at th
se its
lfi 8
Th
es 8°
. w
to e
uc sid
id
e
h e
ex bu
pe tt
rie on
nc s g
e. ive
an
aw
es
om
e
Blade V2
24-Hour Experience Test
2 mins
3 mins
6 mins
50 mins
60 mins
2 hrs
3 hrs
5 hrs
HANDS-ON
Specifications
OS: Android 4.4
Screen: 5.0-inch (1280 × 720 pixels)
Processor: MSM8916 1.2 GHz quad-core processor
Built-in storage: 1 GB RAM + 8 GB ROM
Camera: 13-megapixel (rear) and 5-megapixel (front)
Network: GSM: 900/1800/1900 MHz; WCDMA:
900/2100 MHz; LTE CAT4: 800/900/1800/2600
Battery: 2400 mAh
Dimensions: 143 x 70.7 x 8.5 mm
2
Unique experience
Does the baby-skin rear get dirty easily?
Smartphones with a glass rear cover can easily get
covered with fingerprints. However, the baby skin rubber paint protects Blade V2 against fingerprints, oil and
grease, making the phone always appear clean.
Amazing shooting capabilities
5
5 hrs 30 mins 7 hrs 10 mins
Unique side buttons
The on-off switch and volume rocker on the side are
also impressive. The side buttons have been carefully
crafted with gleaming CD texture. The proper distance
between keystrokes and the clear and crisp clicks provide a much better user experience than plastic ones.
13 hrs
.
an
d
go
o
so
re
all
yf
ee
ls
It
ne
ed
s
re
ch
a
rg
ea
tt
d
he
in
en
d
m
yh
of
ei
th
gh
t
ed
ay
.
5. Mainstream configurations
Although Blade V2 does not have
high-end hardware comparable
to flagship products, it guarantees smooth operation and good
user experience. The phone uses
the Qualcomm Snapdragon 400
quad-core 1.2 GHz processor,
and you can enjoy the most
frequently used apps and audiovisual entertainment fluidly.
ly
11 hrs 20 mins
It
It
se do
co wn
nd lo
s w ad
ith s a
4G son
LT g in
E. o
n
T
an he
d rea
fe r
at ca
ur m
es er
sm a a
ile llo
de ws
te fas
cti t
Ap
on foc
ps
. us
ru
in
nv
g
er
yf
as
t.
4. High-speed 4G network
4G LTE smartphones have become
mainstream in the second half of 2014.
Blade V2 is dependable in terms of LTE
connectivity. It supports the LTE Cat 4
network with downlink speeds of up to
150 Mbps. This means that users can
surf the internet smoothly. With Blade
V2, you can cache a 1 GB HD movie in
less than one minute, which is faster
than many Wi-Fi networks.
The 13-megapixel camera of Blade V2 performs quite
well in image processing, color rendition and white
balance adjustment during the day. Although autofocus
slows down a bit at night, the camera controls noise
and image quality very well with no significant decrease
in shutter speed. This means that it also works perfectly
at night time.
24 hrs
Mobile World Says:
Blade V2 has outstanding design and extraordinary touch for a comfortable user experience. Its proper hardware also enables
fluid operation of apps.
9
HANDS-ON
ZMAX
Bigger
and Faster
2
Smartphones with large screens and LTE support
appeal to customers. Smartphones are becoming a must-have, so people need larger screens
to view content, and they need 4G for faster
internet access. ZMAX is designed to meet these
expectations.
1. Special design
ZMAX looks square when viewed
from the front but looks curved
when viewed from the side. This
special design balances visual effects and grip. ZMAX demonstrates
a modest style with semi-matte
black finish around the back. It also
has glossy plastic material on the
top and bottom to provide different visual effects.
Bigger, Faster and
More Durable
Officially launched in
New York in September 2014, ZMAX is
exclusively distributed by T-Mobile. It is
equipped with a 5.7inch screen, 0.2 inch
bigger than iPhone 6
Plus. ZMAX features
square corners and
rounded back, and
the big screen blends
seamlessly into the
handset's one-piece
body. ZMAX supports
4G LTE to allow users
to surf the web at a
high speed. ZMAX
also has an impressive IPX2 waterproof
rating.
2. 5.7-inch HD screen
The 5.7-inch screen is bigger than
that of iPhone 6 Plus and is more
than sufficient for playing videos.
The 720p HD screen displays text
meticulously. It also allows for wide
viewing angles and good color
reproduction. ZMAX is a powerful
tool for audio-visual entertainment
and image processing.
re
m
ov
ab
T
le
a v her
ba
ol e's
tte
um o
ry
e n-o
pa
ro ff
ck
ck sw
.
er it
c
o
h
n
Th
o
t
he n t
de e
sig rec
le he
ft. ri
n. eiv
gh
er
ta
us
nd
es
th
e
m
et
Th
al
e
m
sto
es
h
ck
An
dr
oi
d
UI
lo
It
ok
sc
th ha
at s a
on
of 5
cis
.
iP 7e.
ho in
ne ch
6 scr
Pl ee
us n
. ,b
ig
W
ge
wa atc
rt
ha
tch hin
n
ing g m
wi ov
th ies
a t is
ab lik
let e w
. h
en
Y
yo
sm ou w
ua
al ill
re
le n
rs e
cr ver
ee w
ne an
d t
ph to
on co
es m
Fis
. eb
ph h
ac
L
on o
kt
r
e. d
o
ru
ns
sm
oo
th
ly
on
th
e
.
ok
lo
lic
et
al
m
sa
n-
ha
2 mins
It
ha
sa
no
e
on
ph
e
1 min
Th
10
5
4
ZMAX
24-Hour Experience Test
Excellent
Good
Average
1
3 mins
6 mins
50 mins
60 mins
2 hrs
3 hrs
5 hrs
HANDS-ON
3. IPX2 waterproof
ZMAX is ZTE's first large-screen
smartphone that complies with
the IPX2 waterproof standard. This
means you can use it with wet
hands without worrying about the
touchscreen being damaged. The
phone is not designed to work
underwater; however, it is splash
resistant.
4. Great battery life
Battery life is key to a large-screen
smartphone. ZMAX carries a 3400
mAh battery, almost the maximum
battery capacity that is currently
available on smartphones. The
phone meets the needs of even
the most demanding users for a
whole day.
5. 8-megapixel camera
ZMAX uses an 8-megapixel rearfacing camera, which is the best
compromise between pixel count
and image quality. ZMAX inherits
the strength of an 8-megapixel
camera — better shots in low-light
conditions and excellent noise
reduction performance. ZMAX
can provide you with impressive
images of medium-to-high-level
quality even at night.
Specifications
OS: Android 4.4
Screen: 5.7-inch HD (1280 × 720 pixels)
Processor: Qualcomm MSM8926 quad-core 1.2 GHz
Built-in storage: 2 GB RAM + 16 GB ROM
Camera: 8-megapixel (rear) and 1.6-megapixel (front)
Network: GSM: 850/900/1800/1900 MHz; UMTS:
850/1900/AWS/2100 MHz; LTE CAT4: B2/B4/B12/B7/B17;
HSPA + 21 Mbps
Battery: 3400 mAh
Dimensions: 161 x 82 x 9 mm
Unique experience
Gaming performance
ZMAX uses the powerful Qualcomm Snapdragon 400
processor. This advanced processor enables the phone
to run most of the frequently used apps and games
without any jittering or overheating.
Shooting in daylight
The sample shot of the flower is taken in the daily
light. It can be seen
that ZMAX accurately
reproduces color and
doesn't lose details
in the dark areas. It is
quite challenging for
a smartphone camera
to achieve the perfect
skin tones or accurate
flower colors. If the
correct white balance
cannot be achieved,
the color will shift in
undesired direction.
ZMAX's performance
in this respect is satisfactory.
3
Shooting at night
It
op he
er ats
ati u
on p o
. nl
ya
bi
ta
fte
r
lo
Yo
ng
uc
-ti
an
m
e
ha
ve
fas
tw
eb
br
ow
sin
go
It
n4
ta
ke
G
LT
sg
E.
re
at
pi
ct
ur
es
at
ni
gh
48
t.
%
po
we
ri
ss
til
l le
ft.
At
no th
tu ee
se nd
d o
up f t
. he
da
y,
th
ep
ow
er
is
sti
l
l
Its powerful low-light shooting also impresses users.
The sample photo was shot at night. We can see excellent noise control performance at a high ISO. The noise
reduction software does a good job of cleaning up the
noise without sacrificing image details.
5 hrs 30 mins 7 hrs 10 mins
11 hrs 20 mins
13 hrs
24 hrs
Mobile World Says:
ZMAX is a great phablet in terms of overall
performance. The spacious 5.7-inch screen
gives a stunning visual impact. It is outstanding in terms of design, battery life and shooting capabilities.
11
FOCUS
del:
t Mo
ndse
Ha
A New
Interpretation
The big-screen
smartphone ZTE ZMAX
has square corners,
rounded back and semimatte black finish to
improve touch
experience and create
great visual effects. It
redefines phablets with
its distinctive design,
superb craftsmanship
and materials, premium
hardware features, and
affordable price.
12
MAX
ZTE Z
FOCUS
Trends to Expect
in Smart Terminals
By Tao Mengrou
Smartphones have improved greatly. They have replaced
feature phones and are now an electronic companion that
many cannot live without. What products will rise and reign?
Let's now look at what trends will grow more apparent on
smart terminals.
NFC LOOKS
PROMISING
Near Field Communication (NFC), a
set of short-range high-frequency
wireless technologies, evolved from
contactless identification and
interconnection technologies.
Proximity reader, contactless card
and point-to-point functionality are
combined on a single chip. This chip
can communicate with compatible
devices by the identification and
data exchange at a short distance. At
present, this technology is widely
used in Japan and South Korea.
Mobile users have diverse functions
with an NFC-enabled handset. These
functions include boarding passes,
access control, transport cards,
credit cards and payment cards.
As a technology with great
possibilities, NFC has been widely
used in handsets, digital cameras,
desktop computers, printers, and
appliances in recent years. A lack of
huge investment and industry
cooperation has prevented NFC
from hitting the mass market.
However, this technology is making
great progress.
There are increasing demands for interconnections
between devices, information identification, file
transfer and mobile payments. NFC on mobile
devices will become the next big thing.
NFC is now supported by all the
world's major phone makers. NFC
was not available on phones several
years ago, but it is now included in
newly released smartphones. Global
shipments of NFC handsets will
increase by 400% from 2013 to
2018, reaching 1.2 billion units,
according to HIS Technology.
The recently launched iPhone 6
includes support for NFC. According
to a report by Juniper Research, the
promise of an Apple digital wallet
will drive contactless payments. Two
of ZTE's latest high-end
smartphones nubia Z7 and Z7 Max
allow users to download UnionPay
cards and make NFC payments and
remote payments.
Visa has teamed up with telecom
operators such as Vodafone, Orange
and Telecom Italia on NFC payments.
MasterCard Worldwide is also
dedicated to pushing forward
contactless payment and has
partnered with Deutsche Telekom,
Telefonica and Vodafone.
Improvements have also been made
in mobile payment security. The
latest security technology is host
card emulation (HCE), which was
released in late 2013 by Google for
Android. HCE allows NFC
applications on Android devices to
emulate smart cards and financial
institutions to host payment
accounts in a virtual cloud, making
mobile payments more convenient.
NFC has already taken off in a
number of markets worldwide. In
Australia, Singapore, the US, Brazil
and some Western European
countries, a large number of physical
stores have already adopted NFC
payment. It is expected there will be
a great increase in the total
spending done with NFC mobile
payments in the near future.
We can look forward to a day in the
near future when NFC functions
become widespread, which could
even include intelligent home
appliance interconnection
management.
13
FOCUS
THE RISE OF
BIOMETRICS
There are increasing demands for more powerful and intelligent functions, higher
levels of security, and tailored services on smartphones. This has become a driving
force behind the revolution of many technologies, among which biometrics is gaining
traction.
Voice Recognition
Voice recognition is the process of
automatically recognizing who is speaking
by using the speaker-specific information
included in speech waves. These waves
can reflect physical and behavioral
characteristics that can be used to verify
the identity of a person accessing a
system. It is now mostly used for screen
unlock and photo shooting on a
smartphone.
Voiceprint unlock
Compared to other screen unlock
methods, voiceprint unlock is an
interesting and convenient way to unlock a
smartphone. It has been added to ZTE
Grand S II and ZTE STAR 1.
Voiceprint unlock involves two steps. First,
you need to set the unlock method to
voiceprint and record your voice three to
five times to confirm your voiceprint.
Upon successful setup, you can wake up
the screen by slightly tapping it and say
the password. This unlocks the
smartphone.
Voiceprint is a hands-free way to unlock
your phone. It is convenient, accurate and
secure, and the unlock process is smooth
and rapid. However, it is difficult to use in noisy
environments now, may be inconvenient in certain
quiet situations, such as a meeting, and it cannot
detect dialects and accents well.
Voiceprint-activated shooting
Using your voiceprint to take pictures is a whole new
application. Voice-activated camera has been widely
used by Apple, Samsung and ZTE, but there are no
handset models with voiceprint-activated camera on
the market so far. Voice-activated shooting allows you
to take selfies or group photos by saying something
like "cheese!" It also avoids vibration because when
you press the shutter button to take a photo, the lens
shakes a bit. However, this function has some
weaknesses that cannot be ignored. The camera easily
fails to recognize a shooting command in a noisy place.
Worse still, when multiple people are involved and
give shooting commands, the camera may take
multiple photos continuously. This leads to excessively
high memory usage of the smartphone. These
problems can be resolved if voiceprint-activated
shooting is enabled. Unlike voice, voiceprint is both
semantically and acoustically recognizable. Its
uniqueness allows a terminal to effectively recognize
commands from its owner.
At present, voice-control technology is relatively
sophisticated. However, problems facing this
technology are also very evident, which affects user
experience and loyalty. Voiceprint technology will
address these major problems in the future.
In addition, voiceprints can also be used for file and
application encryption/decryption as well as
application login. It prevents user passwords from
being stolen or cracked, guaranteeing user privacy and
information security.
There is a promising future of voiceprints in the
encryption field, and it is even possible to implement
voiceprint-based mobile payment.
14
FOCUS
Powerful
Performance
ZMAX has a Qualcomm
Snapdragon 1.2 GHz
quad-core processor
with 2 GB RAM and 16
GB ROM, empowering
the phone to run apps,
games and videos
smoothly. The 3400
mAh battery ensures
your smartphone never
runs out of juice. It also
complies with the IPX
waterproof
specifications, which
means there will be no
harmful effect when you
touch it with your wet
hands.
15
FOCUS
Impressive
Camera
ZMAX has a rear-facing
8-megapixel camera. An
8-megapixel camera has
a larger sensor than a
13-megapixel camera
and achieves a good
balance between pixel
count and image quality.
The camera's low-light
image capture abilities
impress users most. You
can shoot clear pictures
even when on the street
at night. The picture will
not blur from a slow
shutter. The phone
performs well in lowlight imaging, noise
reduction and detail
reproduction.
16
FOCUS
Facial Recognition
Facial recognition is a biometric
technology used to identify individuals
according to their facial features. It is
currently used in face lock or photo
capturing on mobile devices.
Face lock, an identity verification method
based on facial recognition, is able to lock
any app, file or information for privacy and
security purposes.
The application of this technology in
mobile games allows parents to set the
time allowed for their kids to play one or
several games on smartphones. Once the
time expires, children cannot play the
games in any way. Parents are also able to
use this function for specific kids (face
based) or kids in a specific age range (age
based) to prevent them becoming
addicted to mobile games.
Facial recognition is convenient and rapid.
However, this technology has its flaws. It
may not work if light levels are too low.
Another problem is that our faces don't
always look the same. For example, it may
have trouble recognizing you, especially if
you haven't trimmed your beard in a
while. Face unlock relies on the front
camera of a smartphone. An inappropriate
camera angle or a faulty front camera
leads to unlock failures. Moreover, it takes
a long time for the camera to scan a face
during setup and unlocking.
Samsung Galaxy S has facial recognition in
the camera app. After a picture is shot, the
system allows a user to associate a picture
with contacts. After a contact is tagged for
the first time, the system automatically
recognizes your friend's face in other
photos based on their facial features,
which allows you to easily share photos.
There are many more facial recognitionbased applications. You can log in to apps
through facial verification. You can
compare the faces of you and your social network
friends or compare your faces to celebrities. It is quite
entertaining.
Iris Recognition
Iris recognition is an automated method of biometric
identification that uses mathematical patternrecognition techniques on video images of the irises of
an individual's eyes, whose complex random patterns
are unique and never change. Iris scanning from some
distance is also simple and direct and offers better
user experience.
The major roadblock for iris recognition lies in
information acquisition, and the demand on
acquisition apparatus is high. The application of this
technology in terminals is still in the conceptual age.
Industry players are making foray into it. Samsung is
now planning to extend the use of biometrics in its
mobile phones, with an emphasis on the use of human
iris recognition technology. It may bring in the
technology to its high-end phones. Google is
developing a new concept called Smart Contact Lens.
These lenses would turn the iris pattern into password
and make identifying an individual easier and faster.
The embedded capacitive sensors could ensure that it
is indeed an actual eyeball and not a glass replica. The
iPhone 6 concept by the design team of SET Solution
has an extra security feature in the form of eye
scanning. Such technology might be used by Apple as
a way to verify user identity.
Iris recognition use camera to acquire images of the
intricate structures of the iris, and it has been
considered as one of the most reliable biometrics
technologies in recent years. It is mainly used in
encryption and unlocking. Once implemented on
terminals, this technology allows a user to have more
secure and reliable smartphones that can better
protect personal information. Users will no longer
worry about the theft of personal information during
mobile payment. But this technology needs to better
deal with users who wear contact lenses or
photochromic glasses.
Fingerprint Recognition
The pattern of the ridges in the fingerprint of every
individual is different from others, which is unique and
will last for the entire life of an individual. Therefore,
people can be identified through the comparison of
their fingerprint with a pre-stored one.
Fingerprint recognition refers to the automated
method of identifying individuals based on the
patterns and minutia features of human fingerprints.
Thanks to modern integrated manufacturing
technology and research into algorithms, fingerprint
recognition technology is making its way into our daily
lives and has become the best-developed and most
popular biometrical method.
The uniqueness of human fingerprints is a convenient
way to encrypt and decrypt data and protect
information security. At present, bringing fingerprint
recognition to mobile terminals faces the problems of
reduced recognition caused by water-covered or
injured fingers, or dirt on the surface of the fingerprint
reader.
In the current market, major smartphone makers have
competed to launch fingerprint recognition phones. It
is inevitable that fingerprint recognition functionality
will be integrated into smartphones. The main
differences between these products are merely the
location of the fingerprint reader (on the home key or
the rear cover) and the way to scan fingerprints (by
pressing or sliding the finger). This technology is now
mainly used in fingerprint lock and entry into specific
scene modes or apps. It can also be applied to mobile
payment, program login, information encryption and
file encryption in the future.
17
FOCUS
THE SENSORS
ARE COMING
Sensors
Accelerometer
An accelerometer, also called a gravity
sensor, is commonly used in smart
terminals. It can detect up to 90 degrees
tilt, but a three-axis accelerometer can
detect a greater tilt of 360 degrees.
Accelerometers are mainly used to
measure the body movements of a person
and they are also used for mobile games,
position shift, pedometers and sleep
surveillance when combined with other
sensors.
Light Sensor
A light sensor, also called a photodetector,
is a sensor capable of detecting how bright
or dark the surrounding environment is.
Currently, it is mainly used to automatically
adjust the brightness of screens.
Proximity Sensor
A proximity sensor detects the presence of
nearby objects. At present, it is used to
automatically turn on or turn off the lights
on the screen during a call and perform
some air gestures.
E-Compass
An electronic compass uses the Earth's
magnetic field to determine the North
Pole with a magnetoresistive sensor. It is
not affected by network signals and can
cooperate with GPS and digital maps to
provide precise positioning and
orientation.
2013 was regarded as the "year of the wearable computing" by the industry. Since
2013, Google, Apple and Samsung have launched wearable devices. These
smartphone-centric devices are interconnected with smartphones while making them
smarter and more powerful. All these can be hardly achieved without sensors like
distance sensors, light sensors, accelerometers and electronic compasses, which have
already been widely used in high-end smartphones.
Temperature Sensor
Chemical Sensor
A temperature sensor converts temperature into an
electrical signal. An infrared temperature sensor can
detect the infrared energy radiated from human
bodies to measure body temperatures. Future
applications of temperature sensors include the
measurement of human body temperature, the
measurement of air temperature and humidity and
weather forecasts when used with humidity sensors.
A chemical sensor is an analytical device that can
provide information such as the concentration and
changes about the toxic gases or chemical
composition of the environment. It can be used to
monitor toxic and hazardous gases and detect air
pollution.
Barometric Sensor
A barometric pressure sensor may be used to monitor
the atmospheric pressure and detect changes in
weather and altitude. A GPS-enabled atmospheric
pressure sensor can also provide three-dimensional
positioning, which allows you to know which floor you
are on when you climb upstairs and what the altitude
is when you climb a mountain.
What Sensors-equipped
Smart Terminals can Do
When equipped with various sensors, smart
terminals will become more powerful and
smarter. These sensors can be controlled and
managed by a sensor hub to provide their own
functions while coordinating with each other at the
same time to turn smart terminals into
multifunctional devices. In the future, sensorsequipped smart terminals can:
1. Reduce power consumption based on how users
use them.
2. Provide navigation and precise positioning.
3. Monitor physical condition of individuals and plan
sport activities, for example, recording movements,
tracking performance, and providing instructions.
4. Detect altitude to provide three-dimensional
navigation and positioning; detect environmental
temperature and humidity, and forecast the
weather.
5. Monitor environmental quality, detect and
measure the change of the chemical composition of
the atmosphere to ensure the health of users.
6. Verify personal information and guarantee secure
payment.
7. Monitor vital signs such as heart rate and ECG.
8. Detect motions and air gestures.
Gyroscope
A gyroscope determines orientation based
on the principles of angular momentum. It
is mainly used in three-dimensional
motion-sensing operations and image
stabilization during photo shooting and
inertial navigation systems.
18
Conclusion
As science and technology evolve, smart terminals
will be able to do anything that you can imagine.
They will surely play an increasingly vital role in our
lives, becoming inseparable from us.
FOCUS
Massive 5.7-inch
Display
The ZMAX 5.7-inch
screen is 0.2 inches
bigger than that of
iPhone 6 Plus and
almost the largest
screen for a smartphone
to have. The screen
delivers stunning visual
impact and helps
improve efficiency.
Sound output is loud
and clear thanks to a
large resonator and
small hole design. This,
when complemented by
a large screen, provides
users with great
experience for playing
games or watching
movies.
19
DESIGN & ART
2014
The Year of User
Experience for ZTE
● By Xu Haojuan and Yan Hua
In 2014, the smartphone market has seen continuous
innovation. This has been accompanied by changing
consumer demands. Handset manufacturers are focusing
on user experience to differentiate themselves from the
competition.
User Requirements for a
Smartphone
Camera
The camera is one of the most-used smartphone
functions, and manufacturers have concerned
themselves with various problems related to
shooting. For example, your arm is too short to
frame a selfie; face sizes may differ greatly in a
group photo due to different distances from the
phone; photos of moving children are unclear; and
it is troublesome to manually delete unsatisfactory
photos taken in burst mode. Smartphone cameras
have improved greatly over the years, but camera
quality and features still rank highly on a consumer's
list of requirements for a smartphone.
Overall Performance
Consumers are now using cell phones to watch
videos, play games, read news, send and receive
e-mails, and do work. They expect smartphones to
have a more powerful CPU, improved screen, and
greater storage.
4G
With the worldwide
deployment of 4G
networks, consumers are
placing more importance
on 4G/LTE experience.
Meanwhile, manufacturers
focus on apps that could
fully exploit the speed
increases promised by 4G networks.
Security
The more you rely on a phone, the more you put
privacy and security at risk. Smartphone security is
now gaining traction, and fingerprint recognition
and other security applications have been
introduced to smartphones.
Convenience
Convenience is highly sought after by consumers.
Mobile apps, such as voice control and car
navigation, offer a convenient hands-free method
for interacting with your smartphone and are
attracting more consumers.
Battery life
Battery life is a bottleneck in overall satisfaction and
is also a weakness for smartphones. Mobile power
banks have become a must. Wireless charging is
also catching on with smartphones.
ZTE's Consumer-Centric Strategy
In 2014, ZTE renewed its focus on consumer needs.
Zeng Xuezhong, the new global head of mobile
devices, assumed the role of Chief Experience
Officer in a quest to improve user experience across
ZTE's product line.
ZTE has changed the previous operator-oriented to
the customer-centric R&D model. It has a better
structure that makes consumer focus a more
organic part of ZTE's product strategy. It
The pink version of ZTE STAR 1 is popular with consumers. It was
first launched in China in April 2014 and later arrived in a number
of other countries, including Malaysia, Thailand and Indonesia.
20
DESIGN & ART
Diversified Camera Functions
The nubia series has highly distinctive
camera functions. Its Pro mode brings the
core functions of a professional SLR into
the phone. The nubia Z7 Max, launched in
2014, has some interesting photo
functions such as star cloud, star track
and light track. Light track uses the Bulb
function to get an exposure long enough
to capture movement in low light.
MiFavor UI 3.0
Manufacturers hope to create their own
unique and distinctive UIs so that users
can identify themselves instantly and,
more importantly, have a more
comfortable experience. ZTE's MiFavor UI
has eliminated the inconveniences that
exist in various other UIs. In October
2014, ZTE launched its first ROM, MiFavor
3.0. It is concise, personalized and
exquisite, and will greatly enhance user
experience.
Mobile Security
incorporates feedback from consumers into product
planning, development, and design. An iterative and
incremental approach was followed to the agile
development of the user experience.
ZTE conducts in-depth studies on consumer behavior of
various groups. It divides users into young consumers,
sports fans, entertainment enthusiasts, and older
consumers. ZTE also creates its own analytical models
based on user segmentation.
ZTE's User Experience Achievements
Handset manufacturers put a lot of effort into creating
better experience. In 2014, ZTE mobile devices have
also made significant breakthroughs in user experience
design.
In the ICT era, there is an integration of
cloud, pipe, and devices. In the era of the
Internet of Things, connectivity will
become ubiquitous. When the virtual
world and real life converge, people will
attach greater importance to security,
privacy, and convenience. For example, as
mobile payment becomes more popular,
mobile security will become a key feature
built into phones. An industrial chain that
involves merchants, third-party payment
companies, and security software vendors
will be formed.
ZTE addresses the security issue by
proposing a "ten defense" concept, which
includes anti-wiretapping, anti-phishing,
anti-tracking, anti-theft, hidden cost
avoidance, anti-fraud, anti-virus, antiharassment, anti-rogue, and slowdown
prevention functions. In addition, ZTE
launched the industry-leading secret code
feature that uses a combination of
software and hardware. This application is
ZTE pays great attention to
mobile security.
Light track taken by
nubia Z7 Max
used for data encryption and
decryption and has more than
six patents and advanced
encryption algorithms. These
security features are already
available on ZTE Grand S II,
which was sold in China. More
innovations with regard to
mobile phone security are
expected for the future.
Voice Control
Voice control is another major
trend in cell phones. ZTE works
diligently to incorporate voice
technologies into
smartphones. ZTE's latest voice
processing technology is
exemplified in STAR 1's suite of
voice control features. These
features include voiceprint
unlock, noise cancellation with
a three-microphone setup,
directional recording (picking
up sounds from one meter
away), and car mode
application. ZTE will continue
to launch more and better
voice functions to take user
experience to a new level.
21
DESIGN & ART
Android Lollipop:
A Whole New
Look and Feel
Google recently announced Android 5.0
Lollipop, a brand new Android system
with a revamped user interface. What
surprises does this OS offer?
In October, Google unveiled its
newest mobile operating
system: Android 5.0 Lollipop.
Google previewed Lollipop (then
known as Android L) back at
Google I/O. It has been three
years since Android 4.0 was
unveiled. Although Android 4.0
has been updated a number of
times, few people really know
the differences between them.
Google needs a revolutionary
change like the upgrade from
iOS 7 to iOS 8 to show that
Android can keep up with
trends. Google has not failed.
Lollipop has some of the biggest
changes since Android was born,
and it can be regarded as a
completely new Android OS.
The three main problems you
might encounter when using an
Android phone are unfriendly
user interface, sluggish
performance, and short battery
life. Android Lollipop has
significant improvements in
terms of these three aspects.
Android OS: From 4.0 to 5.0
First Impressions of Android Lollipop
Compared with iOS 7, Android
Lollipop has a flatter look. It
features straight lines and right
angles. Icons are flattened and
animations and shadow effects are
excellent. Although Android
Lollipop supports 64-bit processors,
this does not give it an advantage
22
because 64-bit mobile phones are
not common yet. However, Android
Runtime (ART) included in the OS
improves the system's
performance. ART compiles apps
upon installation. This means a
slightly longer installation time and
slightly larger memory footprint.
However, these trade-offs are small
when compared with the increase
in efficiency. It is expected that
Android Lollipop will perform even
better as 64-bit mobile phones
become prevalent and the system
is even further optimized in early
2015.
DESIGN & ART
As shown in the above pictures, the entertainment system UI is user-friendly. The multi-tasking cards are scrollable.
Highlights of the Design
■ New Design Language
The design language used by Android Lollipop is
referred to as the "material design." Material
design is a complete design philosophy for visual,
motion, and interaction design across platforms
and devices. The new layout is flatter and multilayered. It also has more color, depth, and
animation. Geometric shapes and shadows are
used to indicate what can be touched. The things
you touch are also animated. Google says the
material design is more responsive and fluid and
the motions are natural. The design also has
many new gestures so that a user can access
apps or functions with a double tap or slide. This
is convenient for users of large-screen mobile
phones.
■ ART Runtime
ART runtime is a major upgrade at the system
core. Android used to be widely blamed for
inconsistent performance because apps ran in
the Dalvik virtual machine, which made them
inefficient. Android Lollipop replaces Dalvik with
ART. Unlike Dalvik, which is only a just-in-time
compilation, ART can run the app immediately
after it is complied and installed. It means
significant increase on speed and performance
and power reduction at the same time. It's also
more memory-efficient, and crucially for the
future, compatible with 64-bit chips.
■ Longer Battery Life
Android consumes more power than iOS because
of its energy management scheme and
optimization level. With Android Lollipop, the
battery needs to keep up with the faster
performance. The OS features Project Volta,
which improves battery life, as well as a battery
extender system called Battery Saver, which
makes the most out of a dying battery. These two
features extend the life of your device by up to
90 minutes. The OS also shows you a time
estimate when you're charging your device, so
you can see how much longer it will take to reach
full capacity. Additionally, your phone will also let
you know approximately how much time you've
got before your phone dies.
■ Enhanced Notifications
Notifications in Android Lollipop have been
greatly improved. Notifications are embedded in
the lock screen, so you can swipe down a list to
see all your recent messages and quickly respond
to or delete them. Additionally, notifications will
show up as a pop-up tile while you're in another
app. Android Lollipop also lets you decide which
notifications you want to see on your lock screen,
so if you have sensitive information or don't want
others to see your texts, you'll be able to hide
sensitive content. The new OS features Priority
mode, which you can enable with your phone's
volume button. Once you've turned it on, only
select contacts will be able to reach you.
Four major advantages of
Android Lollipop ensure a
refreshed user experience.
More beautiful, more user-friendly, more efficient, and more power-saving
23
DESIGN & ART
ZTE STAR 1, also known as the
most "obedient" phone
ZTE's Unprecedented
ZTE's voice service experience zone
at PT/Expo Comm China 2014
Smart Voice Services
● By Zeng Yiting
At the PT/Expo Comm China 2014
held from September 23 to 27 in
Beijing, ZTE unveiled the industry's
first system-level voice service. It is
integrated into ZTE STAR 1, which
is known as the most "obedient"
phone. ZTE has broken the technical
barriers to make the voice service
a part of the entire smartphone
system instead of a separate app.
Anytime, Anywhere
The most challenging thing about
the integration of smartphones and
voice services is how to initiate the
service. All existing voice apps on
the market must be started first
before the services can be used
and they stop functioning after the
user has exited them. This hinders
a user from using the voice service
smoothly. However, if the voice app
runs in the background waiting for
commands from the user, power
consumption increases, and this
drains the battery. What's worse,
the voice app is automatically
disabled when the screen is locked.
By cooperating with chip
manufacturers, ZTE has developed
the industry's first hardware-based
system-level voice app that can
wake the phone up in an energyefficient way. You can initiate the
voice service simply by gently saying
"Hello ZTE." The voice service
activates regardless of which
interface you are using or whether
your screen is locked.
24
In 2011, Apple launched voice controlled assistant Siri alongside the iPhone 4S. Siri has had
a big impact. For the first time ever, people are starting to see smartphones as an intelligent
personal assistant rather than just a lifeless machine. In no time, companies have rolled out
competing products. However, these voice apps are so similar that they are easily put behind.
Like two crossed lines, smartphones and voice apps came together, and then went their
separate ways.
Only at Your Commands
The voiceprint of every individual
is unique. The voice app of ZTE has
voiceprint recognition technology so
that it can automatically recognize
who is speaking. It responds only to
the voice of its owner.
Codes to Protect Your Privacy
You may feel awkward when you
are using the voice services in the
public. ZTE STAR 1 provides an
interesting codeword function that
allows you to define the actions
corresponding to your voice
command. For example, you can set
"Alibaba" as the code to call your
father; when you say "Alibaba," your
phone will automatically call your
father.
Motion Activated Voice Dialing
Hands-free Navigation
Searching from a long contact list
can be troublesome. ZTE STAR
1 provides a user with a motion
sensing voice dialing function, which
allows you to make a call simply by
taking out your phone, unlocking
it, putting it to your ear, and saying
the number or name. It is very
convenient.
It is dangerous to use your phone
while driving. With ZTE's smart voice
services, you only need to say your
destination and your phone will
automatically find it and give you
directions. To minimize distractions
when you are driving, you can ask the
phone to answer calls, read your short
messages, place calls, and play music.
DESIGN & ART
The Art of Interaction
in Monument Valley
Optical Illusions
The most important element in
this game is optical illusions. The
game puts you in control of a
character named Ida, who you
move through various temples
and castles, each with its own
uniquely impossible design.
Viewed from a fixed isometric
perspective, the buildings conceal
all sorts of perspective trickery.
You need to rearrange planes,
twist levers and rotate buildings to
find a path.
● By Liang Zhen
Monument Valley is a puzzle game based on optical illusion and impossible
objects. It is a work of art, with its intelligent design, beautiful soundtrack and
attractive storyline. The game has great interaction designs.
Tips
Monument Valley was inspired by
the impossible illustrations of M.C.
Escher. Ascending and descending
is one of the works of Escher. It
depicts a large building roofed
by a never-ending staircase. Two
lines of identically dressed men
appear on the staircase, with one
line ascending while the other
descending. However, both lines
of people return to the original
places without changing the
vertical direction.
Simple Operation
The game is easy to start as it
provides a simple scene at the
beginning for you to get familiar
with. When you solve part of the
puzzle, a light is lit, and when you
finish a path, the door you have
just come through closes to avoid
unnecessary backtracking. There
are only one or two dynamic
elements to direct users to the
next step.
User interfaces sometimes are
designed with too many entrances
and functions, which may confuse
users. They need to be made
simple and concise.
Frustration Free
The player-character Ida does
not start over again if you fail.
You simply need to keep trying
until you find the right path. Also
when an intended step does not
succeed, the game would not give
an error prompt as other games
would do. Instead, Ida walks to
the closest point to the one you
meant for her to go so that you
will not get frustrated.
Helping users complete their
desired operations can improve
user experience. For example,
in earlier versions of Android,
if you move an icon on the
home screen to a new location
already occupied by another
icon, an error prompt will appear.
However, in later versions, the
existing icon moves automatically.
An Enjoyable Journey
Monument Valley presents
unimaginable scenes at each
level. Level 8 is a typical example:
The scenes are hidden in a box,
and different sections appear
when the player opens the box
from different angles and in
different ways. Also, the camera
button automatically appears
when you finish a level, which
allows you to take screenshots
and share your achievements.
Ascending and descending
25
MOBILE APP
Smartphone screens are getting
bigger; cloud services are becoming
more popular; and network speeds
are getting faster. All these mean that
smartphones are more capable of
satisfying your work needs. Most
tasks that used to be completed only
on a PC can now be accomplished on
a smartphone. You can now go on a
business trip without your PC.
How to Work on the Go
like a Professional
Key Tools for a Mobile Office
Microsoft Office Mobile
This is the official Office companion optimized
for Android phones. You can access, view and
edit Microsoft Word, Excel and PowerPoint files
from virtually anywhere. MS Office Mobile is
cloud-connected, which means you can also
access Office documents stored on OneDrive
and a document will automatically resume at
the place where you left off reading, even if you
last reviewed the document on your PC or a
different device.
26
Microsoft OneNote
This is the perfect choice for free-form information
gathering and multi-user collaboration. OneNote
helps you organize or record important notes
(handwritten or typed), drawings, screen clippings
and audio. It records information through manual
input, voice recording, or photographing and
synchronizes the recorded contents across devices.
These contents can be accessed anytime,
anywhere and can also be shared with other
OneNote users.
Mindjet Maps
You may be inspired when you are wandering in
the park—this is when you need Mindjet. Its
information mapping uses visual framework to
let you capture ideas, organize information, and
add hyperlinks, attachments, notes and images
to provide context, all within a single shared
view. By creating these interactive maps, you
can quickly gain clarity on problems and
opportunities. Mindjet Maps synchronizes
updates in both cell phones and PCs.
MOBILE APP
Read and Scan as You Need
CamCard
DocScanner
CamCard enables you to scan, manage,
sync, and exchange business cards. You can
exchange electronic business cards securely
when meeting new people. This app syncs
all your cards across smartphones, tablets,
computers and the web app. It allows you
to better demonstrate yourself, your
products and company by adding images,
text and videos to your profile. It also keeps
you posted with the latest updates of your
business contacts.
With DocScanner, you can turn any document into
a PDF simply by snapping a photo. It has a clean
interface and produces high-quality images. It
avoids after-scanning document adjustment and
has batch scan and auto-sort function, which
helps you to be more productive. With optical
character recognition (OCR), DoScanner converts
documents into plain text. Once the OCR has
extracted the text, it is pasted onto the PDF as
metadata. This way you can make your documents
searchable on any laptop or PC.
Efficient Task Management
Any.do Task & To-Do List
Any.do helps you remember everything you need
and ensures it gets done. It supports voice-to-text
input and automatically converts your words into
text in almost any language. You can also drag and
drop to plan your agenda, swipe off a task to mark
it as completed and shake your phone to clear
your completed tasks. With Any.do, you can not
only seamlessly synchronize data across devices,
but also share the to-do list with your friends for
collaboration.
Mailbox
Sol Calendar
Teambition
Google Cloud Print
Mailbox is an app that redesigns your inbox to
make email light, fast and mobile-friendly. The
ability to "snooze" an email, which is to defer it to
another time, is one of the main features of the
app. The other strong point is its use of gestural
swipes for quickly archiving, deleting and filing
messages or adding them to lists, such as "read",
or "buy". Mailbox learns from your swipes and
snoozes to automate common actions with Autoswipe.
Sol calendar is a powerful calendar app that goes
beyond the functionality of your standard device
calendar. Its outstanding feature is widget
integration: you can have 40 widget options for
your home screen. It also provides real-time
weather reporting and weather forecasting. The
locations you added for a certain event can be
displayed simultaneously on Google Maps. You can
also add stickers to events for a more picturesque
representation of an appointment. It works with
Google Calendar.
Transcending Space
TeamViewer
If the software you need can only be used on PCs
and you are not in the office, TeamViewer is the
app you need to control your office PC from your
mobile device. It allows you to access Windows,
Mac, and Linux systems quickly and safely. The
app enables you to control remote computers as
well as transferring files to and from remote
computers. It started as an application for desktop
and is available for mobile platforms as well.
Teambition is an easy-to-use, efficient project
collaboration tool. Teambition provides each
project three cooperating apps: Wall, Board and
Library. Wall allows every project member to know
what is happening in real time. Board is the place
where members collaborate on all tasks in a
project. Library stores all files of a project safely in
the cloud for members to view and discuss at any
time.
Google Cloud Print allows you to print over the
web from anywhere, including your phone, to any
printer. You can also save your document as a PDF
in Google Drive. After installation, you can use
Google Cloud Print to print a document from
other apps: tap the share button and share the
document to the Cloud Print app. You'll then be
able to print. You can also share your printer with
anyone.
27
SMART GADGETS
Android Auto: The Beginning
of a Smart Car Era
Android Enters Cars
What is Android Auto?
Android Auto is a voice-enabled
in-car system launched at the
Google I/O Conference for
Developers in June 2014. It has
powerful voice recognition that
satisfies a driver's communication,
navigation, and entertainment
needs on the road. The drivers
can simply talk to their cars.
What does a Smart Car Look
Like?
In the past, a car had a
sophisticated center console with
various buttons. In a smart car,
buttons are replaced by a touch
screen and emphasis is put on
voice control. This means the
driver is less distracted. With
powerful networking and cloud
services, a smart car can follow
your instructions to make phone
calls, send text messages, play
music, and help you bypass heavy
traffic. The most attractive part
of a smart car is that all functions
are enabled by apps on your
smartphone. As long as you keep
your apps and phone up to date,
your car will become smarter and
smarter.
phone to the car and the car's
center display becomes a largescreen interface for the phone.
Before using your car, use your
smartphone apps to prepare
everything you need for the road;
then you can have a smart, safe
journey.
How does a Smart Car Work?
A smart car relies on an Android
phone. Connect an Android
A presenter demonstrates Android
Auto on stage at the Google I/O.
You can control the car through a
smartphone.
Seamless Integration
Smartphone Makes
a Smart Car
Audi A3 was one of the smart car models demonstrated at Google I/O. It has a large
screen on the car's dashboard and can be controlled by voice commands.
Audi is among the first to commit to Android Auto.
28
A smart car does not require
its own processor, operating
system, or network connectivity.
All your car needs is a good user
interface, and all the work can
be left to an Android phone. As
long as both your car and phone
support Android Auto, all the
contents of the phone can be
projected onto the touch-screen
in the car. The driver only has
to plug in the smartphone, start
the car, and tell the car what to
do.
SMART GADGETS
The Future Awaits
Growing Maturity of
the Smart Car Industry
If you are stuck in a traffic jam, you could yell to your car and it will find
the optimal way out. If not, it can find entertainment for you.
You can keep hands on the wheel
and give voice commands.
Voice-Enabled
A Car that Understands You
When driving, any additional
operation that involves hands is
dangerous; this is why Android
Auto is entirely voice-enabled.
Thanks to Google's strength
in voice recognition, search
and cloud services, the voice
recognition is very accurate and
the level of intelligence is high.
Rather than speaking an exact
destination, you could simply
ask "Are there any interesting
places in this area?" Android
Auto will search and make
recommendations.
You can ask Android Auto to play
music.
Smart Entertainment
A Car has All the Functions
of a Smartphone
People commonly listen to
music while driving, so Android
Auto's primary entertainment
function is music player.
Google's default player, Google
Music, has been adapted with
special on-screen controls that
make it easier to skip tracks,
access playlists, and give music
a quick thumbs-up or thumbsdown. The software supports
other popular music apps, such
as Spotify and Pandora, and can
also play whatever you have
stored in your media library.
You can ask it to navigate to
certain places.
Smart Navigation
Supported by Cloud
Services and Google Maps
Navigation is the most
important function for a smart
car and an essential foundation
for automatic driving in the
future. Google Maps is the best
mapping service so far. It is
free and offers real-time traffic
analysis and guidance. There
is a completely voice-enabled
version of Google Maps for
Android Auto. You might say
"Oops, wrong way," and the
system will answer "Don't worry,
I'll find the right way."
Major car manufacturers
such as Chrysler, Ford,
General Motors, Honda,
Hyundai, Nissan and
Volkswagen have signed
on to support Android
Auto. With this support,
smart cars will become
more popular in 2015.
Just like Android, Google
Smart Car will be a unified
standard. The efforts of
third-party developers are
also needed to produce
more compatible apps.
Suppose you yell to the
car: "We are stuck," and
the car answers "There is
a serious accident three
kilometers ahead. You may
have to wait another hour.
Do you want to play some
music?"
Competition Between
Two Camps
Apple's CarPlay system was
released before Google
Auto and is supported by
some auto makers. Both
systems work almost
the same; that is, they
project your smartphone
experience onto an incar display. In the future,
Google and Apple will
compete for the support
of car manufacturers.
Services for smart cars and
the ecology of apps are
also crucial. These have
been Apple's strengths,
but Google has the real
opportunity to take over.
29
SMART GADGETS
Toys that Go with
Smartphones
Toys used to be controlled
by a motherboard, and
they could follow simple
commands. Nowadays, a
smartphone can be used
as the brains of a toy.
You can perform multitouch operations on a
smartphone and stream
live videos from a toy to
a smartphone. You can
upgrade the "brains"
of these toys by simply
downloading the latest
instructions or even
create your own games by
programming. You can also
interact with fans around
the world and share your
creations with them.
In the Air and on the Ground
Rolling Spider
Remote Control Aircraft
Rolling Spider is an ultra-compact
drone with amazing stability and
speed. It has an ultrasonic sensor,
tri-axial gyroscope and tri-axial
accelerometer for stable flight.
The FreeFlight 3 app enables
your smartphone to control
the Rolling Spider so that it can
turn 90° and 180° and perform
acrobatic 360° forward and
backward flips. With removable
wheels, Rolling Spider can roll
anywhere, even across the
ceiling. The coolest part is that it
can take aerial photos with the
embedded vertical mini-camera.
Jumping Sumo
Robot Chariot
Jumping Sumo is a two-wheeled
robot. Like the Segway electric
scooter, it features autobalancing. This smartphone
controlled drone rolls, rushes,
zig-zags, circles, takes turns at
90°, and can even bounce up 80
cm into the air and land on its
shock-absorbing wheels. It has a
spring-loaded tail that allows it
to push away any obstacles in its
path. Jumping Sumo has a wide
viewing angle camera mounted
in its nose that streams live video
to the smartphone or stores the
video in a USB disk.
Both the Rolling Spider in the
upper left and the Jumping
Sumo in the lower right can
generate their own Wi-Fi 2.4
GHz or 5 GHz network to which
you connect your smartphone.
Robot Revolution
LEGO MINDSTORMS EV3
Combining the versatility of
the LEGO bricks with the most
advanced technology, LEGO
MINDSTORMS EV3 enables you to
command robots to walk, talk, and
think via your smartphone. You can
follow the 3D building instructions
and create five different robots.
Want to share your own creations
and be inspired by others? Use
your smartphone to logon to
LEGO.com/mindstorms to access
loads of cool content and interact
with a huge online community of
other LEGO MINDSTORMS fans.
30
SMART GADGETS
THE INCREDIBLE
CYLINDER
Orbotix Ollie
Orbotix Ollie is the newer
trick-focused version of the
company's first robotic toy:
Sphero. Ollie is agile and
performs much better than
Sphero thanks to its cylindrical
design, which enables a player
to control the app-powered
tricks better like flips or spins
on one wheel. When looking at
Ollie, you immediately notice
all the LEDs in the center. They
blink and shine and flash as
you wake up Ollie and perform
tricks. The LED lights go blue
when it spins and red when it
brakes.
Ollie is customizable, letting you
buy different sets of tires and
hubcaps for various types of
driving. You can even 3D print
your own customized hubcaps.
Ollie uses Bluetooth to connect
to smartphones. You can charge
Ollie via the included micro USB
cord. In addition to the execute
app released by Orbotix,
three third-party apps are also
available to enhance the play
experience.
Balancing Robot
An Intelligent Companion
TOYS SUITABLE FOR
TABLETS
Crayola Virtual Design Pro
Crayola Virtual Design Pro Fashion
Collection comes with dozens of
colored pencils, a 20-page fashion
design book and an app. To get
started, use the colored pencils to
customize the fashion templates
in the accompanying book with
your own patterns, colors, style
lines, and compositions. When
a design is finished, it's ready to
come to life in the virtual world.
Use a compatible device to quickly
scan the design into the My Virtual
Fashion Show app. The design
then appears on a virtual model.
Customize your model's look and
add accessories, then watch as the
model walks down a virtual runway.
You can even take a photo of the
model and put it on a magazine
cover. In addition to the fashion
collection, a car collection is also
available.
Modular Robotics
Ozobot
WowWee MiP
The most impressive feature of
the MiP robot is its self-balancing
ability. When you put things on
the arms of the robot, it can carry
them without falling over thanks to
its dual wheel balancing system. In
default, MiP responds to claps and
other hand gestures. Moving to
other modes is as simple as rotating
one of the wheels; a Track setting
tells MiP to follow the movements
of your hand. Put the robot in Roam
mode and it moves around and
intelligently avoids obstacles. Using
WowWee's mobile app, you can tell
it to fight other MiPs.
Tyche Smartphone Robot
Tyche is an intelligent
smartphone robot. When you
put your smartphone on a car
frame and start the right app,
you bring life to the robot car.
You can customize its faces so
that it can chat with you with
a variety of facial expressions.
It can also recognize faces and
call your name accurately and
automatically. You can even set
routes based on the floor plan
of your house so that the robot
can find you and let you know
any incoming short message or
that the alarm is ringing.
MOSS Robot Construction System
MOSS is a modular robot construction
system. Each block is a different part
of a robot and has a specific function.
Over-molded magnets inside the
corners of each block's ABS plastic
shell provide connection points for
inert steel spheres, bridging the gap
between each block. You can build
your own robot with MOSS by simply
snapping pieces together. The intuitive,
fun and kinematic robot construction
system requires no coding and nothing
else except your imagination. If you
build a racing car, you can control it
and move it forward or backward with
your smartphone app.
This 1-inch "small guy" is designed
exclusively for tablets. When you
put Ozobot on a tablet screen,
it tracks lines to follow a path by
reading different colors on the line
and adjusting its behavior. It can
adjust its speed, direction and path
finding. Another feature of Ozobot
is that it happily follows lines on
any surface, from a circuit on the
tablet screen to a physically drawn
path on the table or a paperboard.
However, no tablet games can be
downloaded to go with the Ozobot
if it is played on the table. With
more than a million different code
combinations, the little robot can
be used in all sorts of different
scenarios. Several friends can play
a maze game to see whose Ozobot
finds its way out of the maze first.
31
FASHION
Hi-Tech Gadgets
for Happy Cycling
How can you make your ride safer and more enjoyable in a
technology-dominated age? There are several cool biking gadgets
designed to help you exercise better.
PREPARATIONS
If you ask a cyclist about the preparations they make before setting off on a ride, they'll tell you
that they adjust the peddles, seat and handlebars for safety and comfort. However, here we
discuss a different kind of preparation, made with the help of technology, to make your route
more interesting and informative.
iRiver On: Smart Exercise Headset
The iRiver On Bluetooth headset,
equipped with sensor technology, can
measure real-time biometric data, and
display the data on the user's paired
smartphone via an accompanying app.
When used as a training aid, the app
will give voice prompts as you exercise,
making cycling more scientific and safer.
Garmin Edge 810: GPS Bike
Computer
This device can be fixed to a bicycle
handlebar to record comprehensive
ride data including distance, speed
metrics, ascent/descent and grade.
Besides providing navigation, it could be
customized based on your training needs,
to make the most of every ride.
You Could also Buy These
Stay Safe
Blaze Laserlight
Blaze Laserlight is mounted on the handlebars
and has an integrated laser beam to project
an image of a bicycle approximately five
meters ahead of the cyclist. The image warns
motorists that the cyclist is there. This device is
waterproof, USB compatible, and can be used
for 13 hours.
Capture and Share
GoPro HERO3+ Black Edition HD Action
Camera
Abundant Power
nubia Mobile Power Pack
This captures astonishing 4K video and the new
SuperView mode offers an ultra-wide angle
perspective. You can install the GoPro app on your
phone. This app enables content preview, playback,
and sharing on your smartphone.
It's a pity you can't use your digital
devices while cycling because the
battery is low. The high-quality 7800
mAh nubia mobile power pack with a
Li-polymer cell is a must for cycling.
32
FASHION
Garmin Edge 1000
Edge 1000 has a 3-inch screen and
battery life of up to 15 hours. It also
enables route planning. The device is
Wi-Fi compatible, which enables easy
upload of your data to Garmin Connect
mobile app. Garmin Edge 100 integrates
with Shimano Di2 electronic shifting
systems to display your current gear on
the screen and is water resistant to IPX7
standard. In addition, it is compatible
with power meters and heart rate
monitor, so you can stay informed about
your fitness.
SONY NWZ-WH Series:
Headband Type MP3 Player
This is not simply a headset. You
can hang it around your neck
for personal surround sound,
allowing you to enjoy music while
hearing the outside sounds. It fits
securely for cycling.
Garmin Premium Heart Rate
Monitor
You Could also Buy These
Ensure Safety
Fenix BTR20 Rechargeable
LED Bike Light
Exercise Monitoring
4iiii Sportiiiis Heads Up
Display (HUD) System
This device is attached to the
earpiece of a pair of sunglasses
and turns ordinary sunglasses
into heads up display eyewear
for cyclists. The system uses
a simple LED notification
system that informs the wearer
whether they're within a preconfigured optimum workout
zone.
Rotor Power Meter
For professional cyclists who
pursue scientific exercise
and want to improve their
cycling techniques, Garmin,
SUUNTO and other bike
computers can be used to
measure independently the
left and right pedal as well
as the balance between your
right and left leg.
.
A traditional clampon power meter cannot
measure the power of the
left and right foot separately.
However, the Rotor Power
Meter can independently
measure the power of the
left and right foot on each
crank arm. It is compatible
with BB30/PF30 and can be
installed on almost any bike.
Heart rate monitors are indispensable
for sports-minded people. If you set
a maximum heart rate, the monitor
can display how hard you have been
working as a percentage of your
maximum rate. This helps you analyze
the effectiveness of your training in a
scientific way.
This features a dual distance beam
system, neutral white output up to 800
lumens, four brightness levels, and one
flashing mode. It has the advantages
of strong penetration and good color
rendering. It can be operated by a pressswitch or a remote pressure switch.
This device helps to identify outdoor
conditions so as to guarantee safe
cycling.
Bonus
Cycling Recorder
Fly6 Bicycle Camera and
Rear Light
Fly6 supports 32 GB storage
expansion and can record
videos at 720p for up to five
hours. It includes incidentcapture protection, and in the
event of an accident, where the
bike is tipped past 45 degrees
for more than three seconds,
the software shuts the camera
down in an hour.
Tips
ANT+ is an ultra low-power version
of the ANT transmission protocol
and was developed for health, fitness
and sports. With a button cell battery,
an ANT+ sensor can transmit data
wirelessly over short distances to ANT+
compatible receivers for a long time.
Such receivers include heart rate
monitors, pedometers, and
power meters.
33
FASHION
Mobile Phones can
Look After Plants
Smartphones can take care
of your plants in real time
when used with a smart
irrigation system. Smart
gardening enables your
plants to thrive even if they
are left unattended.
Gardening Made
Easy and Smart
What are the consequences if the average temperature reaches 38°C in summer and no one
takes care of your plants on the balcony for several weeks? A good gardener would never let
this happen. With your mobile phone, you can water your plants and know the soil conditions,
temperature, and light at any time, even when you are away on a trip.
Watering by Phone
Issue Commands at Any Time
Iro: Smart Sprinkler Controller
If you are going away for a long time,
you may be worried that your plants will
die. A Denver startup called Rachio has
created Iro, a retro-fit smart sprinkler
controller, which controls the sprinklers
valves according to commands from a
mobile app. This Wi-Fi enabled box adds
brain to the otherwise dumb centralized
sprinkler system.
Iro knows about weather and
34
seasonality and adjust
automatically the
watering schedule based
on a variety of variables
including weather and
soil moisture. You can use
your device to monitor or
customize the automated
watering schedule. If you
want to water your plants
more, you can manually
open the valves.
FASHION
More than Irrigation
Bring Smart Home
Eve Ecosystem: A Smart Irrigation System
Unlike other smart irrigation products that operate individually, the
Eve ecosystem works collaboratively.
It consists of the Eve Irrigation controller, the Adam moisture
sensor, and a set of sprinklers directly connected to the controller.
Put a few Adam wireless moisture sensors
around the yard. Adam constantly
monitors moisture levels so that Eve
knows when and for how long to water
within a time window that you set. Eve
can be accessed or controlled via a
smartphone app.
Eve also connects to a home automation
hub (SmartThings) to download the
weather forecast and optimize watering.
If rain is forecasted, Eve might skip
watering. For high temperatures, Eve may
water a little longer; it all depends on
conditions in your yard.
Grow Vegetables in the Office
Thanks to the rapid development
of smartphones, mobile Internet,
cloud computing, and various
sensors, planting has now become
controllable. Even if you are a
layman, you can also become an
experienced gardener with the
help of your phone and plant
sensor.
Parrot Flower Power
Monitoring Health of Plants
If you are an experienced gardener,
you know that watering is not the
only aspect to gardening. Like pet
dogs and cats, some plants are
delicate and need extra care. Parrot
Flower Power is a gadget that
connects to your smartphone and helps keep
your plants healthy thanks to a dedicated app.
It has four embedded sensors to measure
soil moisture, fertilizer levels, light intensity
and ambient temperature. These sensors
record soil conditions and shares the data
with a mobile
app on your
smartphone.
The data is
sent to the
cloud for
analysis before
coming back
to your mobile device so you can know the
exact requirements of your plants. Follow
the changes in your garden directly or simply
consult Parrot's vast database. Parrot Flower
Power has a database of more than 7,000
plants.
Niwa: Smartphone Controlled Growing System
If you are a workaholic who practically lives in your office, Niwa allows
you to grow your own garden in the office. Niwa is an automated
hydroponic system that you can use to plant flowers, fruits, and
vegetables. It attends
to all of your plants'
needs so you don't
have to. Niwa uses
an array of sensors
and actuators to
create the perfect
growing environment
for your plants and it
will water them, feed
them, and make sure
they have optimal
growing conditions
24/7.
A Cool Portable Plant
Green Capsule: A Tiny Garden to Hang on Your Phone
If you want to see your sprouts grow at any time, a Green Capsule
is your answer. It is a mini mobile garden that can be hung like a
pendant or can be attached to your mobile phone. You only need to
plant the seed in the soil, irrigate, tighten the cover, and then wait for
the seed to sprout. After the plant becomes too big for the capsule,
you can transplant it to your courtyard.
35
Great value 4G smartphone with gesture controls
Gesture Control
Dual Camera
13MP + 5MP
5" HD Screen
4.4 KitKat
Dolby Sound
ZTEDEVICES.CO.UK
All rights reserved by ZTE Corporation. All other Corporate names and trademarks are the property of their
respective companies. E&OE. Images are for illustrative purposes only. Copyright © ZTE Corporation 2014.