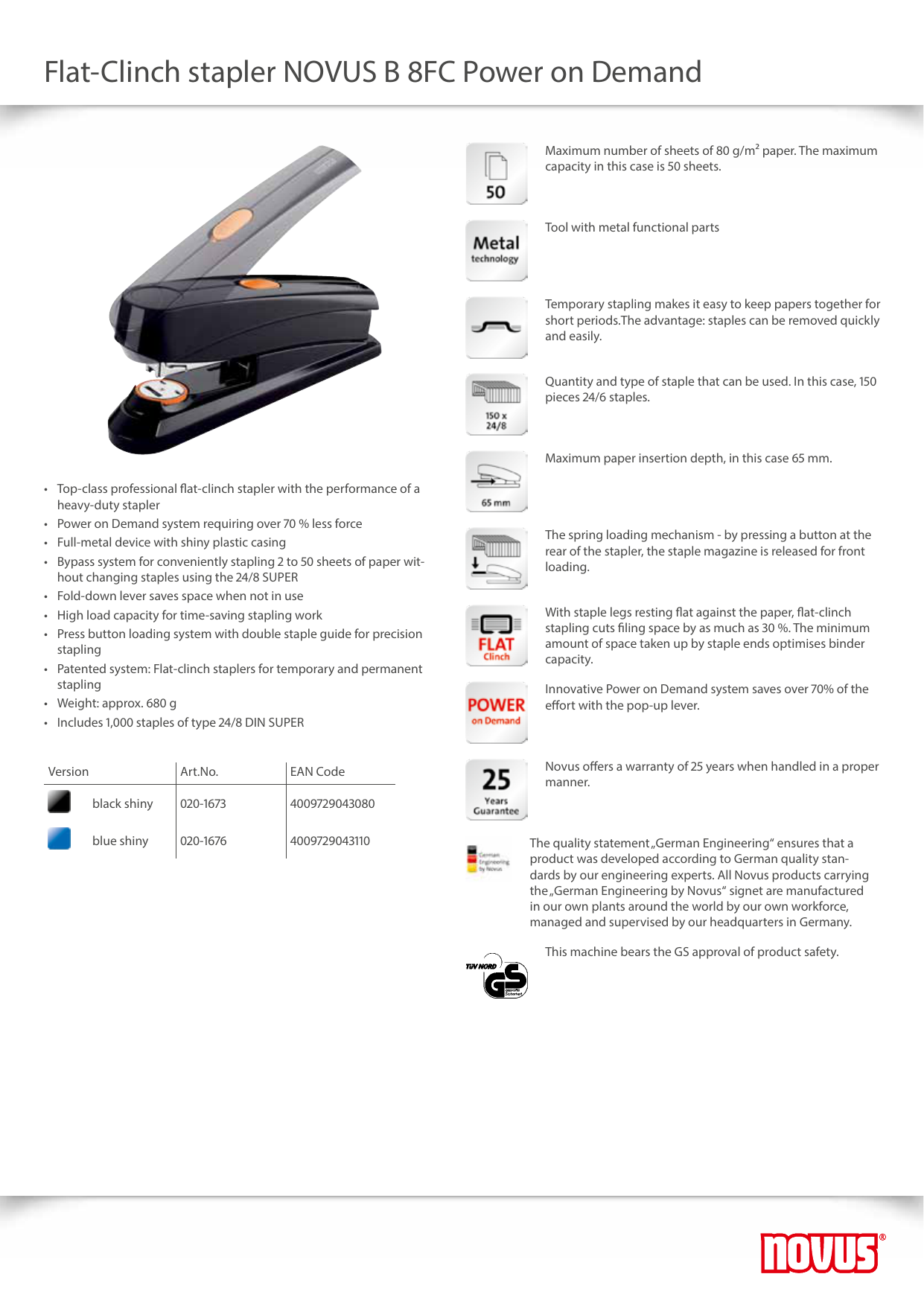 Flat-Clinch stapler NOVUS B 8FC Power on Demand
Maximum number of sheets of 80 g/m² paper. The maximum
capacity in this case is 50 sheets.
Tool with metal functional parts
Temporary stapling makes it easy to keep papers together for
short periods.The advantage: staples can be removed quickly
and easily.
Quantity and type of staple that can be used. In this case, 150
pieces 24/6 staples.
Maximum paper insertion depth, in this case 65 mm.
• Top-class professional flat-clinch stapler with the performance of a
heavy-duty stapler
• Power on Demand system requiring over 70 % less force
• Full-metal device with shiny plastic casing
• Bypass system for conveniently stapling 2 to 50 sheets of paper without changing staples using the 24/8 SUPER
• Fold-down lever saves space when not in use
• High load capacity for time-saving stapling work
• Press button loading system with double staple guide for precision
stapling
• Patented system: Flat-clinch staplers for temporary and permanent
stapling
• Weight: approx. 680 g
• Includes 1,000 staples of type 24/8 DIN SUPER
Version
Art.No.
EAN Code
black shiny
020-1673
4009729043080
blue shiny
020-1676
4009729043110
The spring loading mechanism - by pressing a button at the
rear of the stapler, the staple magazine is released for front
loading.
With staple legs resting flat against the paper, flat-clinch
stapling cuts filing space by as much as 30 %. The minimum
amount of space taken up by staple ends optimises binder
capacity.
Innovative Power on Demand system saves over 70% of the
effort with the pop-up lever.
Novus offers a warranty of 25 years when handled in a proper
manner.
The quality statement "German Engineering" ensures that a
product was developed according to German quality standards by our engineering experts. All Novus products carrying
the "German Engineering by Novus" signet are manufactured
in our own plants around the world by our own workforce,
managed and supervised by our headquarters in Germany.
This machine bears the GS approval of product safety.
Flat-Clinch stapler NOVUS B 8FC Power on Demand
Stapling with Power on Demand: Lever raised for super-easy stapling saves over 70% of the effort.
Stapling with lever folded down without using Power on Demand - like a
conventional flat-clinch stapler.
Bypass system: It allows you to staple 2-50 sheets of standard paper with
just one staple model (24/8 SUPER).
With stapling legs resting flat against the paper, flat-clinch stapling cuts
filling space by as much as 30 %.

* Your assessment is very important for improving the work of artificial intelligence, which forms the content of this project