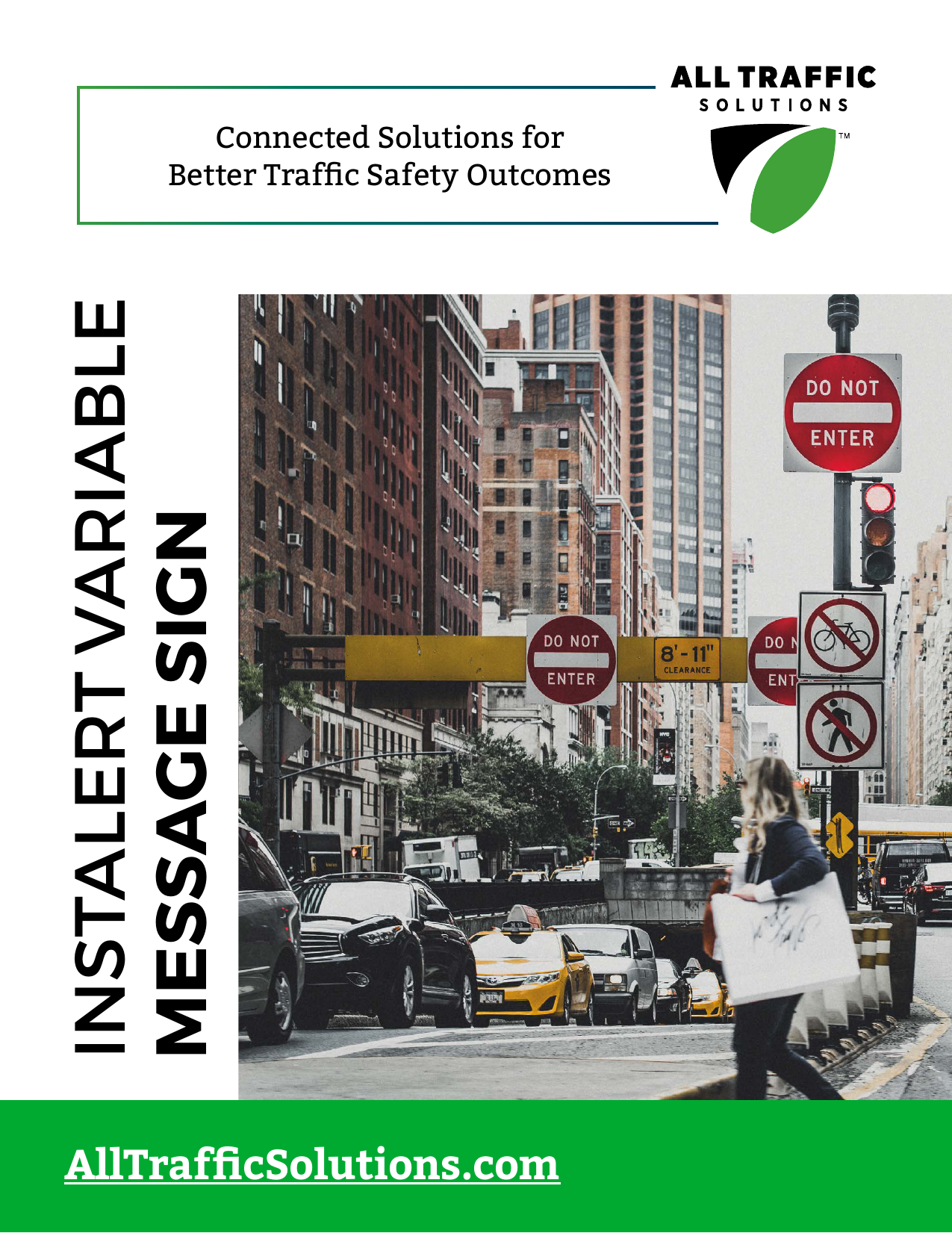 INSTALERT VARIABLE
MESSAGE SIGN
Connected Solutions for
Better Traffic Safety Outcomes
AllTrafficSolutions.com
InstAlert Variable Message Sign
PRODUCT HIGHLIGHTS
The patented InstAlert™ family of signs is the fastest, easiest way to tell
the public exactly what they need to know. Web-enabled for your
Intelligent Transportation System, this variable message sign has no equal.
INSTALERT 24 — EXTREME PORTABILITY
Built for ease of use, it's the lightest, most portable
MUTCD-compliant variable message sign available
anywhere, making everyday portable use or permanent
installation simpler than ever. Weighing only 43 pounds,
the 5-foot-wide sign folds in half to fit in the trunk.
NTCIP COMPATIBILITY
Like all our signs, InstAlert 24 is available with
optional NTCIP compatibility.
MESSAGING VERSATILITY
Go beyond basic messages with a full-matrix sign
that makes it easy to display multiple screens of text,
chevrons or custom images.
SIMPLE, UNIVERSAL MOUNTING
Mount this sign almost anywhere—post,
pole, trailer or vehicle—in about a minute.
DURABLE CONSTRUCTION
The welded aluminum enclosure, concealed
mounting hardware, shatterproof Lexan
and graffiti-resistant powder coating make
it super tough.
InstAlert 48 and InstAlert 68
Configurable Large Format Message Boards
Large format signs offer NTCIP-compliance and
superior traffic visibility on high-speed roadways.
CLOUD-BASED EASE AND ACCESSIBILITY
The only variable speed message boards that connect into one
integrated cloud-based system you manage from anywhere.
InstAlert Product Specs
INSTALERT 18
оо Text - 1 Line; 4 Characters; 10" H
оо Text - 2 Line; 6 Characters; 7" H
• Dimensions: 20" H x 30" W x 2.96" D
• Weight: 25 lbs
INSTALERT 24
оо Text - 1 Line; 4 Characters; 24" H
оо Text - 2 Line; 8 Characters; 10" H
оо Text - 3 Line; 12 Characters; 7" H
INSTALERT 68
• Dimensions: 28" H x 60" W x 1.6" D
• Folded: 28" H x 30" W x 3.25" D
• Weight: 43 lbs
INSTALERT 48
• 12 fonts including these sizes:
оо Text - 1 Line; 4 Characters; 42" H
оо Text - 2 Line; 8 Characters; 21" H
оо Text - 3 Line; 8 Characters; 12" H
оо Text - 4 Line; 9-12 Characters; 8" H
• Dimensions: 55" H x96" W x12" D
INSTALERT 68
• 12 fonts including these sizes:
оо Text - 1 Line; 4 Characters; 60" H
оо Text - 3 Line; 8 Characters; 18" H
оо Text - 4 Line; 9-12 Characters; 12" H
• Dimensions: 75" H x 138" W x 12" D
INSTALERT 48
All Your Traffic Safety
Program Data In One Place
TraffiCloud is our secure, web-based ecosystem for
managing all your traffic safety data and equipment.
View dashboards and reports of all collected data. Make more
insightful decisions based on data analytics from all your
program components. Save time by managing the status
of connected devices and dynamic messaging all from one
central location. TraffiCloud functionality includes:
PREMIERCARE
IMAGE MANAGEMENT
Get a perpetual warranty and remote
diagnostics for the duration of
your subscription.
Achieve greater awareness with alarms
or by requesting generated images.
• 50% discount on accidental damage
images based on speeds,
• Capture
tampering, time intervals or upon request*
• Real-time remote diagnostic monitoring
• Review, edit, print and act on useful images
REPORTING
ENFORCEMENT
Save time collecting, organizing,
compiling and distributing information.
Automate the collection of Lidar captures.
• Automated,
daily uploads of new data
into a centralized, SAS70-certified environment
• Minimize data collection time
• Identify trends to allocate resources
and be proactive
MAPPING
• Schedule
reports for regular delivery
to your inbox
• Ensure data accuracy
Manage your entire program through
an intuitive visual interface.
• Interactive
map provides a window
to all system information
EQUIPMENT MANAGEMENT
Stop wasting time driving to
equipment to update and monitor it.
• Check
status and change settings
from any Internet-connected device
• Send single message to multiple signs at once
• Respond immediately to changing situations
ALERTS
Specify when and whom to notify upon
occurrence of certain conditions.
email or text as events happen
• Receive
• Be
aware of low batteries, high speeds,
tampering, congestion and more
*Images can be used to identify vehicle make and color but are not ALPR quality.
Take a demo of TraffiCloud, our secure, web-based traffic management and
reporting solution that manages all your traffic safety devices and data remotely!
Call 866.366.6602 or email [email protected]
All Traffic Solutions 12950 Worldgate Drive, Suite 310, Herndon, VA 20170
©All Traffic Solutions
TraffiCloud leverages our patented technology (US Patents 8,417,442; 8,755,990; 9,070,287; 9,411,893) to deliver unique cloud-based management, features and functionality.

* Your assessment is very important for improving the work of artificial intelligence, which forms the content of this project