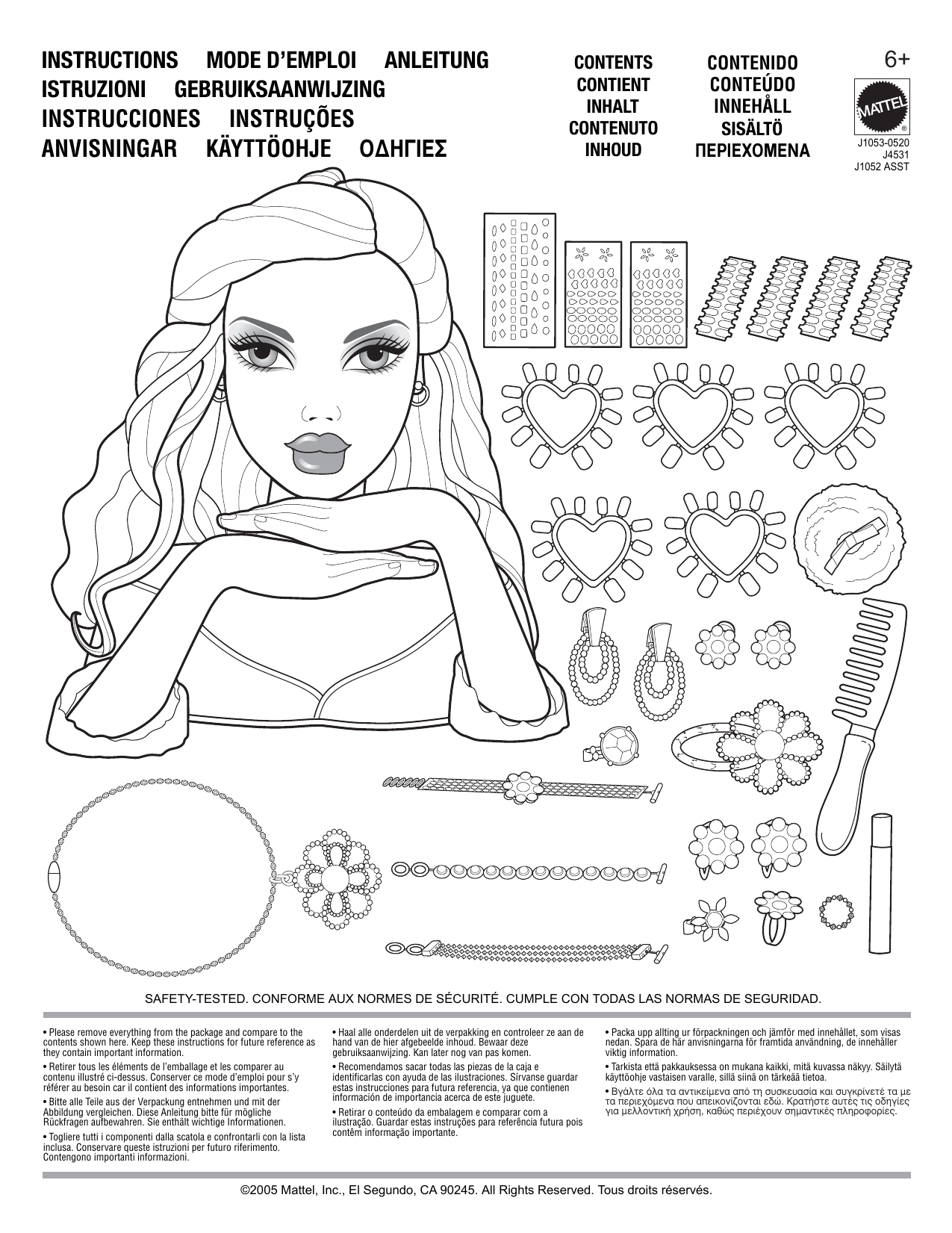 INSTRUCTIONS MODE D'EMPLOI ANLEITUNG
ISTRUZIONI GEBRUIKSAANWIJZING
INSTRUCCIONES INSTRUÇÕES
ANVISNINGAR KÄYTTÖOHJE √¢∏°π∂™
CONTENTS
CONTIENT
INHALT
CONTENUTO
INHOUD
CONTENIDO
CONTEÚDO
INNEHÅLL
SISÄLTÖ
¶∂ƒπ∂Ã√ª∂¡∞
6+
®
J1053-0520
J4531
J1052 ASST
SAFETY-TESTED. CONFORME AUX NORMES DE SÉCURITÉ. CUMPLE CON TODAS LAS NORMAS DE SEGURIDAD.
• Please remove everything from the package and compare to the
contents shown here. Keep these instructions for future reference as
they contain important information.
• Retirer tous les éléments de l'emballage et les comparer au
contenu illustré ci-dessus. Conserver ce mode d'emploi pour s'y
référer au besoin car il contient des informations importantes.
• Bitte alle Teile aus der Verpackung entnehmen und mit der
Abbildung vergleichen. Diese Anleitung bitte für mögliche
Rückfragen aufbewahren. Sie enthält wichtige Informationen.
• Togliere tutti i componenti dalla scatola e confrontarli con la lista
inclusa. Conservare queste istruzioni per futuro riferimento.
Contengono importanti informazioni.
• Haal alle onderdelen uit de verpakking en controleer ze aan de
hand van de hier afgebeelde inhoud. Bewaar deze
gebruiksaanwijzing. Kan later nog van pas komen.
• Recomendamos sacar todas las piezas de la caja e
identificarlas con ayuda de las ilustraciones. Sírvanse guardar
estas instrucciones para futura referencia, ya que contienen
información de importancia acerca de este juguete.
• Retirar o conteúdo da embalagem e comparar com a
ilustração. Guardar estas instruções para referência futura pois
contêm informação importante.
• Packa upp allting ur förpackningen och jämför med innehållet, som visas
nedan. Spara de här anvisningarna för framtida användning, de innehåller
viktig information.
• Tarkista että pakkauksessa on mukana kaikki, mitä kuvassa näkyy. Säilytä
käyttöohje vastaisen varalle, sillä siinä on tärkeää tietoa.
• µÁ¿ÏÙ fiÏ· Ù· ·ÓÙÈΛÌÂÓ· ·fi ÙË Û˘Û΢·Û›· Î·È Û˘ÁÎÚ›ÓÂÙ¤ Ù· ÌÂ
Ù· ÂÚȯfiÌÂÓ· Ô˘ ·ÂÈÎÔÓ›˙ÔÓÙ·È Â‰Ò. ∫Ú·Ù‹ÛÙ ·˘Ù¤˜ ÙȘ Ô‰ËÁ›Â˜
ÁÈ· ÌÂÏÏÔÓÙÈ΋ ¯Ú‹ÛË, ηıÒ˜ ÂÚȤ¯Ô˘Ó ÛËÌ·ÓÙÈΤ˜ ÏËÚÔÊÔڛ˜.
©2005 Mattel, Inc., El Segundo, CA 90245. All Rights Reserved. Tous droits réservés.
YOU CAN SHARE AND WEAR YOUR DOLL'S ACCESSORIES!
TU PEUX PARTAGER ET PORTER LES ACCESSOIRES DE TA POUPÉE !
DU KANNST DIE ACCESSOIRES DEINER PUPPE AUCH TRAGEN!
PUOI CONDIVIDERE E INDOSSARE GLI ACCESSORI DELLA TUA BAMBOLA!
JE KUNT DE ACCESSOIRES VAN JE POP OOK ZELF DRAGEN!
¡COMPARTE CON TU MUÑECA MAQUILLAJE, JOYAS Y UÑAS POSTIZAS!
PODES PARTILHAR E USAR OS ACESSÓRIOS DA TUA BONECA!
DU KAN ANVÄNDA DOCKANS TILLBEHÖR!
VOIT KÄYTTÄÄ SAMOJA ASUSTEITA NUKKESI KANSSA!
ªÔÚ›˜ Î·È ÂÛ‡ Ó· ÊÔÚ¤ÛÂȘ Ù· ·ÍÂÛÔ˘¿Ú ÁÈ· Ù· Ì·ÏÏÈ¿!
1
3
Hair Streaks may stain or stick to some
surfaces. Protect play area before use. This
product has been sealed with a
tamper-evident seal. If this seal if broken,
do not use this product and contact your
local Mattel office for a replacement. See
these instructions for addresses.
Les mèches de couleur peuvent tacher ou
coller certaines surfaces. Protéger l'espace
de jeu avant utilisation. Si l'opercule est
déchiré, ne pas utiliser le produit et
contacter le Service consommateurs de
Mattel, dont les coordonnées figurent dans
ce mode d'emploi.
Die Haarsträhnen können auf einigen
Stoffen und anderen Oberflächen Flecken
hinterlassen oder auf ihnen haften. Die
Spielfläche vor dem Spielen abdecken.
Nicht benutzen, sollte das Siegel gebrochen
oder geöffnet sein. Wenden Sie sich in
diesem Fall bitte an die für Sie zuständige
Mattel Filiale zwecks Ersatz (siehe Anleitung
für die entsprechende Adresse).
Le Ciocche di Capelli possono macchiare o
attaccarsi ad alcune superfici. Proteggere
l'area di gioco prima dell'uso. Non usare il
prodotto nel caso in cui il sigillo fosse rotto
2
For you to wear!
Pour toi !
Mit Accessoire für dich!
Per te da indossare!
Voor jou om te dragen!
¡Un regalito para ti!
Uma prenda para ti!
För dig att ha på dig!
Koriste sinulle!
°È· Û¤Ó·!
4
e contattare gli uffici Mattel locali per la
sostituzione. Far riferimento alle istruzioni
per l'indirizzo.
de cabelo deste produto foi selada com uma
protecção anti-violação. Se essa protecção se
encontrar violada, não use o produto.
De haarkleurtjes kunnen op sommige
oppervlakken vlekken veroorzaken of blijven
plakken. Dek het speelgedeelte voor het
spelen goed af. De haarverf bij dit product
zit in een verzegelde verpakking. Als de
verzegeling verbroken is, het product niet
gebruiken en contact opnemen met uw
plaatselijke Mattel-vestiging voor
vervanging. Zie de adressen in deze
gebruiksaanwijzing.
Hårslingor kan fläcka eller fastna på vissa
ytor. Skydda underlaget före lek. Om
förseglingen är bruten skall du inte använda
produkten, utan kontakta din
Mattel-representant för att få en
utbytesprodukt. Se anvisningarna för
adresser.
Las mechas del pelo pueden manchar o
adherirse a algunos tejidos y otras
superficies. Proteger el área de juego antes
de empezar a jugar. Si el precinto se
encuentra roto, no utilice el producto y
póngase en contacto con el departamento
de atención al consumidor de MATTEL
ESPAÑA, S.A.: Aribau 200. 08036
Barcelona. Tel: 902.20.30.10.
cservice.spain@mattel.com.
http://www.service.mattel.com/es
A "tinta" para fazer madeixas pode manchar
ou colar a algumas superfícies. Proteger a
área de brincadeira antes de usar. A "tinta'
Hius värinvaihto saattaa tahria tiettyjä pintoja.
Suojaa leikkialue ennen käyttöä. Jos sinetti on
rikki, älä käytä tätä tuotetta, vaan tilaa uusi
lähimmältä Mattelin edustajalta. Osoitteen
saat näistä käyttöohjeista.
√È ·ÓÙ·‡ÁÂȘ ÌÔÚ› Ó· ÏÂÎÈ¿ÛÂÈ ‹ Ó·
ÎÔÏÏ‹ÛÂÈ Û ÔÚÈṲ̂Ó˜ ÂÈÊ¿ÓÂȘ.
¶ÚÔÛٷ٤"Ù ÙËÓ ÂÈÊ¿ÓÂÈ· ·È¯ÓȉÈÔ‡ 
ÚÈÓ ÙË ¯Ú‹ÛË. ∏ Ì¿Ûηڷ ÁÈ· Ù· Ì·ÏÏÈ¿
Û ·˘Ùfi ÙÔ ÚÔ˚fiÓ ¤¯ÂÈ ÛÊÚ·ÁÈÛı› ÌÂ
·ÛÊ¿ÏÂÈ·. ™Â ÂÚ›ÙˆÛË Ô˘ Ë ·ÛÊ¿ÏÂÈ·
¤¯ÂÈ Û¿ÛÂÈ, ÌË ÙÔ ¯ÚËÛÈÌÔÔÈ‹ÛÂÙ ηÈ
ÂÈÎÔÈÓˆÓ‹ÛÙ Ì ÙËÓ ÂÙ·ÈÚ›· Mattel ÁÈ·
ÙËÓ ·ÓÙÈηٿÛÙ·Û‹ ÙÔ˘. ¢Â›Ù ÙË
‰È‡ı˘ÓÛË ÛÙË Û˘Û΢·Û›·.
Mattel Canada Inc., Mississauga, Ontario L5R 3W2. You may call us free at 1-800-524-8697. • Mattel U.K. Ltd., Vanwall Business Park, Maidenhead SL6 4UB.
Helpline 01628500303 • Mattel France, 27/33 rue d'Antony, Silic 145, 94523 Rungis Cedex N° Indigo 0 825 00 00 25 (0,15 € TTC/mn) ou
www.allomattel.com. • Mattel B.V., Postbus 576, 1180 AN Amstelveen, Nederland. 0800 - 2628835. • Mattel Belgium, Trade Mart, Atomiumsquare, Bogota 202
– B 275, 1020 Brussels. • Deutschland : Mattel GmbH, An der Trift 75 D-63303 Dreieich. • Schweiz: Mattel AG, Monbijoustrasse 68, CH-3000 Bern 23.
• Österreich: Mattel Ges.m.b.H., Triester Str., A-2355 Wiener Neudorf. • Mattel Scandinavia A/S, Ringager 4C, DK-2605 Brøndby. • Mattel Northern Europe A/S.,
¿Necesita ayuda? En los EE.UU. y Canadá, service.mattel.com*
o bien 1-800-524-8697, L-V 8 a.m. – 6 p.m., huso horario del Este.
Sinikalliontie 3, 02630 ESPOO, Puh. 0303 9060. • Mattel Srl., 28040 Oleggio Castello, Italy. • Mattel España, S.A., Aribau 200. 08036 Barcelona.
En México: 01 800 463 59 89, L-V 8 a.m. - 4 p.m.
cservice.spain@mattel.com Tel: 902.20.30.10 http://www.service.mattel.com/es • Mattel Portugal Lda., Av. da República, nº 90/96, 2º andar Fracção 2,
*English language only website. • *Site Web en anglais seulement. • *Página web solo en inglés.
1600-206 Lisboa • Mattel AEBE, EÏÏËÓÈÎÔ‡ 2, ∂ÏÏËÓÈÎfi 16777. ∂§§∞¢∞. • Mattel Australia Pty., Ltd., Richmond, Victoria. 3121.Consumer Advisory Service 1300 135 312. • Mattel East Asia Ltd., Room 1106, South Tower, World Finance Centre, Harbour City, Tsimshatsui, HK, China. • Diimport & Diedarkan Oleh:
SERVICE.MATTEL.COM
Mattel SEA Ptd Ltd.(993532-P) Lot 13.5, 13th Floor, Menara Lien Hoe, Persiaran Tropicana Golf Country Resort, 47410 PJ. Tel:03-78803817,
Fax:03-78803867. • Mattel, Inc., 333 Continental Blvd., El Segundo, CA 90245 U.S.A. Consumer Affairs 1 (800) 524-8697. • Importado y distribuido por Mattel
de México, S.A. de C.V., Insurgentes Sur # 3579, Torre 3, Oficina 601, Col. Tlalpan, Delegación Tlalpan, C.P. 14020, México, D.F. MME-920701-NB3. 59-05-51-00. Ext. 5206 ó - 01-800-463 59-89 • Mattel Chile, S.A., Avenida Américo
Vespucio 501-B, Quilicura, Santiago. • Mattel de Venezuela, C.A., Ave. Mara, C.C. Macaracuay Plaza, Torre B, Piso 8, Colinas de la California, Caracas 1071. • Mattel Argentina S.A., Curupaytí 1186, (1607) - Villa Adelina, Buenos Aires.
• Mattel Colombia, S.A., calle 123#7-07 P.5, Bogotá. • Mattel do Brasil Ltda. - CNPJ : 54.558.002/0004-72 Av. Tamboré, 1400/1440 Quadra A de 02 a 03 - 06460-000 - Barueri - SP. Atendimento ao Consumidor: SAC 0800550780.
Need Assistance? In the US and Canada, service.mattel.com*
or 1-800-524-8697, M-F 8AM – 6PM, ET.
Besoin d'aide? Au Canada et aux États-Unis, visitez le site service.mattel.com*
ou composez le 1 800 524-8697, du lundi au vendredi, de 8 h à 18 h, HNE.