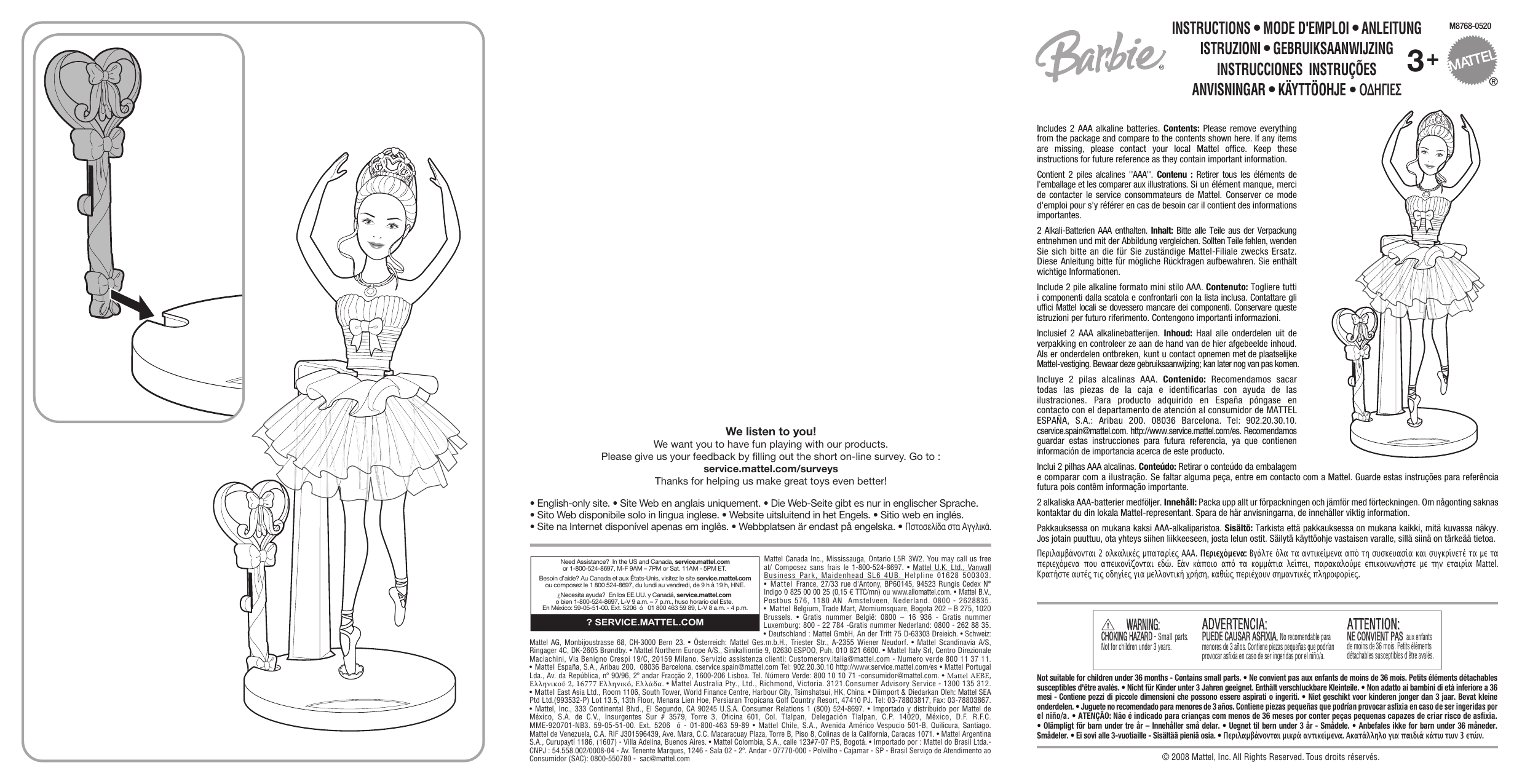 ®
INSTRUCTIONS • MODE D'EMPLOI • ANLEITUNG
ISTRUZIONI • GEBRUIKSAANWIJZING
+
INSTRUCCIONES INSTRUÇÕES
ANVISNINGAR • KÄYTTÖOHJE • ΟΔΗΓΙΕΣ
3
M8768-0520
®
Includes 2 AAA alkaline batteries. Contents: Please remove everything
from the package and compare to the contents shown here. If any items
are missing, please contact your local Mattel office. Keep these
instructions for future reference as they contain important information.
Contient 2 piles alcalines ''AAA''. Contenu : Retirer tous les éléments de
l'emballage et les comparer aux illustrations. Si un élément manque, merci
de contacter le service consommateurs de Mattel. Conserver ce mode
d'emploi pour s'y référer en cas de besoin car il contient des informations
importantes.
2 Alkali-Batterien AAA enthalten. Inhalt: Bitte alle Teile aus der Verpackung
entnehmen und mit der Abbildung vergleichen. Sollten Teile fehlen, wenden
Sie sich bitte an die für Sie zuständige Mattel-Filiale zwecks Ersatz.
Diese Anleitung bitte für mögliche Rückfragen aufbewahren. Sie enthält
wichtige Informationen.
Include 2 pile alkaline formato mini stilo AAA. Contenuto: Togliere tutti
i componenti dalla scatola e confrontarli con la lista inclusa. Contattare gli
uffici Mattel locali se dovessero mancare dei componenti. Conservare queste
istruzioni per futuro riferimento. Contengono importanti informazioni.
Inclusief 2 AAA alkalinebatterijen. Inhoud: Haal alle onderdelen uit de
verpakking en controleer ze aan de hand van de hier afgebeelde inhoud.
Als er onderdelen ontbreken, kunt u contact opnemen met de plaatselijke
Mattel-vestiging. Bewaar deze gebruiksaanwijzing; kan later nog van pas komen.
We listen to you!
We want you to have fun playing with our products.
Please give us your feedback by filling out the short on-line survey. Go to :
service.mattel.com/surveys
Thanks for helping us make great toys even better!
• English-only site. • Site Web en anglais uniquement. • Die Web-Seite gibt es nur in englischer Sprache.
• Sito Web disponibile solo in lingua inglese. • Website uitsluitend in het Engels. • Sitio web en inglés.
• Site na Internet disponível apenas em inglês. • Webbplatsen är endast på engelska. • ΠÛÙÔÛÂÏ›‰· ÛÙ· ∞ÁÁÏÈο.
Mattel Canada Inc., Mississauga, Ontario L5R 3W2. You may call us free
at/ Composez sans frais le 1-800-524-8697. • Mattel U.K. Ltd., Vanwall
Business
Park, Maidenhead SL6 4UB. Helpline 01628 500303.
Besoin d'aide? Au Canada et aux États-Unis, visitez le site service.mattel.com
• Mattel France, 27/33 rue d'Antony, BP60145, 94523 Rungis Cedex N°
ou composez le 1 800 524-8697, du lundi au vendredi, de 9 h à 19 h, HNE.
Indigo 0 825 00 00 25 (0,15 € TTC/mn) ou www.allomattel.com. • Mattel B.V.,
¿Necesita ayuda? En los EE.UU. y Canadá, service.mattel.com
Postbus 576, 1180 AN Amstelveen, Nederland. 0800 - 2628835.
o bien 1-800-524-8697, L-V 9 a.m. – 7 p.m., huso horario del Este.
En México: 59-05-51-00. Ext. 5206 ó 01 800 463 59 89, L-V 8 a.m. - 4 p.m.
• Mattel Belgium, Trade Mart, Atomiumsquare, Bogota 202 – B 275, 1020
Brussels. • Gratis nummer België: 0800 – 16 936 - Gratis nummer
? SERVICE.MATTEL.COM
Luxemburg: 800 - 22 784 -Gratis nummer Nederland: 0800 - 262 88 35.
• Deutschland : Mattel GmbH, An der Trift 75 D-63303 Dreieich. • Schweiz:
Mattel AG, Monbijoustrasse 68, CH-3000 Bern 23. • Österreich: Mattel Ges.m.b.H., Triester Str., A-2355 Wiener Neudorf. • Mattel Scandinavia A/S,
Ringager 4C, DK-2605 Brøndby. • Mattel Northern Europe A/S., Sinikalliontie 9, 02630 ESPOO, Puh. 010 821 6600. • Mattel Italy Srl, Centro Direzionale
Maciachini, Via Benigno Crespi 19/C, 20159 Milano. Servizio assistenza clienti: Customersrv.italia@mattel.com - Numero verde 800 11 37 11.
• Mattel España, S.A., Aribau 200. 08036 Barcelona. cservice.spain@mattel.com Tel: 902.20.30.10 http://www.service.mattel.com/es • Mattel Portugal
Lda., Av. da República, nº 90/96, 2º andar Fracção 2, 1600-206 Lisboa. Tel. Número Verde: 800 10 10 71 -consumidor@mattel.com. • Mattel AEBE,
Ελληνικού 2, 16777 Ελληνικό, Ελλάδα. • Mattel Australia Pty., Ltd., Richmond, Victoria. 3121.Consumer Advisory Service - 1300 135 312.
• Mattel East Asia Ltd., Room 1106, South Tower, World Finance Centre, Harbour City, Tsimshatsui, HK, China. • Diimport & Diedarkan Oleh: Mattel SEA
Ptd Ltd.(993532-P) Lot 13.5, 13th Floor, Menara Lien Hoe, Persiaran Tropicana Golf Country Resort, 47410 PJ. Tel: 03-78803817, Fax: 03-78803867.
• Mattel, Inc., 333 Continental Blvd., El Segundo, CA 90245 U.S.A. Consumer Relations 1 (800) 524-8697. • Importado y distribuido por Mattel de
México, S.A. de C.V., Insurgentes Sur # 3579, Torre 3, Oficina 601, Col. Tlalpan, Delegación Tlalpan, C.P. 14020, México, D.F. R.F.C.
MME-920701-NB3. 59-05-51-00. Ext. 5206 ó - 01-800-463 59-89 • Mattel Chile, S.A., Avenida Américo Vespucio 501-B, Quilicura, Santiago.
Mattel de Venezuela, C.A. RIF J301596439, Ave. Mara, C.C. Macaracuay Plaza, Torre B, Piso 8, Colinas de la California, Caracas 1071. • Mattel Argentina
S.A., Curupaytí 1186, (1607) - Villa Adelina, Buenos Aires. • Mattel Colombia, S.A., calle 123#7-07 P.5, Bogotá. • Importado por : Mattel do Brasil Ltda.CNPJ : 54.558.002/0008-04 - Av. Tenente Marques, 1246 - Sala 02 - 2º. Andar - 07770-000 - Polvilho - Cajamar - SP - Brasil Serviço de Atendimento ao
Consumidor (SAC): 0800-550780 - sac@mattel.com
Need Assistance? In the US and Canada, service.mattel.com
or 1-800-524-8697, M-F 9AM – 7PM or Sat. 11AM - 5PM ET.
Incluye 2 pilas alcalinas AAA. Contenido: Recomendamos sacar
todas las piezas de la caja e identificarlas con ayuda de las
ilustraciones. Para producto adquirido en España póngase en
contacto con el departamento de atención al consumidor de MATTEL
ESPAÑA, S.A.: Aribau 200. 08036 Barcelona. Tel: 902.20.30.10.
cservice.spain@mattel.com. http://www.service.mattel.com/es. Recomendamos
guardar estas instrucciones para futura referencia, ya que contienen
información de importancia acerca de este producto.
Inclui 2 pilhas AAA alcalinas. Conteúdo: Retirar o conteúdo da embalagem
e comparar com a ilustração. Se faltar alguma peça, entre em contacto com a Mattel. Guarde estas instruções para referência
futura pois contêm informação importante.
2 alkaliska AAA-batterier medföljer. Innehåll: Packa upp allt ur förpackningen och jämför med förteckningen. Om någonting saknas
kontaktar du din lokala Mattel-representant. Spara de här anvisningarna, de innehåller viktig information.
Pakkauksessa on mukana kaksi AAA-alkaliparistoa. Sisältö: Tarkista että pakkauksessa on mukana kaikki, mitä kuvassa näkyy.
Jos jotain puuttuu, ota yhteys siihen liikkeeseen, josta lelun ostit. Säilytä käyttöohje vastaisen varalle, sillä siinä on tärkeää tietoa.
Περιλαμβάνονται 2 αλκαλικές μπαταρίες ΑΑΑ. Περιεχόμενα: Βγάλτε όλα τα αντικείμενα από τη συσκευασία και συγκρίνετέ τα με τα
περιεχόμενα που απεικονίζονται εδώ. Εάν κάποιο από τα κομμάτια λείπει, παρακαλούμε επικοινωνήστε με την εταιρία Mattel.
Κρατήστε αυτές τις οδηγίες για μελλοντική χρήση, καθώς περιέχουν σημαντικές πληροφορίες.
ADVERTENCIA:
ATTENTION:
CHOKING HAZARD – Small parts.
PUEDE CAUSAR ASFIXIA. No recomendable para
NE CONVIENT PAS aux enfants
Not for children under 3 years.
menores de 3 años. Contiene piezas pequeñas que podrían
provocar asfixia en caso de ser ingeridas por el niño/a.
de moins de 36 mois. Petits éléments
détachables susceptibles d'être avalés.
!
WARNING:
Not suitable for children under 36 months - Contains small parts. • Ne convient pas aux enfants de moins de 36 mois. Petits éléments détachables
susceptibles d'être avalés. • Nicht für Kinder unter 3 Jahren geeignet. Enthält verschluckbare Kleinteile. • Non adatto ai bambini di età inferiore a 36
mesi - Contiene pezzi di piccole dimensioni che possono essere aspirati o ingeriti. • Niet geschikt voor kinderen jonger dan 3 jaar. Bevat kleine
onderdelen. • Juguete no recomendado para menores de 3 años. Contiene piezas pequeñas que podrían provocar asfixia en caso de ser ingeridas por
el niño/a. • ATENÇÃO: Não é indicado para crianças com menos de 36 meses por conter peças pequenas capazes de criar risco de asfixia.
• Olämpligt för barn under tre år – Innehåller små delar. • Uegnet til børn under 3 år - Smådele. • Anbefales ikke for barn under 36 måneder.
Smådeler. • Ei sovi alle 3-vuotiaille - Sisältää pieniä osia. • Περιλαμβάνονται μικρά αντικείμενα. Ακατάλληλο για παιδιά κάτω των 3 ετών.
© 2008 Mattel, Inc. All Rights Reserved. Tous droits réservés.
3 Ways to Play! • 3 manières de jouer ! • 3 Spielmöglichkeiten! • 3 modi per giocare! • 3 manieren om te spelen! • ¡3 opciones de juego! • 3 formas de brincar! • 3 sätt att leka! • 3 Kolme leikkitapaa! • 3 Τρόποι Παιχνιδιού!
1
• Remove and discard "TRY ME" tab.BATTERY REPLACEMENT: Use a Phillips head
screwdriver (not included) to open battery doors. Insert 2 AAA alkaline batteries as shown
(1 battery in each leg). Replace battery covers and screw closed. For longer life use only
alkaline batteries. Dispose of batteries safely. Replace batteries when lights dim or doll
stops spinning.
• Retirer et jeter la LANGUETTE DE DÉMONSTRATION. REMPLACEMENT DES PILES :
Dévisser le couvercle du compartiment des piles avec un tournevis cruciforme (non fourni).
Insérer 2 piles alcalines "AAA" (LR03) comme illustré (1 pile dans chaque jambe). Replacer les
couvercles des compartiments des piles et les revisser. Utiliser uniquement des piles alcalines
pour une durée plus longue. Jeter les piles usées dans un conteneur réservé à cet usage.
Remplacer les piles lorsque les lumières faiblissent ou lorsque la poupée ne tourne plus.
• Die zu Demonstrationszwecken im Geschäft enthaltene Probierfunktions-Lasche entfernen
und entsorgen. ERSETZEN DER BATTERIEN: Die Batteriefächer mit einem
Kreuzschlitzschraubenzieher (nicht enthalten) aufschrauben. 2 Alkali-Batterien AAA wie
dargestellt einlegen (eine in jedes Bein). Die Abdeckungen wieder einsetzen und
zuschrauben. Für optimale Leistung und längere Lebensdauer nur Alkali-Batterien
verwenden. Batterien sicher und vorschriftsgemäß entsorgen. Die Batterien ersetzen,
wenn die Lichter schwächer werden oder die Puppe sich nicht mehr dreht.
• Rimuovi la linguetta 'PROVAMI'.SOSTITUZIONE DELLE PILE: Con un cacciavite a stella
(non incluso) apri gli sportelli degli scomparti pile. Inserisci 2 pile alkaline formato mini
stilo AAA, come illustrato (1 pila per ogni gamba). Rimetti gli sportelli e stringi le viti.
Usa solo pile alkaline per una maggiore durata. Elimina le pile con la dovuta cautela.
Sostituisci le pile quando le luci si affievoliscono o la bambola smette di volteggiare.
• Verwijder het 'PROBEER'-tabje en gooi het weg.VERVANGEN VAN DE BATTERIJEN: Open
het batterijklepje met een kruiskopschroevendraaier (niet inbegrepen). Plaats 2 AAA
alkalinebatterijen zoals afgebeeld (één batterij per been). Zet de batterijklepjes weer op
hun plaats en schroef dicht. Gebruik uitsluitend alkalinebatterijen; deze gaan langer mee.
Batterijen inleveren als KCA. Vervang de batterijen als de lichtjes zwakker worden of als
de pop niet meer ronddraait.
• Retirar la lengüeta de la opción "PRUÉBAME" y desecharla.SUSTITUCIÓN DE LAS PILAS:
desatornillar las tapas de los compartimentos de las pilas con un destornillador de
estrella (no incluido) y retirarlas. Introducir 2 pilas alcalinas AAA, tal como muestra el
dibujo (una pila en cada pierna). Volverlos a tapar y atornillar. Recomendamos utilizar
exclusivamente pilas alcalinas. Las pilas no alcalinas pueden afectar al funcionamiento
de este juguete. Desechar las pilas gastadas en un contenedor de reciclaje de pilas.
Sustituir las pilas si las luces se debilitan o la muñeca deja de girar.
• Retirar e descartar a lingueta de DEMONSTRAÇÃO.SUBSTITUIÇÃO DAS PILHAS: Abrir
a tampa do compartimento de pilhas com uma chave de fendas Phillips (não incluída).
Instalar 2 pilhas AAA alcalinas, como mostra a imagem (1 pilha em cada perna da
boneca). Voltar a colocar as tampas e aparafusá-las. Para um funcionamento mais
duradouro, usar apenas pilhas alcalinas. Colocar as pilhas gastas em local apropriado.
Substituir as pilhas se as luzes enfraquecerem ou se a boneca deixar de rodar.
• Ta bort och kasta "PROVA"-fliken.BATTERIBYTE: Öppna batterifacket med hjälp av en
stjärnskruvmejsel (medföljer ej). Sätt i 2 alkaliska AAA-batterier enligt bilden (1 batteri
i varje ben). Sätt tillbaka locket till batterifacket och skruva fast det. Alkaliska batterier
håller längre. Avfallshantera batterierna på ett miljövänligt sätt. Byt ut batterierna när
ljuset blir svagt eller när dockan slutar snurra.
• Irrota kokeiluliuska ja heitä se pois.PARISTOJEN VAIHTO: Avaa paristokoteloiden kannet
ristipäämeisselillä (ei mukana pakkauksessa). Laita kummankin jalan koteloon kuvan
mukaisesti yksi AAA-alkaliparisto. Aseta paristokotelojen kannet takaisin paikalleen, ja
kiinnitä ruuvit. Suosittelemme pitkäkestoisia alkaliparistoja. Hävitä ne asianmukaisesti.
Kun valot himmenevät tai nukke lakkaa pyörimästä, vaihda paristot.
• Αφαιρέστε και πετάξτε το σύνδεσμο ΔΟΚΙΜΗΣ.ΑΝΤΙΚΑΤΑΣΤΑΣΗ ΜΠΑΤΑΡΙΩΝ:
Χρησιμοποιήστε σταυροκατσάβιδο (δεν περιλαμβάνεται) για να ανοίξετε το
πορτάκι της θήκης των μπαταριών. Τοποθετήστε 2 μπαταρίες ΑΑΑ, όπως
απεικονίζεται (1 μπαταρία σε κάθε πόδι). Τοποθετήστε ξανά τα πορτάκια
της θήκης των μπαταριών και βιδώστε τα. Χρησιμοποιείτε μόνο αλκαλικές
μπαταρίες για μεγαλύτερη διάρκεια λειτουργίας. Παρακαλούμε πετάτε τις
παλιές μπαταρίες στους ειδικούς κάδους ανακύκλωσης. Αντικαταστήστε τις
μπαταρίες όταν τα φώτα ή η λειτουργία της κούκλας αρχίσουν να εξασθενούν.
a
• 1a: Slide wand's lever forward to extend
clamps, then attach clamps to indents in doll's
waist. 1b: Lower doll onto a smooth surface.
The pin on doll's right toe will retract and doll
will spin and spin!
• 1a. Glisser le levier de la baguette pour étirer
les pinces et fixer les pinces aux encoches sur
la taille de la poupée. 1b. Abaisser la poupée
sur une surface lisse. La tige sous l'orteil droit
de la poupée va se rétracter et la poupée va
tourner sur elle-même !
• 1a: Den Hebel des Stabs nach vorn schieben,
um die Klemmen auseinanderzudrücken.
Anschließend die Klemmen an den in der Taille
der Puppe befindlichen Einkerbungen befestigen.
1b: Die Puppe auf eine glatte Oberfläche stellen.
Der am rechten Zeh der Puppe befindliche
Stift wird eingezogen, und die Puppe macht
schöne Pirouetten!
• 1a: Sposta in avanti la leva della bacchetta per
allungare i morsetti, poi aggancia i morsetti
alle tacche della vita della bambola. 1b: Abbassa
la bambola su una superficie liscia. Il perno
situato sul piede destro della bambola si ritrarrà
e la bambola inzierà a volteggiare!
• Dolls arms UP.
• Bras de la poupée LEVÉS.
• Die Arme der Puppe zeigen nach OBEN.
• Braccia della bambola SU.
• Armen van pop OMHOOG.
• LEVANTAR los brazos de la muñeca.
• Braços da boneca PARA CIMA.
• Dockans armar UPP.
• Nuken kädet YLÖS.
• Χέρια ΕΠΑΝΩ.
• 1a: Schuif het hendeltje van de toverstaf naar
voren en plaats de klemmen rond de
heupinkepingen van de pop. 1b: Zet de pop op
een vlakke ondergrond. Het pennetje aan de
rechterteen van de pop wordt ingetrokken en
de pop draait rond en rond!
WAND • BAGUETTE • STAB
BACCHETTA • TOVERSTAF
VARITA "MÁGICA" • VARINHA
TROLLSPÖ • SAUVA • ΡΑΒΔΙ
2
• 2a: Attach raised peg on doll stand to indents
in doll's waist. 2b: Lower doll's right toe into
hole inside of cup. 2c: Press button DOWN to
make doll twirl and twirl!
• 2a. Fixer les tiges du socle de la poupée dans
les encoches de la taille de la poupée. 2b.
Abaisser l'orteil droit de la poupée dans le
trou à l'intérieur de la soucoupe. 2c. Presser
le bouton vers le BAS pour faire tourner la
poupée !
• 2a: Die vom Puppenständer abstehenden
Stifte an den in der Taille der Puppe befindlichen
Einkerbungen befestigen. 2b: Den rechten
Zeh der Puppe in das in dem Behälter
befindliche Loch stecken. 2c: Den Knopf
HERUNTERDRÜCKEN, damit die Puppe
Pirouetten dreht!
• 2a: Aggancia i perni rialzati del piedistallo alle
tacche della vita della bambola. 2b: Abbassa il
piede destro della bambola inserendolo nel
foro della semisfera. 2c: Premi il tasto per far
volteggiare la bambola!
• 1a: Fazer deslizar a alavanca da varinha para
a frente para os ganchos abrirem, e depois
prender os ganchos às ranhuras da cintura da
boneca. 1b: Colocar a boneca numa superfície
lisa. O pino do pé direito da boneca entra para
dentro e a boneca gira e gira!
• 1a: Tryck trollspöets knapp framåt och haka
sedan fast hakarna i dockans midja. 1b: Tryck
ned dockan mot en jämn yta. Stiftet på dockans
högra tå dras in och dockan snurrar!
• 1a Kun työnnät sauvan vipua eteenpäin, leuat
avautuvat, jolloin voit sovittaa ne nuken vyötärön
reikiin. 1b Päästä nukke tasaiselle alustalle.
Nuppi nuken oikean jalan varpassa vetäytyy
sisään, ja nukke pyörii pyörimistään!
• 1α: Σύρετε το μοχλό του ραβδιού προς τα
μπροστά για να εμφανιστούν οι σφιγκτήρες
και προσαρμόστε τους στις εσοχές στη μέση
της κούκλας. 1β: Βάλτε την κούκλα σε μία
επίπεδη και ομαλή επιφάνεια. Η προεξοχή
που βρίσκεται στο δεξί πόδι της κούκλας θα
μαζευτεί και η κούκλα θα αρχίσει να κάνει
πιρουέτες!
• 2a: Sätt i dockhållarens utfällda hakar i hålen
i dockans midja. 2b: Sänk ned dockans högra
tå i hålet i koppen. 2c: Tryck NED knappen så
snurrar dockan!
• 2a: Pane nuken telineen tapit nuken vyötärön
reikiin. 2b: Pane nuken oikean jalan varvas
kupin sisällä olevaan reikään. 2c: Kun nappia
painaa, nukke pyörähtää yhä uudelleen!
• 2α: Προσαρμόστε τις προεξοχές που
βρίσκονται στη βάση της κούκλας στις
εσοχές στη μέση της κούκλας. 2β:
Προσαρμόστε το δεξί πόδι της κούκλας
στην ειδική εσοχή της βάσης. 2γ: Πατήστε
το κουμπί για να αρχίσει η κούκλα να
κάνει πιρουέτες!
3
• Play without wand or doll stand.
• Jeu sans la baguette ou le socle.
• Es kann auch ohne Stab oder Puppenständer gespielt werden.
• Gioca senza la bacchetta o senza piedistallo.
• Spelen zonder toverstaf of poppenstandaard.
• Juega sin la varita "mágica" ni la peana.
• Também podes brincar sem a varinha ou o suporte da boneca.
• Lek utan trollspö eller dockhållare.
• Leikki ilman sauvaa ja telinettä.
• Παιχνίδι χωρίς το ραβδί ή τη βάση της κούκλας.
• Doll's arms UP, legs DOWN.
• Bras de la poupée LEVÉS, jambes BAISSÉES.
• Die Arme der Puppe zeigen nach OBEN, die Beine
nach UNTEN.
• Braccia della bambola SU, gambe GIÙ.
• Armen van pop OMHOOG, benen OMLAAG.
• LEVANTAR los brazos y BAJAR las piernas.
• Braços da boneca PARA CIMA, pernas PARA BAIXO.
• Dockans armar UPP, benen NED.
• Nuken kädet YLÖS, jalat ALAS.
• Χέρια ΕΠΑΝΩ, πόδια ΚΑΤΩ.
a
• 1a: deslizar el botón de la varita "mágica"
hacia delante para extender las abrazaderas y,
luego, encajarlas en las ranuras de la cintura
de la muñeca. 1b: apoyar la muñeca sobre
una superficie lisa. ¡El pivote de la punta del
pie derecho de la muñeca se repliega y la
muñeca gira y gira!
• 2a: Bevestig de klem van de poppenstandaard
rond de heupinkepingen van de pop. 2b:
Plaats de rechterteen van de pop in het gaatje
van het kommetje. 2c: Druk op het knopje om
de pop te laten ronddraaien!
• 2a: encajar las clavijas del soporte de la
peana en las ranuras de la cintura de la
muñeca. 2b: apoyar la punta del pie derecho
de la muñeca en el agujero de la pieza en
forma de copa. 2c: ¡pulsar el botón para que
la muñeca gire y gire!
• 2a: Prender os pinos do suporte da boneca às
ranhuras da cintura da boneca. 2b: Colocar
o pé direito da boneca no orifício dentro do
encaixe. 2c: Pressionar o botão PARA BAIXO
para a boneca girar e girar!
b
DOLL STAND
SOCLE POUR LA
POUPÉE
PUPPENSTÄNDER
PIEDISTALLO
POPPENSTANDAARD
PEANA DE LA MUÑECA
SUPORTE DA BONECA
DOCKHÅLLARE
NUKEN TELINE
ΒΑΣΗ ΚΟΥΚΛΑΣ
b
c
Doll cannot stand alone. • La poupée ne peut pas tenir debout toute seule. • Die Puppe kann nicht von allein stehen. • La bambola non può reggersi in piedi da sola. • Pop kan niet los staan.
La muñeca no puede tenerse en pie por sí sola. • A boneca não fica de pé sozinha. • Dockan kan inte stå utan hjälp. • Nukke ei voi seistä tuetta. • Η κούκλα δεν μπορεί να σταθεί όρθια από μόνη της.