Compact 1080p HD Network Camera SNC-CH210 - T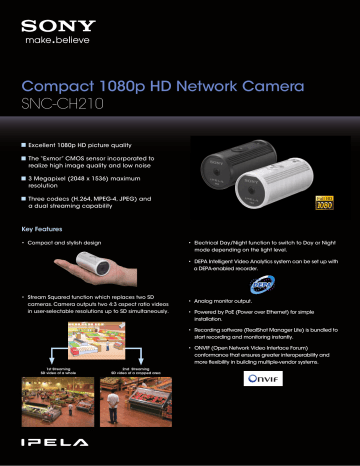 Compact 1080p HD Network Camera
SNC-CH210
Excellent 1080p HD picture quality
The "Exmor" CMOS sensor incorporated to
realize high image quality and low noise
3 Megapixel (2048 x 1536) maximum
resolution
Three codecs (H.264, MPEG-4, JPEG) and
a dual streaming capability
Key Features
• Electrical Day/Night function to switch to Day or Night
mode depending on the light level.
• Compact and stylish design
• DEPA Intelligent Video Analytics system can be set up with
a DEPA-enabled recorder.
• Stream Squared function which replaces two SD
cameras. Camera outputs two 4:3 aspect ratio videos
in user-selectable resolutions up to SD simultaneously.
• Analog monitor output.
• Powered by PoE (Power over Ethernet) for simple
installation.
• Recording software (RealShot Manager Lite) is bundled to
start recording and monitoring instantly.
• ONVIF (Open Network Video Interface Forum)
conformance that ensures greater interoperability and
more flexibility in building multiple-vendor systems.
1st Streaming
SD video of a whole
2nd Streaming
SD video of a cropped area
SPECIFICATIONS
SYSTEM CONFIGURATION
SNC-CH210
HD monitor
Camera
Image device
Minimum illumination
Number of effective pixels
(H x V)
Electronic shutter speed
Gain control
Exposure control
White balance mode
Lens type
Horizontal viewing angle
Focal length
F-number
Minimum objects distance
1/2.8 type progressive scan "Exmor" CMOS sensor
2.0lx
(AGC 38dB / 50IRE[IP])
3 Megapixel
(2096×1561)
1s to 1/10000s
Auto
Auto, EV Compensation, Auto Slow Shutter
Auto (ATW, ATW-PRO) , Preset, One-push WB, Manual
fixed
88 degrees
f=3.3 mm
F2.8
500 mm
Network Surveillance
Recorder
NSR-S10
SNC-CH210
Network
Recording Software
RealShot Manager Lite
SNC-CH210
Camera Features
Day/Night
Noise reduction
PC
Yes (electrical D/N)
Yes
Image
Codec image size (H x V)
Video compression format
Codec streaming capability
Maximum frame rate
2048×1536(JpegOnly), 1920x1080*1, 1600x1200, 1680x1056, 1440x912, 1280x1024, 1280x960,
1376x768, 1280x800, 1280x720*2, 1024x768, 1024x576, 768x576, 720x576, 704x576, 800x480,
720x480, 640x480, 640x368, 384x288, 352x288, 320x240, 320x192, 176x144
H.264, MPEG-4, JPEG
Dual streaming
H.264: 15fps (1920×1080) / 30fps (1280×720)
JPEG: 12fps (2048×1536) / 15fps (1920×1080) / 30fps (1280×720)
MPEG-4: 15fps (1920×1080) / 30fps (1280×720)
DIMENSIONS
Unit: mm (inches)
Scene Analytics
Intelligent motion detection
Yes
Network
Protocols
ONVIF conformance
Number of clients
Authentication
IPv4, IPv6, TCP, UDP, ARP, ICMP, IGMP, HTTP, HTTPS, FTP(client only), SMTP, DHCP, DNS,NTP, RTP/RTCP, RTSP,
SNMP (MIB-2)
Yes
5
IEEE802.1X
Analog Video Output
Signal system
NTSC / PAL
Interface
Ethernet
Analog monitor output
Sensor input
10BASE-T / 100BASE-TX (RJ-45)
MiniJack
x1
General
100g (3.5 oz)
ø 44 x 93 mm (1 3/4 x 3 3/4 inches)
PoE (IEEE802.3af compliant)
2.4W
0°C to 50°C (32°F to 122°F)
0°C to 50°C (32°F to 122°F)
-20°C to +60°C (-4°F to +140°F)
UL2044, FCC 15B Class A, IC Class A, IEC60950-1, EN55022(A)+EN55024+EN50130-4, VCCI Class A,
C-Tick Class A
System Requirements
Operating system
Processor
Memory
Web browser
Microsoft Windows XP, Windows Vista(32bit), Windows 7(32bit)
Intel Core2 Duo 2 GHz or higher
1 GB or more
Microsoft Internet Explorer Ver. 6.0, Ver. 7.0, Ver. 8.0
Firefox Ver.3.5 (Plug-in free viewer only)
Safari Ver.4.0 (Plug-in free viewer only)
Google Chrome Ver.4.0 (Plug-in free viewer only)
46(1 13/16)
93(3 3/4)
ø44(1 3/4)
Mass
Dimensions
Power requirements
Power consumption
Starting temperature
Working temperature
Storage temperature
Safety regulation
Supplied Accessories
Operating system
CD-ROM (User's Guides, and supplied programs)
Installation manual
B&P Warranty Booklet
FrontSheet(with logo)
FrontSheet(without logo)
Sensor input cable
*1 Resolution defined by SMPTE 274M. *2 Resolution defined by SMPTE 296M.
*The SNC-CH210 include software developed by the OpenSSL Project for use in the OpenSSL Toolkit (http://www.openssl.org/).
Distributed by
BP000325-072010-AR-V1 Printed in Singapore
©2010 Sony Electronics Asia Pacific Pte. Ltd. All rights reserved.
Reproduction in whole or in part without written permission is prohibited.
Features and specifications are subject to change without notice.
The values for weight and dimension are approximate.
"SONY" and "make.believe" are registered trademarks of Sony Corporation.
IPELA and "Exmor" are trademarks of Sony Corporation.
Windows, XP, and Vista are trademarks of Microsoft Corporation.
Core is a trademark of Intel Corporation.
All other trademarks are the property of their respective owners.

* Your assessment is very important for improving the work of artificial intelligence, which forms the content of this project